"Tristan + Isolde"
Semperoper Ballet
Semperoper
Dresden, Germany
February 17, 2015
by Ilona Landgraf
Copyright © 2015 by Ilona Landgraf
Reportedly a few of the audience had expected to see the opera, while others, having had a slightly closer look at Semperoper Dresden's program, were anticipating hearing Richard Wagner's famous music. Both parties must have been surprised. "Tristan + Isolde" is a ballet by David Dawson to new music by Szymon Brzóska.
Dawson wisely abstained from using Wagner's well-known opera music. Instead Brzóska, a Pole, composed a tailor-made score for the Dresden company. Both had already collaborated on Dawson's ballet "Overture" for Dutch National Ballet in 2013. Generally speaking, his music, Brzóska told in an interview, would range between contemporary avant garde and extended tonality that inclined towards minimalism. The new composition reminds one of film music. It's emotional music, conveying love's bliss but also dramatic, fragile and threatening moments. Though expressive, Dawson never left it to the music to bring forth the action but always backed it with choreographic substance. Paul Connelly and the Sächsische Staatskapelle Dresden highly focused playing captivated one from the first tone on. Laurels to them!
Also those in the audience who were expecting Wagner's familiar libretto had to be flexible. For example, in Wagner's first act, flashbacks to make the story comprehensible, like the one seen during Isolde's crossing to Cornwall, are impossible in
ballet. Hence Dawson told the story in chronological order. He moreover dug deeper into the legend's origin. Its roots are presumably Celtic but maybe also oriental or Germanic. Several authors have taken up the legend, including Gottfried von Strassburg, a German poet of the Middle Ages, whose voluminous epic poem "Tristan" served, amongst others, as Wagner's source material.
Focusing on the protagonists' emotional journey Dawson simplified the plot. Prince Morold whom Tristan killed in battle isn't Isolde's fiancé but her uncle. Thus Isolde is less motivated to take revenge which makes it easier for both to fall in love with each other. Morold's death and Tristan's courtship of Isolde on behalf of King Marke moreover coincide. Under the command of his nephew Tristan and the faithful Melot, Marke sent his soldiers from Cornwall to Ireland to force Isolde into a marriage. Both kingdoms are in a state of enmity, Ireland compelling tributes from Cornwall, a detail Dawson dropped. In any case Isolde is a war trophy, her marriage with Marke designed to bring about peace between the two countries. Tristan sees Isolde for the first time when, after being wounded by Morold, she heals him with magic power. Here their love originated. Dawson released Tristan from playing a false game. He hasn't to feign by persuading Marke to marry Isolde, by even being the one who brings her to Cornwall, though actually being in love with her himself.
A bit unclear was the lovers motivation for taking the potion during the passage back to Cornwall. Did they really deem it mortally fatal? Isolde's servant Brangäne's role was, compared to the one she has in Wagner's opera, marginalized. Did she secretly change the vials? If so, she managed to avoid attention.. Howsoever, the potion's effect was unmistakable: The vial contained gold powder which, softly blown at, showered down on Tristan and Isolde like a shimmering blessing. From that moment on both were completely in love with each other.
Thus the situation Dawson depicted is less knotty but no less
tragic. Social obligations and constraints thwarted Tristan and Isolde's love. These bonds are human made, self-made, Dawson added in the program book.
Set designer Eno Henze visualized the oppressive social structure with six mighty, stone-like blocks in black and gray which, when moved around by the dancers, implied abstract houses or a palace's architecture. Costumes were by Yumiko Takeshima. She clad Morold's court society in vibrant colors while Marke's kingdom was dominated by black. Only Marke himself and later Tristan wore bright gray-blue. Basically an oversimplification in the manner of black and white. However together with Bert Dalhuysen's light design the overall impression was visually captivating. Like a burning lens Dalhuysen's lighting sometimes brought the protagonists' actions and emotions crystal clearly to light – no space for hiding anything – but sometimes mist-like light softened the focus. Many scenes looked surreal which curiously brought the dancers even closer. For example, lighting elements symbolized at one point a cross (shining above
Morold's funeral procession) or at another a boat's sail (or the arrow head of an inescapable Cupid's dart?) during the passage. The horizon's hazy stripes of light occasionally seemed to be the destination of the protagonists' desires and hopes. Only at the end, when Tristan died, did the heaven's darkness lighten as if a subtle pressure had finally vanished.
The piece's main asset were its stupendous dancers in the leading roles. As Isolde Courtney Richardson fully merged into her role. She is not the tender, fragile type of ballerina, hovering ethereally over the stage. Her movements are fluid, powerful, coherent. Although a proud sovereign, she complied to marry King Marke to fulfill her duty to her country, her people, her family. The strength of Richardson's charisma not only brought her court and Melot (Jón Vallejo) to their knees but radiated out into the auditorium. One instinctively bent down one's head. What a woman!
All males around King Marke cast an eye on her. Richardson's Isolde was never tentative. The emotions which overcame her were imperative, but rather than being broken by them she acted upon them until the last moment. Every time her eyes met Tristan they gleamed, rivaling the potion's golden shimmer. She was ready to drain her fate's cup. I very much liked Richardson's final pas de deux with Tristan. She accepted his refusal to be healed by her for a second time even though she knew he would die. But instead of surrendering to grief or moaning she wholeheartedly gave all her love. That's my love for you, she seemed to say, take it with you, treasure the memory.

Compared to Isolde, Tristan (Fabien Voranger) was inwardly less strong. But he grew strong through the honesty and courage with which he faced his overwhelming emotions. Both lovers, though trying to obey the outer constraints, finally weren't able to dodge their feelings. Their pas de deux after stealing away from the wedding ceremony of Isolde to King Marke resembled a rousing homage to love and passion. Especially poignant was their last dance, aware of their final parting. Full of love Voranger lifted Richardson again and again though, as Tristan, he was almost doubled up with pain. Voranger can plunge deeply into strong emotions. Why didn't Dawson use this in the solo shortly before as well to express Tristan's dead-end situation more intensely?
Raphaël Coumes-Marquet as King Marke was also highly impressive. Reigning over a kingdom in which apparently everything revolved around might and rules and order, he had in fact a kind, loving heart. Though Isolde mostly turned away her head from him, his eyes were tenderly pinned on her. Catching Isolde and Tristan making love visibly pulled the rug out from under his feet. Coumes-Marquet's most striking scene was accepting the inevitable when hearing about the potion from Isolde. Stricken with inner pain, crying, he kissed her on the forehead and pushed her away. She was free to go to Tristan.

Jón Vallejo wearing a full beard characterized Melot as an introverted, withdrawn man who basically wanted to be as dear to Marke as Tristan. Still waters run deep. Though a rigorous warrior Melot, deep inside, longed for appreciation. Deservedly Vallejo's solo, cutting razor-sharp shapes in the air, won spontaneous applause.
Anna Merkulova danced Isolde's servant Brangäne, Laurent Guilbaud was Isolde's uncle Morold, mercilessly killed by Marke's soldiers.
The corps de ballet had two major opportunities to show off its skills: At first it depicted the carefree life at Prince Morold's court, a scene slightly too long, which suddenly came to an end with the assault of King Marke's soldiers. Choreographically more interesting was the group's dancing at the wedding of Marke and Isolde. Here, more formal patterns and elegant lifts caught one's attention.
There was absolute silence in the auditorium after the curtain had went down. A few in my neighborhood exhaled audibly. Then a wave of enthusiastic applause welled up. When Courtney Richardson and Fabien Voranger took their first curtain call they looked as if still absorbed by deep emotions. Kudos to them! For sure, you reached the audience's hearts!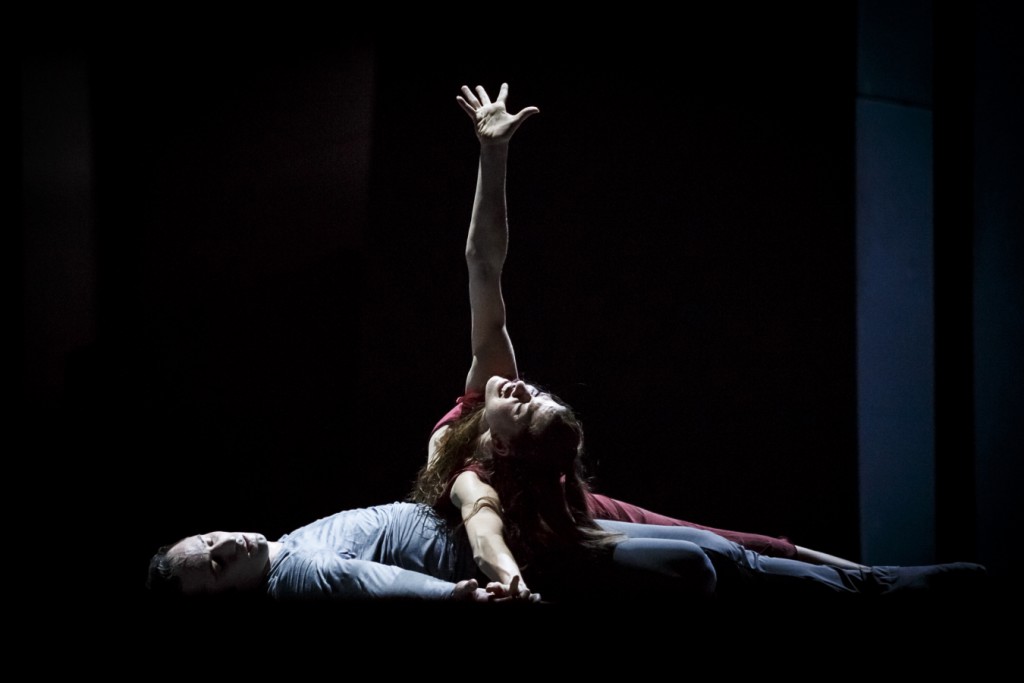 | | | |
| --- | --- | --- |
| | | |
| Links: | | Homepage of Semperoper Ballet |
| | | Homepage of Nikolai Schmidt (Photographer) |
| Photos: | 1. | Courtney Richardson (Isolde) and Fabien Voranger (Tristan), "Tristan + Isolde" by David Dawson, Semperoper Ballet Dresden © Ian Whalen 2015 |
| | 2. | Fabien Voranger (Tristan) and Courtney Richardson (Isolde), "Tristan + Isolde" by David Dawson, Semperoper Ballet Dresden © Ian Whalen 2015 |
| | 3. | Fabien Voranger (Tristan), Jón Vallejo (Melot), Courtney Richardson (Isolde), Raphaël Coumes-Marquet (King Marke) and ensemble, "Tristan + Isolde" by David Dawson, Semperoper Ballet Dresden © Nikolai Schmidt 2015 |
| | 4. | Courtney Richardson (Isolde), Jón Vallejo (Melot) and ensemble, "Tristan + Isolde" by David Dawson, Semperoper Ballet Dresden © Nikolai Schmidt 2015 |
| | 5. | Raphaël Coumes-Marquet (King Marke), Courtney Richardson (Isolde) and ensemble, "Tristan + Isolde" by David Dawson, Semperoper Ballet Dresden © Nikolai Schmidt 2015 |
| | 6. | Courtney Richardson (Isolde) and ensemble, "Tristan + Isolde" by David Dawson, Semperoper Ballet Dresden © Nikolai Schmidt 2015 |
| | 7. | Jón Vallejo (Melot) and ensemble, "Tristan + Isolde" by David Dawson, Semperoper Ballet Dresden © Nikolai Schmidt 2015 |
| | 8. | Courtney Richardson (Isolde) and Fabien Voranger (Tristan), "Tristan + Isolde" by David Dawson, Semperoper Ballet Dresden © Ian Whalen 2015 |
| | 9. | Fabien Voranger (Tristan) and Courtney Richardson (Isolde), "Tristan + Isolde" by David Dawson, Semperoper Ballet Dresden © Nikolai Schmidt 2015 |
| | 10. | Fabien Voranger (Tristan) and Courtney Richardson (Isolde), "Tristan + Isolde" by David Dawson, Semperoper Ballet Dresden © Nikolai Schmidt 2015 |
| Editing: | | Laurence Smelser |