"Made in Amsterdam 2"
Dutch National Ballet
Dutch National Opera & Ballet
Amsterdam, Netherlands
February 12, 2017
by Ilona Landgraf
Copyright © 2017 by Ilona Landgraf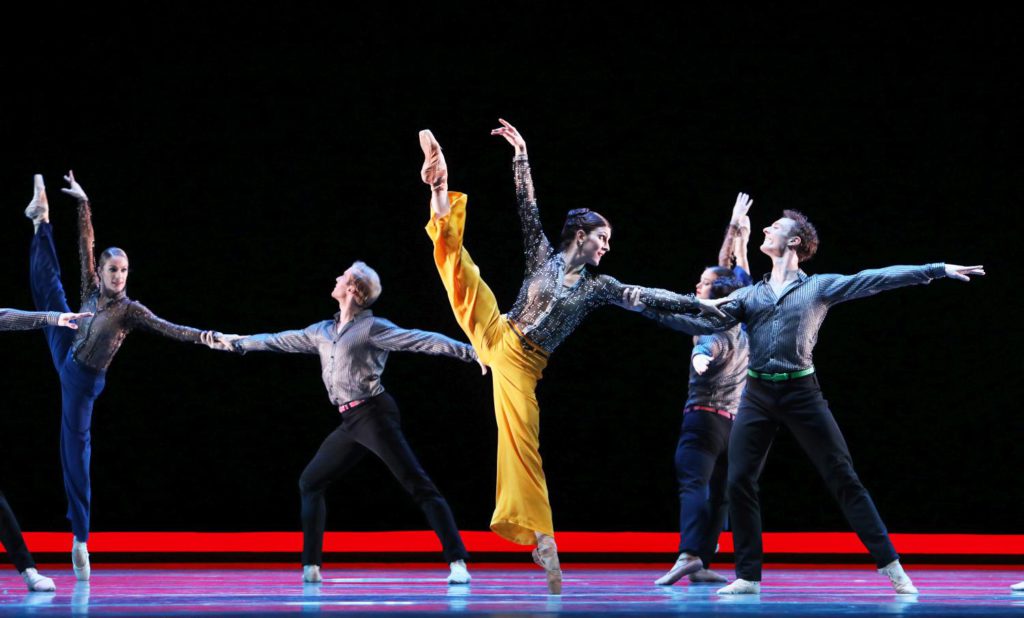 The program "Made in Amsterdam 2" consisted of ballets by four established choreographers. It was the Dutch National Ballet's second mixed bill of works specifically intended for this company. One piece – a solo by David Dawson – was brand new whereas the other three – Christopher Wheeldon's "Concerto Concordia", "Souvenir d'un lieu cher" by Alexei Ratmansky and "Moving Rooms" by Krzysztof Pastor – dated from between 2008 and 2015.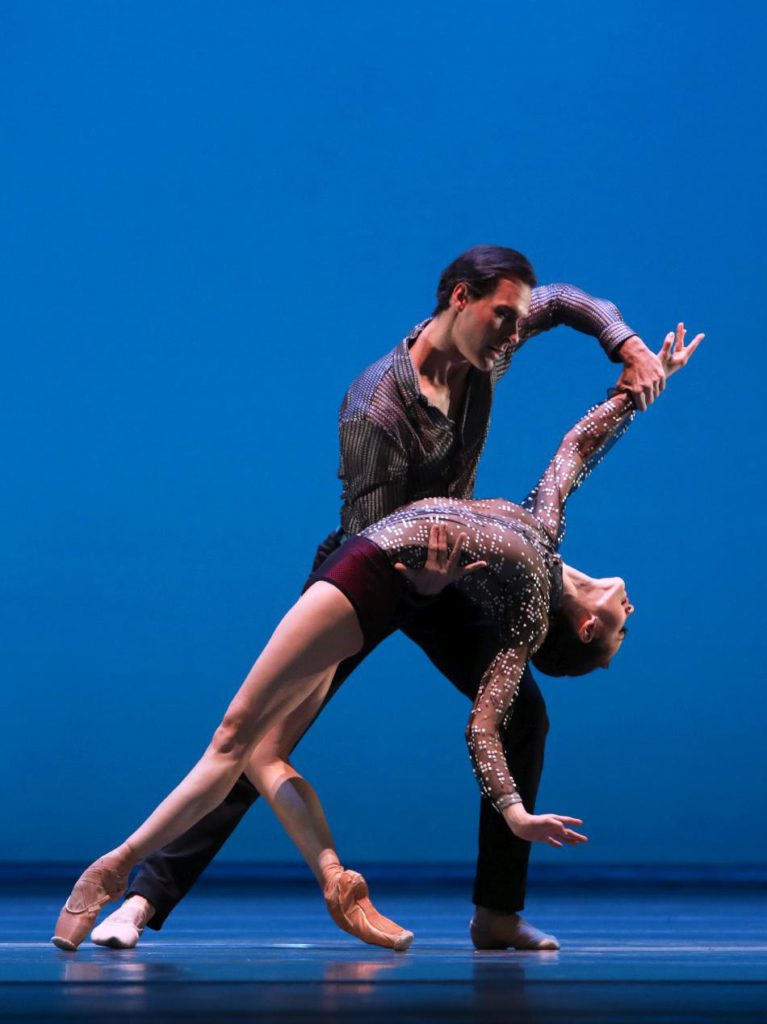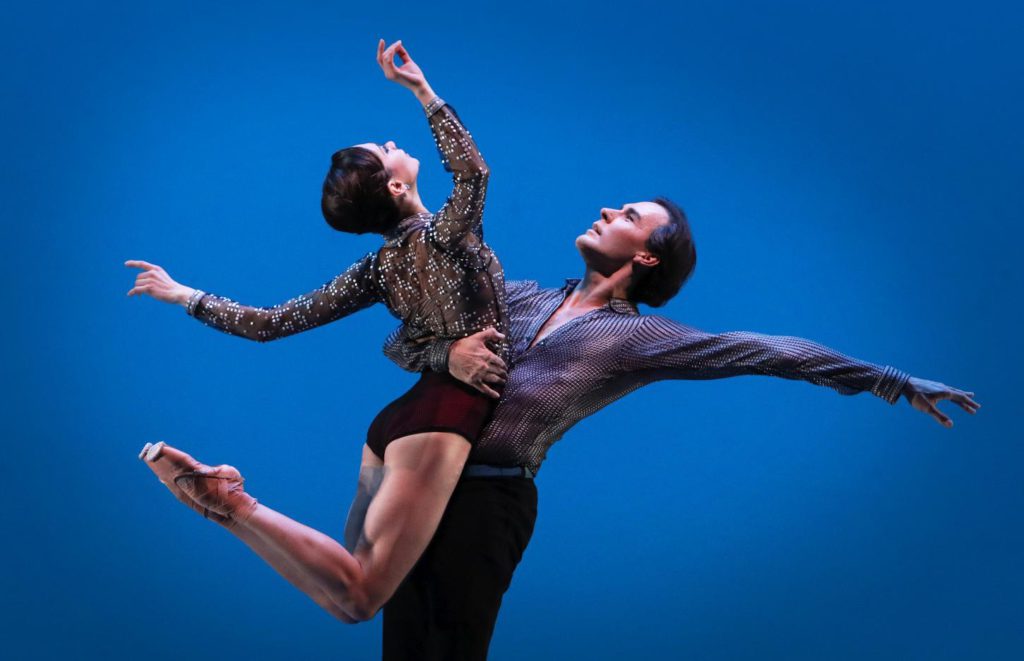 Wheeldon's "Concerto Concordia", the opener, had such flow, such ease, and unfolded so naturally, that one was carried away into a world of dreams and phantasies. The music, Francis Poulenc's "Concerto for Two Pianos and Orchestra" played live by Olga Khoziainova and Michael Mouratch, seems to yearn for expressive movement. It is innocent, vividly playful, but also weird, laced with a dark undercurrent, which later turns into state of sweeping serenity and grandeur.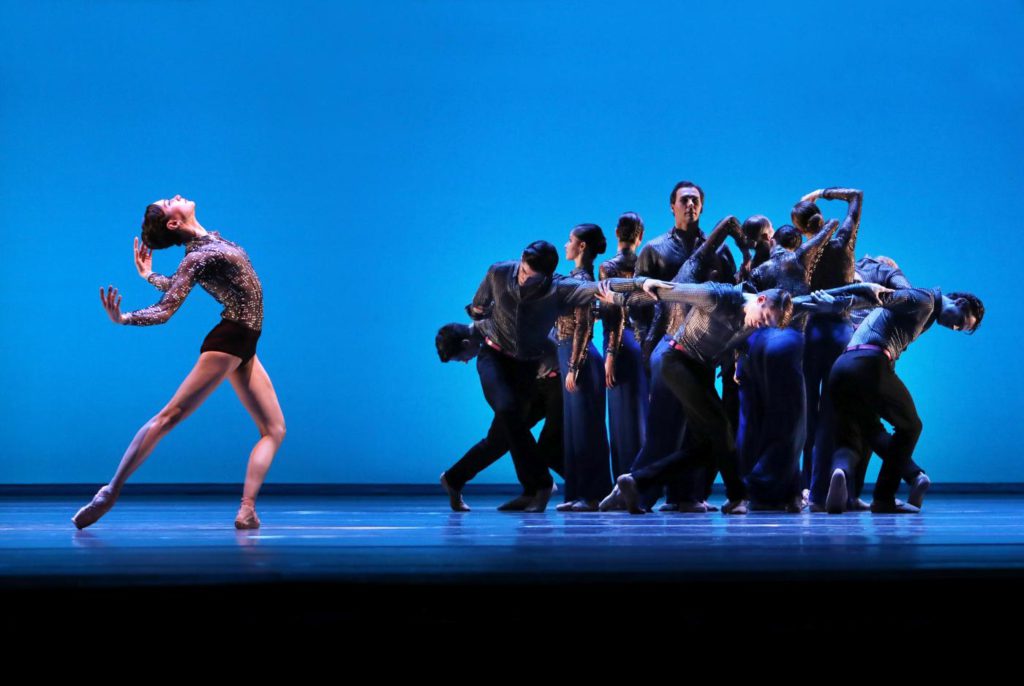 Bert Dalhuysen's blue lighting added to the dreamlike atmosphere. When surrounded by a small band of yellow light the blue stage seemed to be the surface of waters, which gave the dance a liquidity. Fascinating, too, was a horizontal band of bright red light on the backdrop: it widened, bleached and turned blue. Simultaneously the work's atmosphere changed from serious to languorous.
Amidst the blue surroundings, two women caught one's eye. Anna Ol's bright yellow pants (costumes by Jean-Marc Puissant) made her shine like a sun, whereas Nadia Yanowsky's pink pants stole the show when, at the end, she was lifted in the only remaining spotlight just seconds before a total blackout. Most of the costuming was blue or in other dark colors although the men wore brightly colored belts and the rhinestones on the women's transparent dark blouses sparkled silently like a starlit sky.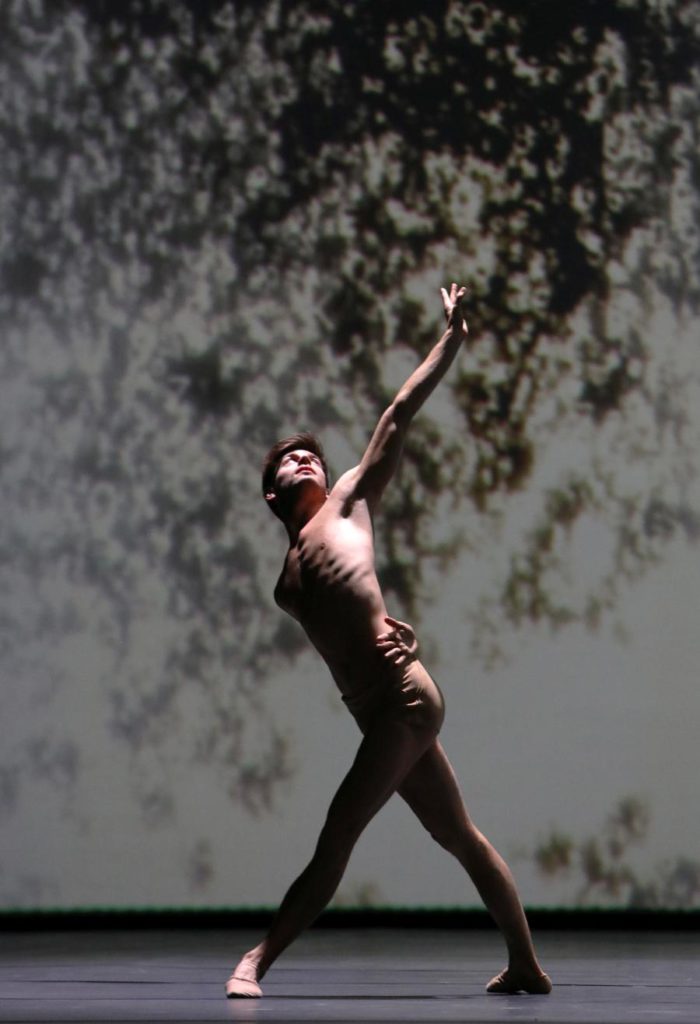 Together with Jozef Varga, Ol danced the lyrical parts. Yanowsky and Remi Wörtmeyer portrayed a more energetic, vibrant pair. Wörtmeyer, in the sunniest of moods, dashed through his manège like an arrow.
Dreams don't succumb to rationality, so one didn't wonder what all this was about, what stories were being told. Instead, associations swept by, such as the image of a stormy sea with waves surging up as the women were lifted. Or, were the dancers engaging in a ritual? One pas de deux made me think of a newly enamored couple on a spin in a cabriolet one sunny spring day. "Concerto Concordia" left space for interpretations!
At the curtain call for "Citizen Nowhere", Dawson's artistic team built a line of respectable length next to a single dancer, Edo Wijnen. This dance is a solo of more than twenty-minutes duration. Hence costume designer Yumiko Takeshima's task was small. She contributed skin-colored shorts for Wijnen and a dress which was of marginal importance in a video sequence. The music had been commissioned from Polish composer Szymon Brzóska, with whom Dawson had already collaborated for "Tristan + Isolde". Again, Brzóska came up with spherical violin sounds aimed at and pining for some higher, spiritual realm. Gloomy, devastating moments and annoyingly pushy repetitions provided the musical momentum.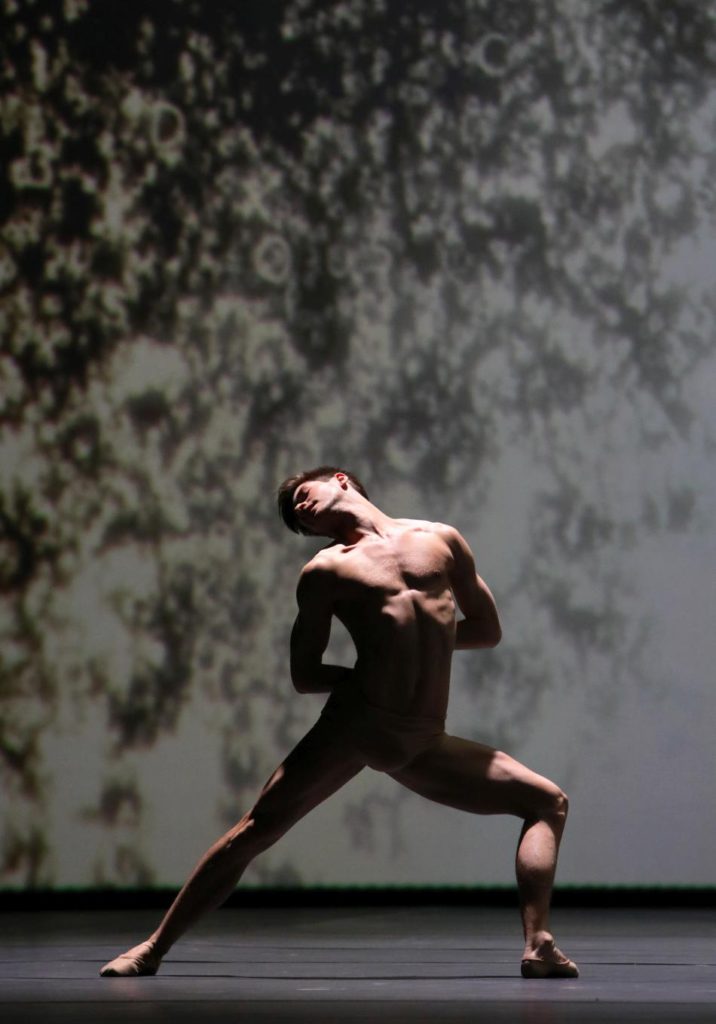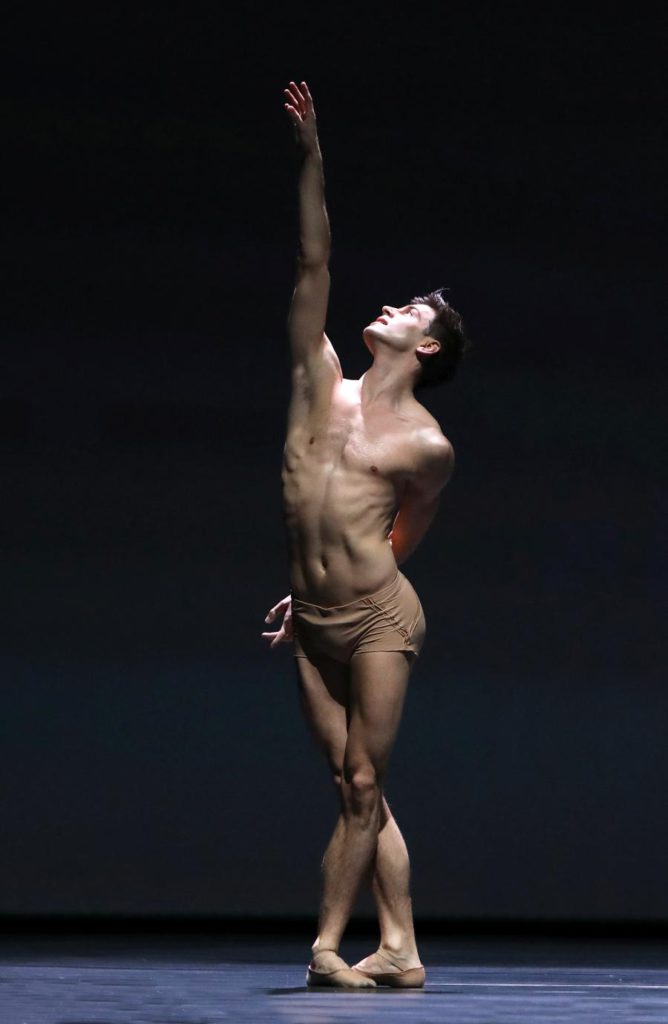 "Citizen Nowhere" was inspired by Antoine de Saint-Exupéry's novella "The Little Prince". The choreography barely hinted at its literary source. Yet there was a video, designed by Eno Henze and filmed by Altin Kaftira, that did relate to Saint-Exupery's text. It was shown on a large screen in the form of an open book and had such overwhelming animations that Wijnen's performance was almost drowned out by it. Imposing waves and swirls of white letters arose on the screen and flew through space as if Wijnen were dancing out in the universe. Mini-letters flickered nervously like an old defunct black and white TV before assembling into an alphabet salad. Short sentences reminded us of Saint-Exupéry's little prince – snake: knowing doesn't matter and Fox: a blossom appears. We could also read the well-known quote – Fox: anything essential is invisible to the eyes; one can only see clearly with the heart. Unlike the book, Dawson allowed his prince just one encounter with a human being, a woman (Sasha Mukhamedov), obviously the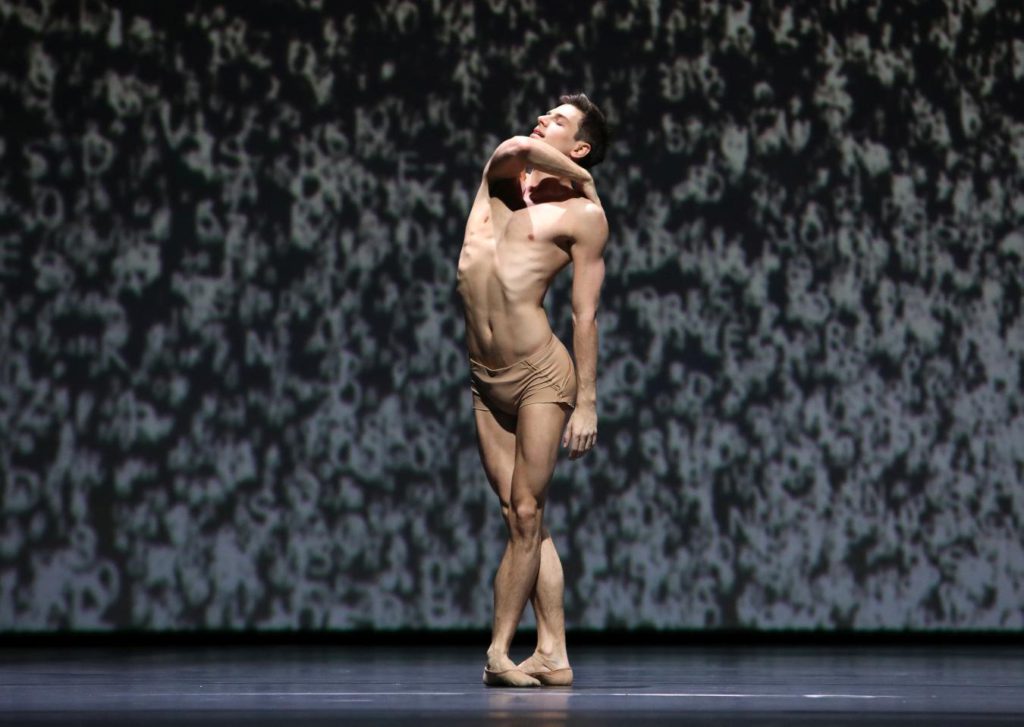 young man's object of desire, but, poor prince, she was dancing on the video and unattainable. Desires shattered!
As in earlier pieces, Eno Henze's stage was gray with dots of color. This time Henze restrained himself to red for the video sequence with Mukhamedov, for a very few words indicating dangerous situations and for a red vertical which ran towards the floor like a bloody dividing line. Perhaps this line hinted at a political statement Dawson wanted to make with "Citizen Nowhere". If so, it was a very vague hint.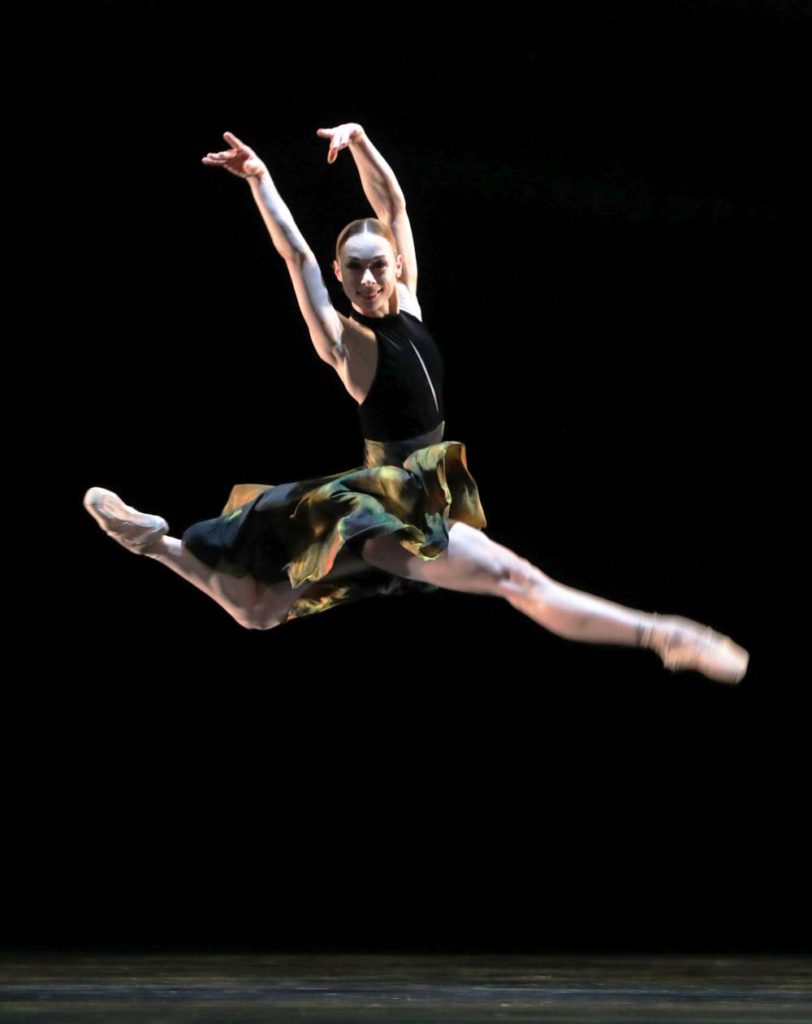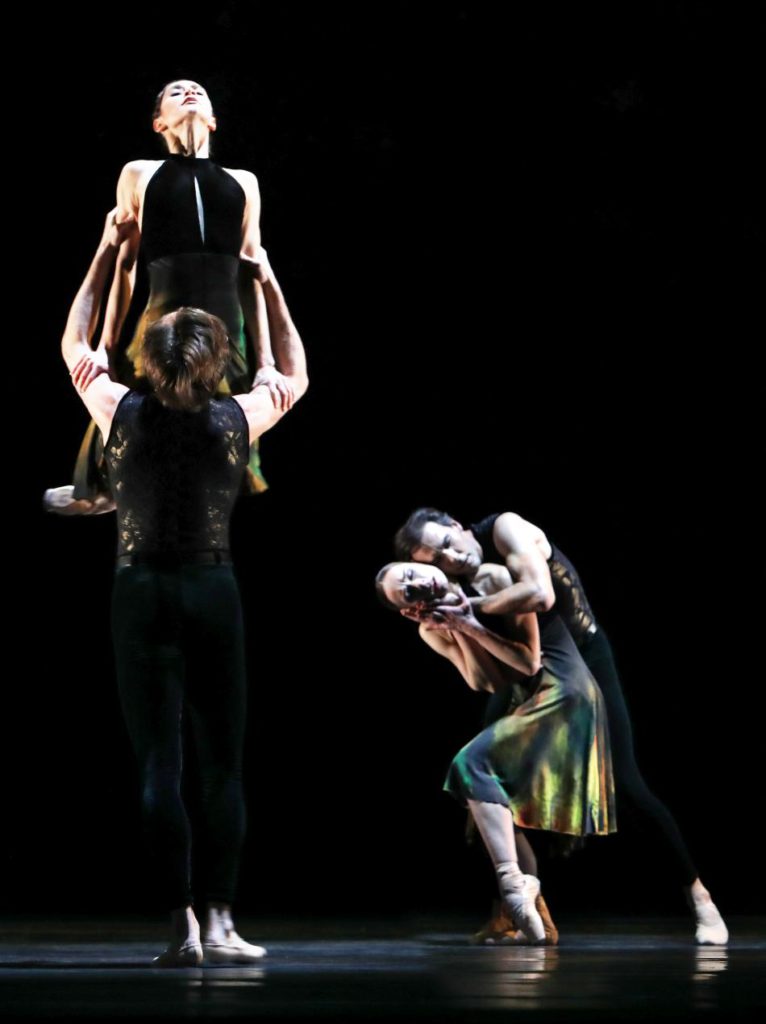 In an interview in the program book Dawson provided some background about the piece. The article is titled "It's a matter of life and death". That was exactly how this choreography looked. It was over excited, grandiose yet a little pathetic. Wijnen crisscrossed the stage, his arms stretching away, his chest daringly arched towards heaven, as if longing for salvation from above. Or, did he want a deadly arrow to hit his heart? The choreography had one scene that seemed emotionally genuine. It was when Wijnen ran a circle like an exhausted jogger. At the end, he left the stage but reappeared dancing on a black and white video to single tunes that faded slowly, very slowly, away. The video had the chic of a classy advertisement.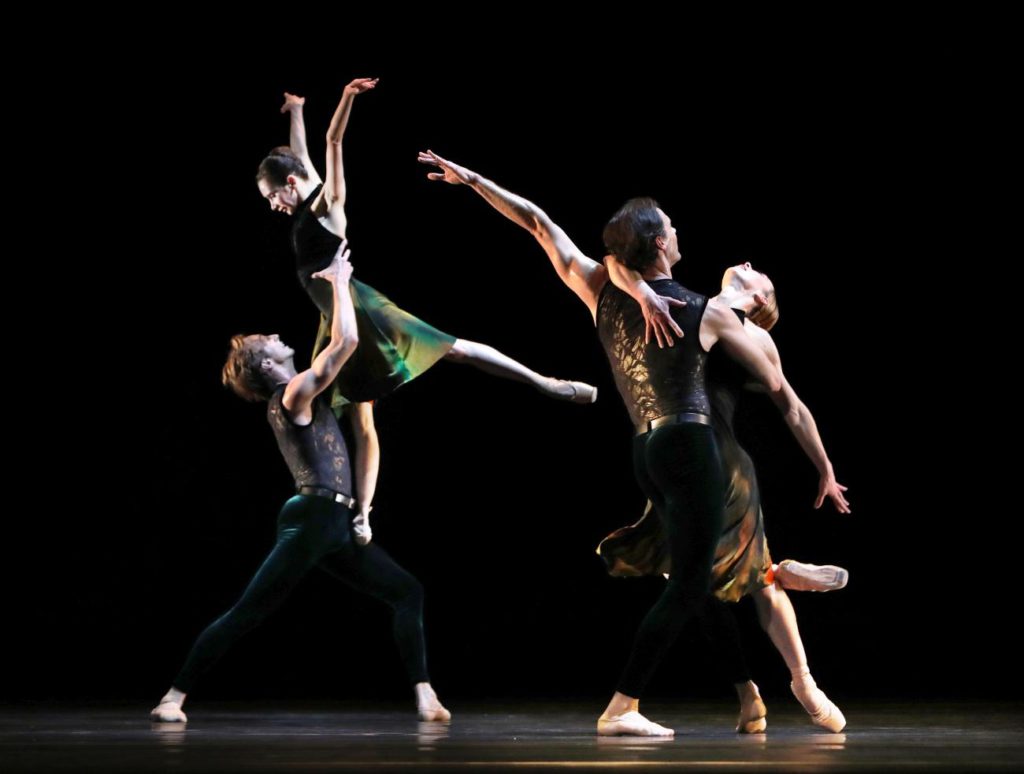 The dear place which Tchaikovsky had in mind when composing "Souvenir d'un lieu cher" in 1878, was the country residence of his benefactress, Nadezhda von Meck. Ratmansky's choreography to this music didn't specify the place. But lighting in green, brown and yellow on the upper right backcloth and skirts in a similar palette of colors indicated the season and the out-of-doors. Two couples are dancing in autumn. Apart from these signs, set and costume designer Keso Dekker chose black for the tops, the men's pants, and for the rest of the stage. The choreography is gorgeous and refreshing, its variety abundant, its mix of styles masterly. Folk dance steps popped up in the midst of fluid, elegant classical dance. One couple plays tag and one of the men does a somersault on the ground.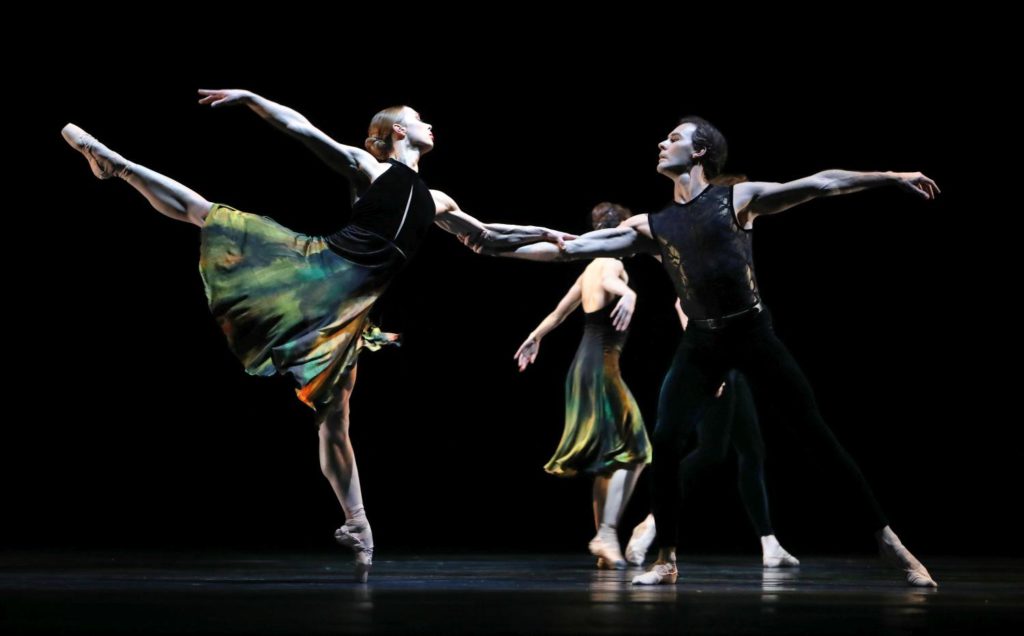 "Souvenir d'un lieu cher" has no overarching narration but little stories. For example, one of the men tries to pinch the other's girlfriend and, later, an impaired relationship is healed. The two couples, Vera Tsyganova / Jozef Varga and Anna Ol / Artur Shesterikov, were a pleasure to watch.
Pastor is artistic director of both the Polish National Ballet and the Lithuanian National Ballet. Moreover he is resident choreographer of the Dutch company. His "Moving Rooms" was one of several pieces different choreographers created in response to Hans van Manen's "Situation", a 1970 work about couples forced to share a fully tilted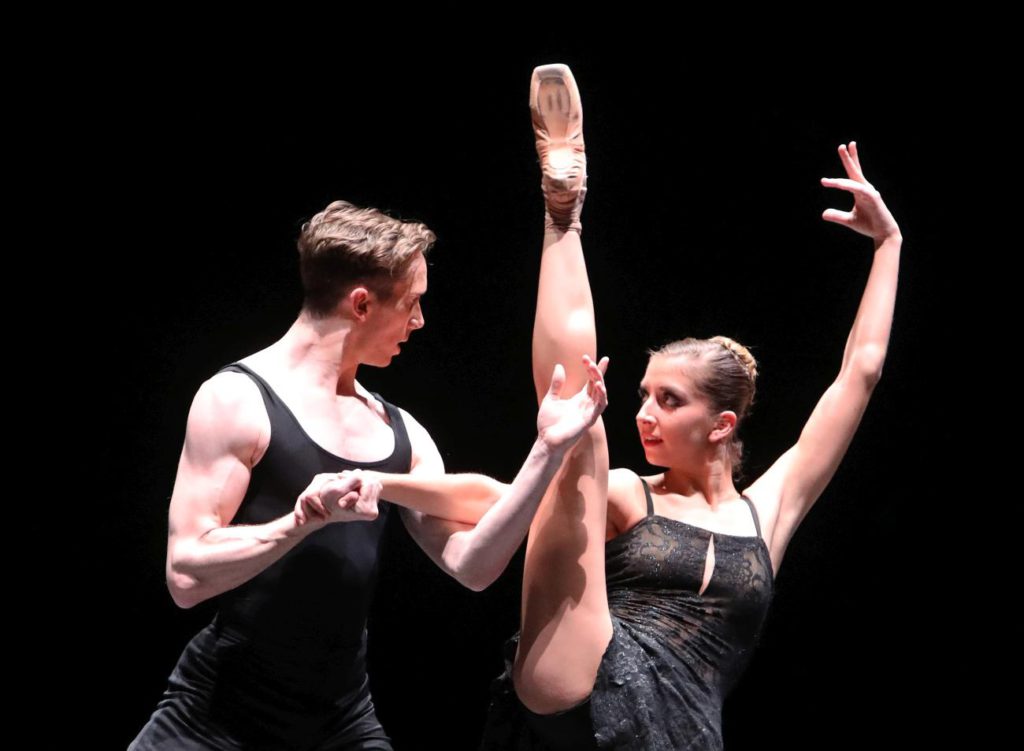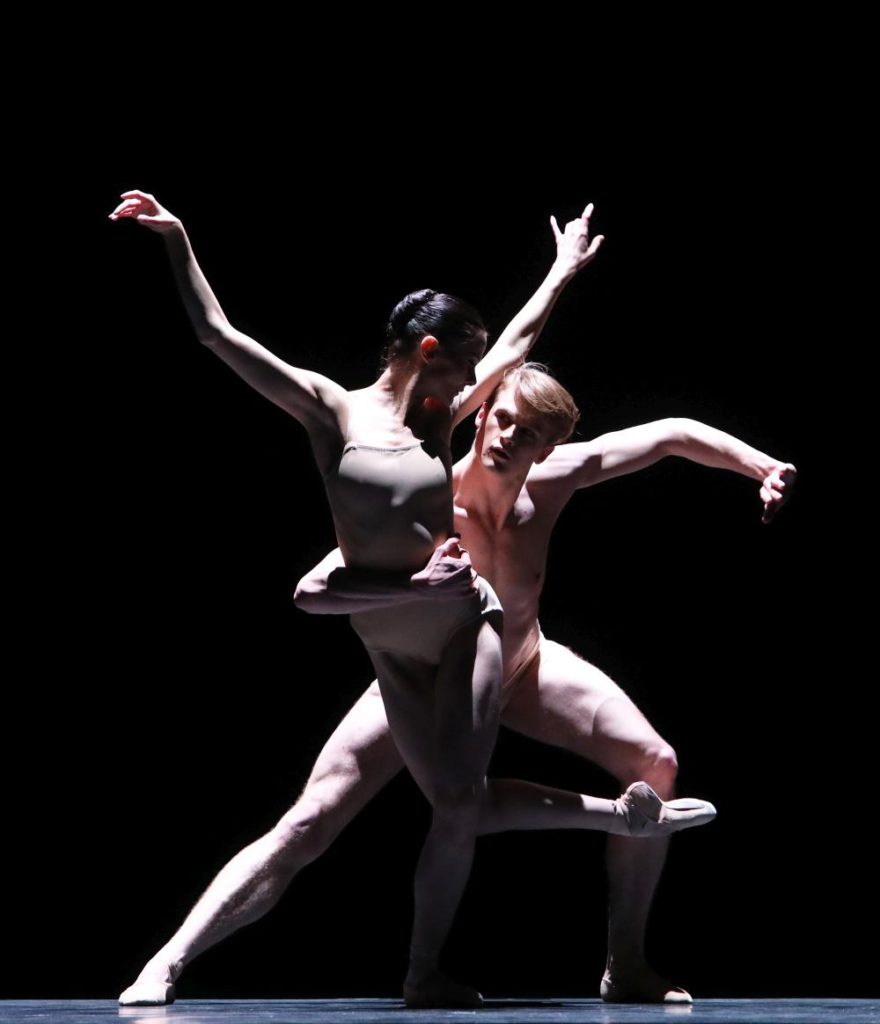 bunker room. Pastor's version has no walls but used light to define space. Once the dancers performed in a field the size of a boxing ring, but usually their territories were whittled down to narrow cones of illumination. In group scenes the dancers were arranged like chess pieces on a board. As in chess, the set and costumes were black and, not white but skin-colored.
Unlike Van Manen, Pastor avoided open aggression, but once a space was obtained the dancers firmly held their ground.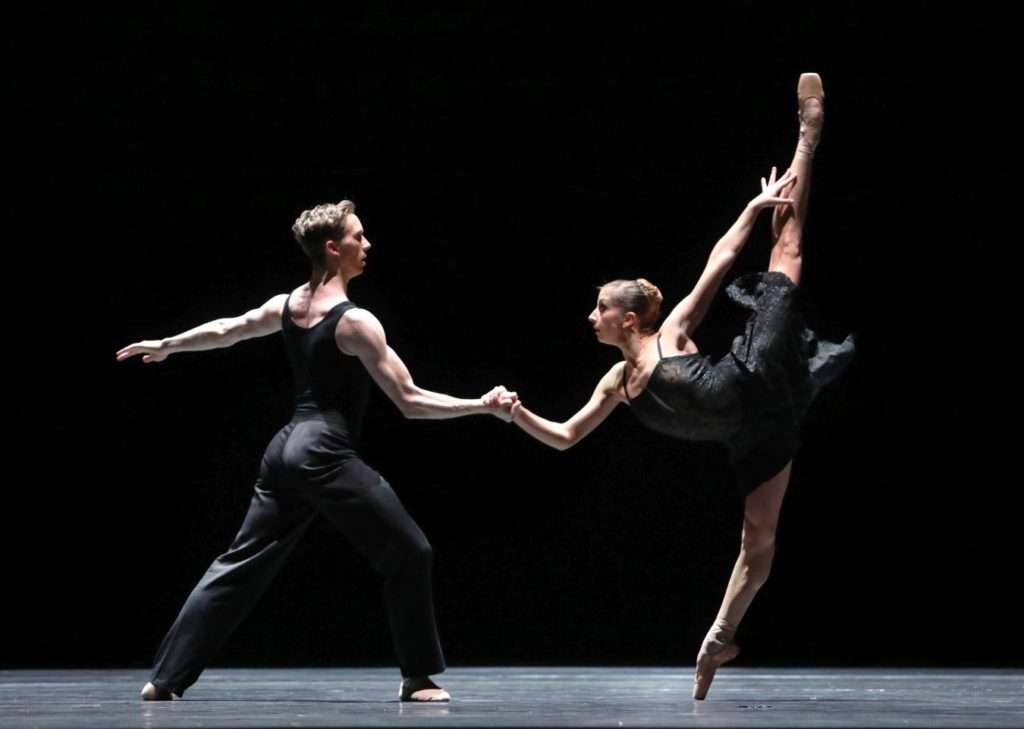 Movements had a sharp, clear, linear and angular quality. Even when it was smooth, one felt danger lurking. The music by Alfred Schnittke and Mikolaj Henryk Górecki started with nerve shattering violin sounds. Later the violins seemed to fiddle towards an abyss and to exhale their last tone. A church tower bell rang portentously. These "Rooms" are anything but comfortable places! As it went on, the piece became lengthy and repetitive but still was danced with vigor and dedication.
Het Balletorkest under the baton of Philip Ellis contributed fine accompaniment.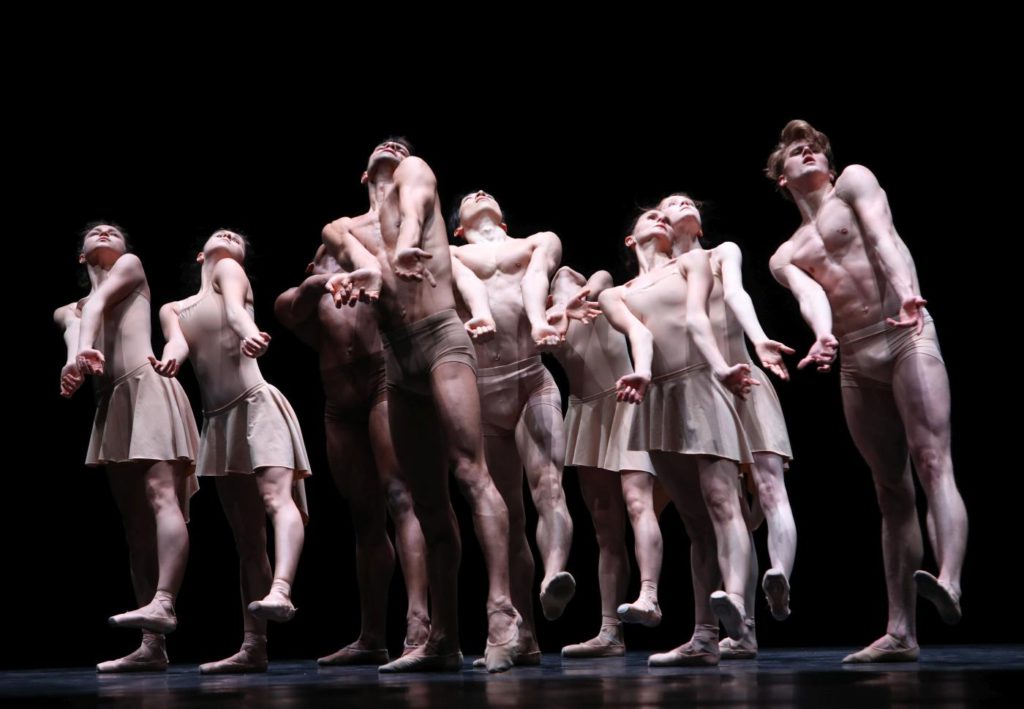 Links:
Website of Dutch National Ballet
Photos:

"Concerto Concordia" (Christopher Wheeldon)

 1.
Nadia Yanowsky, Remi Wörtmeyer and ensemble, "Concerto Concordia" by Christopher Wheeldon, Dutch National Ballet
 2.
Anna Ol and Jozef Varga, "Concerto Concordia" by Christopher Wheeldon, Dutch National Ballet
 3.
Anna Ol and Jozef Varga, "Concerto Concordia" by Christopher Wheeldon, Dutch National Ballet
 4.
Anna Ol, Jozef Varga and ensemble, "Concerto Concordia" by Christopher Wheeldon, Dutch National Ballet
 

"Citizen Nowhere" (David Dawson)

 5.
Edo Wijnen, "Citizen Nowhere" by David Dawson, Dutch National Ballet
 6.
Edo Wijnen, "Citizen Nowhere" by David Dawson, Dutch National Ballet
 7.
Edo Wijnen, "Citizen Nowhere" by David Dawson, Dutch National Ballet
 8.
Edo Wijnen, "Citizen Nowhere" by David Dawson, Dutch National Ballet

"Souvenir d'un lieu cher" (Alexei Ratmansky)

 9.
 Vera Tsyganova, "Souvenir d'un lieu cher" by Alexei Ratmansky, Dutch National Ballet
10.
Anna Ol, Artur Shesterikov, Vera Tsyganova and Jozef Varga, "Souvenir d'un lieu cher" by Alexei Ratmansky, Dutch National Ballet
11.
Anna Ol, Artur Shesterikov, Vera Tsyganova and Jozef Varga, "Souvenir d'un lieu cher" by Alexei Ratmansky, Dutch National Ballet
12.
Vera Tsyganova and Jozef Varga, "Souvenir d'un lieu cher" by Alexei Ratmansky, Dutch National Ballet

"Moving Rooms" (Krzysztof Pastor)

13.
Emanouela Merdjanova and Clemens Fröhlich, "Moving Rooms" by Krzysztof Pastor, Dutch National Ballet
14.
James Stout and Sasha Mukhamedov, "Moving Rooms" by Krzysztof Pastor, Dutch National Ballet
15.
James Stout and Sasha Mukhamedov, "Moving Rooms" by Krzysztof Pastor, Dutch National Ballet
16.
Ensemble, "Moving Rooms" by Krzysztof Pastor, Dutch National Ballet
all photos © Hans Gerritsen 2017
 Editing:
 George Jackson