"Romeo and Juliet"
English National Ballet
Royal Festival Hall / Southbank Centre
London, Great Britain
August 02, 2017
by Ilona Landgraf
Copyright © 2017 by Ilona Landgraf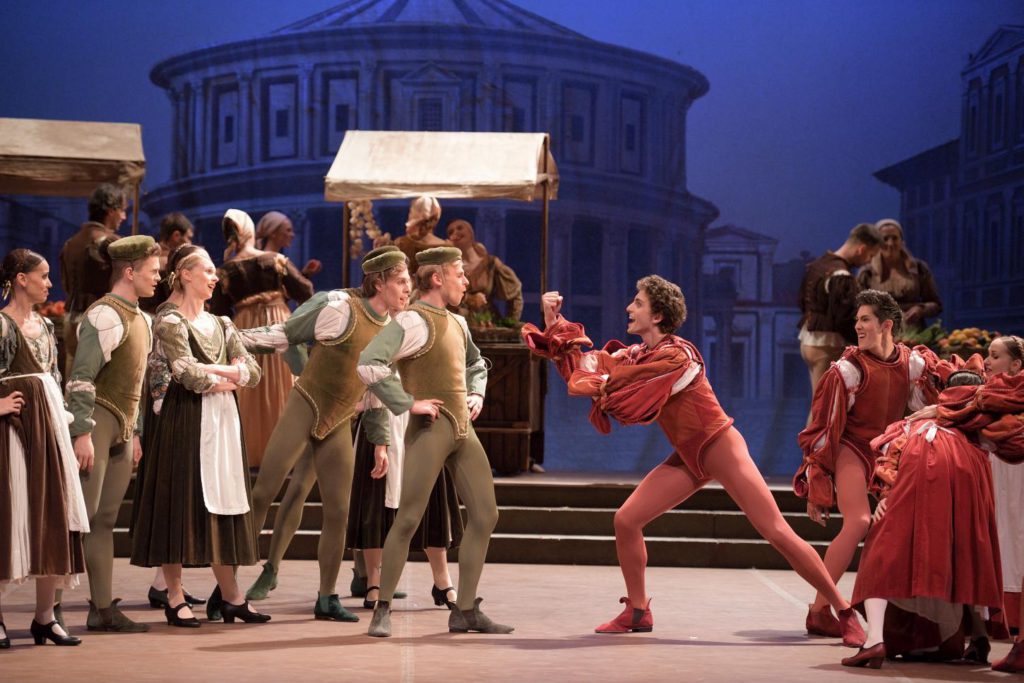 English National Ballet's revival of Rudolf Nureyev's "Romeo and Juliet" this August celebrated two birthdays at once. The 40th birthday of the ballet itself and the 90th birthday of the one who commissioned it, Dame Beryl Grey, the company's President and former artistic director. The six performances given in early August at the Southbank Centre, London, included five castings for Romeo and four ballerinas in the role of Juliet. I saw Josua Hoffalt and Laurretta Summerscales as the star-crossed lovers. Hoffalt, étoile of Paris Opera Ballet, guested with English National Ballet for the first time. For Summerscales it was one of her last performances this year with her home company. She will take a sabbatical year with the Bavarian State Ballet in the next season.
"What makes Nureyev's Romeo & Juliet so special" is explained on the company's website: its faithfulness to Shakespeare's text, its inventive use of cinematic techniques (such as anticipatory flashes and freezing to allow insight in the leading characters' inner life), realistic fight scenes (stout brawls, men fencing with two swords each and knife fights) and that the "lead dancers must give their all." Watching Hoffalt sail through his first solo in Verona's marketplace I thought of what Nicolas Le Riche recently said about Nureyev's choreography in an interview – that it is hard to perform because of the sheer abundance of steps. But apart from the lead dancers the corps also had much work to do.
However, I partly disagree with an additional asset advertised on the website: the "stunning sets and costumes" credited to Ezio Frigerio. The lavish costumes were gorgeous indeed, lowlifes were fittingly in rags, Capulet and Montague folk wore red and olive-green attire respectively and the Franciscans had plain habits. But the circus acrobats looked like a gymnastic club in idiosyncratic tricots. Further, the backdrops, especially Verona's town square and the view from Juliet's chamber window, could have been taken from an uninspired cardboard picture-book. Compared to the rich décor the production has at Paris Opera Ballet, English National Ballet's sets looked meager, but presumably that's due to touring requirements.
Lighting occasionally lacked subtlety. (I've never seen the sun rise as lightning-fast after Romeo and Juliet's first night together as this time.) And the bar of upper spotlights visible from the front stalls plus the rolling noise of the curtain, when being opened and closed, seemed rustic and amateur.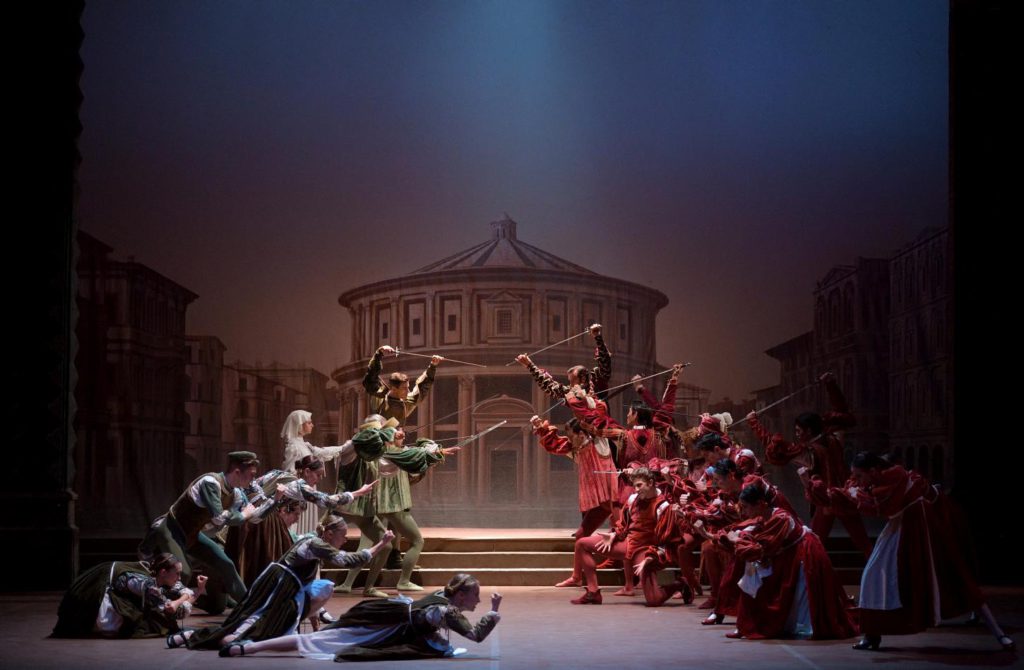 Not explicitly mentioned, but a conspicuous feature in which Nureyev's version responds to Shakespeare's text, is its overt sexuality and coarse ribaldry. Young couples passionately made out in the corners and men groped women and even their own gender rudely right in the middle of the market square. Giving proof of one's virility was common practice among the men and a kiss that Tybalt provocatively gave Romeo triggered the fight between Mercutio and Tybalt. Except for Count Paris, Verona's young men were filled with testosterone and hardly able to govern the explosive mix of lust and aggression seething inside them.
Nureyev unfolded a wide spectrum of eroticism in which Romeo and Juliet's romantic love and the coldness between Juliet's parents, Lady and Lord Capulet, mark opposite points. Brimming life and death were lying closely side by side. Compared to John Cranko's lovely Verona, Nureyev's is darker – even the rattle of the swords sounded more portentous – and his narrative style more intense.
Nureyev also had a knack for showing psychological traits of the main characters and textures of relationships. Lord Capulet, for example, shook his daughter off like an annoying leech when she clung to his leg begging to be released from the marriage with Paris. But later, he was sensitive enough to keep Paris from kissing her hand. Differences in Romeo's and Paris's character were shown less subtly, but effectively. In the first act, Romeo was the only one of his group of friends who felt pity for a beggar and gave him a coin. The beggar, overwhelmed by this unexpected act of charity, dropped dead. In the third act, Paris, by contrast, arrogantly threw some money on the floor for the mandolin players whom he had engaged to greet his bride-to-be. Ironically, at this point, Juliet lay as though dead behind her bed's curtain.
Revealingly at the ball, Juliet fell for Romeo even though his eyes were hidden by a mask. She knew intuitively and instantly that he was meant for her and vice versa. But when blindfolded for playing a game of blind men's bluff shortly afterwards, all other ball guests were merely groping in the dark.
In addition Nureyev gave each main figure a moment to hold center stage. Benvolio, who in other productions is often the least important character of the threesome of friends, had a moving pas de deux with Romeo in the third act. We also learned a bit about the amorous life of Juliet's nurse.
The ten-thousand steps Nureyev equipped the roles with seemed an easy task for Hoffalt, who delivered the most intricate combinations with nonchalant fluidity and suppleness. Of all the young men, his Romeo was not only the most handsome and elegant, but bestowed with irresistible charisma. Well, to be correct, one person resisted Romeo's advances, and fortunately so, Rosaline (Jeanette Kakareka). She was too haughty to recognize his nature. Hoffalt's Romeo was able to assert himself among the other spunky, hot-headed guys, but basically he was made of more sensitive fabric. He was different from the others, not a naive dreamer but one entwined with his own emotions and very natural in expressing them.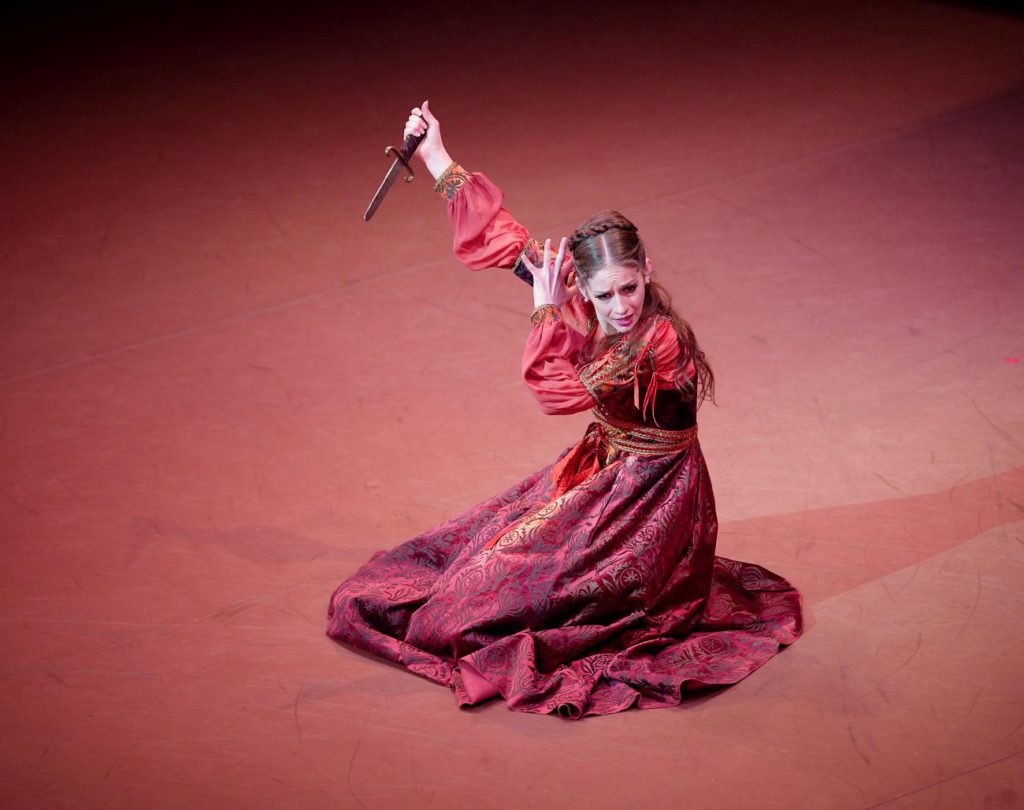 Summerscales portrayed Juliet as a larksome, girlish young woman at the beginning who turned shy the moment she entered her family's ball. But soon her Juliet felt flattered by Paris's courtship and began to unbend. If she hadn't encountered Romeo, all had quite likely ended in normal, though formal wedlock. But Cupid's arrows hit Romeo and Juliet with accuracy. All at once, Juliet dropped her restraint and let herself go like an impetuous foal. She prolonged her balances as if they were the extension of her elation and, over and over, her palms clung to Romeo's. And he? His happiness hormones must have skyrocketed given his many, many swift little jumps and turns. Completely lovestruck he didn't notice in the slightest that behind his back Tybalt was about to slyly attack him with a dagger. Romeo's faithful allies, Mercutio, Benvolio and some other young men, darted across the stage to protect him from disaster.
The two lovers' first tête-à-tête in the Capulets' garden brimmed with emotions. Swept away by passion, their pas de deux got rushed at times and partnering looked less polished. But could a secret rendezvous go ahead any differently when time is short?
That Nureyev, unlike Cranko, had Juliet learn on the spot that Romeo killed her cousin Tybalt and, despite that, adhered to her love to Romeo made one hauntingly aware of the drama she went through. One watched with consternation how her parents put her in the wedding dress for the marriage with Paris as though she were a manikin in a display. Like Juliet's mind the music started to run the moment she was alone again. In John Neumeier's version Juliet races to Friar Lawrence at this moment. But Nureyev's Juliet moved less and less. Her steps got smaller and finally she knelt on the floor. Her inner turmoil spread to the audience and caused one to wriggle restlessly around on one's seat. Hoffalt and Summerscales made one resonate with their characters until the end – Romeo and Juliet's stiflingly sad death in the crypt.
In other roles, first Yonah Acosta seemed to have great fun as Mercutio. He made him an agile, audacious joker with a winsome humor, unafraid of anything and talented in aping others. That all bystanders deemed his dying as being just another joke at first, even applauding him, made the scene especially dramatic.
Benvolio (Laurent Liotardo) was a kind sidekick who always tried to defuse nascent trouble. After Juliet had taken the poison he brought the message of her (supposed) death to Romeo. Romeo ran away in shock. Benvolio's utter despair about not being able to help his friend was terrible to watch.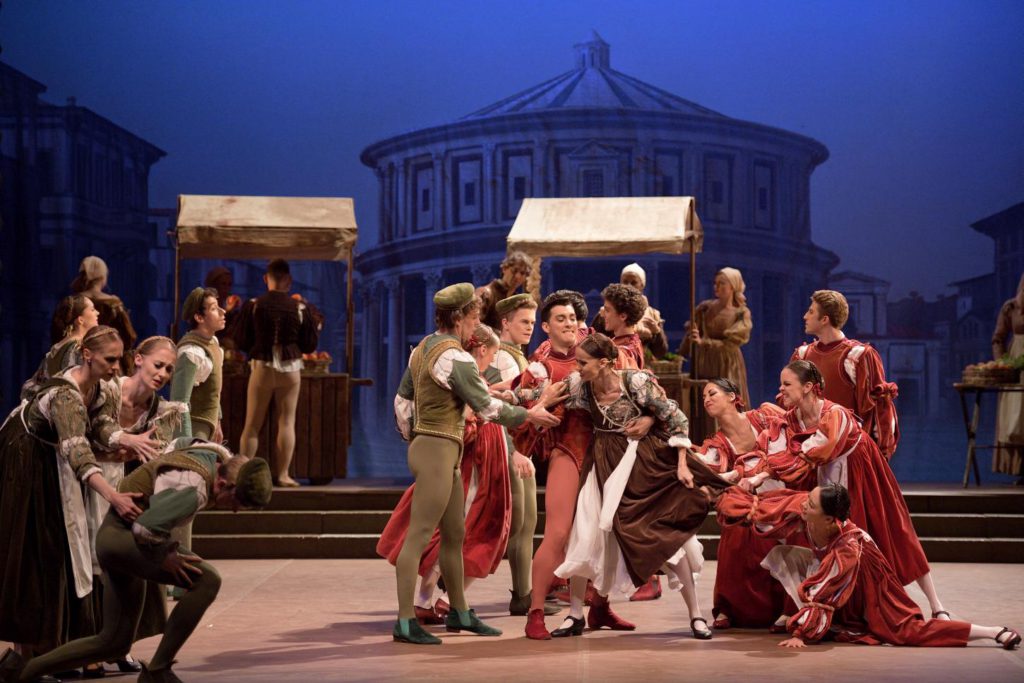 Whatever was likable about Tybalt (Fabian Reimair) – and there must have been something, otherwise Juliet wouldn't have bemoaned his death so whole-heartedly – it remained hidden. Reimair's Tybalt was arrogant and conceited. He paraded like a cock but was too slow and clumsy to compete with the smart Romeo in a fight. The way Tybalt wiped his sleeves after having floored Mercutio, stuck in my mind. "What's that bunch of Montagues and their friends to me?" he seemed to think.
In some productions Paris is a flashy dude with gelled hair. Instead, Nureyev characterized him as a perfectly mannered, reserved, socially adapted young man. Alas – a bloodless one and as a spouse presumably boring like a side table. Jinghao Zhang gave a fine role debut as Paris.
Stina Quagebeur depicted Lady Capulet as a rigid mother with a pale, pointed face. The overly exaggerated way she swung her leg at the ball, her chin held up like a queen, revealed how superior she felt due to her status. James Streeter as Lord Capulet behaved suavely towards Paris, but was unwaveringly rigid with his revolting daughter. Why didn't he notice her tear-stained face after she had apparently complied to being married to Paris?
Juliet's nurse (Amber Hunt), in some other productions depicted as a motherly chaperone, here was a sweetie, despite her chaste garb, who enjoyed herself with her suitor in a niche right next to Juliet's chamber.
Friar Lawrence (Michael Coleman) was an old man with a good heart and mind while Father John (Daniele Silingardi), hardly visible behind his huge hood, was so watchful and on the ball that he prevented Juliet from stabbing herself. Coleman also doubled as Prince of Verona, whose passivity was incomprehensible given that his subjects were busily at each others throats.
The corps at first struggled with the fast paced dancing, but later warmed up considerably.
At the conductor's podium of the English National Ballet Philharmonic was Gavin Sutherland. Apart from a few jarring tones of the flutes it gave an engaging rendition of Prokofiev's score.
The only thing I'm surprised about when in the United Kingdom is that at many venues the audience is allowed to munch crisps, eat ice cream and drink various kinds of beverages during the performance. In many rows of the Royal Festival Hall plastic waste was left behind afterwards. Hopefully, this kind of consumption attitude won't extend to the performances themselves.