"Manon"
English National Ballet
London Coliseum
London, Great Britain
January 19, 2019
by Ilona Landgraf
Copyright © 2019 by Ilona Landgraf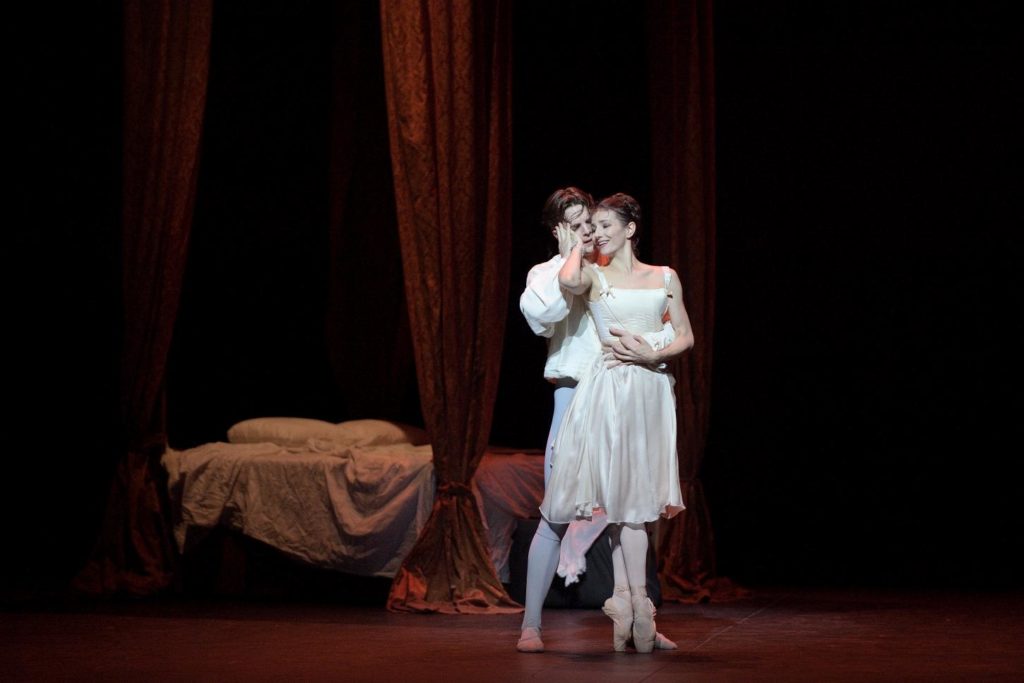 The English National Ballet (ENB) is a touring company – and that means that its productions have to be fit for traveling. In preparing for the tour, the décor of Kenneth MacMillan's "Manon" had to be boiled down to basics – and either the company borrows an existing set or spends a large sum on commissioning a new one.
The ENB opted for borrowing Mia Stensgaard's set and costumes from the Royal Danish Ballet – and this was ultimately a decision that harmed the piece. Manon and De Grieux's apartment and the jail guard's bureau in Act III are fine; it's hard to go wrong with a four-poster bed and functional desks. However, Madame's brothel, the "Hôtel particuliere", resembles a gray and windowless church,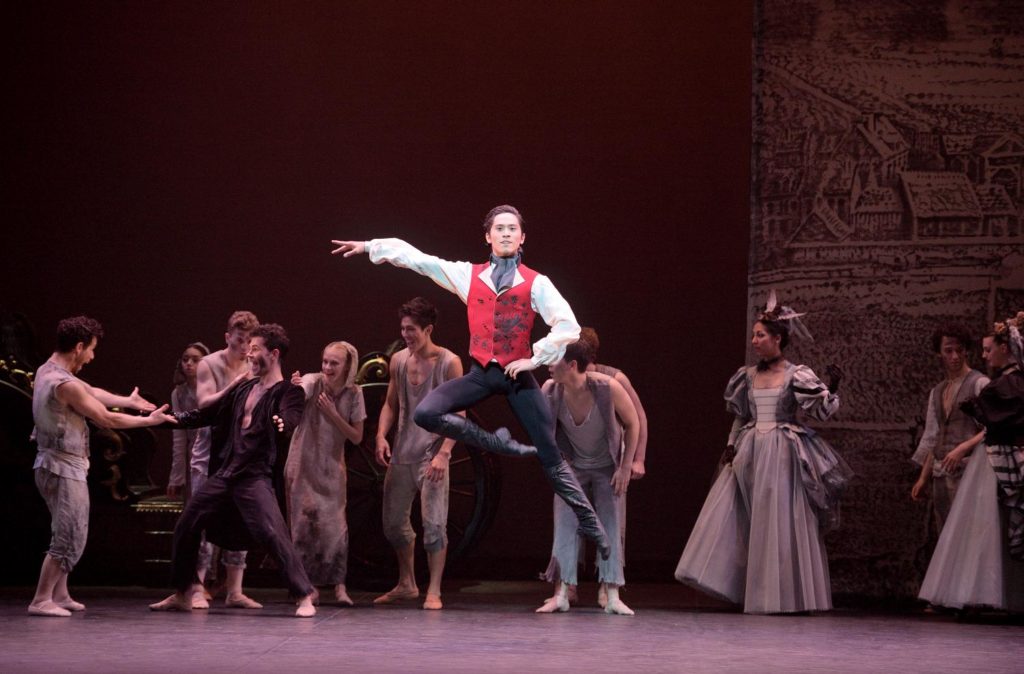 decorated with candlesticks and a chandelier that, for whatever reason, hangs crooked. Madame's prostitutes, whose outfits in an earlier scene faintly look like those of parlor-maids, scamper around in candy-colored tulle skirts that are bulky around the bottom and revealing in the front. The ladies' feathery hairdos might have been inspired by tousled chicks. Madame (Jane Haworth) clearly enjoyed swathing her already monumental bottom in a huge amount of cloth. The odd, antenna-like construction on her metallic red hair was tasteless. Where are we? At a cabaret?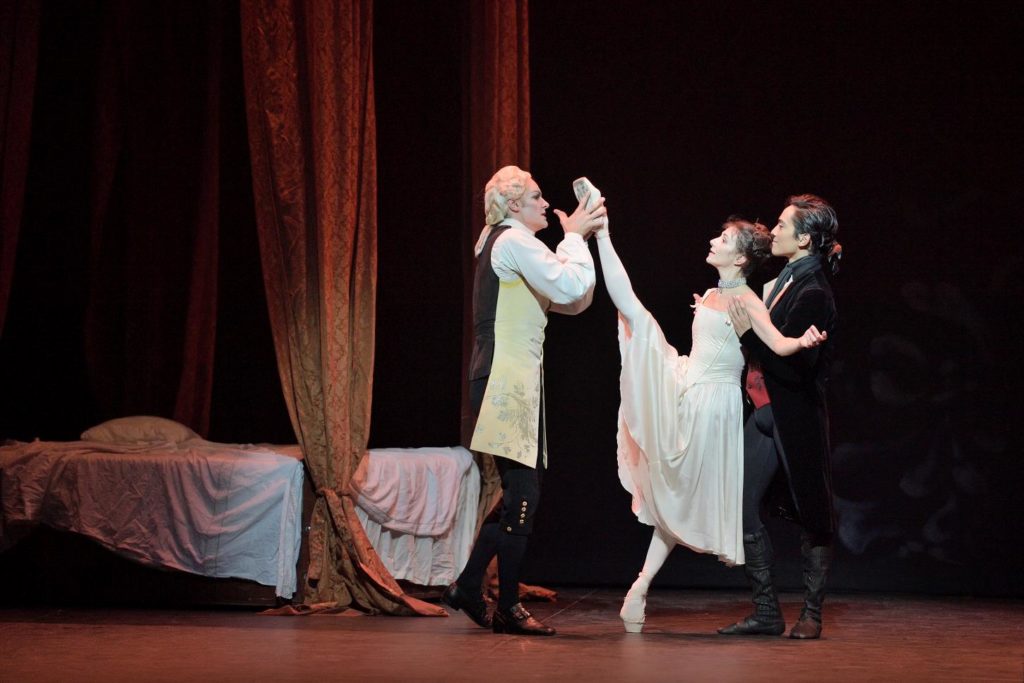 Monsieur GM (Fabian Reimair) doesn't fare any better with his garb, decked out as he is in a white waistcoat that resembles a waiter's apron. His make-up is, in a word, grotesque. Its limy white gives his skin a moldy complexion, and I wondered whether mascara had trickled down into the crevasses on either side of his nose. It is unthinkable that any woman would get herself involved with such a visage.
As for the set: New Orleans's port was clean, fresh, and sunny. The unnecessarily chic ship from which the arrested prostitutes disembarked could have been an upscale cruise-liner. The locals wore light, creamy colors, while the beggars and poor folks wore beige and white clothing that was far too intact to qualify as rags. To make things worse, lighting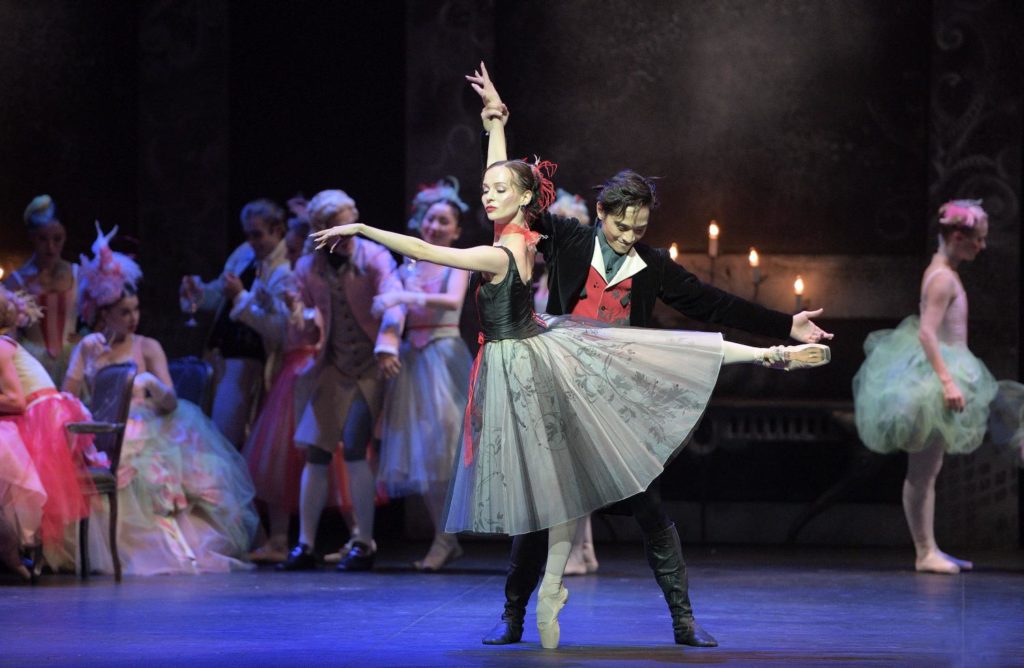 designer Mikku Kunttu illuminated the poor and the prosperous populace with the same brightness, further obliterating the distinction between the two. The courtyard of the inn in Act I would have benefited from more nuanced lighting as well. The London Coliseum's stage is small, and the story unfolds quickly. Events happen in parallel, with several groups spread across the stage using only a few props and set pieces. Audience members unfamiliar with the plot will likely lose the thread of the story. Clever lighting could have guided the onlooker's eye – but Kunttu opted for a homogenous brightness.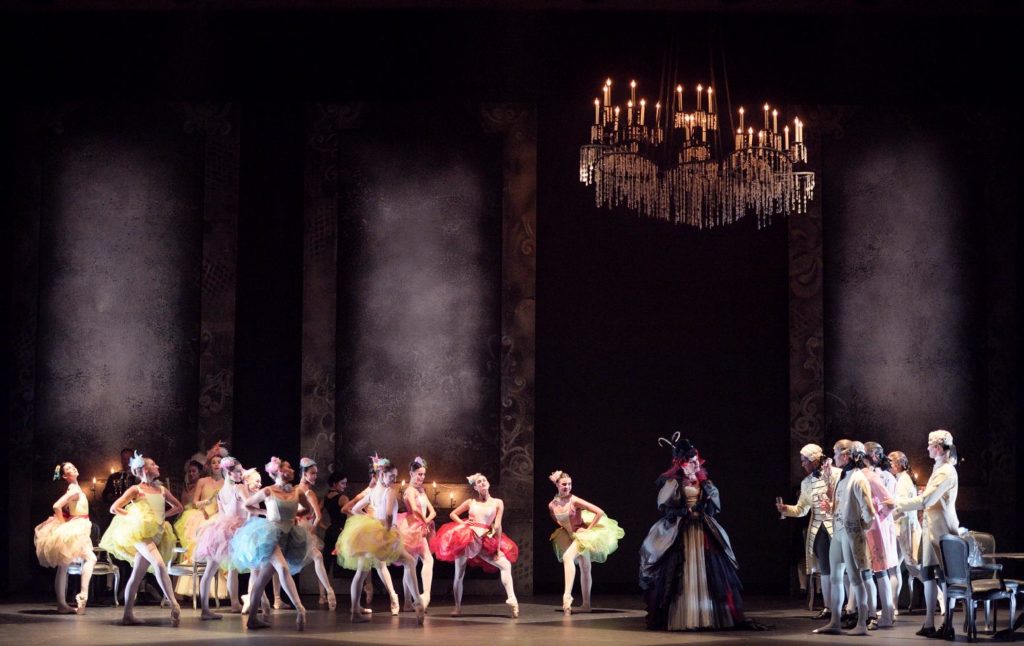 Poor taste sabotaged elements of the production beyond the set and costumes. Why, for example, did Monsieur GM so ostentatiously sniff the crotch of Manon (Jurgita Dronina) as she slid her splayed legs along his neck during the salacious pas de trois instigated by her brother Lescaut (Daniel McCormick)? Monsieur GM subsequently fingered his erection and stupidly gawked into space. Sex sells, sure – but when featured that blatantly, we move to another level entirely. Moments later, the fight between Lescaut and De Grieux (Issac Hernández) ends with De Grieux crouched on the floor amidst cheaply sparkling coins and Lescaut frozen above him in winner's pose. The pair is caught in the glare of a spotlight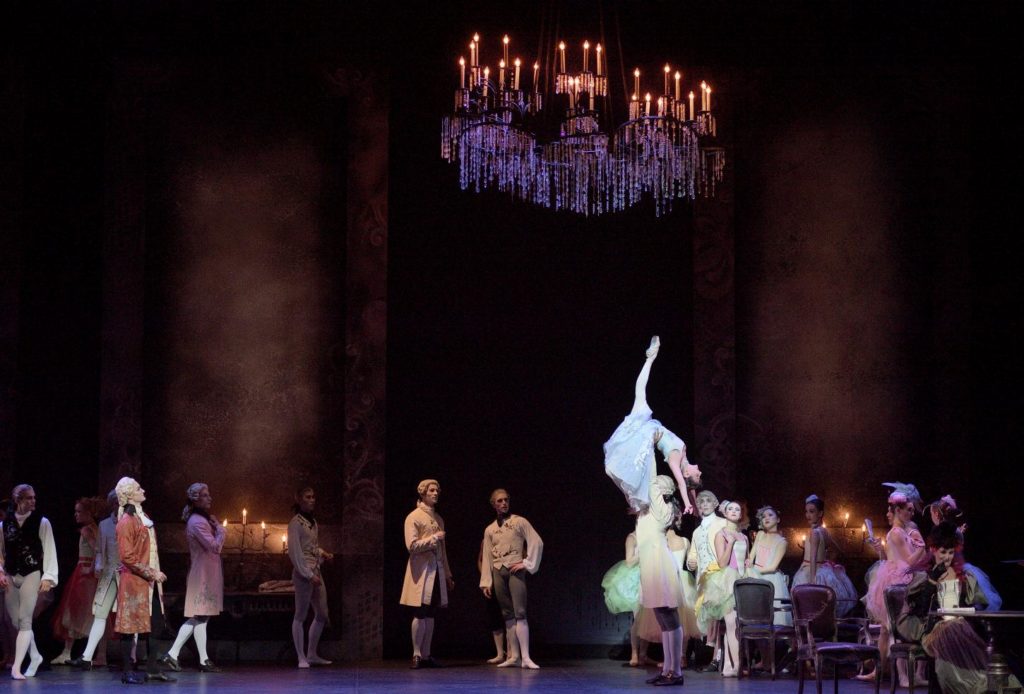 as they await the curtain's close – a scene that might fit into a musical, but has no place in this ballet. This over-emphasis on spectacle similarly marred Manon's death-struggle in the swamps of Louisiana. The dry-ice mist wafted so thickly that Manon and De Grieux were, on several occasions, nearly drowned. When the pair stuck up their heads, they seemed to be floating sleepily among heavenly clouds.
The saving grace of this performance was Jurgita Dronina's Manon. So gentle and lovely was this young woman when she arrived at the inn that you couldn't imagine her being so stormily in love with De Grieux. How quickly she learned how to capitalize on a patron's lust! Manon's eyes revealed only slight confusion at discovering that her brother was pimping her to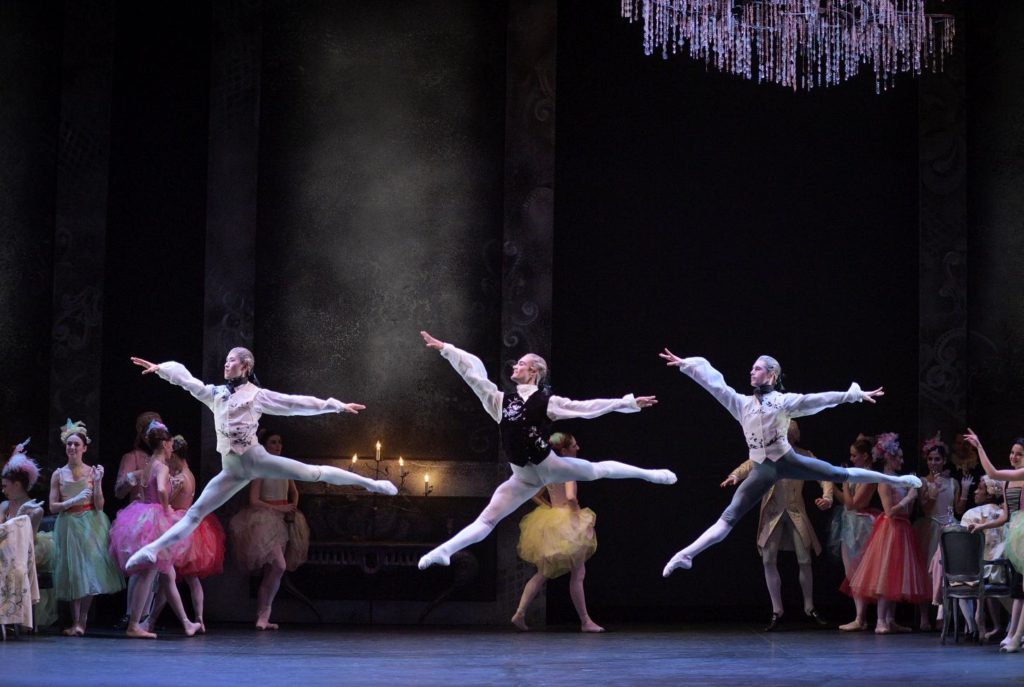 Monsieur GM – but did she have qualms? When she met De Grieux afterwards, a touch of discomfort ran over her face, but she glossed over it with cold, calculated elegance. She preened, Sphinx-like, above her male admirers, wriggling her legs suggestively like a snake and enjoying all the attention. I doubted that there was truly any love left for De Grieux. Dronina's Manon had herself under control. Her intelligence made her enormously adaptable, only snapping once Monsieur GM gunned her brother down. From then on, she was mentally shattered. It was nauseating to watch the jail guard (James Streeter) rape her (that is, the scene was performed very effectively), and the intensity with which Manon clung to life left me in dumb dismay.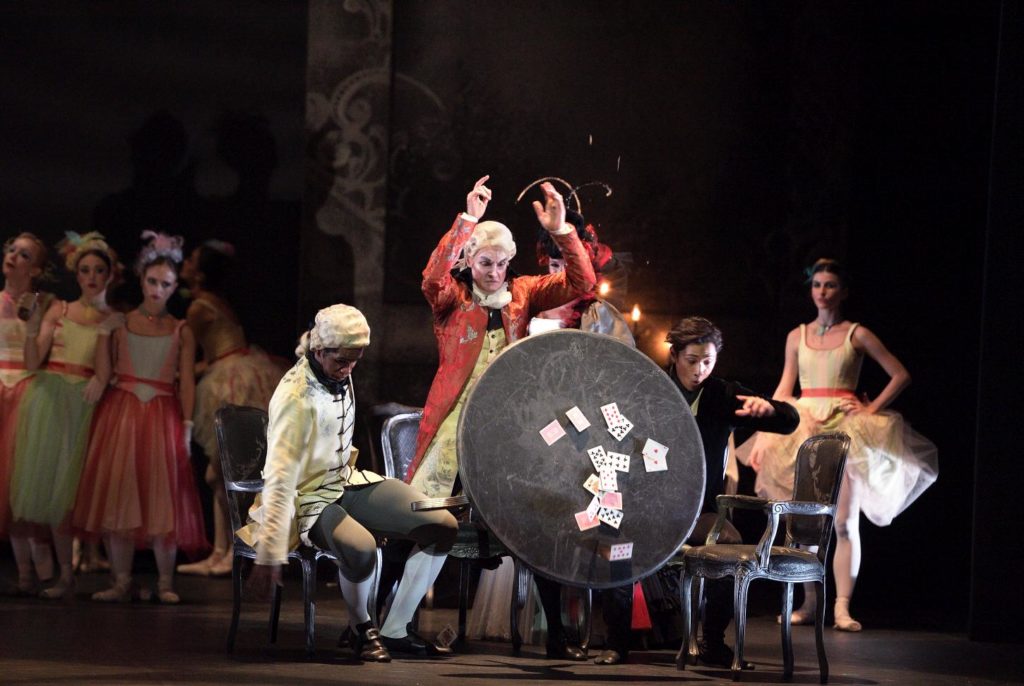 Hernández was especially convincing at the height of his emotions: when his De Grieux was in a rage, in the throes of impetuous passion or affectionate care. Other emotions sometimes seemed empty. Hernández often broke the flow of his dance and struggled to find the right pace. Though he rushed through his steps, he was several times late to match Dronina's poses.
Daniel McCormick danced Lescaut as if his body was a too-taut cable. He is a stupendous technician, but failed to dig into Lescaut's character.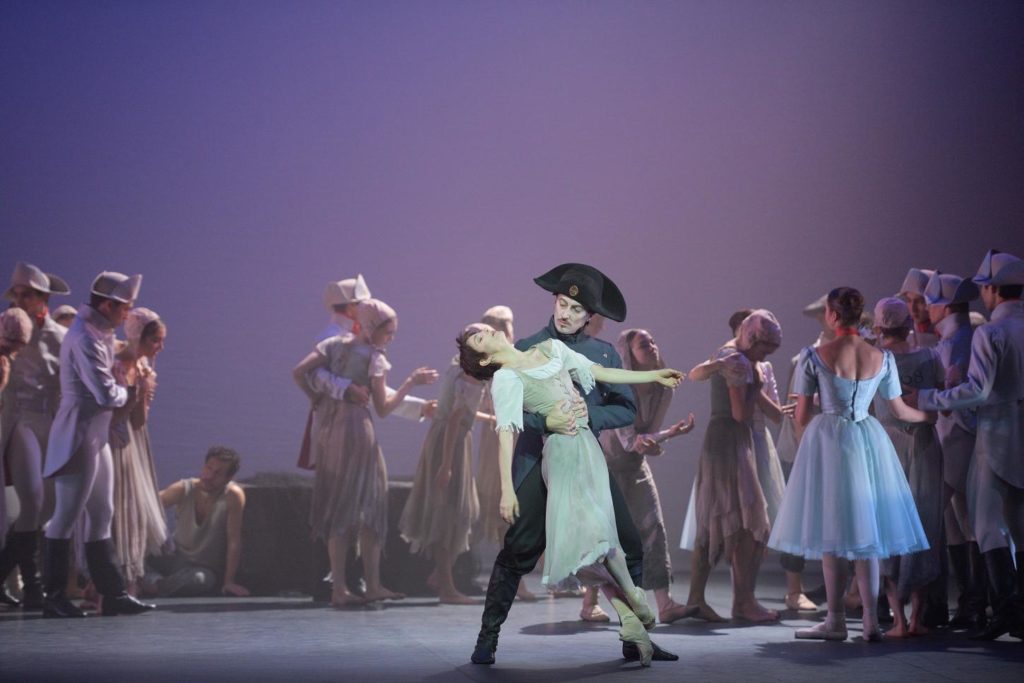 The corps presented very fine dance, which particularly with the beggars in Act I was almost too polished. The prostitutes' clients weren't the best fencers – and when the fencing is done with plastic swords, it almost amounts to parody.
Jules Massanet's score was played by the English National Ballet Philharmonic conducted by Gavin Sutherland. He directed the applause and his appreciation towards the pit at the curtain call.
Please note that all photos show a different cast from an earlier performance.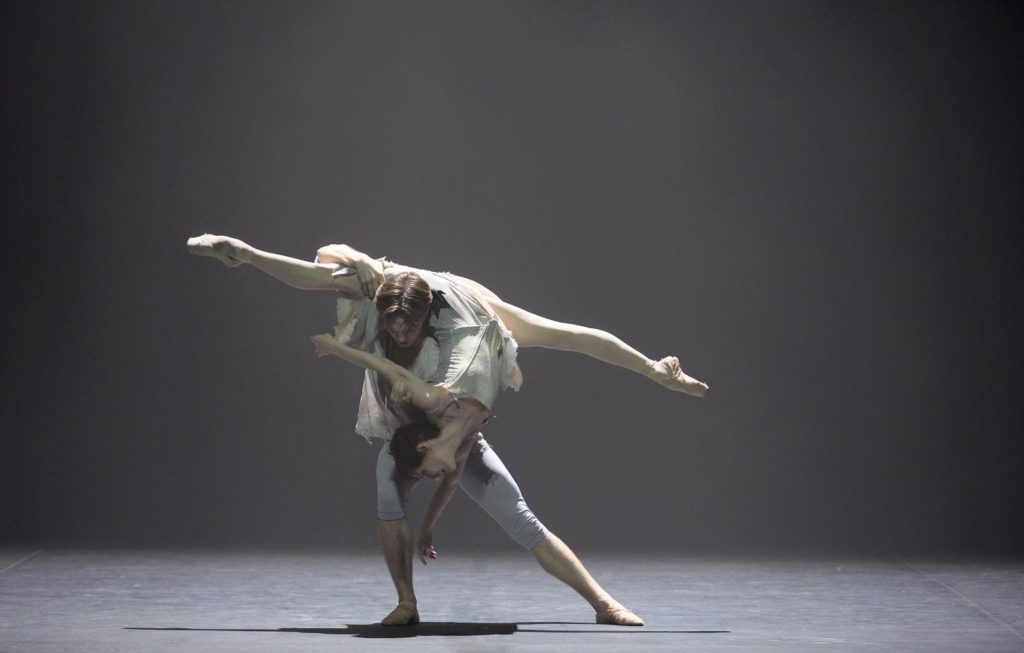 Links:
Website of the English National Ballet

Trailer "Manon" with Alina Cojocaru (Manon) and Joseph Caley (De Grieux)

guest repetiteur Gary Harris rehearses the bedroom pas de deux with
Alison McWhinney (Manon), Francesco Gabriele Frola (De Grieux),

video

Photos:

1.

Joseph Caley (De Grieux) and Alina Cojocaru (Manon), "Manon" by Kenneth MacMillan, English National

Ballet 2019

2.

Jeffrey Cirio (Lescaut) and ensemble,

"Manon" by Kenneth MacMillan, English National

Ballet 2019

3.

James Streeter (Monsieur GM), Alina Cojocaru (Manon) and Jeffrey Cirio (Lescaut),

"Manon" by Kenneth MacMillan, English National

Ballet 2019

4.

Katja Khaniukova (Lescaut's Mistress), Jeffrey Cirio (Lescaut) and ensemble,

"Manon" by Kenneth MacMillan, English National

Ballet 2019

5.

Ensemble,

"Manon" by Kenneth MacMillan, English National

Ballet 2019

6.

Ensemble,

"Manon" by Kenneth MacMillan, English National

Ballet 2019

7.

Ensemble, "Manon" by Kenneth MacMillan, English National Ballet 2019

8.

Junor Souza (Client), James Streeter (Monsieur GM), Jeffrey Cirio (Lescaut) and ensemble, "Manon" by Kenneth MacMillan, English National Ballet 2019

9.

Alina Cojocaru (Manon), Fabian Reimair (Jail Guard) and ensemble,

"Manon" by Kenneth MacMillan, English National

Ballet 2019

10.

Joseph Caley (De Grieux) and Alina Cojocaru (Manon),

"Manon" by Kenneth MacMillan, English National

Ballet 2019

all photos

© English National Ballet / Laurent Liotardo

Editing:

Jake Stepansky