"Requiem" ("Citizen Nowhere" / "Requiem")
Dutch National Ballet
Dutch National Opera & Ballet
Amsterdam, The Netherlands
February 16, 2019
by Ilona Landgraf
Copyright © 2019 by Ilona Landgraf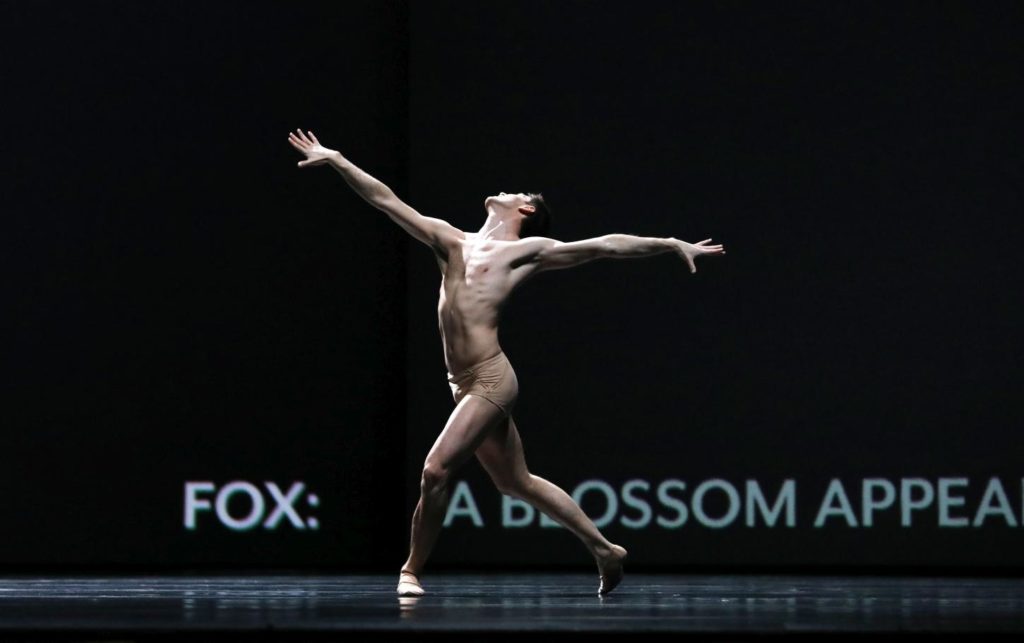 David Dawson's "Requiem" premiered in early February as the second half of an all-Dawson bill from the Dutch National Ballet. The first half was "Citizen Nowhere", a twenty-or-so minute solo, also created for the Dutch company and first performed in the "Made in Amsterdam 2"-program in 2017.
That "Citizen Nowhere" was inspired by Antoine de Saint-Exupéry's novella "The Little Prince" only becomes clear when a selection of signaling words and quotations are projected onto the gray backdrop: "Fox: anything essential is invisible to the eyes; one can only see clearly with the heart"; and "SNAKE: The Tears" (Tears is subsequently replaced with EYE and HEART). Instead, Dawson's reading of the novella is a political one that tackles nationalism, displacement, and – highly topical – the building of walls.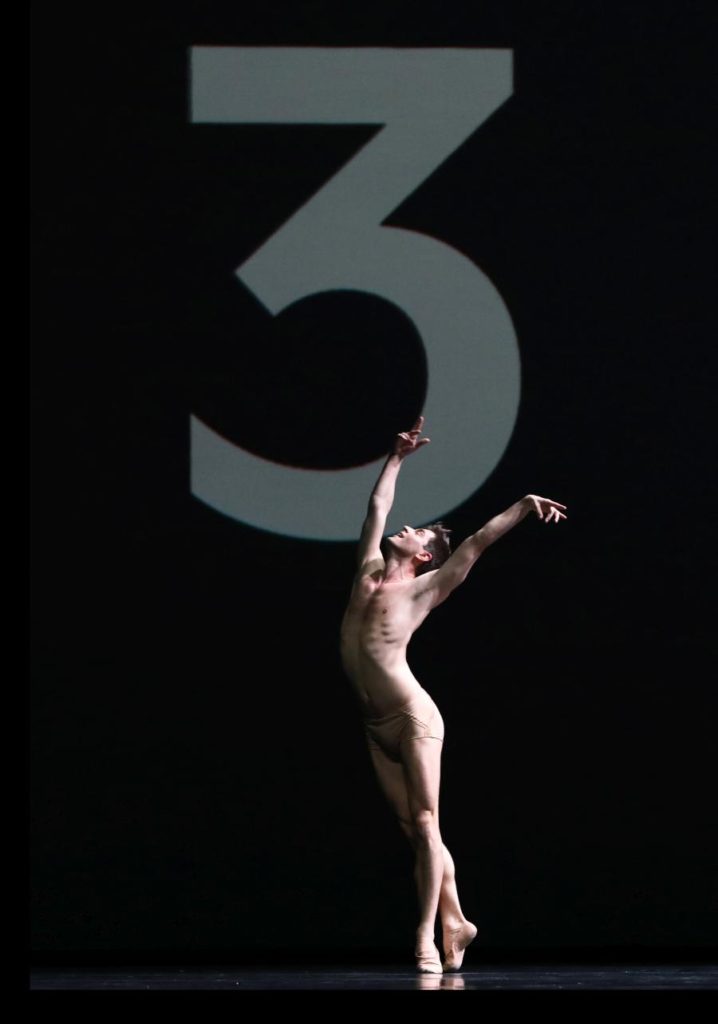 I wasn't impressed by "Citizen Nowhere" at its premiere – and it did not fare better in my mind with repeated viewing. Szymon Brzóska's composition attempts to evoke higher spiritual realms, but the yearningly elongated violin melodies, the meditative thrumming of the piano, the spherical and soaring soundscapes, and the sudden booms! are arranged and exaggerated too intentionally to carry any spiritual weight.
Dawson generally collaborates with the same artistic team and his stage worlds are typically gray with incidental splashes of color. For this piece, set and video designer Eno Henze chose red. The gray backdrop could be an oversized partition screen of a fair stand, but more likely it is meant to resemble an opened book. Projections appear on the screen: the numbers 1 – 7 (the Planet Earth is the seventh planet visited by the little prince); a universe of white dots and tiny letters that swirls and flickers with overwhelming force; a red line that trickles down like a trail of blood; or a horizontal white line. At certain moments, Sasha Mukhamedov, filmed with a red filter, dances in a video like the unattainable object of desire for Edo Wijnen, who – as in 2017 – performs the solo. Wearing only flesh-colored shorts designed by Yumiko Takeshima,
Wijnen might be playing the prince or a homeless fellow. He crisscrosses the stage in a state of perpetual over-exaltation. As his chest arches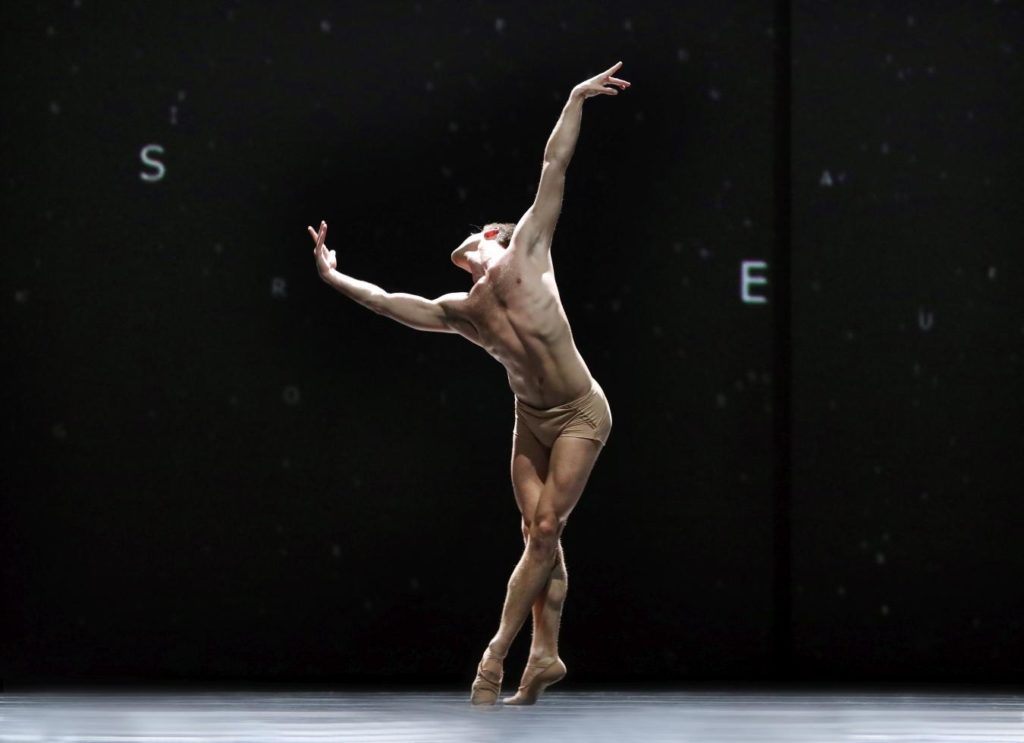 upwards and his arms spread like wings, he whizzes about in circles, glancing towards horizon like Saint Sebastian running to be hit by the arrow. In the end, Wijnen runs offstage. It's dark. After a short silence, we see him dancing in a slick, featureless black-and-white video clip.
Dawson's movement vocabulary has characteristics that are easily recognizable: movement-sequences with an unbroken flow that end in poses, arms either stretched sideways in a 45°-angle or stirring through the air; hands kinked down, and chests arched up. His style is distinguished by its incessant expressiveness – but this expressiveness seems to stem from habit rather than from genuine emotion.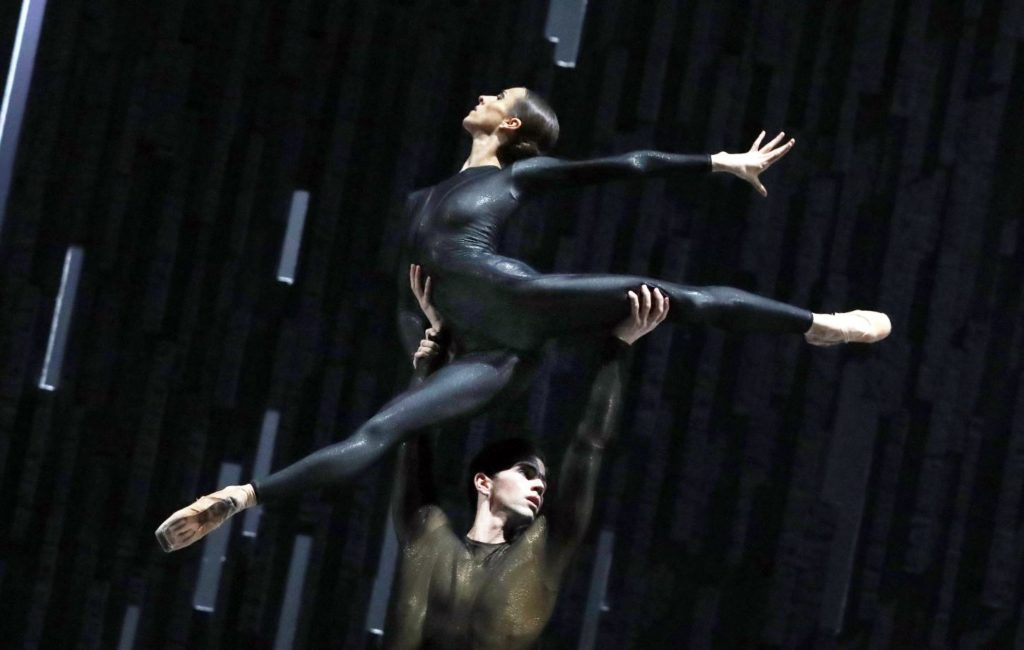 The composition for "Requiem" was commissioned from the Englishman Gavin Bryars, who has contributed scores for dance pieces by Merce Cunningham and William Forsythe among others. The hour of music is somber and includes several movements featuring the Dutch National Opera's choir. Again, the décor is by Henze and is gray. It wasn't until after I read an interview with Dawson that I learned that the backdrop was made of panels of burnt wood interspersed with vertical stripes of light. At first, the left side of the wall shines – and over the course of the piece the light slowly wanders towards the right. Large mirrors close off the stage on either side, except at one exit in each back corner.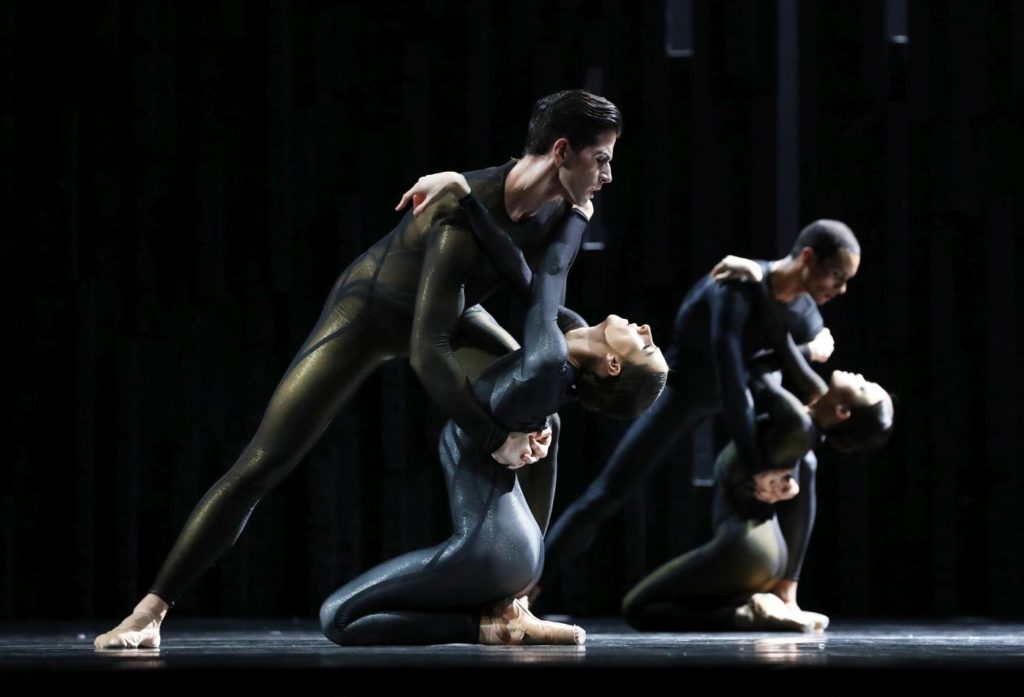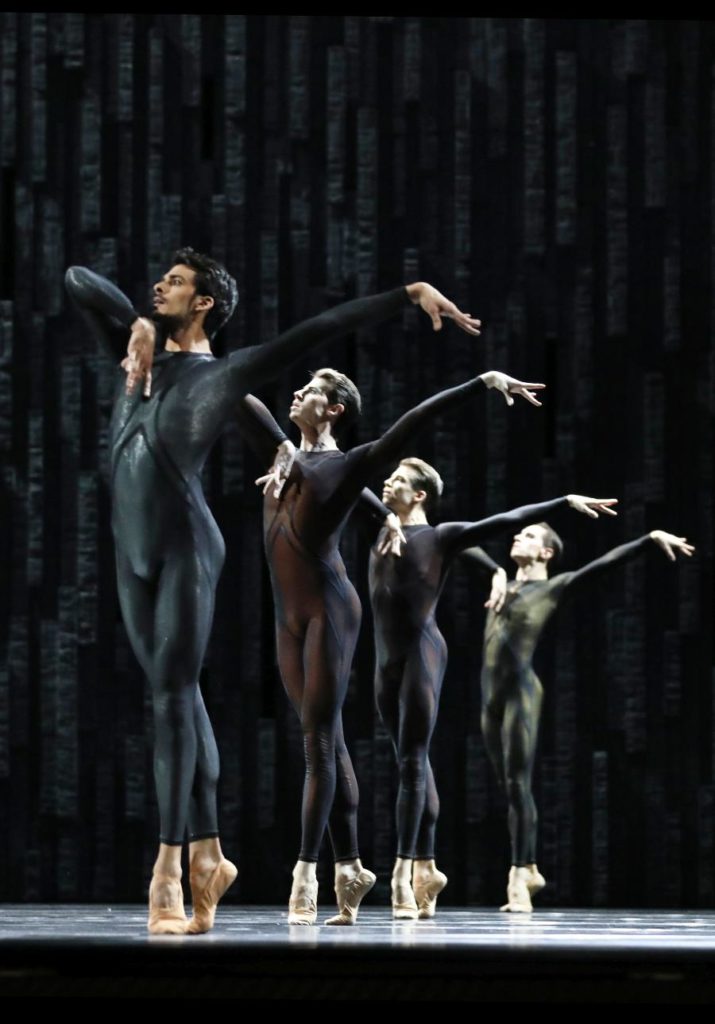 The costumes – again by Takeshima – are skin-tight, full-body latex leotards in black, dark brown, olive, and silver-gray. According to the interview, the dancers represent a nation of angels.
Each movement is opened by a different group that is subsequently joined by others. Solos, pas de deux and pas de trois are woven into these group dances. Patterns vary constantly: repetitions of movements follow one another like an assembly of toppled dominoes; two groups move separately alongside one central couple; dancers mirror one another. Later, the dancers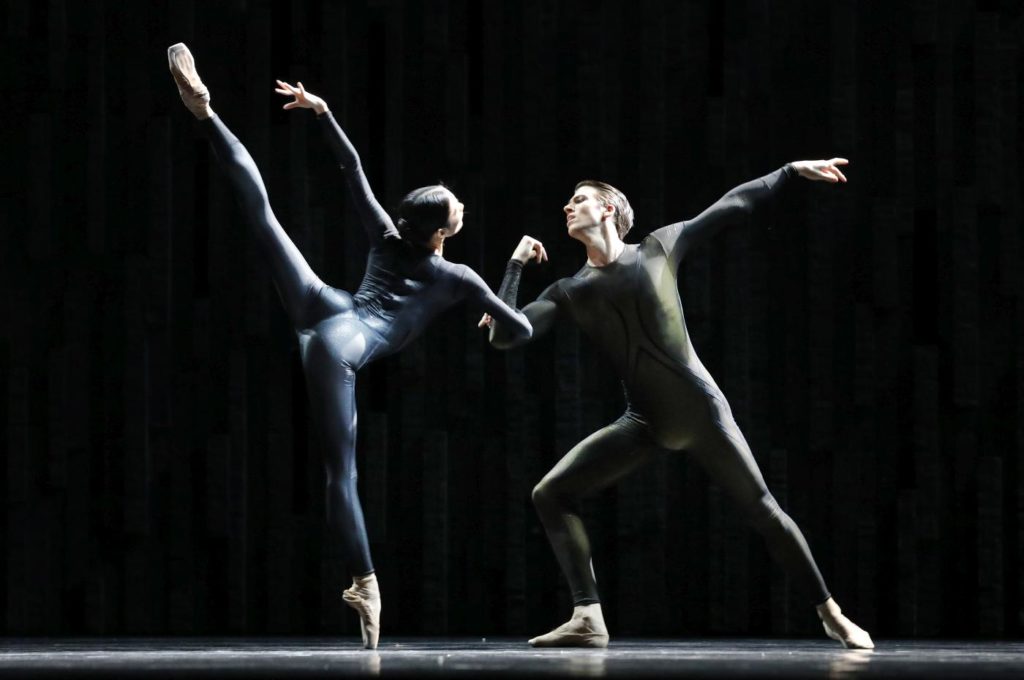 line up diagonally, run in a circle, or sit on the ground in a line. At one point they stare towards the audience and retreat, as if experiencing an epiphany. In the last scene they stand evenly distributed, looking towards the front left corner while pointing their right arms towards horizon. It's almost like the opening scene of Balanchine's "Serenade". Another grouping of the women reminded me of a scene from Dawson's "Swan Lake". Elsewhere, influences of Forsythe's style show through.
The choreography of "Requiem" rests on the same foundation as that of the previous piece, but features more space-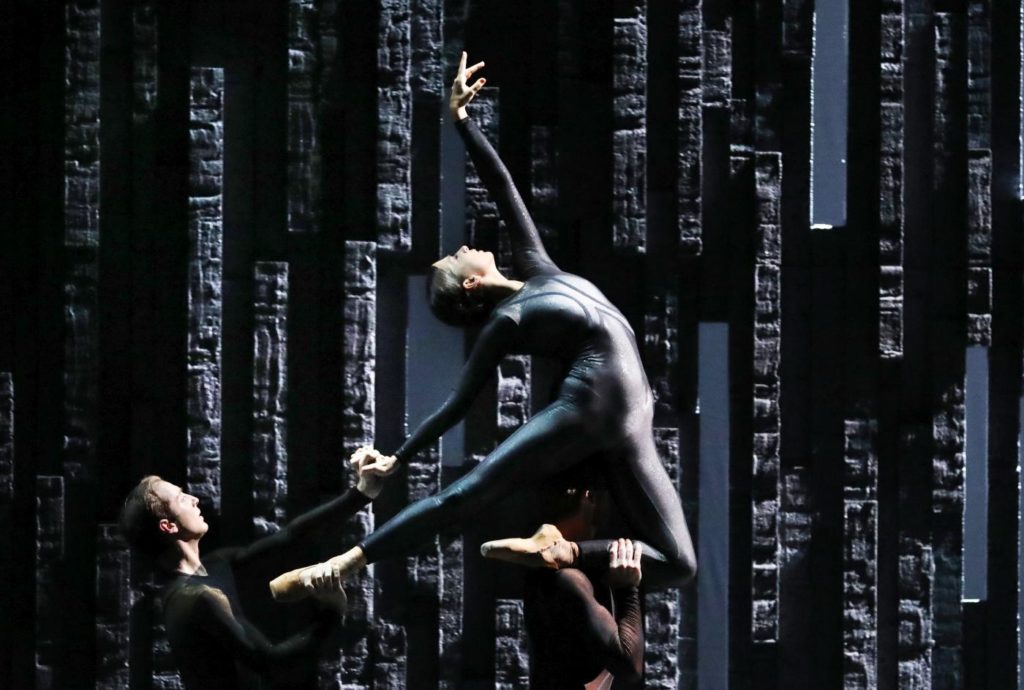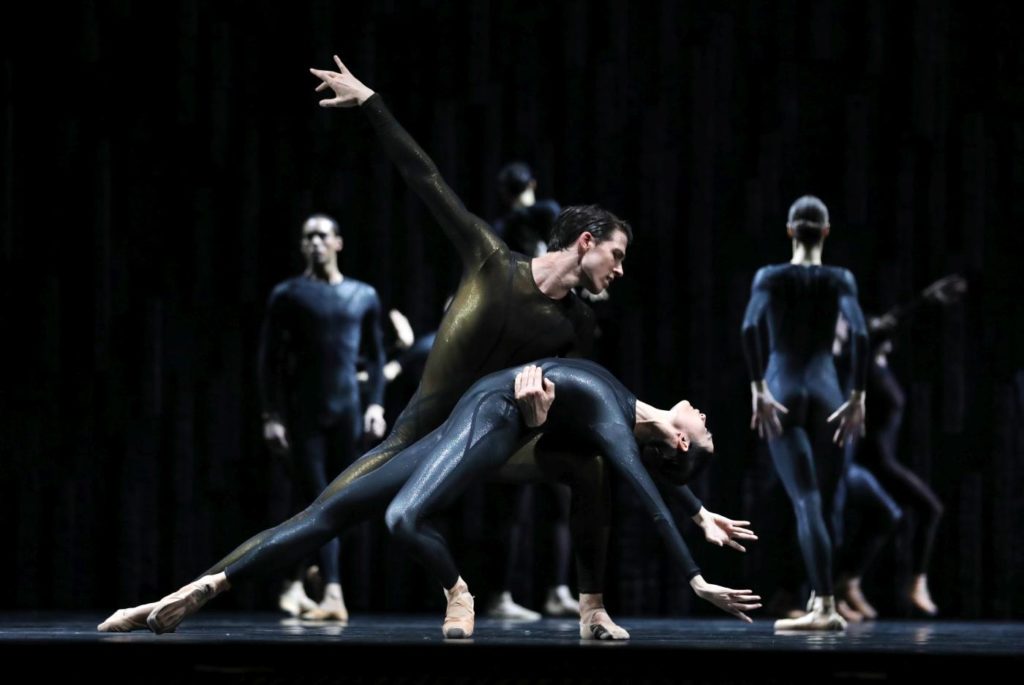 consuming lifts and jumps. At one point, the women sit on the shoulders of the men like mermaids, stretching one leg backwards and holding their arms to the side. Moments later, a woman is carried out like a diva. Her casually hanging down hand gives her an arrogant air. Mukhamedov contributes a strong solo and later, partnered by James Stout and Joseph Massarelli, poses like an Egyptian sphinx.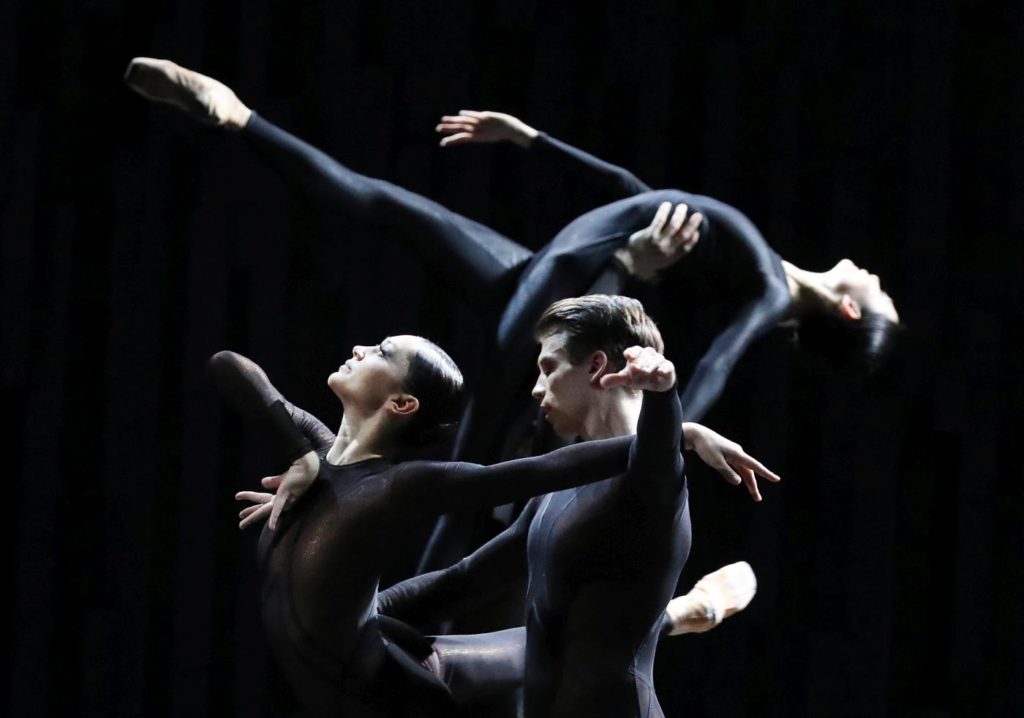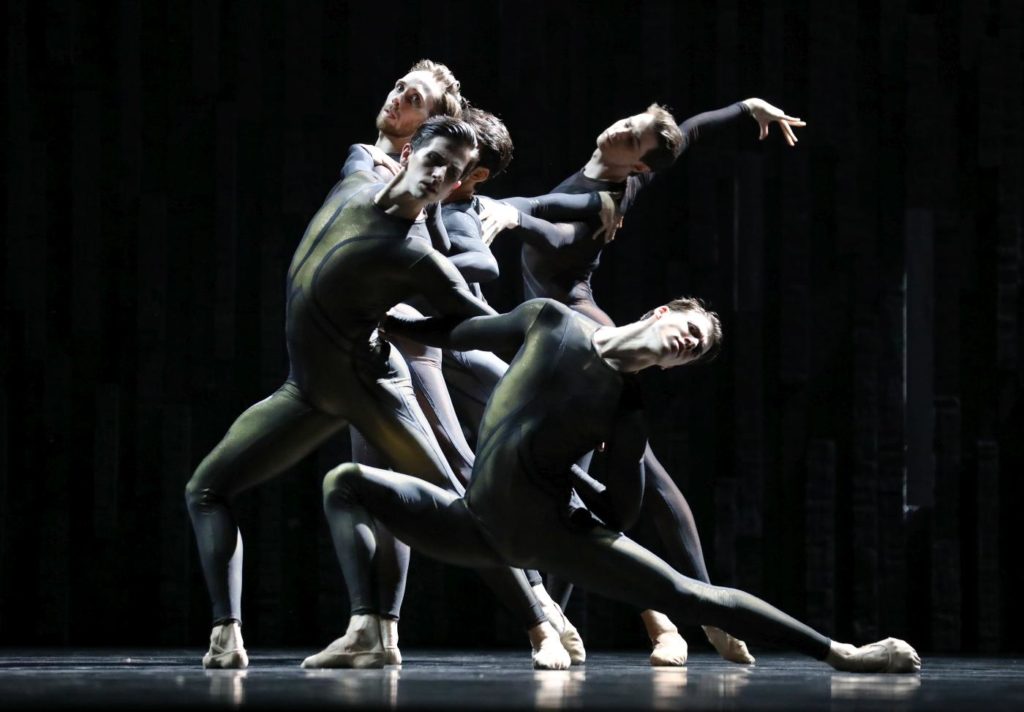 Dawson also said in the interview that "this Requiem is a prayer" whose "energy is sent out into the world" every time it is performed. There is only one problem: there is no energy. That's not the fault of the dancers, who perform with utter dedication. The Dutch company has proven on multiple occasions that it can make a ballet's energy strongly felt – just think of Toer van Schayk's "Requiem", for example. But Dawson's choreography might not have what it takes to generate similar strength.
Brzóska's and Bryars's scores were given a fine rendition by Het Balletorkest playing under the baton of Matthew Rowe.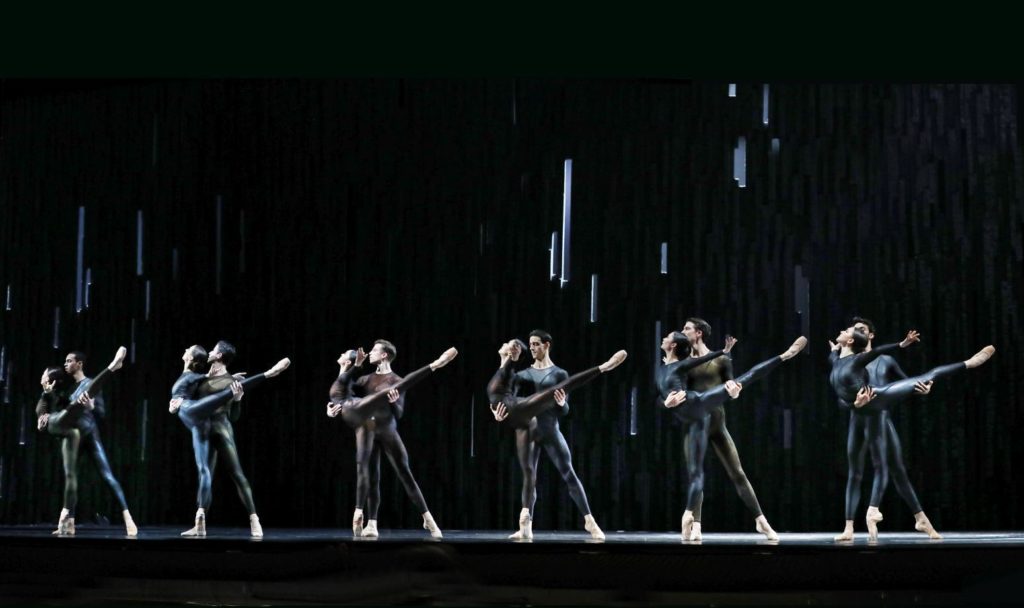 Links:
Website of Dutch National Ballet

Trailer "Requiem"

Photos:

1.

Edo Wijnen, "Citizen Nowhere" by David Dawson,

Dutch National Ballet 2019

2.

Edo Wijnen, "Citizen Nowhere" by David Dawson,

Dutch National Ballet 2019

3.

Edo Wijnen, "Citizen Nowhere" by David Dawson,

Dutch National Ballet 2019

4.

Floor Eimers and Dario Elia, "Requiem"

by David Dawson,

Dutch National Ballet 2019

5.

Floor Eimers, Dario Elia, Nathan Brhane and Riho Sakamoto, "Requiem" by David Dawson, Dutch National Ballet 2019

6.

Constantine Allen, Jared Wright, Sem Sjouke and Daniel Montero Real, "Requiem" by David Dawson, Dutch National Ballet 2019

7.

Jingjing Mao and Martin ten Kortenaar, "Requiem" by David Dawson, Dutch National Ballet 2019

8.

Joseph Massarelli, Sasha Mukhamedov and James Stout, "Requiem" by David Dawson, Dutch National Ballet 2019

9.

Jingjing Mao, Martin ten Kortenaar and ensemble, "Requiem" by David Dawson, Dutch National Ballet 2019

10.
James Stout, Dario Elia, Martin ten Kortenaar, Jared Wright and Constantine Allen,

"Requiem"

by David Dawson,

Dutch National Ballet 2019

11.
Nancy Burer, Sem Sjouke and Jingjing Mao,

"Requiem"

by David Dawson,

Dutch National Ballet 2019

12.
Ensemble,

"Requiem"

by David Dawson,

Dutch National Ballet 2019

all photos

© Hans Gerritsen


Editing:

Jake Stepansky