"Goldberg-Variationen" ("Tabula Rasa" / "Goldberg-Variationen")
Vienna State Ballet
Vienna State Opera
Vienna, Austria
April 27, 2023 (livestream)
by Ilona Landgraf
Copyright © 2023 by Ilona Landgraf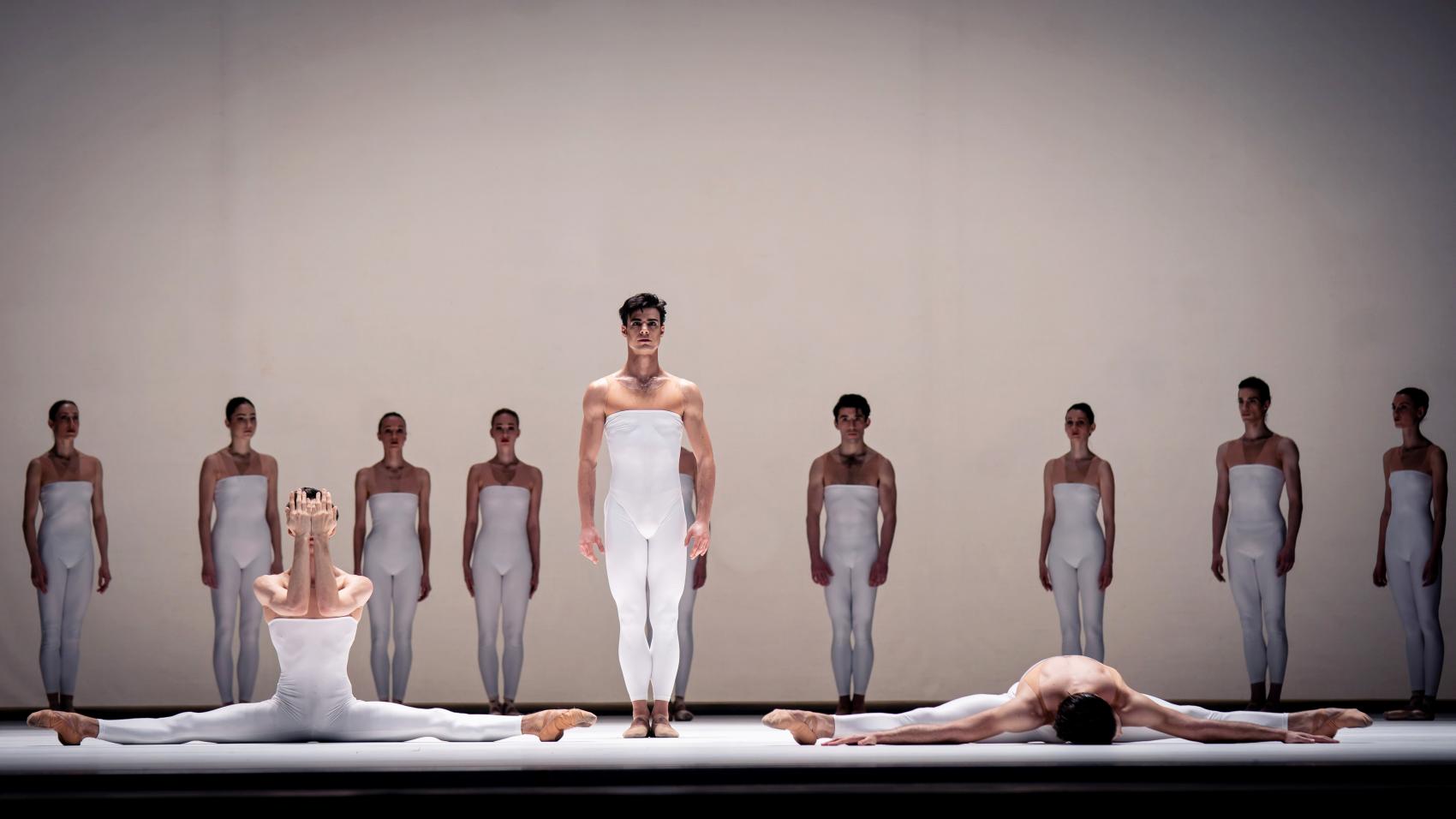 Since Martin Schläpfer took over the reins of the Vienna State Ballet in 2020, his pre-existing and new choreographies entered the company's repertoire. Most of them I wouldn't call assets. However, the most recent double bill is a gain. It combines Ohad Naharin's "Tabula Rasa" (1986) and Heinz Spoerli's "Goldberg-Variationen" (1993). Sadly, the livestream of the premiere began only after the break, omitting "Tabula Rasa". Hence, I can only comment on "Goldberg-Variationen".
I should have known better, but I was not prepared to read the name of Horst Koegler (1927 – 2012) in the piece description on the Vienna State Ballet's website. It quotes Koegler who labeled "the Goldberg-Variationen as one of the works from Spoerli's Bach ballet cathedral which describes people and life in a series of poetic, choreographed images and scenes (…)". Koegler, one of Germany's renowned ballet critics and the author of a book about Spoerli, was very well versed with the latter's oeuvre. He loved "Goldberg-Variationen" – both Bach's music and its interpretation through dance. Would he have liked Vienna's one?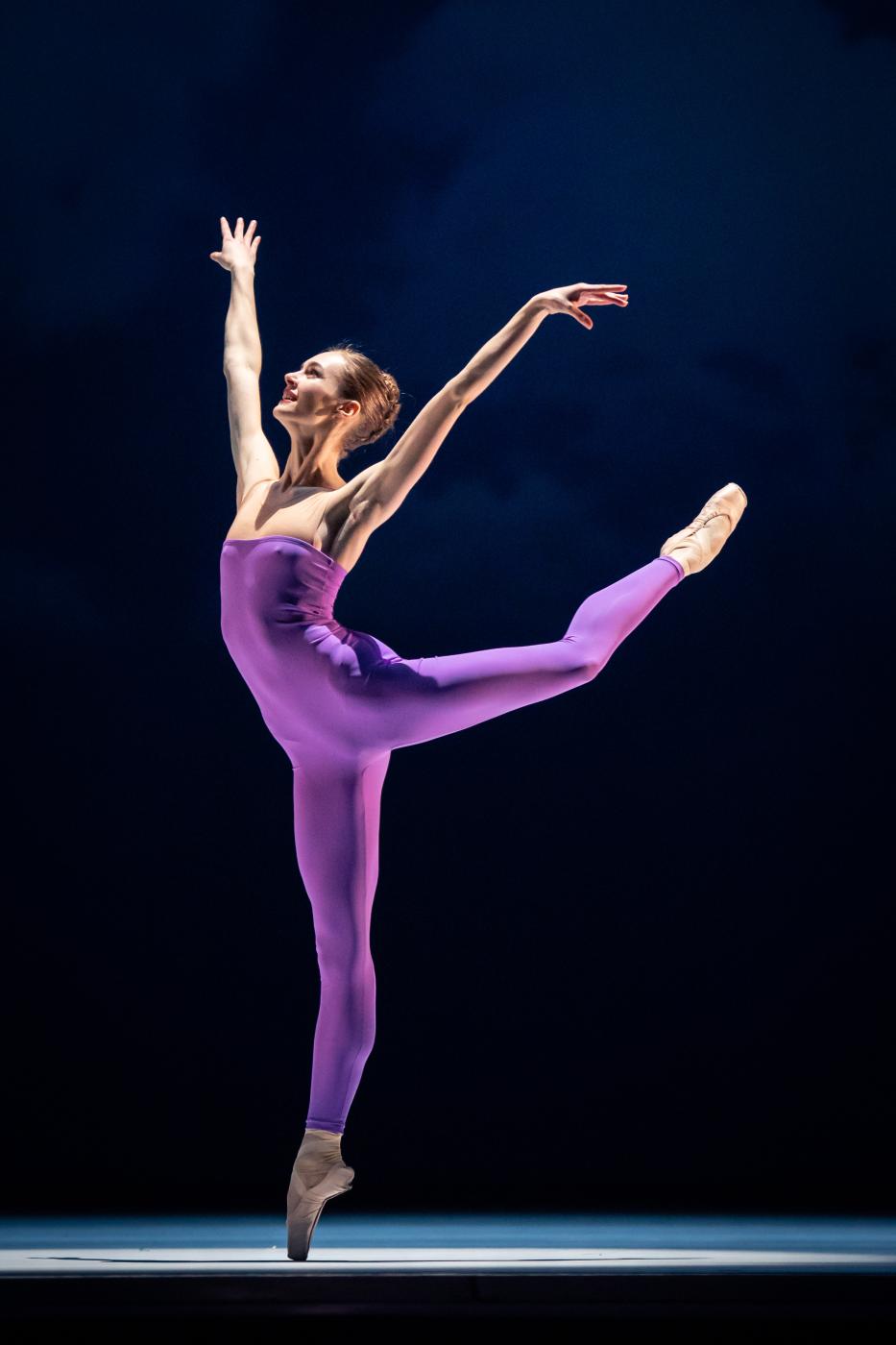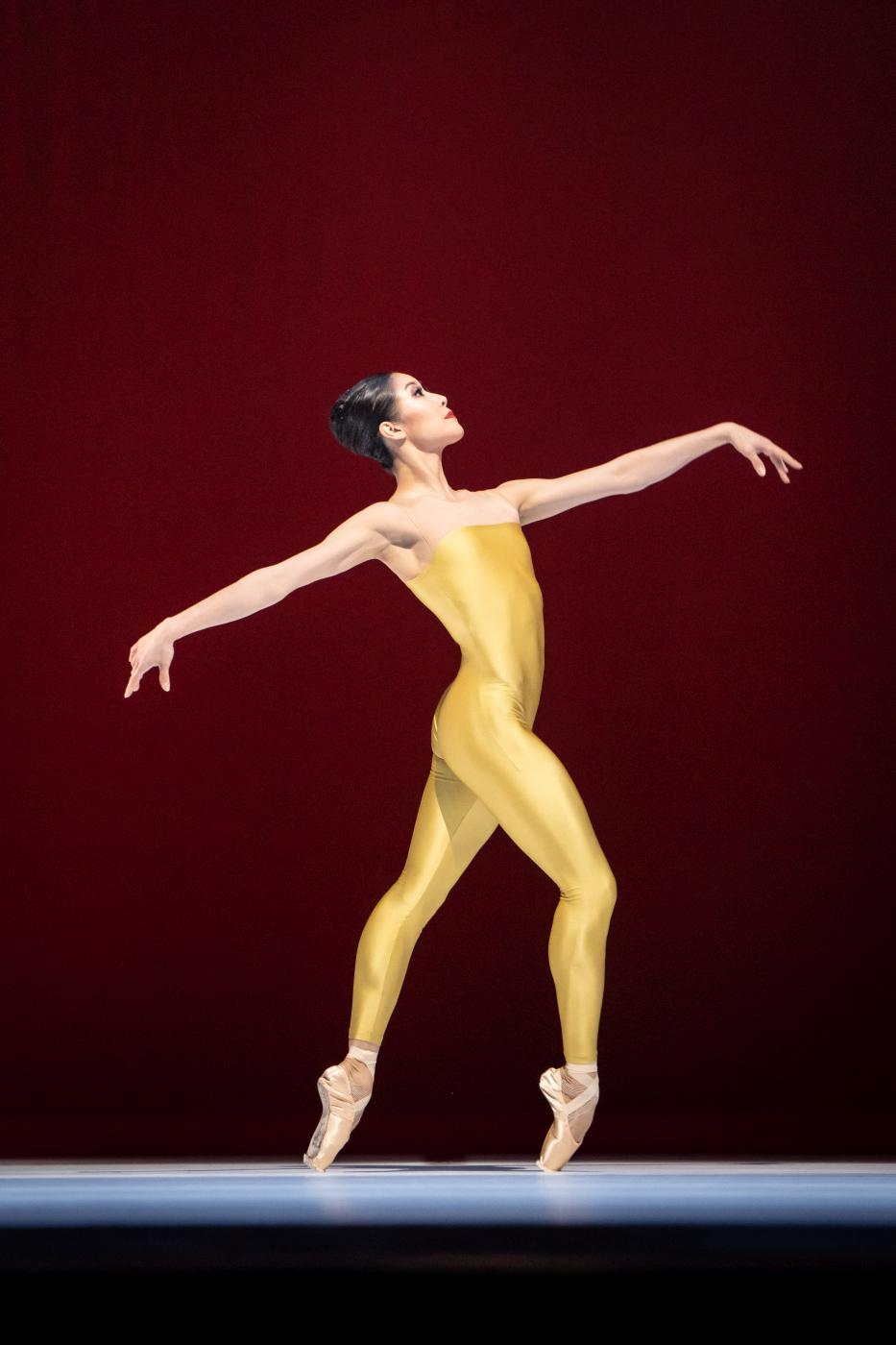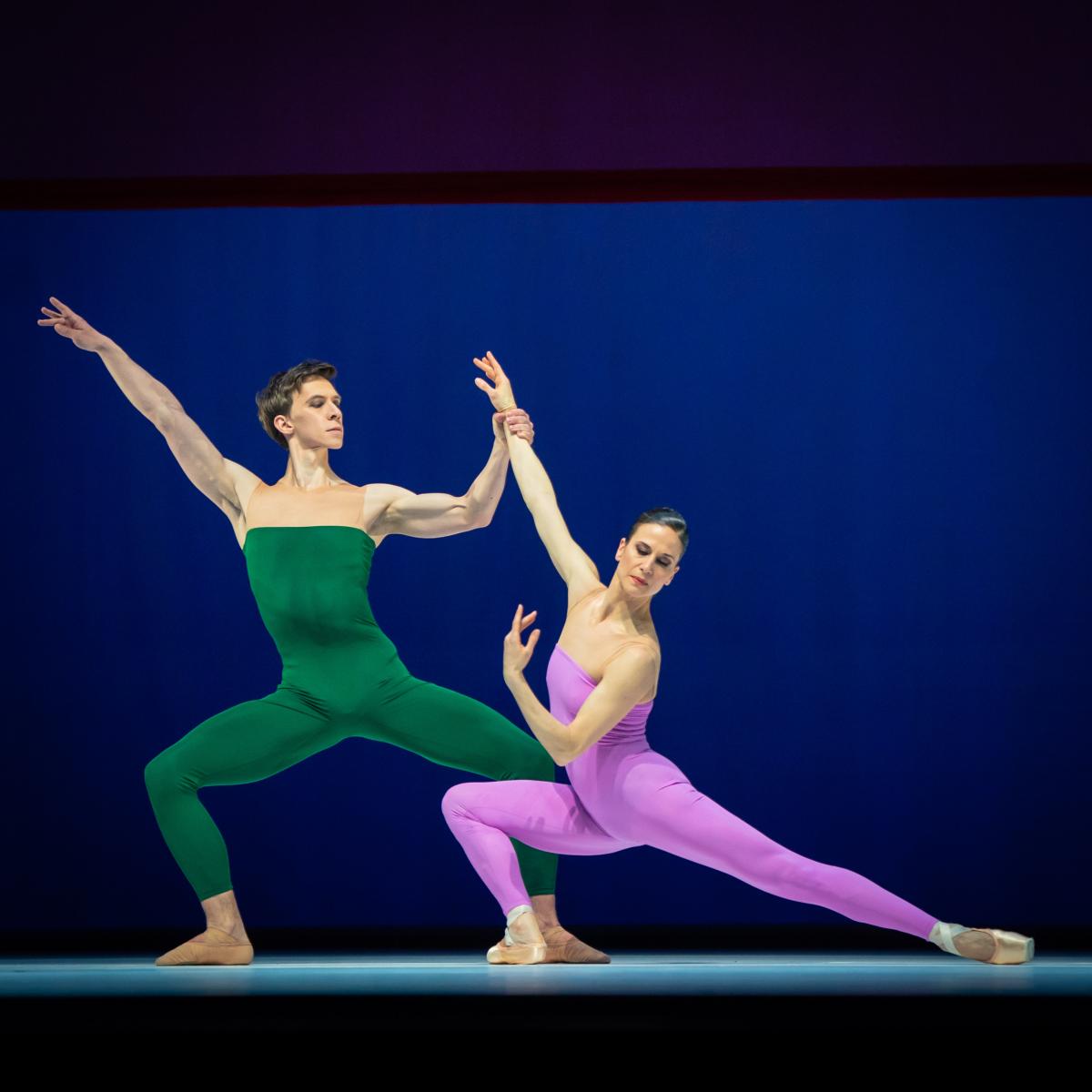 Perhaps less so, given the new costumes. Keso Dekker's 1993 original costumes were white or monochromatic tank unitards. Spoerli turned them into strapless unitards and biketards that make the men look feminine. Perhaps a concession to contemporary trends of gender fluidity? Might that also be the reason why he swapped some of Dekker's vibrant colors with pastel shades such as lilac, purple, and green-blues? In any case, these new costumes undermine the strength and clarity inherent in the ballet.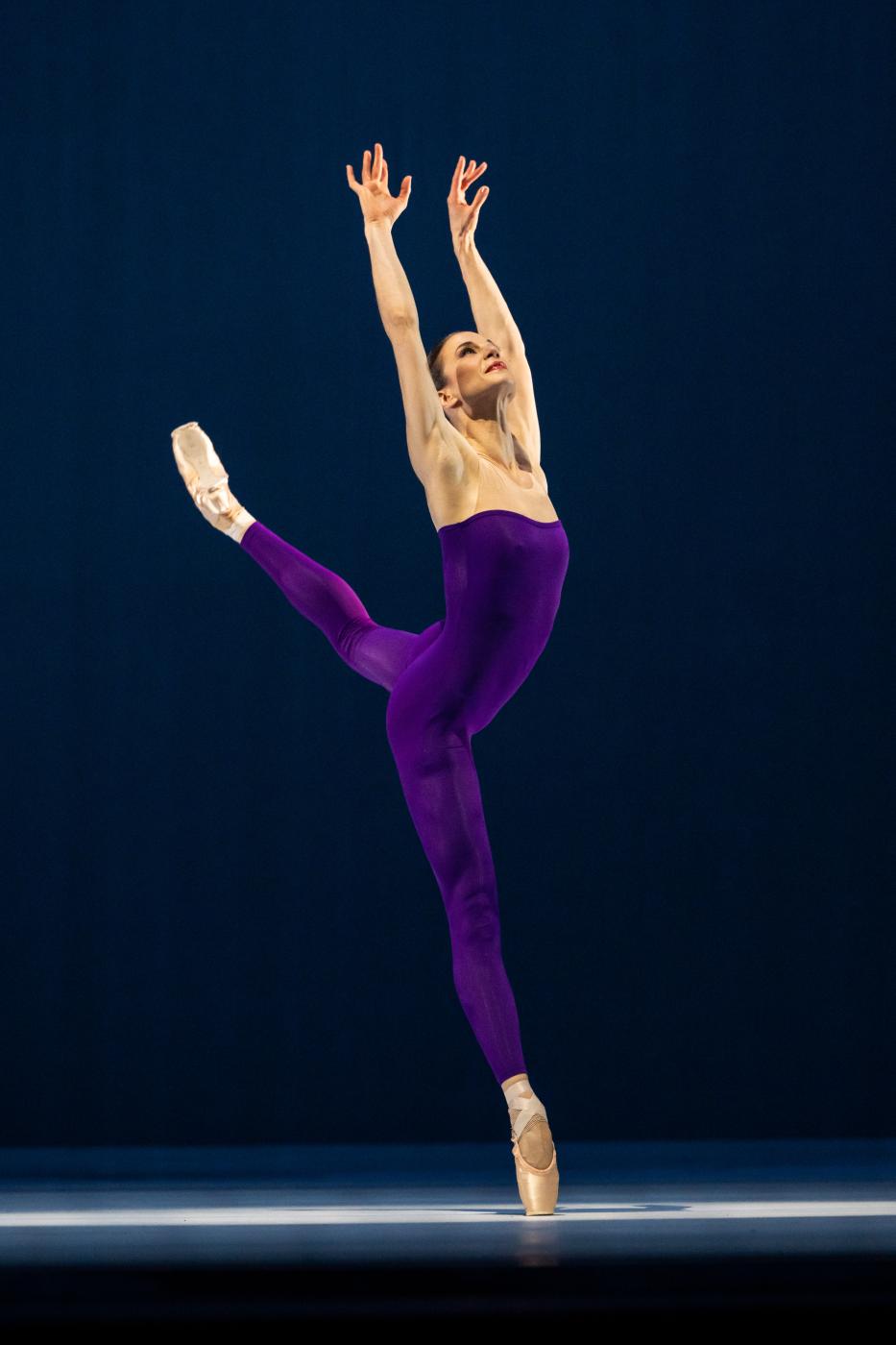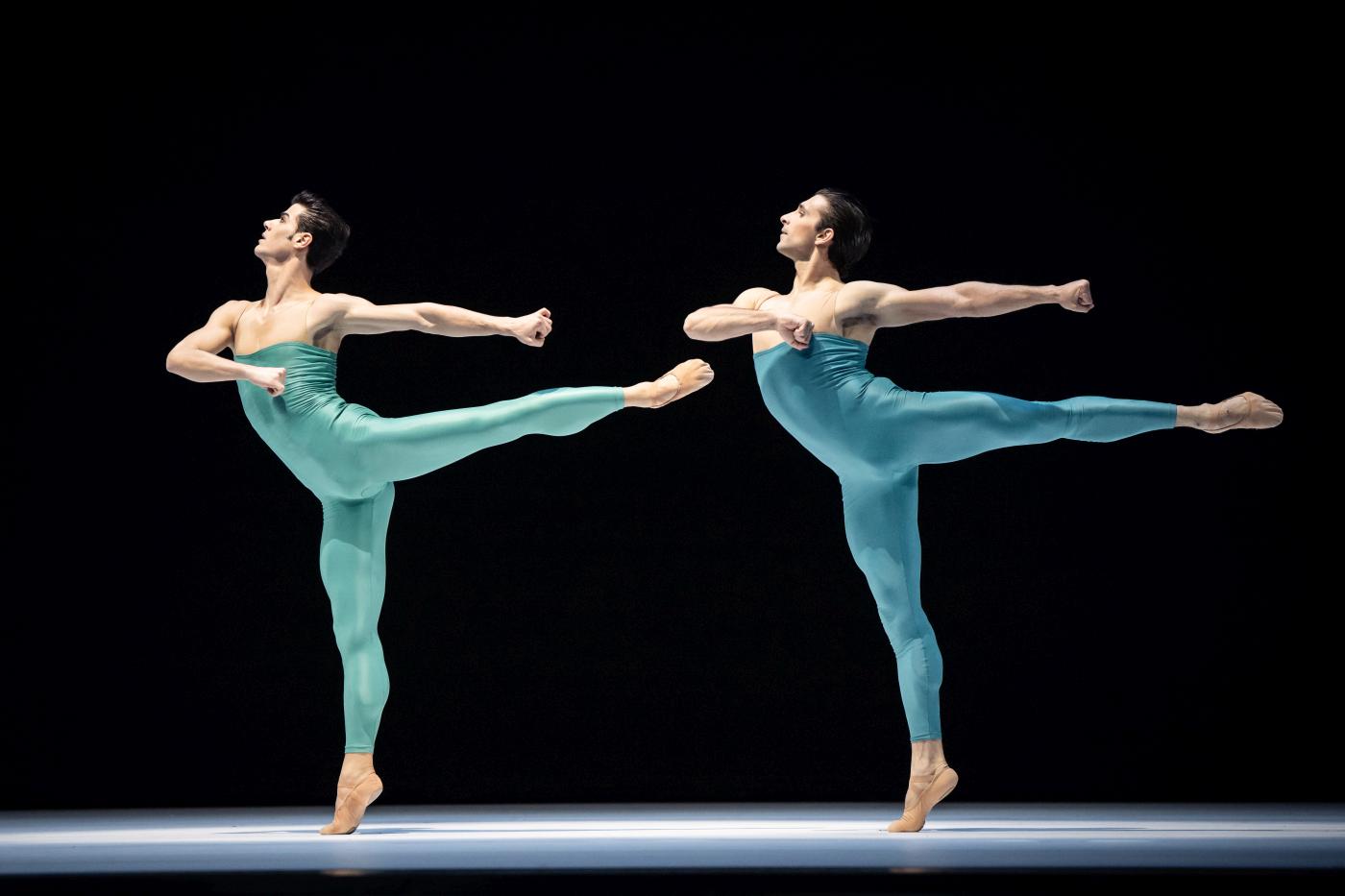 Strength and clarity that Spoerli cleverly adopted from Bach's composition (played live by William Youn). "Goldberg-Variationen" offers an acoustic kaleidoscope of atmospheres and moods that unfold within thirty finely structured variations (recurring canons included). Its duration varies depending on the playing tempo and the amount of repetitions. Spoerli uses the long (around 80-minute) version for his scenes-of-a-life choreography.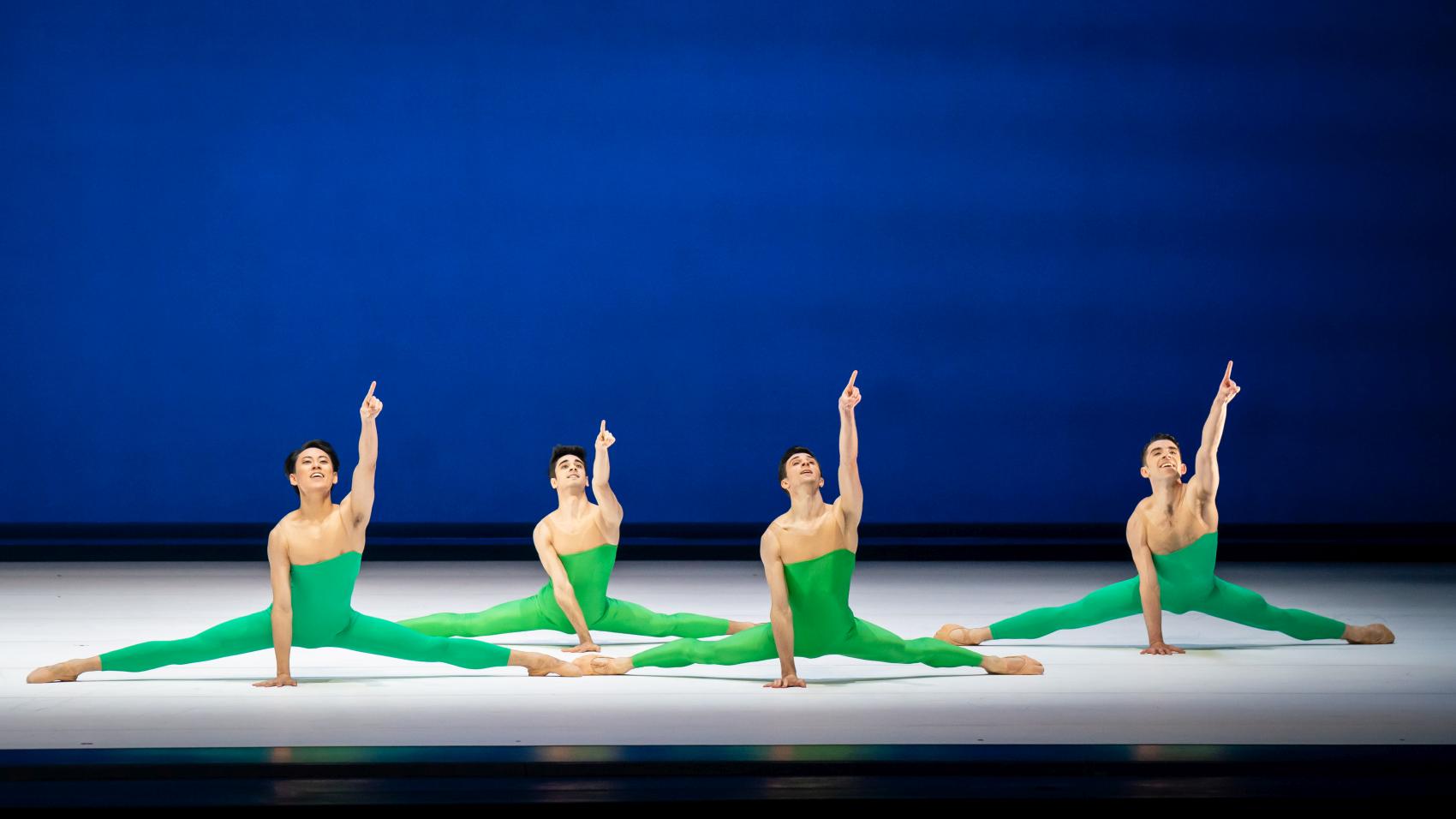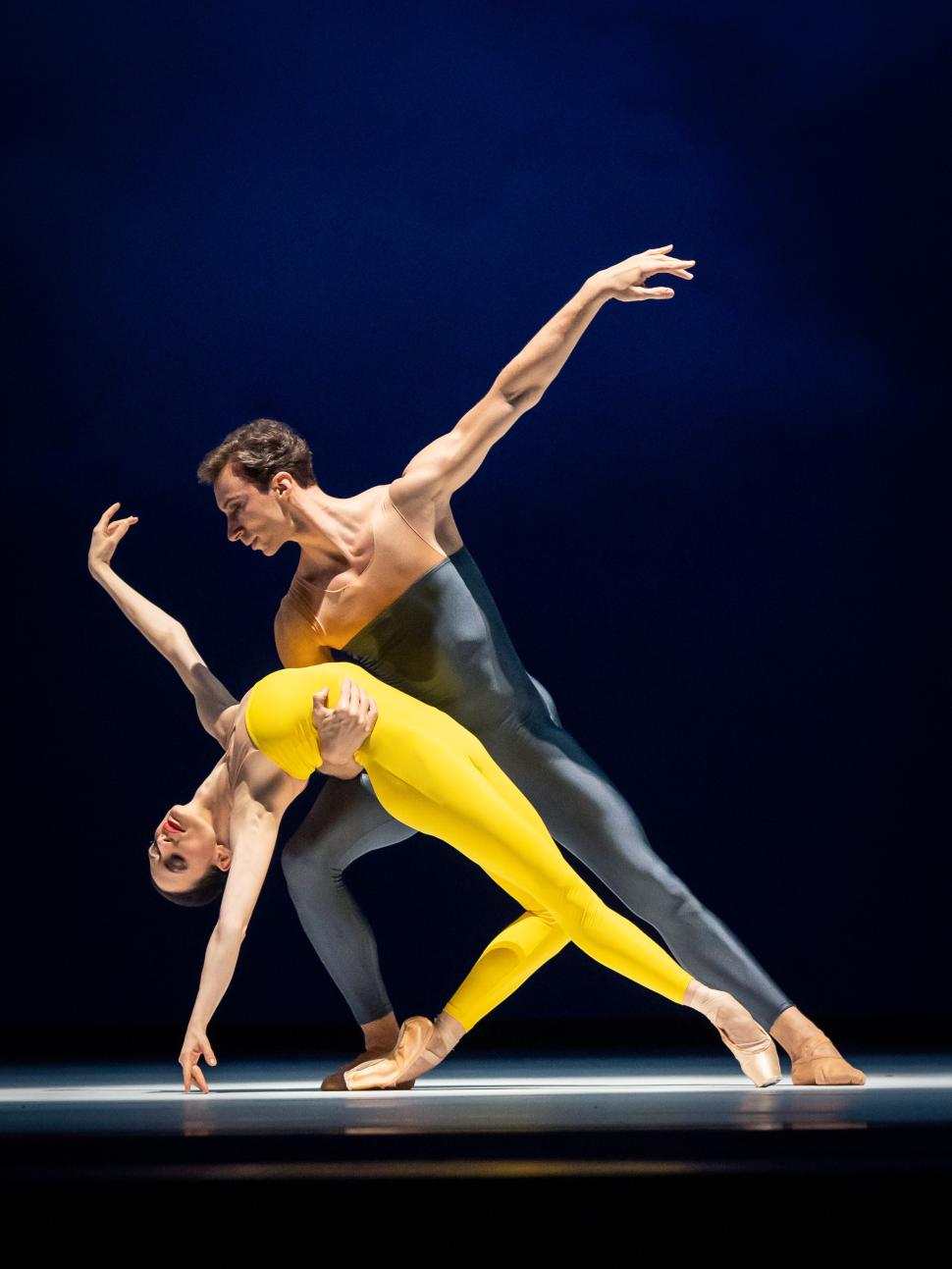 We feel the melancholy of Olga Esina who, absorbed in herself, relies on the tender care of Brendan Saye. We empathize with Liudmila Konovalova and Davide Dato, who felt so much attraction for one another but weren't ready for a close relationship. Marcos Menha later showered Konovalova's mature beauty with the attention she deserved. Ashley Taylor, by contrast, called on her two male companions only intermittently. She seemed to ride a wave of success that boosted her confidence and independence. The casual elegance of the exercises of three buddies and the acrobatics of a cheerful trio propel our imagination to the lido beach, from which Florian Etti's blue and white clouded sky transports us to higher realms.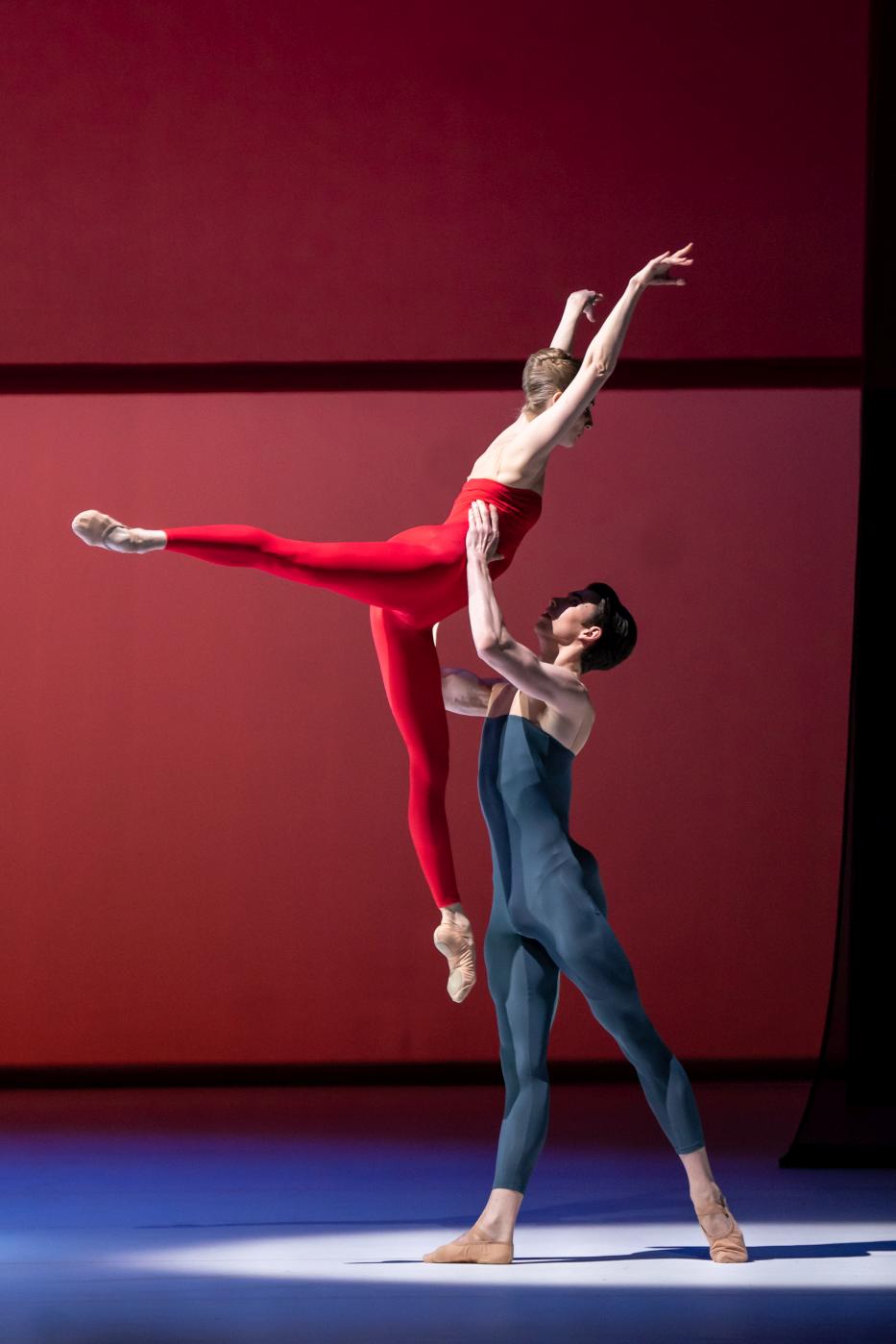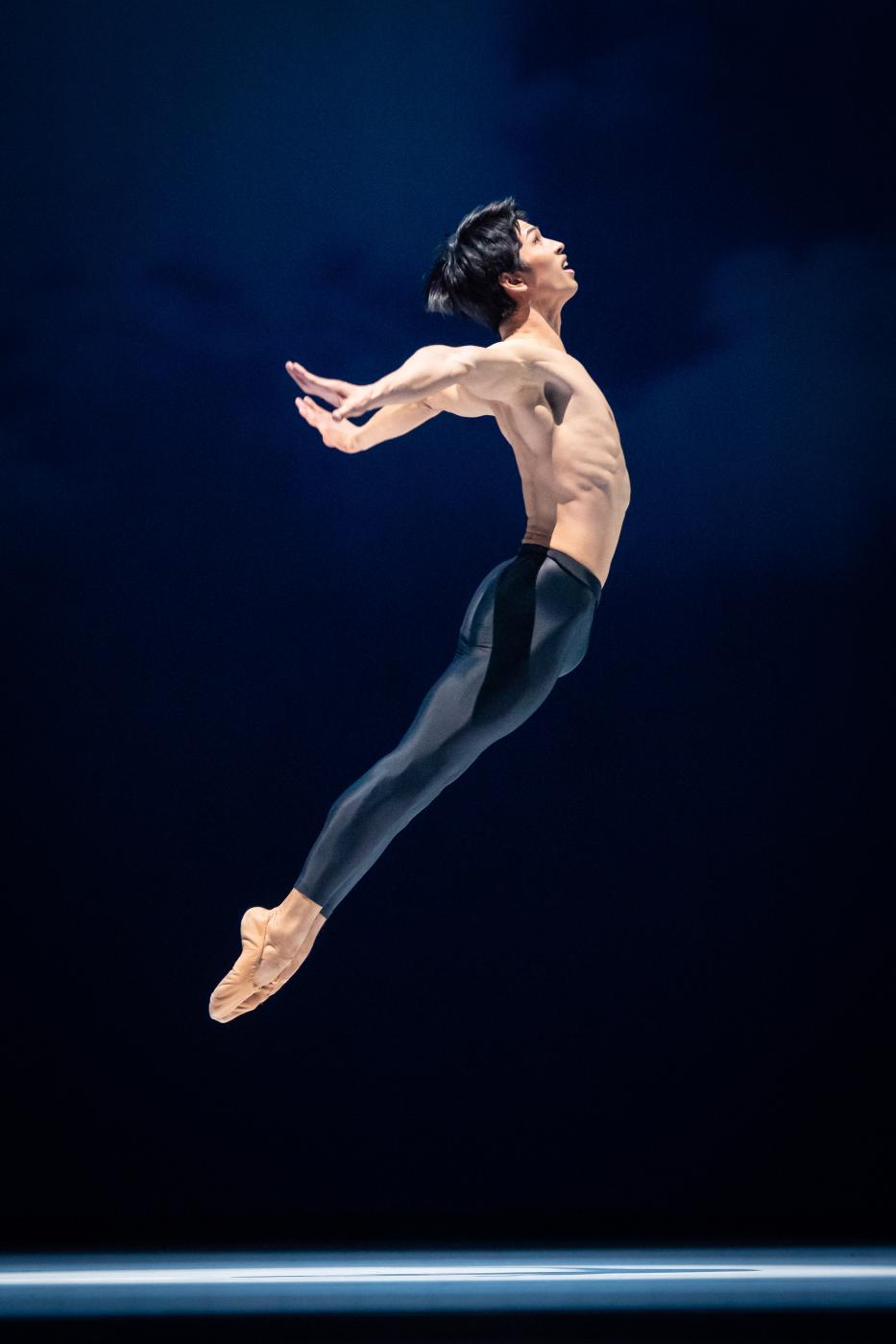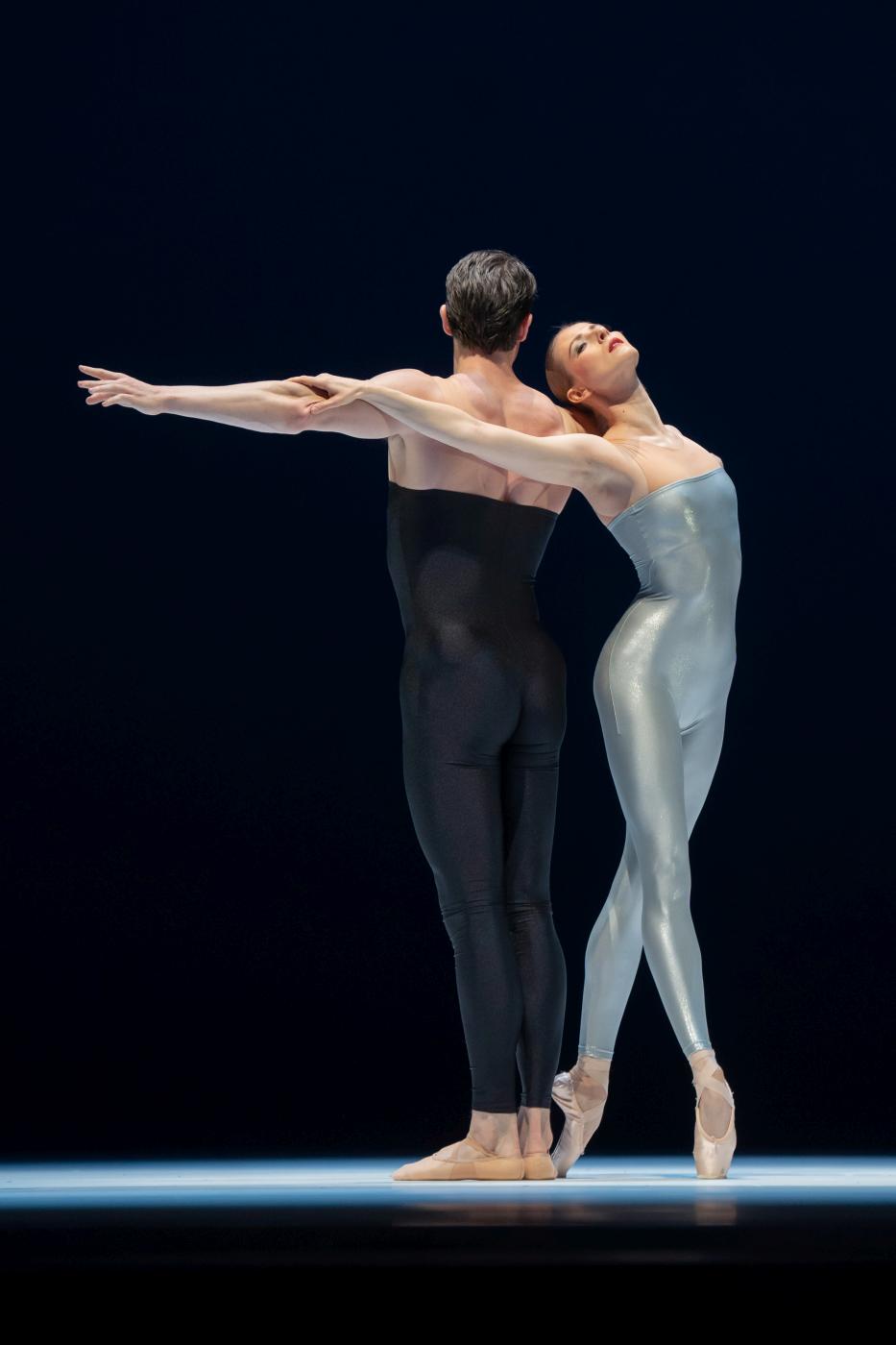 Again and again, Spoerli counters the geometric purity of his choreography: feet snap into flexed positions, hands flutter as if waving excitedly, pointe shoes scuttle at lightning speed, cheeky hips thrust sideways, and fingers point eagerly at others, heavenwards, or their owner's body.
In Bach's final variation, all thirty-five dancers join in front of a cloudy sky. Their uniform white unitards and solemn demeanor give them the essence of human angels. While they repeat the measured movements of the opening variation, the backdrop rises, revealing a dull gray-blue that instantly knocks the dancers out of the skies and into the limits of earthly reality. They have, after all, come full circle.
In April 2012 I accompanied Horst Koegler to a performance of "Goldberg-Variationen" by the Bavarian State Ballet. It wasn't Spoerli's version, but Jerome Robbins'. Koegler knew the piece and made no secret of his delight. Three weeks later he died in his home of choice in Stuttgart. Only now do I realize the parallel: Koegler, too, had come full circle.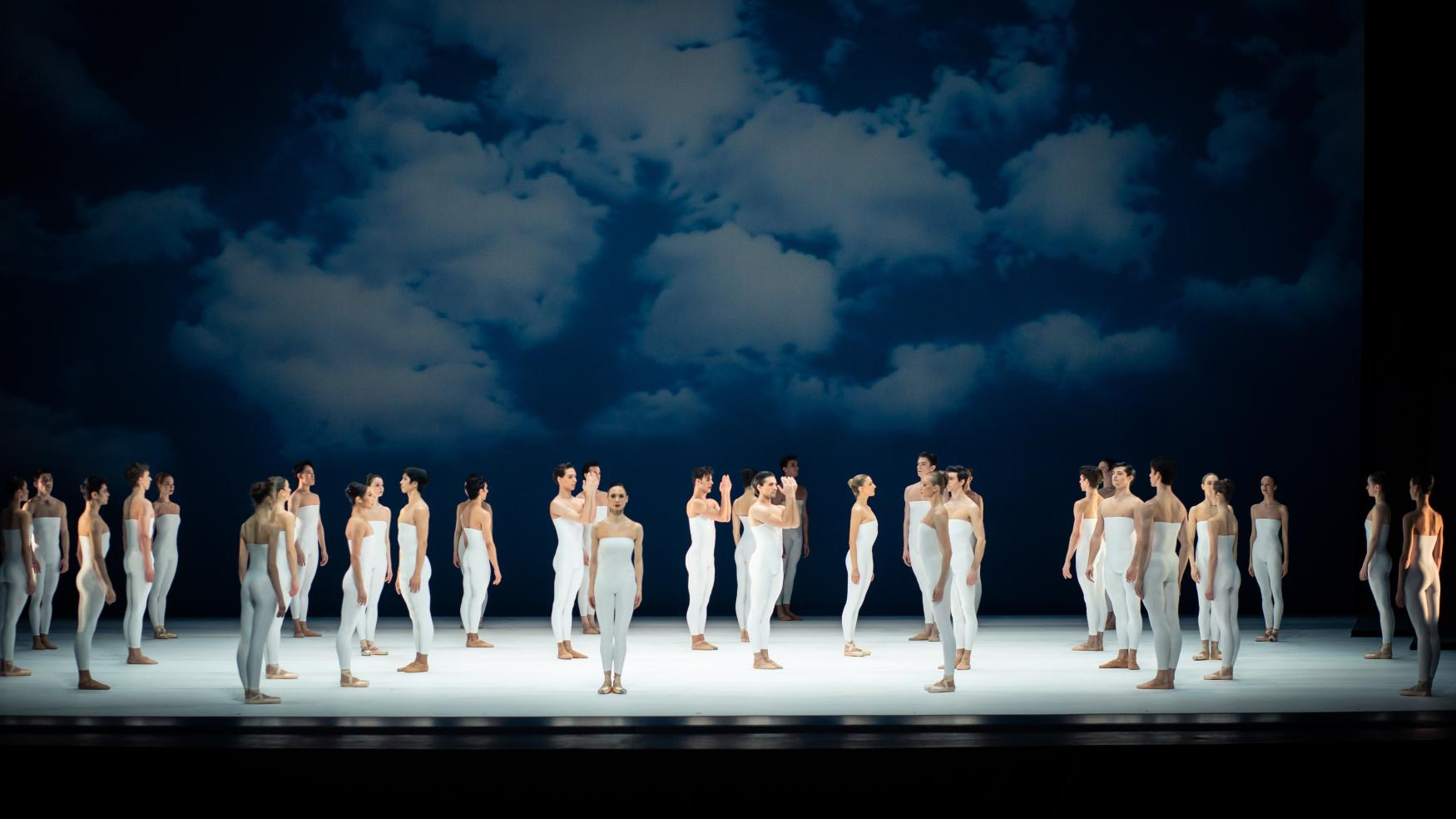 Links:
Website of the Vienna State Ballet
"Goldberg-Variationen" – rehearsal (video)
Trailer "Goldberg-Variationen"

Photos:

1.

Arne Vandervelde, Davide Dato, Giorgio Fourés, and ensemble; "Goldberg-Variationen" by Heinz Spoerli,

Vienna State Ballet

202

3

2.

Alexey Popov

and Claudine Schoch, "Goldberg-Variationen" by Heinz Spoerli,

Vienna State Ballet

2023

3.

Hyo-Jung Kang, "Goldberg-Variationen" by Heinz Spoerli,

Vienna State Ballet

2023

4.

Elena Bottaro, "Goldberg-Variationen" by Heinz Spoerli,

Vienna State Ballet

2023

5.

Daniel Vizcayo and Géraud Wielick, "Goldberg-Variationen" by Heinz Spoerli,

Vienna State Ballet

2023

6.

Claudine Schoch, "Goldberg-Variationen" by Heinz Spoerli,

Vienna State Ballet

2023

7.

Davide Dato and Giorgio Fourés, "Goldberg-Variationen" by Heinz Spoerli,

Vienna State Ballet

2023

8.

Liudmila Konovalova

and Marcos Menha,

"Goldberg-Variationen" by Heinz Spoerli,

Vienna State Ballet

202

3

9.

Junnosuke Nakamura, Javier González Cabrera, Trevor Hayden, and François-Eloi Lavignac;

"Goldberg-Variationen" by Heinz Spoerli,

Vienna State Ballet

202

3



10.

Olga Esina and Victor Cagnin,

"Goldberg-Variationen" by Heinz Spoerli,

Vienna State Ballet

202

3

11.

Masayu Kimoto,

"Goldberg-Variationen" by Heinz Spoerli,

Vienna State Ballet

202

3

12.

Brendan Saye and Olga Esina,

"Goldberg-Variationen" by Heinz Spoerli,

Vienna State Ballet

202

3



13.

Ensemble,

"Goldberg-Variationen" by Heinz Spoerli,

Vienna State Ballet

202

3



all photos © Vienna State Ballet / Ashley Taylor
Editing:
Samuel Snodgrass