"Swan Lake"
Ballet of the Stanislavsky and Nemirovich-Danchenko Moscow Music Theatre
Stanislavsky and Nemirovich-Danchenko Moscow Music Theatre
Moscow, Russia
June 05, 2023
by Ilona Landgraf
Copyright © 2023 by Ilona Landgraf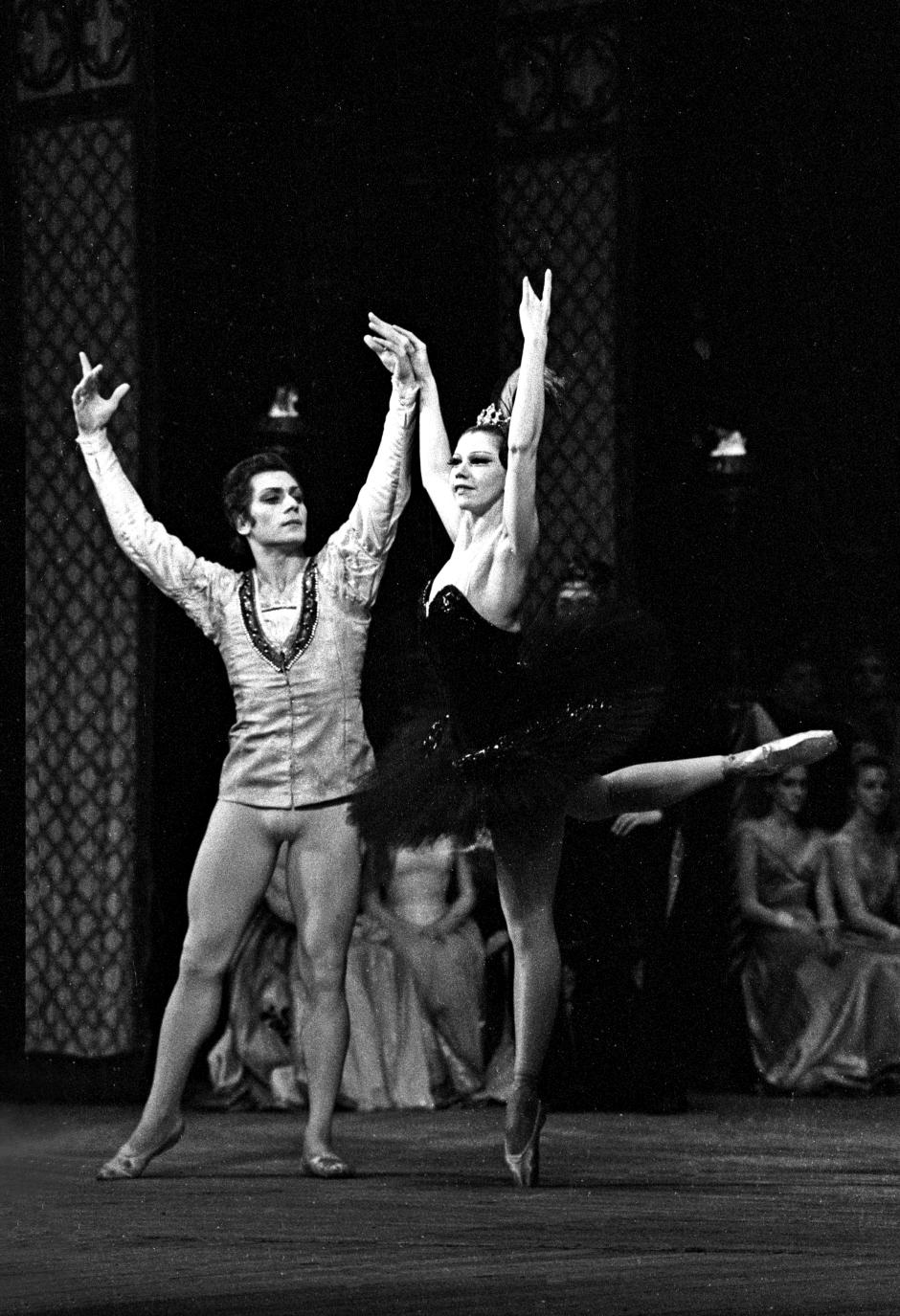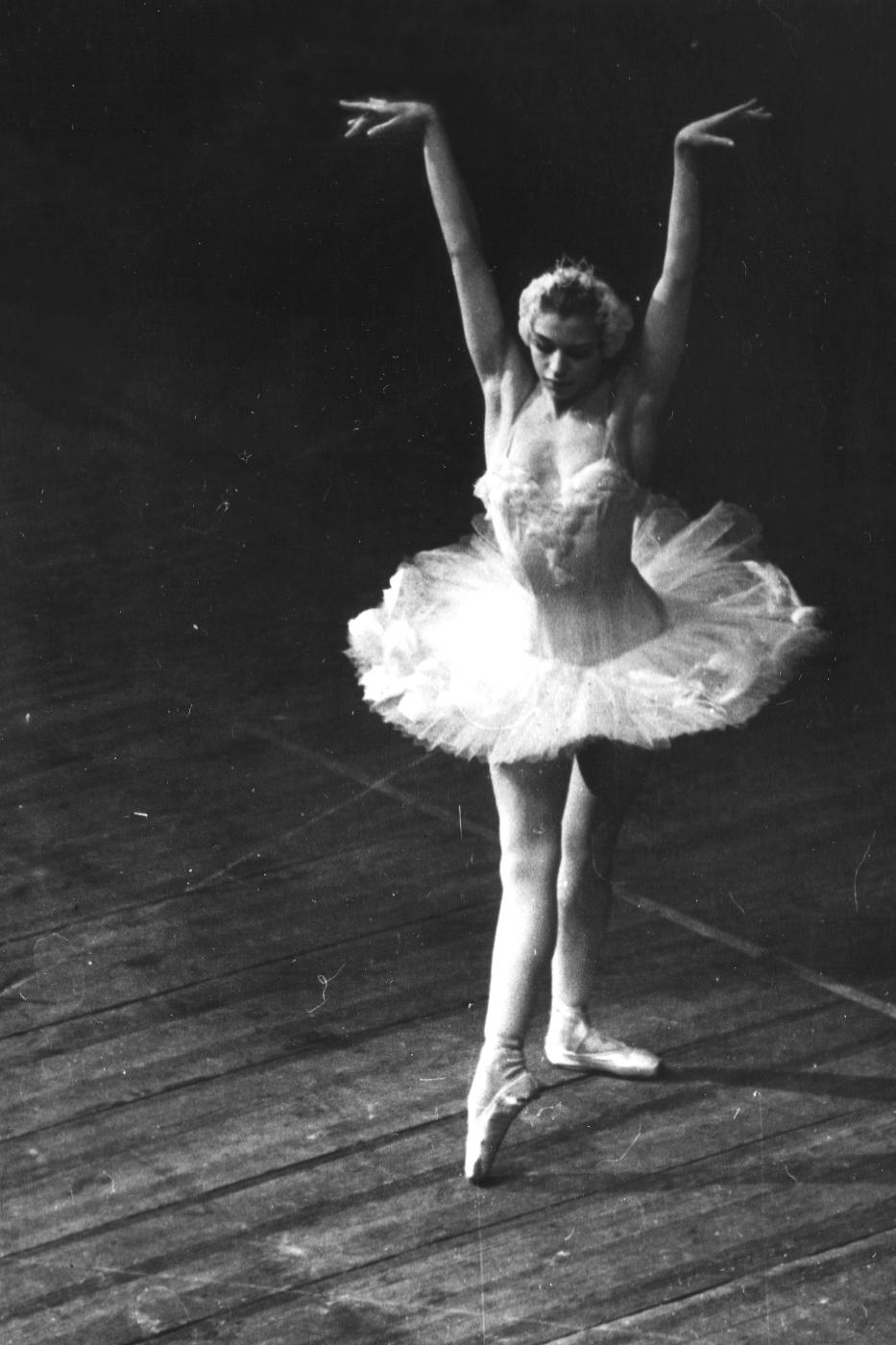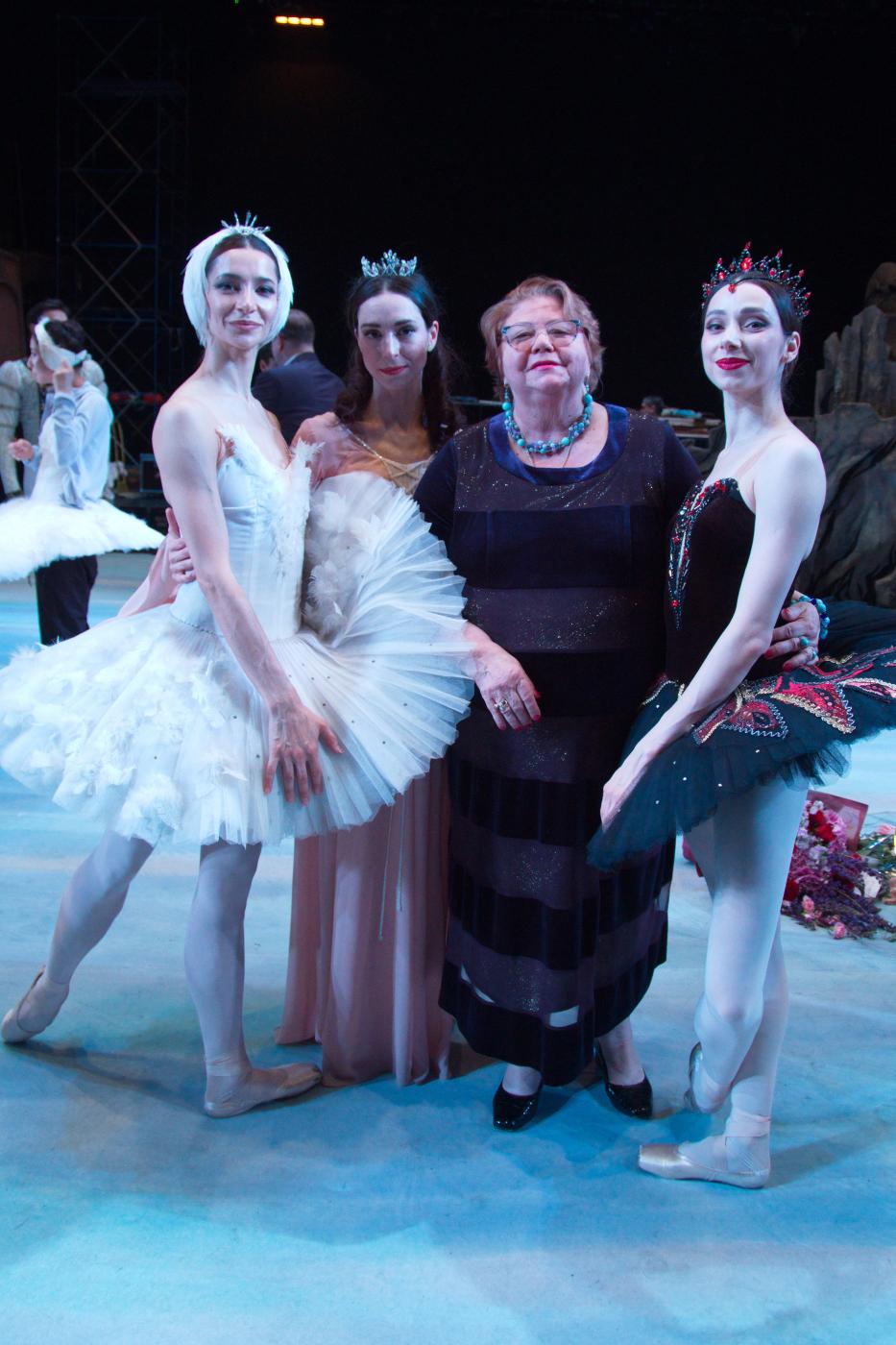 When I arrived at the Stanislavsky Theatre's royal blue auditorium for Vladimir Burmeister's 1953 version of "Swan Lake" I had no clue what was awaiting me. No one had told me that this performance wasn't a regular one, but dedicated to Margarita Drodzdova, People's Artist of the USSR, who spent almost her entire career at the Stanislavsky Ballet. A leading ballerina, many roles were tailored especially to her. After her farewell from the stage in 1987, Drodzdova continued to work as a teacher, passing her knowledge to future generations of dancers.
On the occasion of Drodzdova's 75th birthday on May 7th, the Stanislavsky Ballet honored her with a special "Swan Lake" that featured three of her coachees in the roles of Odette and Odile. Oksana Kardash was the first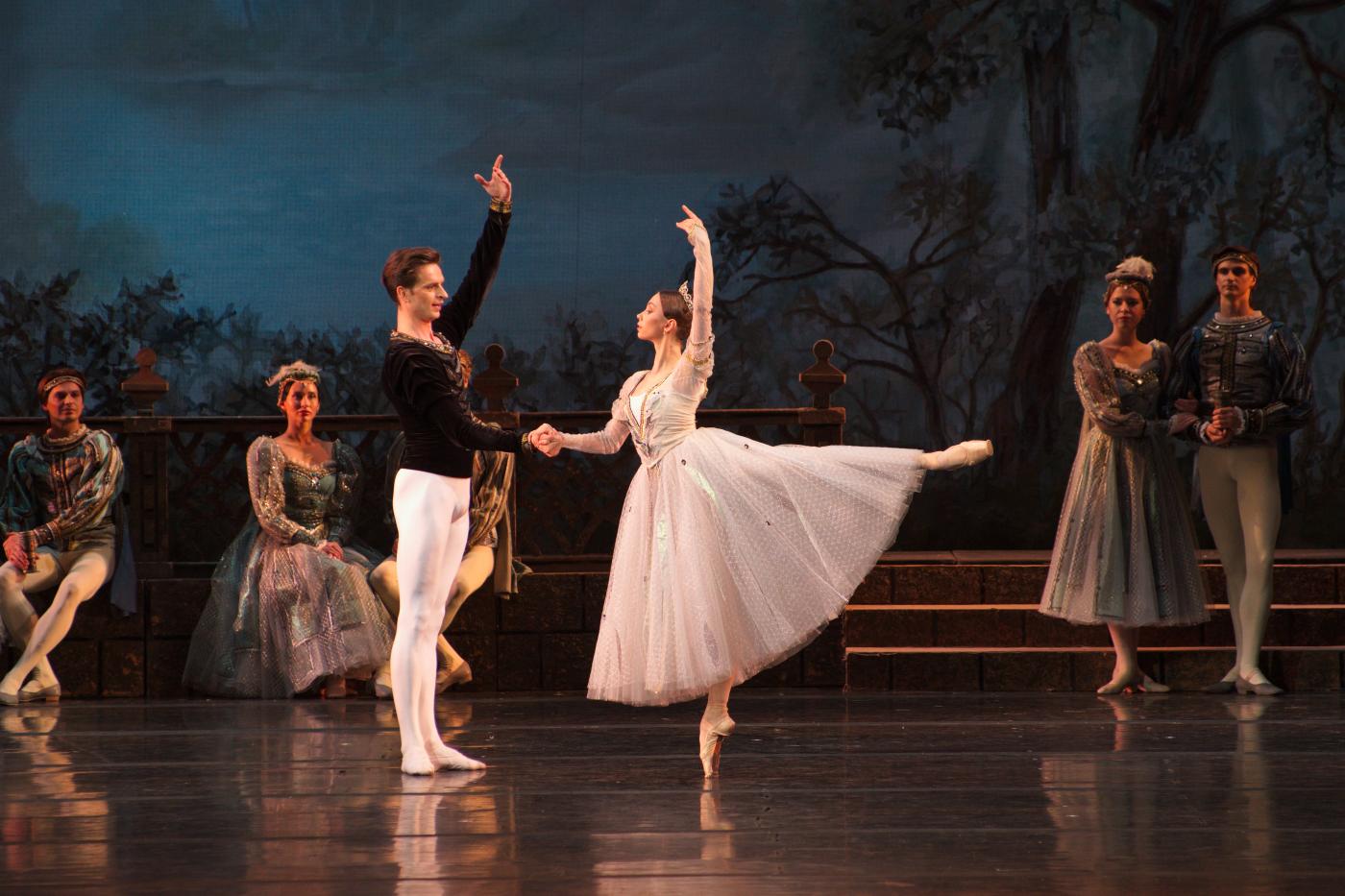 act's Princess Odette, who was turned into a swan by the wicked Rothbart (other choreographies often dismiss the backstory). She also danced the swan Odette in Act II. Her evil counterpart Odile was portrayed by Ksenia Shevtsova. Ksenia Ryzhkova (whom I know from her time at the Bavarian State Ballet) performed Odette in Act IV.
Burmeister kept the core of the original production – Lev Ivanov's choreography for Act II – but unlike many of his colleagues, decided to present the leading couple with a happy ending, in which the swan Odette regains her human appearance and is reunited with the Prince. Compared to other interpretations of "Swan Lake", I found Burmeister's surprisingly intense. He had a special knack for establishing the emotional state of the main characters based on Tchaikovsky's score. A gorgeous set and splendid costumes (both by Vladimir Arefiev) complement the prerequisites that facilitate a fine performance. But there's another asset – Drodzdova. She watched the performance from the dignitaries' box, her powerful charisma pervading the auditorium.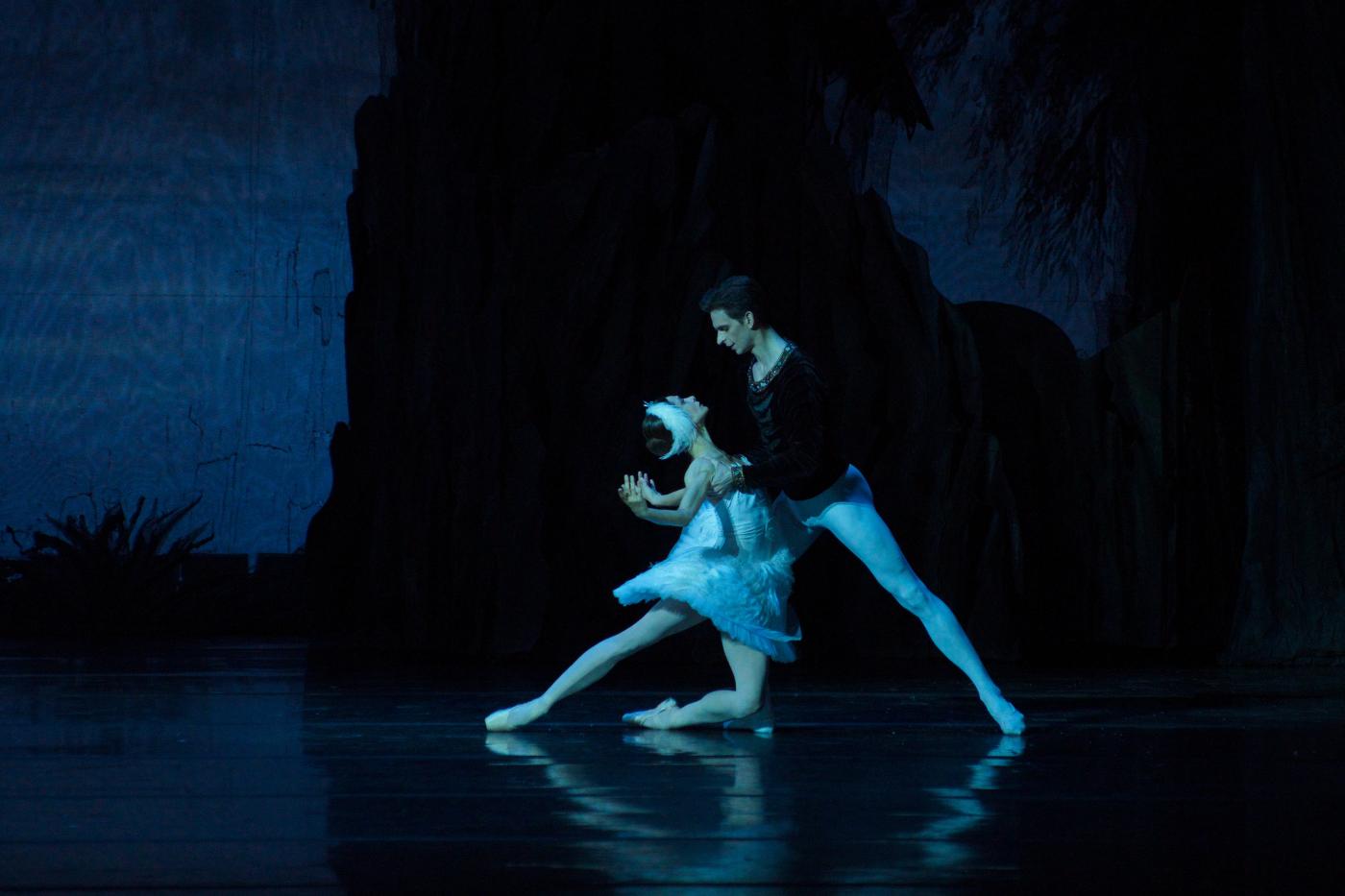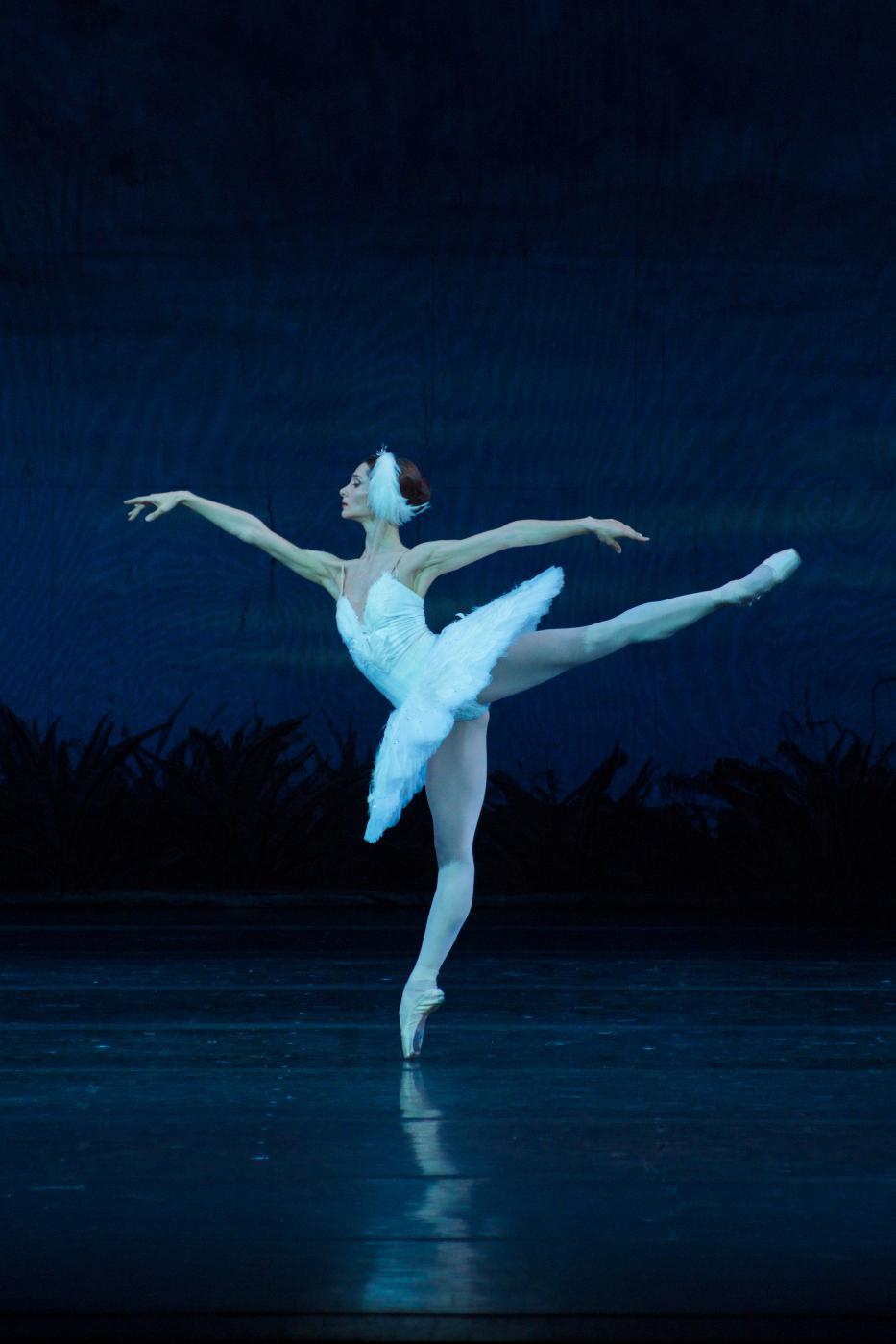 The vibes must have reached Kardash on stage and helped her to unleash the quintessence of "Swan Lake" – Odette's immortal energy that only great ballerinas have been able to project. Each gesture, each step, each flutter of Kardash's feet revealed the soul of "Swan Lake" and made me hold my breath. This was a performance I won't forget.
A spellbinding force, Shevtsova's Odile cunningly measured out her scheming at the royal court. She was thoroughly complicit in following the instructions of Nikita Kirillov's villainous Rothbart who orchestrated her maneuvers at the celebrations slyly. Of Ryzhkova's Odette, her re-transformation into a human being was especially poignant.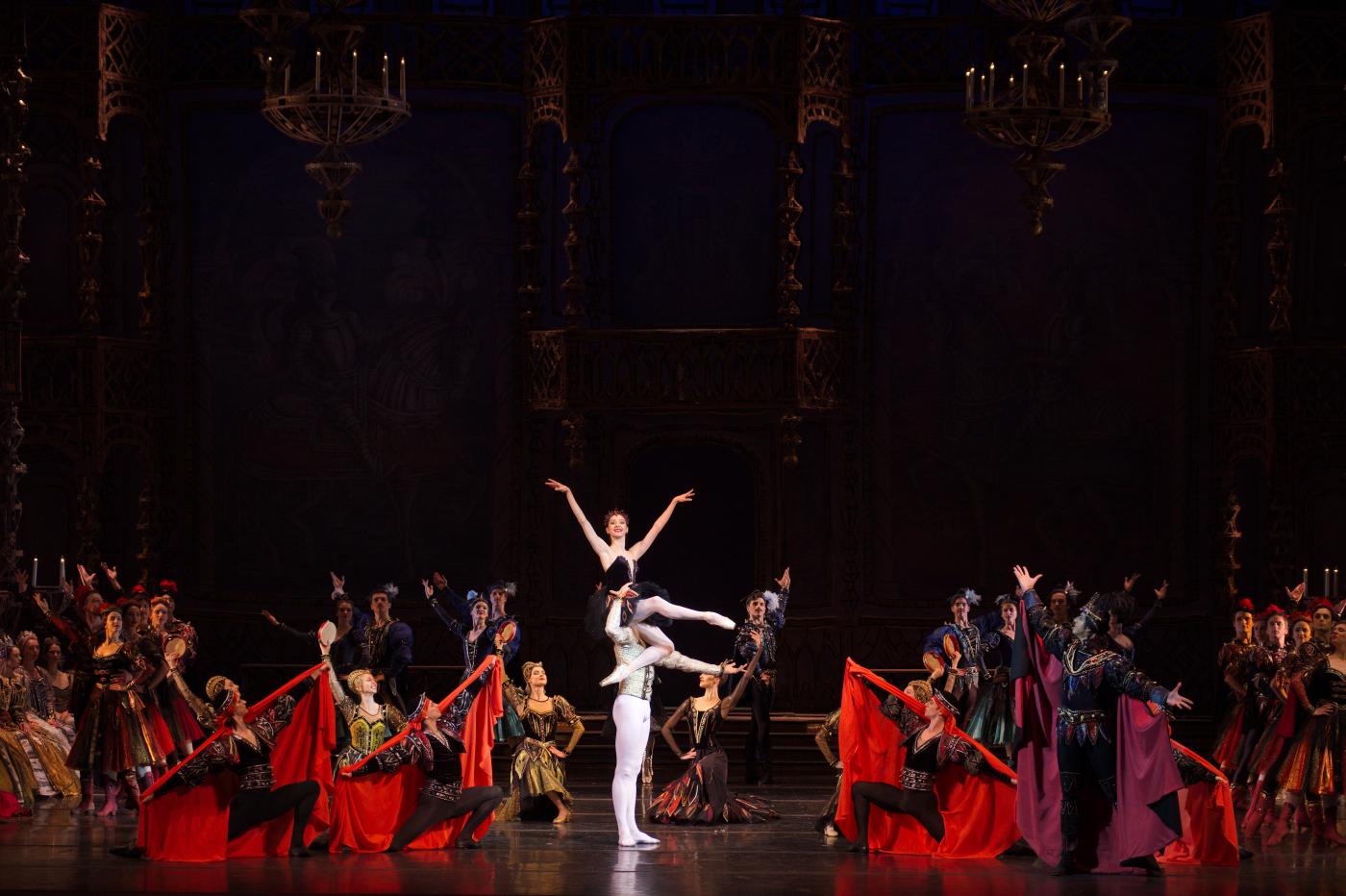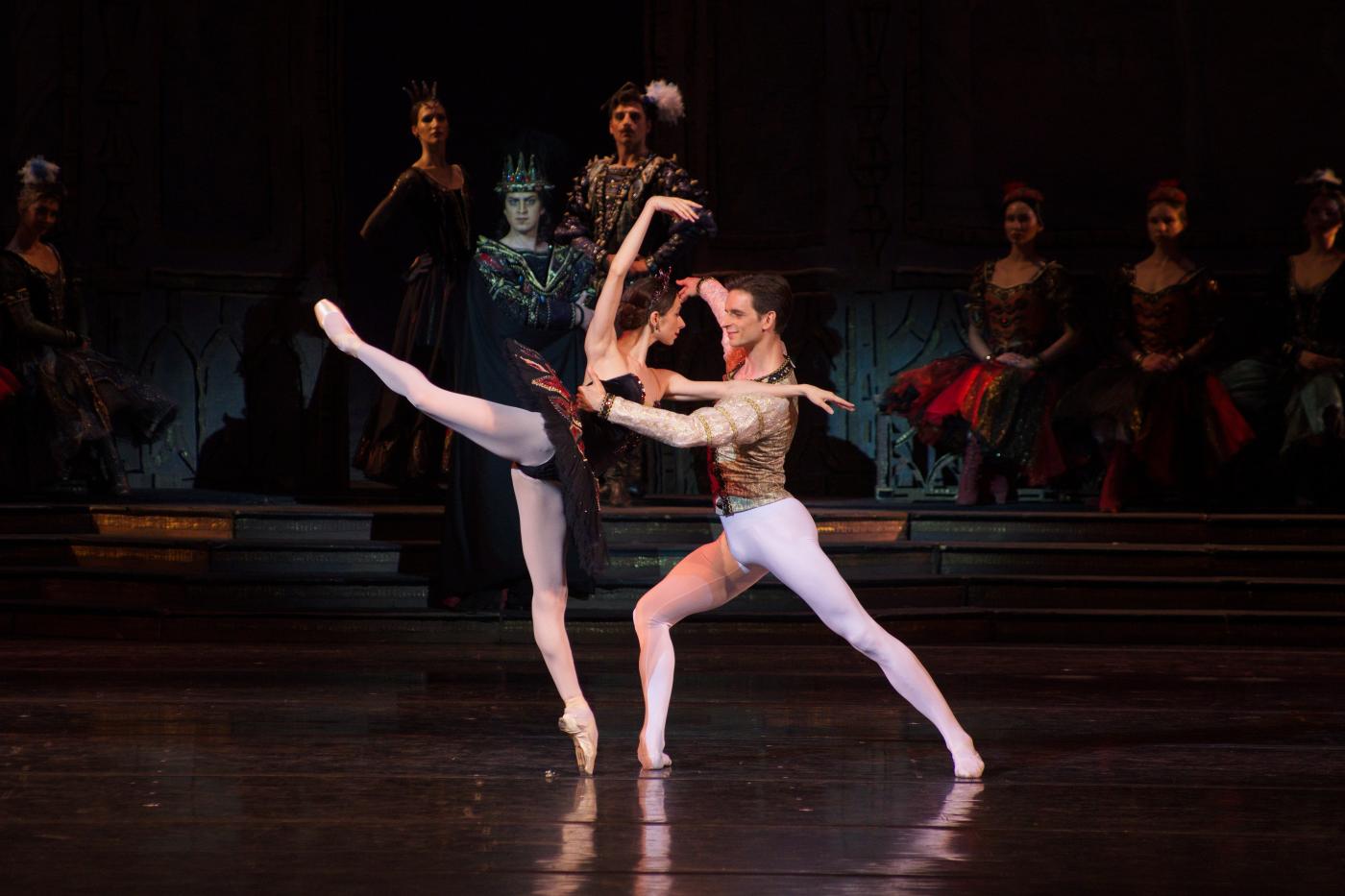 As Prince Siegfried, Ivan Mikhalev radiated the refinement and nobility of an inborn aristocrat. Though a sensitive soul, he was blind towards Odile's fraud (a male failure I wonder at in each "Swan Lake"). Innokenty Yuldashev's jester knew how to balance the atmosphere at court, jumping, straddling, and circling his pompon at exactly the right moments. He never left a doubt about his loyalty to the Prince.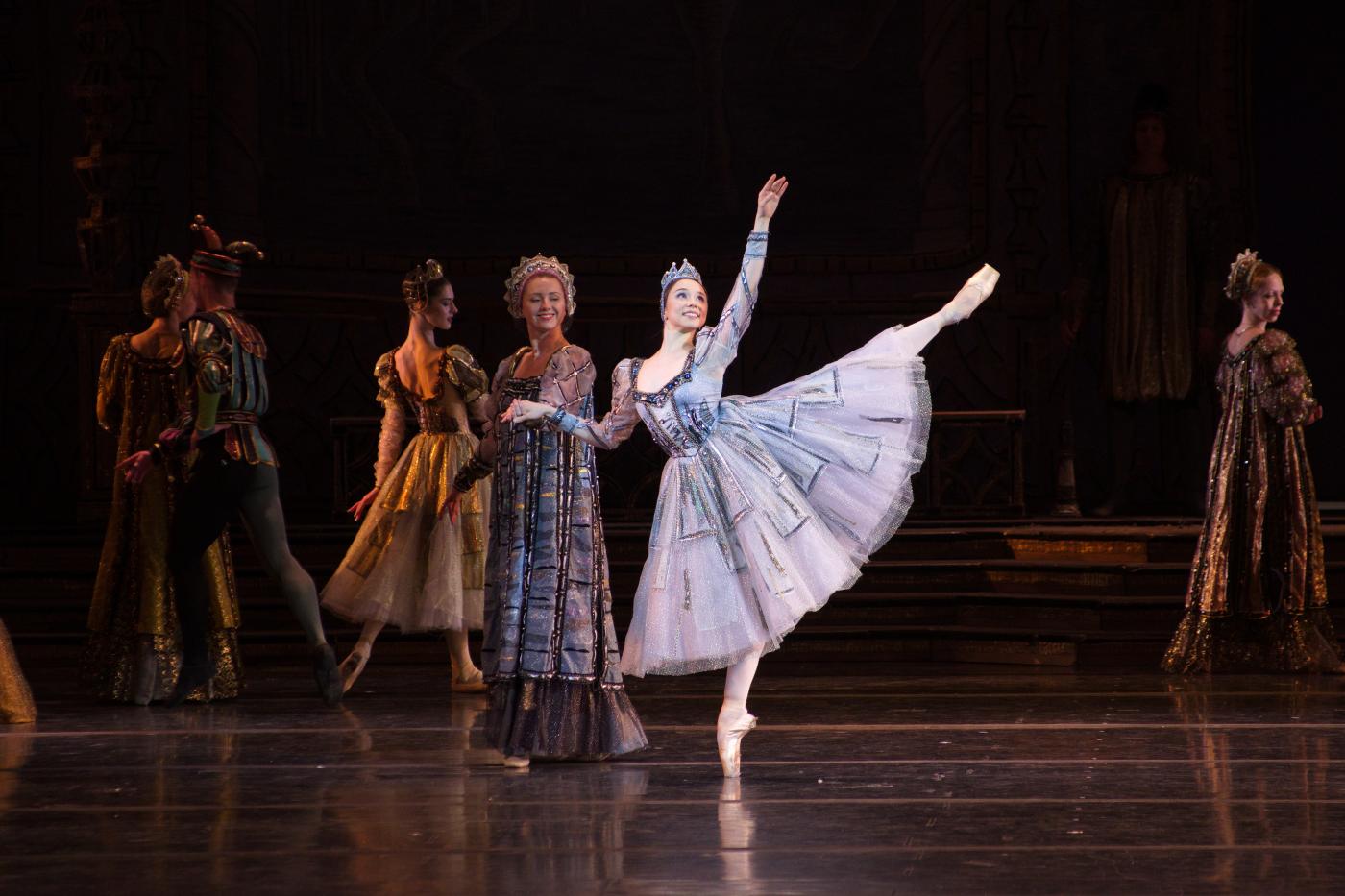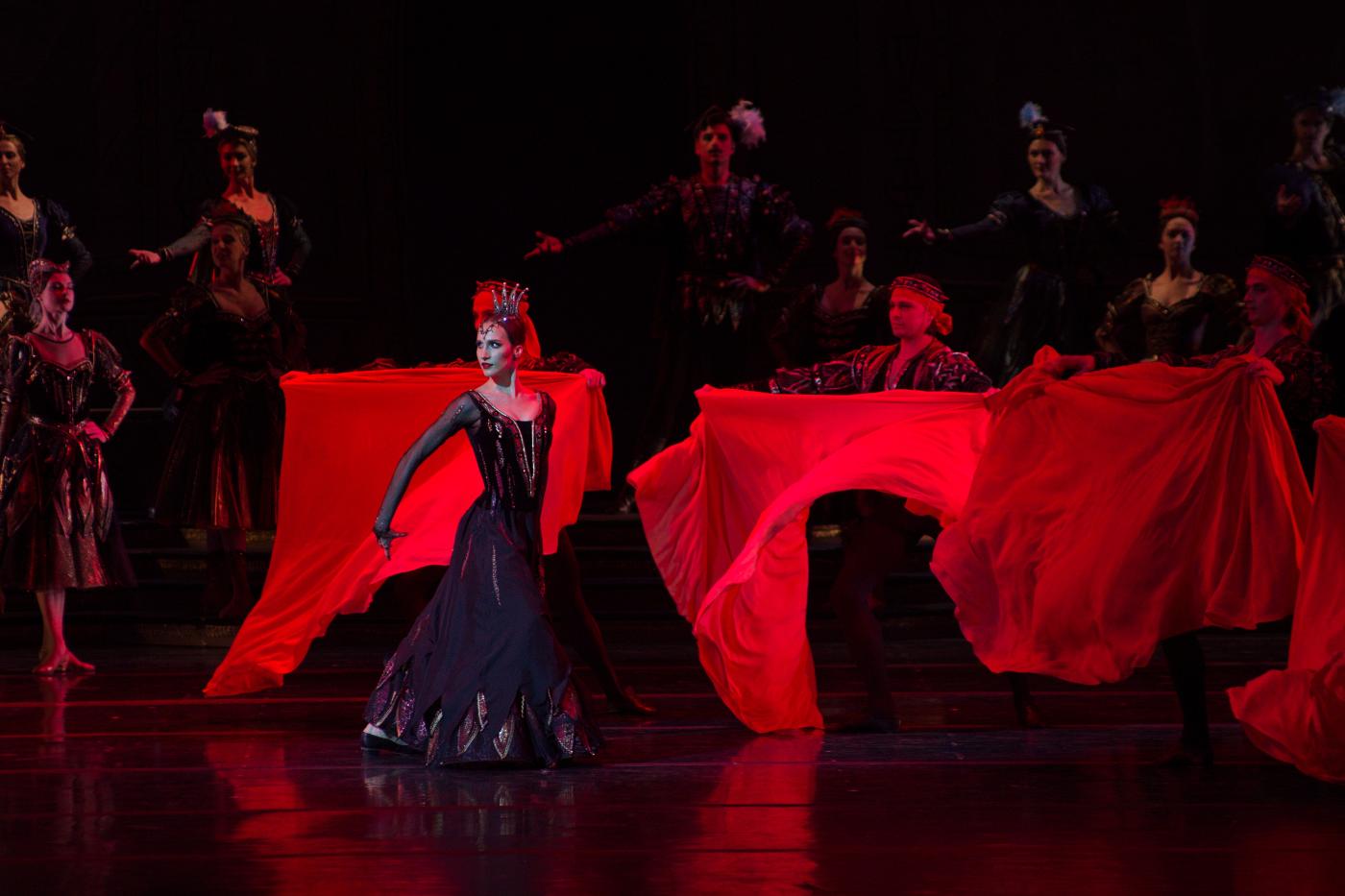 At the Prince's birthday party, neither of the potential brides-to-be (Elena Solomyanko,Olga Sizykh, and Valeria Mukhanova depicted three of them) could win his heart, although each of them would have been a sublime match. Like his dashing friends (Evgeny Dubrovsky and Evgeny Zhukov), the Prince preferred going hunting. His mother (Maria Potapova) made no secret about losing her patience for her son's reluctance to tie the knot.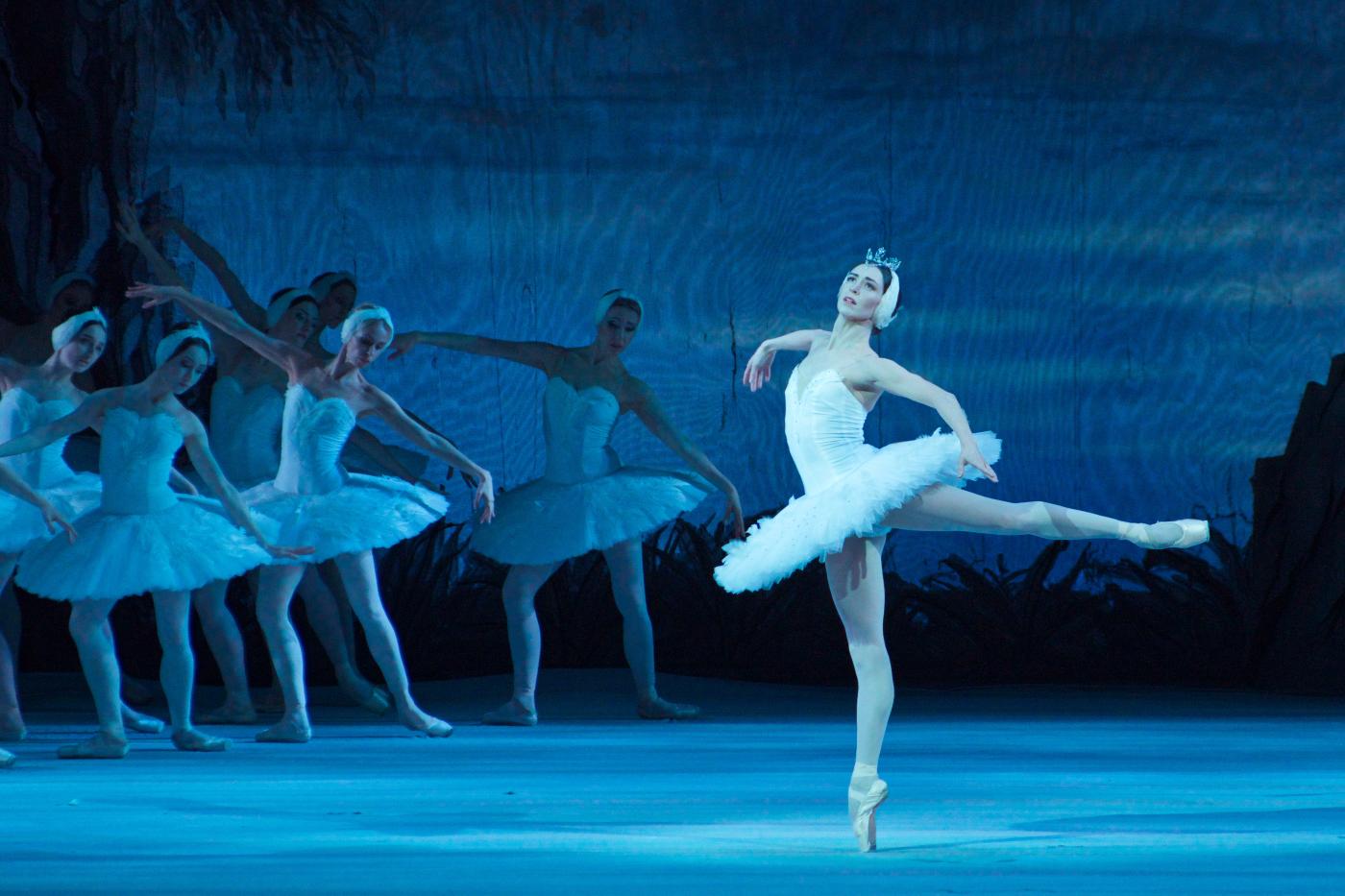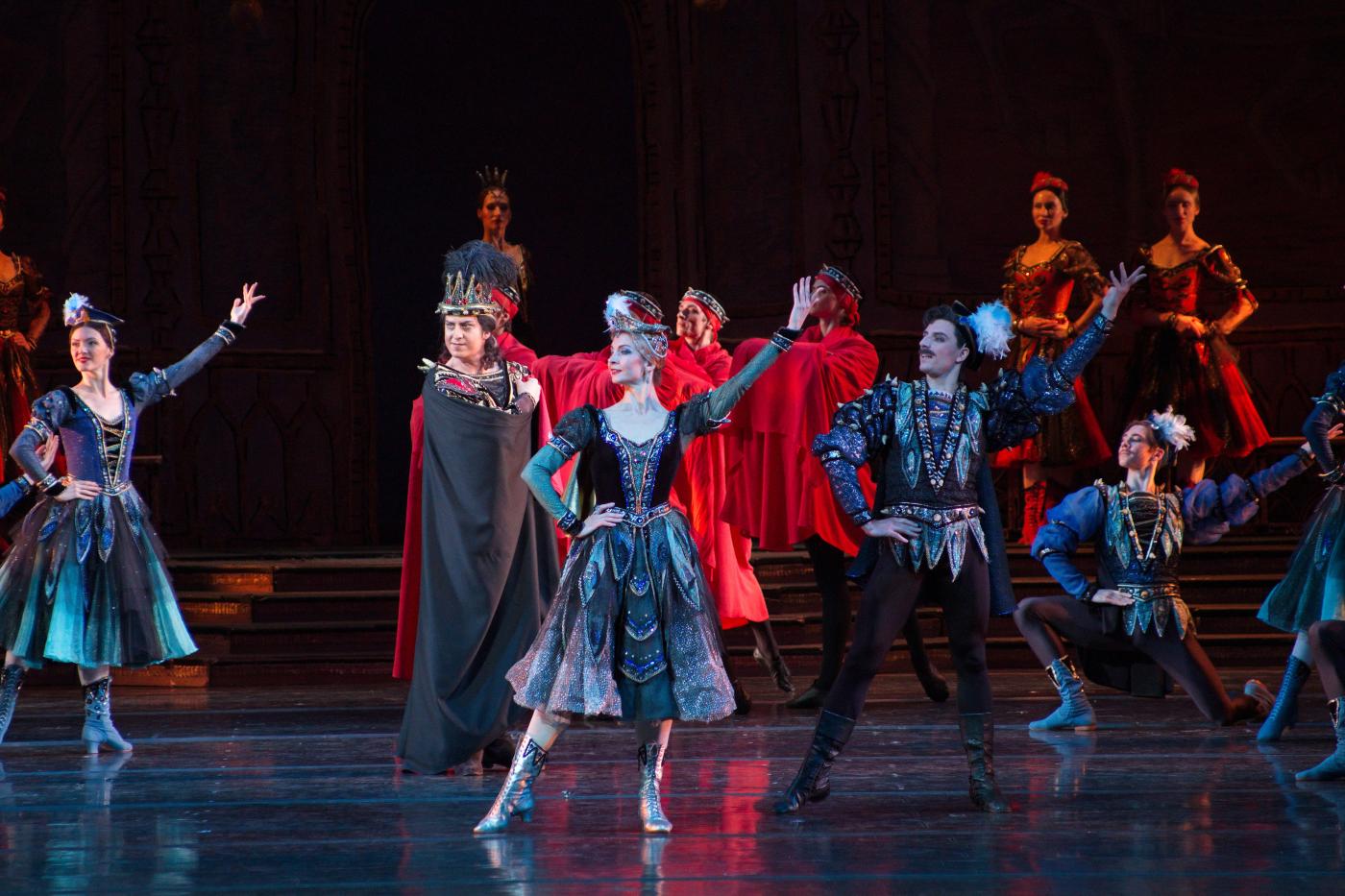 The guests at the royal ball were entertained by Polina Zayarnaya's fiery Spaniard and Ksenia Romashova's fast-paced Neapolitan divertissement. A Hungarian dance was led by Kristina Golovacheva, Natalia Konkina, Arthur Mkrtchyan, and Leonid Blinkov, and a mazurka by Daria Darienko and Alexander Seleznev.
The Orchestra of the Stanislavsky Theatre, playing under the baton of Felix Korobov, contributed a refined rendition of Tchaikovky's score.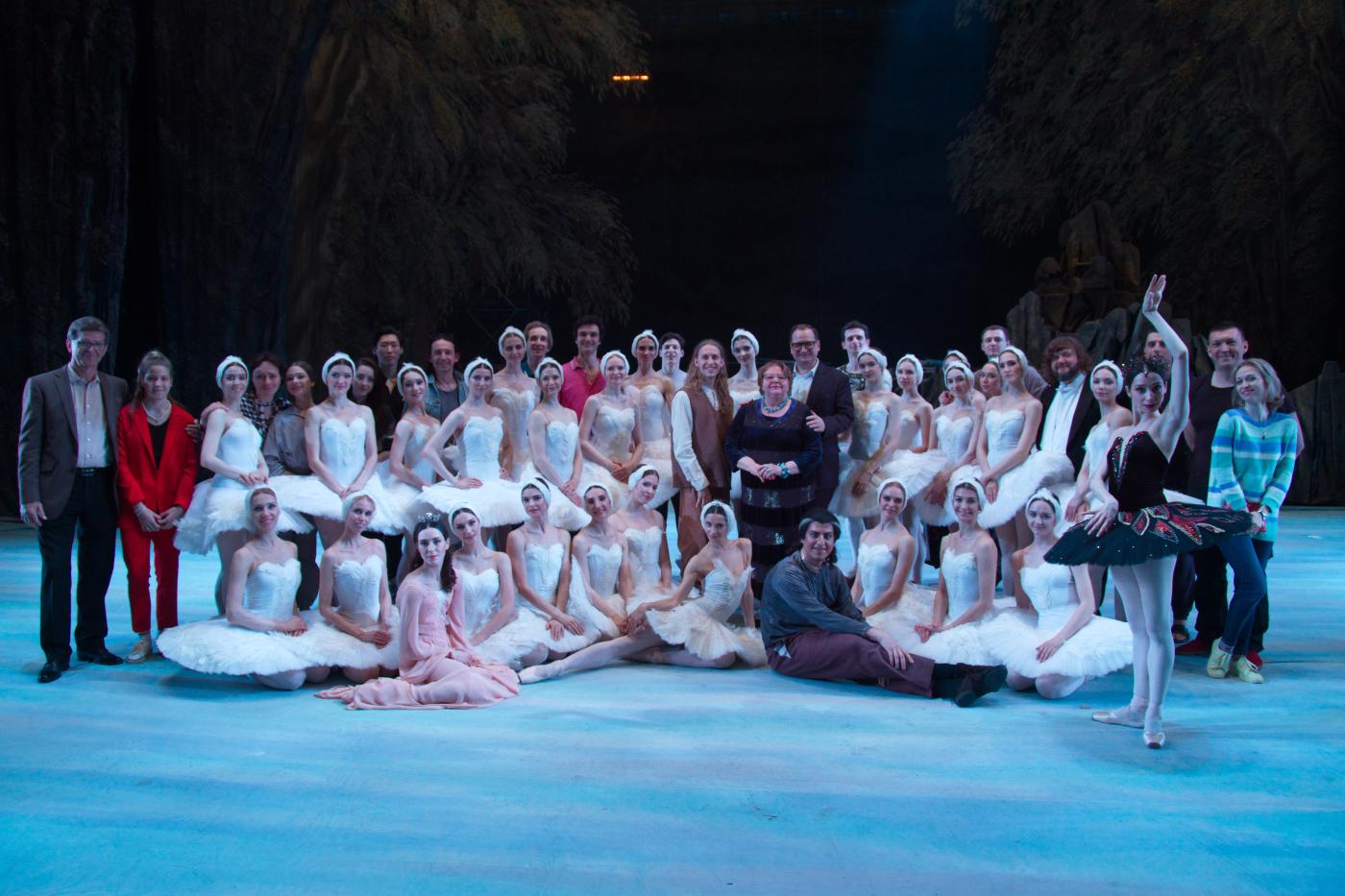 Links:
Website of the Stanislavsky and Nemirovich-Danchenko Moscow Music Theatre

Photos:

1.

Margarita Drodzdova (Odile) and Vadim Tedeev (Prince Siegfried), "Swan Lake" by Vladimir Burmeister and Lev Ivanov

,

Ballet of the Stanislavsky and Nemirovich-Danchenko Moscow Music Theatre

1974



2.

Margarita Drodzdova (Odette),

"

Swan Lake" by Vladimir Burmeister and Lev Ivanov

,

Ballet of the Stanislavsky and Nemirovich-Danchenko Moscow Music Theatre

3.

Oksana Kardash, Ksenia Ryzhkova, Margarita Drodzdova, and Ksenia Shevtsova;

"Swan Lake" by Vladimir Burmeister and Lev Ivanov

,

Ballet of the Stanislavsky and Nemirovich-Danchenko Moscow Music Theatre

2023

4.

Ivan Mikhalev (Prince Siegfried),

Elena Solomyanko

(Bride-to-be), and ensemble;

"Swan Lake" by Vladimir Burmeister and Lev Ivanov

,

Ballet of the Stanislavsky and Nemirovich-Danchenko Moscow Music Theatre

2023

5.

Oksana Kardash (Odette) and Ivan Mikhalev (Prince Siegfried),

"Swan Lake" by Vladimir Burmeister and Lev Ivanov

,

Ballet of the Stanislavsky and Nemirovich-Danchenko Moscow Music Theatre

2023

6.

Oksana Kardash (Odette),

"Swan Lake" by Vladimir Burmeister and Lev Ivanov

,

Ballet of the Stanislavsky and Nemirovich-Danchenko Moscow Music Theatre

2023

7.

Ksenia Shevtsova (Odile), Ivan Mikhalev (Prince Siegfried), and ensemble;

"Swan Lake" by Vladimir Burmeister and Lev Ivanov

,

Ballet of the Stanislavsky and Nemirovich-Danchenko Moscow Music Theatre

2023

8.

Ksenia Shevtsova (Odile), Ivan Mikhalev (Prince Siegfried), and ensemble;

"Swan Lake" by Vladimir Burmeister and Lev Ivanov

,

Ballet of the Stanislavsky and Nemirovich-Danchenko Moscow Music Theatre

2023

9.

Ensemble,

"Swan Lake" by Vladimir Burmeister and Lev Ivanov

,

Ballet of the Stanislavsky and Nemirovich-Danchenko Moscow Music Theatre

2023

10.

Polina Zayarnaya (Spanish Dance) and ensemble,

"Swan Lake" by Vladimir Burmeister and Lev Ivanov

,

Ballet of the Stanislavsky and Nemirovich-Danchenko Moscow Music Theatre

2023

11.

Ensemble,

"Swan Lake" by Vladimir Burmeister and Lev Ivanov

,

Ballet of the Stanislavsky and Nemirovich-Danchenko Moscow Music Theatre

2023

12.

Ksenia Ryzhkova (Odette) and ensemble,

"Swan Lake" by Vladimir Burmeister and Lev Ivanov

,

Ballet of the Stanislavsky and Nemirovich-Danchenko Moscow Music Theatre

2023

13.

Artistic director Maxim Sevagin, Margarita Drodzdova, conductor Felix Korobov, and ensemble;

"Swan Lake" by Vladimir Burmeister and Lev Ivanov

,

Ballet of the Stanislavsky and Nemirovich-Danchenko Moscow Music Theatre

2023

all photos ©

Stanislavsky and Nemirovich-Danchenko Moscow Music Theatre

Editing:
Samuel Snodgrass