"The Taming of the Shrew"
Stuttgart Ballet
Stuttgart State Opera
Stuttgart, Germany
September 28, 2013
by Ilona Landgraf
Copyright © 2013 by Ilona Landgraf
Stuttgart Ballet opened its season with a revival of one of John Cranko's classics:"The Taming of the Shrew"- a turbulent, crisp comic. Audiences find it irresistible, like a bonbonnière filled with colorfully wrapped sweets.
At its premiere in 1969 the success of "Shrew"was all the more momentous given that narrative ballets were not in vogue during the preceding decade and ballet comedies were unusual. Next to Cranko's "Romeo and Juliet", "Shrew" added considerably to what the New York Times' Clive Barnes termed "The Stuttgart Ballet Miracle" following the company's 1969 visit to the Metropolitan Opera House. The premiere's cast list reads like the "who's who?" of ballet: Marcia Haydée and Richard Cragun in leading roles, with John Neumeier, Egon Madsen and Heinz Clauss as Bianca's (Susanne Hanke) three suitors, and in the corps de ballet: Jiří Kylián. Almost forty-five years later "Shrew" hasn't gathered dust. On the contrary the Stuttgart audience thrilled to it and the atmosphere was splendid.
Cranko didn't follow Shakespeare's text in a servile manner. Rather, he cut down and disentangled the storyline, giving his adaption's libretto a clear and consistent dramaturgy. Dropped were some subplots like that about Lucentio's father Vincentio, which eliminated the possibility of confusion. Also gone is the play's frame story. Other plot incidents were slightly changed: Petrucchio, for example, is robbed by two prostitutes at the beginning of the story and becomes all the more willing to marry obstinate Katharina because of her dowry. Hortensio and Gremio are married to just these prostitutes after being deceived in a carnival's hustle and bustle.
Cranko's version, however, is by no means "Shakespeare light"! Side-splitting slapsticks, jaunty and inventive pas de deux, dashing solos and brisk, well-rounded group dances together with spiffing costumes not only capture the individual characters and their relationships but above all the spirit of Shakespeare's dialogs. True originals are, for example, Bianca's suitors, Gremio, Hortensio and Lucentio, at least the first two of them.
Elderly Gremio was danced by Özkan Ayik of the corps de ballet, an example of Stuttgart Ballet's artistic director Reid Anderson nurturing of young talent. Ayik made Gremio an oddball buck, who is easily peeved and sniffy at first and then gradually comes down with a hefty cold. He's truly pathetic when wagging his hanky. Roman Novitzky's Hortensio is an eccentric, fleshy dude. He tries to sneak into the adored one's house as music teacher but hasn't much success. Bianca is bored to death by his affectation, she has eyes only for Lucentio, and Katharina bops Hortensio on the head with his lute. Real menfolk! And in what kind of getup! One with little ringlets, the other with an oily pageboy cut. Crowned by tawdry feather duster headdresses. This is what women dream of! David Moore as Bianca's favorite Lucentio is the trio's only – more or less – normal lad (rather than man). He's won over by Bianca's lovely smile. Enraptured at first in their harmonious pas de deux disillusion looms in at the end. Elisa Badenes as Bianca is a smug and vain chit of a girl, knowing exactly what she wants and how to get it.
Alicia Amatriain took over the role of Bianca's opponent at home, her scolding sister Katharina. As the house's curse it was hilarious how she suddenly goes off, giving hell to her family and those wannabe men. Amatriain already raised the amusement level brilliantly when glancing disgruntled out of the front door at her sister! Alexander Jones as Petrucchio is a tongue-in-cheek macho, complacent and unwaveringly cheerful. He swaggers with powerful jumps and turns, spinning and flipping his Katharina and making her dizzy. I'm sure someday Stuttgart principals will even master to turn tilted pirouettes when pretending to be drunk. But actually Jones' Petrucchio a very decent chap. Both, Katharina and Petrucchio, married well!
Stuttgart's ensemble not only danced excellently – in the main roles as well as in the corps de ballet – but also delivered pinpoint punch lines in the acting and miming. Together with costume and stage designer Elisabeth Dalton's stylish Renaissance fashion and Kurt-Heinz Stolze's lively music arrangement after Domenice Scarlatti the evening was a cornucopia of humor – coarse, deadpan and heartfelt humor. High spirits permeated the house.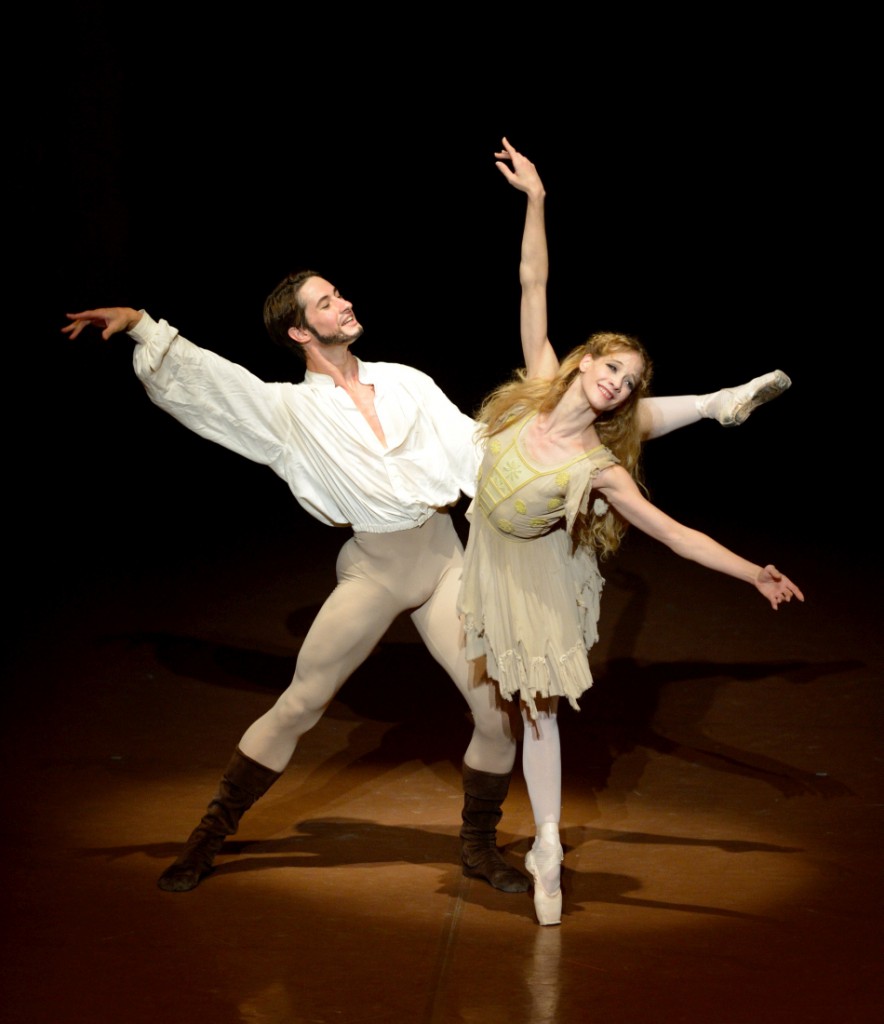 Links:
Stuttgart Ballet's Homepage
Photos:
1.
Alicia Amatriain (Katharina) and Alexander Jones (Petrucchio), "The Taming of the Shrew" by John Cranko, Stuttgart Ballet 2013
2.
David Moore (Lucentio), Elisa Badenes (Bianca), Roman Novitzky (Hortensio) and Özkan Ayik (Gremio), "The Taming of the Shrew" by John Cranko, Stuttgart Ballet 2013
3.
Alexander Jones (Petrucchio) and Alicia Amatriain (Katharina), "The Taming of the Shrew" by John Cranko, Stuttgart Ballet 2013
all photos © Stuttgart Ballet 2013
Editing:
George Jackson