"Made in Germany"
Stuttgart Ballet
Stuttgart Schauspielhaus
Stuttgart, Germany
October 10, 2013
by Ilona Landgraf
Copyright © 2013 by Ilona Landgraf
Once upon a time the label "Made in Germany" conveyed craftsmanship and reliability. Innovation, novelty and experimentation weren't features associated with this phrase in any primary way. Now, Stuttgart Ballet has proven the opposite. "Made in Germany" is the ever so self-confident title of the company's new ballet program which premiered earlier this month. A mixed bill of twelve little pieces, specially created for the dancers of Stuttgart Ballet by nine choreographers, it serves as nibbles for various tastes. In addition to these miniatures, a vast number of works have been made for the company since Reid Anderson's directorship began in 1996: more than eighty, seven of them program-filling story ballets. Where else can one find such fertile creativity alongside the careful guardianship of tradition?
Crucial for spotting new choreographic talent is Stuttgart's Noverre Society. Founded during Cranko's era, it annually gives as yet unknown choreographers the opportunity to show their creations to an audience. For six of the current evening's choreographers the Noverre presentations were the doorway to the big stages for which they have subsequently been making work.
Marco Goecke is one of them. While his nervously fluttering dance style was rejected by many, the Noverre Society gave him a 2001 start-up to a remarkably international career. Since 2005, Goecke has not only been resident choreographer of Stuttgart Ballet but recently took over the post of an associate choreographer at Nederlands Dans Theater. Two of his works are part of "Made in Germany": the older piece, "Äffi", is a gloomy and melancholic but also rebellious solo to Johnny Cash songs, expressively danced by Robert Robinson. The other is my favorite: the 2009 creation "Fancy Goods". Eye-catching pink feather fans against an all black stage give it a special look, a mix of sensual erotics and clarity. In it, Constantine Allen was manly and powerful, coquetted with this pseudo-peacock fan of a ballet and radiated controlled strength throughout. "Fancy" is a fascinating play of contrasts! Amazing, too, Goecke's use of the back and especially of the arms, which are fluid and merge edgy movement with snake-like motion, the range being from galvanic convulsions to seaweed softness. Goecke truly has invented a new style!
Demis Volpi, Stuttgart Ballet's new second resident choreographer, was represented by "Little Monsters", in which a young couple – Ruiqi Yang and Pablo von Sternenfels – go through different phases of their love affair accompanied by an Elvis Presley song.
At first the pair caresses tenderly, then one starts to clutch and the other breaks away. Finally they are apart. It's not for nothing that Volpi was awarded the 2011 Erik Bruhn prize for best, new choreography. "Little Monsters" entertains very well.
"Allure", a female solo by Volpi, I expected to be a seductive diva's act, but Hyo-Jung Kang was merely a likeable young woman, at first restrained and then self-absorbed. Only gradually did she gain the courage to express her femininity. Cocksure of herself, however, was Alicia Amatriain as the goofy ballerina of Christian Spuck's satire "Le Grand Pas de Deux". Never knowing where to put her handbag, she drives her ambitious ballerino, Jason Reilly, to distraction. Both dancers are ravishing comics and brought the house down. Spuck, former resident choreographer of Stuttgart Ballet, has headed the Zurich Ballet since 2012. His "the seventh blue" is the finale of a ballet to Franz Schubert music for seven couples who have to do too much running around – off stage, on stage and so on. Maybe another excerpt would give a better idea of the complete piece's quality.
Rumania's Edward Clug set "Ssss…" to Frederic Chopin's "Nocturnes". It had premiered earlier this year and on this occasion we saw its solo performed by Daniel Camargo. Similar to Goecke's "Äffi", it isn't as merciless in exposing its protagonist's mental state. Full of inventive dance detail, it attracted much attention. Less inspired was "Kazimir's Colors", a pas de deux by Italy's Mauro Bigonzetti. The fault wasn't due to Anna Osadcenko and Friedemann Vogel. Both danced with flawless clarity. However what should have been a dynamic relationship (attraction versus rejection, or harmony versus discord) became just a succession of sculptural poses – beautiful yet lifeless.
In Douglas Lee's "Fanfare LX" the gap between pure movement and implied meaning widened even more. Lee, ex-principal of Stuttgart Ballet, created a speedy pas de deux which probed the dancers' movement limits. Alicia Amatriain and Jason Reilly mastered the choreographic demands effortlessly. Nevertheless, the acrobatic contortions, the annoyingly monotonous music (Michael Nyman) plus the demand that the ballerina be super cool, made this a shallow vehicle.
"Mono Lisa", Itzik Galili's choreography for two dancers gave me some unpleasant minutes. While the lighting design was interesting (blazing strips of light that gave a 3D effect), the music by Thomas Höfs and Galili was a cacophony of punching, stomping and scratching. There was also sound akin to an old type writer's ring tone, that issued as if the dancers' movements set it off. It isn't inviting to watch someone dance while anticipating that the next step might again generate the sound of nail scratching on glass. Galili's choreographic style is less extreme than Lee's, but similar as a physical challenge. Admirably immune to the noise, Hyo-Jung Kang and Alexander Jones rendered their glides with ease and gentle smiles.
Galili as well as Clug and Bigonzetti are guest choreographers closely associated with the Stuttgart company. All the other choreographers, except Goecke, rose from the ranks of Stuttgart Ballet. One of the latest up-and-coming talents is Poland's Katarzyna Kozielska, demi soloist, whose "Symph" premiered at the last Noverre evening in January this year. Kozielska combined four movements of symphonies of different composers, which don't flow together to form a total picture. It might help to cut "Symph" down and condense it to its essence. A welcome and cheerful surprise was Roman Novitzky's "Are you as big as me?", which was also shown at the last Noverre event. It is his second work, so he's a rookie of a choreographer. Three late-pubescent guys – danced by Özkan Ayik, Louis Stiens and Robert Robinson – compete with each other. All quite innocent, they show off just the way today's youth does – easy going, their thoughts up in the clouds. It was refreshing and fun to watch!
Stuttgart Ballet will be guesting in London with a slightly different "Made in Germany" plus John Cranko's "The Taming of the Shrew". Toi, toi, toi for this November engagement at Sadler's Wells, may the Brits be as enthusiastic as the company's home audience!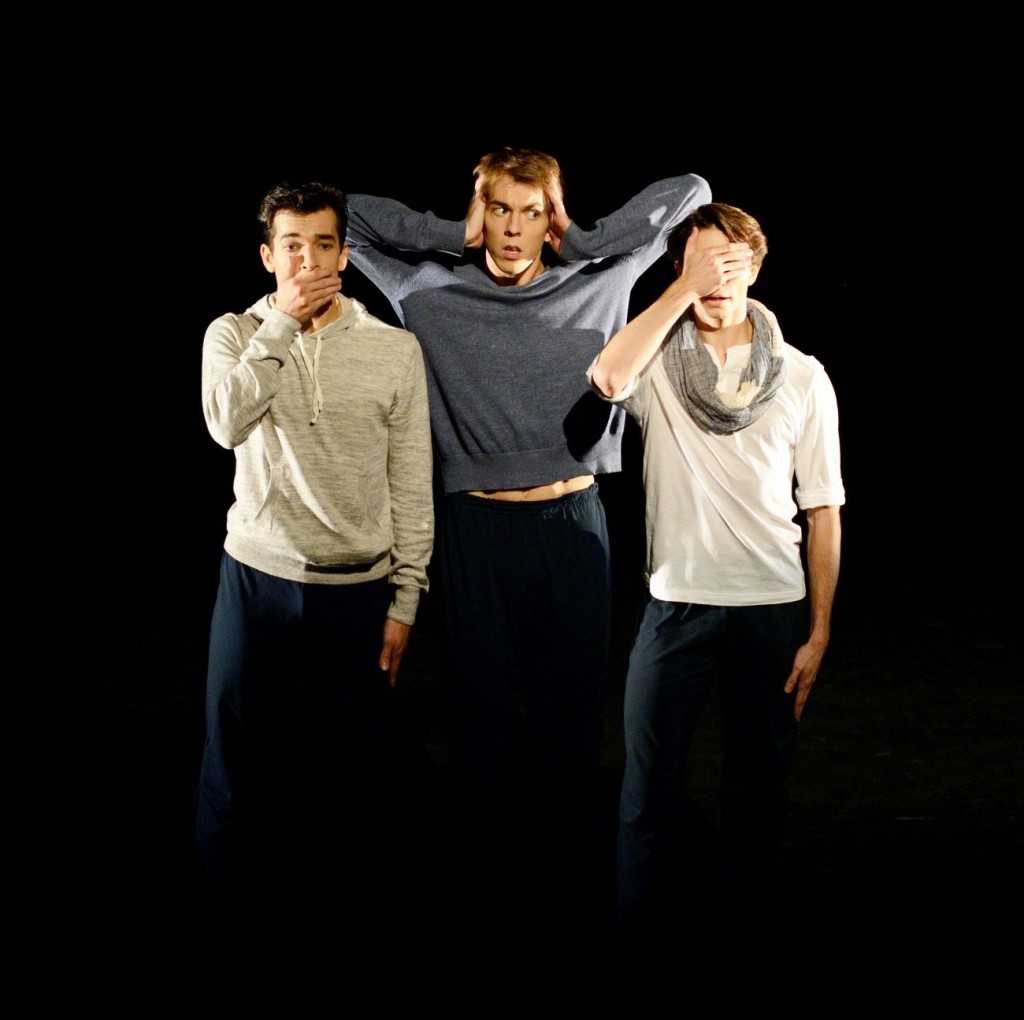 Links:
Stuttgart Ballet's Homepage
 Photos:
1.
Constantine Allen, "Fancy Goods" by Marco Goecke, Stuttgart Ballet 2013
2.
Ruiqi Yang and Pablo von Sternenfels, "Little Monsters" by Demis Volpi, Stuttgart Ballet 2013
3.
Alicia Amatriain and Jason Reilly, "Le Grand Pas De Deux" by Christian Spuck, Stuttgart Ballet 2013
4.
Özkan Ayik, Robert Robinson and Louis Stiens, "Are you as big as me?" by Roman Novitzky, Stuttgart Ballet 2013
all photos © Stuttgart Ballet 2013
Editing:
George Jackson