"Romeo and Juliet"
Hamburg Ballet – John Neumeier
Hamburg State Opera
Hamburg, Germany
October 31, 2013
by Ilona Landgraf
Copyright © 2013 by Ilona Landgraf
April in lovely Verona, the feast day of the town's patron San Zeno lies ahead, and there's a lot going on. Events, from highest bliss to deepest desperation, come thick and fast – as if condensing into a hot spot. In just four days the leading characters of "Romeo and Juliet" will be dead. Although it is almost forty years old, John Neumeier's highly sophisticated creation to Prokofiev's score remains a thoroughly convincing synthesis of the arts. Neumeier's narrative style snares the spectators' attention. One is transfixed and returns to reality only when the lights come up for intermissions.
The incessant flow of incidents is supported by seamless changes of scenery – this is part of the choreography. The story's separate incidents interlock like pieces of a puzzle. For example, there is the transformation of the church in which Romeo and Juliet's secret marriage will take place. Brother Lorenzo and Romeo first stand in front of the church's entrance, their backs to the audience. When they turn around, they are suddenly inside the church. What had been the front facade became the back interior wall due to readily mobile elements of the set. After the conclusion of the wedding ceremony, when Romeo and Juliet part, some of Verona's populace has already come onto the stage and again we are in the midst of the town's vivid street life.
Credit for the set as well as the costumes goes to Jürgen Rose, John Cranko's long-time Stuttgart collaborator. From the beginning of Neumeier's artistic direction in Frankfurt (1972/73), he and Rose worked together on many multiact ballets such as "Lady of the Camellias", "Illusions – like Swan Lake" and "The Nutcracker". Source of inspiration for the "Romeo and Juliet" decor was Italy's Early Renaissance painter Piero della Francesca. Some scenes look as if his frescos have come to life. Rose's costumes tastefully indicate not only the wearers' social rank but also – by way of color, type of fabric and cut – the wearers' character. Black robes are for the Capulets – only Lady Capulet and Juliet are in warm red a few times. Harmonious and mainly subdued colors are for the rest. The guests at the Capulet ball have lavishly wide capes that bulge with so much grandezza that this alone shows the society's norms.
Slight alterations of the subplot make the story logically consistent. Important is the band of actors that has come to Verona for the saint's festival. Not only do these characters entertain the citizenry and later hide the banished Romeo, but their cart also serves as a platform for plays-within-the-play that pointedly summarize what has transpired and also prefigure the young lovers' destiny. This makes old fashioned mime scenes unnecessary and Neumeier is able to avoid them throughout. The effect of the potion Brother Lorenzo gives Juliet is illustrated by these actors but, of course, with a happy ending. The actors also are involved in Mercutio's fate. Always sportive, he mingled with them when he first came on stage and on that occasion he intimidated the crowd of bystanders by appearing in the guise of death. He puts on the identical guise after being wounded by Tybalt, only this time his prank turns real for himself.
Rosalind, with whom Romeo is infatuated at first, is Juliet's beloved niece in this version – Neumeier has added a love triangle. The contrast between Romeo's amorous feelings for Rosalind and his love for Juliet show the latter to be of infinitely greater dimensions.
The evening's star-crossed lovers were English National Ballet's Alina Cojocaru (a regular guest with Neumeier's company) and Hamburg's Edvin Revazov. They are mismatched. Revazov is not only tall but looks massive next to the small and slender Cojocaru. However, there was a bonus to the couple's imbalance. In the Balcony pas de deux with its many lifts, Revazov made his Juliet fly. It was also an advantage in the final duet with Juliet already dead.
Revazov has boyish charm but hasn't as yet overcome a bit of inertia. He needs to fan his inner flame like he did when attacking Tybalt to revenge his murdered friend Mercutio. The two men's fight was of such high tension that I held my breath.
Cojocaru shone in all respects. Her Juliet matured from behaving like a skittish young girl who jumps about with wet hair while wrapped in a bath towel to being firm and courageous and having depth. Highly sensitive, she tapped the psychological riches with which Neumeier's figures are endowed. This Juliet is awkward at first – even dancing – but finds herself due to her love for Romeo. In her solo for the Balcony scene, unaware that Romeo is there watching, she shows her feelings for the young Montague with a clarity and naturalness that enchant. Also touching is the pas de trois in which Juliet expresses her apprehension of dying after taking the potion. Already in delirium, she rejects the vision of death – represented by Tybalt's spirit – and finally seeks solace by remembering her beloved Romeo.
Ann Drower played Julia's elderly nurse as kind and loyal but ineffective in protecting her from remorseless parents.
Outstanding was Otto Bubeníček as Mercutio. Refined in technique, he radiated cheer and a waggish nonchalance. Whether in the thick of the action or standing on the sidelines, Bubeníček was fully present to the minutest detail: he tousled the little servant's hair, gave a friendly nudge here and flirted a bit there. What a sublime characterization of Mercutio! Watching him become aware of his mortal wound and yet trying to keep up his prankster's show got under my skin.
Marcelino Libao was relishing as Benvolio, the likeable third of the trio of buddies. He is certainly more attractive for Verona's gals than Count Paris – Jacopo Bellussi – who has good manners and social connections but is a drag. Everything but sympathetic is Juliet's cousin Tybalt – Carsten Jung – a born trouble maker. Drunk, glassy-eyed, highly irritable, he's not someone to cross. Finding him killed by Romeo was the only moment when Lady Capulet – Anna Laudere – revealed a crack in her habitual rigidity. Artificial social conventions had left her stiff, emotionally she had become almost dead but now she lost control and yielded to desperate, hysterical outburst. Lord Capulet (Braulio Àlvarez) showed his grief over Juliet's presumed death wordlessly. He carried his daughter in his arms like a broken man.
The tragedy's calm anchor was Sasha Riva as Brother Lorenzo. This barefooted holy man of herbs and roots was not able to avert fate any more than could his ally in heaven, San Zeno. The marriage of Romeo and Juliet ends all too soon, but inseparable from this tragedy is the triumph of love.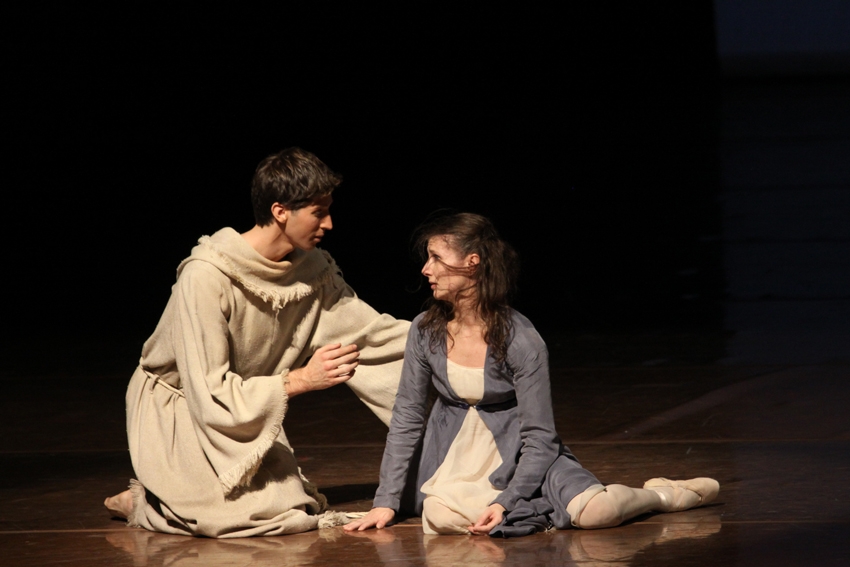 | | | |
| --- | --- | --- |
| | | |
| Links: | | Hamburg Ballet's Homepage |
| Photos: | 1. | Edvin Revazov (Romeo) and Alina Cojocaru (Juliet), "Romeo and Juliet" by John Neumeier, Hamburg Ballet – John Neumeier, 2013 |
| | 2. | Otto Bubeníček (Mercutio), Edvin Revazov (Romeo) and corps de ballet, "Romeo and Juliet" by John Neumeier, Hamburg Ballet – John Neumeier, 2013 |
| | 3. | Ann Drower (The Nurse), Sasha Riva (Brother Lorenzo), Alina Cojocaru (Juliet) and Edvin Revazov (Romeo), "Romeo and Juliet" by John Neumeier, Hamburg Ballet – John Neumeier, 2013 |
| | 4. | Edvin Revazov (Romeo) and Alina Cojocaru (Juliet), "Romeo and Juliet" by John Neumeier, Hamburg Ballet – John Neumeier, 2013 |
| | 5. | Sasha Riva (Brother Lorenzo) and Alina Cojocaru (Juliet), "Romeo and Juliet" by John Neumeier, Hamburg Ballet – John Neumeier, 2013 |
| | | all photos © Holger Badekow 2013 |
| Editing: | | George Jackson |