"Ground Breakers"
Stuttgart Ballet
Stuttgart State Opera
Stuttgart, Germany
December 15, 2013, 2pm
by Ilona Landgraf
Copyright © 2013 by Ilona Landgraf
Stuttgart Ballet, seldom lacking self-assurance, titled its new ballet evening "Ground Breakers". The German term "Fort//Schritt//Macher" better conveys this triple bill's intention: Presented are works by three choreographers of different epochs, all driving forces behind European modern ballet's progress, in short true trailblazers. And further all three – William Forsythe, Hans van Manen and Marco Goecke – are closely associated with the company or are even home-bred.
William Forsythe spread his choreographic wings in Stuttgart. There he made his debut at an evening of the Noverre Society, which promotes up-and-coming talent. Several pieces for Stuttgart Ballet followed and, after some years as freelance choreographer, Forsythe was appointed artistic director of Frankfurt Ballet in 1984. Striving after continual development, he modernized 20th century ballet by deconstructing all aspects of ballet, reassembling the fragments into abstract and speedy movements. Off-balances and overexpansions are his hallmarks. Forsythe also became more and more interested in other fields such as literature, philosophy, media and architecture, which he draws upon for inspiration. His approach is as cognitive as a researcher's. Though Frankfurt Ballet was liquidated in 2004 for financial reasons, Forsythe continues his search for innovation with "The Forsythe Company", founded in 2005, which resides in Dresden/Hellerau and in Frankfurt's Bockenheimer Depot.
Less laborious than Forsythe is Hans van Manen, resident choreographer of Dutch National Ballet and for many years the creative mind of Nederlands Dans Theater. Now in his 80s and admired like a national hero in the Netherlands, he never was a destroyer nor reinventor. When others experimented with radical alterations, van Manen, always one or two steps ahead, already had tried them: In "Metaphors" (1965) he staged the first pas de deux for men, made a nude ballet, "Mutations" (1970) and integrated new media while other progressive colleagues were still in their early stages. With approximately twenty pieces Stuttgart Ballet holds the most extensive van Manen repertoire outside the Netherlands.
Grounded in the classical vocabulary van Manen's choreography is elegantly flowing, but unadorned and without decor, thus mostly danced in plain leotards. A clear, minimalistic aesthetic is his principle for modern and avant garde pieces. However unlike Balanchine, van Manen infuses his pas de deux with pointed emotions, which precisely dissect but never compromise human relationships.
Born in 1972, Marco Goecke represents the afternoon's new generation of dance makers. Undeterred by Goecke's strangely fluttery and febrile dance style, the Noverre Society offered him a platform to present his work in 2001. Four years later Stuttgart Ballet's artistic director Reid Anderson appointed Goecke as resident choreographer. Goecke, who until 2013 has also been resident choreographer of Scapino Ballet Rotterdam, now from this season on is simultaneously associate choreographer at the Nederlands Dans Theater.
His full-length story ballets as well as the short pieces, which make up the larger part of his work, radiate a dark, enigmatic atmosphere. Aggression, self-destruction, abrupt turns from psychosis to persiflage, from lyric movements to brutality are Goecke's features. Fittingly stage and costumes are mostly black, or at least dark. The focus is on the upper body, sometimes a bare back's fine flexing of muscles is highlighted. Arms, fingers, the head – all flutter galvanically or move jerkily. It's a succession of many little movements at high speed, slightly reminiscent of oddly animated figures in a computer game. A distinct and previously unfamiliar dance style!
Forsythe's "workwithinwork" was the afternoon's opening. Premiered in 1998 at Frankfurt Ballet it's the last of a series of ballets on the subject of ballet itself, the so called "Ballet Ballets". Like little (sometimes tiny) rehearsal snippets, strung together with abrupt transits, dancers – eighteen in total were involved – came on stage, often as couples and dance a pas de deux, for example. Sometimes colleagues stood around impassively watching them. After they coolly and slightly arrogantly walked off, others were next in the line to show their abilities. But unceasing arm movements and upper body twists generated much fuss with little content. The dark backdrop with one horizontal bright stripe created an oppressive atmosphere, as if the ceiling had been lowered. No energy radiated into the auditorium, all seemed stuck as though the stage were a vole's burrow. If "workwithinwork" were to last only half the time, there would be no damage at all. After ten minutes nothing new occurred. However in no way are the dancers to blame – impeccable technique and commitment! – nor are the musicians. As unnerving as Luciano Berio's "Duetti per due violini vol.1" is, Jewgeni Schuk and Gustavo Surgik played it excellently.
Van Manen's "Frank Bridge Variations" created in 2005 for Dutch National Ballet to Benjamin Britten's "Variations on a theme of Frank Bridge" was the program's highlight. Not because of being light or buoyant – far from that, the stage was drenched in gray/blue colors and the leotards by Keso Dekker plainly dark red and dark green. But van Manen's pinch of pinpoint humor in the pas de deux was highly welcome after Forsythe's mood killer. It was the third Sunday in Advent after all and the audience might rather have expected love, peace and harmony.
Portrayed are the ups and downs of two couples' love affairs: battles of the sexes, little victories and dressing-downs superbly danced by Maria Eichwald/Marijn Rademaker and Alicia Amatriain/Evan McKie. When, for example, Eichwald ditched her macho Rademaker, who looked crestfallen, the audience laughed with relief, as if grateful to see some human feelings. Though emotionally controlled, both couples' pas de deux was highly intense and powerful as if their relationships were being burnt by a lens. Rademaker of course restored his wounded manly pride in his solo afterwards. Regardless what kind of frictions were wrestled with, at the end the lovers re-arranged themselves. Each of the four found a suitable position in his or her relationship.
The afternoon concluded with Marco Goecke's "On Velvet", this program's new creation, referring to three rows of velvet- upholstered theater seats which fronted the stage backwards. While one or several dancers fidgeted around on the remaining stage – highly nervous and frenetic as is typical of Goecke's style – colleagues sat scattered "on velvet" seats. Like spiders they fixed their prey, the poor one in the middle even sticking out her tongue at him, which made them look absolutely stupid. The costumes by Michaela Springer were unusually bright: earth-colored and a bit dusky pink instead of all-black. However the whole piece's mood was dark and negative. Haunting cello sounds by Zoltan Paulich added considerably to this atmosphere. Paulich had to torture his cello's strings to produce Austrian Johannes Maria Staud's "Segue – music for violoncello and orchestra". To sum up the first part of the piece's message: When you're on stage you get daubed with muck (which really happened), you're lampooned and a cold wind is blowing. The second half was a solo to Edward Elgar's "March of the Mogul", danced by Rademaker. Though "danced" is mistakable as Rademaker first and foremost sat on the floor and exerted a powerful upper body workout until finally coming back onto his feet. In the last scene he fought with his own fearful desperation, pulled himself together and crouched as if ready to make an attacking jump into the audience. Certainly dark topics should be addressed, but revolving all the time around the same cloudy sludge is meager. I missed an attempt at transformation.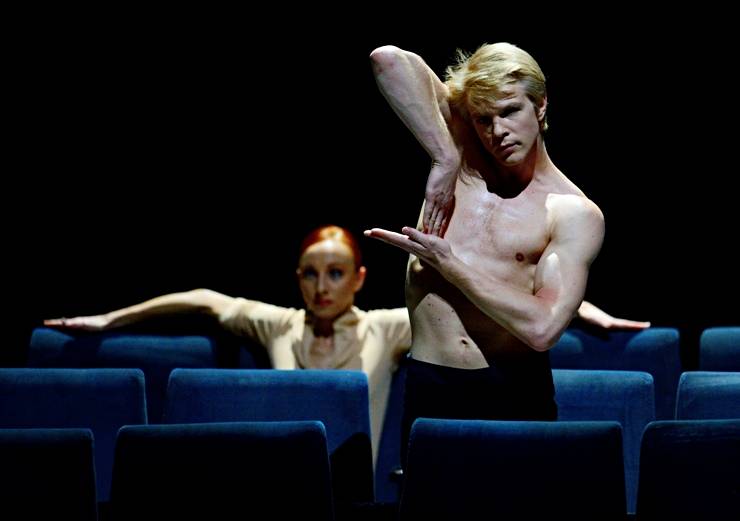 | | | |
| --- | --- | --- |
| | | |
| Links: | | Stuttgart Ballet's Homepage |
| Photos: | 1. | Pablo von Sternenfels, Heather MacIsaac and ensemble, "workwithinwork" by William Forsythe, Stuttgart Ballet 2013 |
| | 2. | Rachele Buriassi, Rocio Aleman, Miriam Kacerova and Evan McKie, "workwithinwork" by William Forsythe, Stuttgart Ballet 2013 |
| | 3. | Marijn Rademaker and Maria Eichwald, "Frank Bridge Variations" by Hans van Manen, Stuttgart Ballet 2013 |
| | 4. | Alicia Amatriain and Evan McKie, "Frank Bridge Variations" by Hans van Manen, Stuttgart Ballet 2013 |
| | 5. | Marijn Rademaker, "On Velvet" by Marco Goecke, Stuttgart Ballet 2013 |
| | 6. | Magdalena Dziegielewska and Marijn Rademaker, "On Velvet" by Marco Goecke, Stuttgart Ballet 2013 |
| | | all photos © Stuttgart Ballet 2013 |
| Editing: | | Laurence Smelser |
| | | |