"Christmas Oratorio I-VI"
Hamburg Ballet – John Neumeier
Hamburg State Opera
Hamburg, Germany
December 09, 2013
by Ilona Landgraf
Copyright © 2013 by Ilona Landgraf
John Neumeier recently extended his contract as head of the Hamburg Ballet and general manager of the Hamburg State Opera until 2019. In his tenure's final phase he has returned to Bach's "Christmas Oratorio" completing what he had begun in 2007 with the choreography of parts I-III. With the entire "Christmas Oratorio I-VI", "Saint Matthew Passion" (1981) and "Magnificat" (1987) he has now come full circle: From the lost paradise to Maria as the chosen one, to Christ's incarnation and finally his crucifixion. Other religiously inspired works were "Requiem" (1991) set to Mozart and "Messiah" to music by George Frideric Handel and Arvo Pärt. Though a practicing Christian and strongly influenced by his long friendship with Jesuit Father John J. Walsh, (who led the drama group at Milwaukee's Marquette University, where Neumeier took up his studies as young man), Neumeier emphasizes that his choreographies are not religious undertakings. They're neither substitute services nor an attempt to proselytize. This piece's key topics are rather universal human values, basic emotional experiences and above all hope for salvation.
The Christmas Oratorio's first three parts, designed for the first three days of Christmas, are about the Christmas Story's core: the particulars of the child's birth and the appearance of the angels to the shepherds on the field. Likewise, based on the narrative of the evangelists Luke and Matthew, are the second half's three parts (IV-VI): the child's circumcision on New Year's Day, his adoration by the three wise men and finally his persecution by Herod.
Neumeier at first approached Bach's Christmas Oratorio hesitatingly. Not until the project felt mature and when addressed from the outside, he set about working on it. Bach's music, to Neumeier, gives him the illusion of floating. The choir's "Rejoice, exult" ought to radiate infectious and rousing joy. It should, but at the premiere unfortunately didn't. Italian Alessandro de Marchi set an odd pace at the conductors stand. Certainly "Rejoice, exult" has to be vigorous,
but not rushed through in a breathless staccato. Other pieces were either too fast or, on the contrary, played at snail's pace. De Marchi seldom hit the right tempi to build a spiritual atmosphere. If one ignores some harsh sounds, the choir sang decently, although abstained from much enthusiasm. The evangelist Christoph Genz began in a mediocre way but improved, Wilhelm Schwinghammer (bass), Manuel Günther (tenor), Katja Pieweck (alto) and Mélissa Petit (soprano) were fine, though Pieweck's voice lacked the calm softness for arias like "Sleep, my darling, enjoy your rest". But de Marchi barely managed to merge orchestra, choir, solo singers with what happened on the dance floor, to say nothing of creating a floating sensation. Nevertheless he basked extensively in the final applause.
To interlock the Oratorio's newly choreographed second half with what already existed, Neumeier slightly reworked part I-III. Contrary to the original version, 'the husband' – Joseph – is allowed to stay with his wife and the newborn son. 'A man', a figure of today, who accompanies the biblical story, in the current version becomes involved in the events. He's like today's reflection of Christ. Coming from our midst and stepping out of society's shadow, he confesses himself to his belief in and hope for salvation. Travelers carrying suitcases allude to the wanderings of people back then or to life being a journey – given that one sallies forth.
The piece's first half is dominated by exuberant joy, splendidly expressed by sweeping group dances. Inventive and technically demanding, their massed effect is intensified by costume colors. The second half starts more reflectively and focuses on the holy family. There are several hints about Christ's future passion. "Rejoice, exult" introduces and concludes the whole Oratorio like a frame.
As in 2007 Ferdinand Wögerbauer was responsible for the set. First half's design was much reduced: a waiting room for travelers surrounded by acrylic glass, a movable rectangle serving as a platform or reflecting divine light and – very important – a small Christmas tree. The second half's huge cross hanging above 'the mother" (Maria) and the angel was a pointer of scarce subtlety. Refreshingly unconventional were the planetarium-like windows, each showing one of the three wise men. Costume design and lighting design were by Neumeier.
Maria, the blessed mother, for Neumeier first and foremost, is a woman, a mother, 'the' mother. Anna Laudere as mother mainly expressed this role's fearful and suffering facets, lacking deep joy and love. Tightly clutching a white shirt that symbolized Christ and moving mostly with hunched shoulders, she seemed tense even when smiling. Perfect as Lady Capulet, Laudere couldn't attain this role's demand for the depth of a mature soul. Often her 'husband', Edvin
Revazov, was only a silent observer, an introverted man accepting the inevitable. Though being unable to comprehend what was going on and full of doubts he unpretentiously confessed himself to the little family. Two angels, Silvia Azzoni and Alexandre Trusch, emitted ethereal lightness (Trusch was promoted to principal dancer after the performance) and heralded the good news to a likable down-to-earth shepherd (Carsten Jung). The three wise men Marc Jubete, Sasha Riva and Thomas Stuhrmann added a surprisingly fresh breeze when climbing out of their windows on the orient. Although young and not at all looking like the embodiment of wisdom, their motivation was convincingly serious. Finally finding the child they were awestruck. The three's appearance was a welcome unburdened counterpart to the prevailing somber drama-like mood of Laudere's 'mother'.
Argentinian Dario Franconi was aptly cast as 'the king' – Herod. As a narcissistic businessman in a dark suit, he inserted en passent some nonchalant tango steps while thinking about infanticide.
Despite the high tempo, the ensemble skillfully mastered Neumeier's choreographic challenges and acted as the evening's vibrant backbone. Hats off to them! Aleix Martinez who for quite some time has caught one's eye had the second promotion. From January on he'll be a soloist.
Lloyd Riggins as 'a man' was the evening's continual observer of the nativity's story. Not only companion but even aide, he stepped in at exactly the right moments. At the beginning he fights his way through the gray bulk of waiting travelers, shielding his little Christmas tree. When, of course, one bauble falls down and breaks, the already dreary atmosphere becomes sad as well. Afterwards Riggins arranges the tree and himself on a little platform next to the stage. There he stays for almost three quarters of an hour absorbed in thought. When he lights his tree's first (and only) candle, Bach's music starts. Riggins, literally playing the blues on his harmonica on New Year's Day, later unthrones 'the king" simply by crumpling his crown, which proves to be only a paper one. I've seldom seen such a plain but effective victory of good over evil. At least for a time Herod has been deflated. But, alas, salvation doesn't fall into one's lap. One has to work for it. Riggins also helped Maria and Joseph to escape and was their path's protective guardian.
Infectiously joyful and exciting was the final "Rejoice, exult" after all! First doubtfully looking a bit at the ensemble's exuberant dance, Riggins shook his head, pulled his pants up, and threw himself right into the middle. Happily dashing through the diagonals with the group, he was the one exulting. Being Neumeier's desired candidate to succeed him in 2019, Riggin's performance may forebode an upcoming time.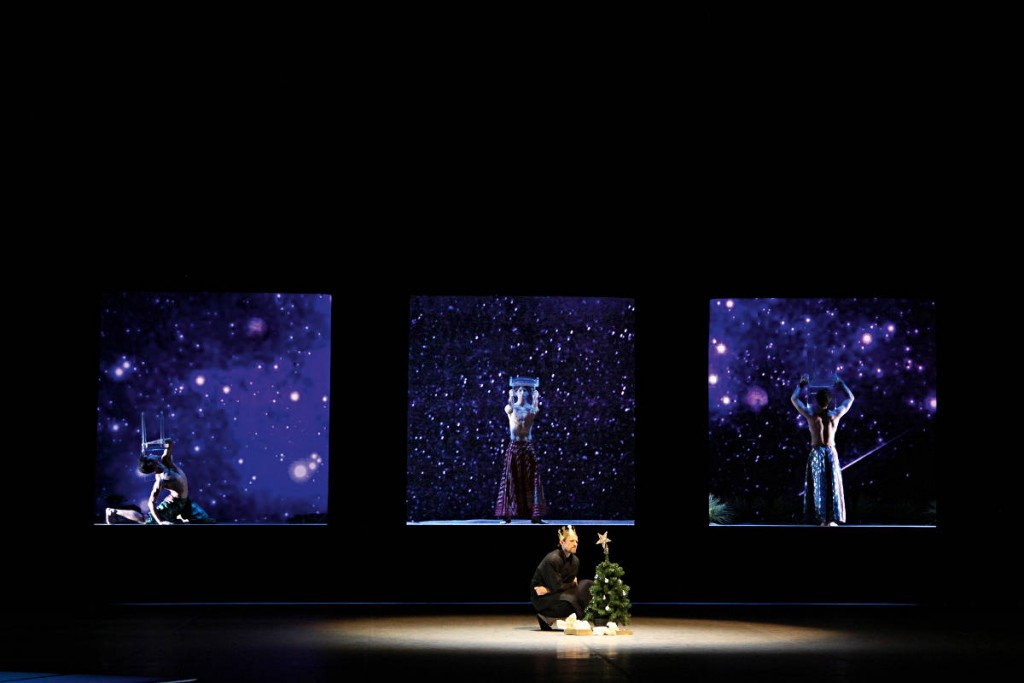 | | | |
| --- | --- | --- |
| | | |
| Links: | | Hamburg Ballet's Homepage |
| Photos: | 1. | Lloyd Riggins (a man), "Christmas Oratorio I-VI" by John Neumeier, Hamburg Ballet – John Neumeier, 2013 |
| | 2. | Anna Laudere (the mother), Lloyd Riggins (a man) and ensemble, "Christmas Oratorio I-VI" by John Neumeier, Hamburg Ballet – John Neumeier, 2013 |
| | 3. | Anna Laudere (the mother), Edvin Revazov (her husband) and ensemble, "Christmas Oratorio I-VI" by John Neumeier, Hamburg Ballet – John Neumeier, 2013 |
| | 4. | Anna Laudere (the mother) and ensemble, "Christmas Oratorio I-VI" by John Neumeier, Hamburg Ballet – John Neumeier, 2013 |
| | 5. | Dario Franconi (the king), Anna Laudere (the mother), Alexandr Trusch (angel), Edvin Revazov (her husband), Silvia Azzoni (angel), "Christmas Oratorio I-VI" by John Neumeier, Hamburg Ballet – John Neumeier, 2013 |
| | 6. | Marc Jubete, Sasha Riva, Thomas Stuhrmann (the three wise men), Lloyd Riggins (a man), "Christmas Oratorio I-VI" by John Neumeier, Hamburg Ballet – John Neumeier, 2013 |
| | | all photos © Holger Badekow 2013 |
| Editing: | | Laurence Smelser |