"Ballet Gala"
The Maryinsky Ballet
Festspielhaus Baden-Baden
Baden-Baden, Germany
December 26, 2013
by Ilona Landgraf
Copyright © 2013 by Ilona Landgraf
The Maryinsky Ballet's end-of-the-year visit to Baden-Baden's Festspielhaus is a long-cherished tradition. Usually the company brings its famous classics to the Black Forest and this year too its holiday programs included Konstantin Sergeyev's versions of "Sleeping Beauty" and "Swan Lake" as well as a matinee mixed bill for families plus a Ballet Gala on the day after Christmas. I caught the gala. Termed in the playbill "an exhibition of the Maryinsky dancers' diverse potential", the gala items ranged from classic bravura to contemporary choreography. Sandwiched between Fokine's "Chopiniana" ("Les Sylphides") and an Act 3 "Le Corsair" excerpt ("Jardin Animé") were William Forsythe's "The Vertiginous Thrill of Exactitude" and the recently premiered "Choreographic Game 3×3" by Anton Pimonov.

Fokine's one-act "Chopiniana", created for the Maryinsky in 1907, was one of the 20th century's first plotless ballets* and thus an initial step towards the artform's modern age. Reworked and renamed as "Les Sylphides", Diaghilev's Ballets Russes showed it to Paris in 1909. It is set to orchestrated Chopin pieces for piano (mainly mazurkas and waltzes) and features a poet amidst sylphs in front of a castle's moonlit ruins (decor for Paris by Alexandre Benois, 1909).
For the first Paris performances the poet was Vaslav Nijinsky and his main sylphides were Anna Pavlova, Tamara Karsavina and Alexandra Baldina. Baden-Baden saw ex-Royal Ballet dancer Xander Parish as the central male character and Maria Shirinkina, Anna Lavrinenko and Oxana Skorik as spirits of the air. The backdrop, designed after initial sketches by the Imperial Theater's Orest Allegri from ca. 1908, showed neither moonlight nor a ruin but vapidly romantic, autumnal trees.
Parish, a secure and attentive partner, had an elegant line although seeming restrained. Some of his jumps looked ponderous, as if glued to the ground. The stately pace he set gave some of the proceedings a heavy sense of earthiness. However, his three sylphs exuded dreamlike lightness and displayed shining technique. Yet, except for Shirinkina, whose interpretation was vivid from within, they were slick and all too polished, thus imbuing Fokine's classic with a bit of glitter globe artificiality. The female corps' precision and homogeneity were exemplary. These sylphs moved alike and breathed alike with not even a pinky out of place.
Forsythe's "Vertiginous Thrill" (1996), although still linked to the classical dance vocabulary, contrasted sharply with the preceding piece of romantic dreamery. Forsythe's moves aren't set on the music – the fourth movement of Franz Schubert's "Great" C major Symphony, D 944 – but, principally, are contrary to its rhythms. Also the costumes by Stephen Galloway are like an u-turn. Instead of gently billowing clouds of white silk tulle, the three ballerinas (Nadezhda Gonchar, Anastasia Nikitina and Maria Shirinkina) wore stiff, mustard-yellow, teetering tutus which stood out from the body like plates. Their male companions (Alexei Timofeyev and Kimin Kim) wore tomato-colored tricots. Faithful to its title, the piece demands utmost precision and speed, which the five dancers were fully up to. Especially the Korean, Kim, stood out. He seemed to emit sparks, this human bundle of energy, and delivered powerful yet soft jumps.
Fresh as dew was the gala's third piece "Choreographic Game 3×3" by Anton Pimonov, who joined the company in 1999 and first choreographed in 2011. "Choreographic Game", his contribution to a workshop for young choreographers this past March, is already Maryinsky repertory. Pimonov involved three couples (Nadezhda Batoeva/Denis Zainetdinov, Tatiana Tiliguzova/Alexei Nedviga and – most expressively – Yekaterina Kondaurova/Konstantin
Zverev) in a playful yet far from lightweight set of personal partnerships and gender role relationships. In these proceedings, the self-assured, cheeky women have the upper hand. On a little stage upon the stage, lit by three headlights left and right, everyone gets his or her showtime. Solos alternate with duos. The men dance a trio while the women watch sitting on the floor – and vice versa. In contrast to the turbospeed of Forsythe, Pimonov is easy-going, lyrical and allows every onlooker to really perceive what is going on. Tutus of any sort were replaced by black shorts and white, sleeveless blouses for the ladies and similar black pants and white shirts for the men (costumes by Tatiana Noginova). The music Pimonov chose was the third movement of a piano concert in C major by Johann Peter Pixis (1788 -1874), who incidentally spent many years in Baden-Baden).
Returning to classical roots, the evening closed with "Le Jardin Animé", a scene from the third act of "Le Corsaire" with choreography by Pyotr Gusev after Marius Petipa. Actually, this gala version consisted of additional "Le Corsaire" highlights framed by corps passages of "Jardin Animé". As expected, second act's Grand Pas de Deux for Medora (Viktoria Tereshkina) and the slave Ali (Vladimir Shklyarov) was a highlight,
and it was complemented by the pas de trois (coda) for Medora, Ali and the pirate Conrad (Andrei Yermakov). Alina Somova danced as Medora in the Jardin scene, and as both ballerinas were on stage in the finale, this bit of double casting caused some confusion. Somova fitted into the ensemble scene as harmoniously as a gem into a necklace; Tereshkina was all star ballerina. Though blessed with faultless technique – her double fouettés were strung together seamlessly – Tereshkina's immaculate exterior radiated no warmth. Yermakov's role was a small one, which he delivered perfectly. The major male dancing was Shklyarov's as Ali. Strikingly virtuoso and a fabulous jumper, he overdid his yearning for Medora – it was pure schmaltz. Less would have been more! The traditional light blue harems trousers Shklyarov wore and, even more, Tereshkina's loud pink costume were kitschy and didn't fit into Jardin's tasteful decor. As in "Chopiniana", the corps' togetherness was a delight. In front of Teimuras Murwanidse's beautiful, earth-colored, art nouveau backdrop (showing flowers, butterflies and onion-domed towers) this ensemble of women handled their floral arches elegantly and naturally.
All in all, it was an imbalanced evening, suffering mostly from the classics' lack of inner life. I'm afraid that brilliant technique alone won't stir the audience to enduring enthusiasm and deep passion for the art of dance.
_____________________________________________
*Fokine's plotless "Les Sylphides" should not be confused with the 19th Century story ballet "La Sylphide". Just prior to Fokine's ballet, there were at least two other plotless choreographies to orchestrated Chopin piano music – Max Glasemann's "Chopiniana" (1897 at the Royal Opera, Stockholm) and Joseph Hassreiter's "Chopin's Dances" (1905 at the Court Opera, Vienna). Of course, Isadora Duncan was dancing to original Chopin piano pieces during those years.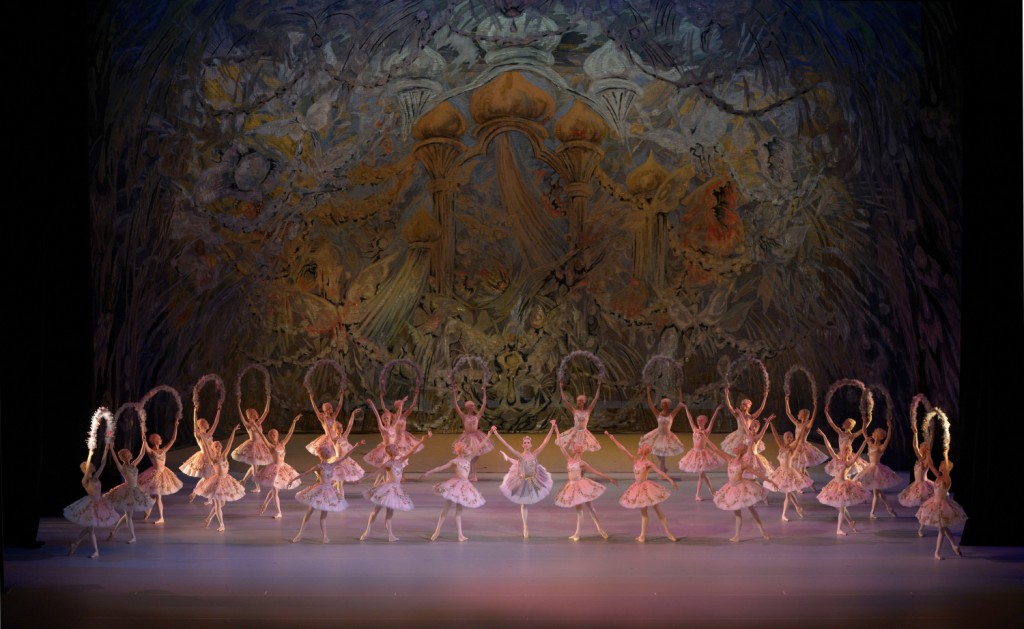 | | | |
| --- | --- | --- |
| | | |
| Links: | | Maryinsky Theater's Homepage |
| | | Homepage of Festspielhaus Baden-Baden |
| Photos: | 1. | Maria Shirinkina, Anna Lavrinenko, Oxana Skorik, Xander Parish and ensemble, "Chopiniana" ("Les Sylphides") by Mikhail Fokine, Maryinsky Ballet © Valentin Baranovsky 2013 |
| | 2. | Ensemble, "Chopiniana" ("Les Sylphides") by Mikhail Fokine, Maryinsky Ballet © Natasha Razina 2013 |
| | 3. | Anastasia Nikitina, Kirim Kim and Maria Shirinkina, "The Vertiginous Thrill of Exactitude" by William Forsythe, Maryinsky Ballet © Natasha Razina 2013 |
| | 4. | Denis Zainetdinov, Nadezhda Batoeva, Konstantin Zverev, Yekaterina Kondaurova, Alexei Nedviga, Tatiana Tiliguzova, "Choreographic Game 3×3" by Anton Pimonov, Maryinsky Ballet © Valentin Baranovsky 2013 |
| | 5. | Oxana Skorik (Medora, in Baden-Baden danced by Alina Somova), "Jardin Animé" (Le Corsaire") by Pyotr Gusev after Marius Petipa, Maryinsky Ballet © Natasha Razina 2013 |
| | 6. | Ensemble, "Jardin Animé" (Le Corsaire") by Pyotr Gusev after Marius Petipa, Maryinsky Ballet © Valentin Baranovsky 2013 |
| Editing: | | George Jackson |