"Les Ballets Bubeníček"
The National Theater
Prague, Czech Republic
January 11, 2014
by Ilona Landgraf
Copyright © 2014 by Ilona Landgraf
The Czech twins Jiří and Otto Bubeníček, principals of Dresden Semperoper Ballet ( Jiří) and Hamburg Ballet – John Neumeier (Otto), regularly gather dancers from various ensembles to tour their own creations worldwide under the label "Les Ballets Bubeníček". To date, Rome and Tokyo as well as different locations in their homeland have lain on their route. After five years, they have returned to Prague's National Theater for one weekend to present a gala of four of their own choreographies: Two plotless, neoclassical pieces, "Le Souffle de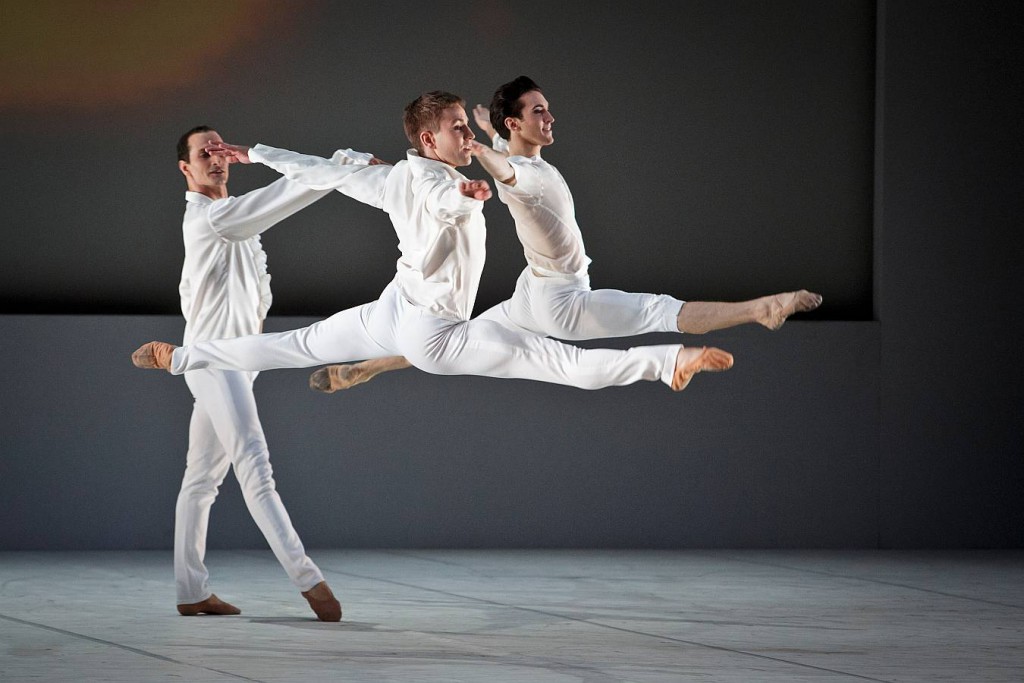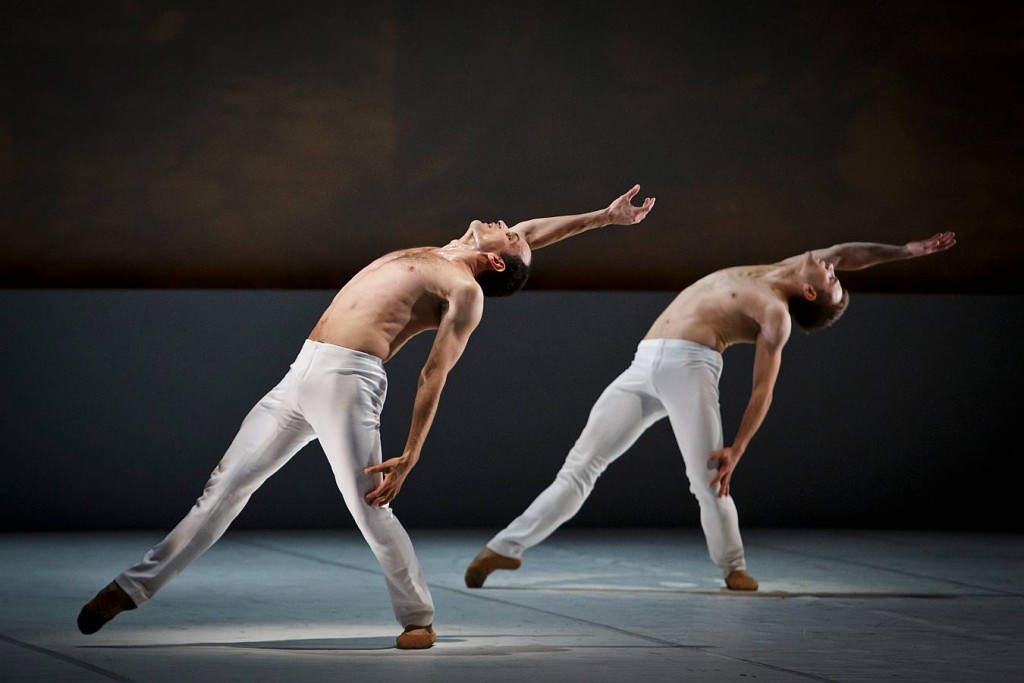 l'Esprit" and "Toccata" contrasted with two narrative works, "Faun" and "The Picture of Dorian Gray".
This time dancers from Dresden Semperoper Ballet made up the major part of the troupe. Augmented by Iana Salenko (State Ballet Berlin) and Arsen Mehrabyan (Royal Swedish Ballet) the Bubeníčeks brought fourteen colleagues along and, to get straight to the point, both scheduled shows – the National Theater has almost 1000 seats – were sold out within a day. For those who couldn't get a ticket, Czech television filmed the performance. All artists earned heartfelt applause, the twins, however, were celebrated and admired like national heroes.
"Le Souffle de l'Esprit", created for Ballet Zurich in 2007, opened the evening. To a music assembly of Johann Sebastian Bach, Roman Hofstetter, Johann Pachelbel (Canon in D major) and his brother Otto, Jiří choreographed a harmoniously floating stream of solos, pas de deux and group dances, with a male trio – danced by both Bubeníčeks and Jón Vallejo – at its core. His sources of inspiration were Leonardo da Vinci's drawings and paintings dealing with humans becoming, being and passing away. A selection of da Vinci's works was projected on the back cloth. Otto, having been in charge of set design and costumes, clad the dancers in simple white costumes: trousers and shirts for the men, blouses and skin-colored tricots for the women, which added to the impression of weightlessness. Thus an idea of watching human souls in oscillations was given. Like a small fissure a dying scene contrasted the primarily airy and buoyant texture. It's reminiscent of a past experience. Happening shortly before a premiere, Jiří's parents withheld from him the news of his grandmother's death. Afterwards it was too late for him to bid farewell. "Souffle de l'Esprit" is his belated goodbye.
Breathing freedom and ease, the dancers visibly relished the piece. It was a well chosen starter which pervaded the auditorium like a fresh breeze!
"Toccata", the evenings second ballet, was made for NYCB in 2009 with Jiří responsible for the choreography and Otto for the music and the costumes. The Italian expression 'toccata' means 'touch', a motif, which runs like a golden thread through the piece. Beginning with one simple touch the interactions of the seven dancers get more and more complex and beyond that explore different patterns of romantic relationships: the stronger partner keeps the other at distance (1), a balanced love affair where both embrace each other deeply (2), and a skewed construction with mutual support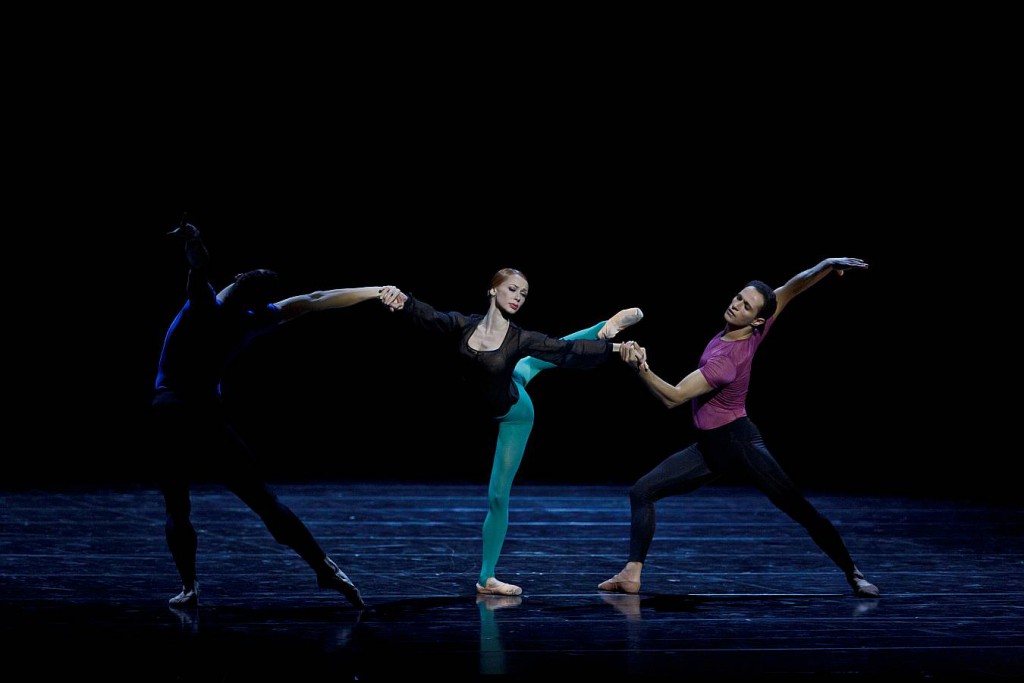 but also dependence (3). Mirror-imaged to the choreography, the music – composed for two pianos, viola and violoncello – started with a single note, developed to an accord, a melody and so on. It also stopped for silent moments.
Seven dancers, four men and three women, meant that one was always left over. At one point Arsen Mehrabyan was the lonely one, who had to stand by and watch how the woman he was yearning for – Iana Salenko – decided on another (Jón Vallejo). Totally calm on the outside, Mehrabyan's sadness and disappointment was touchingly palpable. Salenko and Vallejo's relationship was a tentative and fragile one but when Mehrabyan finally plucked up his courage to entice Salenko away unfortunately no happy rapture resulted. Their relationship was as bloodless as the one before.
Michael Tucker, the single at the end, dealt differently with his situation. He enjoyed himself, jumped confidently around and seemed pretty satisfied with being uncommitted.
The most vivacious and feisty couple was danced by Anna Merkulova and Claudio Cangialosi. Strong, self-assured and well-balanced personalities, they loved each other wholeheartedly.
For his choreography of "Faun", created for Dresden Semperoper's Ballets Russes evening in 2012, Jiří preposed Claude Debussy's "L'Aprés-Midi d'un Faune" with church bell-ringing and sacral music by Francis Poulenc ('Agnus dei' from "Messe en sol majeur"). Instead of a romantic encounter between a faun and nymphs in natural surroundings we saw a convent school or a Catholic seminary, where a clergyman in a cardinal's red cloak sat enthroned over six submissively devoted male wards (set and costumes again by Otto). Behind the group shone a huge cross of light, whose crosspieces swelled in the course of the action. The air wafted of incense.
The story is a bitter one: One of the young men, though being in no way suggestive or even tempting, awakens the priest's desires. His blessing hand turns into a caressing one and when his approaches finally get more and more covetous, the young man suddenly becomes aware that a substantial transgression is taking place. Frozen in terror he's unable to defend himself. Indeed, the clergyman struggles with his intensifying sexual desire, but eventually surrenders to his inner faun. Urged by unrestrained lust he abuses the young man sexually, threatens him and ultimately extorts him to be silent. A real Faun-figure, clad in a skin-colored leotard with shoulders and neck coated in pink leather, accompanies the events. Being the embodiment of the priest's sensuality and libido he's invincible in the end: While the victim is broken and the abuser not triumphant at all, the Faun, like the sculpture of the Barberini Faun, sprawls with pleasure on the priest's throne.
Vaslav Nijinsky's original choreography is quoted in the Faun's style of movement, for example in typical hand- and arm positions. One scene – a pile of heads, which lay on top of each other – is reminiscent of Bronislava Nijinska's consecration of the bride in "Les
Noces", but accomplished by male protagonists in the current version. Even the water element is included: While Nijinsky's nymphs took a bath the young men execute a ritual ablution.
This shocking and disgusting topic, extensively covered in the media (now sinking into obscurity again, but certainly no less topical), was tackled by the Bubeníčeks with a bold grip and clear, unsentimental diction. Openly addressed are the factors, which provide a fertile soil for abuse, power versus lack of power and a social system dominated by restrictions. Also highlighted are the consequences of a trauma: loss of trust, shattered self-confidence and self-worthiness, shame, being forsaken and forced to stay silent. The Bubeníčeks don't take an easy way out by depicting a black-and-white portrayal, but rather outline a differentiated view. Showing how the priest's ethics crumble bit by bit, how he struggles with his sexual needs, offers the audience the opportunity to reflect on the problem.
The ballet's central trio was strongly cast: Raphaël Coumes-Marquet as the clergyman was hardly able at first to allow himself a glance at his object of desire, but later recklessly played upon his power to get what he wanted. His victim was Jón Vallejo, whose transformation from a faithfully dedicated believer to a broken one, unable to comprehend what had happened and emotionally paralyzed, was gut-wrenching. Completely innocent was the Faun, to whom Claudio Cangialosi gave an intriguing lasciviousness. As the epitome of sexuality he couldn't do differently than be voluptuous.
"Faun" earned surprisingly enthusiastic applause but I was wondering if the audience had really plumbed the piece's depths. Perhaps dismay about the topic will make itself felt over the course of time.
The evening closed powerfully with "The Picture of Dorian Gray" after Oscar Wilde's eponymous novel of 1891. A choreographical coproduction of the twins, the ballet was shown first in 2011 in the Czech Republic. Both also dance the key roles. Otto was the youthful and handsome Dorian Gray, whose character gradually degenerates into viciousness due to bad influences and probably also an inner predisposition. Jiří alternately slipped into the roles of the Mephistophelian Lord Henry Wotton and that of the painter Basil Hallward as well as additionally playing the revenge-
seeking James Vane. Moreover, using the unique advantage of being an identical twin, he embodied the portrait, the mirror of Dorian Gray's soul. A huge projection of a black and white photo served as the real portrait, aging in place of Dorian Gray and getting awfully ugly towards the end. In the Bubeníčeks' interpretation, Gray loves the actress Sybil Vane (Raquél Martínez) deeply – though basically being a totally self-absorbed and narcissistic pretty boy – which makes his unstoppable descent into negativity all the more evident and increases the extent of his fall. I liked the lovers pas de deux very much, in which Martínez and Otto Bubeníček gave themselves completely away for their love. Set to Bruno Moretti's "Ragazzi che fanno musica" it breathed tender intimacy. Extracts from Keith Jarret's Paris Concert evoked a decadent, ill-boding vibe at first. Later the piano music's merciless insistence seemed to force Gray's confrontation with his inner truth.
In this final piece the Bubeníčeks played some of their trumps: they're highly skilled actors, brilliantly expressive dancers and above all blessed with a stunning stage presence. Regardless of how many dancers are on stage, they inevitably catch the viewers eye. When together, the energy radiated by them multiples. The Czechs are proud of them and were happy to have them at home. When Jiří finally started to wave to the audience in the umpteenth curtain call the elderly lady in front of me spontaneously waved back – such was the atmosphere.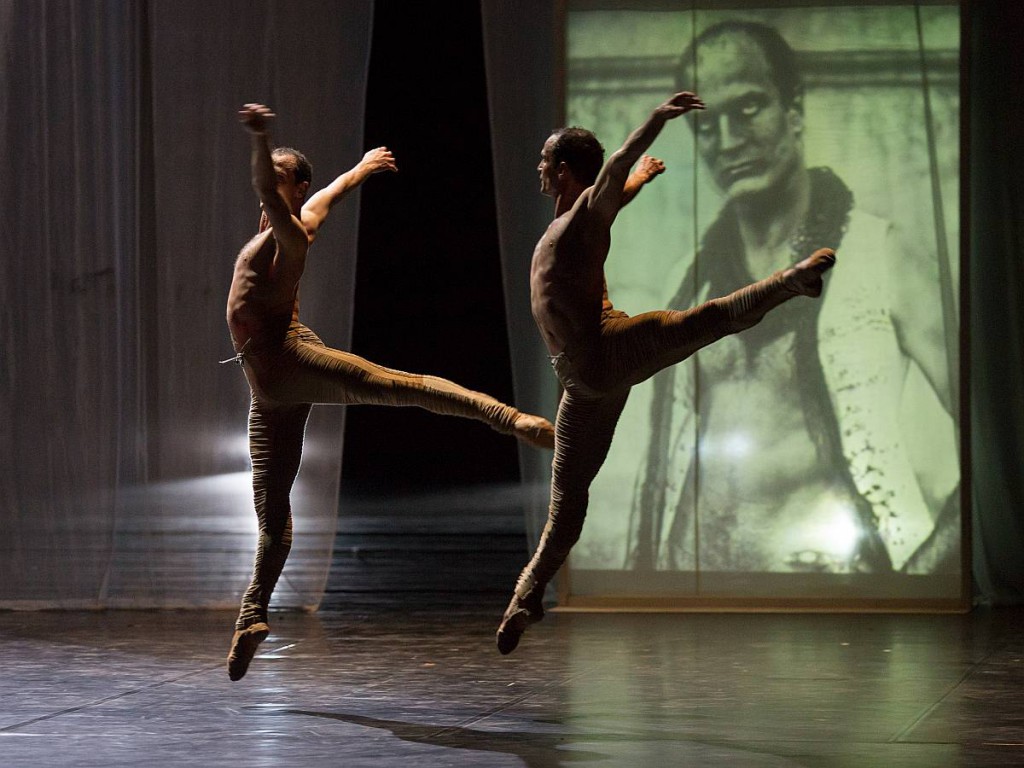 | | | |
| --- | --- | --- |
| | | |
| Links: | | Homepage of Les Ballets Bubeníček |
| | | Homepage of the National Theater, Prague |
| Photos: | 1. | Ensemble, "Le Souffle de l'Esprit" by Jiří Bubeníček, Les Ballets Bubeníček, © Martin Divíšek 2014 |
| | 2. | Jiří Bubeníček, Jón Vallejo and Michael Tucker, "Le Souffle de l'Esprit" by Jiří Bubeníček, Les Ballets Bubeníček, © Martin Divíšek 2014 |
| | 3. | Otto Bubeníček and Jón Vallejo, "Le Souffle de l'Esprit" by Jiří Bubeníček, Les Ballets Bubeníček, © Martin Divíšek 2014 |
| | 4. | Duosi Zhu and Arsen Mehrabyan, "Toccata" by Jiří Bubeníček, Les Ballets Bubeníček, © Martin Divíšek 2014 |
| | 5. | Claudio Cangialosi, Iana Salenko and Arsen Mehrabyan, "Toccata" by Jiří Bubeníček, Les Ballets Bubeníček, © Martin Divíšek 2014 |
| | 6. | Raphaël Coumes-Marquet, Jón Vallejo, Michael Tucker, Johannes Schmidt, Jan Oratynski, Fabien Voranger and Francesco Pio Ricci, "Faun" by Jiří Bubeníček, Les Ballets Bubeníček, © Martin Divíšek 2014 |
| | 7. | Raphaël Coumes-Marquet, Jón Vallejo and Claudio Cangialosi, "Faun" by Jiří Bubeníček, Les Ballets Bubeníček, © Martin Divíšek 2014 |
| | 8. | Fabien Voranger, Francesco Pio Ricci, Raphaël Coumes-Marquet, Johannes Schmidt and Jón Vallejo. In the background: Raphaël Coumes-Marquet, rehearsal for "Faun" by Jiří Bubeníček, Dresden Semper Opera Ballet, © Klemens Renner 2012 |
| | 9. | Raquél Martínez and Otto Bubeníček, "The Picture of Dorian Gray" by Jiří Bubeníček, Les Ballets Bubeníček, © Costin Radu 2013 |
| | 10. | Jiří Bubeníček, Raquél Martínez and Otto Bubeníček, "The Picture of Dorian Gray" by Jiří Bubeníček, Les Ballets Bubeníček, © Costin Radu 2013 |
| | 11. | Otto Bubeníček, "The Picture of Dorian Gray" by Jiří Bubeníček, Les Ballets Bubeníček, © Costin Radu 2013 |
| | 12. | Jiří and Otto Bubeníček, "The Picture of Dorian Gray" by Jiří Bubeníček, Les Ballets Bubeníček, © Costin Radu 2013 |
| Editing: | | Laurence Smelser |