"Romeo and Juliet"
Semperoper Ballet
Semperoper
Dresden, Germany
February 21, 2014
by Ilona Landgraf
Copyright © 2014 by Ilona Landgraf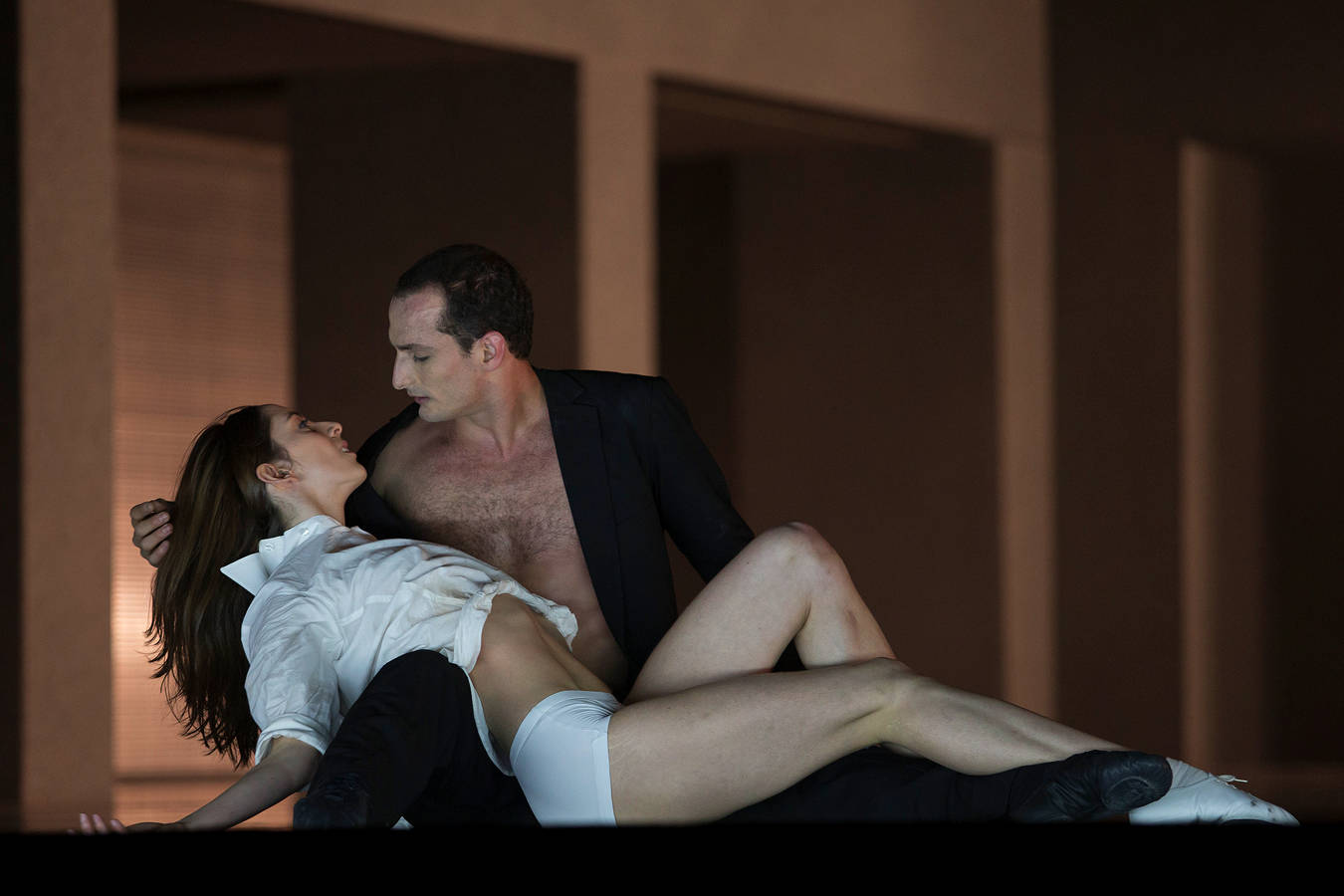 To 'carry off the audience to emotionally deep experiences' was Stijn Celis's stated aim for his new "Romeo and Juliet" adaptation at Dresden's Semperoper. His approach is totally modern, avoiding any reference to the Renaissance. The Belgian choreographer wanted his work to be 'linked to reality' and to abstain from 'artificiality and deformation'. Did he accomplish these noble goals?
Concrete dominated the set, aptly so for a current approach. Gray walls served as a church interior or as facades of austere homes. Two large windows allowed either a view into what was going on in apartments or, when the windows were opened, served as balconies for the two lovers' core encounter. The atmosphere was as gloomy as Jan Versweyveld's decor.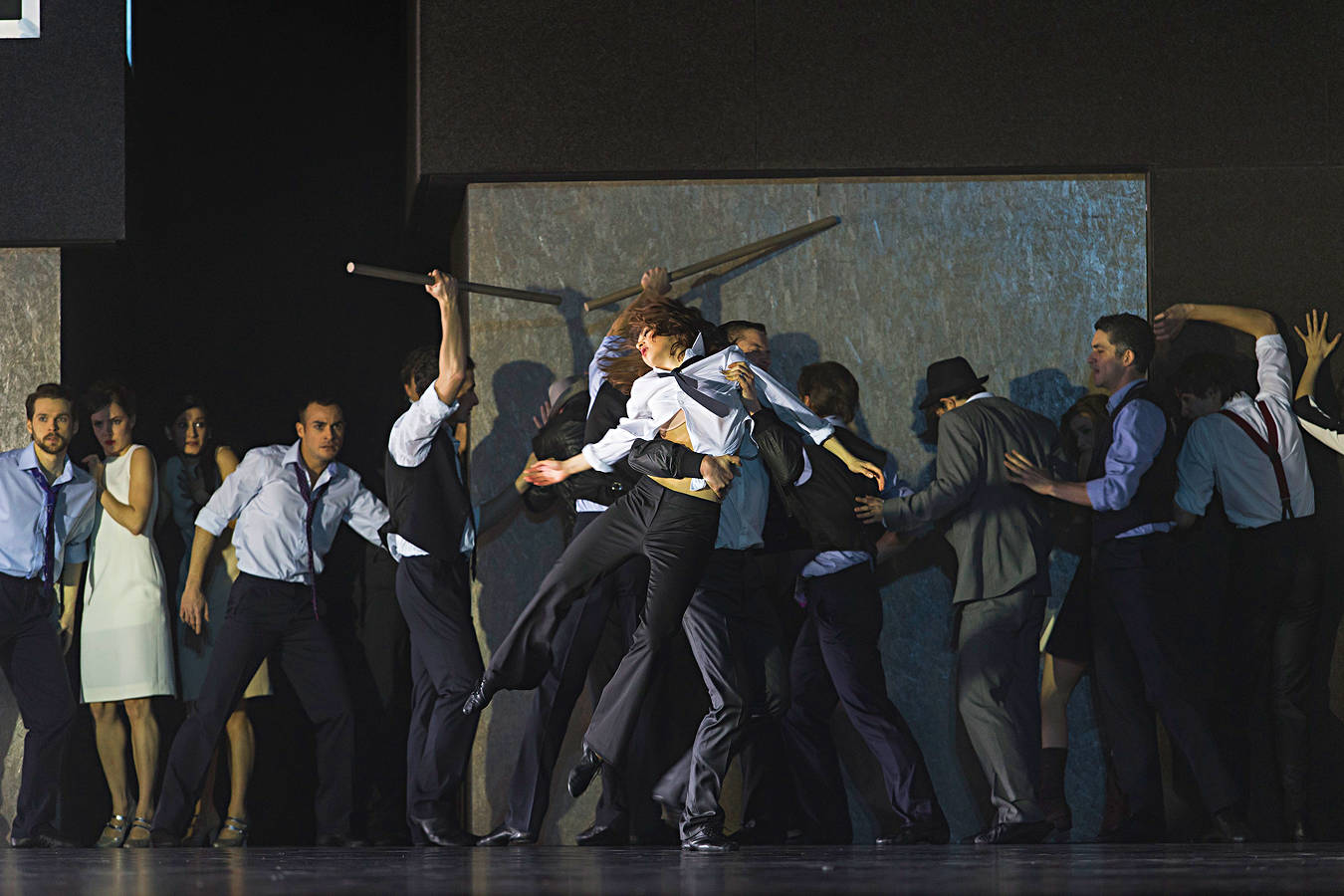 Catherine Voeffray's costumes matched the set's cold and plain surfaces. Men wore dark suits or cool black leather jackets, shirts and ties. The exception was Count Paris (Milán Madar); in his checkered suit he became a figure of fun. Unfortunately, there was no distinct difference between Capulet and Montague clothing, so some of the street fights turned into chaotic dog-eats-dog brawls. Long haired Juliet – Julia Weiss – had the air of a young tennis pro: dressed casually, all in white, with slippers (Celis had no use at all for pointe shoes and had the other women wearing pumps). Juliet's shorts were excessively short and her blouse revealed her girlish innocence. Most of the women's dresses were similarly short, tight and slit indecently high. Definitely not in good taste was Lady Capulet's wardrobe: Tall and skinny Elena Vostrotina as Lady Capulet strutted about in a semi see-through extravaganza. Or, for her daughter's presumed marriage, she dolled up in a garish purple, ultrashort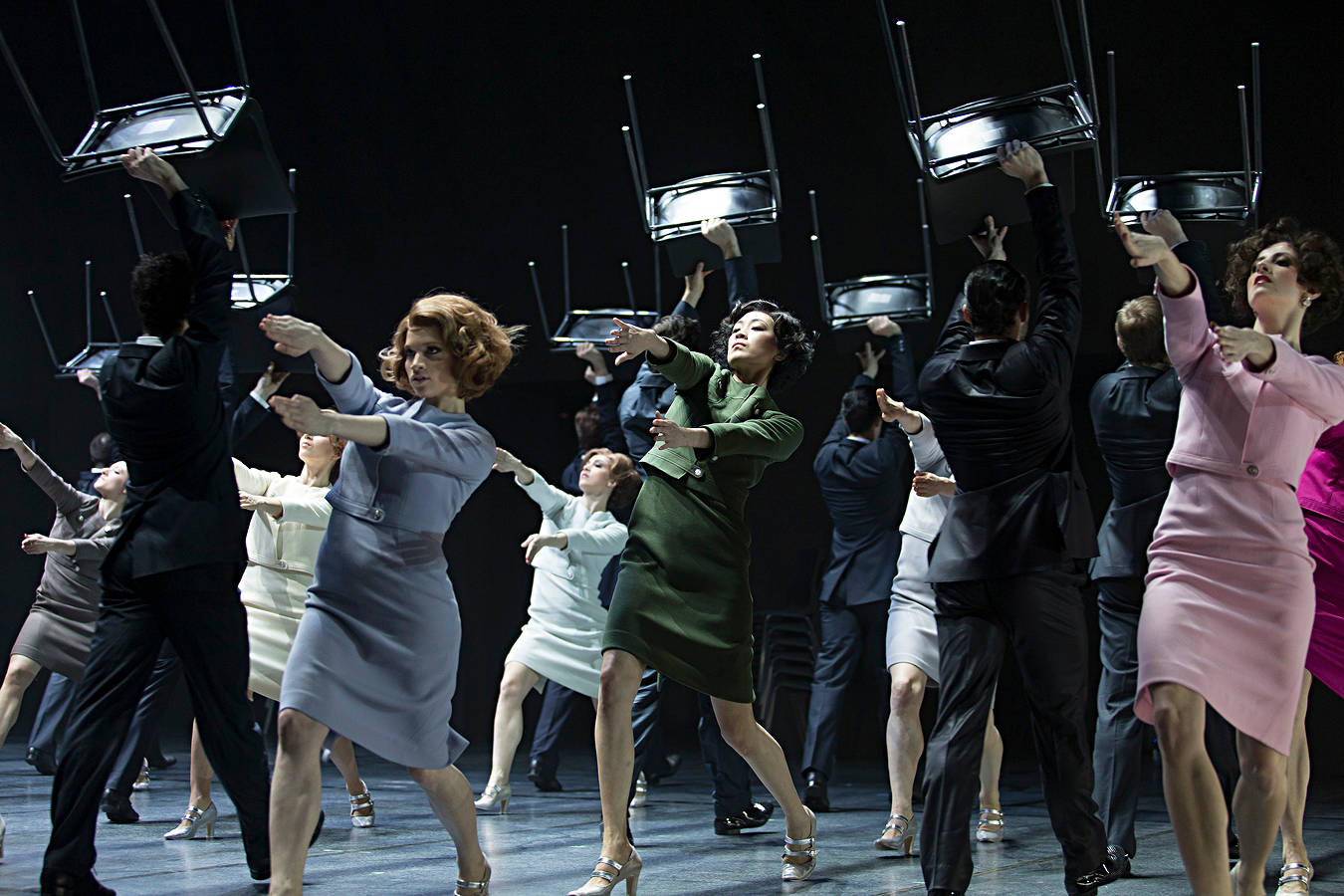 dress. Its deeply slit back gave more perspective than one wished to have. Her huge hat (purple on top of carrot red hair) was a first class color lapse! What kind of 'Lady' did Celis want to portray? Why did Vostrotina straddle the dead Tybalt's (Fabien Voranger) pelvis wearing only black lingerie? Such questionable mourning!
Equally odd were the often repeated displays of lust and sexual appetite. Juliet's nurse (Ana Presta), for example, scurried around senselessly in her tight mini. Like a flustered chicken, mumbling to herself apprehensively, totally bird brained, she threw herself at an elderly attendant (Hannes-Detlef Vogel). Does such a female in heat exemplify Celis's comprehension of emotional depth? Even the priest, Brother Lorenzo, didn't abstain from touching Juliet's bare thigh and lifting and carrying around a scarcely dressed young girl. Another cleric kept swirling around a parish nun.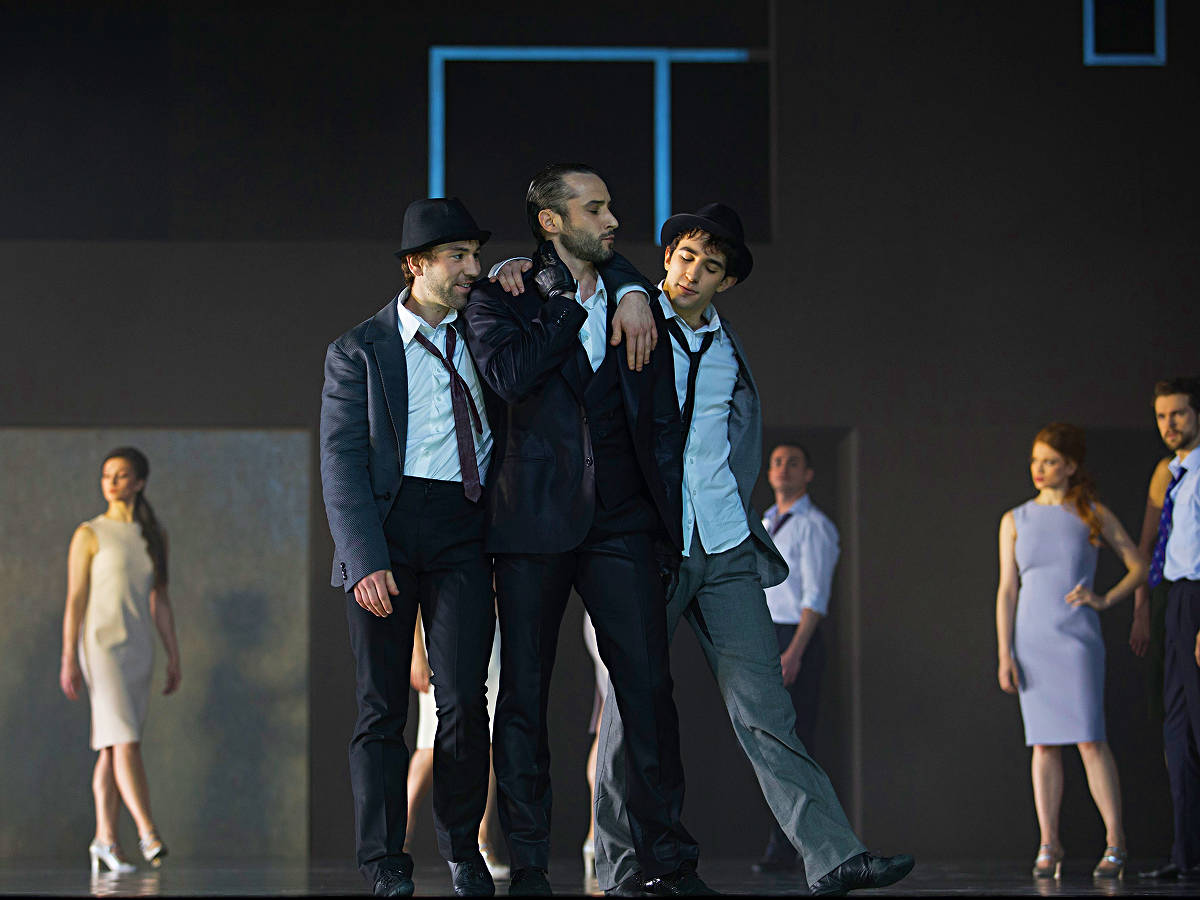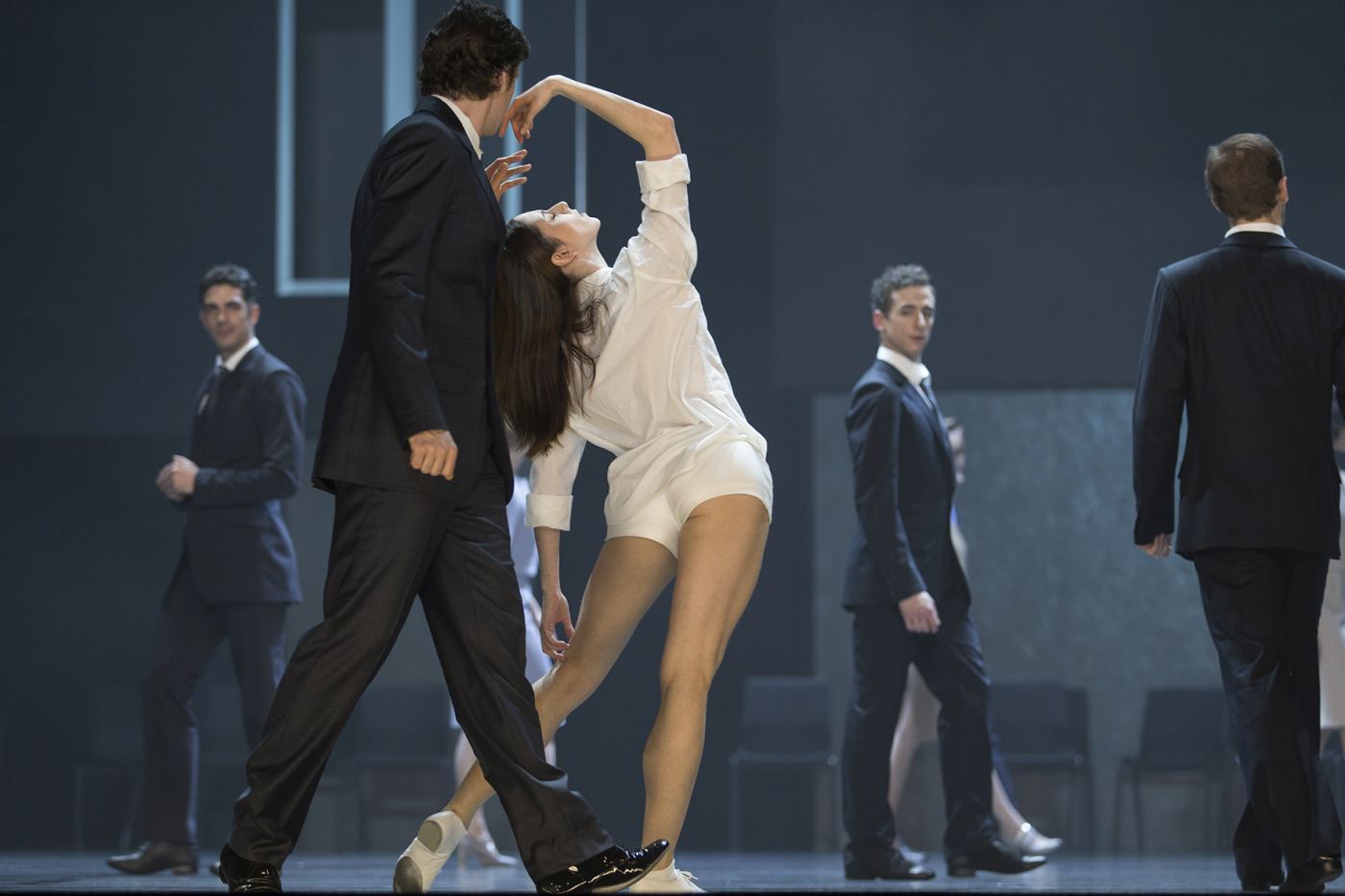 The Capulet and Montague clans hopped and stomped, carried around chairs, wiggled their hands and swung their hips. Is there a more banal, vulgar way to characterize society? In one instance the squabblers' tempers were, literally, doused with a fire extinguisher. Shakespeare showed the warring families' dignity despite their stubborn, rigid, unrepentant behavior, whereas Celis makes them into stereotypes, into stupid, horny, always aggressive figures lacking depth. Maybe the choreographer was guided by Julia Kristeva's interpretation of the 'Romeo and Juliet' subject matter that is printed in the playbill. Kristeva, a Bulgarian-French philosopher, psychoanalyst and feminist, vents about passion, the torrent of emotions, sexual deviation and sadomasochism. For her, love's verve is rooted in hate and it's the hate, which triumphs at the end, not the love. I don't share her point of view. Why confound love with lust? Actually, what is being perverted is Shakespeare.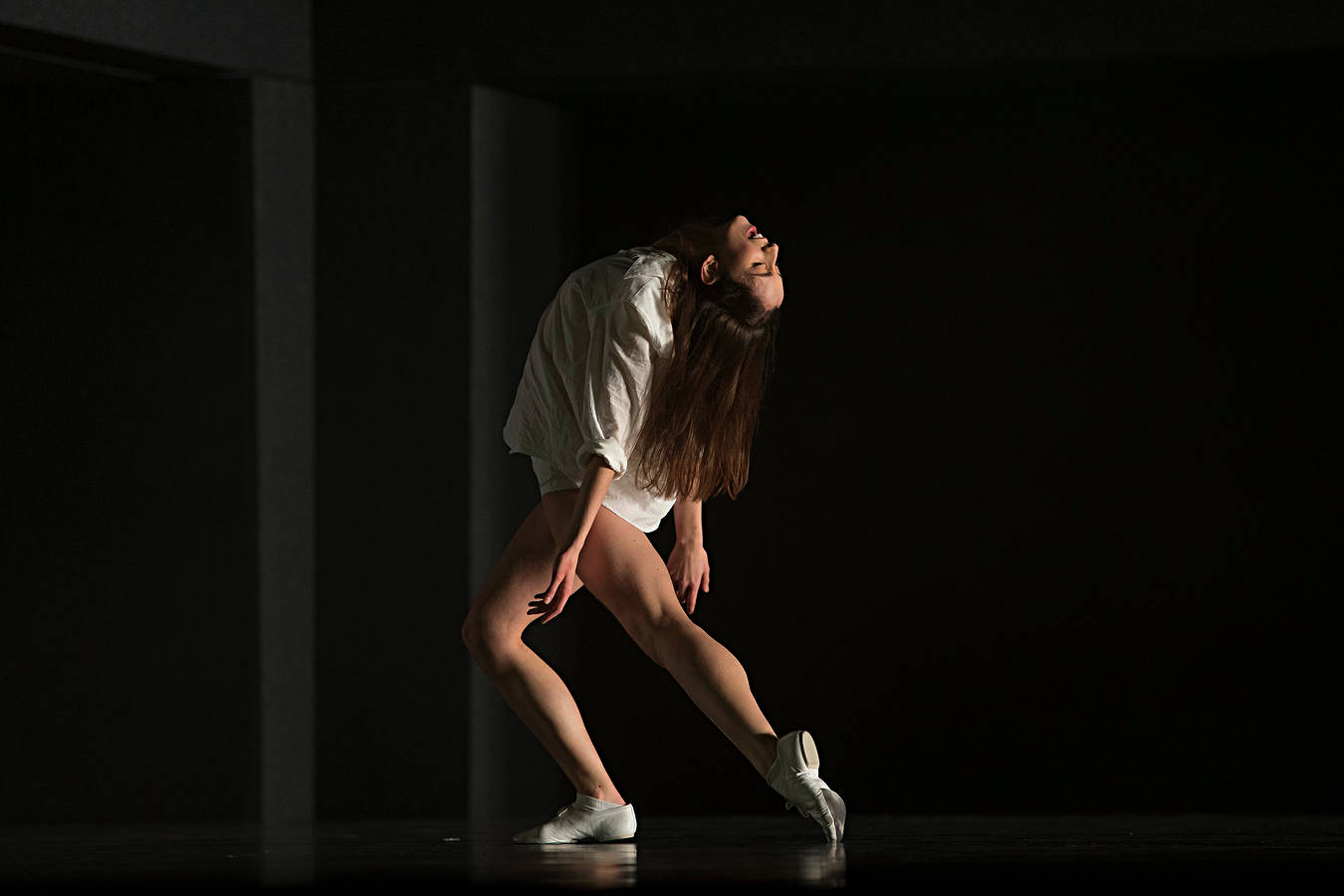 Thus it was up to the central couple, Romeo (Jiří Bubeníček) and Juliet (Julia Weiss) to convey the meaning and substance of their love. It was Bubeníček's sweeping stage presence, his acting talent and expressiveness, that gave the tragedy its persuasive power. He was genuinely convincing in his wild rage against Tybalt and also with the burden of being a murderer that he carried back to Juliet. How he faced her desperation! In the lovers' pas de deux (choreographically more like Bubeníček's handwriting than Celis's), his charisma radiated deep into the auditorium. By comparison, Juliet was pallid. I liked her vigorous rejection of Count Paris, but she couldn't melt in Romeo's love, couldn't let herself go with abandon, because from the start her conduct hadn't projected virtue. This Juliet was just an ordinary, spoiled girl lacking composure. She should have been bent out of shape by falling in love.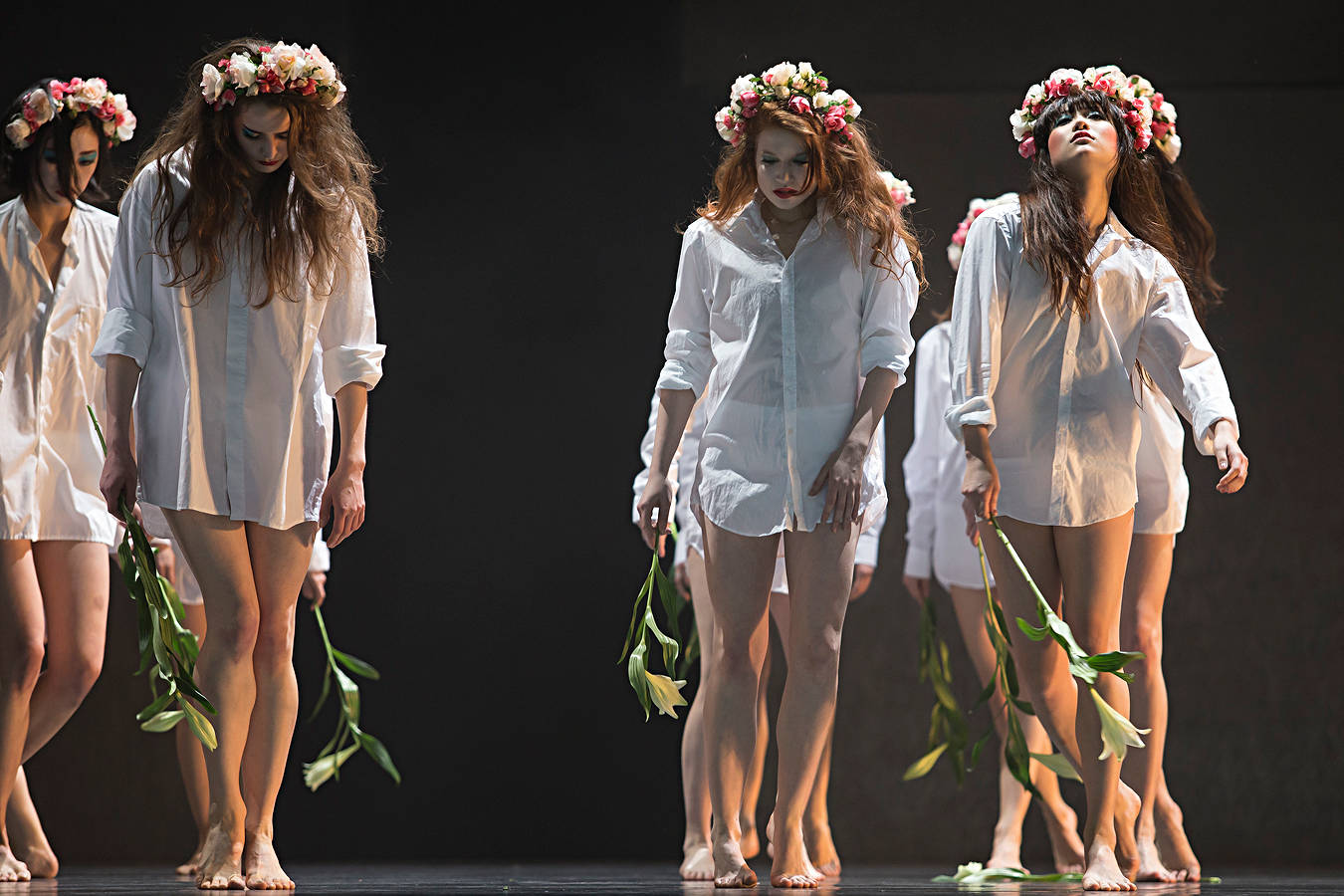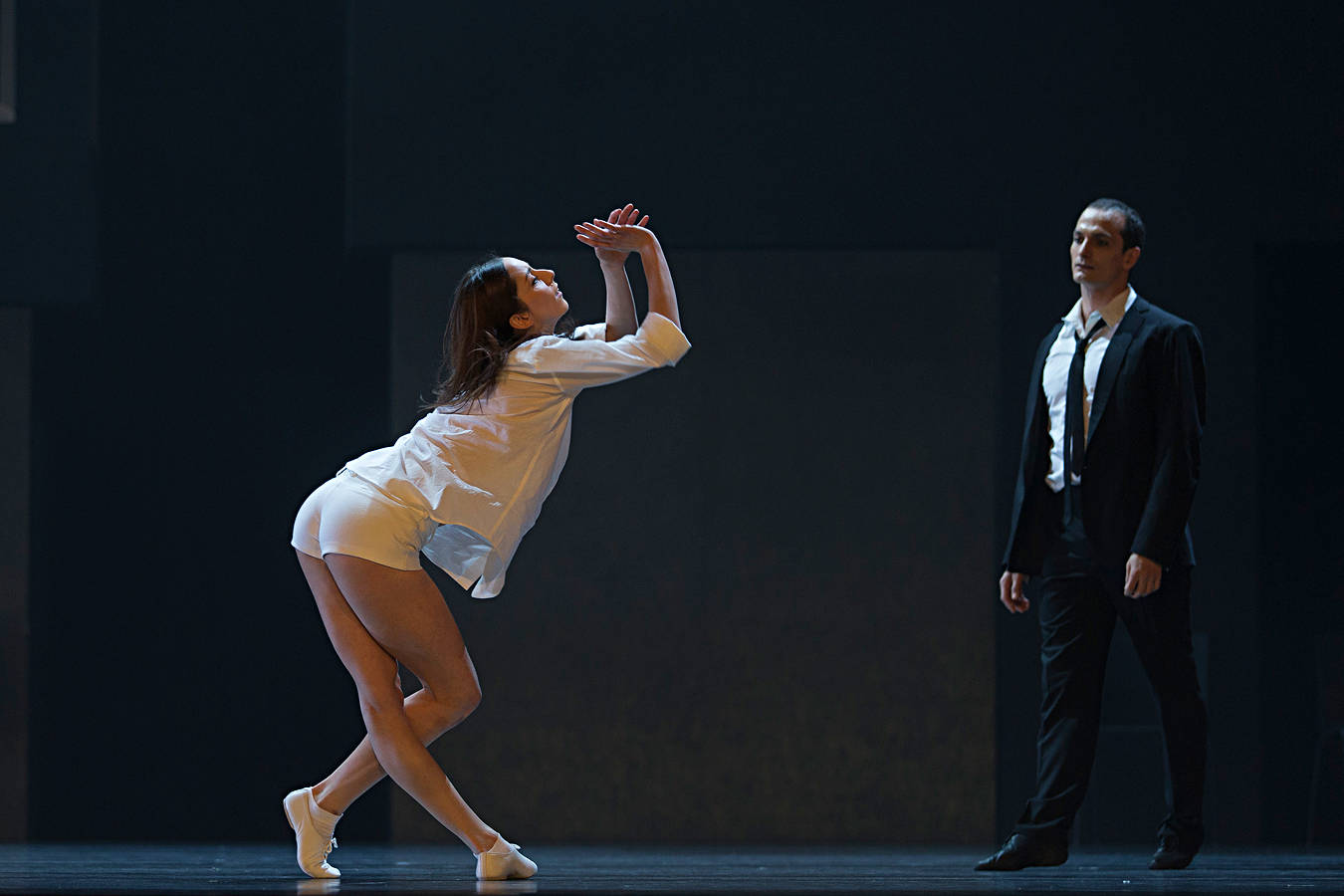 In the final scene, after waking up from her death-like sleep, she stretched, stood up from her deathbed and for some inexplicable reason suddenly lurched around as if drunk. Weiss omitted the dramatic moment of perceiving the dead Romeo next to her. Similarly, she forgot to stab herself at the end.
Strong were Romeo's friends, Benvolio (Michael Tucker) and especially Mercutio (Jón Vallejo). Sparkling in his never-ending taunt and needling of the Capulets, Mercutio died with heart-rending dramatics. Well done! Also moving was Lord Capulet (Oleg Klymyuk) as he stood next to his apparently dead daughter. He struggled inwardly, indecisively opening and closing his hands several times, but unable finally to touch her.
Why were atmospheric sounds (by composer Martin Buczkó) added in the first act to accompany Juliet being bartered away to Count Paris by her parents? Given the Prokofiev music, played with nuance by the Staatskapelle Dresden under the baton of Paul Connelly, the extra score was unnecessary.
Stijn Celis will be appointed artistic director of the State Ballet Saarland in Saarbrücken at the start of the 2014/15 season.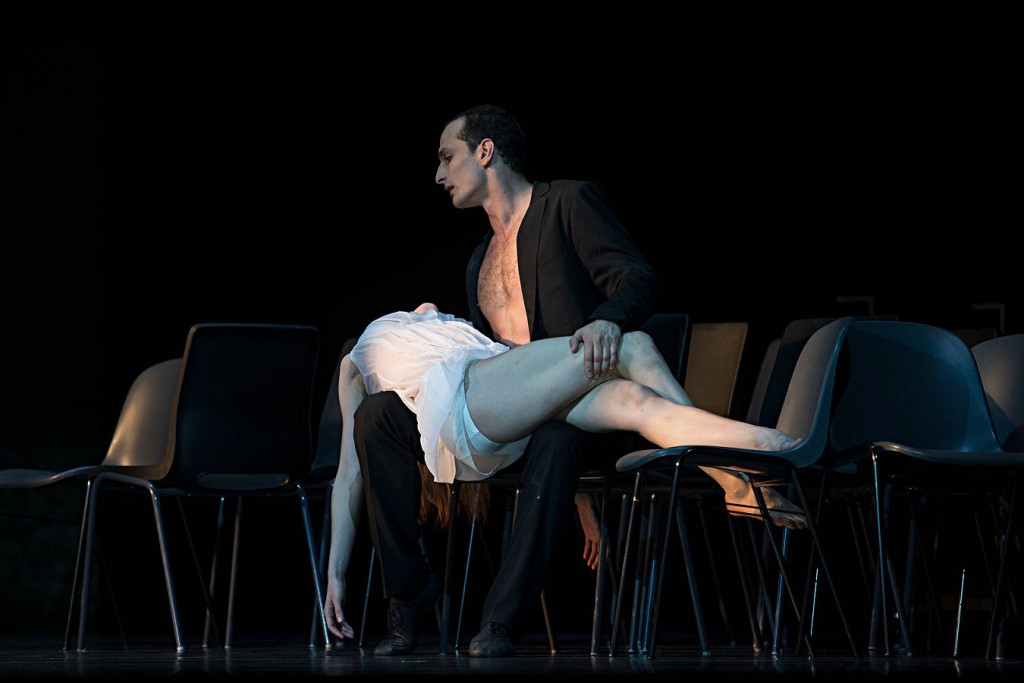 | | | |
| --- | --- | --- |
| | | |
| Links: | | Website of the Semperoper Ballet |
| Photos: | 1. | Julia Weiss (Juliet) and Jiří Bubeníček (Romeo), "Romeo and Juliet" by Stijn Celis, Semperoper Ballet 2014 |
| | 2. | Ensemble (Capulets and Montagues), "Romeo and Juliet" by Stijn Celis, Semperoper Ballet 2014 |
| | 3. | Ensemble, "Romeo and Juliet" by Stijn Celis, Semperoper Ballet 2014 |
| | 4. | Milán Madar (Count Paris), Julia Weiss (Juliet) and ensemble, "Romeo and Juliet" by Stijn Celis, Semperoper Ballet 2014 |
| | 5. | Jón Vallejo (Mercutio), Fabien Voranger (Tybalt), Michael Tucker (Benvolio) and ensemble, "Romeo and Juliet" by Stijn Celis, Semperoper Ballet 2014 |
| | 6. | Julia Weiss (Juliet), "Romeo and Juliet" by Stijn Celis, Semperoper Ballet 2014 |
| | 7. | Julia Weiss (Juliet) and Jiří Bubeníček (Romeo), "Romeo and Juliet" by Stijn Celis, Semperoper Ballet 2014 |
| | 8. | Ensemble (Bridemaids/ Dance of the Lilies), "Romeo and Juliet" by Stijn Celis, Semperoper Ballet 2014 |
| | 9. | Julia Weiss (Juliet) and Jiří Bubeníček (Romeo), "Romeo and Juliet" by Stijn Celis, Semperoper Ballet 2014 |
| | | all photos © Costin Radu 2014 |
| Editing: | | George Jackson, Laurence Smelser |