"Krabat"
Stuttgart Ballet
Stuttgart State Opera
Stuttgart, Germany
February 14, 2014
by Ilona Landgraf
Copyright © 2014 by Ilona Landgraf
Terrifying things happen in "Krabat" by Demis Volpi, resident choreographer of Stuttgart Ballet. It is the story of a beggar boy apprenticed along with eleven other fellows to a mill master who is an evil magician. Only a young girl's love for Krabat, the central boy, finally breaks the magician's power.
This, Volpi's first program-filling ballet, is based on a novel of the same name by Ottfried Preußler (1923 – 2013). Born in Bohemia, Preußler wove his experiences during World War II, including five years spent in Russian captivity, into the story. However, he set the plot in the 18th Century, during the Great Northern War (1700 – 1721) in Lusatia. The mill represents a place where humans are scorned and killed, literally ground, as the millstones not only pulverize grain but also human bones that are regularly delivered by the Grim Reaper – a figure even the mill-master/magician dreads.
The situation is not simply one-dimensional. This isn't just a tale of good victimized by evil. Also addressed is the lure of power. Others beside the mill master succumb to it. Some apprentices, truly devoted to him, snitch on the others. Even Krabat is tempted to follow in the master's footsteps. Fundamental is everyone's refusal to see the cruelty before their very eyes. Why every year one of them dies mysteriously is a tabu topic for the young men. They don't want to know what should be quite obvious: that periodically the mill master has to sacrifice one of them to the Grim Reaper. Each is afraid of being chosen the next sacrificial victim.
But in the end love is stronger than all the black magic. Is this kitschy, stale, incredulous romanticism? The foreman Tonda's romance with the village girl Worschula had already ended tragically. It had been a serious affair. Discovered by the master, Worschula was driven to insanity and death while her beloved Tonda became the next corpse at the mill. Thus love alone isn't always seen as smooth sailing. It can be destroyed by fate.
Volpi had collaborators for his first complex production. Vivian Arnold, librettist and the dramaturg, partitioned the three years covered in the book into three acts. Every act starts the same way, with the induction of a new apprentice by the mill master
because, at the end of each preceding year, one older apprentice always had to die. Invariably the body ended up in a flour sack as body bag. Krabat (David Moore) is the first new recruit, followed by Witko (Nicholas Jones) and then by Lobosch (Edoardo Boriani), the perkiest of the three. All walk into the mill master's trap. Although these core elements of the action are repetitive, each subsequent one is abbreviated in order to heighten suspense. Only the first act's collective carrying about of flour sacks (a feather-light cakewalk with magic involved!) and the Grim Reaper's first scene seemed overly long. The Grim Reaper (a female one), instead of stretching her taloned hands to the master in a gesture of demand, remained inactive, stood there like a statue. Arm movements were important in other scenes too: hands and fingers beguiled, conjured or in one situation, when being fettered by the vengeful wizard, paddled desperately in the air.
Volpi worked a moderate amount of dance and much action into his choreography. He hails from Argentina and in March is due to receive the German Dance Prize in the category "Future" for his 'fresh and innovative approach to the classical dance vocabulary'. Tonda's (Alexander Jones) and Krabat's (David Moore) pas de deux in the first act lacked significance but Moore's solo (when offered to become his master's successor) was coherent and psychologically convincing. The encounter of the mill master (Roman Novitzky) and another wizard named Pumphutt (Ami Morita) resembled a carnival number for braggado gang leaders rather than being a thrilling showdown.
All in all, though, the ballet is well-rounded. Especially touching was the final scene, when the young village girl's unswerving love for Krabat overcomes the master's magic power. Elizabeth Wisenberg characterized this girl (called 'the Kantorka', which means the one who sings to the others) as tender and fragile. Nevertheless, she resolved to take the mill master's malicious test: while blindfolded, she had to identify Krabat who had been transformed into a raven like his fellows. Sensing his fears for her – Moore shivered terribly – she chose him over the others and all turned out well. Still as a raven he then protected and embraced her with his wings. This was a plain but tremendously expressive gesture, far removed from pathos.
Set and costumes were designed by Katharina Schlipf. Most of the time we looked inside the gloomy mill, where sacks of flour were piled up many meters high and the air was sometimes white with flour dust (lighting design by Bonnie Beecher). For the outdoor scenes, where the village girls danced and the romantic encounters took place, a huge silk piece of drapery, beautifully painted with a river landscape, was let down in front of the back wall of sacks. It wasn't, however, a totally idyllic scene of nature. The thin silk drape began to billow ever more strongly – danger threatened. Finally the black arts magician, who was secretly enthroned in the background, lifted the drape like a veil to reveal the cruel reality behind it. He was the evil ruler over the outside world too. As protection from his destructive power, all village girls wore transparent masks, which made their faces look like lifeless dolls. As long as they were masked, their identities were indistinguishable to the wizard. It was exactly for this reason that Worschula (Alicia Amatriain) had to die. Carelessly she had taken her mask away for Tonda.

Elaborate feather costumes, whose wings looked stunningly natural, turned the men into ravens. The red dress for the vamp-like Grim Reaper (Alessandra Tognoloni) was ingenious. It was a sexy skin-tight tube that widened towards the feet where glowing red lights had been sewn into it. When Togoloni appeared out of the darkness, one first saw this fire-like red ring as though she had stepped up directly from hell.
As score, James Tuggle (Stuttgart Ballet's experienced musical director) put together a mix of string quartets by Pēteris Vasks, concerts by Philip Glass and pieces by Krzysztof Penderecki. The folk song "Thoughts are free", sung by a children's choir in Sorbian, accompanied the village girls' dance. Various original mill noises and rattlings, recorded by Stuttgart's sound technicians at a mill built in the 19th century, created an oppressive and sometimes nightmarish atmosphere.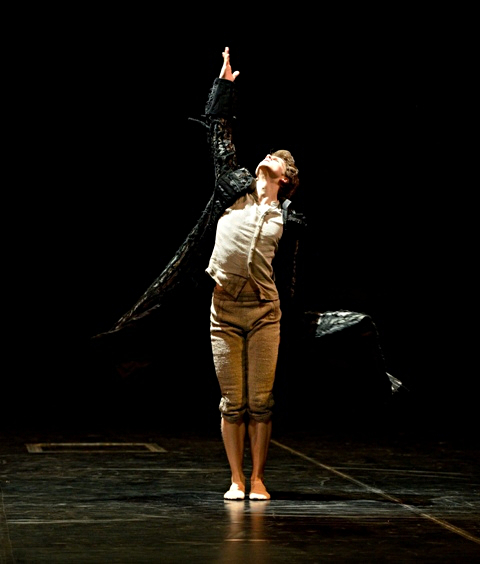 Andreas Meinhardt was responsible for the indispensable magic tricks: a levitating book of black magic, for example, or a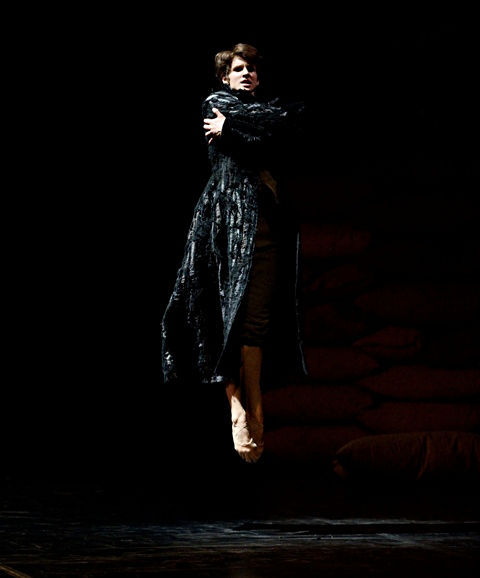 conjured up flower. Once the mill master had been shrunken to munchkin size, later he was beheaded. Of course, his head burst effectively when smashed to the ground and left a pool of white sludge. His body had already vanished into thin air.
Fascinating for both children and grown-ups, "Krabat" is ideally suited to attract future generations of ballet goers. There is already proof of this: since its premiere in early 2013, Stuttgart's Opera House is packed to the roof at every performance with an audience of all ages.
Artistic director Reid Anderson's policy to send his first line troop abroad has been a sound decision. Marijn Rademaker just returned from London, where he participated in "Men in Motion". Evan McKie currently guests with the National Ballet of Canada after helping out as Onegin at Palais Garnier. Friedemann Vogel is continually on tour, appearing this month with the Estonian National Ballet. All are luminous representatives for Stuttgart Ballet! In the meantime the company's younger dance generation firmly stands its ground on the home stage. Technically spotless, their charisma as actors is impressive. Other companies, like Hamburg Ballet, for example, are much less generous in sending out their top dancers.
What a lost opportunity!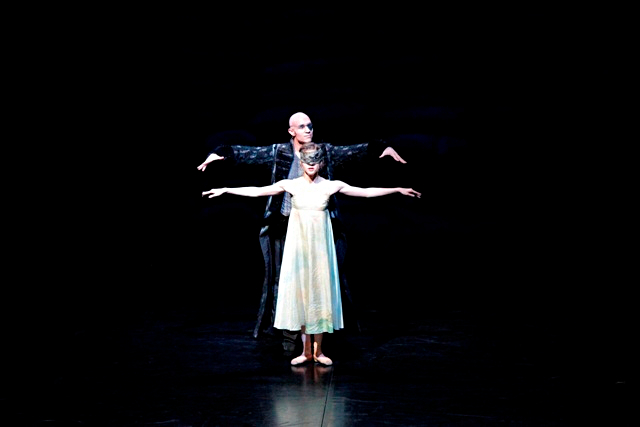 | | | |
| --- | --- | --- |
| | | |
| Links: | | Stuttgart Ballet's Homepage |
| Photos: | 1. | Roman Novitzky (The Master) and ensemble, "Krabat" by Demis Volpi, Stuttgart Ballet 2014 |
| | 2. | David Moore (Krabat), "Krabat" by Demis Volpi, Stuttgart Ballet 2014 |
| | 3. | Ensemble (Girls), "Krabat" by Demis Volpi, Stuttgart Ballet 2014 |
| | 4. | Roman Novitzky (The Master), "Krabat" by Demis Volpi, Stuttgart Ballet 2014 |
| | 5. |  Alicia Amatriain (Worschula) and Alexander Jones (Tonda), "Krabat" by Demis Volpi, Stuttgart Ballet 2014 |
| | 6. |  Alicia Amatriain (Worschula) and Alexander Jones (Tonda), "Krabat" by Demis Volpi, Stuttgart Ballet 2014 |
| | 7. | Alessandra Tognoloni (Grim Reaper) and ensemble, "Krabat" by Demis Volpi, Stuttgart Ballet 2014 |
| | 8. | David Moore (Krabat), "Krabat" by Demis Volpi, Stuttgart Ballet 2014 |
| | 9. | David Moore (Krabat), "Krabat" by Demis Volpi, Stuttgart Ballet 2014 |
| | 10. | David Moore (Krabat), "Krabat" by Demis Volpi, Stuttgart Ballet 2014 |
| | 11. | Roman Novitzky (The Master) and Elizabeth Wisenberg (The Kantorka), "Krabat" by Demis Volpi, Stuttgart Ballet 2014 |
| | | all photos © Stuttgart Ballet 2014 |
| Editing: | | Laurence Smelser, George Jackson |