"Choreographies by Sol León and Paul Lightfoot"
Nederlands Dans Theater (NDT 1)
Festspielhaus Baden-Baden
Baden-Baden, Germany
March 08, 2014
by Ilona Landgraf
Copyright © 2014 by Ilona Landgraf
Nederlands Dans Theater showed only "Choreographies by Sol León and Paul Lightfoot" on its two day visit to Baden-Baden. Perhaps this was a test run for the coming time of not dancing anything by Jiří Kylián, the company's former artistic director. Kylian is withdrawing the performing rights to all of his pieces for a three year period that begins in the fall of 2014. Is the idea to boost new creativity? Certainly the repertory's one-sidedness surprised. NDT is supposed to be at the heart of European modern dance, ever since the company was founded 55 years ago. Instead of showing off NDT's fascinating vibrancy and diversity (in works by the four associate choreographers – Marco Goecke, Crystal Pite, Johan Inger and Alexander Ekman), we were subjected to much the same fare three times over. A pity!
Most convincing was the opening "Sehnsucht (Longing)", a 2009 piece that is set to Beethoven piano pieces and movements from his Symphony No. 5. It shows a couple (Parvaneh Scharafali and Medhi Walerski) interacting in the confines of a box-like, miniscule apartment, and also a bare-chested man in white trousers (Silas Henrikesen) who is outside the living quarters. I couldn't quite pin down the lone man's 's role. On one level, he obviously personifies the couple's desire to break out of domestic close quarters. However, when Walerski finally ventures into freedom, he failed to stand up to the self-assured Henriksen. Instead, Walerski returns to his familiar hovel.

At the start, Henriksen is crouched, with his head bowed to his feet. He returns to this position at the end and maintains it even during the subsequent curtain calls and for part of the first intermission! When moving, Henriksen does so sculpturally, in slow motion, all the while appearing to be in a trance. It was a fascinating, powerful study in mime and dance as he became the core for seamlessly arranged patterns made by four women and eight men. These dancers glide and sweep around him. All the supporting men and women are bare-chested and in black pants, so that their lower bodies sometimes merge with the darkness of the black backdrop. This gives an impression of floating arms and torsos.
All the dancers took to the stage like ducks to water. They really possessed the stage and seemed to have the intent of making a statement.
Literally the linchpin of "Sehnsucht" was the apartment. It hung at the rear wall like a box ready to be rotated. The single room's interior design was odd, consisting of a small desk with its chair in one corner, a horizontal door in the middle of the back wall, and a lone window which was located on the floor. This habitat turned normalcy upside down. Scharafali and Walerski tried unfolding and stretching in order to become free, but ended up gliding along the walls until Walerski exited through the door (his first attempt to self-defenestrate had been obstructed by Scharafali). Later on, she flew out of the window like a sheet of paper carried away by the wind. All this was very strange indeed. However the room rotated much too often, ruining an initially amusing effect.
"Same Difference" (2007), the evening's central piece, tested ones endurance. Endless loops of music by Philip Glass (Symphony No. 3: movement III; String Quartet No.5: movement IV) competed with dancer-generated cacophony. Equipped with microphones, they twaddled non-stop, called for mama or papa, bawled or – like the first dancer – retched. A nice greeting of the audience! Similar was Jorge Nozal's grunting as 'El Soldato', a swine of a soldier. According to a poem by León, printed in the playbill, the intention was to depict the 'big noise of fear', a result of 'the chaos of ego'. From time to time 'La Maria' (Sarah Reynolds) emerged halfway from the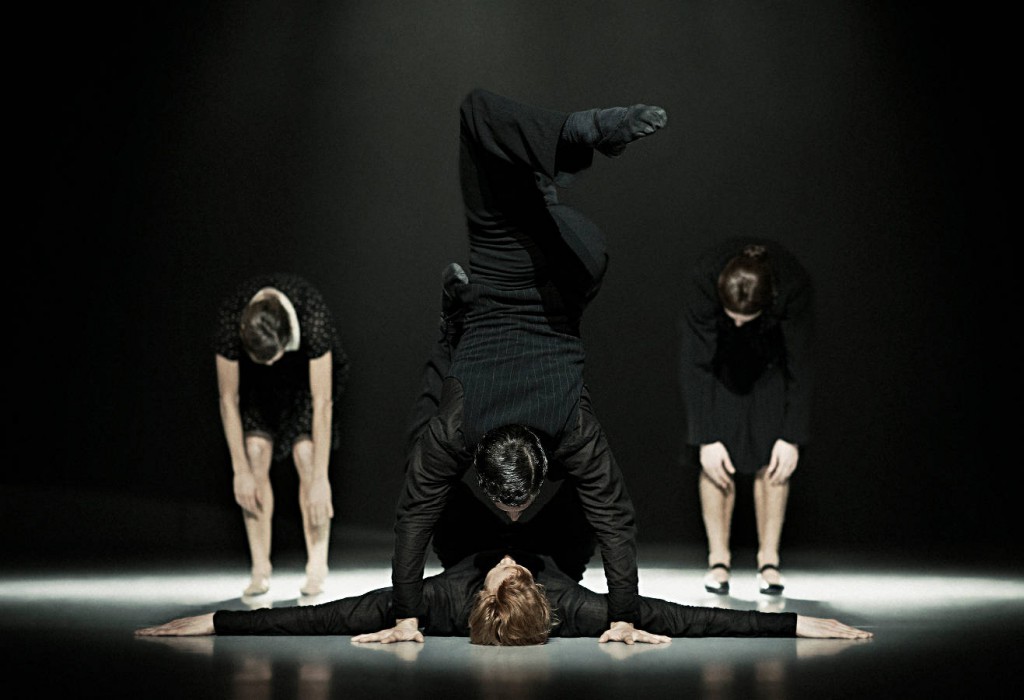 orchestra pit and made an attempt to pour oil on troubled waters. I was grateful, when, sticking to Leòn's poem, the 'real self' finally decided to 'walk away' from the noise and 'find freedom'. What kind of freedom remained a mystery. At the left side of the stage was a low-slung bridge (the pathway of transition?). In different lighting it resembled the upper side of a bunker, out of which a woman wriggled at one point. Even less clear was the deeper meaning of three figures (Marne van Opstal as 'the one who is not', Bastien Zorzetto as 'his shadow' and Fernando Hernando Magadan, dressed like an elderly woman, as 'Doña Amar-jura'). The costumes of all three pieces on the program were designed by Lightfoot and León in black, white, dark brown or various shades of gray. Except for red lipstick, there were no spots of bright color. White spotlights by designer Tom Bevoort created interesting spaces, but being floodlit twice during one program was unpleasant for the audience.
Lightfoot's and León's dance theater pieces present a surreal, bizarre world permeated by a gray, gloomy atmosphere. It gets one down. During the second intermission another dancer (Maria Arias as 'Remedios') remained in front of the curtain, but this time the surprise was gone.
"Shoot the Moon", a creation from 2006, again was about love relationships. It involved five dancers – Danielle Rowe, Pavaneh Scharafali, Brett Conway, Fernando Hernando Magadan and Jorge Nozal. This time three rooms rotated! All the rooms were wallpapered in huge, brown-white floral designs. The rooms were connected by doors that dancers could easily step through to find themselves in another couple's refuge. Several times two cameramen filmed different perspectives of what was going on in another room and projected the results on a pair of large video screens.
Pas de deux succeeded each other to the music of Philip Glass's Tirol Concerto for piano and orchestra (movement II). The vocabulary and style were reminiscent of the program's initial "Sehnsucht". Nothing seemed new, nothing fresh. It was all repetitive, like Glass's tunes. Maybe as an attempt to avoid becoming tedious, the three on-stage rooms were rotated ever more quickly later on, giving the impressions of a fly-by. At one point, a man was hung on a wall like a living picture.
All in all, a bleak evening.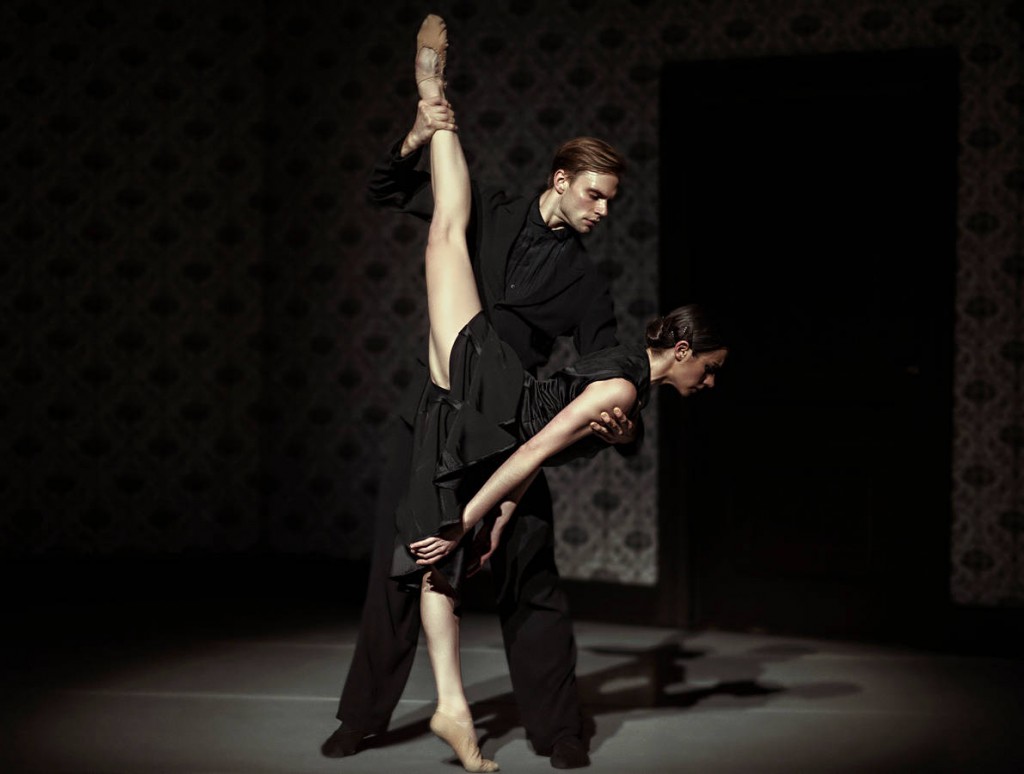 | | | |
| --- | --- | --- |
| | | |
| Links: | | Nederlands Dans Theater's homepage |
| Photos: | 1. | NDT 1, "Sehnsucht" by Sol León & Paul Lightfoot |
| | 2. | NDT 1, "Sehnsucht" by Sol León & Paul Lightfoot |
| | 3. | NDT 1, "Same Difference" by Sol León & Paul Lightfoot |
| | 4. | NDT 1, "Same Difference" by Sol León & Paul Lightfoot |
| | 5. | NDT 1, "Shoot the Moon" by Sol León & Paul Lightfoot |
| | 6. | NDT 1, "Shoot the Moon" by Sol León & Paul Lightfoot |
| | | all photos © Rahi Rezvani 2014 |
| Editing: | | George Jackson, Laurence Smelser |