"Giselle"
Stuttgart Ballet
Stuttgart State Opera
Stuttgart, Germany
March 21, 2014
by Ilona Landgraf
Copyright © 2014 by Ilona Landgraf
The revival of "Giselle" in Stuttgart generated a buoyant atmosphere in the Opera House. Though it's only four years since Albrecht last double dealt here in affairs of the heart, the return of this archetypical romantic ballet had, it seemed, been waited for with anticipation.
Stuttgart Ballet's tradition with "Giselle" goes way back. From 1851 on "Giselle" was in the repertory, but often squeezed in between musical comedies, drolleries and divertissements on entertaining mixed bills – strange, motley assemblies from a current perspective. With the end of the 19th Century, "Giselle" disappeared completely from Stuttgart's stage for quite some time (as it did from many another European theater). Not until 1955 were a number of new stagings undertaken, of which Peter Wright's 1966 production certainly is the best known. In charge of the current version – modeled on the original choreography of Jean Coralli and Jules Perrot and on Marius Petipa's revisions – were Stuttgart's artistic director Reid Anderson and Valentina Savina.
Set and costumes are by David Walker, an experienced ballet designer, but when the curtain rose on the first act's village scene, I rather missed the lovely light ambience of Wright's production. Walker's village square seems cramped and, due to a castle atop a hill on the backdrop, also a bit shady. The robes of the aristocrats, the Duke of Courland's hunting party, are garishly unicolored (red, orange and orange yellow) and the peasant girls' dresses would also look more natural had they been given nuanced colors. When the girls dance in line, they form a solid block of sunny yellow. Only when they mix with the young peasant men, does the spectacle become lively and a pleasure to look at. The set of the second or white act with its grave and misty, moonlit forest glade, conveys the appropriate sepulchral gloom.
The seasoned Alicia Amatriain danced the title role. Somewhat subdued at first (maybe to indicate Giselle's frail health), Amatriain's spirits mounted as Albrecht wooed her. Her mad scene was strong, revealing how completely reality was shattered for her because of Albrecht's insincerity. Amatriain's second act Giselle was a downcast spiritual being, still burdened by what had happened to her in life. This was no romantic heroine dying happily so that her lover might flourish. Spiritually loving, she was afraid for Albrecht. She sustained and protected him as much as she could, but it was apparent that she had already slipped far into the after-life. Abandoned were any signs of her former passion.
Friedemann Vogel as Duke Albrecht was a charming, smart specimen of a man. Blowing kisses to Giselle, he seemed irresistible. Technically superb, his gorgeous proportions and beautiful line were shown to their best advantage. Vogel's flowing, elegant jumps soared almost higher than the gables on the village houses.
In an interview printed in the playbill, Vogel declared that his Albrecht would be neither an arrogant beau nor a reckless, unthinking youth. Rather he was an unhappy young man, one who hadn't yet found what he was yearning for in life. Being with Giselle he would suddenly feel more and more fulfilled, which would lead to the conflict between his love and the constraints of courtly etiquette. But when he zealously bent his head to kiss the hand of his betrothed Bathilde (Sonia Santiago), no inner conflict was visible.
In the second half of the ballet, Amatriain and Vogel were palpably bound in spiritual union. However, Vogel seemed not so much to mourn for Giselle but rather to pity his own loss of an idealized love. His lying down next to Giselle's grave and lowering his head onto the white lilies he had just placed on the gravestone seemed almost pathetic. For a few moments Albrecht seemed chastened when pledging his troth to Giselle for the second time, but then he ended up gazing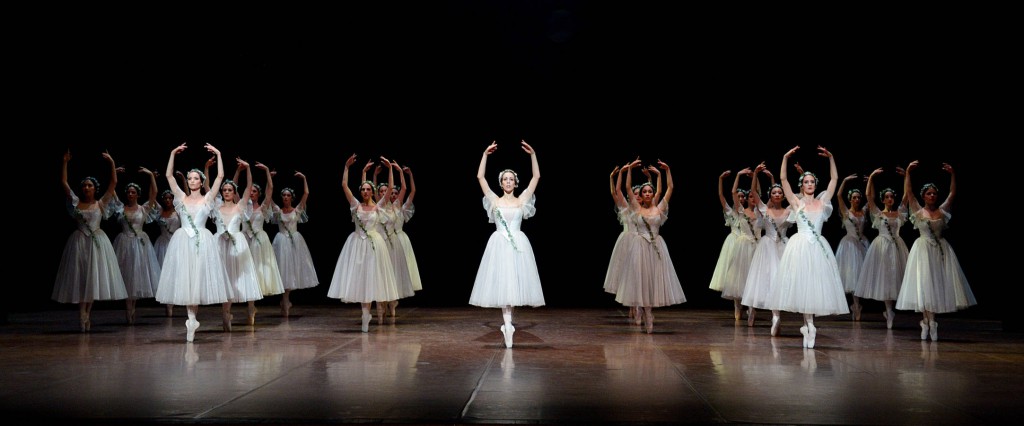 romantically heavenward again.
Damiano Pettenella was convincingly natural as Hilarion. Furious and desperate, he stepped so forcefully between Albrecht and Giselle, that the latter fell to the ground. Apt miming by most of the supporting cast enhanced the story, despite the barely legible way in which Berthe, Giselle's mother (Marieka Lieber), warned about the Wilis. One had to know their fate beforehand in order to understand what Berthe was trying to convey.
The highlight of the ballet's first half was the Peasant Pas de Deux as danced by Elisa Badenes and Constantine Allen. Jaunty, confident and brimming with life, the couple really boosted the ballet's atmosphere. Bravo!
Rachele Buriassi, as the vengeful Myrtha, was like a chill draft of air, but she could have been a more commanding presence. Her corps of Wilis wafted like mist and, after driving Hilarion to death, cavorted almost triumphantly. Undoubtedly, the impression they give of being insubstantial and weightless will be perfected during the remaining performances of "Giselle".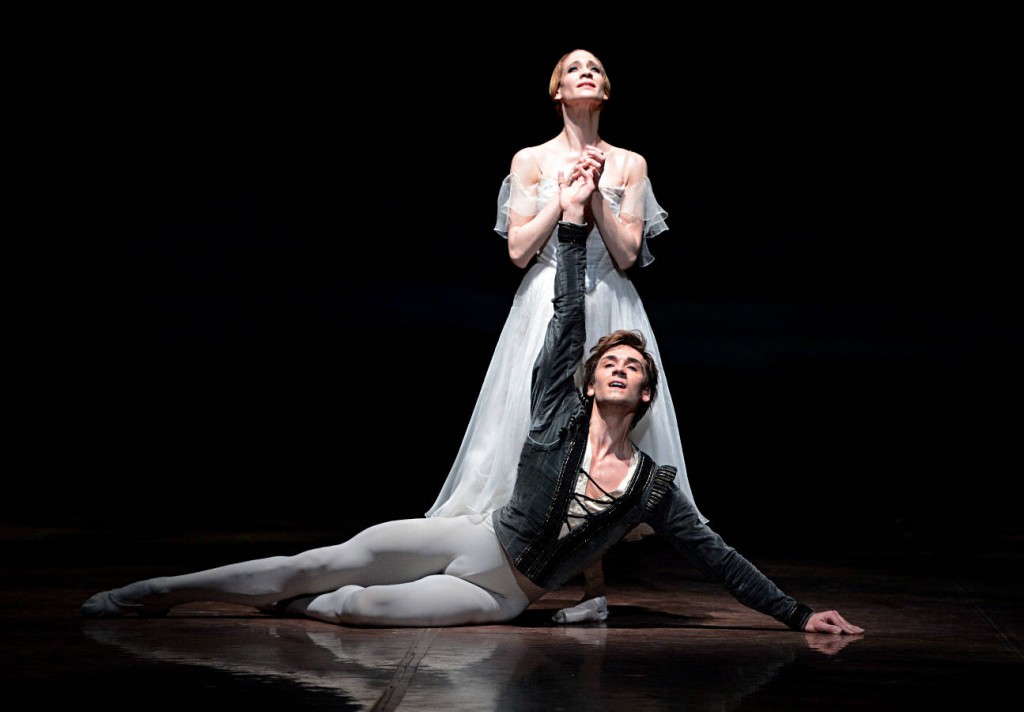 | | | |
| --- | --- | --- |
| | | |
| Links: | | Stuttgart Ballet's Homepage |
| Photos: | 1. | Alicia Amatriain (Giselle), "Giselle" after Jean Coralli, Jules Perrot and Marius Petipa, Stuttgart Ballet 2014 |
| | 2. | Alicia Amatriain (Giselle), Damiano Pettenella (Hilarion), Friedemann Vogel (Duke Albrecht) and ensemble, "Giselle" after Jean Coralli, Jules Perrot and Marius Petipa, Stuttgart Ballet 2014 |
| | 3. | Alicia Amatriain (Giselle) and Friedemann Vogel (Duke Albrecht), "Giselle" after Jean Coralli, Jules Perrot and Marius Petipa, Stuttgart Ballet 2014 |
| | 4. | Friedemann Vogel (Duke Albrecht), Alicia Amatriain (Giselle) and ensemble, "Giselle" after Jean Coralli, Jules Perrot and Marius Petipa, Stuttgart Ballet 2014 |
| | 5. | Friedemann Vogel (Duke Albrecht) and ensemble, "Giselle" after Jean Coralli, Jules Perrot and Marius Petipa, Stuttgart Ballet 2014 |
| | 6. | Rachele Buriassi (Myrtha) and ensemble, "Giselle" after Jean Coralli, Jules Perrot and Marius Petipa, Stuttgart Ballet 2014 |
| | 7. | Alicia Amatriain (Giselle) and Friedemann Vogel (Duke Albrecht), "Giselle" after Jean Coralli, Jules Perrot and Marius Petipa, Stuttgart Ballet 2014 |
| | | all photos © Stuttgart Ballet 2014 |
| Editing: | | George Jackson, Laurence Smelser |