"Romeo and Juliet"
Ballet Zurich
Opernhaus Zurich
Zurich, Switzerland
June 15, 2014
by Ilona Landgraf
Copyright © 2014 by Ilona Landgraf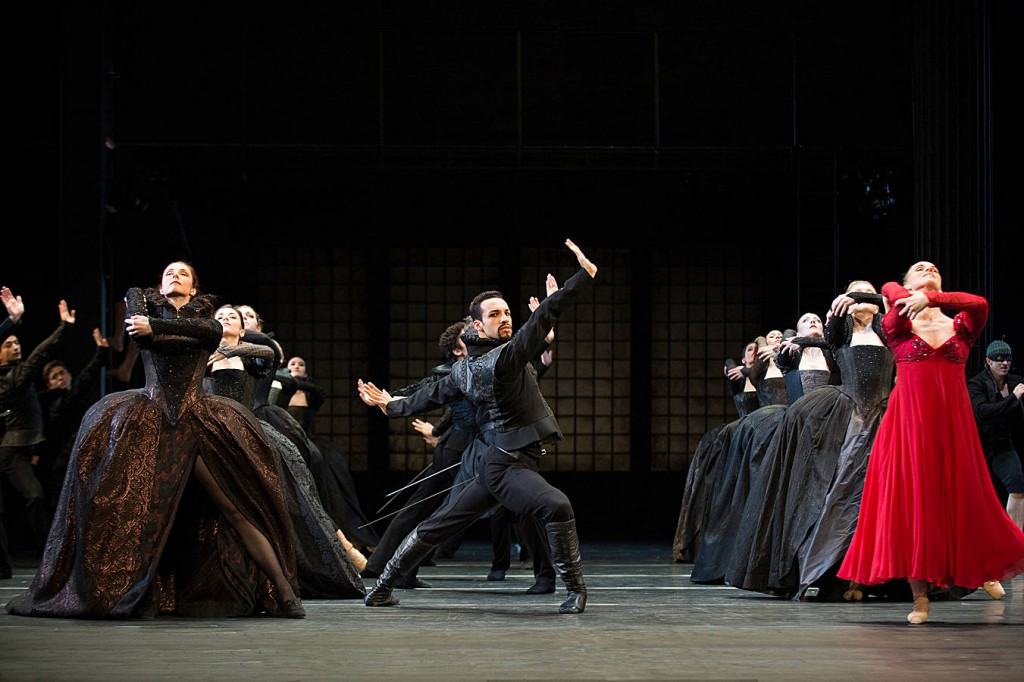 Christian Spuck, formerly Stuttgart Ballet's resident choreographer, is in his second year at the helm of Ballet Zurich. "Romeo and Juliet" was his first work for Zurich in 2012. A challenging and appealing task for the newly assembled company back then and a chance for Spuck to contrast with Stuttgart's Cranko heritage. Spuck deemed Jürgen Rose's set design for Cranko's version of "Romeo and Juliet" as too sweetish for the story's hardship and aimed for more emotional authenticity. He got to work with set designer Christian Schmidt and costume designer Emma Ryott. Did he finally come up with a new, convincing approach?
Schmidt's setting is far from a sunny springtime in lovely Verona. Instead he designed a high-ceilinged, dim room. Rails hanging with costumes stood as decoration, almost hidden in the twilight in each side of the stage's back corners. The balcony, a steel pipe construction, was high up in the rear. The walls were dark and higher up grubbily gray, lit by a pale light shining through the dirty muntin windows. When turning into Juliet's bedroom, the walls became deep black, suggesting a space of indefinite darkness.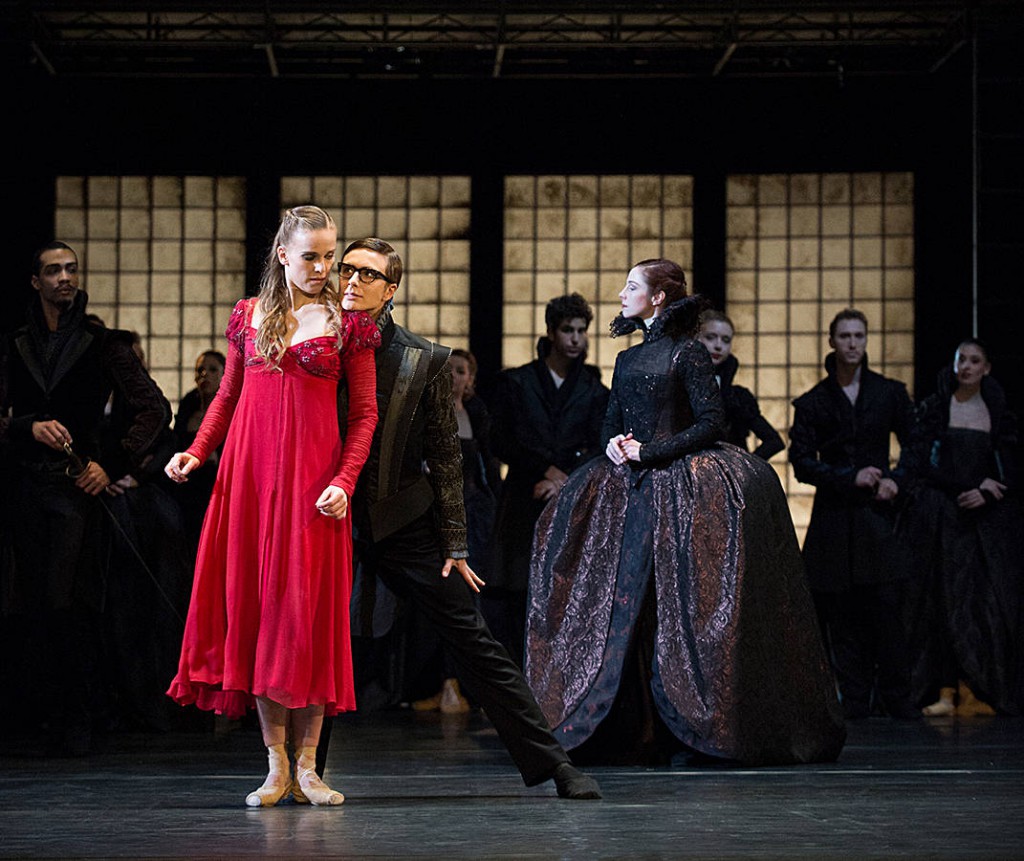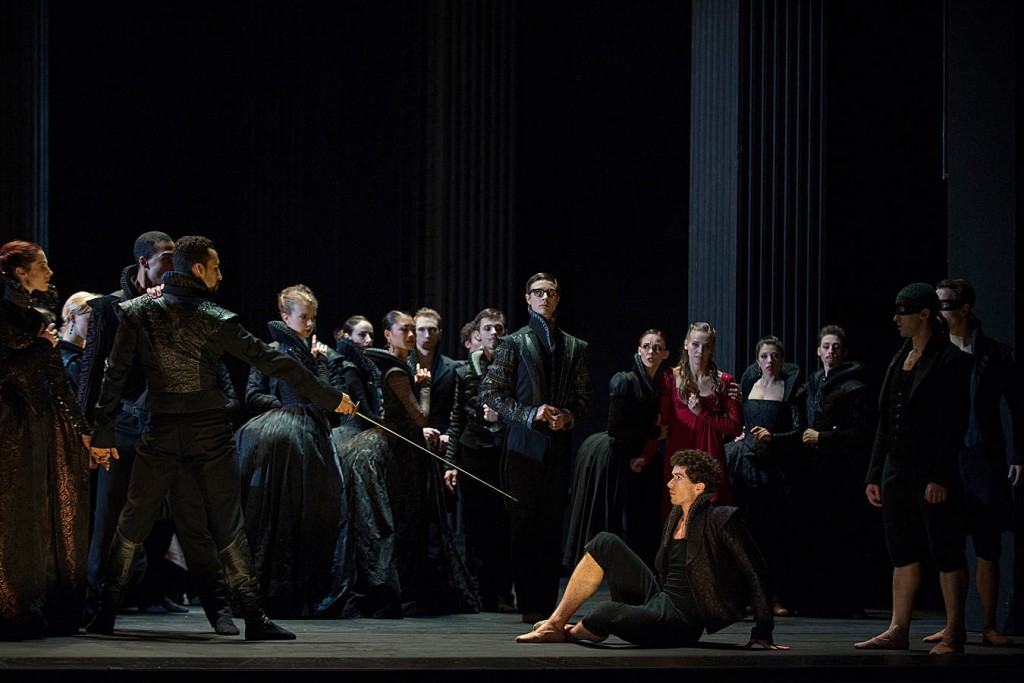 Warm light derived from illuminated festoons for the Capulet's ball, a monumental chandelier and a myriad of candles lit around the apparently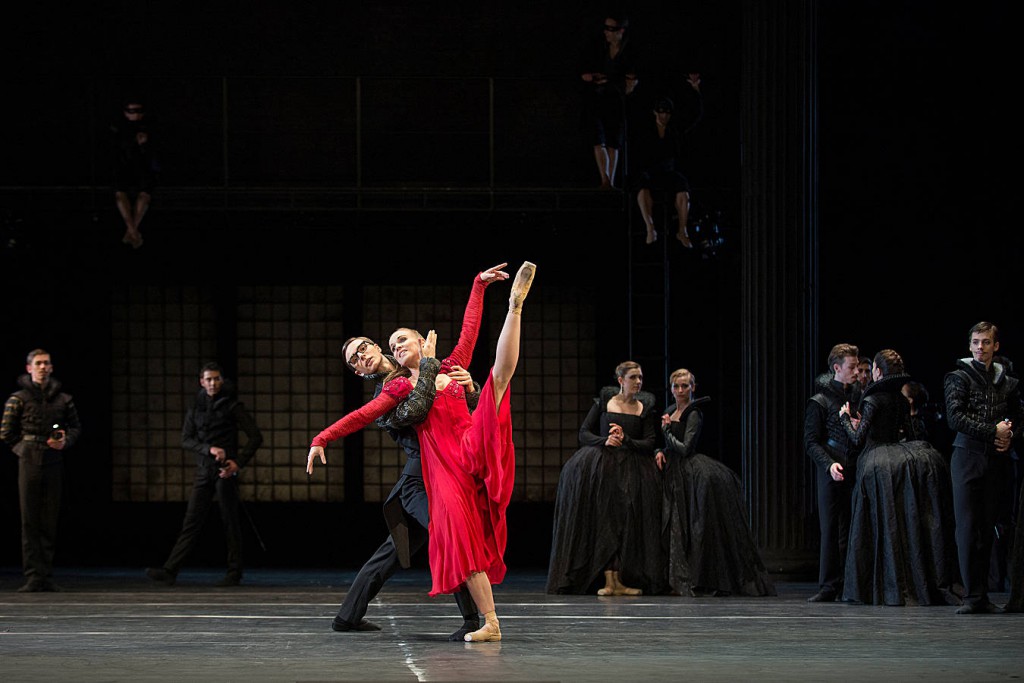 dead Juliet in the crypt scene. Oddly the chandelier lay on the floor at the wedding night's dawn and was slowly lifted after Romeo's departure as if it dawned on Juliet that Brother Lorenzo might be the helper in time of need. Indeed the man of God suddenly appeared right under the chandelier to hand over the fatal poison to Juliet. Regarding the abundant candle-holders in the final scene: They looked beautiful, but one would have been enough! Emotions were strong and didn't need an illumination as on Candlemass Day.
Existentially sparse the rest of the furnishing: two plain chairs and a few steel tube desks marked the church's interior, radiating all the charm of a register office. Juliet's bed was symbolized by similar desks.
Ryott's costumes echoed the grayish-black atmosphere. Juliet became the only splash of color. From the beginning on, she wore a simple, short, strawberry red dress. Her ball gown was of the same color and made her look like a real catch amidst the all gray party. But basically that was the purpose of the Capulets' ball, bartering their daughter away on the marriage market. Voluptuous in volume were the other women's skirts. Floor-length and broadened with bustles on the back side, some were coquettishly short on the front. A recurrent collaborator of Spuck, Ryott's style came as no real surprise. Her decor always looks the same. Moreover she has a tendency for carnival masquerades here and there. Little details, but the ones knowing Ryott might breathe a sigh this time as the Montague guys temporarily wore red cardboard crowns.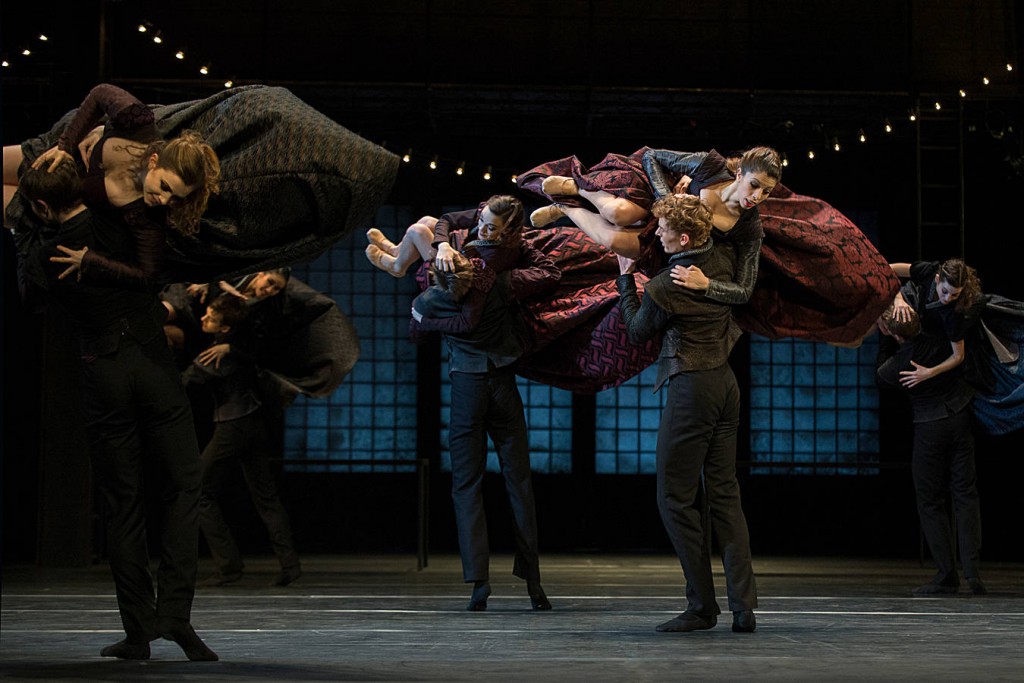 In contrast to other productions of the tragic love affair, Spuck's choreography was reduced to the basic storyline and from time to time brushed against the grain. When in other versions much is going on on stage, Spuck let the music speak for itself. No hustle and bustle on Veronese streets at the beginning but a frozen image of Capulets and Montagues, leaving the scene one after the other. Juliet, to take another example, didn't run to Brother Lorenzo seeking help, but remained in her bed. Presumably her thoughts were galloping. But the music urged that much forward at this point that at least I wriggled restlessly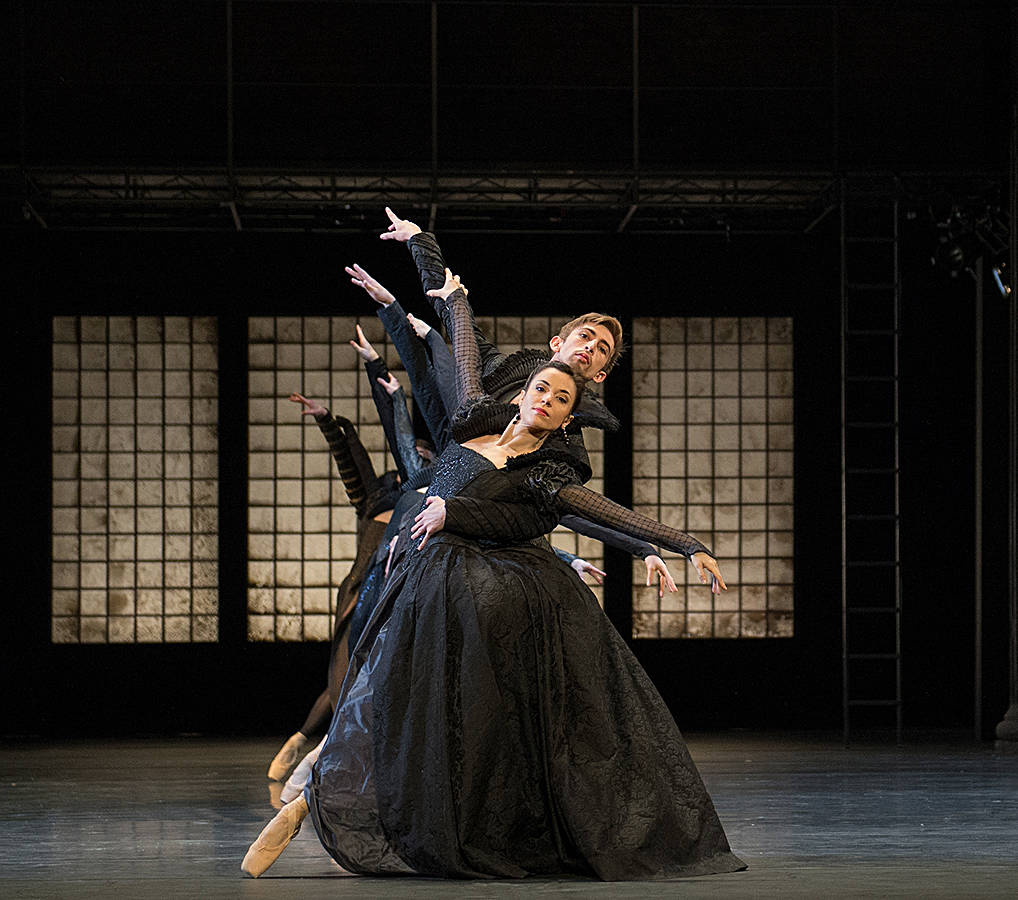 about on my chair.
The two family clans at enmity with each other were clad in similar fashion and thus visually indistinguishable. This illustrates their conflict's futility but complicates getting on with the storyline. The costumes of Romeo and his two pals were equally unmemorable.
On the surface the society was uniform, but what about the protagonists' characters? How did Spuck bring out the respective individualities? (The photos show a different cast with Katja Wünsche as Juliet and William Moore as Romeo.)
Giulia Tonelli as Juliet was no innocent girl on the cusp of adulthood, flying over the moon upon meeting Romeo, but rather a young woman, who knew that she's pretty. With her charming smile she would have been perfect for a fashion magazine's cover. Tonelli danced the role only twice, but maybe her shallow interpretation can also be attributed to the choreography which didn't plumb the role's psychology sufficiently in the first half. Romeo, danced by Wei Chen, was a winsome, sympathetic chap, yet he kept his grand emotions too much under control. Unfortunately the balcony scene on the steely scaffolding lacked any poesy, as huge, dark shadows, cast by the lovers, destroyed any moments of affection. Tonelli and Chen were much stronger, however, in the second half. In fact they reached a touching emotional authenticity which made me and my neighbors discreetly wipe tears out of the corners of our eyes.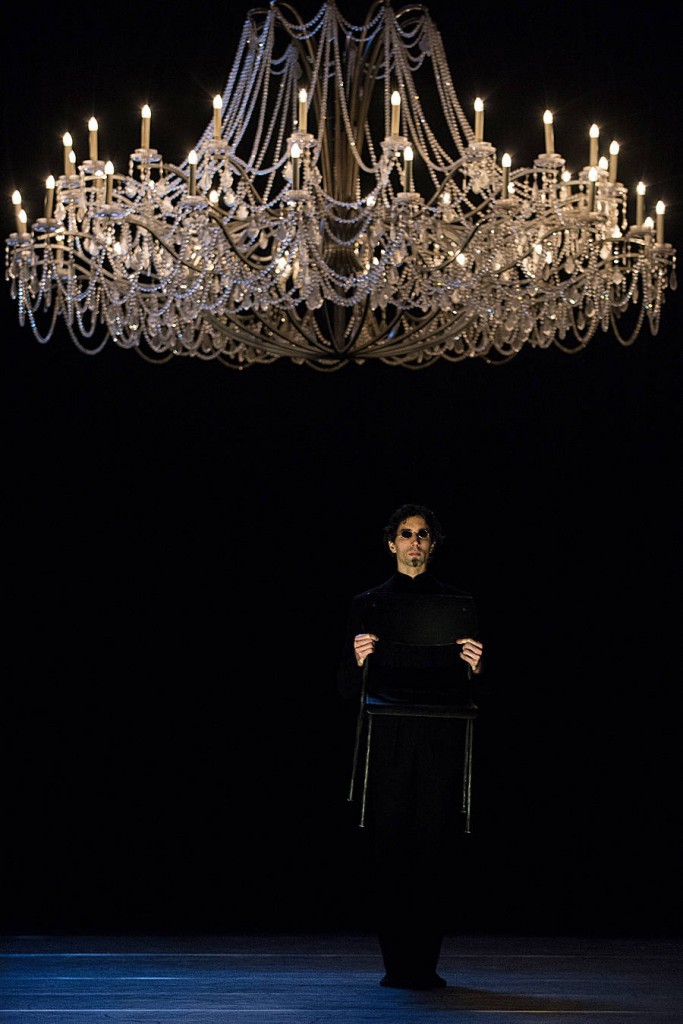 Being solely a jester, Daniel Mulligan's role as Mercutio was one-dimensional. However, he achieved tragic greatness, when dying with a hateful look at the callous Tybalt (Cristian Alex Assis). Benvolio (Christopher Parker) had a relatively unremarkable part by contrast. Brother Lorenzo (Filipe Portugal) gave the impression of being everything other than a trustworthy Franciscan. Clad in a dark suit, his eyes covered with small, dark sun glasses, he moved straight as a stiff pole. He was unable to achieve anything in terms of murder and thunder, but emotionless and distant as he basically seemed to be untouched by the happenings. On some occasions, though, he became active: when, supported by Nora Dürig as Juliet's nurse, he split Romeo and Juliet apart after their first night spent together and later when giving Juliet the poison. Spuck created a pas de deux for Juliet and Brother Lorenzo that included lifts and carrying about for the latter scene. I might be prejudiced, but to me pas de deux with plenty of body contacts between a young woman in her nightgown and a churchman are morally questionable.
Nora Dürig, almost the same age as her protégée, was too young to be credibly the nurse. Governess-like she wore metal-rimmed glasses and a black dress, whose skirt she raised as if carrying a tray before herself. When delivering Juliet's letter to Romeo, however, Dürig threw all reserve away. Keenly flirting with the male youngsters she drew the letter out of a sexy vent of her dress above the bust. Well, it was about matters of the heart…
Eva Dewaele's Lady Capulet was rigid and cold as marble. Approaching her daughter with a resolute pace, the new, red ball gown hidden behind her back, she looked as if she intended to read Juliet the riot act for a muffed school report rather than as the bearer of a present. On Tybalt's corpse she threw herself possessively, covering his body with her huge crinoline like a matron. Her agitation was equally desperate when she believed Juliet to be dead.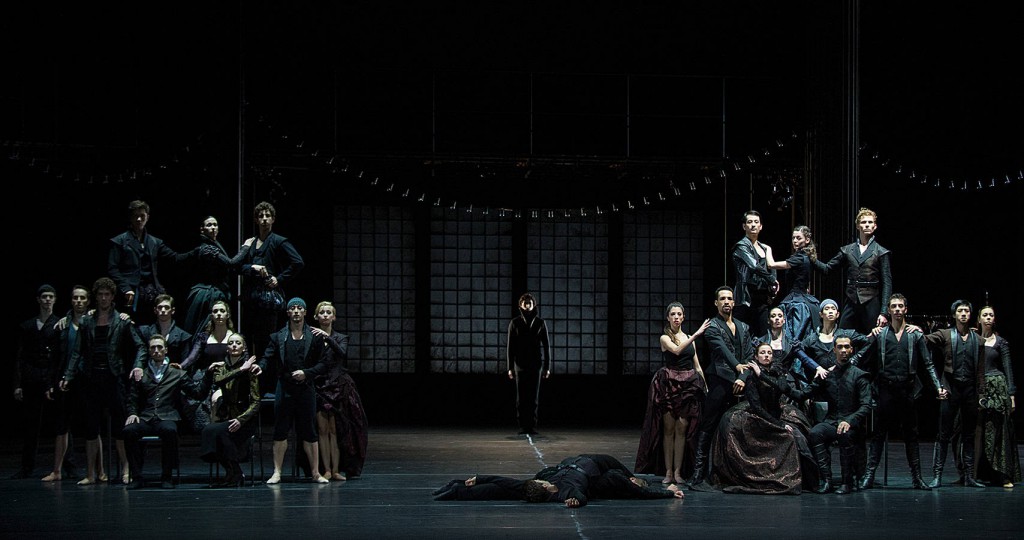 Lord Capulet, who initially had a warm relationship with his daughter, disappeared completely after the lifeless body of Juliet had been discovered. Not one moment of regret that he had gotten violent towards her, no grief – nothing!
The bespectacled Count Paris, danced by the tall Jan Casier, was the embodiment of a starched pencil pusher with his neatly parted and gelled hair. Finding his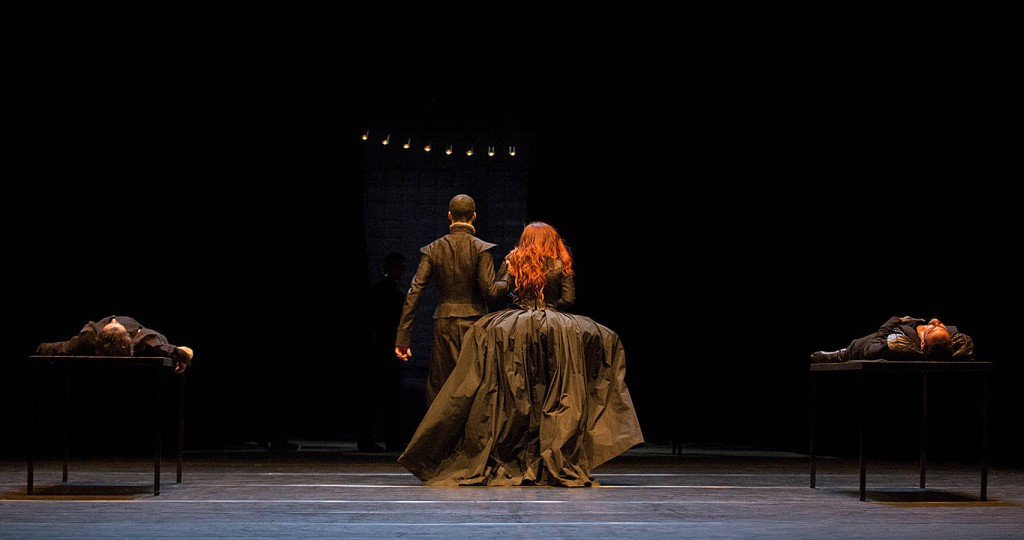 bride-to-be apparently dead, he also left the events. Why didn't Spuck take the opportunity to carve out richer, more nuanced psychological profiles of some of the main characters? Instead he sent them off stage and left it up to the audience to have – or not have – their own thoughts on the matter.
Compliments at long last to the ensemble! They danced with verve and fenced like world champions!
The first minutes of Prokofiev's score, played by Philharmony Zurich, had the quality of water pipes struggling with pressure fluctuations. Pavel Baleff at the conductor's desk strung the music's motifs together as if presenting the ingredients of the complete work at the beginning. I was also wondering, why the music introducing the balcony scene sounded like church music. Should that be premature wedding bells? Apart from that, though, Philharmony Zurich played impeccably.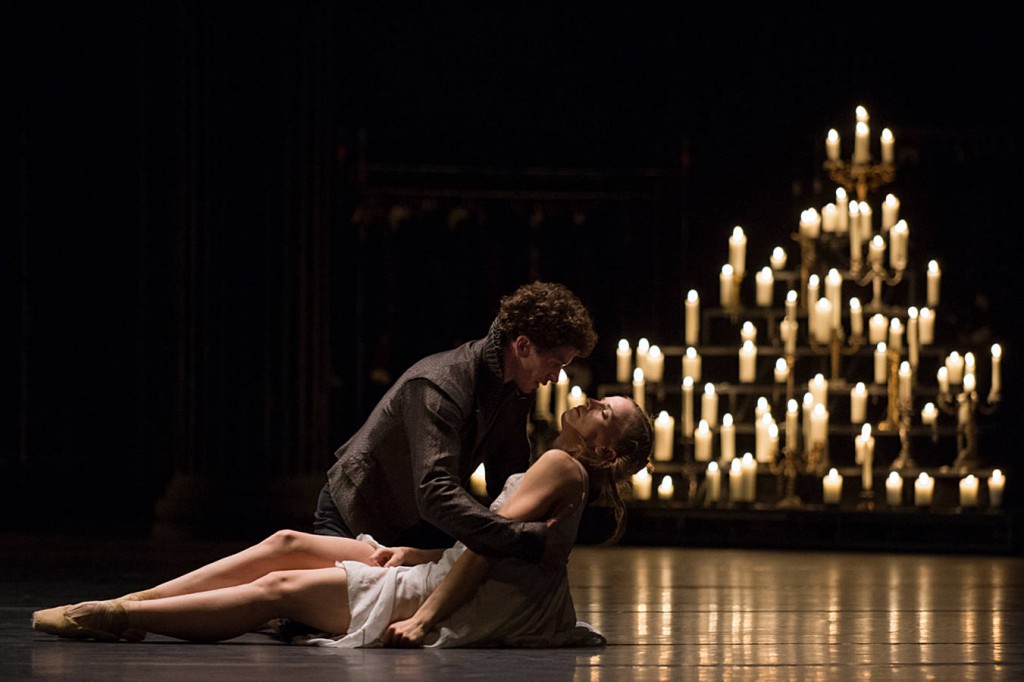 | | | |
| --- | --- | --- |
| | | |
| Links: | | Homepage of Ballet Zurich |
| Photos: | | The photos show a different cast with Katja Wünsche as Juliet and William Moore as Romeo. |
| | 1. | Eva Dewaele (Lady Capulet), Cristian Alex Assis (Tybalt), Katja Wünsche (Juliet) and ensemble, "Romeo and Juliet" by Christian Spuck, Ballet Zurich 2014 |
| | 2. | Cristian Alex Assis (Tybalt), William Moore (Romeo) and ensemble, "Romeo and Juliet" by Christian Spuck, Ballet Zurich 2014 |
| | 3. | Jan Casier (Count Paris), Katja Wünsche (Juliet) and ensemble, "Romeo and Juliet" by Christian Spuck, Ballet Zurich 2014 |
| | 4. | Katja Wünsche (Juliet), Jan Casier (Count Paris), Eva Dewaele (Lady Capulet) and ensemble, "Romeo and Juliet" by Christian Spuck, Ballet Zurich 2014 |
| | 5. | Ensemble, "Romeo and Juliet" by Christian Spuck, Ballet Zurich 2014 |
| | 6. | Eric Christison, Giulia Tonelli and ensemble, "Romeo and Juliet" by Christian Spuck, Ballet Zurich 2014 |
| | 7. | Filipe Portugal (Brother Lorenzo), "Romeo and Juliet" by Christian Spuck, Ballet Zurich 2014 |
| | 8. | Ensemble, "Romeo and Juliet" by Christian Spuck, Ballet Zurich 2014 |
| | 9. | Manuel Renard (Lord Capulet) and Eva Dewaele (Lady Capulet), "Romeo and Juliet" by Christian Spuck, Ballet Zurich 2014 |
| | 10. | Katja Wünsche (Juliet) and William Moore (Romeo), "Romeo and Juliet" by Christian Spuck, Ballet Zurich 2014 |
| | | all photos © Judith Schlosser 2014 |
| Editing: | | Laurence Smelser |