"Notations"
Ballet Zurich
Opernhaus Zurich
Zurich, Switzerland
June 15, 2014
by Ilona Landgraf
Copyright © 2014 by Ilona Landgraf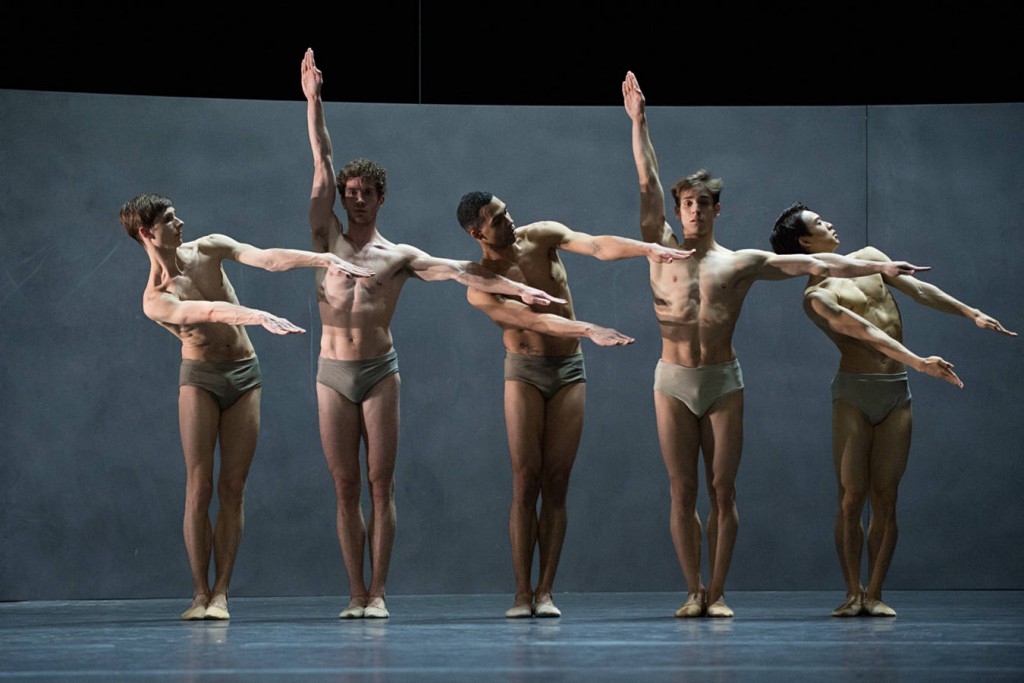 A huge, metallic green gleaming ant decorates the playbill and the advertising posters of Ballet Zurich's ballet evening "Notations", which premiered in April this year. What kind of connection is between the ant and the dance? A riddle! But maybe I'll get it later.
"Notations" unites no less than three world premieres: Wayne McGregor, working for the first time with the Swiss company, created "Kairos". The second piece, "Sonnet", was contributed by Ballet Zurich's artistic director Christian Spuck and "Deer Vision", the third piece, is by Marco Goecke, Stuttgart Ballet's resident choreographer.
McGregor chose music by the British composer Max Richter, a new variation of Vivaldi's "The Four Seasons". Surprisingly, this hackneyed ear worm radiated with inspiring spirit! When the main curtain went up to a quotation of the 'Spring" movement, a white canvas covered with staves and imprinted with Vivaldi's score blocked one's view of the stage. Flickering flashes of strobe light made the dancers' movements visible for split seconds, but what they danced wasn't to spot at all. Just when I started feeling spoofed, the light flashes stopped, the lighting got steady and revealed the dancers.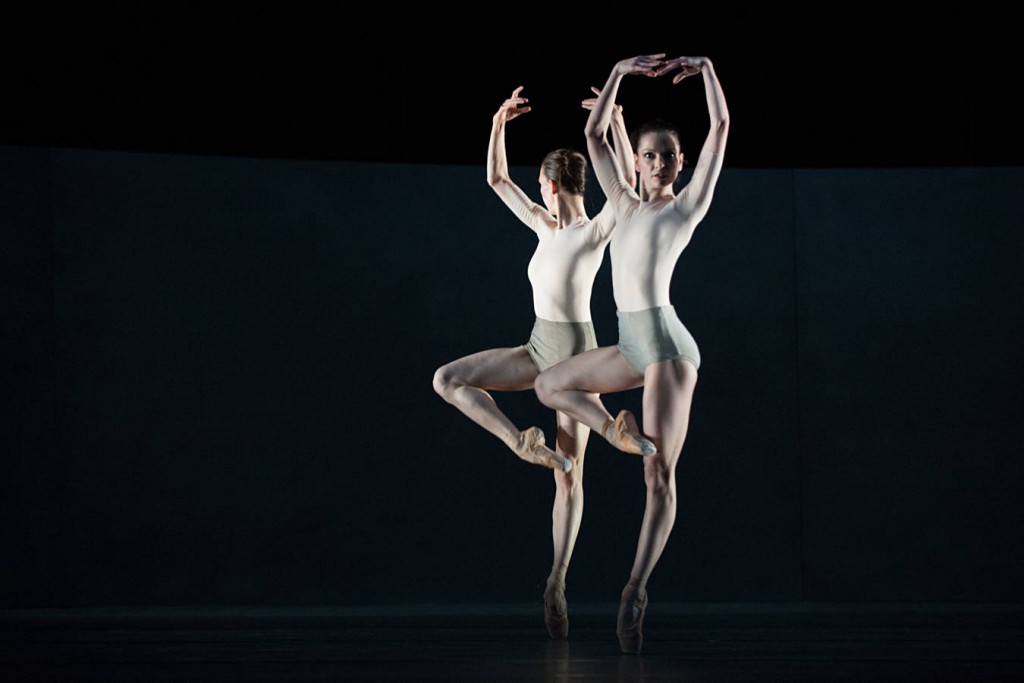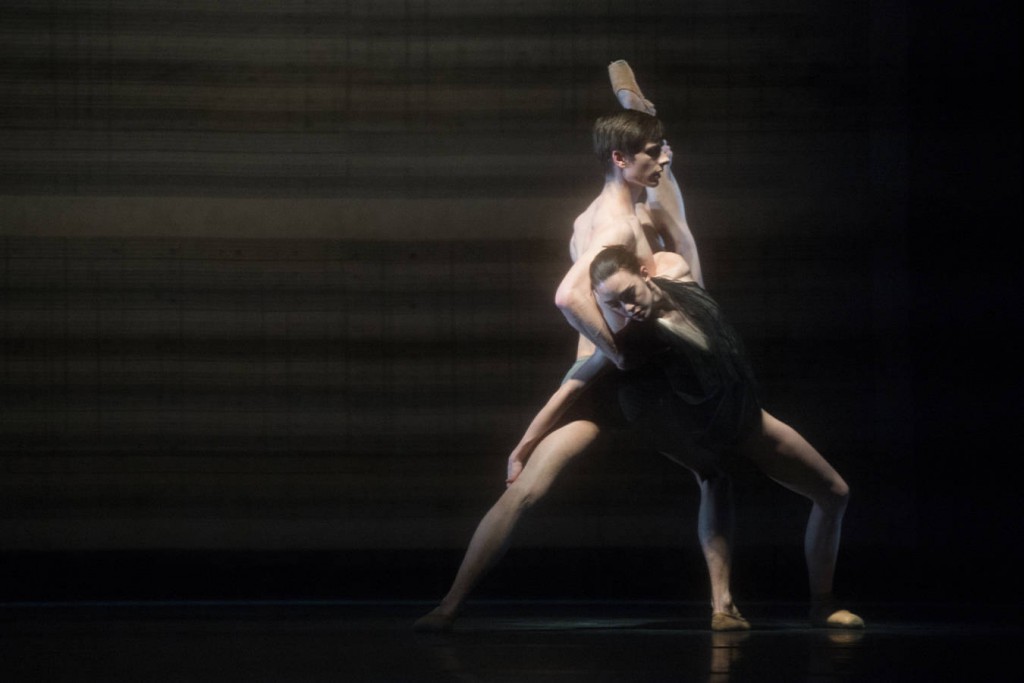 Idris Khan was the one, having the clever idea for the bifunctional canvas. He's a visual artist based in London, whose collaboration with McGregor marked the first time he has worked for a theater. If the white, transparent gauze was lit from behind, the dancers could be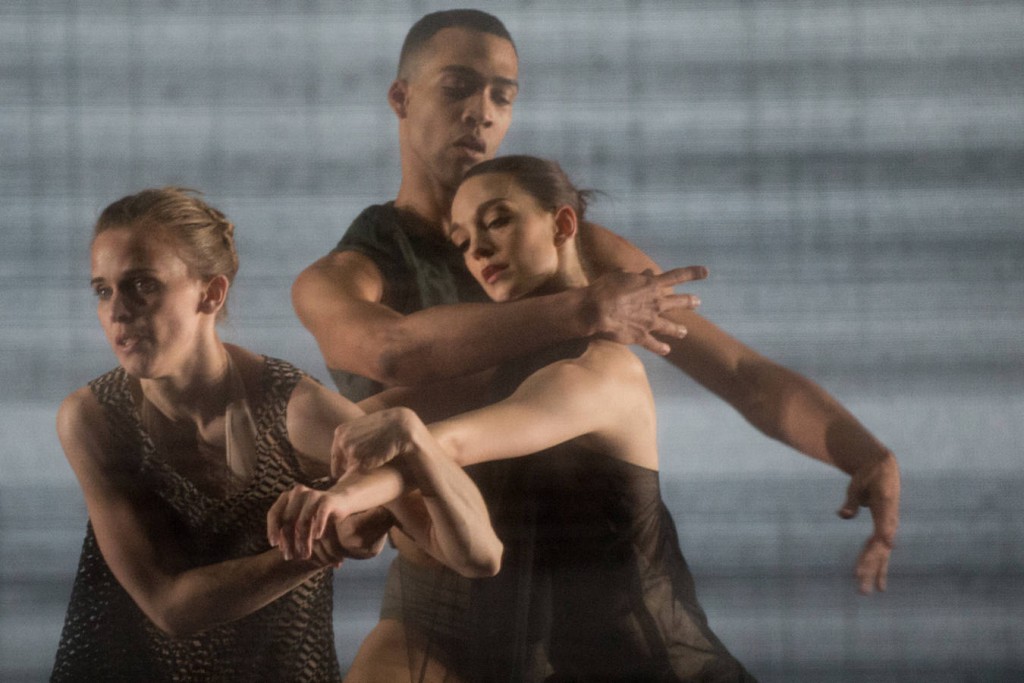 recognized. If the light shone from the front, the audience only saw the music paper or – according to the light's intensity – silhouettes of the dancers. In the rear of the stage Khan placed a huge, curved steel sculpture, whose marble-like black resulted from special coatings – glue made from the skin of hares, black pigments and shale dust – and several grinding processes.
Having rarely had the opportunity to see a piece by McGregor I can neither assess his artistic development nor classify 'Kairos' with respect to already existing works. I expected a sophisticated brainchild dominated by angular movements and hyperextensions. Instead, ten dancers glided smoothly through clearly contoured, highly precise choreography, whose variety in pace combined with alternating group sizes and well-wrought use of space and astonishing lighting riveted my attention. Certainly, the dancers' movement flexibility was challenged, though never past the limit! Not a trace of contortions, instead movements had a rounded, harmonious quality as if the dancers were musical notes set to motion on the lines.
Torsos and arms undulated leisurely as with aquatic creatures. At other moments, a snappy dynamic dominated. Once William Moore, for example, stood center stage, breathing heavily after a pas de deux with Katja Wünsche, seeming to become suddenly aware of his extremities which he tried to realign. A variety of unusual partnering was later explored by Mélanie Borel and Jan Casier – fascinating minutes which seemed to captivate the audience entirely. Rapt attention was in the air.
'Kairos' is an Old Greek term used in mythology and psychology. It stands for the present time, the right moment to make a decision and also for a deity. McGregor grabbed his audience's concentration and made us focus on the moment. Which is saying something in this day and age!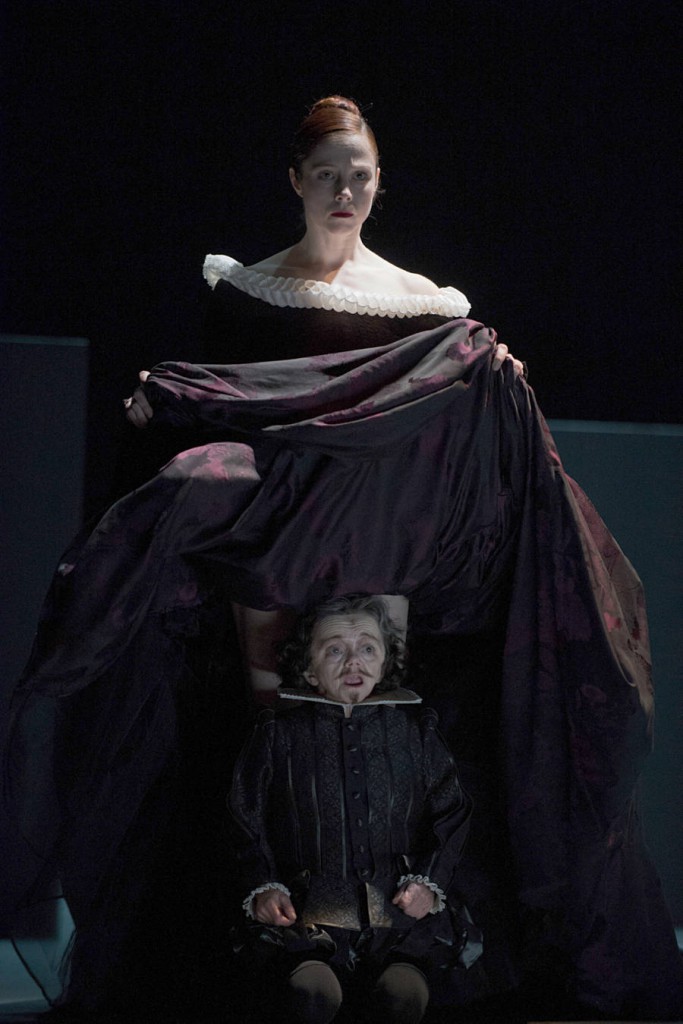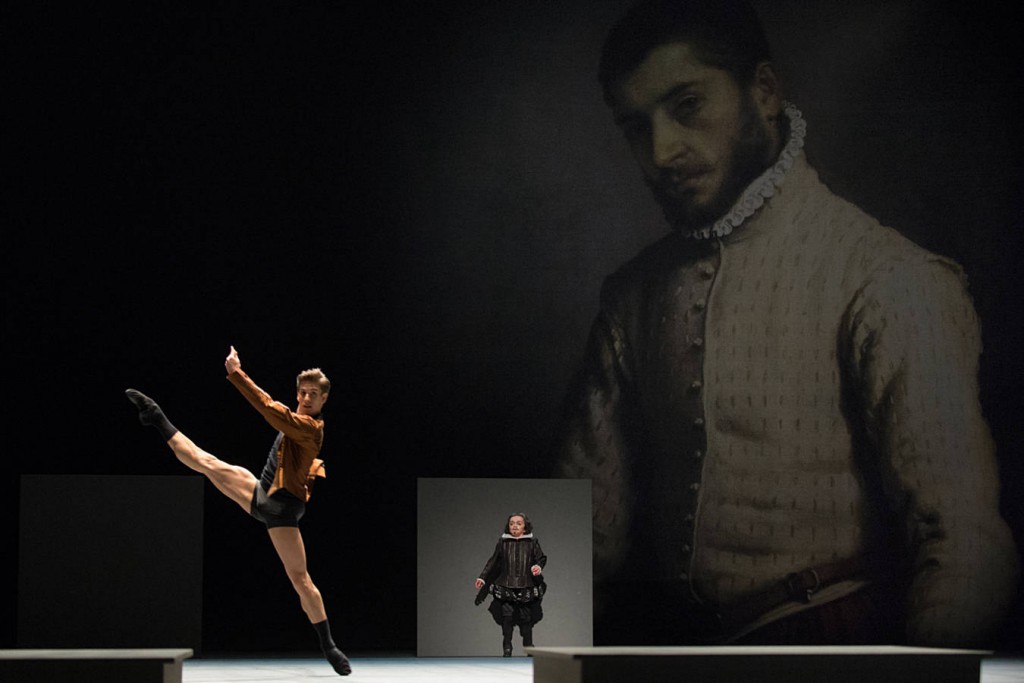 Quality disappeared with Christian Spuck's "Sonnet", his contribution to the Shakespeare jubilee. Spuck used only four of the total 154 sonnets by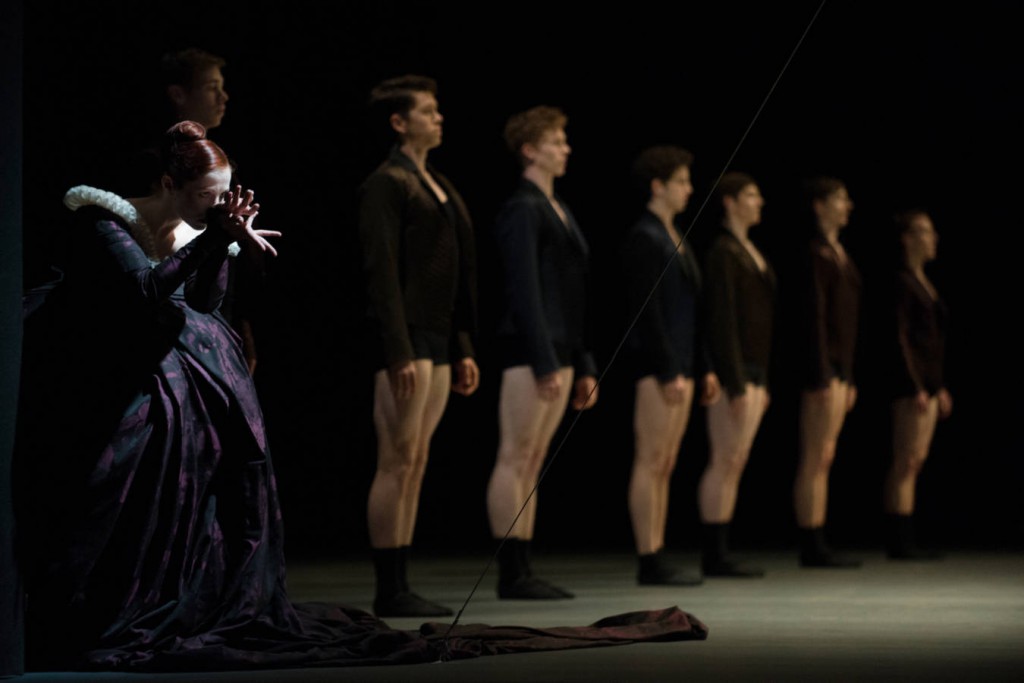 Shakespeare dealing with a mysterious triangle relationship between a poet, a handsome young man and sinister lady. Mozart's adagio for glass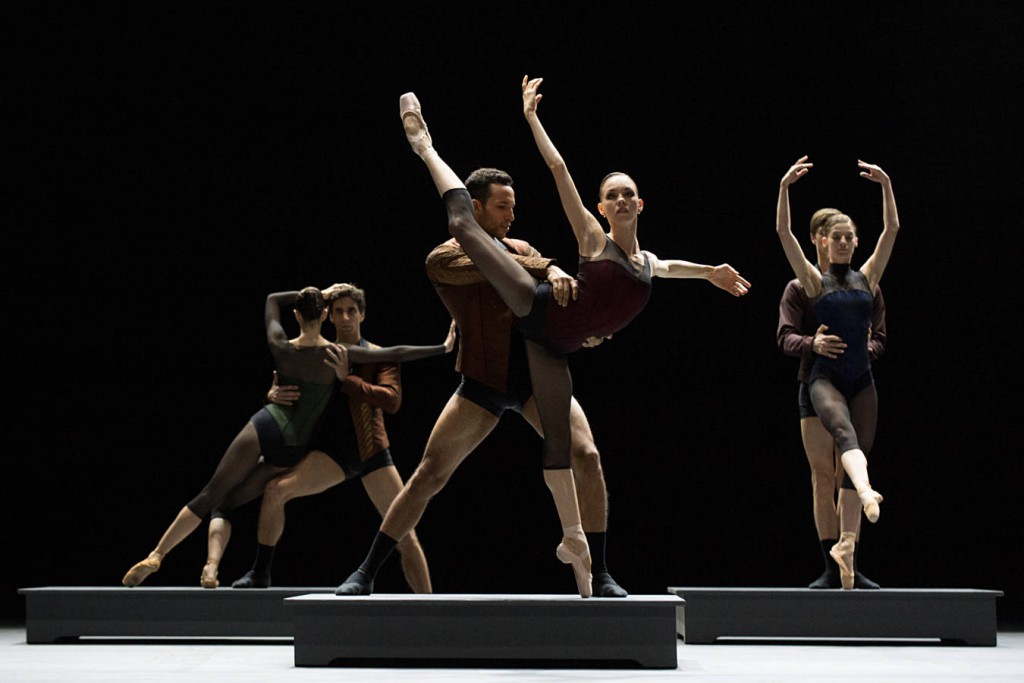 harmonica and Philip Glass' Symphony No.8 served as decorative accompaniment. While a large portrayal of the young man was only projected on the back wall 'The Dark Lady' was in person in the scene. Eva Dewaele, looking fittingly saturnine spurted over the stage, dragging her dark purple dress's heavy tail (costumes by Emma Ryott). The tiny actress Mireille Mossé, clad in 17th century men's fashion and wearing a beard, was 'The Poet's Shadow'. Occasionally running around or pattering the sonnet texts in German or French – frequently interrupted by billy goat-like laughs – she unsuccessfully attempted to bring order to the ballet. The Dark Lady finally silenced Mossé by making her disappear under her huge skirt. Dancing was left to ten couples and a male trio, who whirled around on flat platforms with great virtuosity. Seven of the platforms were moved around and upended. They recall Spuck's nostalgic memory of his school times. When he had to recite poems he had then felt like he was standing on a platform.
Reciting is not far from quoting oneself and from resorting to a well-known strategy. That's what Spuck did in "Sonnet". Mossé already has appeared in a similar role in Spuck's "Mademoiselle de S." in Stuttgart, where the audience is also familiar with the Baroque aesthetic of Ryott's costumes. Spuck's choreographic style moreover travels well-trodden paths. After five minutes, "Sonnet" turned into a merry-go-round of tedious repetitions.
Recently Spuck's contract was extended until the 2021/2022 season. Plenty of time to come up with more inventive ideas!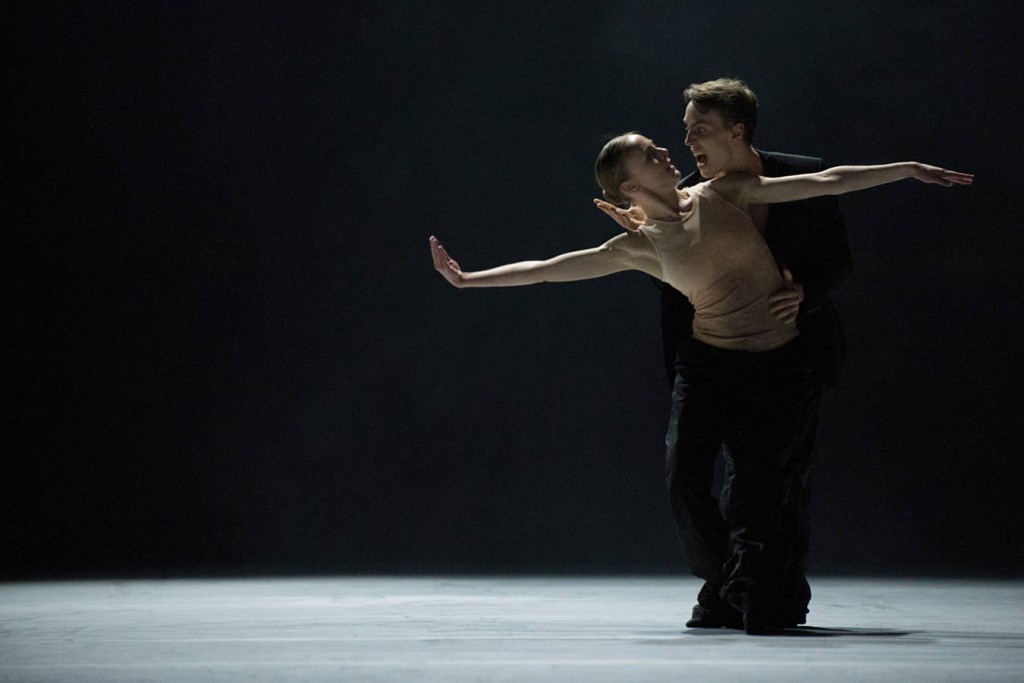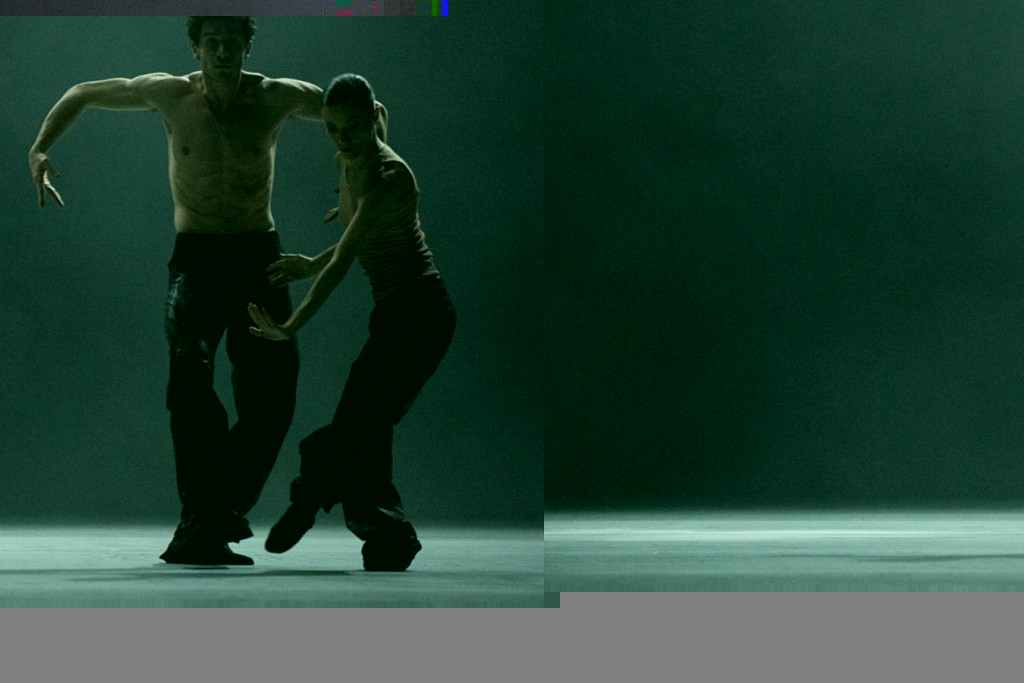 Having a signature style, a distinctive form of one's own is no problem at all – if this style draws on a power source and has substance. This is the case with Marco Goecke. A 'Goecke' work is identifiable on first sight: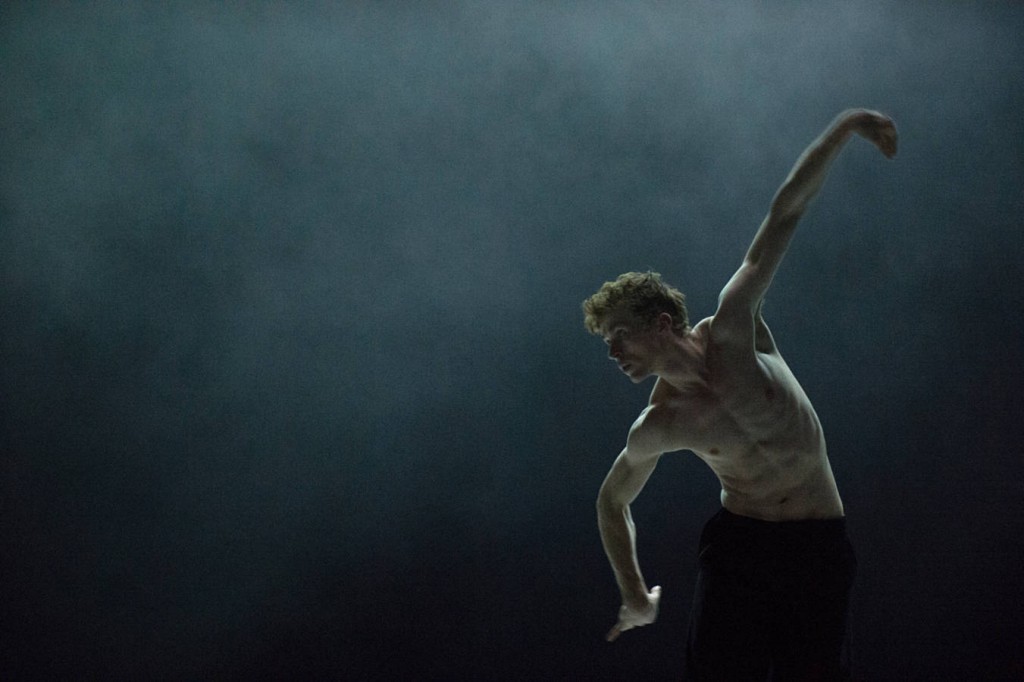 Fluttering and convulsive hands and arms, nimble, but unremarkable legwork – the focus is on the torso instead – and dark colors. Men and woman are generally uniform, this time they wore black tracksuit pants, the women had skin-colored or black tops, the men were bare-chested. The scene might have been a forest glade or a water meadow on a moonlit night, but there were neither trees nor a river, only the wild, shrouded in wafts of swirling mist. The atmosphere matched the music, Arnold Schoenberg's "Transfigured Night", supplemented by the dancers drumming with little sticks on the ground or whispering, hissing and audibly breathing.
I missed the little rat which is said to scurry over the stage at one point. But maybe that was pretty good as I dread rats, be they real or remotely-controlled. Deer wasn't in sight, though Goecke was inspired by the magic of meeting such animals in the wild, by the look of animal eyes like those of his dog – he's actually a faithful dog owner. The title "Deer Vision" probably traces back to a lonely deer Goecke once saw in Pina Bausch's piece "1980". He was fascinated by its innocence and beauty and the tenacity with which natural beauty is destroyed everywhere troubles him. Yet Goecke is no dreamer, rather one who steadily questions himself, a searcher feeling his way. He isn't coming forward as a golden boy nor do his works tell of the bright side of life. "Deer Vision" was like walking through a haunted forest and being slightly scared by what might happen. Indeed, figures suddenly appeared out of dense fog. Above all, and what made Goecke's piece likeable to me, was the clear, shining, bright moonlight like an unwavering dawn of hope.
And the ant?
Three pairs of extremities – three choreographers? That's too simple an explanation! Maybe it's because ants mark their trails with odor to help their fellow species follow and we shall stay likewise turned to the three's future routes? I'm afraid I'm still in the dark.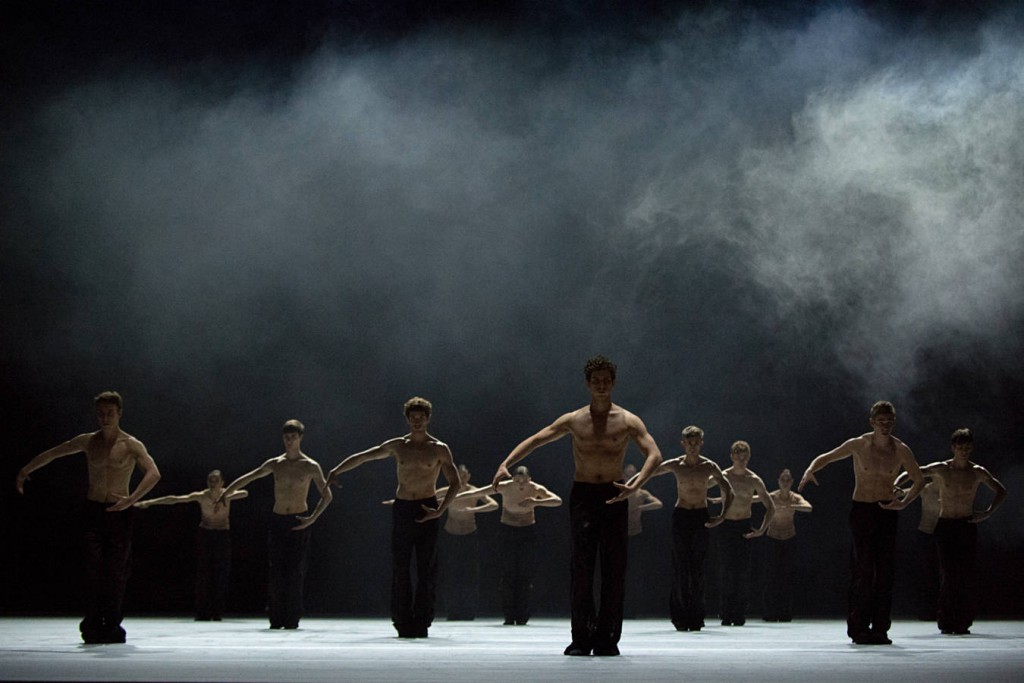 | | | |
| --- | --- | --- |
| | | |
| Links: | | Homepage of Ballet Zurich |
| Photos: | | "Notations" |
| | 1. | Jan Casier, William Moore, Manuel Renard, Denis Vieira and Surimu Fukushi, "Notations": "Kairos" by Wayne McGregor, Ballet Zurich 2014 |
| | 2. | Jan Casier and Juliette Brunner, "Notations": "Kairos" by Wayne McGregor, Ballet Zurich 2014 |
| | 3. | Viktorina Kapitonova and Galina Mihaylova, "Notations": "Kairos" by Wayne McGregor, Ballet Zurich 2014 |
| | 4. | Katja Wünsche, Manuel Renard and Juliette Brunner, "Notations": "Kairos" by Wayne McGregor, Ballet Zurich 2014 |
| | | "Sonnet" |
| | 5. | Eva Dewaele (The Dark Lady) and Mireille Mossé (The Poet's Shadow), "Notations": "Sonnet" by Christian Spuck, Ballet Zurich 2014 |
| | 6. | Denis Vieira and Mireille Mossé (The Poet's Shadow), "Notations": "Sonnet" by Christian Spuck, Ballet Zurich 2014 |
| | 7. | Eva Dewaele (The Dark Lady) and ensemble, "Notations": "Sonnet" by Christian Spuck, Ballet Zurich 2014 |
| | 8. | Juliette Brunner, Filipe Portugal, Cristian Alex Assis, Viktorina Kapitonova, Jan Casier and Mélissa Ligurgo, "Notations": "Sonnet" by Christian Spuck, Ballet Zurich 2014 |
| | | "Deer Vision" |
| | 9. | William Moore and Giulia Tonelli, "Notations": "Deer Vision" by Marco Goecke, Ballet Zurich 2014 |
| | 10. | Mélanie Borel and Daniel Mulligan, "Notations": "Deer Vision" by Marco Goecke, Ballet Zurich 2014 |
| | 11. | Tars Vandebeek, "Notations": "Deer Vision" by Marco Goecke, Ballet Zurich 2014 |
| | 12. | Ensemble, "Notations": "Deer Vision" by Marco Goecke, Ballet Zurich 2014 |
| | | all photos © Judith Schlosser 2014 |
| Editing: | | Laurence Smelser |