"The Triadic Ballet"
Bavarian State Ballet II
Reithalle (Riding Hall)
Munich, Germany
June 06, 2014
by Ilona Landgraf
Copyright © 2014 by Ilona Landgraf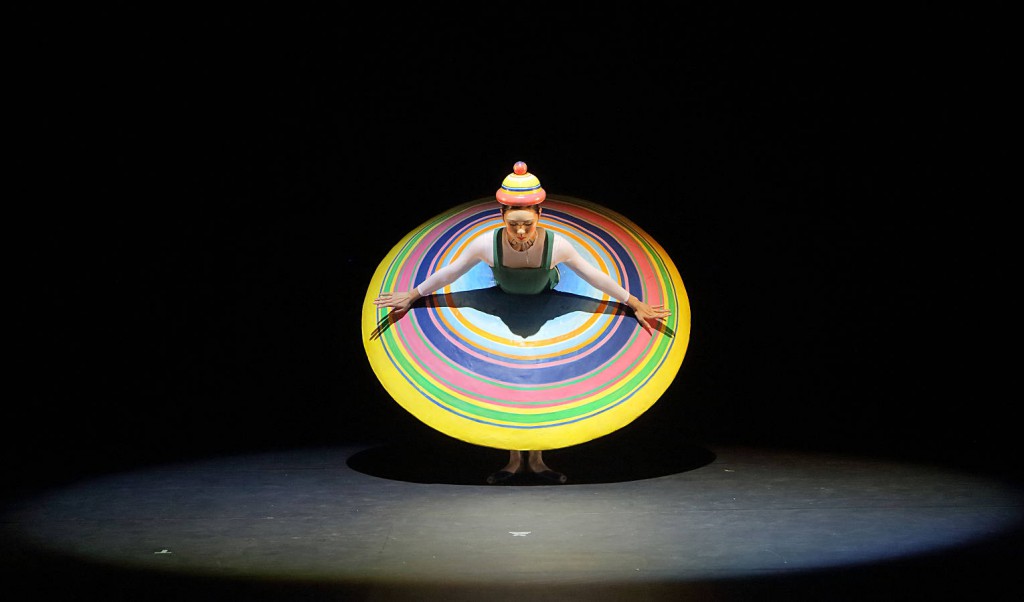 The revival of Gerhard Bohner's "The Triadic Ballet", after a quarter century of enforced slumber, has been a much-anticipated event in Munich. The legendary sequence of dances – famous for its strange, unwieldy costumes – was kissed awake by the Bavarian State Ballet's artistic director Ivan Liška and his wife Colleen Scott. Both had belonged to Bohner's faithful first cast from day one. Actually, Bohner's piece was a reconstruction and revision of an original by the German plastic artist Oskar Schlemmer (1888 – 1943). Schlemmer's heirs had thwarted every effort to make his artistic work available to the public. Now, seventy years after Schlemmer's death, the intellectual property rights have expired and this gave Liška leeway to proceed.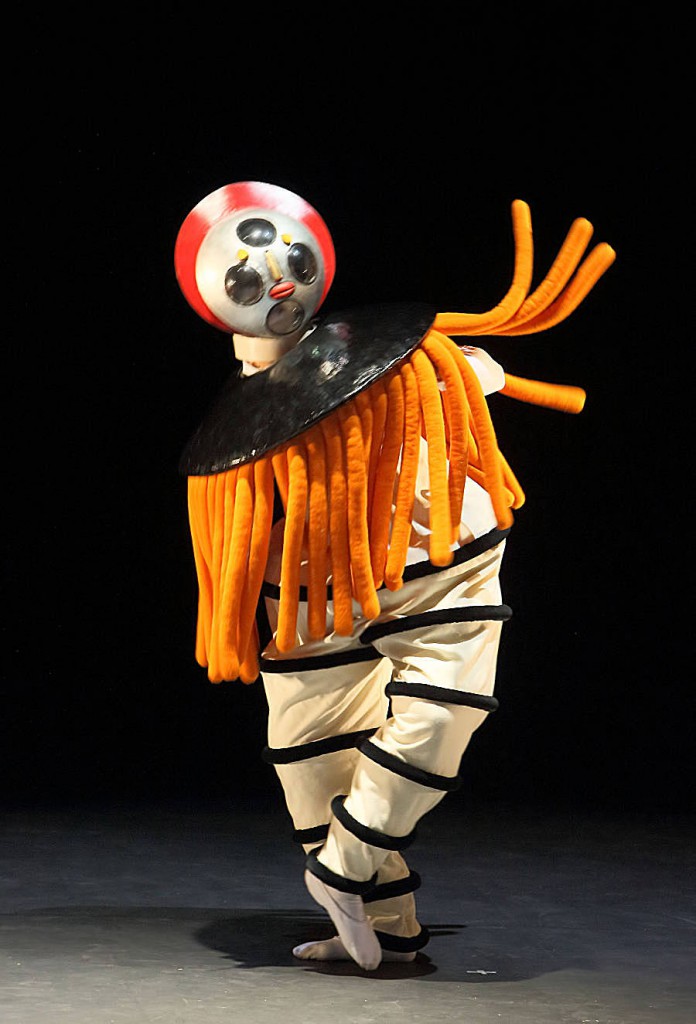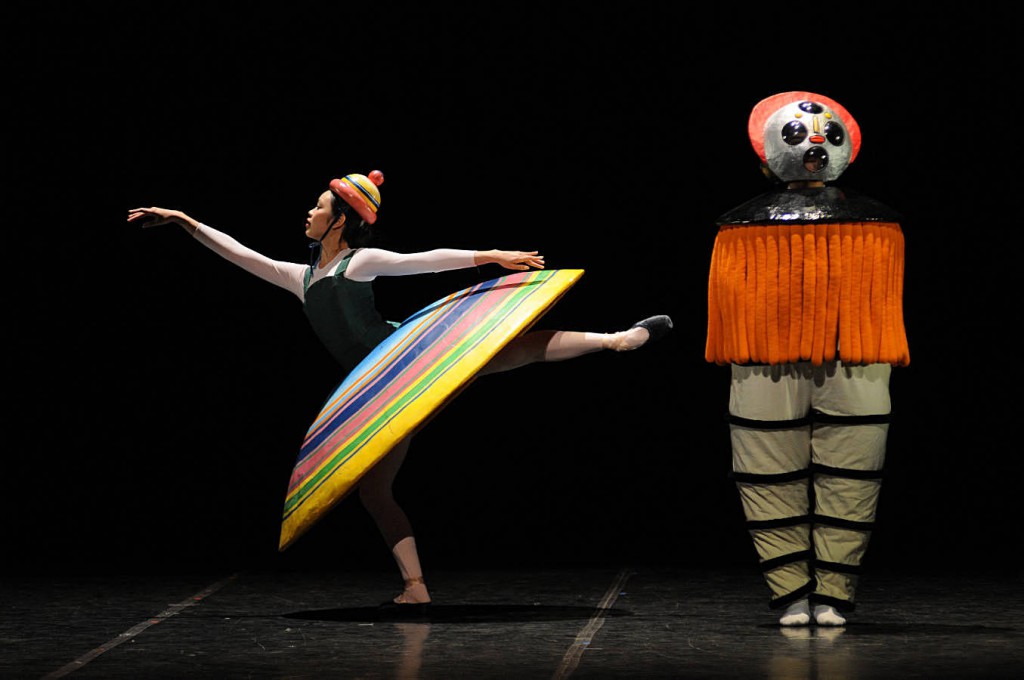 The Stuttgart-born Schlemmer was closely associated with the theater as painter, set designer, and sculptor. From 1921 – 1929 he was a formative figure at the German arts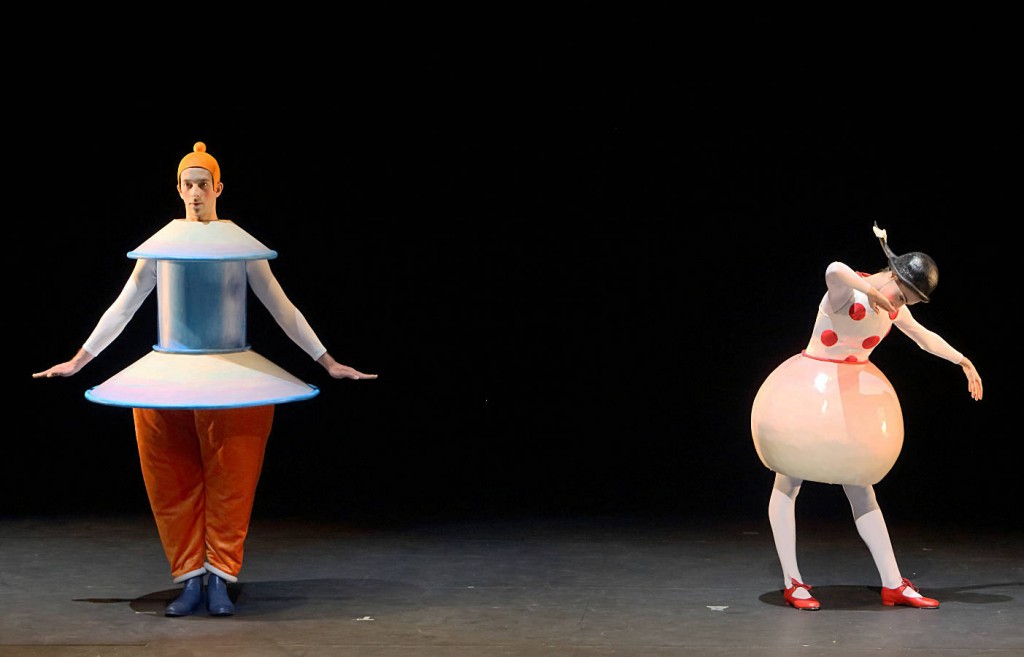 school 'Bauhaus' and also became a self-taught dancer. He might be known best for his 1932 painting "Bauhaus Stairway", which is part of the permanent collection at the Museum of Modern Art in New York. His 1922 "Triadic Ballet" was an attempt to refresh theater by bringing to it new international trends in the fine arts. Schlemmer's point was to clarify the stage's ingredients and their relationships. Above all, he was interested in the interaction of the human being with space, and also with words, language, sound and music. Transitions between the different media were fluid and melded into a synthesis of the arts.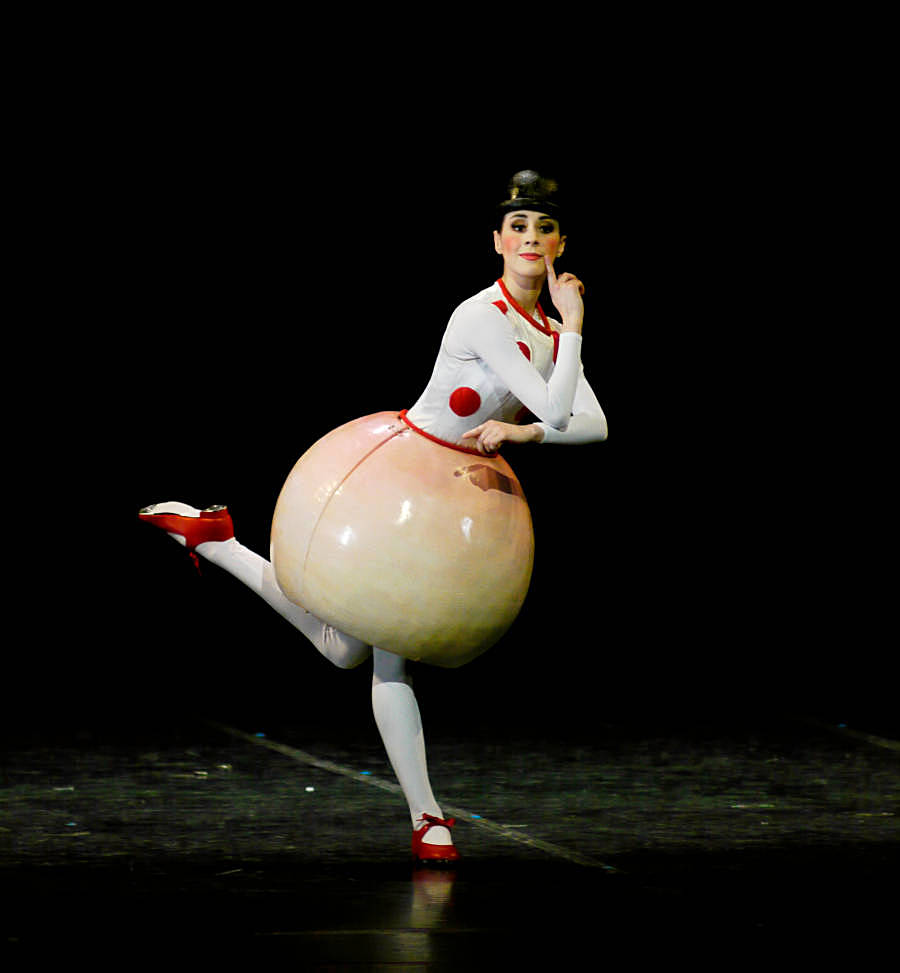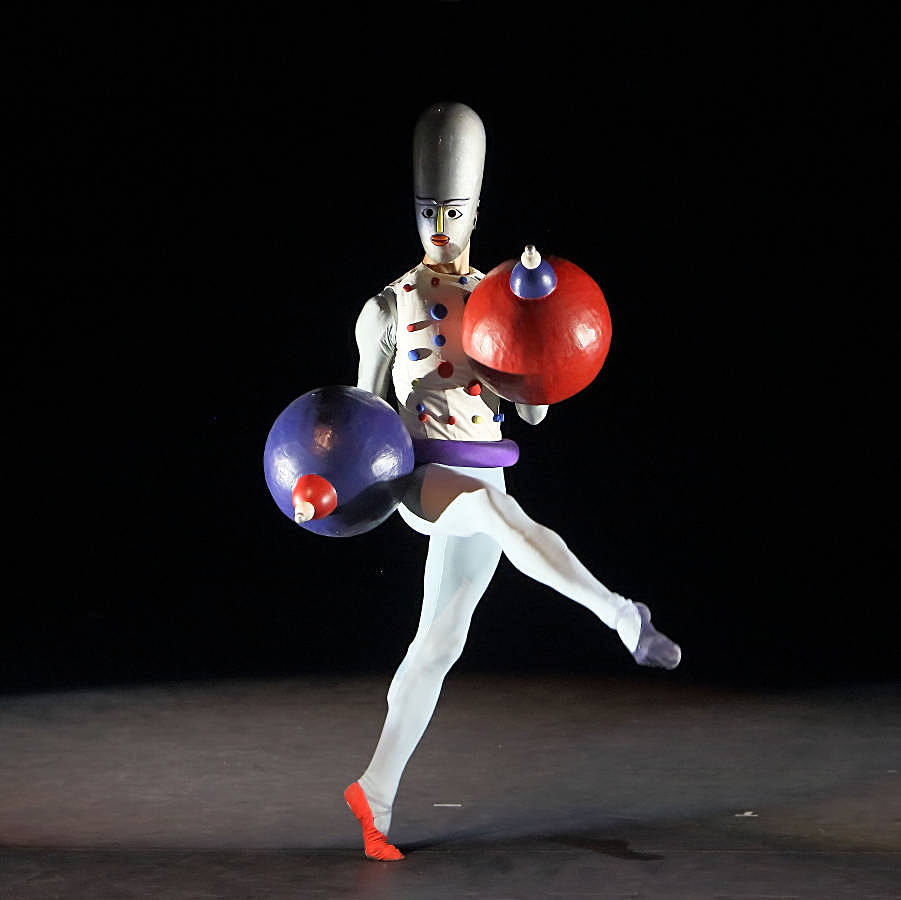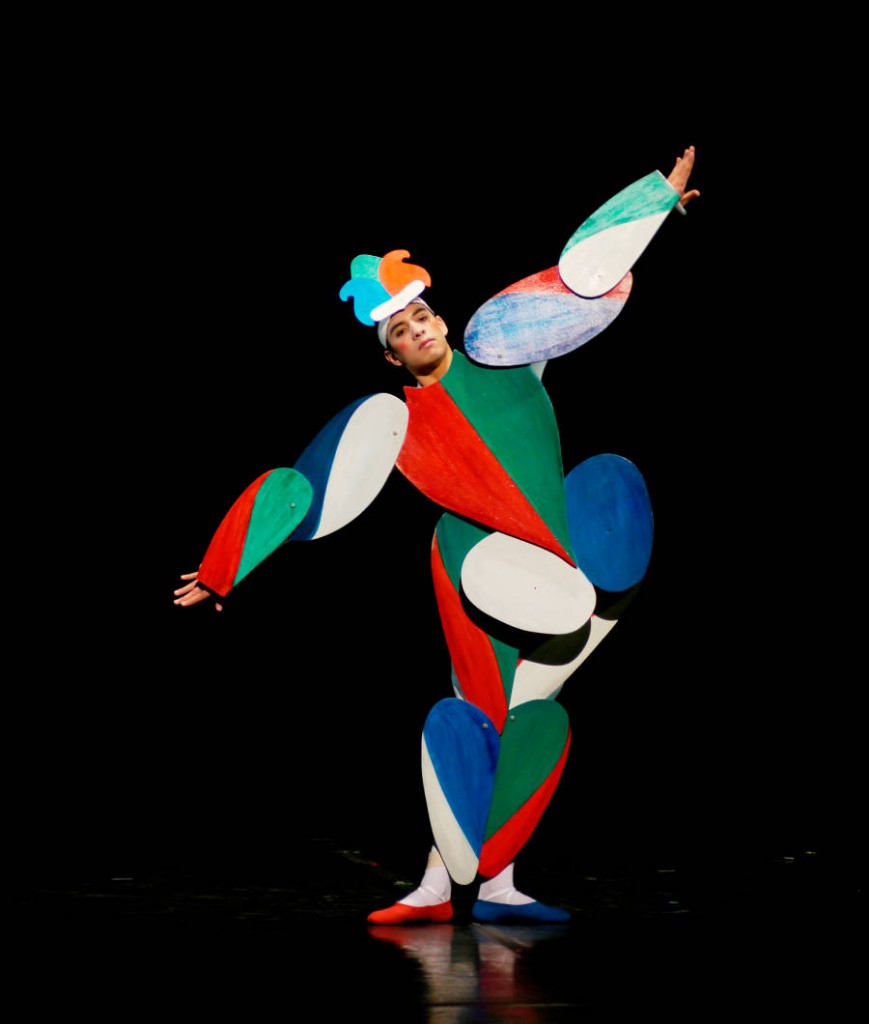 Unlike his Bauhaus colleague Wassily Kandinsky, Schlemmer neither wanted an abstract stage nor a merely mechanical one without human soul. In fact, he aimed for a synthesis of the natural and the artificial, which he believed ought to lead to a beneficial stylization on behalf of a superior universality and purity. Convinced of his technique's healing impact, Schlemmer proclaimed that "Triadic" would make people aware of the 'man-machine' thing and the 'body as mechanism'. That he lauded the mechanization of life was a consequence of his experience of World War I and the ambience it had generated of death, chaos, maimed bodies and destroyed lives. Yet, not among Schlemmer's aims were either modernity for modernity's sake nor particular political goals.
During the 1920s, much dance in Germany turned away from classical ballet's strict regimen to a freedom of movement. Schlemmer, however, went in exactly the opposite direction. His heavy, stiff costumes – made of wood or wire by self-employed craftsmen, painters and sculptors with little or no experience in theaters' costume departments – rather limited and hampered motion. Nevertheless, "Triadic" was an almost revolutionary undertaking!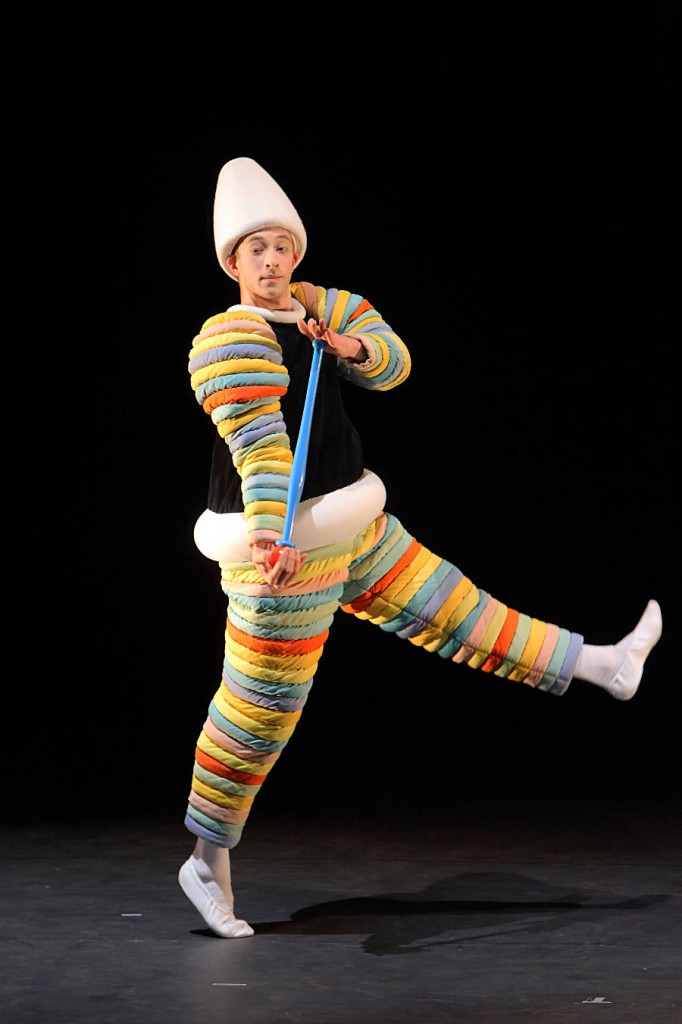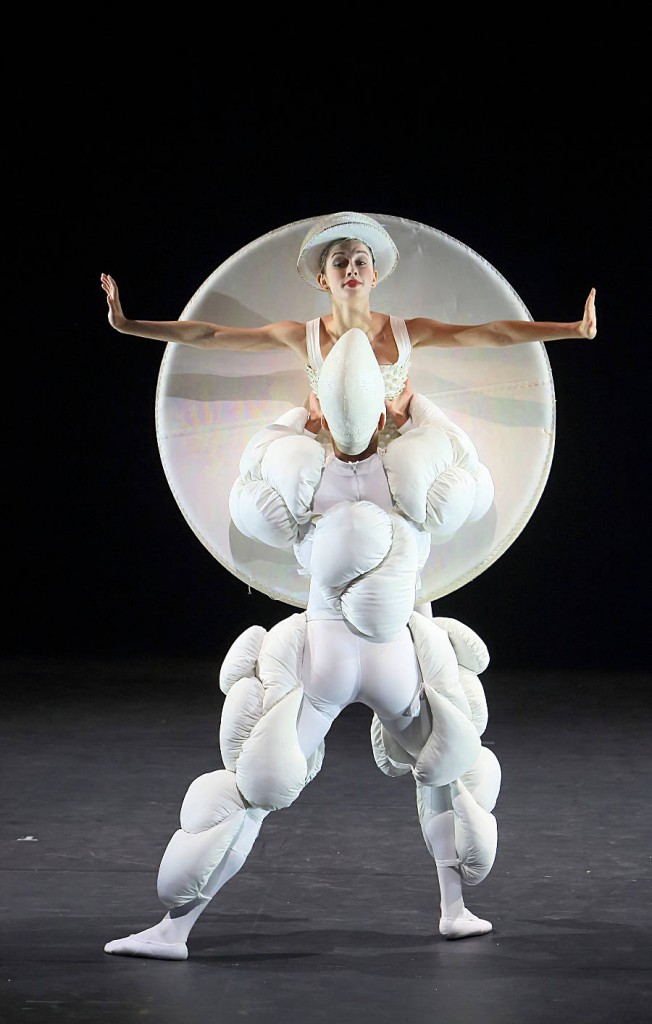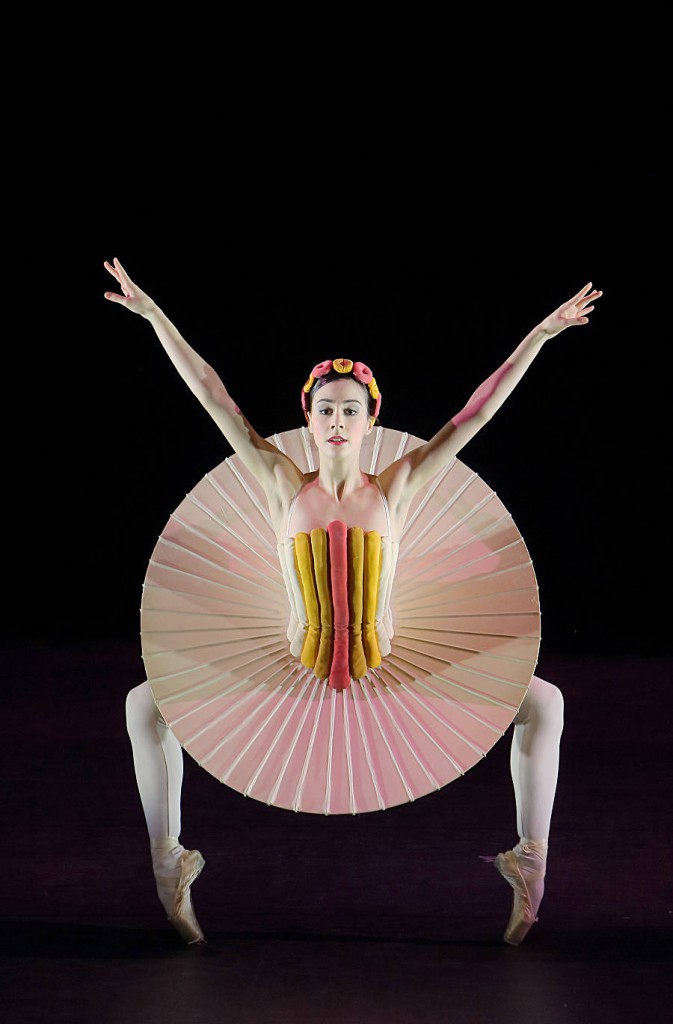 The word 'Triadic', derived from the Greek, is used because of the way in which the choreography is constructed: there are three dancers (two men, one woman) who perform solos, duos or trios – a total of twelve dances involving circular, triangular and square patterns. Eighteen different costumes were used, each belonging to one of three different 'series': The first or 'Yellow Series' should be 'cheerful –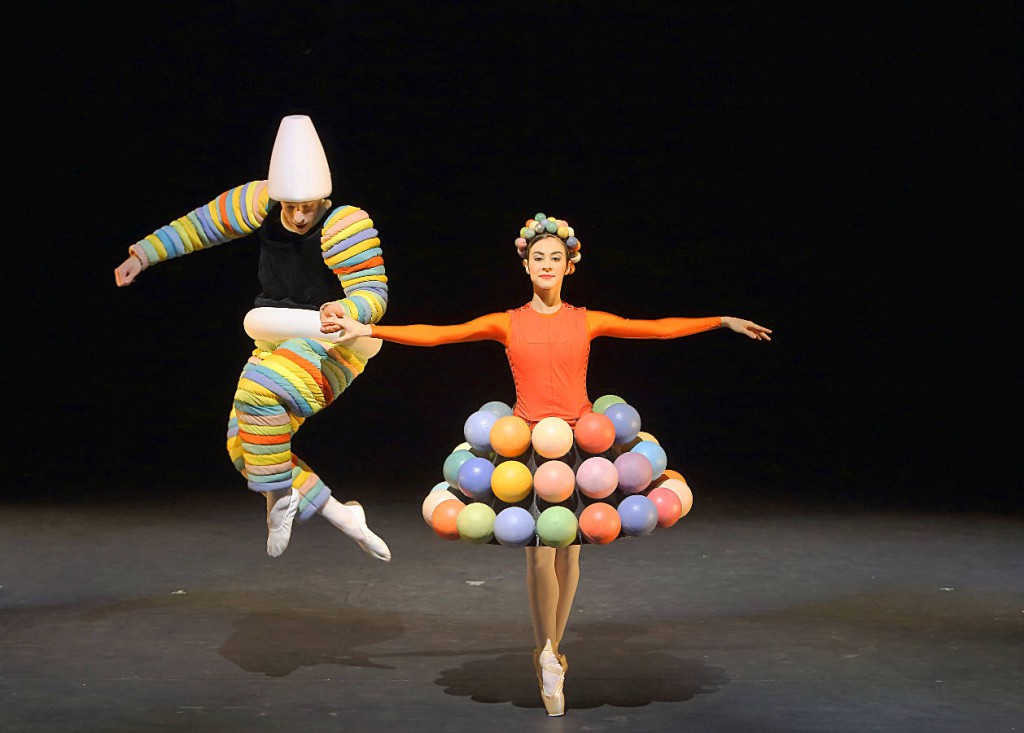 burlesque'. The second or 'Pink Series' should be 'festive and solemn' and the final one, the 'Black Series', was intended to be 'mysterious – fantastical'.
As music Schlemmer chose pieces for piano or orchestra from three centuries. The composers were: Tarenghi, Bossi, Debussy, Haydn, Mozart, Paradies, Galuppi and Handel, but actually he wanted a single contemporary composition. In 1926, Paul Hindemith composed a mechanical organ piece for him, but Schlemmer wasn't fully pleased by it either.
"The Triadic Ballet" premiered at Stuttgart's Wuerttembergian State Theater in 1922, with a cast consisting of Schlemmer and the ballet dancers Albert Burger and Elsa Hötzel. It was performed only a few times and wasn't a hit until Gerhard Bohner's reworking in 1977.
Bohner (1936 – 1992), a German dancer and choreographer, had studied with Modern Dance icon Mary Wigman. She influenced him profoundly. At first he only wanted to dance but, after just three years in Berlin, he started to choreograph. At the first choreographic competition in Cologne in 1968 he was one of the up-and-coming talents along with John Neumeier and Hans Kresnik. A year later, he won second prize at the competition (first prize went to Pina Bausch that year). Following engagements in Mannheim and Frankfurt, Bohner joined Tatjana Gsovsky's ensemble at the Deutsche Oper Berlin.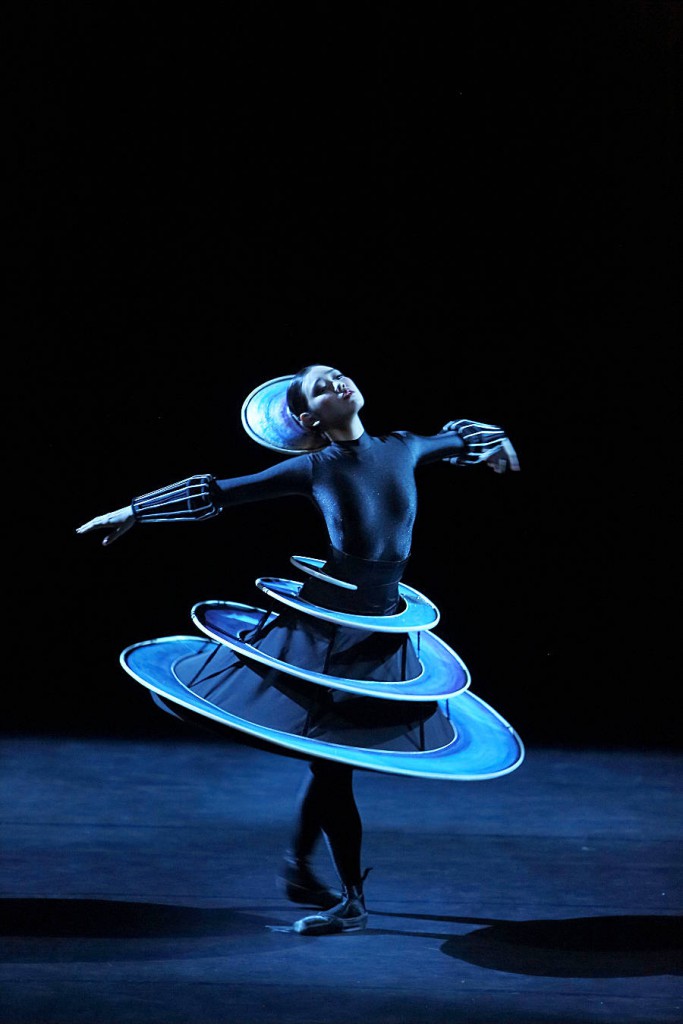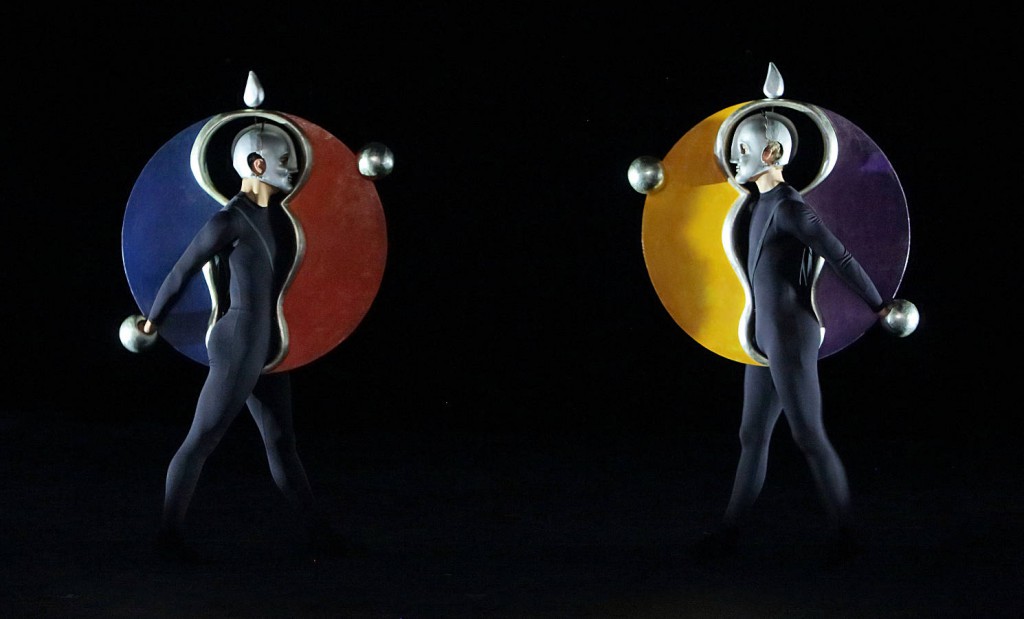 That rather conservative house wasn't interested in Bohner's own choreographies, which led to conflict with the management.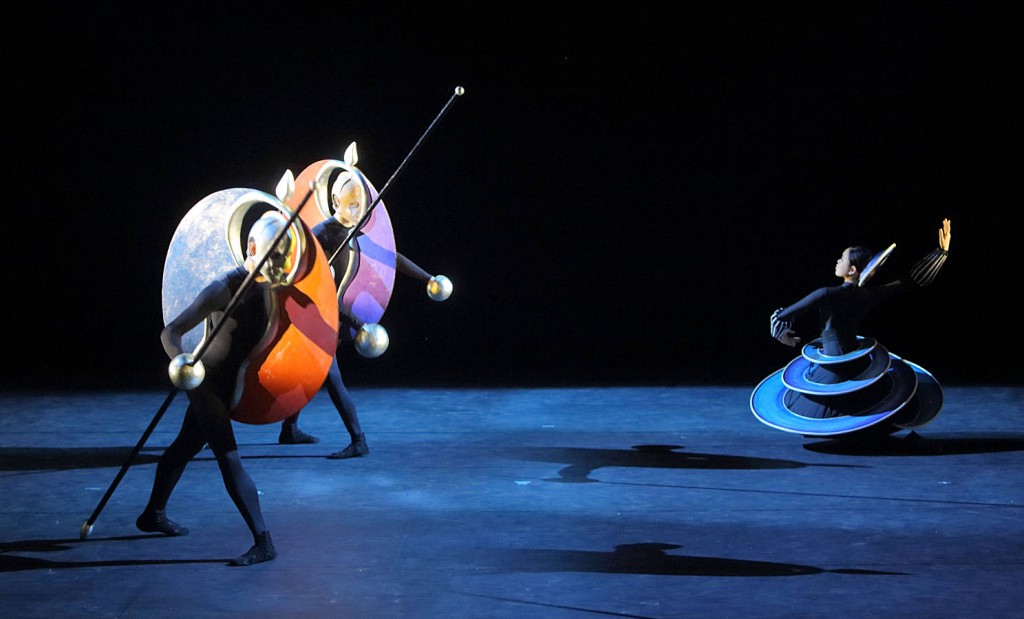 Impressed by the student protests of the late 1960s, Bohner felt encouraged to revolt against the management's constricting system. This resulted in his dismissal. The same thing kept happening repeatedly in later years but Bohner remained a rebel. Following his first termination, he worked for various theaters and companies. One of his most important choreographies was "The Torture of Beatrice Cenci" (1971) with music by Gerald Humel, a coproduction with Berlin's Academy of the Arts. Later, Bohner and a group of colleagues tried to implement their ideas of artistic freedom and the right to co-determine policy along with management at the theater in Darmstadt, but failed. Returning to Berlin, Bohner accepted the Academy of the Arts' offer to reconstruct Schlemmer's "Triadic Ballet".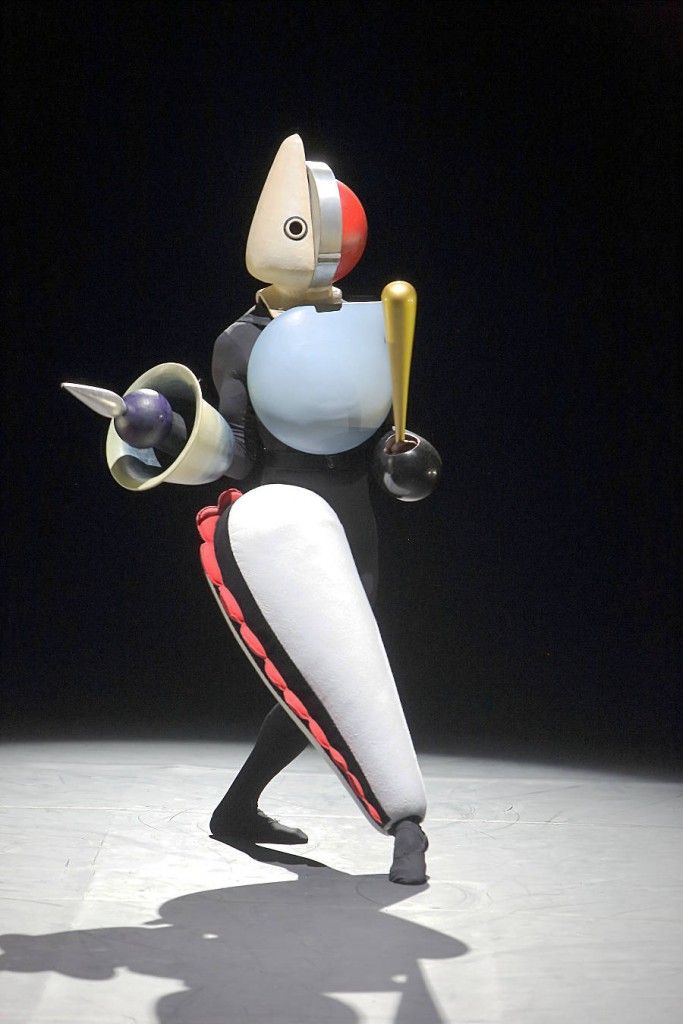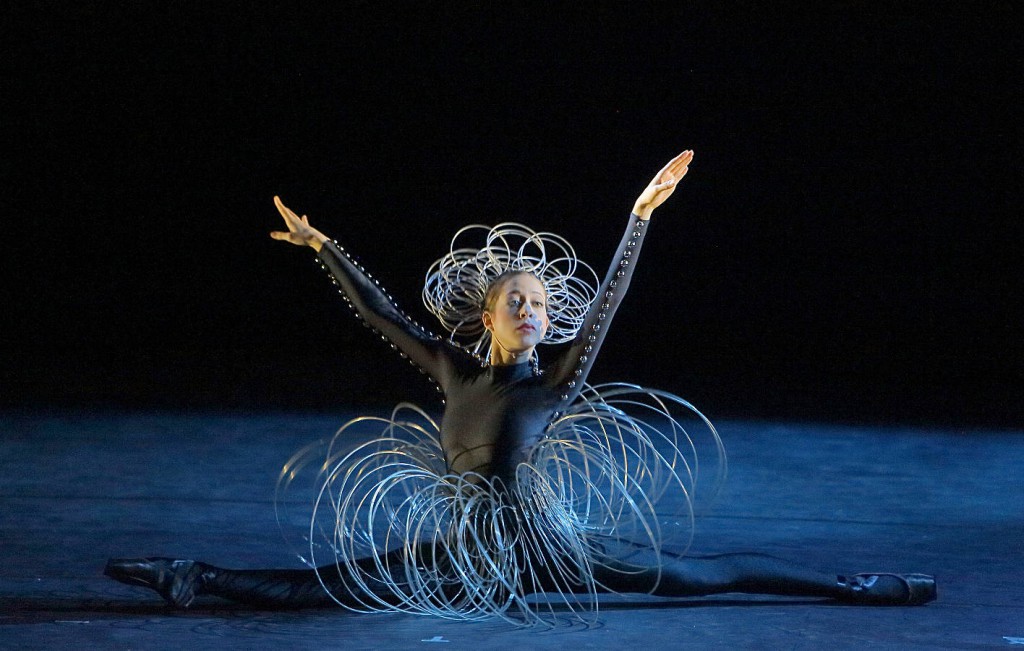 Schlemmer's original choreography is lost except for some general descriptions and so Bohner was limited to carrying out to what presumably were Schlemmer's intentions. The costumes, however, were exact replicas. Hans-Joachim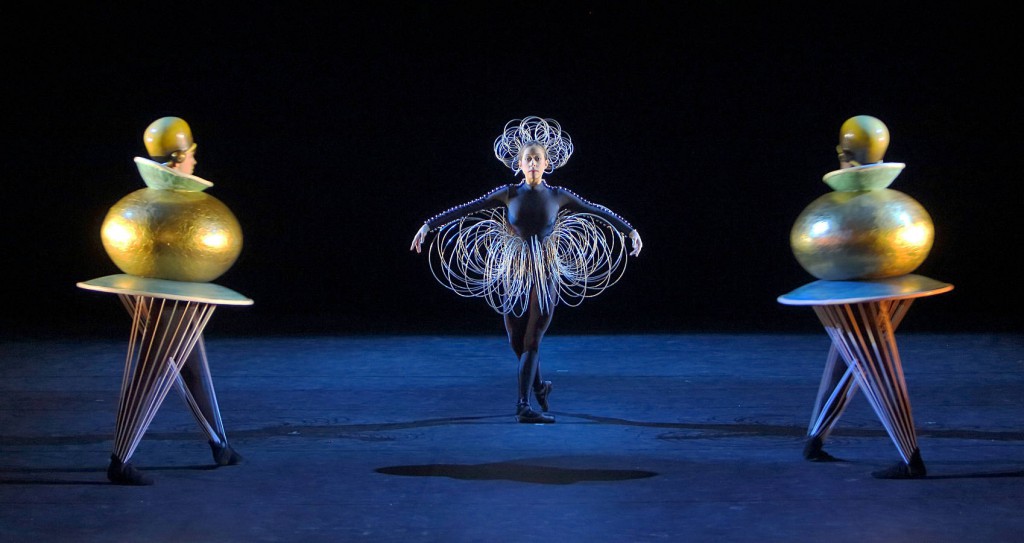 Hespos, a teacher and freelance composer was commissioned to come up with the score. The result is a mixture of creaking, buzzing, pounding and metallic sound. It takes getting used to. Schlemmer's wish for contem-porary music has thus been fulfilled. Altogether, the project turned out to be a resounding success. Danced by Ivan Liška and Colleen Scott, plus a frequently different colleague, the "Triadic" toured Europe, North America and Asia for a total of eighty-five performances. Above all, it appealed to painters, architects, sculptors and designers – those for whom visual sensation is primary. Robert Wilson, for example, was enthusiastic about the piece when he saw it in New York in 1985. In 1989 the costumes again went into the Academy of the Art's archives in Berlin.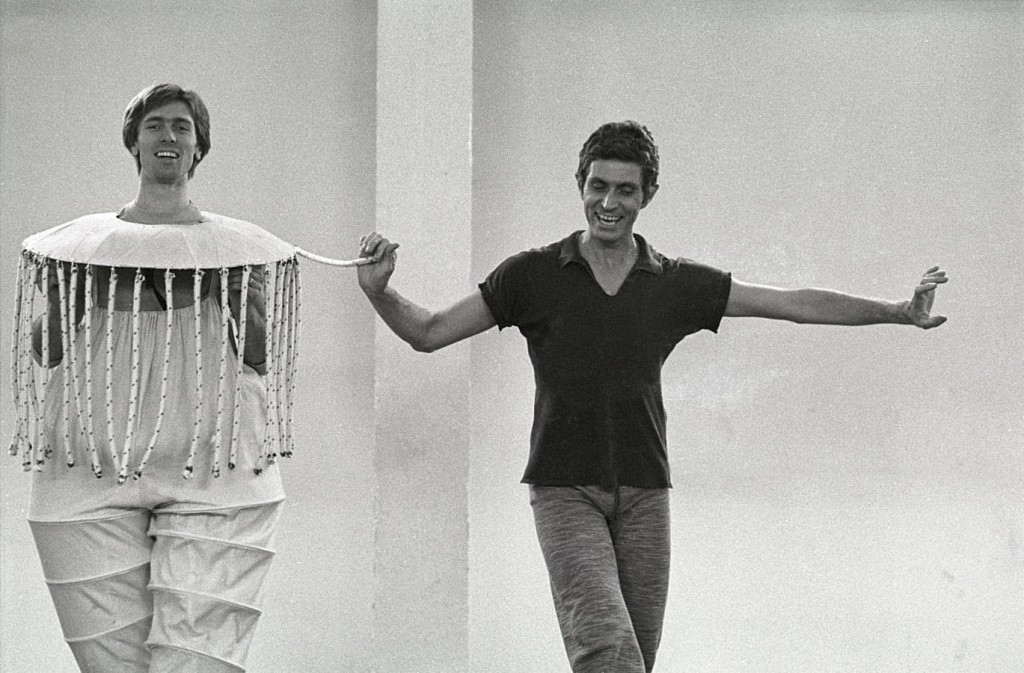 In cooperation with the Academy and thanks to support by the German Dance Fund, Liška was finally, in 2013, able to start mining this treasure. Young dancers of the Bavarian State Ballet II have just brought the costumes back to life . Their dancing is far from virtuoso. Instead, they are restric- ted to basic ballet. Shy humor shimmers when pirouettes come off as intended. There also are signs of anxiousness and hasty glances to check the floor before placing a foot. A wooden tutu might easily get out of control! Hespos' music supports and highlights emotional moments. However, real encounters between the protagonists are nearly impossible. Protruding tutus, voluminous wire constructions and stuffing reminiscent of the Michelin Man prevent all the dancers' attempts to come closer to each other.
As was mentioned in the playbill, perfect copies often turn out to be dead because the cultural atmosphere of the original era is absent. Well-made reworkings of historical productions, though, can prove to be innovative. That had been Bohner's advantage, which Liška and his team didn't have. They revived an heirloom. Hence: no shock! With the "Triadic" and the attempt to show something from Germany's past one hundred years, Bavarian State Ballet has rather added a relic to its repertory. Fortunately Liška had a lot of staying power! It was definitely worth the effort. Congratulations!
Further performances: Bavarian State Ballet will tour to Berlin in late June and to Stuttgart at the end of November 2014. A Schlemmer retrospective exhibit will be launched November 21, 2014 in Stuttgart's State Gallery.
| | | |
| --- | --- | --- |
| | | |
| Links: | | Bavarian State Ballet's Homepage |
| Photos: | | Yellow Series: |
| | 1. | Big Skirt, dancer: Nagisa Hatano, "The Triadic Ballet" by Gerhard Bohner, Bavarian State Ballet II, © Wilfried Hösl 2014 |
| | 2. | Diver, dancer: Nicholas Losada, "The Triadic Ballet" by Gerhard Bohner, Bavarian State Ballet II, © Wilfried Hösl 2014 |
| | 3. | Big Skirt and Diver, dancers: Nagisa Hatano and Nicholas Losada, "The Triadic Ballet" by Gerhard Bohner, Bavarian State Ballet II, © Charles Tandy 2014 |
| | 4. | Cylinder and Round Skirt, dancers: Sebastian Goffin and Marta Navarrete Villalba, "The Triadic Ballet" by Gerhard Bohner, Bavarian State Ballet II, © Wilfried Hösl 2014 |
| | 5. | Round Skirt, dancer: Marta Navarrete Villalba, "The Triadic Ballet" by Gerhard Bohner, Bavarian State Ballet II, © Wilfried Hösl 2014 |
| | 6. | Spherehands, dancer: Florian Sollfrank, "The Triadic Ballet" by Gerhard Bohner, Bavarian State Ballet II, © Wilfried Hösl 2014 |
| | 7. | Jumping Jack, dancer: Nicholas Losada, "The Triadic Ballet" by Gerhard Bohner, Bavarian State Ballet II, © Charles Tandy 2014 |
| | | Pink Series: |
| | 8. | Disc Skirt, dancer: Marta Navarrete Villalba, "The Triadic Ballet" by Gerhard Bohner, Bavarian State Ballet II, © Wilfried Hösl 2014 |
| | 9. | Harlequin and Pearl Skirt, dancers: Nicholas Losada, Alisa Scetinina, "The Triadic Ballet" by Gerhard Bohner, Bavarian State Ballet II, © Wilfried Hösl 2014 |
| | 10. | Turk, dancer: Sebastian Goffin, "The Triadic Ballet" by Gerhard Bohner, Bavarian State Ballet II, © Wilfried Hösl 2014 |
| | 11. | Turk and Turk Skirt, dancers: Sebastian Goffin and Marta Navarrete Villalba, "The Triadic Ballet" by Gerhard Bohner, Bavarian State Ballet II, © Wilfried Hösl 2014 |
| | | Black Series: |
| | 12. | Spiral, dancer: Nagisa Hatano, "The Triadic Ballet" by Gerhard Bohner, Bavarian State Ballet II, © Wilfried Hösl 2014 |
| | 13. | Discs, dancers: Alexander Bennett and Nicholas Losada, "The Triadic Ballet" by Gerhard Bohner, Bavarian State Ballet II, © Wilfried Hösl 2014 |
| | 14. | Discs and Spiral, dancers: Alexander Bennett, Nicholas Losada and Nagisa Hatano, "The Triadic Ballet" by Gerhard Bohner, Bavarian State Ballet II, © Wilfried Hösl 2014 |
| | 15. | The Abstract, dancer: Florian Sollfrank, "The Triadic Ballet" by Gerhard Bohner, Bavarian State Ballet II, © Wilfried Hösl 2014 |
| | 16. | Wire Costume, dancer: Alisa Bartels, "The Triadic Ballet" by Gerhard Bohner, Bavarian State Ballet II, © Wilfried Hösl 2014 |
| | 17. | Wire Costume and Gold Balls, dancers: Alexander Bennett, Alisa Bartels and Nicholas Losada, "The Triadic Ballet" by Gerhard Bohner, Bavarian State Ballet II, © Wilfried Hösl 2014 |
| | | _________________________________ |
| | 18. | Ivan Liška and Gerhard Bohner during rehearsal, 1977, "The Triadic Ballet" by Gerhard Bohner, © Gert Weigelt 2014 |
| | 19. | Oskar Schlemmer, Sketches for the Triadic Ballet, 1927, copyright Academy of the Arts, Berlin |
| | 20. | Assistant Director Bettina Wagner-Bergelt with the mask of the "Spherehands" costume, November 2013, "The Triadic Ballet" by Gerhard Bohner, © Wilfried Hösl 2014 |
| Editing: | | George Jackson |