"Les Ballets Russes"
Bavarian State Ballet
National Theater
Munich, Germany
May 30, 2014
by Ilona Landgraf
Copyright © 2014 by Ilona Landgraf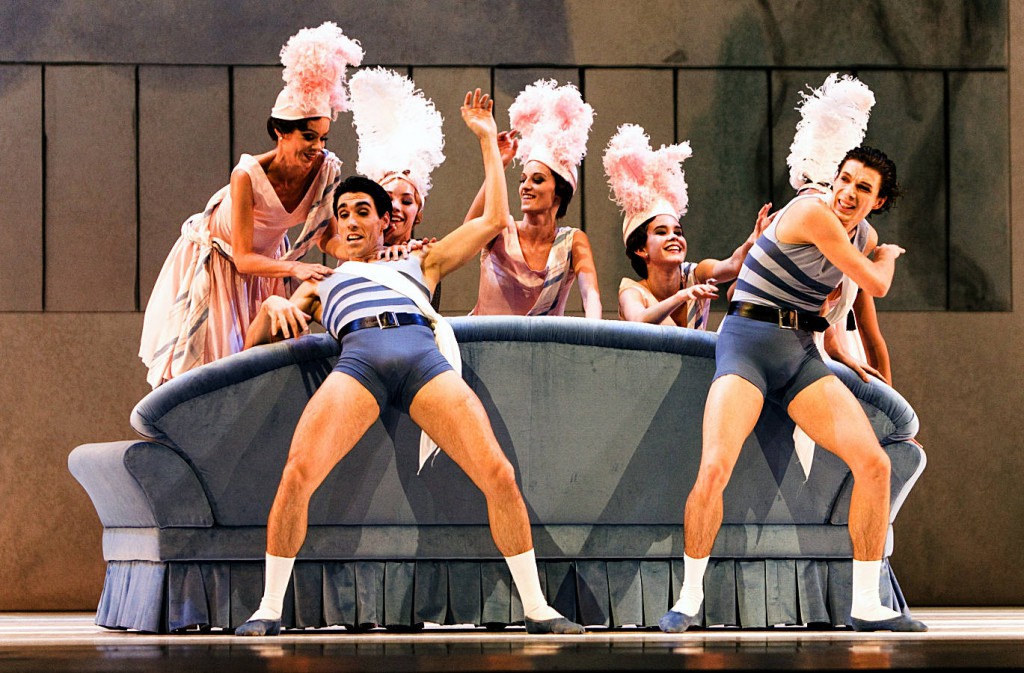 Thumbs up for Bavarian State Ballet! Known for their ambitious programs, the troika of artistic director Ivan Liška and his assistant directors Bettina Wagner-Bergelt and Wolfgang Oberender offer their audiences a varied diet, ranging from the classics to brand-new pieces. While Cunningham, Limón and Massine were already part of this season's menu, some days ago the Munich trio served up a formidable evening of Ballets Russes. If the remaining two premieres – Oskar Schlemmer's "Triadic Ballet" and Mary Wigman's "Le Sacre du Printemps" – are danced with the same verve the prospects for ballet aficionados are happy ones.
n terms of chronology the threepart "Ballets Russes" bill started in reverse order. Bronislava Nijinska's "Les Biches" from 1924 was the prelude, followed by Vaslav Nijinsky's 1912 work "L'Après-midi d'un faune", with Mikhail Fokine's 1910 opulent "Schéhérazade" being the voluptuous closure. This raised the erotic factor from jaunty flirts to animal sensuality, finding its climax in a substantial harem's sex orgy. If you're the parent of an underaged audience member, better be prepared for your offspring's questions about the activities on stage!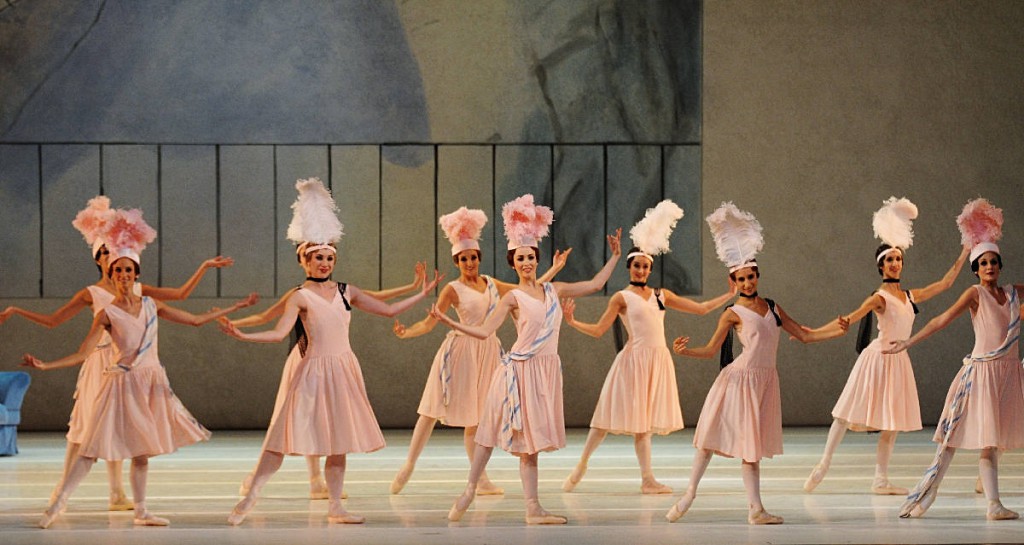 "Les Biches", meaning 'young doe' or 'teenager', depicted the luxurious pastime of the young, spoiled upper class of the 1920s. The spacious parlor we were looking at seemed to belong to a villa in the south of France, a meeting place for the beautiful people in a mood to party. Set and costumes were reproduced after the original designs of Marie Laurencin. Her minimalistic interior – dominated by a light blue settee and a huge pastel painting – suffused with the light of a summer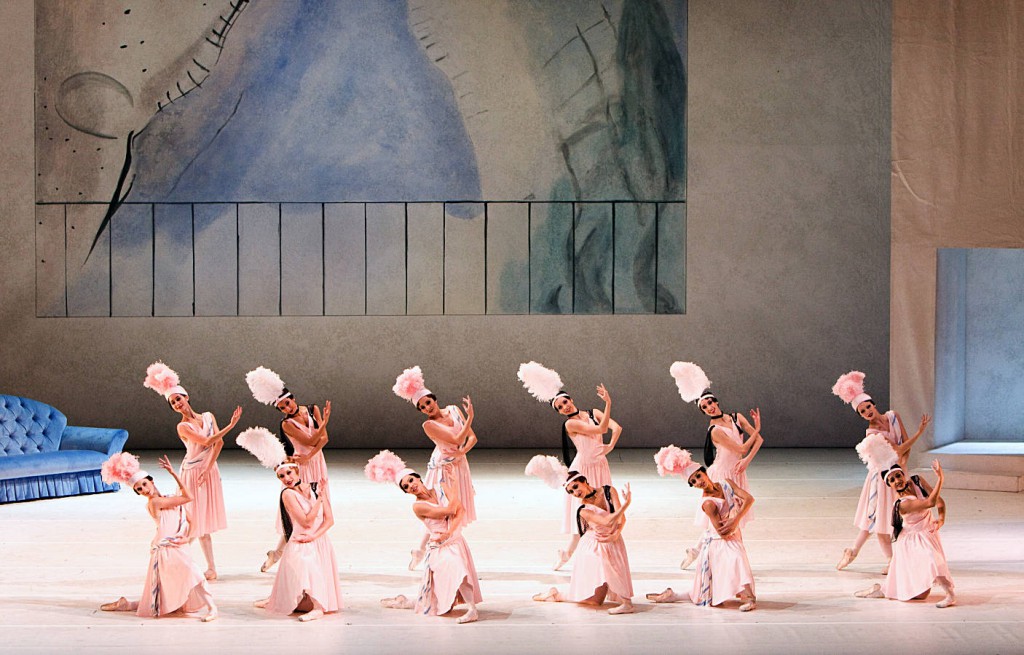 afternoon exuded the carefree lightness of being. This doesn't hide the fact that Nijinska's choreography is rock-solid, a first example of neoclassicism, which has been all too single-mindedly attributed to Balanchine's "Apollon musagète".
Francis Poulenc's music, which gave him his break into artistic circles and the patronage of Parisian society in 1923, fizzed champagne-like as did the action. A considerable number of females – twelve young ladies in pale pink dresses and headdresses of teetering pink feathers, two girls in gray, an enigmatic lady in a blue velvet vest and the fashionable lady of the house – of course all eye candies, amused themselves until three musclemen in skin-tight bathing jerseys entered the party (Javier Amo, Maxim Chashchegorov, Matej Urban). They were soon in the thick of frivolous flirtations and coquettish overtures and, behind the scenes, presumably even more. The girls played hide-and-seek behind the sofa, on which they sometimes hopped around. The self-assured landlady, back then danced by Nijinska herself, was Stephanie Hancox. With her long pearl necklaces and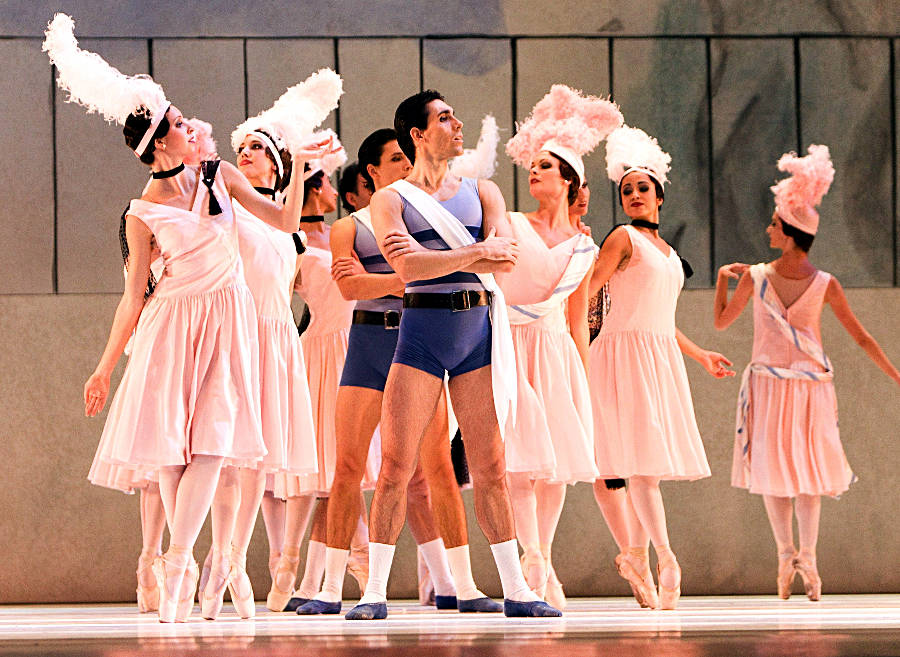 a cigarette holder, she was all woman of the world and radiated effervescent joie de vivre, as she enjoyed being flattered by two of the beaux. Daria Sukhorukova as the lady in the blue velvet vest caused her adorer (Javier Amo) to cut capers, though she pretended to be cool and untouchable. But her faint smile and bright eyes, when feeling unobserved, told a different story. Allegedly the ballerina of the premiere, Léon Bakst had complained to Diaghilev that she felt naked in her short, blue costume. Whereupon he suggested she should buy gloves! That's why the lady in blue wears white kid gloves.
Subtle yet true emotional warmth radiated from the romantic friendship of the two girls in gray (Mai Kono, Katherina Markowskaja), breathing harmonious unity into their pas de deux.
Of the three men, Javier Amo's effortless jumps stood out. Stephanie Hancox' light-footed, quicksilver dancing and her ability to enlarge her jumps in the air was a sheer pleasure to watch! The crowd of ladies in pink sometimes looked in disarray, but could certainly be molded into delicate belles in subsequent performances. They'll be irresistible like meringue chantilly.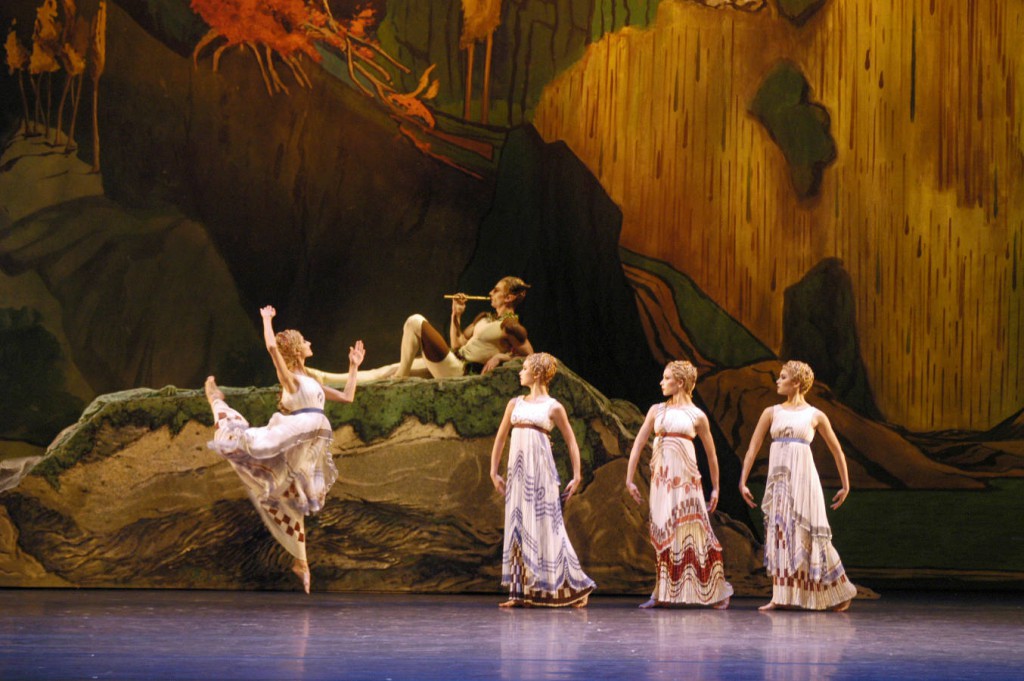 During the small break needed to change the decor, a retrospective on Diaghilev's Ballets Russes was presented, mostly consisting of a series of black and white photos. Accompanied by Alexander Glasunov's Entr'acte symphonique of "Raymonda" each photo intensified a melancholically tinged feeling of elation and reverence for such dedicated artists. What stories lie behind each of them! But I was wondering if some explanatory comments would have served better to sensitize the audience than Glasunov's music. The strawberry gum-smacking girl to the left of me, who was busy with her mobile, might have benefited from some background information. As well as the man in the neighborhood to my right, who slouched over two seats as if lounging on his living room sofa. Hearing about this evening's great history might have jolted their attitude out of passive consumption.
Today Nijinsky's first choreography "L'Après-midi d'un faune" doesn't divide opinion any more as it did at its Parisian premiere in 1912. Then considered scandalous, it provided a radical new definition of the aesthetic, being a trailblazer for "Le Sacre du Printemps" which caused even more uproar one year later. Ten minutes were enough for Nijinsky to turn ballet's course towards the modern. Ten minutes of utmost density. Everything – the plot, gestures, movements – is reduced to the essential, distilled to a high-titer compound yet of compelling simplicity and rigor. Ten minutes in which one holds one's breath, mesmerized, so as not to miss the smallest detail.
Munich's production of the legendary "Faun" is based on Nijinsky's own notation system from 1913, decrypted by Ann Hutchinson-Guest and Claudia Jeschke in 1987 and translated into Laban notation. Léon Bakst's rock in front of the bucolic landscape exuded magnetic attraction. The darkness of the remaining stage intensified its glow of colors. The costumes and especially the braided wigs were beautiful.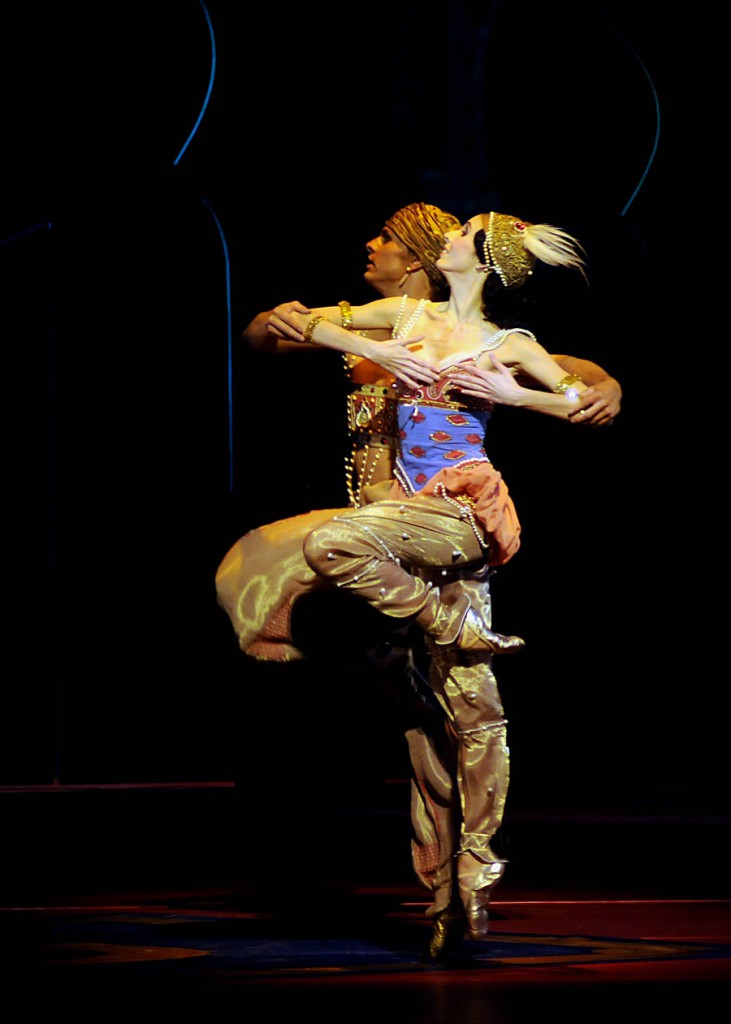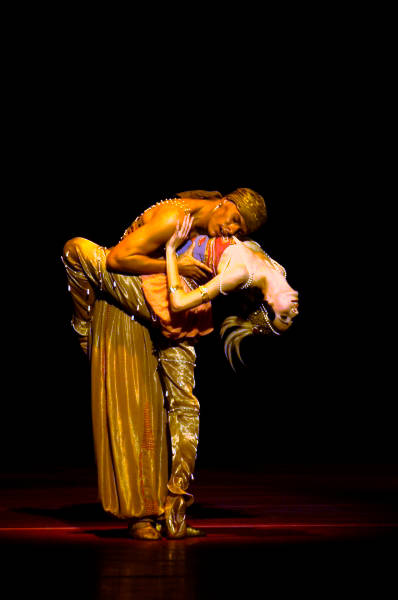 Though the movements are static as though rock-hewn, the Faun's presence should cause the air to vibrate with suspense and arousal. Tigran Mikayelyan as the Faun seemed too reserved during the first minutes, but from the moment he climbed down his rock, he became more and more of an animal, a libidinous creature. When his hand tenderly slid down the veil's sheer fabric that he had picked up from the ground, dropped by the leading nymph, Mikayelyan had found his Faun. If he'll let himself loose from all inhibitions from the beginning he'll be captivating! The six nymphs, above all Séverine Ferrolier as the leading nymph, were expressive.
When the first beats of Nikolay Rimsky-Korsakov's "Schéhérazade" issued from the orchestra pit – Bavarian State Orchestra under the baton of Valery Ovsianikov was in first class shape – a whiff of anticipation spread among the audience. And, indeed, Fokine's harem's story fully lived up to expectations. I would have loved to have gotten a closer look at Bakst's gorgeous set – wasn't the sumptuously draped curtain on the left green with a pink pattern? – but, alas, harem's chambers are dim. The costumes' colorful flamboyance also deserves contemplative admiration, but nothing was calm in Sha Shahriar's household. He had hardly left to go hunting when his harem's sexual cravings ran free. The Chief Eunuch was quickly bribed with jewels and gewgaws, letting the doors be pushed open for the male slaves. Soon Shahriar's favorite, Zobéide, lay in the arms of her beloved Golden Slave. Lust erupted volcanic-like. The harem and the slaves loved, feasted and danced in ever-changing patterns – a sensual orgy in a frenzy of Bakst's colors. Unfortunately the harem's infidelity ended in massacre and Zobéide finally stabbed herself. Our sympathy, however, was on the side of the women, rather than on that of the Sha and his guards.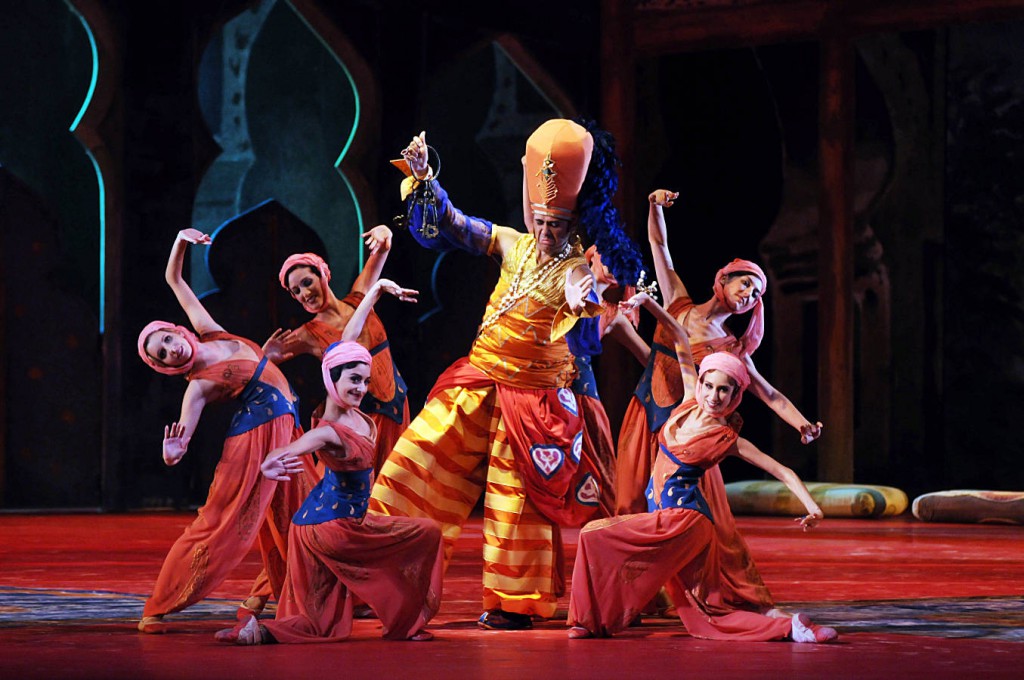 Fokine's granddaughter Isabelle Fokine was in charge of the current production in Munich. She didn't revive the choreography of the 1910 premiere, danced then by Ida Rubinstein and Vaslav Nijinsky as the main characters. Though Rubinstein had been a trained dancer, Fokine created the role of Zobéide mainly as an acting one. He later invented Zobéide and the Golden Slave's grand pas de deux for his wife Vera and himself, when rehearsing the piece for Stockholm. Thus Munich's "Schéhérazade" is grounded on the Stockholm production. Bakst's costumes were reproduced from existing templates as faithfully as possible by Astrid Eisenberger.
As the leading couple, Daria Sukhorukova danced Zobéide, her Golden Slave was Lukáš Slavický. Both were well matched. Though Sukhorukova was all softness and passion, she radiated dignity and inner strength, especially in the death scene after realizing that the Sha wouldn't show her mercy. Slavický started convincingly, but his fervent lover turned slightly into the stereotype of a Hollywood womanizer. Cyril Pierre was a farouche, wary Sha Shahriar while Norbert Graf, in the role of his brother Sha Zeman, fueled the monarch's doubts. Nimble Vittorio Alberton bustled around as the corruptible, corpulent Chief Eunuch.
There will be a live broadcast of Bavarian State Ballet's "Les Ballets Russes" on June 21, 2014, 7.30 pm (C.E.T.):
www.bayerische staatsoper.de > Staatsoper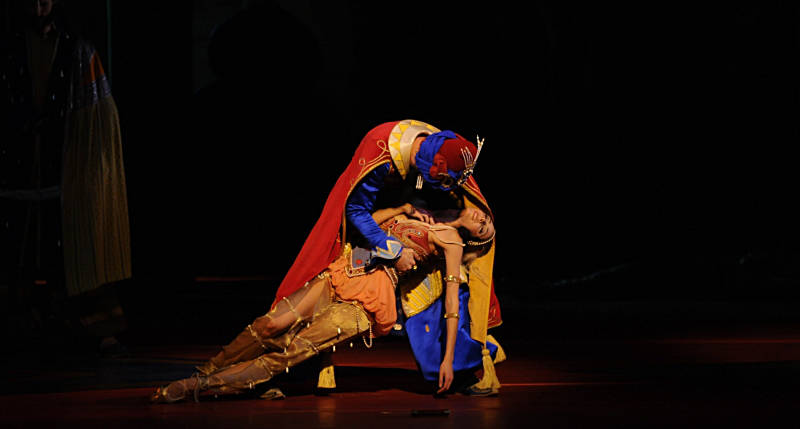 | | | |
| --- | --- | --- |
| | | |
| Links: | | Bavarian State Ballet's Homepage |
| Photos: | 1. | Javier Amo (Athlete), Maxim Chashchegorov (Athlete) and ensemble, "Les Biches" by Bronislava Nijinska, Bavarian State Ballet, © Wilfried Hösl 2014 |
| | 2. | Ensemble, "Les Biches" by Bronislava Nijinska, Bavarian State Ballet © Charles Tandy 2014 |
| | 3. | Ensemble, "Les Biches" by Bronislava Nijinska, Bavarian State Ballet © Wilfried Hösl 2014 |
| | 4. | Javier Amo, Maxim Chashchegorov, Matej Urban (Three Athletes) and ensemble, "Les Biches" by Bronislava Nijinska, Bavarian State Ballet © Wilfried Hösl 2014 |
| | 5. | Tigran Mikayelyan (The Faun) and ensemble, "L'Après-midi d'un faune" by Vaslav Nijinsky, Bavarian State Ballet © Charles Tandy 2014 |
| | 6. | Daria Sukhorukova (Zobéide) and Lukáš Slavický (The Golden Slave), "Schéhérazade" by Mikhail Fokine, Bavarian State Ballet © Charles Tandy 2014 |
| | 7. | Daria Sukhorukova (Zobéide) and Lukáš Slavický (The Golden Slave), "Schéhérazade" by Mikhail Fokine, Bavarian State Ballet © Charles Tandy 2014 |
| | 8. | Vincent Loermans (The Chief Eunuch) and ensemble (on May 30 Vittorio Alberton was the Chief Eunuch), "Schéhérazade" by Mikhail Fokine, Bavarian State Ballet © Charles Tandy 2014 |
| | 9. | Daria Sukhorukova (Zobéide) and Cyril Pierre (Sha Shariar), "Schéhérazade" by Mikhail Fokine, Bavarian State Ballet © Charles Tandy 2014 |
| Editing: | | Laurence Smelser, George Jackson |