"Ballet Gala 2014"
Mainfranken Theater
Wuerzburg, Germany
July 07, 2014
by Ilona Landgraf
Copyright © 2014 by Ilona Landgraf
Halfway between Frankfurt and Nuremberg lies Wuerzburg, a medium-scale town in Lower Franconia. It happens to be my seat of residence but it's not a Mecca for dance. That's why I usually head elsewhere to see performances. This year's Ballet Gala at the Mainfranken Theater, however, offered some highlights I didn't want to miss.
The Mainfranken Theater's own ensemble presented only one piece. The rest of the program was left to guest artists from smaller companies all over Germany and to a duo from the Czech National Ballet in Prague. Anna Vita, artistic director of Wuerzburg's ballet company, and her dramaturge, Christoph Blitt, moderated the evening – basically a good idea if it had set the right tone. But to start by naming all the sponsors and relate what is in the program notes was a mood killer and rendered the playbill's description of the pieces unnecessary. We are capable of reading!
"Déjà vu" (choreography by Petr Zuska) was the Prague dancers' pas de deux. It's a charming little study of gender stereotypes and switching roles. Alina Nanu and Alexandre Katsapov took possession of each other's clothes, piece by piece. It's an entertaining duo which was delivered with a nice sense of humor and has the potential of becoming a gala favorite!
Gelsenkirchen's 'Ballett im Revier' showed the finale of "Soot – A Story of Cinderella" by artistic director Bridget Breiner. Breiner, who danced with the
Bavarian State Ballet, the Semperoper Ballet and the Stuttgart Ballet, attains a respectable level of quality with her small company. This excerpt, danced by the expressive Kusha Alexi and Joseph Bunn, whetted one's appetite for the whole of "Soot".
Rather lengthy and repetitive was Roberto Scafati's "Simultaneous" ("Gleich Zeitig"), a work for five men and one woman, danced by Theater Ulm's ballet. Scafati grappled with the human sense of time on a rather dark stage. Maybe the entire piece is more attractive than this excerpt. Mauro Bigonzetti's duet
from "Rossini Cards" depicted two lovers (Jaqueline Bâby, Mark Radjapov) who move and balance gravely, striking one sculptural pose after another. Was this piece chosen to spice up the evening with a bit of eroticism? Both dancers looked naked – except for skin-colored underpants.
Other pas de deux ranged from being irrelevant to being downright silly. Acceptable was an excerpt from Rui Horta's "Khôra", danced by Caitlin-Rae Crook and Michael Bronczkowski of the Dance Company Gießen. Although how "Khôra" reveals the essence of the human being and attains light from out of darkness – mentioned pompously in the playbill – remained a mystery for me.
The National Theater of Mannheim presented "We will", bland and vacant choreography by its director Kevin O'Day, about … – well, about the relationship of a man and a woman. The gala hit its artistic bottom with the balcony scene of "Romeo and Juliet" in a version by Ralf Rossa, director of the ballet in Halle. Pity both Yuliya Gerbyna and Michael Sedláček who had to dance this silly distortion of Shakespeare's classic. Also annoying were two solos: Annamari Keskinen dealt with the topic of horror films in "Cold Bright She", a work by
Shannon Gillen, dancer of the State Theater Kassel, who kept Keskinen busy with jumping around in front of a video screen that displayed words and sentences. Lacking in the dancing and endeavor was any power to impress. The other solo was about the physical equation for weight and force, entitled "P = mg". Jann Gallois danced this, her own creation. She tried forever to defeat gravity and rise up on her feet. Her company has too true a name – 'BurnOut Company'. Maybe the piece would work if it were shorter, cut by 75%, but the way it is currently presented is unacceptable.
Inevitably, an interlude of breakdancing completed the first part of the program. Four cool guys from 'DanceEncore Würzburg' put the audience into a racy mood for the program break itself.
Stuttgart's dance scene was represented twice: State Ballet Karlsruhe performed Eric Gauthier's "Chikara", which emulates Japanese drumming. Gauthier is an ex-Stuttgart Ballet dancer and heads Stuttgart's Gauthier Dance Company. Much more interesting was a work by Louis Stiens, a corps dancer of Stuttgart Ballet and an up-and-coming choreographer. His works were not only shown at Stuttgart's Noverre evenings, but also have opened
major tennis tournaments. Stiens created a six minute piece, "Frosty Summers", to music by Deap Vally. The cast consisted of three dancers from Mainfranken Theater's ensemble. Its style, reminiscent of that of Stuttgart Ballet's resident choreographer Marco Goecke, vouched for Stiens' Stuttgart connection. The Wuerzburg trio – Camilla Matteucci, Timothy Szczepkowski-Collins and Aleksey Zagorulko – had obviously had been inspired with Stuttgart Ballet's charisma by Stiens. They were in remarkably strong shape!
The gala's most appealing guests came from Hamburg and Dresden: Otto Bubeníček (Hamburg Ballet – John Neumeier) and his brother Jiří Bubeníček (Semperoper Ballet Dresden). Both lit up the gala as only high-end professionals can. Jiří
Bubeníček's signature choreography "Le Souffle de l'Esprit" to music by Johann Pachelbel and by Otto Bubeníček, generated the right atmosphere as the entire evening's opener. Otto and Jiří, together with Jón Vallejo also from Semperoper Dresden's ensemble, danced the "Canon in D major" from 'Souffle', radiating playful, nonchalant elegance and a light, relaxed air. The brothers concluded the evening with another piece they are well-known for: "Les Indomptés" by Claude Brumachon. It is an enormously expressive pas de deux, angular and brusque, but also has moments of affection. It fits the two perfectly. Although connected as only identical twins can be, the Bubeníčeks have distinct personalities. As artists, they are certainly indomitable.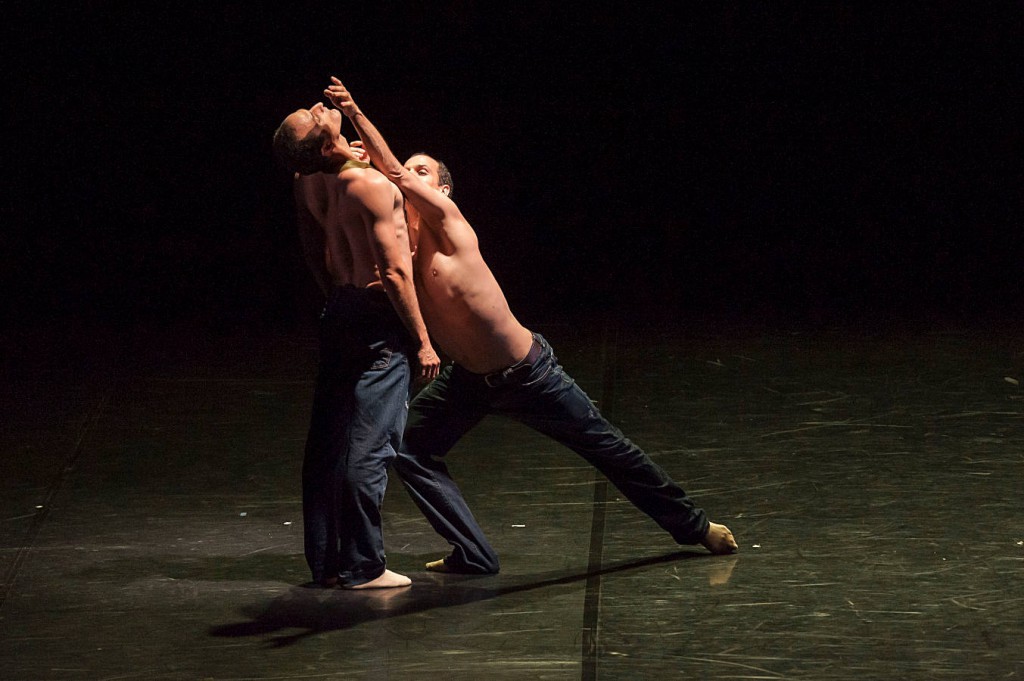 | | | |
| --- | --- | --- |
| | | |
| Links: | | Mainfranken Theater's Homepage |
| Photos: | 1. | Otto Bubeníček, Jiří Bubeníček and Jón Vallejo, "Le Souffle de l'Esprit" by Jiří Bubeníček, National Theater Prague, © Martin Divíšek |
| | 2. | Otto Bubeníček and Jón Vallejo, "Le Souffle de l'Esprit" by Jiří Bubeníček, National Theater Prague, © Martin Divíšek |
| | 3. | Alexandre Katsapov and Alina Nanu, "Déjà vu" by Petr Zuska, National Theater Prague, © Lioba Schöneck |
| | 4. | Alina Nanu, "Déjà vu" by Petr Zuska, National Theater Prague, © Lioba Schöneck |
| | 5. | Kusha Alexi, "Soot – A Story of Cinderella" by Bridget Breiner, Ballett im Revier Gelsenkirchen, © Lioba Schöneck |
| | 6. | Kusha Alexi and Joseph Bunn, "Soot – A Story of Cinderella" by Bridget Breiner, Ballett im Revier Gelsenkirchen, © Lioba Schöneck |
| | 7. | Annamari Keskinen, "Cold Bright She" by Shannon Gillen, Shannon Gillen + Guests, © Lioba Schöneck |
| | 8. | Jaqueline Bâby and Mark Radjapov, "Rossini Cards" by Mauro Bigonzetti, Ballet Dortmund, © Lioba Schöneck |
| | 9. | Camilla Matteucci, Aleksey Zagorulko and Timothy Szczepkowski-Collins, "Frosty Summers" by Louis Stiens, Ballet of the Mainfranken Theater Wuerzburg, © Lioba Schöneck |
| | 10. | Timothy Szczepkowski-Collins and Camilla Matteucci, "Frosty Summers" by Louis Stiens, Ballet of the Mainfranken Theater Wuerzburg, © Lioba Schöneck |
| | 11. | Jiří Bubeníček and Otto Bubeníček, "Les Indomptés" by Claude Brumachon, © Lioba Schöneck |
| | 12. | Jiří Bubeníček and Otto Bubeníček, "Les Indomptés" by Claude Brumachon, © Lioba Schöneck |
| Editing: | | Laurence Smelser, George Jackson |