"Anna Karenina"
Ballet Zurich
Opernhaus Zurich
Zurich, Switzerland
November 29, 2014
by Ilona Landgraf
Copyright © 2014 by Ilona Landgraf
Adapting a complex novel of remarkable scale for a ballet is a courageous undertaking. Christian Spuck, Ballet Zurich's artistic director, took up the challenge. "Anna Karenina", his new work, premiered earlier this season. It is based on Leo Tolstoy's eponymous novel, more than one-thousand pages of intricate family histories, written within 1873 – 1878. Spuck boiled them down into a two-hour ballet. How did he approach this task and with what success?
Next to the triangle between Anna Karenina (Viktorina Kapitonova), her husband Alexei Karenin (Filipe Portugal) and her lover Count Alexei Vronsky (Denis Vieira), Spuck also portrays the other protagonists' love affairs as well as other lesser characters: Dolly's and the unfaithful Stiva's messed up marriage (Dolly: Galina Mihaylova, Stiva: Arman Grigoryan) as well as Kitty's and Levin's tentative approach to each other, their wedding and apparently happy rural life (Kitty: Katja Wünsche, Levin: Tars Vendebeek). Princess Betsy (Giulia Tonelli), a socialite with dubious morals, and her companion (Wei Chen) – a wimp whom she makes look like fool – are featured as is the rigid Countess Lidia Ivanovna (Eva Dewaele), Alexei Karenin's later life partner. The settings include those of Moscow's and St. Petersburg's high society, the Karenin's home, a farm harvest with hands at work (Levin's environment), the famous horse race, Anna's and Vronsky's sojourn in Italy and, of course, some train journeys to get from A to B plus Anna's last fatal encounter with a train.
One was well-advised to have read the novel in advance or, at least, to have closely studied the playbill's synopsis to sort out who's who and keep pace with the rapid happenings. Emmy Ryott's all dark costumes didn't help identify the protagonists in the prologue either. Later, with swooshing taffeta ball gowns, female characters became more colorful.
Spuck and Jörg Zielinski kept the décor simple: Three birch tree trunks in the left back corner plus a few on the right side of the stage to indicate Russian countrysides. Two chandeliers, sometimes a sofa and a few plain seating accommodations at the sides of the stage frame ball scenes and other indoor events. Black and white video projections show rattling steam locomotives and Vronsky's fatal fall at the horse race – a well-done scene – while huge black and white landscape stills serve as background scenery for the toil in the Russian fields and the stay in Italy. Movable platforms are, for example, turned into a tribune or railroad tracks.
Even though larger set changes weren't necessary especially the first half, crammed with ten scenes, was hectic. Repeatedly short cut sequences fragmented the plot into a succession of events. The projection surface for the videos, a white curtain, was pulled open and the platform adjusted. The action reeled off, the platform and the curtain were removed to quickly make room for the next scene. Hence some sequences failed to unfold their full dramatic effect, for example, the desperate Levin's solo at his country estate which was instantly followed by a lavish ball. Spuck seemed to have walked right into the trap he actually wanted to avoid – recounting the core plot of Tolstoy's novel and trying to turn into choreography what is written in the text. That's fatal, John Neumeier once stated, in reference to one of his own creations. Every ballet, even if based on a world-famous text, has to stand on its own.
Other scenes dragged unnecessarily on. Anna's and Vronsky's passion, for example, amounted to nothing more than a few ecstatic jumps and lifts followed by extensively rolling across each other over the floor. By contrast, how ingenious, nuanced and poignantly passionate is the
love depicted in Neumeier's "Lady of the Camellias" or John Cranko's "Onegin"! Why, moreover, did Spuck waste time by showing two or three times that Stiva and Dolly lack domestic bliss? We had already understood their relationship after one look into their salon. Why integrating the conceited Princess Betsy into the story? She's not a core figure, easily dispensable given the abundance of strands Spuck wanted to weave together. The same applies to the harvest scene for Levin and his field workers. Actually I liked its nice, serene group dance but taking time for the placid making of a cartload of hay while galloping through many other scenes was unbalanced.
To look deeper into Anna's inner conflict between her emotions for Vronsky and her social obligation towards her husband, Spuck invented a pas de trois at Karenin's home. Despite Anna's being visibly torn between the two men – held by one of them, she longed for the other – no truly gripping, dramatic atmosphere arose. The same happened when Anna became completely desperate after secretly visiting her son Sergei (Ludwig Hoefs). Also the two lovers' pas de deux when in Italy was pale. Except for Portugal, who was an aptly reserved and starchy Karenin, the
charmingly natural Vandebeek and Tonelli. who put on a show at her ball, that might be due to the dancers' restraint to imbue their roles from inside. It seems, however, more likely to be found in Spuck's choreography. When strong, authentic emotions should be brought across, Spuck on other occasions resorted to freezing images, in making the dancers pause or relying on lighting effects or, above all, using the music to express what he seems to have limited language for. In the middle of Vronsky's attempted suicide, for example, the light was
suddenly switched out and we were sent into the break.
"Often the music can tell much more than some steps" Spuck said in the playbill and exactly in this way he used it. Indeed, he has a knack for compiling expressive, punctuating music. This time he chose pieces by Sergei Rachmaninoff, Witold Lutosławski, Sulkhan Tsintsadze and Josef Bardanashvili complemented by Martin Donner's train rattling sounds. The Philharmonic Orchestra Zurich played flawlessly under the seasoned baton of Paul Connelly. Two of Levin's dances and Anna's drug numbed loneliness in the second act were accompanied by melancholic songs by Rachmaninoff sung by Anna Stéphany.
Spuck ventured a tricky task that deserves credit, even if the big drama simmered on low heat. Maybe next time.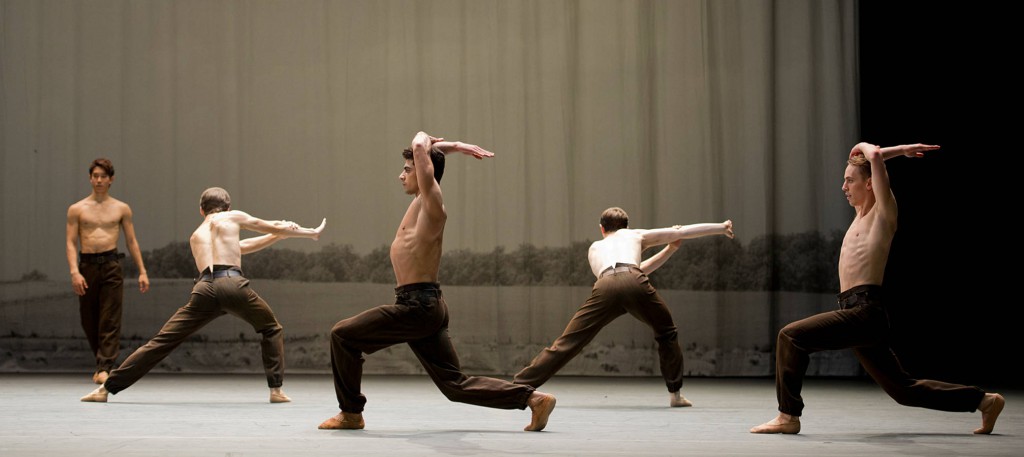 | | | |
| --- | --- | --- |
| | | |
| Links: | | Homepage of Ballet Zurich |
| Photos: | 1. | Viktorina Kapitonova (Anna Karenina) and Denis Vieira (Count Alexei Vronsky), "Anna Karenina" by Christian Spuck, Ballet Zurich 2014 |
| | 2. | Viktorina Kapitonova (Anna Karenina), Filipe Portugal (Alexei Karenin) and Ludwig Hoefs (Sergei Karenin), "Anna Karenina" by Christian Spuck, Ballet Zurich 2014 |
| | 3. | Viktorina Kapitonova (Anna Karenina) and Denis Vieira (Count Alexei Vronsky), "Anna Karenina" by Christian Spuck, Ballet Zurich 2014 |
| | 4. | Denis Vieira (Count Alexei Vronsky) and Viktorina Kapitonova (Anna Karenina), "Anna Karenina" by Christian Spuck, Ballet Zurich 2014 |
| | 5. | Arman Grigoryan (Stiwa, Prince Stephan Oblonsky) and Galina Mihaylova (Dolly, Princess Darya Oblonskaya), "Anna Karenina" by Christian Spuck, Ballet Zurich 2014 |
| | 6. | Filipe Portugal (Alexei Karenin), Denis Vieira (Count Alexei Vronsky) and Viktorina Kapitonova (Anna Karenina), "Anna Karenina" by Christian Spuck, Ballet Zurich 2014 |
| | 7. | Viktorina Kapitonova (Anna Karenina) and Filipe Portugal (Alexei Karenin), "Anna Karenina" by Christian Spuck, Ballet Zurich 2014 |
| | 8. | Tars Vandebeek (Konstantin Levin), "Anna Karenina" by Christian Spuck, Ballet Zurich 2014 |
| | 9. | Katja Wünsche (Kitty, Ekaterina Shcherbatskaya) Tars Vandebeek (Konstantin Levin) and ensemble, "Anna Karenina" by Christian Spuck, Ballet Zurich 2014 |
| | 10. | Wei Chen (Companion of Princess Betsy), Guilia Tonelli (Princess Betsy Twerskaya) and ensemble, "Anna Karenina" by Christian Spuck, Ballet Zurich 2014 |
| | 11. | Arman Grigoryan (Stiwa, Prince Stephan Oblonsky), Galina Mihaylova (Dolly, Princess Darya Oblonskaya) and ensemble, "Anna Karenina" by Christian Spuck, Ballet Zurich 2014 |
| | 12. | Surimu Fukushi, Andrei Cozlac, Tigran Mkrtchyan, Matthew Knight and Daniel Mulligan (Farm Workers), "Anna Karenina" by Christian Spuck, Ballet Zurich 2014 |
| | | all photos © Monika Rittershaus 2014 |
| Editing: | | Laurence Smelser |