"Forellenquintett" ("A-Life", "Wings of Wax", "Forellenquintett")
Ballet Zurich
Opernhaus Zurich
Zurich, Switzerland
November 28, 2014
by Ilona Landgraf
Copyright © 2014 by Ilona Landgraf
A high-tech artificial world confronting vivacious goings-on of trouts in a streamlet – that is roughly the basic point of Zurich Ballet's triple bill "Forellenquintett". The middle piece, a thought-provoking reflection about human hubris, about the shattered dream of commanding nature, is the connecting link between both extremes.
"A-Life" is Douglas Lee's first choreography for Zurich Ballet. "A-" stands for "Artificial". Artificial life is an object of research but also an art movement. In both cases computer simulations, robot technology and biochemical knowledge is used to focus on processes in life systems. Lee was interested in what happens when people, emotional beings, are confronted with the digitalized, abstract world; how, for example, an installation determines the movement of dancers.
His artificial world is a uniformly gray-white box-like room, evoking the feeling of being entrapped. Four huge spotlights, one in each corner, move up and down creating subtle shadows. Twelve dancers, seven women plus five men, populated the dreary space, all wearing full-body leotards in gray, their partly transparent tops having black seams along the spines (set and costumes also by Douglas Lee). This gray bunch moved like robots, like animated window mannequins, or jerkily like lizards in a gray world. Consequently the setting was not exactly attractive. Group actions were interspersed with pas de deux and pas de trois.
On some occasions single persons broke out of the group for a solo moment but were caught by peers again and again. Real emotions didn't surface. Women were regularly manipulated only as functional beings. No wonder, as Lee states in the playbill, that he perceives the dancers' bodies more as objects with different spatial alignments than as human. At one point the back wall was lifted and bright light flooded the box. Would the brightness of awareness dawn on this mini-population? The music, an assemblage of minimal music, was menacing and sometimes reminded one of a machine screeching for oil. It became more harmonious when the light shone in, but – alas – no one of the group took the plunge into what seemed a promise of intellectual freedom. Instead many of them lay flat on the ground under the side walls which had been raised about half a meter giving me the horrific thought that all would be beheaded together if the walls suddenly fell down.
Being in rank and file with all others was a core mode of behavior whether standing in the back turned away from the audience or whether moving in unison. At the end, after nearly twenty minutes, the gray beings reunified in a throng. Nothing had changed, no progress had taken place. "A-Life" is one-dimensional, boring and basically ugly. But maybe it depicts exactly how minds and souls wither away if people are overly occupied with and surrounded by artificial lives.
After Lee's soulless, artificial world, Jiří Kylián's "Wings of Wax" made one sigh with relief. Albeit the cosmos Kylián depicts seems to be
upside down, his sensitive instinct for the emotionality of relationships between people made one feel comfortably back in a vivid, humane world, even though neither the underlying story nor Kylián's choice of music promotes a cozy feeling of well-being. "Wings of Wax" refers to Icarus' downfall. Kylián's direct source of inspiration was the poem "Musée des Beaux Arts" by the English author W.H.Auden. Looking at Pieter Bruegel the Elder's painting "Landscape with the Fall of Icarus" Auden contemplates disasters, ordeals and terribly bad things happening nearby with no one caring. Daily routines simply proceed as if nothing has happened. An organic collocation of Heinrich Ignaz Franz Biber's mysterious "Passacaglia", Johann Sebastian Bach's
"Goldberg Variations" and music by Philip Glass, John Cage and Dimitry Sitkovetsky evoked a melancholic atmosphere imbued with an undefined desire.
The completely black stage walls provided space of indeterminable depth. In the middle hung a gray-white tree skeleton – a life tree? – upside down, which a spotlight steadily orbited counterclockwise (set design: Michael Simon). Four women and four men danced in various combinations but mainly in pas de deux. Their soft yet precisely executed movements flowed with the music, nimble footwork alternating with adagio passages. Arms swung as if bird wings. During jumps dancers occasionally shook the lower leg. Did they want to get rid of a hindrance which bound them to earth? A few times movement details seemed to be related with what Lee had used in "A-Life". A cross-reference, an artificializing of the older colleagues work?
In any case no one and nothing fell down from the heaven in "Wings of Wax", life in all its facets simply went on.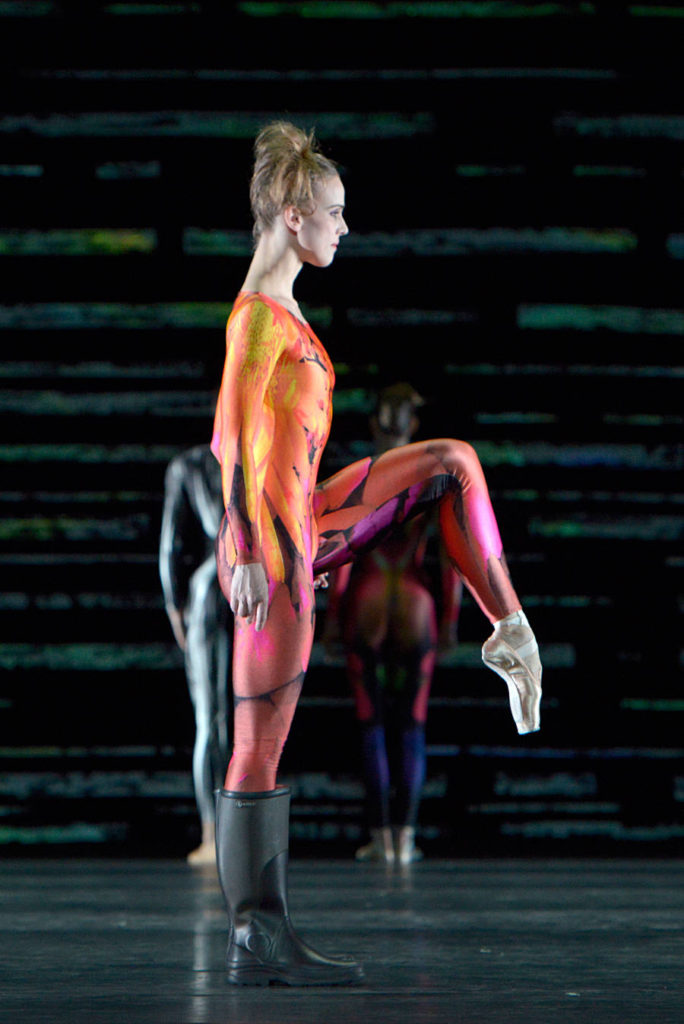 The evening's final piece, "Forellenquintett", lead one right back into the thick of life, as seen in the hurly-burly of a trout population. It was choreographed by Martin Schläpfer, artistic director of the Ballet am Rhein. Keso Dekker designed both the fish's habitat and skin. For the habitat he used dark gray back cloth completely covered with horizontal white stripes of various length and breadth. The side walls were veiled with an identical striped pattern blurring the exact localization of the side wings and turning the stage into a body of water, an indefinite, restless and shimmering space. Highly effective were Dekker's costumes, skin-tight leotards, silvery gray and black for the men and garishly colored for the women. Their bold patterns emphasized the dancers' anatomy in such a fascinating way that one can easily overlook Dekker's little biological inaccuracy: In nature usually the male animals are the colorful ones, while their females avoid to attract attention.
The eponymic music, "Forellenquintett" is by Franz Schubert and is based on a poem the Swabian Christian Friedrich Daniel Schubart wrote in 1783. The latter was imprisoned for political reasons at that time, thus his poem about a trout and its mischievous angler was a fable alluding to his own fate. In addition it was also a warning to young girls to be on guard about male seducers. Franz Schubert took the first three stanzas and dropped the fourth, which was about the moral of the story. His composition for viola, violin, violoncello, contrabass and piano is tuneful chamber music radiating an easy-going cheerfulness. At first, just after the five musicians had entered the orchestra pit, out of the loudspeakers roared "Don't Be Shy" by The Libertines, leaving one slightly puzzled. A group of dancers posed and paraded without a dash of shyness, except one seeming to stand intimidated in the corner.
After this prelude Schubert's jauntily rippling sounds took over. Below the water surface a lively round of love affairs reminiscent of Shakespeare's "Dream" or Arthur Schnitzler's "La Ronde" unfolded. One couple, for example, stood apart, dreamily looking into the distance, one woman enjoyed being spun around by her partner, and one man put all effort in impressing the woman of his heart with his solo but she did not even turn towards his courtship dance. There were self-confident singles but also a downcast one. An odd guy ordered a Beaujolais but was blown away by just looking at it. Wearing the pants his resolute but warmhearted wife – or mother? – quickly picked him up. Later he jumped about like Puck. Excerpts of Schubert's rhymes were read by a stooped loner, later a group of dancers walked across the stage also absorbed in reading the poem. However, danger threatened as oversized, golden gumboots slowly appeared overhead on the water's surface heralding the arrival of a resolute angler (Cristian Alex Assis). Katja Wünsche was his wriggling prey. How could anyone from the audience eat their next fish dish with any appetite after observing Wünsche being dragged out by the triumphant Alex Assis, her limbs awkwardly twisted in rigor mortis?
Schläpfer interwove classical with modern dance, mixed dry humor with pathetic or really touching scenes. A piece rich in variety and danced with verve! The company seemed as happy as a lark.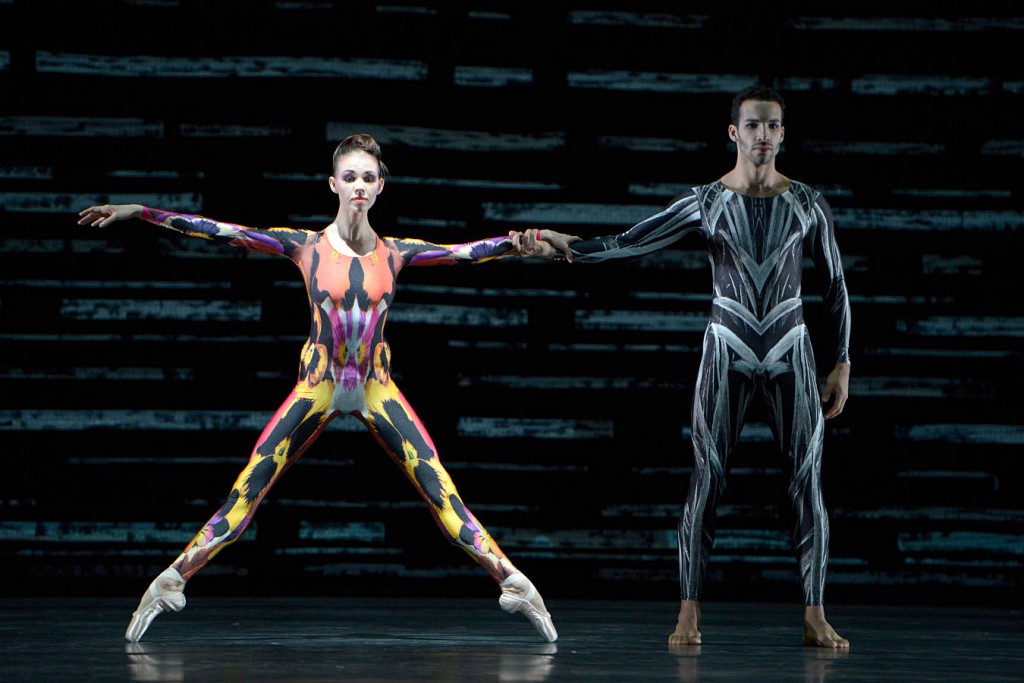 | | | |
| --- | --- | --- |
| | | |
| Links: | | Homepage of Ballet Zurich |
| Photos: | | (The photos show a partially different cast from an earlier performance.) |
| | | "A-Life" |
| | 1. | Juliette Brunner, Filipe Portugal, Ty Gurfein, Esther Pérez Samper, Mélissa Ligurgo, Cristian Alex Assis and Mélanie Borel, "Forellenquintett": "A-Life" by Douglas Lee, Ballet Zurich 2014 |
| | 2. | Wei Chen, Viktorina Kapitonova and Olaf Kollmannsperger, "Forellenquintett": "A-Life" by Douglas Lee, Ballet Zurich 2014 |
| | 3. | Ensemble, "Forellenquintett": "A-Life" by Douglas Lee, Ballet Zurich 2014 |
| | | "Wings of Wax" |
| | 4. | Yen Han, Wei Chen, Jan Casier and Esther Pérez Samper, "Forellenquintett": "Wings of Wax" by Jiří Kylián, Ballet Zurich 2014 |
| | 5. | Filipe Portugal and Viktorina Kapitonova, "Forellenquintett": "Wings of Wax" by Jiří Kylián, Ballet Zurich 2014 |
| | 6. | Filipe Portugal, Yen Han and Wei Chen, "Forellenquintett": "Wings of Wax" by Jiří Kylián, Ballet Zurich 2014 |
| | | "Forellenquintett" |
| | 7. | Katja Wünsche, "Forellenquintett": "Forellenquintett" by Martin Schläpfer, Ballet Zurich 2014 |
| | 8. | Cristian Alex Assis and Katja Wünsche, "Forellenquintett": "Forellenquintett" by Martin Schläpfer, Ballet Zurich 2014 |
| | 9. | Katja Wünsche, "Forellenquintett": "Forellenquintett" by Martin Schläpfer, Ballet Zurich 2014 |
| | 10. | Jan Casier, "Forellenquintett": "Forellenquintett" by Martin Schläpfer, Ballet Zurich 2014 |
| | 11. | Viktorina Kapitonova and Cristian Alex Assis, "Forellenquintett": "Forellenquintett" by Martin Schläpfer, Ballet Zurich 2014 |
| | | all photos © Bettina Stöß 2014 |
| Editing: | | Laurence Smelser |