"Raymonda"
Maryinsky Ballet
Festspielhaus Baden-Baden
Baden-Baden, Germany
December 21, 2014
by Ilona Landgraf
Copyright © 2014 by Ilona Landgraf
"Raymonda" in several aspects marks a turning point amidst the classics. Premiering in January 1898 at the Maryinsky Theatre it was Marius Petipa's last grand ballet before being gradually disempowered at the Imperial Theatre from 1903 on. By comparison, its score was Alexander Glasunov's first attempt at ballet music. Relatively unknown as composer, he had been chosen to fill the gap caused by Tchaikovsky's death in 1893. Though not pleased at first when he faced the kind of detailed array Petipa had used to predetermine Tchaikovsky's famous ballet scores, Glasunov nonetheless produced varied, colorfully romantic music which won him public appreciation. Albeit a pillar of the ballet repertory in Russia, "Raymonda" attracted little attention abroad possibly because of its unconvincing libretto. Set in medieval times in Southern France, it's about a young noble lady Raymonda who waits for her fiancé Jean de Brienne's return. Being an Hungarian knight, he's off crusading in the Holy Land. While preparing for the celebration of Raymonda's birthday (or, depending on the text source, name day) the Saracen knight Abderakhman appears as one of the well-wishers.
Enraptured by Raymonda but finding his courtship rejected he plans to abduct the young lady at the height of the festivities. Just in time Jean de Brienne comes back, fatally wounds his rival in an affaire d'honneur and the two lovers finally happily marry. Unfolding over three acts the thin storyline gives plenty of opportunities for dancers to entertain the guests with solos and various ensemble variations. Moorish and Spanish dances give the second act's divertissements – dominated by Abderakhman's presence – an oriental note while the third act's wedding is characterized by Hungarian folklore. It's a glamorous demonstration of the pure academical style of classical ballet that requires a ballerina with superb technique and stamina for numerous solo variations in the leading role.
In 1946 Alexandra Danilova and George Balanchine staged a revised version for the Ballet Russe de Monte Carlo, followed by several other choreographies (for example Balanchine's "Raymonda Variations" or Frederick Ashton's "Scène d'àmour") to Glasunov's music, but it was mainly Rudolf Nureyev who introduced "Raymonda" to western audiences. His first reconstruction of the ballet for the touring company of The Royal Ballet premiered in 1964 in Spoleto. Seemingly preoccupied by the subject, Nureyev mounted the ballet again and again, first for the Australian Ballet, then for Ballet Zurich and in 1975 for American Ballet Theater. Appointed artistic director of the Paris Opera Ballet, his first choreography in the French capital was "Raymonda" – his fifth and final version.
This time the Maryinsky Ballet opened its traditional year-end visit in Baden-Baden with "Raymonda". The version they brought was created by Konstantin Sergeyev after Petipa. It is supplemented with some choreographic fragments by Fjodor Lopuchov and was shown for the first time outside St. Petersburg. In the course of the holiday season the company will also present "Swan Lake", "The Nutcracker" and a gala.
The Maryinsky Orchestra with Boris Gruzin at the conductor's podium ensured that Glasunov's music sparkled in all its nuances. The painted set – the halls of a castle and a dreamlike garden image – is by Simon Wirssaladze, while Elena Zaitseva recently designed new, opulent costumes which changed with every act. Overall beautiful. but a bit less would have been better. For example, Countess Sybilla, Raymonda's mother, was overly made up. Neither her bright red lipstick nor her pinned up permed hair fitted medieval fashion. But, to be fair, the male corps de ballet should also have been saved from wearing ridiculous pageboy wigs and pink capes.
The impeccable Viktorina Tereshkina mastered the challenging role of Raymonda with perfection and with an ease that only a full command of technique can generate. She was at her best as a poised sovereign in her third act solo, danced to piano music. Admired by Baden-Baden's audience who greeted her first entrance with applause, Tereshkina seems comfortable being the star. Totally refined, sometimes almost mannered, she's, however, reticent in conveying emotions convincingly, rather giving preference to the polished surface.
As Jean de Brienne Vladimir Shklyarov partnered Tereshkina flawlessly. The few occasions he displayed his elegance and virtuoso jumps made one curious about how he would interpret deeper character roles since Petipa, per usual, focused on the role of the ballerina, leaving the men with rather bland parts. A prime example of this was the role of Abderakhman, the leader of the Saracens, danced by Yuri Smekalov. For the most part his range of expression was limited either to stretching his arms upwards and puffing himself up or waving around his large cape for effect. Nureyev, on the other hand, had invented a demanding, expressive and meaningful solo for the Saracen in his Parisian choreography – definitely an asset! Poor Smekalov, however, was trapped in Segeyev's version.
Throughout the three acts the ensemble demonstrated its technical prowess, no line was blurred, no step out of order. However, compared to Petipa's "Paquita" which was recently revived by the Bavarian State Ballet, I found the divertissements' choreography repetitive and seldom engaging. Mime scenes were stilted rather than being imbued with an inner need for expression. It's unlikely that eighty-year-old Petipa had lost his unerring eye for the structure and configuration of a vital, imposing ballet in "Raymonda". More probably Sergeyev has presented us with a diluted version of the original, which in Baden-Baden dragged on for approximately three hours. Even some of the young maidens on each side of the stage who had to watch the action gazed blankly into space whether or not Tereshkina placed her fine steps in front of them or the wounded Abderakhman fell to the ground. In 2011 Sergei Vikharev undertook a reconstruction of Petipa's original for the Ballet of the Teatro alla Scala. A comparison would be interesting!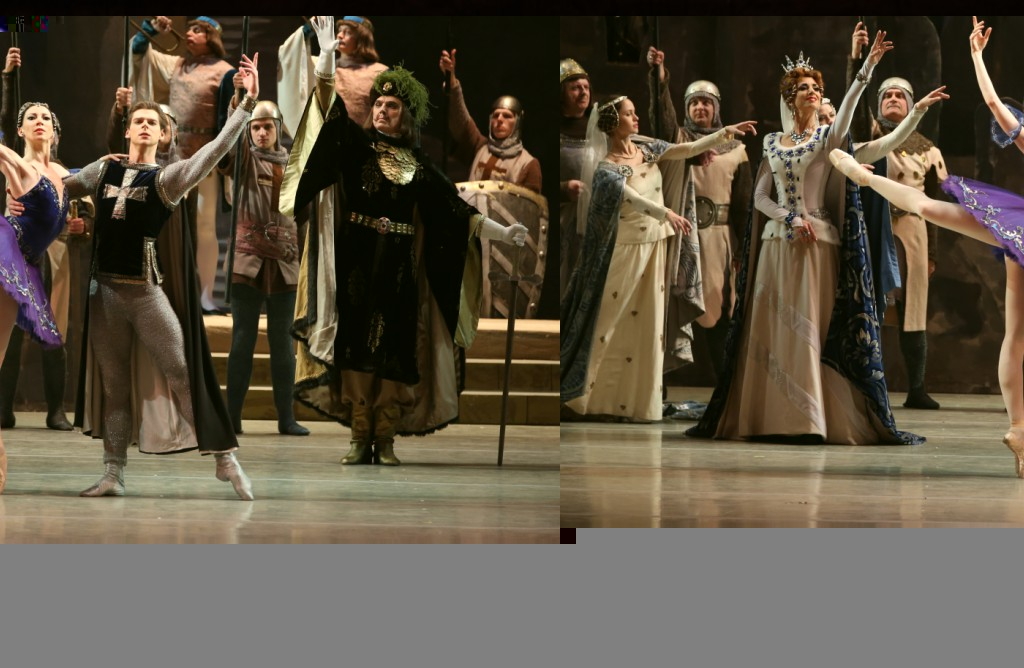 | | | |
| --- | --- | --- |
| | | |
| Links: | | Maryinsky Theatre's Homepage |
| | | Homepage of the Festspielhaus Baden-Baden |
| Photos: | 1. | Viktoria Tereshkina (Raymonda) and ensemble, "Raymonda" by Marius Petipa in the version of Konstantin Sergeyev and with choreographic fragments by Fjodor Lopuchov, Maryinsky Ballet 2014 |
| | 2. | Yuri Smekalov (Abderakhman) and ensemble, "Raymonda" by Marius Petipa in the version of Konstantin Sergeyev and with choreographic fragments by Fjodor Lopuchov, Maryinsky Ballet 2014 |
| | 3. | Viktoria Tereshkina (Raymonda) and Vladimir Shklyarov (Jean de Brienne), "Raymonda" by Marius Petipa in the version of Konstantin Sergeyev and with choreographic fragments by Fjodor Lopuchov, Maryinsky Ballet 2014 |
| | 4. | Viktoria Tereshkina (Raymonda) and Vladimir Shklyarov (Jean de Brienne), "Raymonda" by Marius Petipa in the version of Konstantin Sergeyev and with choreographic fragments by Fjodor Lopuchov, Maryinsky Ballet 2014 |
| | 5. | Elena Bazhenove (Countess Sybilla), Viktoria Tereshkina (Raymonda), Vladimir Shklyarov (Jean de Brienne) and ensemble, "Raymonda" by Marius Petipa in the version of Konstantin Sergeyev and with choreographic fragments by Fjodor Lopuchov, Maryinsky Ballet 2014 |
| | | all photos © Natasha Razina 2014 |
| Editing: | | Laurence Smelser |
| | | |