"The Nutcracker"
Hamburg Ballet – John Neumeier
Hamburg State Opera
Hamburg, Germany
December 23, 2014
by Ilona Landgraf
Copyright © 2014 by Ilona Landgraf
Shortly before Christmas Eve, Hamburg Ballet had some special candy in store, John Neumeier's "Nutcracker" with Alina Cojocaru as Marie and Otto Bubeníček as Drosselmeier. Bubeníček is the strongest of Hamburg's male dancers in this role and having the opportunity to see Cojocaru dance is a Christmas gift all by itself. The appearance of both had already been planned for last season but was cancelled due to Bubeníček being injured. Complemented by a strong cast, this year's run of "The Nutcracker" hence had a powerful start.
Inspired by John Cranko's "Nutcracker" Neumeier also separated his version from the Christmas Season. Nevertheless it's often scheduled at the end of the year. Any mice involved in fighting were eliminated by Neumeier. For him the story's core topic is the transition from being a child to becoming an adult. His story begins at Marie Stahlbaum's twelfth birthday party where she is presented with a wooden nutcracker – her companion throughout the ballet – and her first pair of toe shoes. The latter are a gift from Drosselmeier who is the ballet master of Marie's older sister Louise and Neumeier's homage to Marius Petipa.
Marie yearns to dance, but, being untrained, stumbles awkwardly around on her new shoes. Falling asleep after the guests' departure Marie is taken along in her dream by Drosselmeier to a rehearsal of the court ballet. She's fascinated, all the more so when meeting her brother's friend Günther in the ballet studio whom she had fallen for at her birthday party. Magically Marie and Günther dance a ravishing pas de deux before Drosselmeier introduces Marie to the procedures of a performance. Up to this point Neumeier kept the traditional divertissements but installed Drosselmeier as the master of ceremonies. Deploying his court theater's ensemble he presents Marie with the wealth of dance styles – classical and character dances of different national hues – until the young girl in the final scene wakes up from her dream in her home parlor.
Huge bonus points in the production are Jürgen Rose's gorgeous set and costumes. Hamburg's audience loves the piece, youngsters as well as long-standing dance aficionados, thus seat cushions for the little ones were, as usual, in high demand and a gentle buzz of excitement filled the air. It would be perfect if Hamburg's Philharmonic Orchestra could capture this atmosphere, adding additional punch to Tchaikovsky's music.
Praising Cojocaru's superb technique wouldn't get to the heart of what is unique about her dancing. Perfectly executed steps aren't solely the goal she aims for. Instead she uses her technique like a bird uses its wings to soar with masterful elegance. Avoiding extra-adornment or any artificiality, her interpretation conveys, even in the most intricate passages, naturalness, straightforwardness and authentic emotions. Cojocaru doesn't need pretentious acting to become the wide-eyed teenager Marie, who is amazed about herself and shares her happiness with Bubeníček when marvelously accomplishing a variation. She has preserved childlike genuineness, the rare quality to be personally open and honest. Watching her surprise and grateful humility when receiving a small bouquet at the curtain call says everything.
Bubeníček infused his Drosselmeier with exactly the right mixture of generous good-heartedness and authority to lead eager Marie on the right path, that is straight into his beloved world of the theater. An odd chap amidst the ordinary surroundings of a birthday party, he is completely in his element when in the studio or on stage. Bubeníček, blessed with pinpoint humor, relishes in sitting on the Stahlbaum's sofa, mocking the cadets' dance (as a matter of course they take revenge) and savoring the served alcoholic beverages. With X-ray vision, he neither misses the chance to jump in front of the camera lens at the right second, spoiling a group photo of the cadets, nor does he overlook the tiniest failure during the rehearsal of his ballet troupe. Waving his stick he arranges a foot here or lifts an arm there and though his instructions aren't always obeyed, his prima ballerina Louise (Leslie Heylmann) gives a sample of her sublime prowess, while one girl bursts into tears after being rebuked. Proudly being in the center of the action Bubeníček pulls all the strings. His sharply stretched finger when pointing out his intentions is magnetic. On every occasion he proves his dance mastery, be it at the birthday party or when intermingling with the dancers in the second half's divertissements. He's a likeable guy this Drosselmeier!
Alexandr Trusch was a formidable Günther. Recently promoted to the rank of a principal, Trusch has developed into a self-confident, charismatic dancer. The winsome smile he gives his ballerina must make her feel she's in safe company. Well-attuned to each other – both had already been paired together in Neumeier's "Giselle" – Cojocaru and Trusch excelled in a pas de deux whose sheer beauty sent one into rapture. Trusch's partnering of Heylmann went well too. Heylmann, in the role of Louise, radiated the poise of an assured ballerina. Submitting herself to the disciplined rigor of the training in the studio, she likes to bask in her own glamor when on stage.
In the divertissements Yuka Oishi shone as a peppy "Chinese Bird", Hélène Bouchet and Dario Franconi celebrated a perfect Egyptian pas de deux, while Silvia Azzoni as Esmeralda led her bunch of male jesters with a canny smile. As usual "The Dancing Lieutenants" – Konstantin Tselikov, Emanuel Amuchástegui and Aleix Martínez – gave a dashing show. The "Variation des hommes", however, needs polish. I missed Anna Polikarpova as Marie's warmhearted mother, Ms. Consul Stahlbaum. She had added an air of 'woman of the world' to the Stahlbaum's parlor before retiring from stage at the end of the last season. Miljana Vračarić in the role has yet to assume the manner of the lady of the house.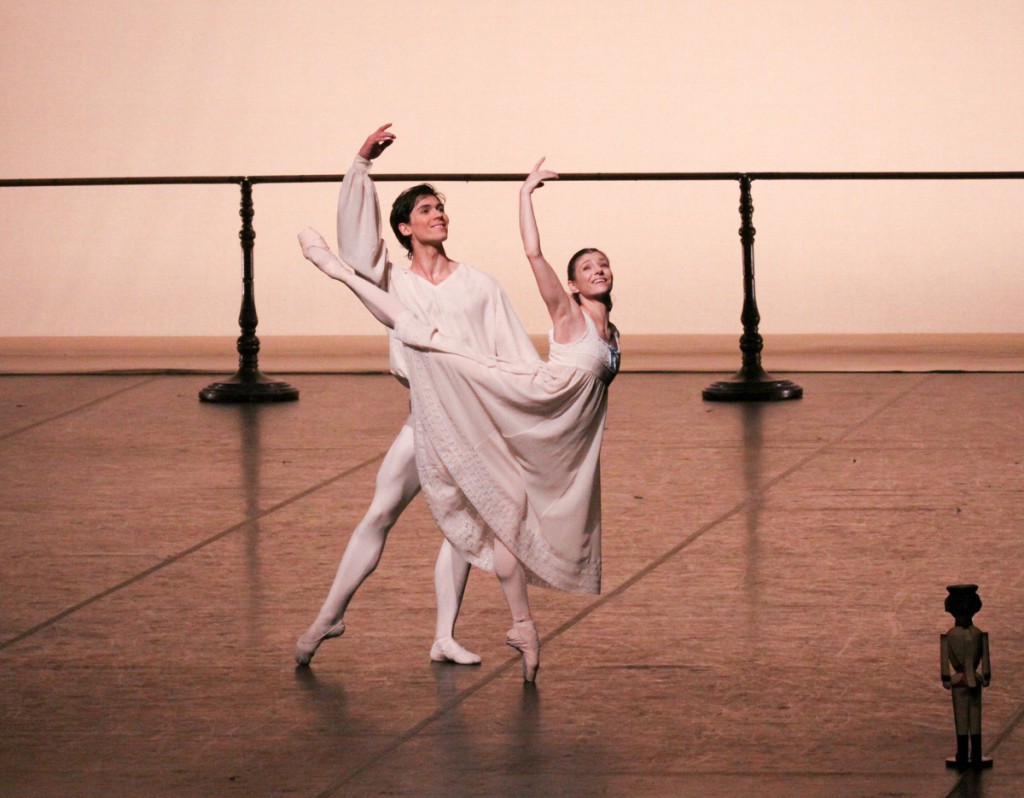 | | | |
| --- | --- | --- |
| | | |
| Links: | | Hamburg Ballet's Homepage |
| Photo: |  1. | Alexandr Trusch (Günther) and Alina Cojocaru (Marie), "The Nutcracker" by John Neumeier, Hamburg Ballet © Holger Badekow 2014 |
| | 2. | Alexandr Trusch (Günther) and Alina Cojocaru (Marie), "The Nutcracker" by John Neumeier, Hamburg Ballet © Holger Badekow 2014 |
| Editing: | | Laurence Smelser |