"Liliom"
Hamburg Ballet – John Neumeier
Hamburg State Opera
Hamburg, Germany
January 31, 2015
by Ilona Landgraf
Copyright © 2015 by Ilona Landgraf
"By the way we have to see how Dortmund played" a tall, athletic man said to his female companion when walking into Hamburg State Opera's auditorium in front of me. Saturdays are usually match days in the German Bundesliga. "Dortmund", or "Borussia Dortmund" respectively, was obviously the man's favorite club in the top tier of the German football league system. His companion, slightly annoyed, looked heavenwards. But after all she had made her football addict friend accompany her to a ballet evening. Maybe John Neumeier's "Liliom" was exactly the right choice to stir his cultural enthusiasm.
At least on first sight, its titular character Liliom fits perfectly into the cliche of a real man. He is a womanizer with plenty of brawn. Talking isn't his forte. Worse, looking closer, Liliom turns out to be a good for nothing dude. When not knowing how to deal with a situation, when feeling helpless, he can't stop himself from striking out. He is likewise quick to pull a knife, a macho man with a limited range of action alternatives who avoids at any cost exposing his innermost self.
Ferenc Molnár's "Liliom", a suburban legend written in 1909, served as Neumeier's text source. Molnár (1878 – 1952), a dramatist and novelist, was born in Budapest. He had his most noted time in the 1920s, when his stage plays, often Boulevard pieces, premiered either in Budapest or in Vienna. During World War II the cosmopolitan Molnár emigrated to the United States to escape the persecution of the Hungarian Jews. There he continued to write. "Liliom" in which he depicted the life of the the eponymous carrousel barker at a Budapest fairground, became his biggest international success. In 1945 the story was also turned into the Broadway musical "Carousel" with music by Richard Rogers and texts by Oscar Hammerstein, to which Neumeier alludes with several posters on the set.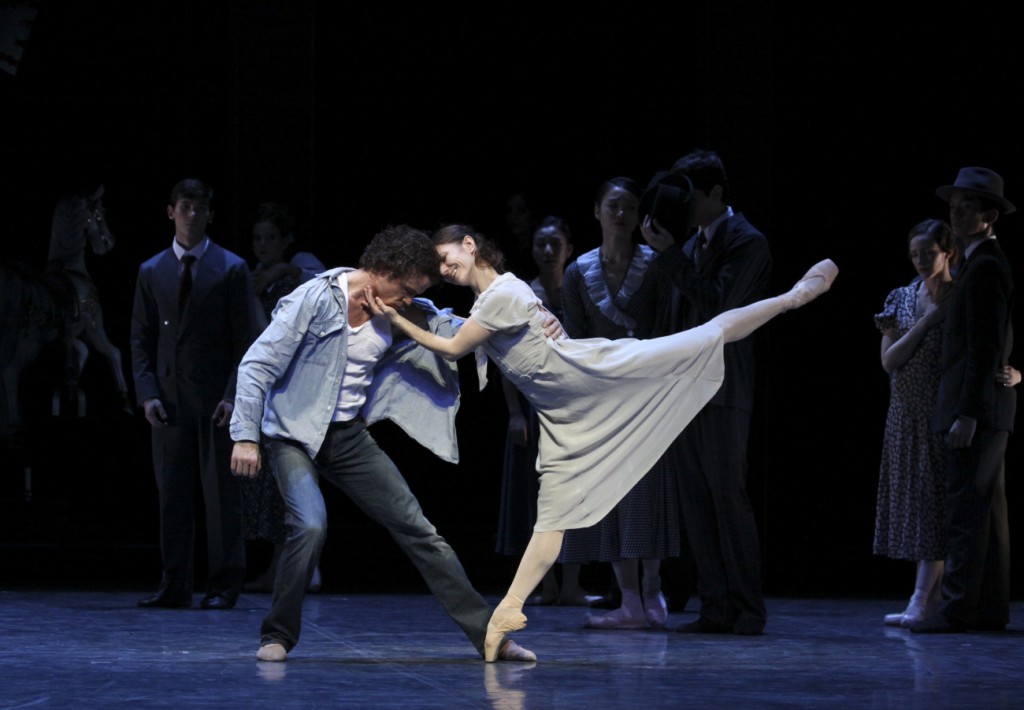 Never re-narrating a story but always staging his own reaction and interpretation of a text, Neumeier made some modifications to the original. He transferred the story to America in the 1930s when people were heavily hit by unemployment due to the Great Depression. The safe harbor of their dreams and hopes was "Playland" a fairground with a carrousel, fluorescent lights and a starry sky made of light bulbs. As times got increasingly hard, people's initial fairground frolic was suppressed by a desperate hunt for a job.
Ms. Muskat (Anna Laudere), the carrousel's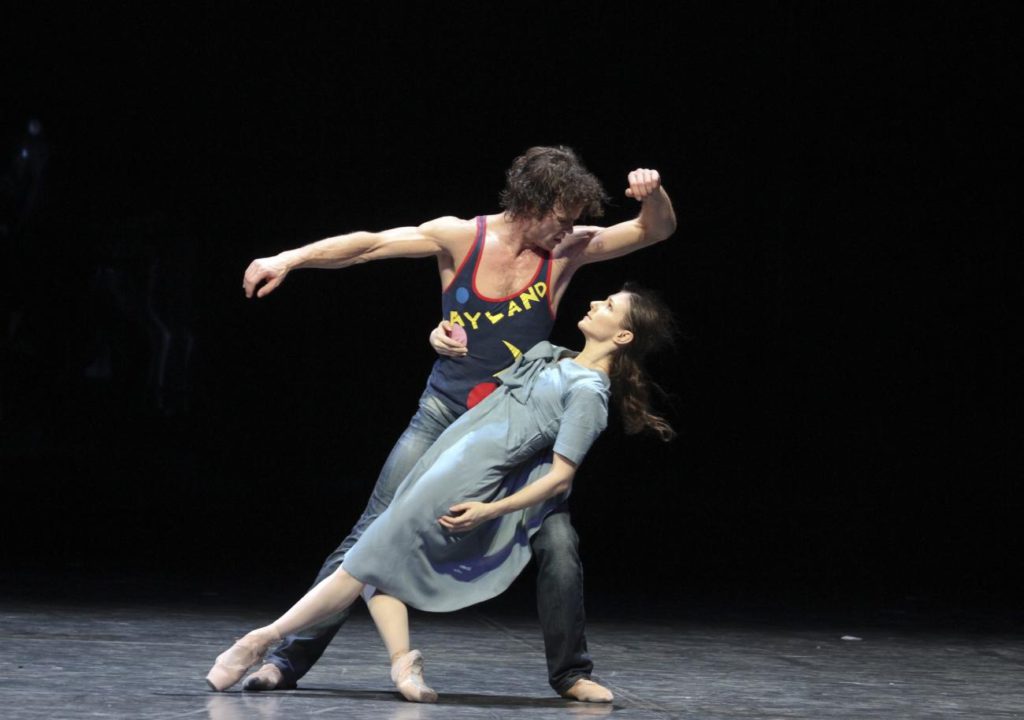 owner, was a blonde with a fur cape. On the one hand she needed Liliom (Carsten Jung) as a magnetic figure for the young, mainly female, visitors – and he for his part depended on her money. On the other hand she was smitten by his sex appeal and Liliom, a ladies' man, was all too pleased to get into and stir the fire. Both were entangled in a web of mutual dependence. I remember Anna Polikarpova's Ms. Muskat at the premiere. Sexy, seductive, a full-blooded woman. Laudere by comparison had less allure and depicted rather a bitch than a big cat. Naturally the young, naive waitress Julie (Alina Cojocaru) became a bothersome nuisance for Ms. Muskat when she fell in love with Liliom.
As a symbol of the general plight Neumeier added a clown figure (Zachary Clark), quoting one of the most popular clowns in American history, Emmett Leo Kelly. Kelly was not a common jester but the embodiment of a loser, a tramp. Liliom's and Julie's offspring, in the original the girl Luise, was transformed by Neumeier into a son Louis. Joseph Marchini was the young boy Louis, Aleix Martínez danced the role of the older one. Like in Molnár's version, Liliom wasn't able to witness his son growing up. Instigated by the villain Fiscur (Dario Franconi) Liliom thoughtlessly fancied getting some money to support the pregnant Julie by committing a robbery. Ms. Muskat would be Fiscur and Liliom's victim. However Liliom got caught by the police. Deeming his situation hopeless he stabs himself. Not out of bravery but merely the simplest escape for one who is actually ashamed of himself. Arriving in heaven he is eventually shown mercy by the celestial court headed by an official with gelled hair (Marc Jubete).
After sixteen years in purgatorial fire Liliom is allowed to come back to earth for redemption. But he blunders seriously when trying to impose his gift – a light bulb-"star" stolen in heaven – on his son. In the heat of the moment he again strikes a blow. "He is beyond help", Molnár's two divine detectives seem to think when finally collecting Liliom. As in other choreography Neumeier partly anticipated the end of the story in a prologue and, in an important twist, eliminated the detectives. His Liliom subtly transforms. Though still harboring outbursts of violence towards Louis, Liliom, already ethereal and about to return to the otherworld, for the first time is able to express tentative love for Julie. A little step towards becoming humane. Carsten Jung fit the role like a glove. He was absolutely convincing.
Whether times were good or bad, a man in black (Sasha Riva) repeatedly crossed the scenes holding a bunch of balloons. Colorful balloons represented the people's lofty (or little) dreams and hopes, whereas white balloons helped the dead Liliom to ascend to heaven. No single balloon burst – a good sign! Once Riva also let paper chips rain down on Julie and Liliom – a shower of jackpots? Or blanks?
A vital element in creating appropriate atmosphere is the superb music by Michel Legrand. The french composer is known for his film music and jazz. For "Liliom", his first foray into ballet music, he combined orchestral sounds, played by the Philharmonic Orchestra Hamburg in the pit, with snappy American rhythms of the NDR Big Band. The latter was installed on a platform on stage above Playland. An excellent idea!
Set designer Ferdinand Wögerbauer's Playland glowed colorfully at first but, years later, was rundown. From time to time one could catch a glimpse of other fairground performers: acrobats, jugglers, oriental women or, for example, dancers from a circus. Some scenes play at the fair, others behind where young, courting couples meet on a park bench. Here Julie and Liliom also met for the first time. It is a place of memories that Julie returns to after Liliom's death. Later Wögerbauer allowed Liliom to watch earthly matters from his purgatory through a small window which is really only a square hole torn out of a separating wall. On the other side of the wall – heaven's side – a blue, wide horizon beckons promisingly. But mortals, pressed by sorrows and trapped in a bubble of daily routines, were usually unaware of the freedom beyond. Only Julie's perception was not limited. She was able to feel Liliom's energetic presence in the final scene reassuring and comforting her. Though sitting alone on the bench, Julie radiated quiet happiness.
After the piece's premiere in late 2011 a big German newspaper's critic complained that Cojocaru would sit for what felt like an eternity on the park bench, always wearing the same gray tunic dress, while she adored Jung's Liliom. Should Neumeier, who had also taken on the costume design, have dressed Julie in the latest fashion instead? A woman at the lower end of the social ladder in the midst of the Great Depression? Had the critical lady really watched Cojocaru's subtle acting? Had she noticed how shy and awkward Julie was, how she wiggled her feet back and forth, dreamily playing with a single balloon while witnessing her friend Marie's flirtations with Wolf Beifeld, a neatly uniformed porter? So many details worthy of attention! Julie wished to have a boyfriend too but her heart was big enough to be glad for Marie. Liliom's role came into play later and his and Julie's park bench encounters were equally touching. Leslie Heylmann and Konstantin Tselikov gave winning performances as Marie and Wolf Beifeld. They prospered remarkably in the following years but, albeit slightly conceited, remained a likeable couple.
Tselikov's Beifeld was an especially funny guy. Julie by contrast was left as single mother. Every day Louis reminded her of Liliom. The son's character resembled his father's, the same aggressions, the same helplessness, the same dreams – a little Liliom. Martínez danced him powerfully. Well done!
Why was Julie faithful to the brutal, emotionally disturbed Liliom after all that had happened? Mercifulness? No, she had no air of pity. She rather acquiesced in his and later Louis' poor conduct. The short, feather-light Cojocaru depicted a strong, unswerving Julie whose love was so deep that she endured every stroke of fate. One of her most powerful moments – and she had many – was when mourning the dead Liliom. What shortly before had been the wedding table at Marie's and Beifeld's wedding party became Liliom's bier. Watching Cojocaru's pain when embracing the corpse, when holding it tightly, pulled at one's heartstrings. The scene could have easily slipped into sentimentality but not with Cojocaru! To me this mourning scene seems more difficult to portray than the finale in "Romeo and Juliet". The latter leaves one with a feeling of "at least the lovers will be happily united in the afterlife". But in "Liliom" Julie has to cope with being alone for the rest of her life. Moreover she only knows through his soul's energy that Liliom really loved her. During his lifetime he hadn't expressed much affection.
In 2011 I had found the fairground scenes crammed, some pas de deux extended and, though I knew Molnár's story, the proceedings a bit confusing. But maybe exactly this mixture hits the crucial point. Today's society basically isn't different from the one in the 1930s. People hurl themselves into superficial activities. There is never enough Playland to distract oneself – and those around oneself – from the misery that lies behind. Cojocaru led one to the essentials: true love, gratefulness for little things, unpretentiousness. One couldn't do otherwise than follow her.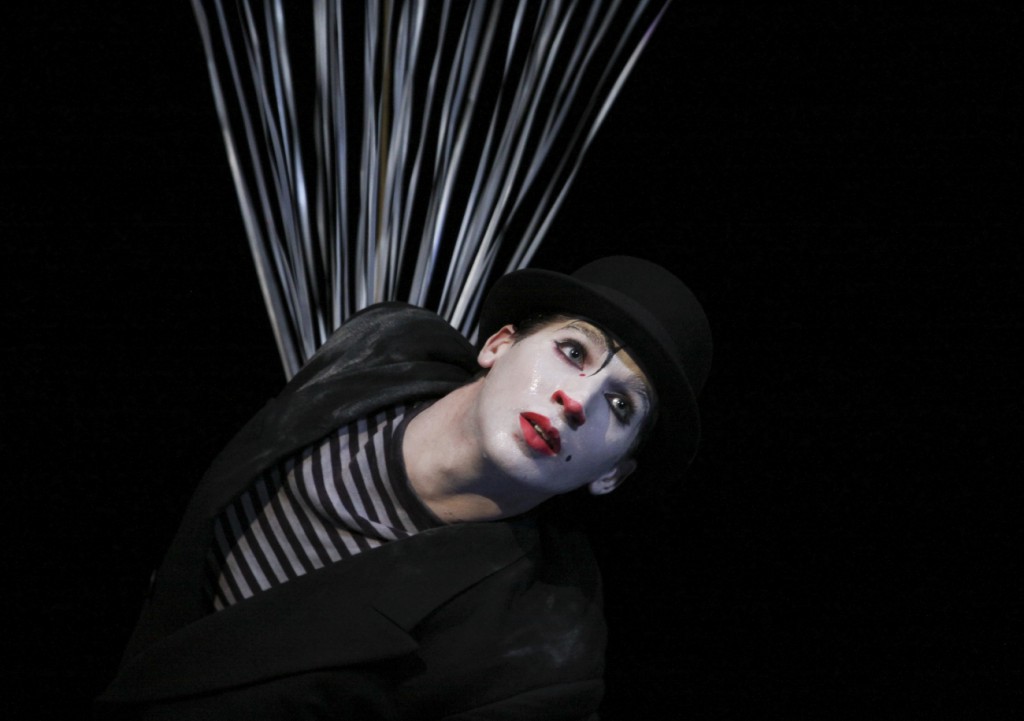 | | | |
| --- | --- | --- |
| | | |
| Links: | | Hamburg Ballet's Homepage |
| Photos: | 1. | Alina Cojocaru (Julie) and Carsten Jung (Liliom), "Liliom" by John Neumeier, Hamburg Ballet 2015 |
| | 2. | Carsten Jung (Liliom), Alina Cojocaru (Julie) and ensemble, "Liliom" by John Neumeier, Hamburg Ballet 2015 |
| | 3. | Carsten Jung (Liliom) and Alina Cojocaru (Julie), "Liliom" by John Neumeier, Hamburg Ballet 2015 |
| | 4. | Carsten Jung (Liliom) and Alina Cojocaru (Julie), "Liliom" by John Neumeier, Hamburg Ballet 2015 |
| | 5. | Alina Cojocaru (Julie) and Carsten Jung (Liliom), "Liliom" by John Neumeier, Hamburg Ballet 2015 |
| | 6. | Carsten Jung (Liliom) and ensemble, "Liliom" by John Neumeier, Hamburg Ballet 2015 |
| | 7. | Carsten Jung (Liliom) and Alina Cojocaru (Julie), "Liliom" by John Neumeier, Hamburg Ballet 2015 |
| | 8. | Alina Cojocaru (Julie), Aleix Martínez (Louis), Sasha Riva (The Balloon Man) and Carsten Jung (Liliom), "Liliom" by John Neumeier, Hamburg Ballet 2015 |
| | 9. | Sasha Riva (The Balloon Man), "Liliom" by John Neumeier, Hamburg Ballet 2015 |
| | | all photos © Holger Badekow 2015 |
| Editing: | | Laurence Smelser |