"Onegin"
Stuttgart Ballet
Stuttgart State Opera
Stuttgart, Germany
January 10, 2015
by Ilona Landgraf
Copyright © 2015 by Ilona Landgraf
John Cranko's "Onegin" is not only in the repertory of companies all over the world but for nearly fifty years has been revived time after time by its company of origin, the Stuttgart Ballet. The piece's charisma has not faded a bit. Jürgen Rose's set and the costumes are still drop dead gorgeous. In short, "Onegin" is a pearl of the repertory and a darling of the audience. In Stuttgart ballet connoisseurs flock into the opera to compare various casts or to witness a role debut. Just recently principal dancers of the Bolshoi Ballet guesting in "Onegin" caused a great rush. Some days later the opera house was again packed as Friedemann Vogel, the company's well-traveled premier dancer, danced for the first time as Onegin on his home stage. He had already made his role debut in Bangkok during the troupe's tour to Asia last fall. Many times he had portrayed the emotional poet Lenski but, having watched the piece since childhood again and again, Vogel was very familiar with the role of Onegin. This time the other central characters were danced by Alicia Amatriain (Tatiana), Elisa Badenes (Olga), Daniel Camargo (Lenski) and Roland Havlica (Prince Gremin) – truly a dream cast!

At his first encounter with Tatiana in her family's garden Onegin, though displaying perfect urbane manners, clearly felt he was a cut above the country nobility. He promenaded politely with Tatiana but displayed disdain for her reading. Teenager stuff! On the one hand he seemed interested in the young girl – Out of boredom and to divert himself? Or because of feeling vaguely attracted to her? – on the other hand he remained unapproachable. In any case his heart wasn't involved. Later, in Tatiana's dream, Onegin was a passionate lover. Smiling happily but only superficially he put on macho airs here and there. Tatiana, however, wasn't able to or didn't want to recognize that her feelings weren't reciprocated in the same intensity.
Back in reality Onegin poisoned Tatiana's birthday party with intolerable behavior. Her letter, in which she confided her affection made him shake his head about a little girl's silliness. He tore it to shreds without the least whiff of empathy. Apparently absorbed in playing cards but in fact secretly glancing at Tatiana, he was disgustingly conceited. Vogel only needed to raise one eyebrow which, together with a sharp-lined nose, generated a perfectly arrogant visage. However, he seemed to take real delight in pinching Lenski's fiancée Olga. Actually he was the most unbent when boisterously dancing with her leading up to Lenski's challenge to duel. It was a touching moment when Onegin's composure finally collapsed after shooting and killing Lenski in the duel. Ten years later, when unexpectedly meeting Tatiana again, Onegin still acted superciliously in St. Petersburg when entering the ballroom of Prince Gremin, Tatiana's elderly husband. Yet his facade had become very fragile. Hollow-eyed, hungry for emotional warmth, his arms hung limp, motionless and heavy when ultimately realizing what he had lost by neglecting the no longer ugly duckling Tatiana's love back then. Still he wasn't able to love with all his heart. Struggling desperately, he wanted to have Tatiana back to not feel his inner hollowness, to avoid facing the fact that he had thoroughly blundered in his life.
Amatriain portrayed the young Tatiana as an introverted, shy but very kind country girl. Excited and surprised by Onegin's courtesy she stood at the sidelines marveling at his dancing. It was her first infatuation and, inexperienced and naive as she was, she looked a bit awkward. However behind Tatiana's quiet nature and maybe fed by her reading, wild romantic dreams slumbered. They ran free in a voluptuous mirror pas de deux with Onegin. A brilliant idea by Cranko to have Onegin enter Tatiana's bedroom through the mirror the moment she watches herself! As if her mirror image had suddenly become the idolized man. Lifted high in the air by Onegin, Tatiana, overjoyed, was on cloud nine. Any grasp on common sense was lost. But that she would turn out to be the much stronger one soon became apparent shortly afterwards at her birthday party. Though deeply hurt by Onegin's rejection and aware of his observing, snide glances she bravely started her solo. Albeit close to tears she pulled herself together and started anew for a second round of dancing. But, when finally completely snubbed by Onegin who abruptly threw down the playing cards and jumped to his feet, Tatiana ran out of the ballroom crying. A bitter lesson for a young girl! But one decade later she had matured to a self-assured, elegant lady, a warmhearted, radiant, yet now the modest hub of refined society around her husband, Prince Gremin. Gremin was no passionate lover but rather radiated a sense of calm, a man one could rely on who had his heart in the right place. Thus the couple's relationship seemed affectionate and respectful. Tatiana's strongest moment was her final pas de deux with Onegin. Amatriain let go of a strict classical line in favor of expressing the emotional force. She was torn between answering Onegin's vehement assertion of love and her fidelity and obligation towards Gremin. True, her heart remembered the old love but at the same time her mind was aware of Onegin's shallow, selfish character. Fighting this battle out, rejecting Onegin, Amatriain excelled herself. Bravo! A utterly touching finale!
Earlier Olga's and Lenski's romance could have led into blissful matrimony. As on other occasions Badenes and Camargo were a dream team in these roles. Their natural lightness and perfection in their pas de deux was a delight. Light as a feather, Badenes mastered the technical demands with pleasure and ease. True sunshine on stage! The couple's amorous rapture spread to the audience and inevitably made one share their happiness. Completely lovestruck each of Camargo's looks were pervaded by his fondness. He is an excellent dancer, moreover handsome (actually the heart-throb of many girls and women alike who crowded the table where he and Badenes signed autographs during the break) and knew exactly how to capture the boisterous Olga. At least he thought he knew. Witnessing her gaily dance with Onegin at Tatiana's birthday hurt him so deeply that there was no retreat, once he had thrown down the gauntlet .
It would have been interesting to get to know Olga's future fate but Cranko didn't pursue this strand. He did, however, look humorously at the variety of the young generation's dalliances at Tatiana's birthday party and, by putting the older ladies and gentlemen into play as well, gave an idea what great love might turn into: Prominent tummies, frontal baldness, lower back pain and doddery movements that prevailed among the gray haired relatives. But how fashionable they were! Trousers with vertical stripes in pink! Quite bold! Hence plenty of examples for interesting character studies!
The corps de ballet danced spiritedly showing off Cranko's mastery of group choreography with bravura. Their diagonals in the first act with the series of supported jetès were especially breathtaking. It still works! Just as in 1969 when the company had its debut at the Metropolitan Opera raising the roof for the first time in the course of the evening with exactly these diagonals.
As always, the seasoned James Tuggle guided the State Orchestra Stuttgart sensitively through Tchaikovsky's score.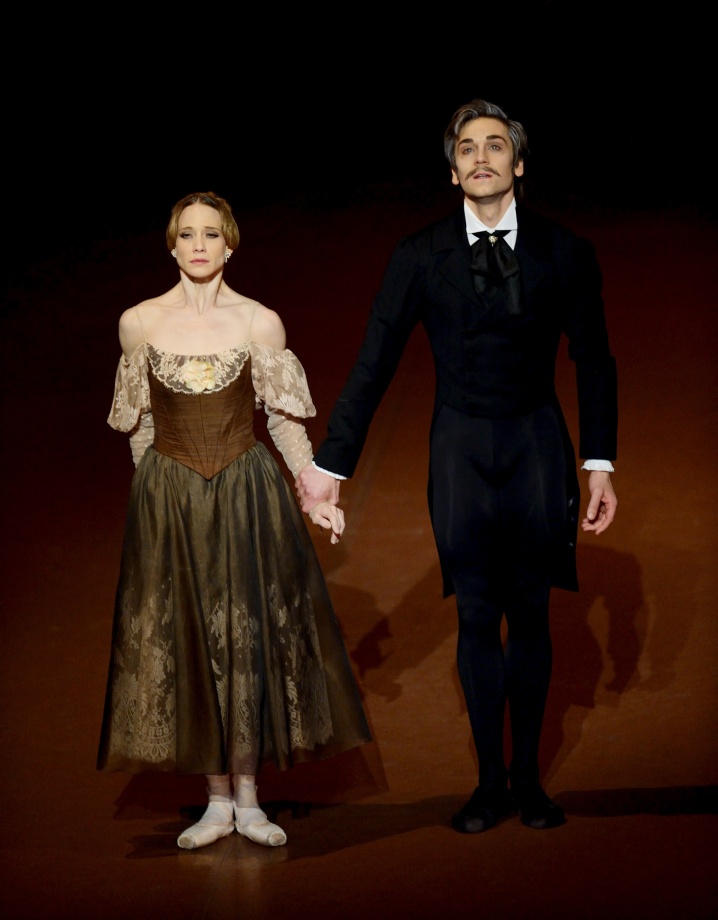 | | | |
| --- | --- | --- |
| | | |
| Links: | | Stuttgart Ballet's Homepage |
| Photos: | 1. | Alicia Amatriain (Tatiana) and Friedemann Vogel (Onegin), "Onegin" by John Cranko, Stuttgart Ballet 2015 |
| | 2. | Friedemann Vogel (Onegin) and Alicia Amatriain (Tatiana), "Onegin" by John Cranko, Stuttgart Ballet 2015 |
| | 3. | Daniel Camargo (Lenski), Elisa Badenes (Olga) and ensemble, "Onegin" by John Cranko, Stuttgart Ballet 2015 |
| | 4. | Elisa Badenes (Olga), Daniel Camargo (Lenski) and ensemble, "Onegin" by John Cranko, Stuttgart Ballet 2015 |
| | 5. | Alicia Amatriain (Tatiana) and Friedemann Vogel (Onegin), "Onegin" by John Cranko, Stuttgart Ballet 2015 |
| | | all photos © Stuttgart Ballet 2015 |
| Editing: | | Laurence Smelser |