"Multiplicity. Forms of Silence and Emptiness"
State Ballet Berlin
Komische Oper
Berlin, Germany
March 14, 2015
by Ilona Landgraf
Copyright © 2015 by Ilona Landgraf
In mid-February after taking over the reigns of State Ballet Berlin, Nacho Duato received damning reviews of the first Berlin premiere of his "Sleeping Beauty", an import that he had done in St. Petersburg, his debut as artistic director going badly. Shortly thereafter, Arte, a reputable television channel, broadcasted a documentary about Duato. But it did not silence the cries of naysayers who predicted the descent of State Ballet Berlin. Arte depicted an uprooted artist still struggling over his dismissal as director of the Spanish Compañía Nacional de Danza. Hired by a banana oligarch he had moved to St. Petersburg, becoming the artistic director of the ballet of the Mikhailovsky Theatre. Yet Duato remained a stranger. The film shows him struggling with communication problems and suffering from sleeplessness. He spent many nights smoking cigarettes, drinking red wine and soliloquizing on his smart phone. Almost twenty-five years ago Berlin had first wanted to hire him. Why was he called to Berlin again? An odd stroke of Berlin's cultural policy?
Was Duato able to iron out his false start with the second premiere, "Multiplicity. Forms of Silence and Emptiness"? The piece, making Johann Sebastian Bach's music its subject received its premiere 1999 in Weimar, then the European Capital of Culture. One year later the choreography was awarded the Prix Benois. Excellent credentials.
"Multiplicity. Forms of Silence and Emptiness" consists of two sections. The first part features the varied spectrum of Bach's compositions – comprising, for example, excerpts from the Goldberg Variations, a polonaise (BWV 1067), concerts and sonatas for harpsichord and violin or strings (BWV 1023, BWV 1065), the Musical Offering and a minuet from the Notenbüchlein for Anna Magdalena Bach, while the second, shorter part, "Forms of Silence and Emptiness", is reserved for some of Bach's serious music. Amongst others a choral prelude (BWV 957) and a church cantata (BWV 21) framed by excerpts from The Art of the Fugue. Unfortunately there was no live music!
The points of reference in this succession of numbers, some of them quite speedy, are the figure of Bach portrayed by the stiffly pacing Michael Banzhaf, appropriately donned with a white wig, and "the Death" depicted by Polina Semionova, wearing a white mask, a transparent black top and a black, long, swinging skirt.
For each musical number the dancers are dressed differently. The costumes (by Duato in collaboration with Ismael Aznar) and occasional lighting effects add some splashes of color to the overall dark set. Black, floor-length coats with garishly purple inner linings against a gray, church-like backdrop are real eyecatchers. Set designer Jaffar Chalabi installed a huge,
massive scaffolding at the back of the stage. Its three levels are connected by walkable ramps. Black curtains on the scaffolding, pulled closed or open, vary the views, although the overall darkness limits what there is to see.
Duato chose twenty-two musical excerpts in total, fifteen for the first part, seven for the second. While some of his ideas work out well others are tedious, even tasteless. Kévin Pouzou and Federico Spallitta catch one's attention with their supple pas de deux to a Polonaise. Though their golden skirts, a design halfway between short farthingales and wide boxer shorts, might not be to everyone's taste, I liked the coquetry of both when, for example, they saucily lift their skirts' lower borders. Elisa Carrillo Cabrera's expressiveness illuminates the stage in two excerpts. She is smoothly partnered by Rishat Yulbarisov. The group dancing which closes the first part is also well done. Starting with the dancers walking in a line it radiates an atmosphere of seriousness, of composed concentration. Meanwhile in the background, behind the scaffolding's pillars, Bach and a woman (Giuliana Bottino) – either Maria Barbara, his first wife, or Anna Magdalena, his second – have an amorous tête-à-tête.
However seeing Bach conduct an orchestra of bodies, each dancer resembling an instrument, or letting the men imitate fencing with the bows as their foils is trivial. Worse is the scene in which Bach plays with the bow all over a young woman's body (Giuliana Bottino) – an almost disgusting lapse of taste.
The second part offers little to make a lasting impression. To organ sounds the men speed through a group dance until one is separated out like the Chosen One making all others fall on their knees. Bottino tries to escape Death (Semionova) with a rescuing jump into Bach's arms but has no chance. Semionova, a hybrid creature partially like a sleek moray eel and partially like a jerkily moving lizard, catches her. Later, she rips Bach away from his source of inspiration and vitality, symbolized by a continuous flow of soft, spiritual light from above. Finally, when Bach is on his deathbed, the dancers line-up on the scaffolding's platforms like in an animated shadowbox.
Duato reels off scene after scene presenting some nice little things next to many trivia. He uses the star status of Polina Semionova to pull the crowd in, her return to the State Ballet as a guest dancer flattering his image. Semionova does well but is unchallenged. Her role can easily be danced by other ballerinas of the company as well. Duato, however, seems unaware of what kind of signal he is sending to his audience and the company when taking Semionova's hand at the curtain call to walk to the forestage while Banzhaf, the piece's leading character, is left behind in the second row. Duato did not even stay with his dancers until the curtain closed. Instead, maybe feeling uneasy, he walked off stage after looking into the wings several times. A behavior he repeated again after returning to the stage. Where does he feel he belongs to now?
The playbill rates"Multiplicity. Forms of Silence and Emptiness" as one of Duato's key works. Thus one should expect some profound statements about the piece in the playbill but – no such chance! The small brochure provides meager information. Its grayish-black layout exemplifies State Ballet Berlin's new media appearance: all black. Receiving a letter from the press department might cause a little shock because the black border in the envelope's window makes one think of getting a death notice at first. In short: a funereal look.
State Ballet Berlin wasn't permanently flying high during Vladimir Malakhov's era as director. It is time that the dancers get a chance to show off their talents in a well-wrought program. Someone of high caliber should be at the company's helm. It is questionable whether Duato was the right choice. At the premiere party he ended his short speech toasting the audience and stating "I love Berlin!". Let's hope he soon manages it so that Berlin falls in love with him too.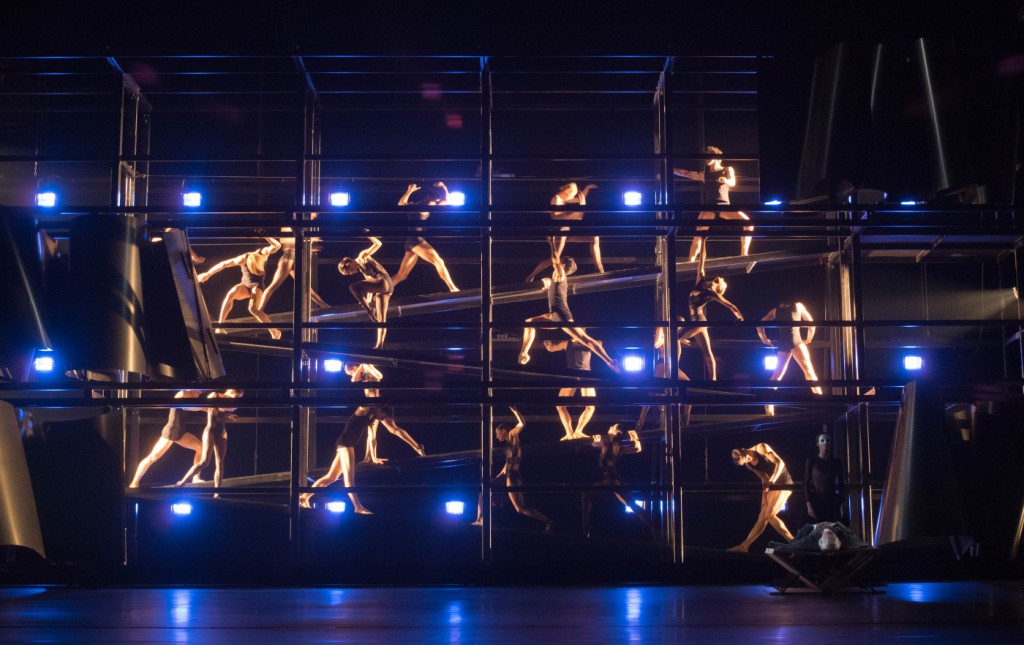 | | | |
| --- | --- | --- |
| | | |
| Links: | | State Ballet Berlin's Homepage |
| Photos: | 1. | Michael Banzhaf (Johann Sebastian Bach) and ensemble, "Multiplicity. Forms of Silence and Emptiness" by Nacho Duato, State Ballet Berlin 2015 |
| | 2. | Michael Banzhaf (Johann Sebastian Bach) and Giuliana Bottino, "Multiplicity. Forms of Silence and Emptiness" by Nacho Duato, State Ballet Berlin 2015 |
| | 3. | Federico Spallitta and Kévin Pouzou, "Multiplicity. Forms of Silence and Emptiness" by Nacho Duato, State Ballet Berlin 2015 |
| | 4. | Ensemble, "Multiplicity. Forms of Silence and Emptiness" by Nacho Duato, State Ballet Berlin 2015 |
| | 5. | Polina Semionova, "Multiplicity. Forms of Silence and Emptiness" by Nacho Duato, State Ballet Berlin 2015 |
| | 6. | Elisa Carrillo Cabrera, Rishat Yulbarisov and Michael Banzhaf (Johann Sebastian Bach), "Multiplicity. Forms of Silence and Emptiness" by Nacho Duato, State Ballet Berlin 2015 |
| | 7. | MichaeJafar l Banzhaf (Johann Sebastian Bach) and ensemble, "Multiplicity. Forms of Silence and Emptiness" by Nacho Duato, State Ballet Berlin 2015 |
| | | all photos © Fernando Marcos 2015 |
| Editing: | | Laurence Smelser |