"2. International Ballet Gala"
Ballet of the State Theater Nuremberg
State Theater
Nuremberg, Germany
March 20, 2015
by Ilona Landgraf
Copyright © 2015 by Ilona Landgraf
Goyo Montero is in his seventh season as artistic director of the State Theater Nuremberg's ballet. Since then the Spaniard has established the troupe's reputation – nationally as well as internationally. Last weekend's ballet gala – the second since Montero took over the reins – gave ample proof that dance prospers in Middle Franconia's largest city.
Montero, son of a ballerina and a dancing and choreographing father, studied at the Royal Conservatory for Professional Dance in Madrid and the School of the National Ballet of Cuba. Amongst others he danced with the Deutsche Oper Berlin and the Royal Ballet of Flanders. Solidly rooted in classical dance, Montero explores contemporary movement vocabulary in his choreography. This season his company, twenty-two dancers, many of them his compatriots, present works by Nacho Duato, Johan Inger, Ohad Naharin in addition to Montero's own creations. In early July they will guest with "Cinderella" at the Chekhov International Theatre Festival in Moscow. Dance definitely has moved on from its former niche existence in Nuremberg!
This season's gala wasn't sparing with highlights: on the guest list were dancers from Stuttgart Ballet, Semperoper Ballet Dresden, English National Ballet, Les Ballets de Monte Carlo and Stanislavsky Ballet Moscow sharing the program with Nuremberg's troupe.
Two excerpts from Montero's "Black Bile" framed the evening, "Flow My Tears" as the opening, "What If I Never Speed" as conclusion, both group dances to music by John Dowland. Merging the dancers into one breathing organism, Montero plays with interesting formations. In "Flow My Tears" he lines the dancers up on the right side, then clusters them center stage,
after which they rush to the left or backside, one separating from the others for a solo. In between are some sequences on the floor, complemented by several light effects. Slightly too many ideas for a few minutes. "What If I never Speed" was, by comparison, pale but to be fair, after two hours of other works, rich in variety and high in quality. It would be difficult to be better. Montero's other contributions included the solo "Ave Maria" of Desde Otello" ("Since Otello"), expressively danced by Sayaka Kado, and "Come Again", an excerpt of "Benditos Malditos" ("Blessed Damned"). Montero choreographed the solo in 2008 for himself. Its inherent power was captivatingly expressed in organically fluent, energetic movements. Other dancers have performed "Come Again" in the past, three of whom presented it at the gala: Hirotaka Seki, Sául Vega, both members of Nuremberg's company, and Jón Vallejo from Semperoper Ballet. As on other occasions Vallejo again demonstrated his exceptional talent. He doesn't need to draw attention, he simply catches it the moment he enters stage. The shapes he draws are clearly expressions of an inner state of enlightenment. Watching Vallejo is always something special!
Special in other terms were the performances of ENB's Fernanda Oliveira and Yonah Acosta. Perfectly attuned to each other, they had already made their mark with the Cave Pas de Deux from Act II of "Le Corsaire" (staged for ENB by Anna-Maria
Holmes after Petipa and Sergeyev; ENB will tour the production to the Palais Garnier, albeit not until June 2016). Acosta, noted for his ballerina lifts – whereby one-hand versions seem like cakewalk to him – really shone in the "Don Quixote" pas de deux. The moment he appeared for his solo variation one instinctively felt that the Cuban was up to something sensational. He started with two stunning jumps that questioned the binding force of gravity, spun like perfect clockwork, and moreover with breath-taking speed, seemed to bounce like a rubber ball, as though entirely relishing the challenge. A charming teaser! Oliveira, in no way inferior, was his apt Kitri. Technically flawless, she admiringly indulged herself in her role: flirtatious looks, saucy playing around with her fan and, on top of this, perfect timing. Bravo to both!
Anna Ol and Alexey Lyubimov of the Stanislavsky Ballet seemed, by comparison, uncomfortable in their Black Swan Pas de Deux from "Swan Lake". They seemed so busy with the choreography (Grigorivich after Petipa) and partnering – the latter gradually smoothened – that they had little time to concentrate on acting. Lyubinov, moreover, is rather stiff and not a strong jumper.
By contrast, Anja Behrend and Stephan Bourgond were unconstrained and in very good spirits in their pas de deux from "Romeo and Juliet". Both dancers from Jean-Christoph Maillot's company in Monte Carlo presented the balcony scene from his 1996 choreography. It is a version in which the star-crossed lovers approach each other playfully. They tease each other, play tag with each other while, step by step, their dalliance becomes a serious affair. Behrend, a self-assured, sassy Juliet kept her lovestruck Romeo in suspense for quite some time until being struck by love's lightning.
An aura of ease and lightness radiated out of the "Canon in D Major", the centerpiece of Jiří Bubeníček's "Le Souffle de l'Esprit". It is a neoclassical piece to music by Otto Bubeníček and also Johann Pachelbel's music of the same title. Jiří transferred the score into beautifully fluent movements which sometimes seemed to derive from momentary impulses. He danced together with Jón Vallejo and Fabien Voranger, all three in the front line of Semperoper Ballet Dresden. I have seen "Canon" several times and it always makes me forget thinking. I just watch and enjoy.
When noticing that John Cranko's final pas de deux from "Onegin" was scheduled directly after "Canon" I at first worried if Myriam Simon and Alexander Jones of Stuttgart Ballet would be able to create the necessary dramatic atmosphere. However, after only two or three minutes, emotions crowded the stage. Simon perfectly balanced the final scene, when Tatiana ultimately turns down Onegin. Not hard hearted or arrogant but determined, though full of overwhelming desperation. Kudos to both! It's not easy to convey the intensity of a culminating pas de deux divorced from the complete work.´
Simon's and Jones' second piece was a world premiere, "In On With", new choreography by Katarzyna Kozielska to Arvo Pärt's "My Heart's In The Highlands". Kozielska's movements resonate with the music's melancholic, yearning atmosphere using slow, controlled motions, slim shapes and silhouettes and clear lines. Emotions aren't the focus but subtly palpable, as if hidden far below the dispassionate surface. Quite a contrast to the emotionally charged "Onegin" and proof of Stuttgart Ballet's diversity.
Montero introduced the evening's program himself. Unpretentious, candid and visibly proud of having mounted the gala, he didn't speechify but rather put the matter center stage. "You have to simply watch yourself" he said. In any case he has thoroughly won over Nuremberg's audience.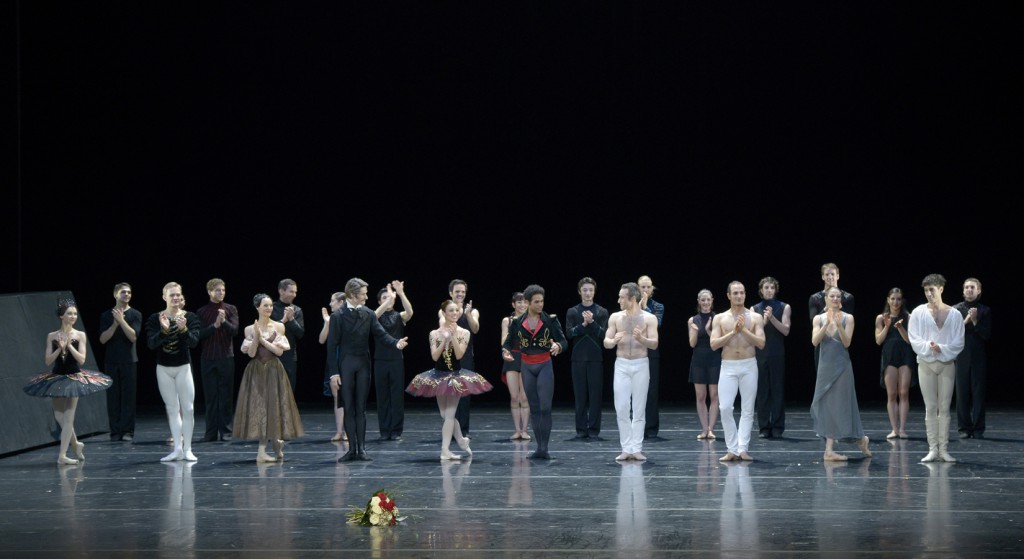 | | | |
| --- | --- | --- |
| | | |
| Links: | | Homepage of the State Theater Nuremberg |
| | | Goyo Montero's Homepage |
| Photos: | 1. | Jón Vallejo, "Canon in D Major" by Jiří Bubeníček, "2.International Ballet Gala", Ballet of the State Theater Nuremberg 2015 |
| | 2. | Yonah Acosta (Conrad) and Fernanda Oliveira (Medora), "Le Corsaire" by Marius Petipa, "2.International Ballet Gala", Ballet of the State Theater Nuremberg 2015 |
| | 3. | Myriam Simon (Tatiana) and Alexander Jones (Onegin), "Onegin" by John Cranko, "2.International Ballet Gala", Ballet of the State Theater Nuremberg 2015 |
| | 4. | Jón Vallejo, "Come Again" by Goyo Montero, "2.International Ballet Gala", Ballet of the State Theater Nuremberg 2015 |
| | 5. | First row: Anna Ol, Alexey Lyubimov, Myriam Simon, Alexander Jones, Fernanda Oliveira, Yonah Acosta, Fabien Voranger, Jiří Bubeníček, Anja Behrend, Stephan Bourgond; second row: ensemble of State Theater Nuremberg's ballet, "2.International Ballet Gala", Ballet of the State Theater Nuremberg 2015 |
| | | all photos © Bettina Stöß 2015 |
| Editing: | | Laurence Smelser |