Marco Goecke
Stuttgart, Germany
May 2015
by Ilona Landgraf
Copyright © 2015 by Ilona Landgraf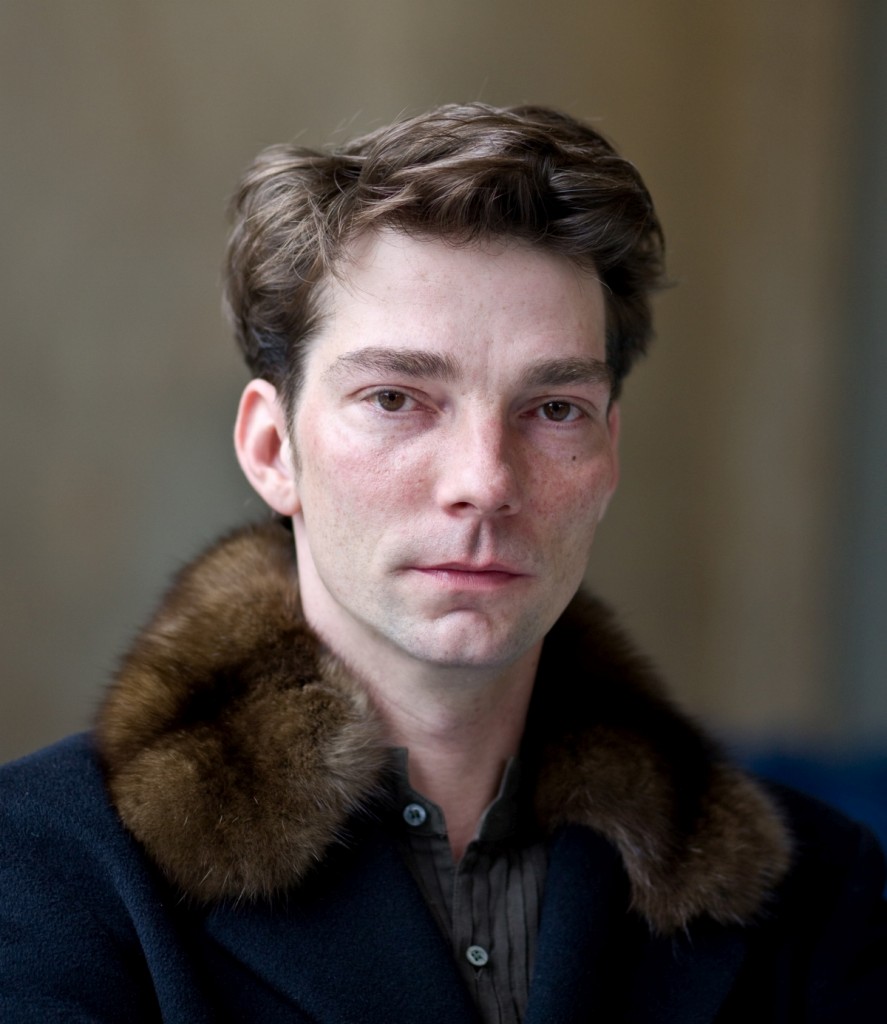 Marco Goecke is a well-established German choreographer. Though he is open, kind and easy-going, he is mysterious, with an air of inscrutability surrounding him. His choreography can hardly be classified among the existing canon of styles. He has established something new. Meanwhile "Goeckes" are in the repertory of ballet companies all over Europe and abroad, but, above all, they are integral to the repertory of his two home bases: Stuttgart Ballet and the Nederlands Dans Theater.
We met on the occasion of a rehearsal with Thomas Lempertz in a basement studio belonging to Stuttgart's Theaterhaus. Lempertz, ex-first soloist of Stuttgart Ballet, is planning to come back on stage with a solo by Goecke. The premiere is scheduled for November.
At first sight one could easily think Goecke stepped out of a detective film. His dark sunglasses – signature features of his outfit – contrast with his fair skin. He wears a trench coat, robust shoes, smokes a lot, and has his steady companion, a sausage dog named Gustav, at his side.
Marco Goecke was born in 1972 in the Ruhr area, more precisely in Wuppertal, the residence of Pina Bausch's Tanztheater. His family had no connection with dance. He retains bad memories of his school years, saying school in general was a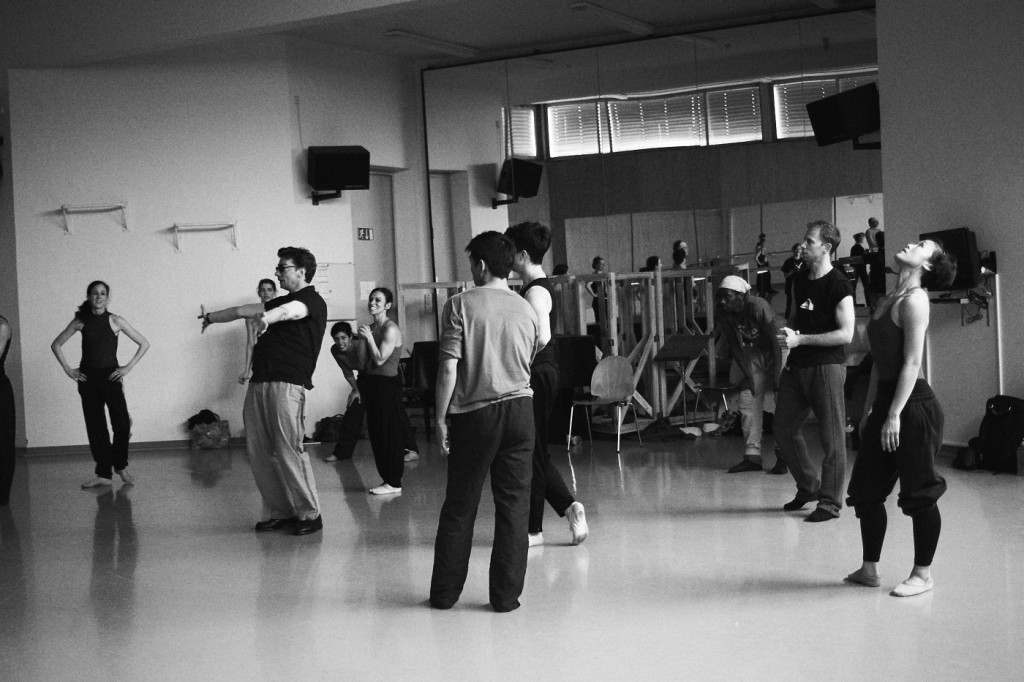 nightmare. Art lessons, however, were islands of light during the gray forenoons. Udo Meyer, his art teacher, is a well-known sculptor in Wuppertal. "Back then", Goecke remembers, "I searched for something special, for beauty. I admired Picasso. Getting out of bed early in the morning to sit in unpleasant rooms with concrete walls under cold neon light wasn't my idea at all!" As a pupil he often drew late into the evening, forgetting the time, being so tired the next morning that he sometimes stayed at home from school. Still, drawing can be very intense, almost hypnotic for him, but he can't force it. Sometimes drawing works, sometimes it doesn't. When he is creating a new piece graphics are on the back burner. Nevertheless an array of lead pencils is always at hand. As a pupil he also created colorful watercolors, his paintings even decorated a corridor and the director's office but, up to now, he hasn't rediscovered colored pencils. His pictures are rather dark affairs and he prefers to keep them for himself. Similarly colors are rare in his ballets.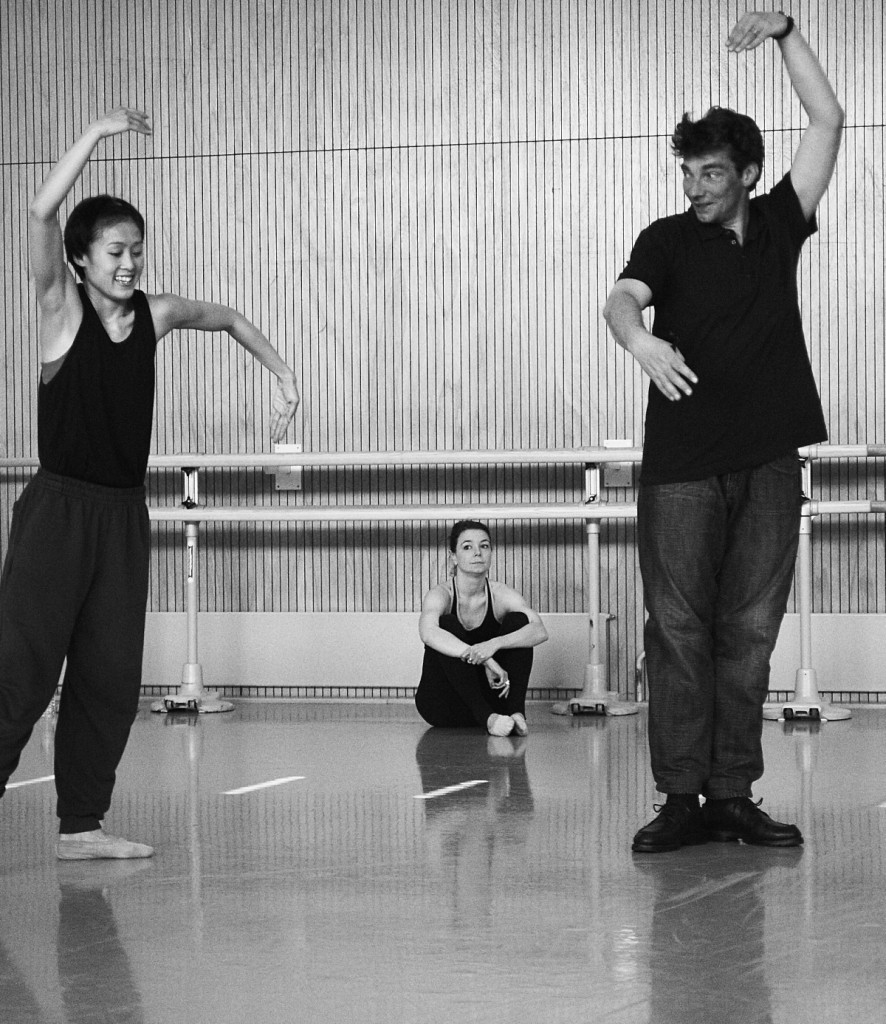 Language and verbal expression was always important to Goecke. An avid reader he liked German lessons, was and still is interested in poems – Ingeborg Bachmann, Paul Celan, Sarah Kirsch – "strong stuff" as he puts it. He kept a diary and wrote short stories and poems for himself. Once, when in Stockholm, he immersed himself in texts by Nelly Sachs. Outside, it was -22°F, the weather was dreary, unfortunately ideal conditions for reading Sachs's lyrics about the horror of concentration camps and the fate of Israel.
Goecke's article for the Zurich Opera magazine (April 2014) and, recently, his comments on "Le Chant du Rossignol", a piece he staged for Stuttgart Ballet, attest that he has little interest in self-promotion. He clearly addresses his doubts, fears, his relentless reflection about his work, his life, and the deeper meanings lying behind it. Sentences like "I already have the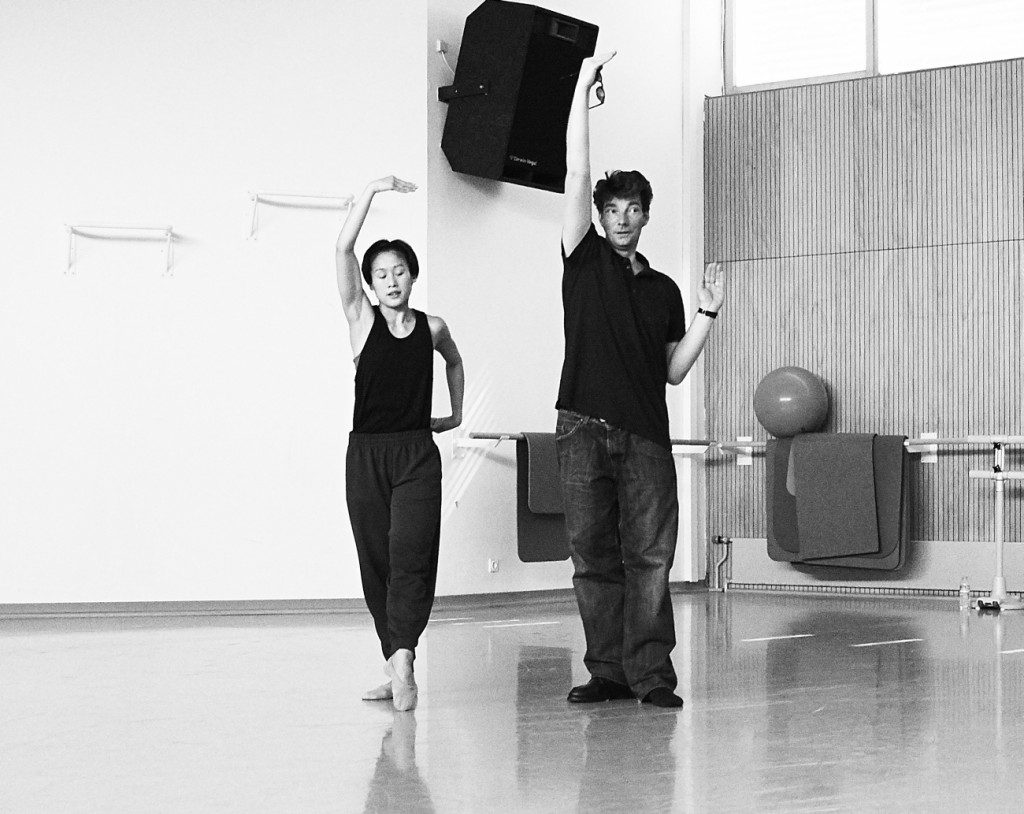 feeling, that the time is over. The piece ("Deer Vision") proceeded so far towards its end that starting all over again would be impossible. It is tragic. As if some middle aged person suddenly notices that his or her life lived so far was not a rehearsal but actually life itself." Sometimes he feels a fear of dying when going to the studio in the morning – what if there is nothing there? – but at the same time compares himself with a child continuing to play. For Goecke being a child at play and combatting deep fright is not a contradiction. He talks of the fear of discovery through playing, of the naivete to start anew time after time. But his love for the dancers and to his art makes him set off for the studio every morning.
One day during his time at school his class was taken on an excursion to Wuppertal's Opera House. There, Goecke discovered Pina Bausch's work. He felt immediately attracted to the world of dance. For him it was an aha-moment pointing the way ahead. Bausch vehemently expressed everything that interested Goecke about life. "She was a philosopher who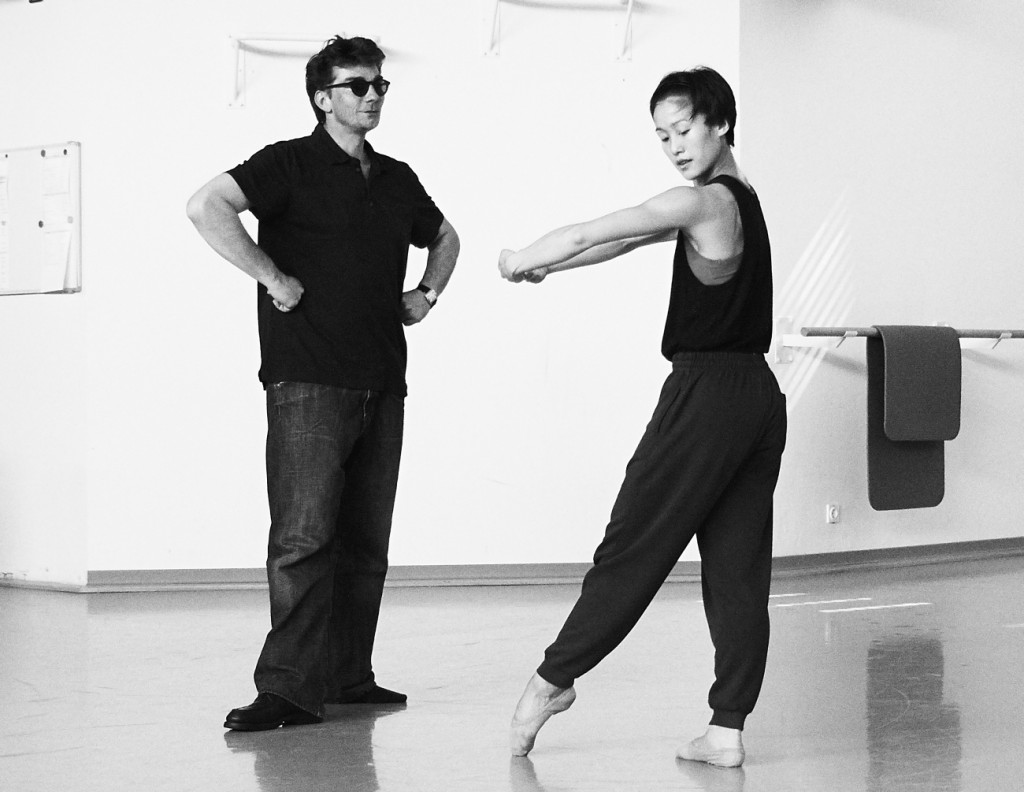 asked questions, who searched for answers. She left room for interpretations, but some people don't like that, actually they are afraid of having to make up their own mind." Bausch, later a fan of Goecke's ballets, in 2004 invited him to present two pieces at her annual dance festival. Some of his choreography, like "Deer Vision", contains little references to her.
At age thirteen, Goecke started to study dance in a Ballet School in Wuppertal, then from 1988, at Munich's Heinz-Bosl-Stiftung, and subsequently at The Royal Conservatory of The Hague. After graduation in 1995 he danced with the ballet of the Deutsche Oper Berlin and in the company of the Theater Hagen. However, early on he knew that being a dancer wasn't what he had dreamed of. Instead he wanted to choreograph. In 2000 he made a first attempt in Hagen. One year later Goecke's big break came in the person of Fritz Höver, head of Stuttgart's Noverre Society, offering him a chance to present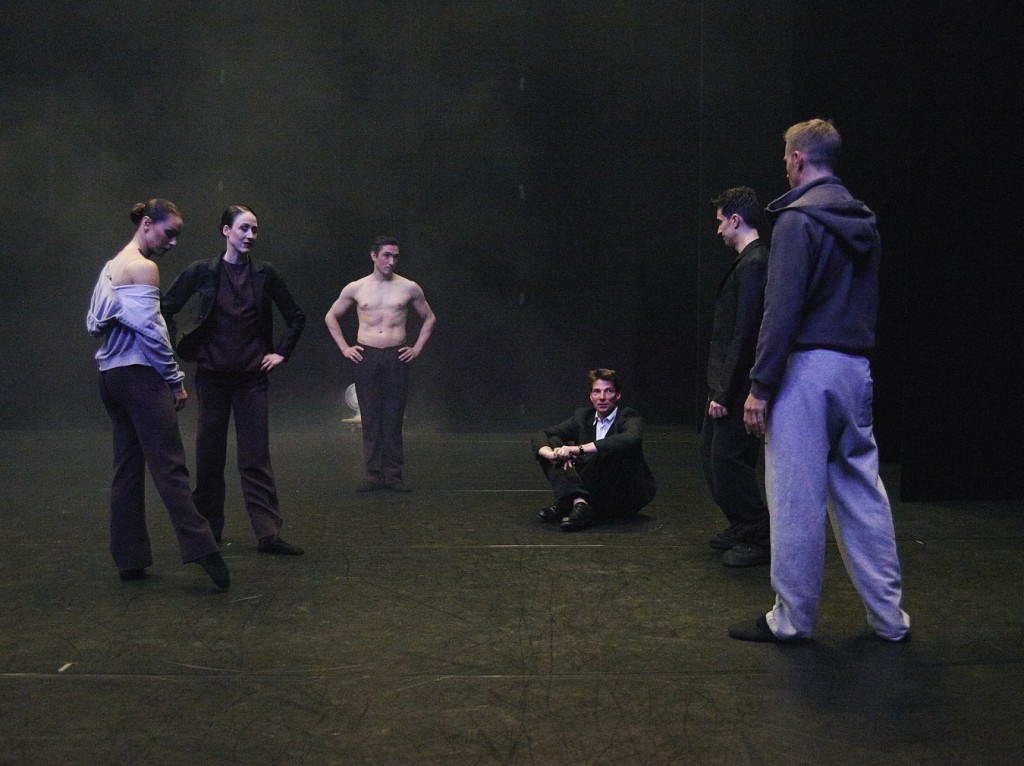 his choreography at a Noverre evening. As for many others the Noverre Society was the spark that ignited Goecke's career. In the following years he created three other works for Noverre, one of them, "Blushing" (2003), being awarded the Prix Dom Pérignon in Hamburg. In 2004 Peter Boal, at that time principal dancer of NYCB, commissioned a solo from him called "Mopey". This made it into the Jacob's Pillow Festival and the Venice Dance Biennale in the very same year. New York Times' Anna Kieselgoff called it a "tour de force" and "a touching piece of alienation". Since 2005 Goecke has been resident choreographer at Stuttgart Ballet, holding the same position at the Scapino Ballet Rotterdam for seven years. From 2013 on he has also been associate choreographer at the Nederlands Dans Theater. His oeuvre contains more than forty ballets: short, medium-length and full-evening works.
Goecke's unique style was set from his first choreography on. Crazy, fast, nervous movements, quavering, shivering, angular and abrupt, yet also smooth and elegant. One needs quicksilver legwork but no pointe shoes for the women. Splayed legs are taboo too. Goecke considers them undignified, almost vulgar. He uses them sparingly, in extreme poses, devoid of any sexual connotation. He is reticent in terms of overt erotism: "Pants are like an elongation of the space, like the socket of a sculpture," he once stated in a program book of the Zurich Ballet. "Bare legs are something very private (…). After all I don't create pieces about going to the beach." No, his dancers are occupied with deeper issues. They scurry across the stage, emerge from and vanish into the dark background. At times their solos remind one of odd fellows struggling with the realm of existence that they experience. "Sometimes I feel tempted to include speaking, to tear apart the voiceless expression", Goecke once stated. "But if a dancer starts to speak everything will break into pieces." Instead he often makes them breathe audibly, hiss and whisper.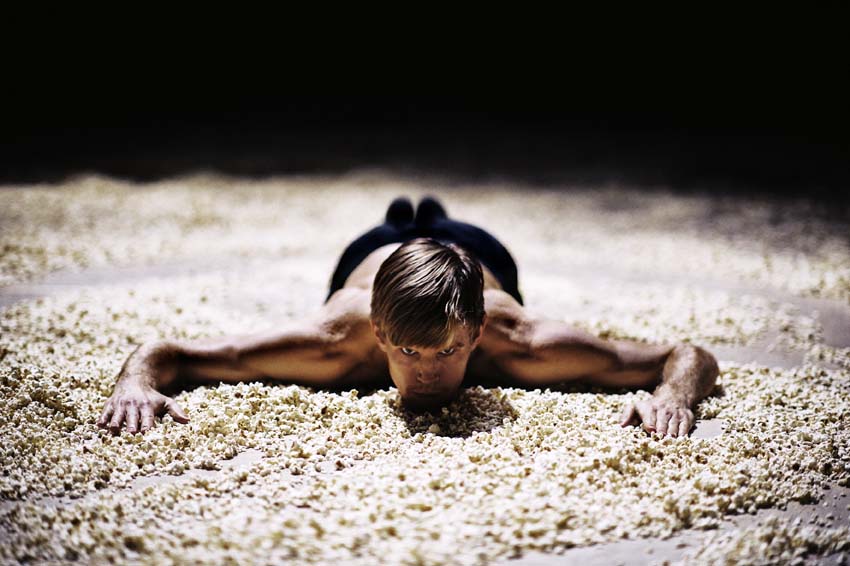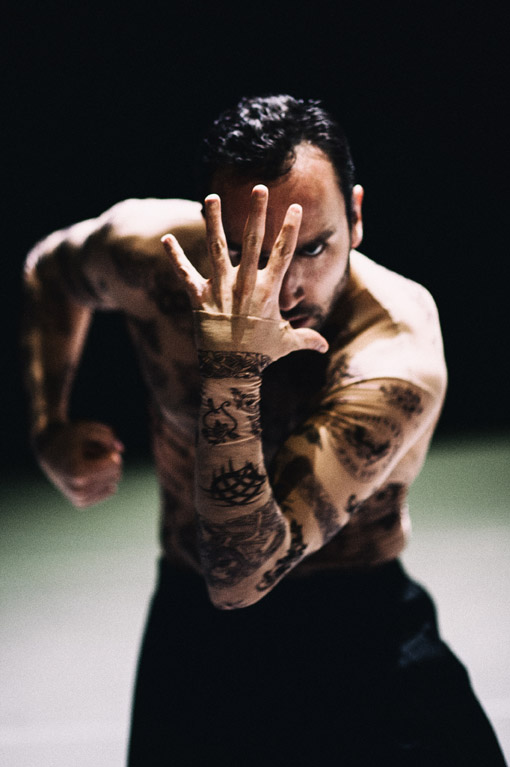 Goecke is also fascinated by small objects like a petite bird cage, such as he used in "Le Chant du Rossignol", or a toy rat in "Deer Vision". Sometimes watching a performance he waits to see only a few tiny gestures that have special meaning for him.
Recurring elements in Goecke's pieces are dim lighting and wafts of mist. We might be in a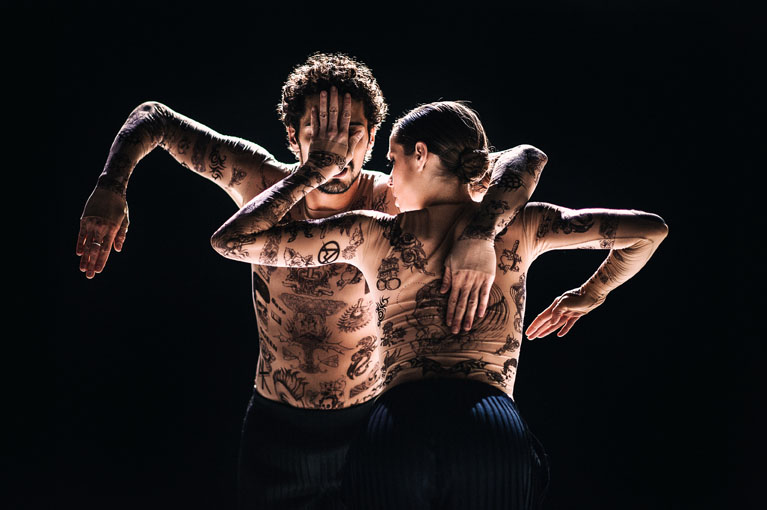 haunted forest. Or in the darkness of the subconscious mind? Usually the costumes are inconspicuous and often uniform. Simple pants, tops for the women, the men bare chested allowing one to watch their upper bodies' fine muscle flexing – a signature feature of Goecke's hand at work. Thus rare exceptions, like an opulent pink feather fan in "Fancy Goods", catch the eye. It is noteworthy that the male dancers' radiate a specific aura in his ballets. They display enormous physical strength but are in full control of it, powerful yet at the same time vulnerable figures. But interestingly Goecke perceives the human body more like a prison from which he desires to escape. During performances when a piece's inherent energy flows out to the audience this succeeds. At least for a brief moment.
In an early stage of his career, just starting to be successful, Goecke sought relief in alcohol, maybe to "dissolve the feeling of being in a prison". But for almost nine years now that has not been a problem for him.
Goecke describes himself as unsentimental and unromantic when working in the studio. He is neither deep in thoughts, nor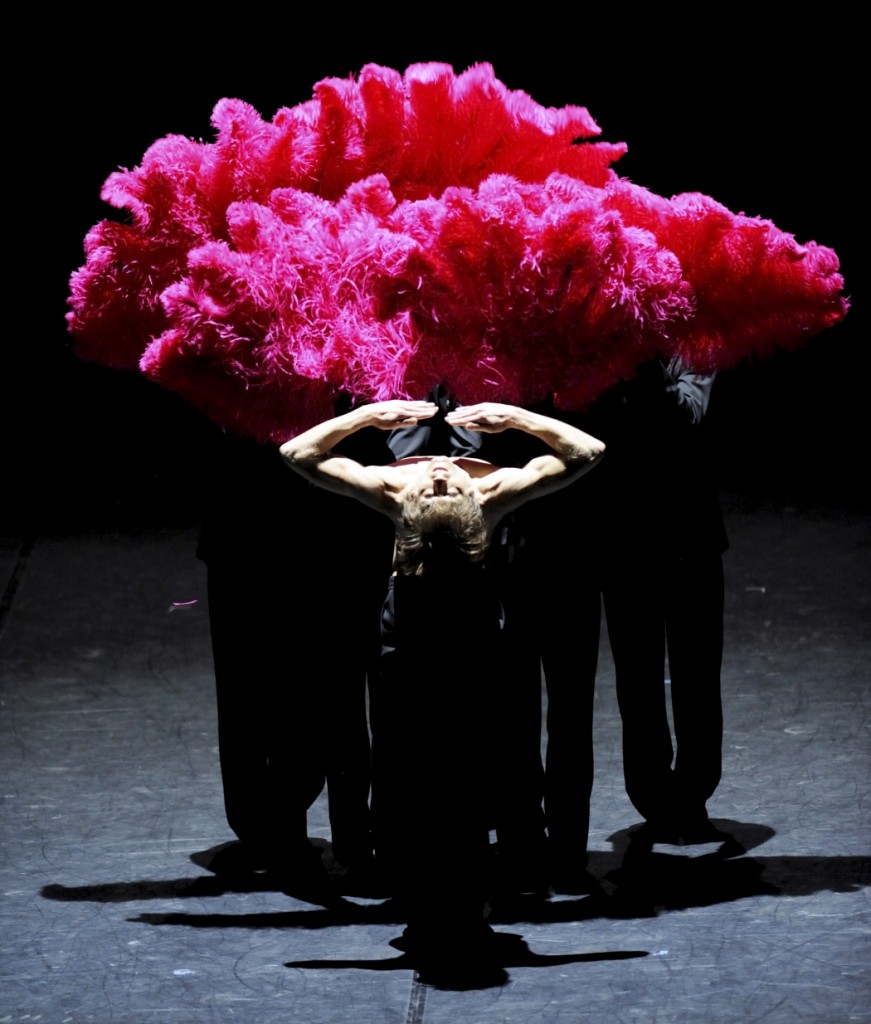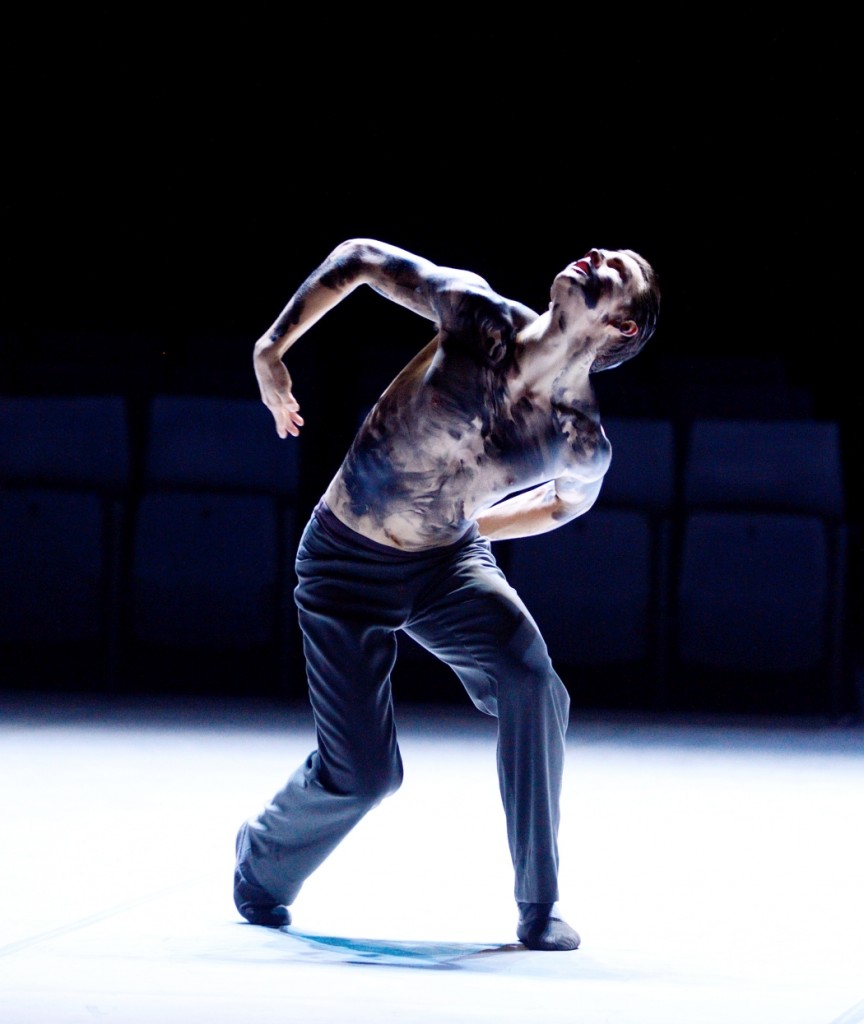 gloomy or agonized by mental pain. Instead humor and laughter prevail. For him choreographing remains a mysterious process, a mixture of accompanying the dancers but also leaving them alone. The final output is unpredictable. The only thing Goecke knows is that his soul resonates with the piece. "That's why other people can't copy my work. Because they can't copy my soul. I don't plan much in advance. Of course I have some notes, basic points, pictures I'm interested in. But the process itself is incomprehensible for me. Why are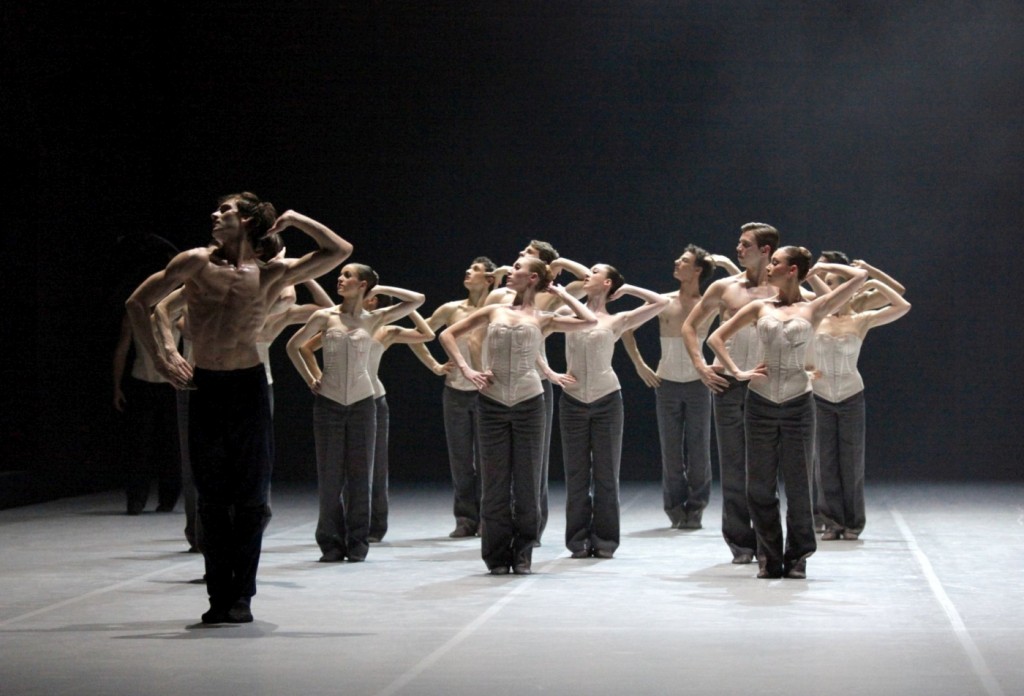 people, some people, touched when watching my ballets? Why am I sometimes touched myself? I haven't discovered yet what or which soul is walking next to me while creating." However he always starts with the basics and plain steps. Then a certain something adds itself.
The rehearsal with Lempertz seems relaxed. Both joke and kid each other while running through the material. Eric Gauthier, head of the Gauthier Dance Company where Lemepertz's solo will premiere, drops by with his little son, masquerading as Spider Man, dashing round and catching attention. But what looks easy and playful on the surface has depth beneath. Goecke works quickly, dense concentration filling the air. As if playing ping-pong with Lempertz, new material crystallizes practically by itself. Though not even looking directly at him, Goecke's corrections and comments are to the point. He senses what is going on. He pushes Lempertz but never stretches his ability.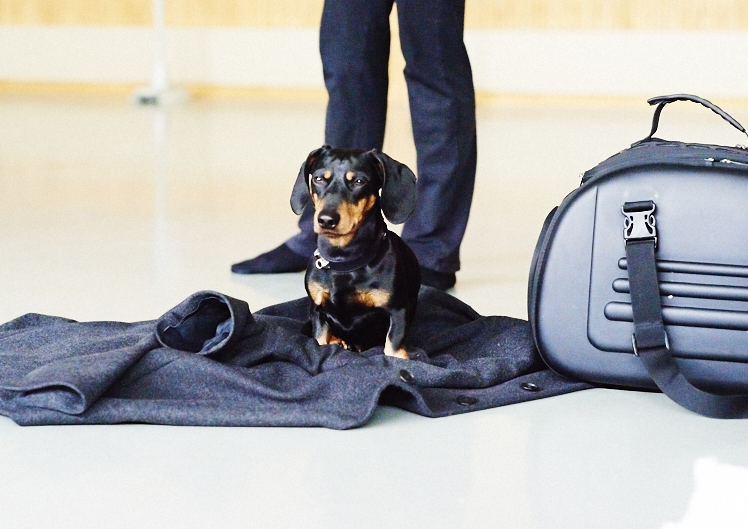 Gustav, the dog, observes the goings-on carefully from his pet carrier. Later when people walk by the window, he barks furiously, his lean body quivering with excitement. He lets them know he's the boss. Suddenly the elegant, short-haired dachshund reminds me of the fluttering dancers Goecke puts on stage.
"Sometimes," Goecke tells, "I consider myself as strong, one who has planted both feet firmly on the ground. But small details in everyday life might also have a strong impact on me or even discomfort me. For example during school times when a bunch of fellow pupils stood around and suddenly one made his gum bubble burst. For me this always expressed aggression. Hence I have to be careful with what I expose myself to." Usually, after being in touch with the world out there, he needs to have peace and quiet. That is also why he isn't able to work in the studio for the whole day. "I watch the dancers very closely and after very few hours my energy runs down and I need to recharge my batteries." Relying on his psychological skills and calling himself a good manipulator, Goecke can coax meaningful work out of the dancers, can make movements relevant. Sometimes he plays with increasing intimacy, without knowing how close he himself actually is to the dancers. Being successful is nice, he admits, but basically it is more important to spend time with people doing something of value. "I also worked with actors and singers but dancers are much more direct in their response, less complicated. They don't feign. At least I have met hardly anyone who feigned. The love and appreciation I get back from them is what makes me happy."
(The interview has been edited for clarity.)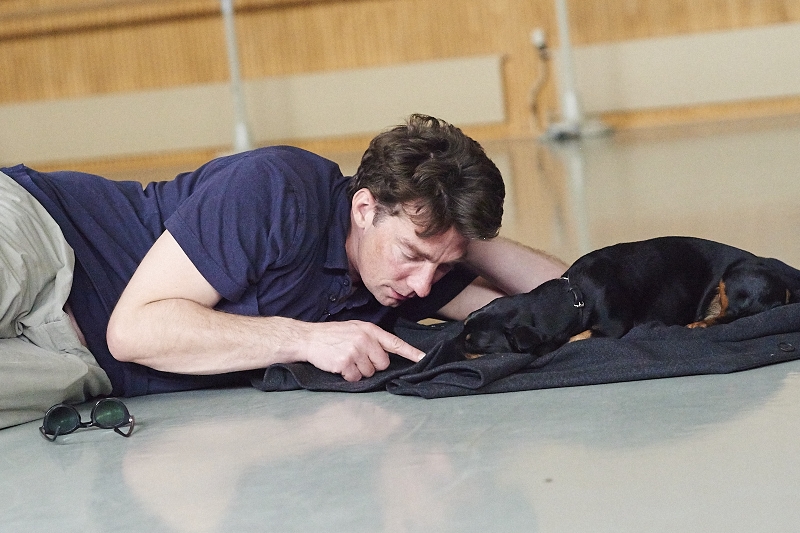 | | | |
| --- | --- | --- |
| | | |
| Links: | | Stuttgart Ballet's Homepage |
| | | Homepage of the Nederlands Dans Theater |
| | | Homepage of the Ballett am Rhein |
| Photos: | 1. | Marco Goecke © Die arge lola 2015 |
| | 2. | Marco Goecke and ensemble of the Ballett am Rhein, rehearsal of "Lonesome George", Ballett am Rhein © Franco Jennewein, Stuttgart 2015 |
| | 3. | Wun Sze Chan, Camille Andriot and Marco Goecke, rehearsal of "Lonesome George", Ballett am Rhein © Franco Jennewein, Stuttgart 2015 |
| | 4. | Wun Sze Chan and Marco Goecke, rehearsal of "Lonesome George", Ballett am Rhein © Franco Jennewein, Stuttgart 2015 |
| | 5. | Wun Sze Chan and Marco Goecke, rehearsal of "Lonesome George", Ballett am Rhein © Franco Jennewein, Stuttgart 2015 |
| | 6. | Camille Andriot, Nathalie Guth, Martin Chaix, Marco Goecke, Alexandre Simões and Christian Bloßfeld, stage rehearsal of "Lonesome George" at the Theater Duisburg, Ballett am Rhein © Franco Jennewein, Stuttgart 2015 |
| | 7. | "Thin Skin" by Marco Goecke (2015), Nederlands Dans Theater 1 © Rahi Rezvani 2015 |
| | 8. | "Hello Earth" by Marco Goecke (2014), Nederlands Dans Theater 1 © Rahi Rezvani 2015 |
| | 9. | "Thin Skin" by Marco Goecke (2015), Nederlands Dans Theater 1 © Rahi Rezvani 2015 |
| | 10. | Friedemann Vogel and ensemble, "Fancy Goods" by Marco Goecke, Stuttgart Ballet © Stuttgart Ballet 2015 |
| | 11. | David Moore, "On Velvet" by Marco Goecke, Stuttgart Ballet © Stuttgart Ballet 2015 |
| | 12. | Friedemann Vogel and ensemble, "Orlando" by Marco Goecke, Stuttgart Ballet © Ulrich Beuttenmüller 2015 |
| | 13. | Sausage dog Gustav © Franco Jennewein, Stuttgart 2015 |
| | 14. | Marco Goecke and Gustav © Franco Jennewein, Stuttgart 2015 |
| Editing: | | Laurence Smelser |