"ALL Cranko!" ("Concerto for Flute and Harp", "Holberg Pas de Deux", "Opus 1", "Initials R.B.M.E.")
Stuttgart Ballet
Stuttgart State Opera
Stuttgart, Germany
May 07, 2015
by Ilona Landgraf
Copyright © 2015 by Ilona Landgraf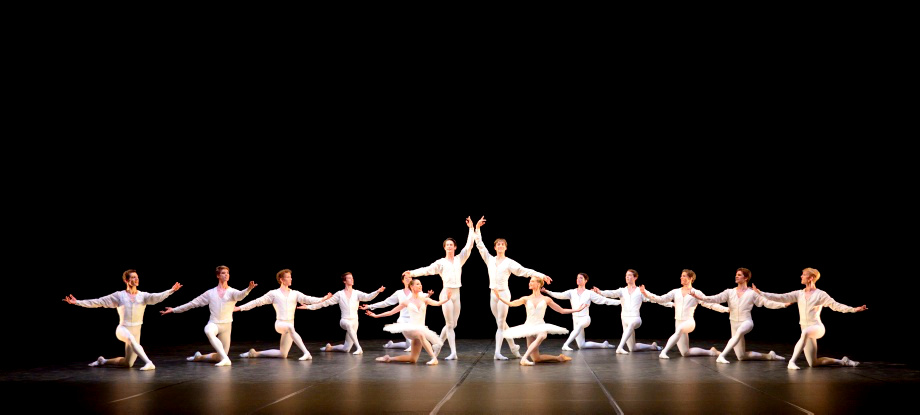 "ALL Cranko!", Stuttgart Ballet's new mixed bill, assembles four abstract ballets by John Cranko: the "Concerto for Flute and Harp", premiered in 1966 and for more than a quarter of a century absent from stage, the "Holberg Pas de Deux" (1967), "Opus 1" (1965) and the repertory's reliable asset "Initials R.B.M.E", performed more than 230 times since its premiere in 1972.
Certainly many of the older Stuttgart balletomanes remember the original casts, the troupe's signature dancers Marcia Haydée, Birgit Keil, Egon Madsen, Richard Cragun (1944 – 2012), later also Heinz Clauss (1935 – 2008). They are spoken of with great respect. Critical comparisons thus suggest itself. Would the ballets work with entirely new casts?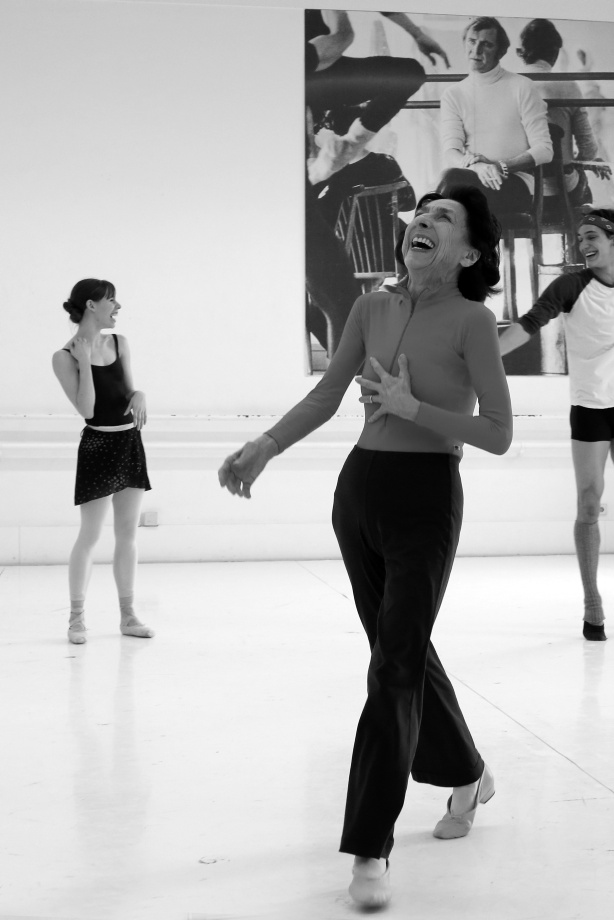 I saw all four pieces for the first time. To me they look fresh, up to date, abounding with ideas and awe inspiring complexity. That the pieces are still brightly vital is to a great extent due to Georgette Tsinguirides, choreologist, ballet mistress and guardian of Cranko's oeuvre. At eighty-seven, she has been with the Stuttgart Ballet for seventy years. She knows each step of Cranko's classics by heart, but for rarely staged pieces like the "Concerto" does consult her dance notation. It is important for her to pass the correct steps down to the new generation yet keep the core meaning of the ballets alive, their motivation, their soul. The dancers love and admire this petite lady. Tsinguirides was in charge of all rehearsals for this evening, mainly (although other ballet masters were involved as well) working with Tamas Detrich, associate artistic director and ballet master. Later, both carefully evaluated the performances from the proscenium box.
Actually, "Concerto for Flute and Harp" was born out of necessity. Back in 1966 Peter Wright had staged a new "Giselle" for the Stuttgart company. The female corps was busy but the men had little to do. Around three weeks before the premiere Cranko decided to change this by choreographing a ballet for the men, actually a mirror image of the female corps in "Giselle", a male ballet blanc. Mozart's "Concerto for Flute, Harp and Orchestra in C major" served as music. The piece has no set. Its simple, white costumes would fit into two suitcases – ideal for touring and, even more importantly, it was an inexpensive creation which, compared to "Giselle", didn't further strain the budget. Interestingly, "Concerto" and "Giselle" were paired as a double bill for years.
"Concerto" taxes its dancers. Its lines and intricate patterns – Reid Anderson compares some of them to crochet patterns – change constantly. They surprise the eyes. One arises from another: turns, jumps, lifts, floor sequences seamlessly succeed each other, the pace varies effectively, nimble footwork alternates with generous leaps. The technique in general, states Anderson from his own experience, is very challenging.
The twelve men involved, with Friedemann Vogel and Alexander Jones leading the way, mastered their roles brilliantly. They were joined by two ballerinas, Alicia Amatriain and Elisa Badenes. As always, watching Badenes' liveliness, her naturalness, and the freshness of her dancing was sheer pleasure. By comparison, Amatriain looked stiff; often her unvarying smile seemed affected. The dramatic part she danced in "Opus 1" was much more her metier.
Jones was in sunniest form in his solo parts and in his playful, cheeky pas de deux with Badenes. Vogel's perfectly shaped arabesques were luxurious, seeming to extend his legs into infinity. His elegant line and masterful technique came into their own. Although "Concerto" has only a few principals, others are not reduced to mere decoration. Instead several have the opportunity to be at their best. Vogel and Jones simply blended back in line with the other dancers. No one stood on a pedestal, except perhaps Amatriain. She was repeatedly lifted like an iconic figure by a group of men. Andrea Berger (harp) and Nathanaël Carré (flute) accompanied them with excellence.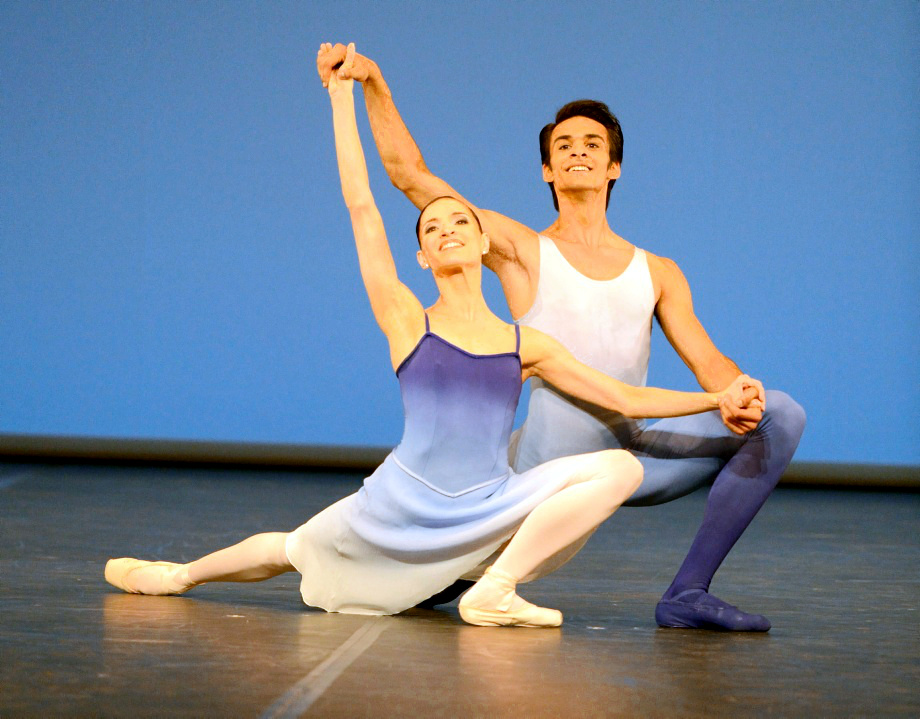 The "Holberg Pas de Deux" is set to three out of a total of five movements of Edvard Grieg's "Holberg Suite", also known as "From Holberg's Time". It consists of an entrée, an adagio, and a short coda. Cranko created it in 1967 as a vehicle designed to show off the talents of Birgit Keil and Heinz Clauss. It became their showpiece at galas for many years. Now Miriam Kacerova and Constantine Allen have followed in their footsteps. The first pas de deux is lively and laced with humor, the second one is chastened and almost a bit melancholic, while the short finale ends cheerfully on a folkloric note. Kacerova and Allen perfectly conveyed the different moods. Watching them click their heels with gusto at the end made one smile. Both earned bravos.
"Opus 1" was the evening's heaviest food. Within eleven minutes Cranko covers the cycle of life and death, of people's loneliness and helplessness accompanied by the expressive, partly almost fierce music from Anton von Webern's "Passacaglia for Orchestra, op.1". Cranko choreographed the piece in 1965. At the same time, Kenneth MacMillan was working with the company on his "Song of the Earth". Both had agreed to not visit the other's rehearsals and thus were surprised to find out that they had addressed the same topic in their choreography. Shown together in a double bill, "Song of the Earth" attracted more attention from the audience than the shorter "Opus 1". Maybe because MacMillan had dared to choreograph using music by the hitherto sacrosanct Gustav Mahler?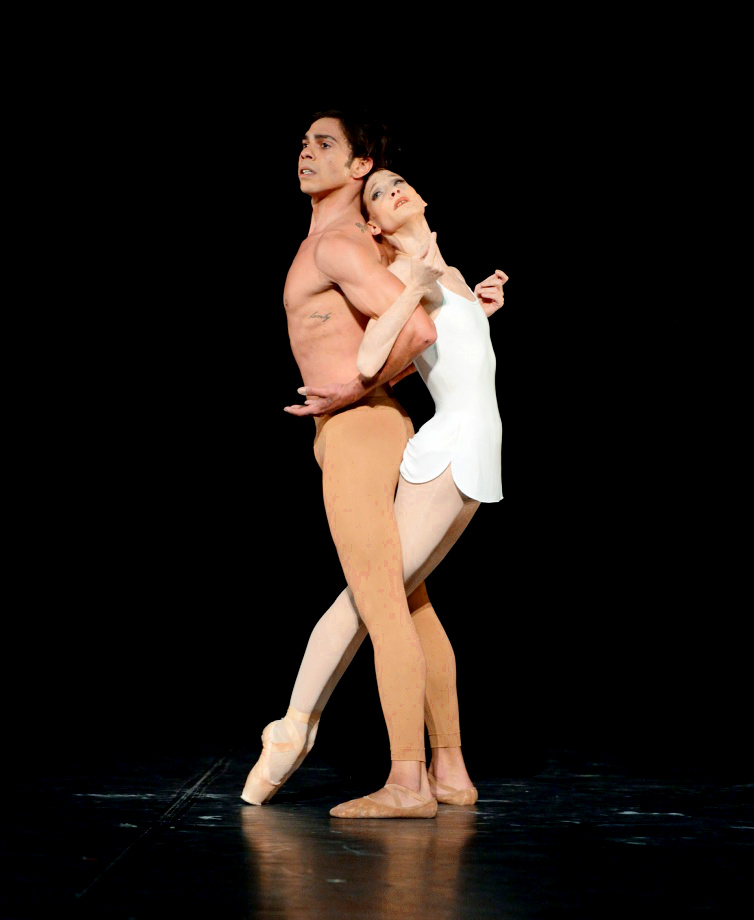 At the center of "Opus 1" is the relationship between a woman (Alicia Amatriain) and a man (Jason Reilly). When the curtain went up Reilly, huddled like an embryo, was held in the air by other male and female dancers who lay on the floor. Some of them changed their postures, one sat up, another held his own leg, a third one did a shoulder stand.
Reilly wore skin-colored tights, his upper body was bare. The corps had simple, light mint green tricots, Amatriain a white one.
The love affair that Amatriain and Reilly depicted was not an easy-going, happy one. Once he clung to her, at another time she slid down his back, seemingly exhausted, but quickly pulled herself together again and, with a vigorous leap, regained her composure. A few times both were lifted simultaneously by groups of dancers, yet their outer unity was not a manifestation of a couple's harmonious togetherness. It seemed a rather difficult relationship. When it ultimately broke apart, Reilly was left alone, desperate and at first aggressive towards some other dancers. Amatriain returned on stage carried by another man like a sack on the back. She hung headlong down, yearningly stretching her arm towards Reilly but could not reach him. Other women were carried past him as well, but Reilly didn't take notice of them. At the end Reilly again lay on the floor, hunched up, but this time he was alone.
Behind the "Initials R.B.M.E." are four dancers who, from the beginning, determined the identity of Cranko's troupe: Richard Cragun, Birgit Keil, Marcia Haydée and Egon Madsen. Close friends to whom Cranko dedicated the ballet. As music he chose the "Piano Concerto No. 2, B major" by Johannes Brahms. According to a comment of Cranko printed in the program book, Brahm's oeuvre and his letters (…) prove the composer's passionate sense for friendship and love. Pianist Andrej Jussow offered a sensitive rendition. At the conductor's podium of the State Orchestra Stuttgart was the seasoned James Tuggle.
"Initials R.B.M.E." is the only ballet of the evening with decor. Jürgen Rose designed black walls along each side aisle and four large backdrops, resembling abstract watercolor paintings. Their color palettes subtly followed the colors of the seasons. The tricots picked up the same colors: yellow, apricot, green and blue-green.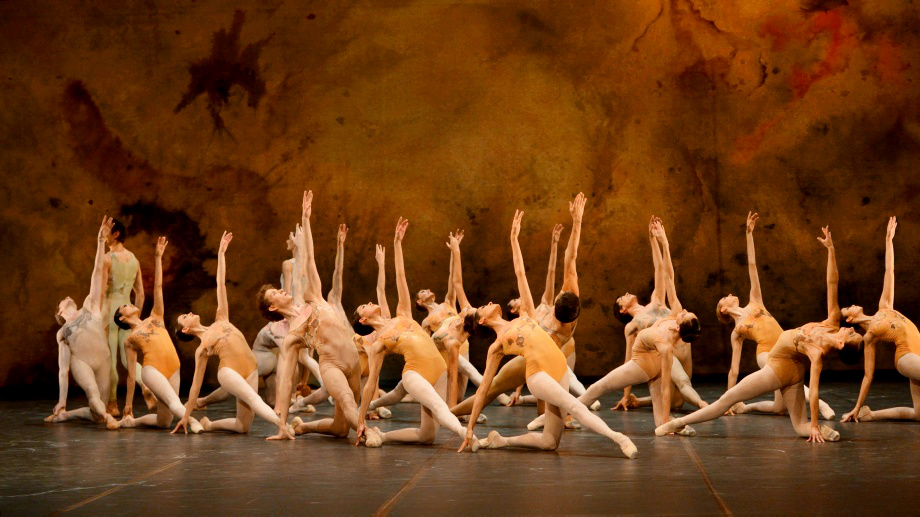 Taking over the roles of former company icons isn't easy. Usually expectations are high, making viewers far too finicky. Unfortunately (or fortunately?) I can't draw parallels. The four protagonists were Daniel Camargo as R., Anna Osadcenko as B., Myriam Simon as M. and Arman Zazyan as E. Each of them led the corps in one movement of the concert but also participated in other movements. Camargo made his mark with dynamic leaps, he propelled himself effortlessly in the air, played skillfully with the tempo in the pirouettes and radiated the charm of a winsome go-getter. According to those who had witnessed Cragun dance, young Camargo characterized him aptly. Osadcenko's elegant, clear lines and nimble footwork shone in the second movement. The dark haired Simon, who featured in the third movement, was criticized for not having the same beautiful bourées, port de bras and floating qualities as Haydée. That is presumably true, but new Haydées today are simply rare. Either store away "Initials" in the archive until another Haydée-like dancer is born or give the current ballerinas a chance.
Friedemann Vogel's appearance in the third act might have caused some confusion. Was he one of the initials? No, he danced the part of Heinz Clauss, who, back in 1967, had joined the newly built company later than the other four. He, too, became a mainstay of the company. Cragun should have termed Clauss with the missing fifth initial. At one point Vogel stood, watched the corps' dance, seeming to think about his next steps. Simon, thrown from one man to another, finally landed in his arms. He was a reliable, attentive partner who made her fly.
Zazyan, up to now rarely in leading roles, was convincing as E. He was self-assured, natural and technically profound. In one scene, which perhaps depicts the rehearsal of a solo, the other three initials came round as if just to say hello before departing in a jovial mood. Zazyan shook his head and, with a shrug, continued his work. It is said, Madsen was a keen worker. Cranko cast him for a great many ballets.
The corps de ballet fully lived up to the choreographic challenges. The last look of the new four initials was towards the proscenium box, to Tsinguirides and Detrich. It spoke of their respect for the company's history, it expressed their commitment to keep the spark alive.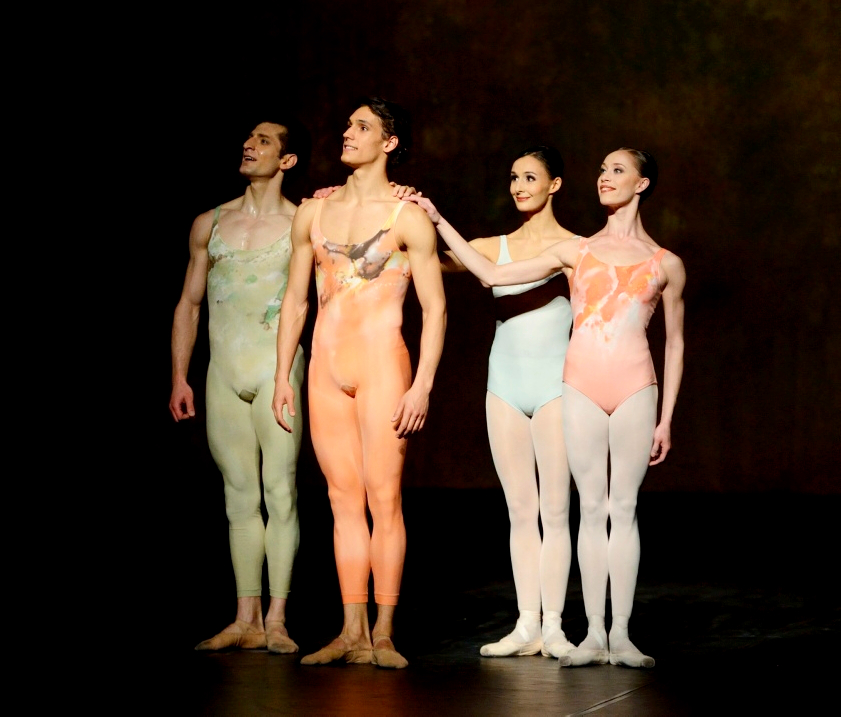 | | | |
| --- | --- | --- |
| | | |
| Link: | | Stuttgart Ballet's Homepage |
| Photos: | 1. | Ensemble, "Concerto for Flute and Harp" by John Cranko, Stuttgart Ballet © Stuttgart Ballet 2015 |
| | 2. | Georgette Tsinguirides, Elisa Badenes and Daniel Camargo, rehearsal, Stuttgart Ballet © Ulrich Beuttenmüller 2015 |
| | 3. | Miriam Kacerova and Constantine Allen, "Holberg Pas de Deux" by John Cranko, Stuttgart Ballet © Stuttgart Ballet 2015 |
| | 4. | Jason Reilly and Alicia Amatriain, "Opus 1" by John Cranko, Stuttgart Ballet © Stuttgart Ballet 2015 |
| | 5. | Ensemble, "Initials R.B.M.E." by John Cranko, Stuttgart Ballet © Stuttgart Ballet 2015 |
| | 6. | Arman Zazyan, Daniel Camargo, Myriam Simon and Anna Osadcenko, "Initials R.B.M.E." by John Cranko, Stuttgart Ballet © Stuttgart Ballet 2015 |
| Editing: | | Laurence Smelser |