"A Streetcar named Desire"
Stuttgart Ballet
Stuttgart Schauspielhaus
Stuttgart, Germany
May 30, 2015
by Ilona Landgraf
Copyright © 2015 by Ilona Landgraf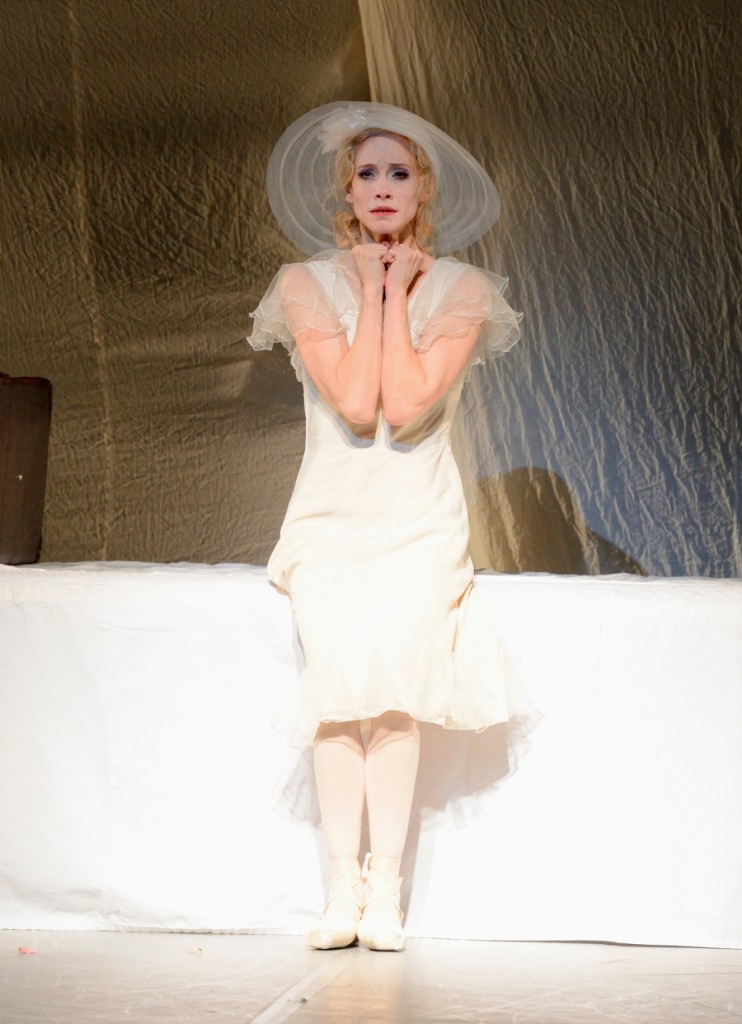 John Neumeier's "A Streetcar named Desire", based on Tennessee Williams's drama of the same title, is probably not a piece one would be eager to see several times in a row. Unless one is hard-boiled. Calling it disturbing is too lenient. Its dense, oppressive atmosphere and brutal physicality that finally seals the mental destruction of its main character, Blanche DuBois, devours one. As food for thought, a single dose of this ballet brings along with it more than enough indigestion.
Neumeier has woven a masterful psychological drama, whose intensity might even surpass the stage play. What the dancers' bodies express is more direct than any spoken word. Stuttgart Ballet has now again revived the two-act piece which Neumeier had created for the Baden-Wuerttemberg company in 1983. Back then the forty-six year old Marcia Haydée and Richard Cragun danced the leading characters, Blanche and Stanley.
Neumeier begins the story with its end. When the curtain rises we see Blanche (Alicia Amatriain) sitting on a bed in an asylum. She is elegantly dressed but looks distraught. Flashbacks are tormenting her, making her tremble. What has happened unfolds in cross-fades, not necessarily following the story's chronological order. Music from Prokofiev's "Visions fugitives op.22", fragmented like Blanche's memories, underscores the first act's nostalgic, subdued mood.
When a white gauze curtain behind Blanche, reminiscent of the ones used in hospitals to shield patients' privacy, is drawn back, the parlor of Belle Reve is revealed. It is the stately home of the DuBois, plantation owners, where the wedding party of Blanche is in full swing. Yet repeatedly the guests dance in slow motion as if Blanche's mental film is unrolling at the wrong frame rate. On the stage's front right corner three men (Robert Robinson, Roland Havlica, Matteo Crockard-Villa), former encounters, stand around, waiting, smoking or lasciviously lying on a bed. It is the same bed Blanche sat on in the asylum, it is Stella and Stanley Kowalski's marital bed, Blanche's spare bed, the spot where her rape will take place. One of the men sings and tries to lure Blanche's attention away with obscene innuendos, the bed becoming the one at the Flamingo Hotel, a sleazy place with a garish pink neon sign, where Blanche sought refuge in the arms of diverse men after Belle Reve was lost. The inner pictures and voices of this episode in her life never fade. Blanche is prone to neuroses; one of her obsessions is to compulsively rub away spots of dirt on the bed sheet.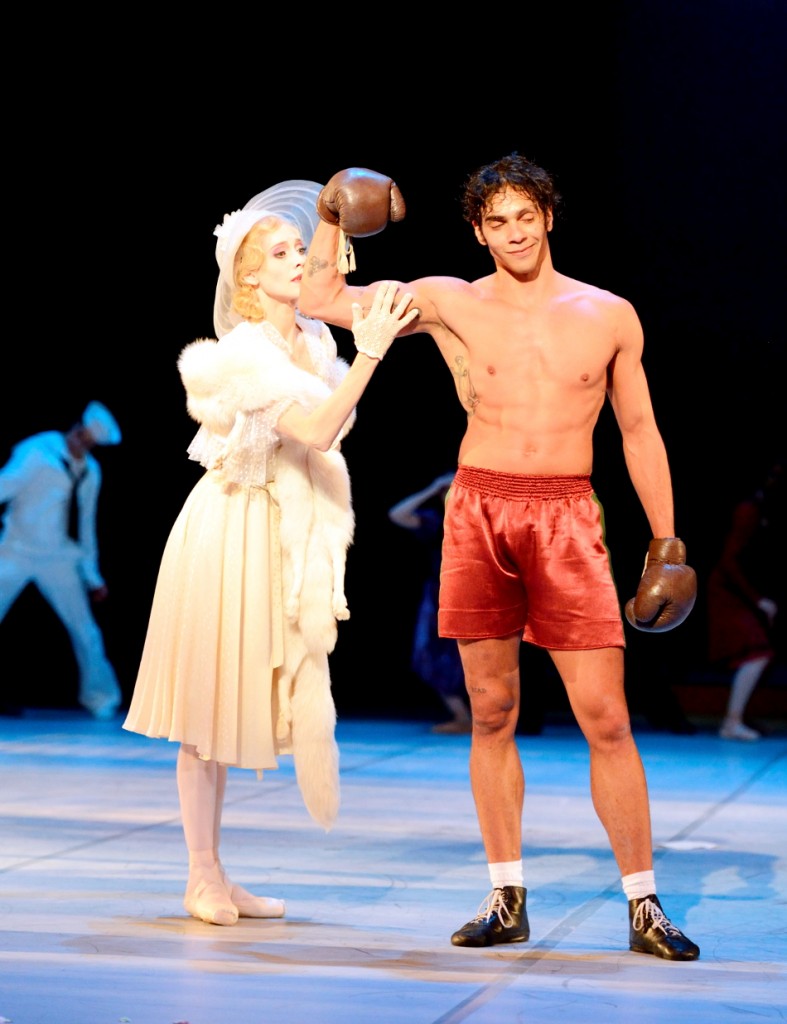 The party collapses dramatically when Blanche discovers that Allan Gray, her husband-to-be, is homosexual. Completely beside herself, her face turned hideous, she pukes with loathing. It is the only moment when she drops her composure and civilized behavior and acts powerfully with gut instinct. After Allan subsequently commits suicide, the gunshot resounds again and again in her mind. The trauma carves itself deeply into Blanche's psyche, from which she never recovers. Now and again she clings to her memory of the wedding pas de deux where things seem to be still happily in order. Later, when reality and fantasy merge more and more, she even believes she is meeting Allan again, either in the figure of the paper boy or in the doctor committing her to the asylum. All three roles, Allan, the paper boy and the doctor, are portrayed by the same dancer (David Moore).
The decline of Belle Reve, whose grand interior slowly collapses, also symbolizes the end of a whole era, the ruin of the old Southern aristocracy. Blanche isn't able to sustain the estate, though she tried desperately. She can neither keep the chandelier in position nor her remaining five relatives upright. Clad in black they sit in a circle like mummies until one after the other drops dead. Blanche remains a living fossil. She clings to the tradition she was brought up with but which isn't compatible with reality any more. In her anachronistic romantic perception a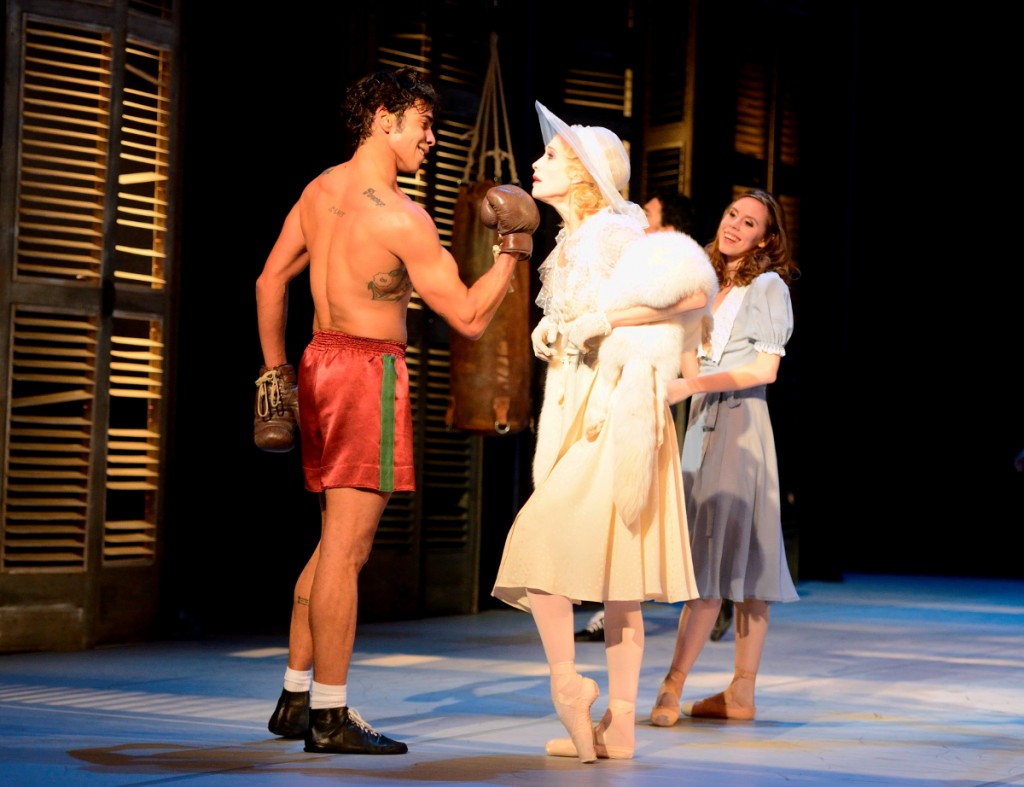 woman has to be protected by a man. He gives her social status, the feeling of being special and relevant. Alone, a woman is lost, a tender, endangered butterfly. Thus Blanche is shattered. In addition she has to deal with the fear of being left on the shelf. Her mannered behavior, the elegant white dress, the chiffon dressing gown, the perfect make-up, the pristine fair skin are all thin threads that she hangs onto for dear life to hide the truth. What is Blanche is only a facade. One could crumble her between one's fingers.
The second act deals with Blanche trying to find safe haven at her younger sister and brother-in-law's in New Orleans. Tennessee Williams placed the Kowalski's home in the buzzing, noisy French Quarter. The corps de ballet bustles back and forth, conveying the town's vibrant atmosphere. Pursuing their everyday businesses all walk in rectangular patterns resembling the area's street architecture. In the middle of the rear stage a streetcar track ends. "Left lane ends" a small sign says. Light falls through louvered doors on both sides of the stage. Four large ceiling fans rotate steadily, intensifying the impression that the air is stuffy and humid.
By accident Neumeier came across appropriate music, Alfred Schnittke's Symphony No.1. Elements of modern jazz and free improvisations on trumpets and trombones perfectly capture New Orleans's pulse. Surprisingly, the recording Neumeier uses originates from the composition's world premiere which took place elsewhere: in Gorki.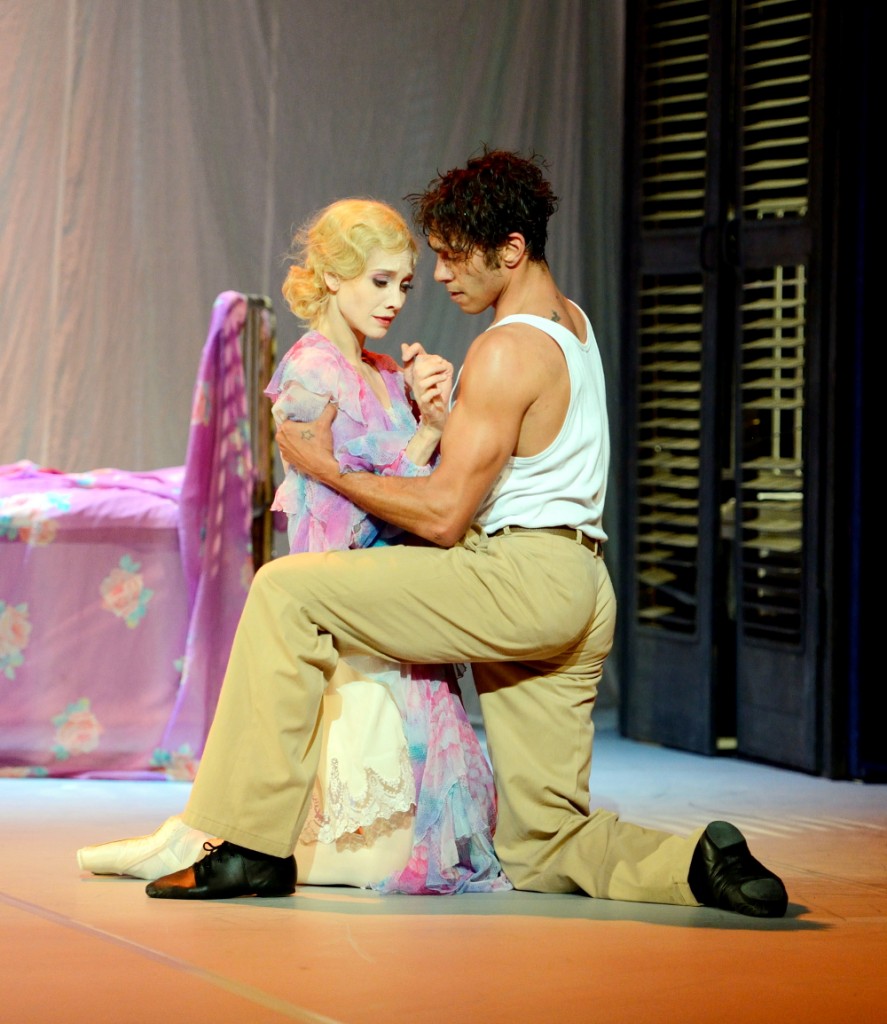 Once in New Orleans, prim and proper Blanche is completely out of place. There couldn't be more of a difference between her and Stanley's attitude to life. Stanley (Jason Reilly), of Polish descent, is a simple minded workman, self-absorbed and with a brutish nature. Williams's Stanley plays poker or bowls, Neumeier turned him into an amateur boxer, who dances triumphantly around when winning and enjoys hanging around with like-minded companions. Exhausting sex is the glue that connects him to Stella (Elisa Badenes). Reilly moves with the laid-back attitude of a self-complacent muscleman, toying with the sexual power he has over the women surrounding him. Yet his likeable facial features make one wonder how he could have become so cruel.
Stella, having shaken off all social conventions she grew up with at Belle Reve, is consumed by desire for sexual pleasure. Easy-going and jaunty, her main concern is how to fuel and inflame Stanley's sexual appetite. Badenes radiates youthful carefreeness and unashamed erotism so well that the role fits her like a glove.
Damiano Pettenella is Harold Mitchel, called Mitch, Stanley's buddy. He's a boxer but a loser in the ring. Actually not only there. Neumeier omitted that in Williams' drama bachelor Mitch is a mama's boy whose cord he is desperately trying to cut and find a woman for himself. Watching how he nervously presents a bunch of red roses to Blanche, who, absentmindedly,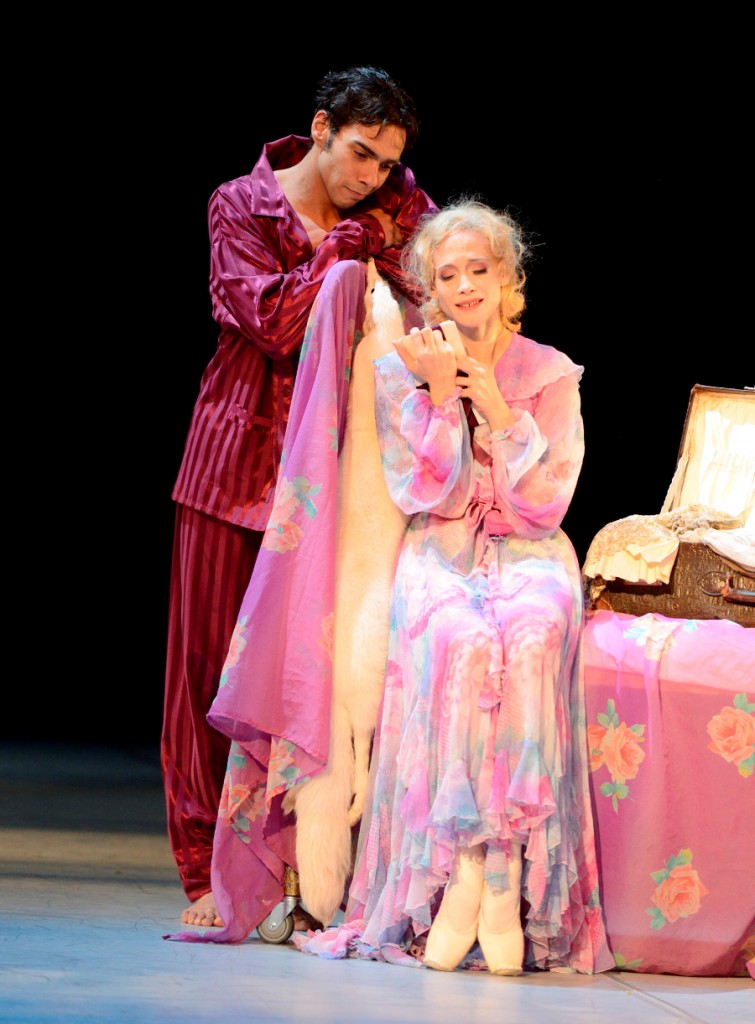 lets it fall down, is heart-rending. Shy and awkward, he at first doesn't know where to put his hands. Growing more and more self-confident in his pas de deux with Blanche, Mitch could be her white knight if only Stanley wasn't mocking and battering the tender approach. He whispers about her past at the Flamingo Hotel to Mitch. It is over. He goes nuts, exploding with strong, violent anger. When he grabs Blanche, tearing the tissue paper off the Chinese lantern she had hung above her bed and forces her to look into the light of the naked bulb to face the crude facts, one gets all choked up.
From this point on Blanche is finally prey. She inevitably will be hunted down until Stanley rapes her brutally on a bed whose metal bars remind one of a prison. Seeing Blanche voicelessly scream like a wounded animal is devastating. Afterwards Blanche crawls below the bed as if seeking shelter in a cave. She has become a mere breathing shell. As if having scored a victory in the ring Stanley enjoys his triumph, strutting around in a self-satisfied dance.
Preparing to drag her away into the asylum, a female attendant ties up Blanche's arms as if squeezing her into a straitjacket. She has reached the end of the line.
Alicia Amatriain's depiction of Blanche's psychological constitution was outstanding. She sensitively oscillated between being a lady of cultivated elegance and a defenseless, fragile creature. My deep respect for her.
Neumeier was not only in charge of the choreography but also of everything else: staging, set design, costumes and lighting. His choreography emerges naturally from the libretto. Add-ons are non-existent. He has created a poignant synthesis of the arts.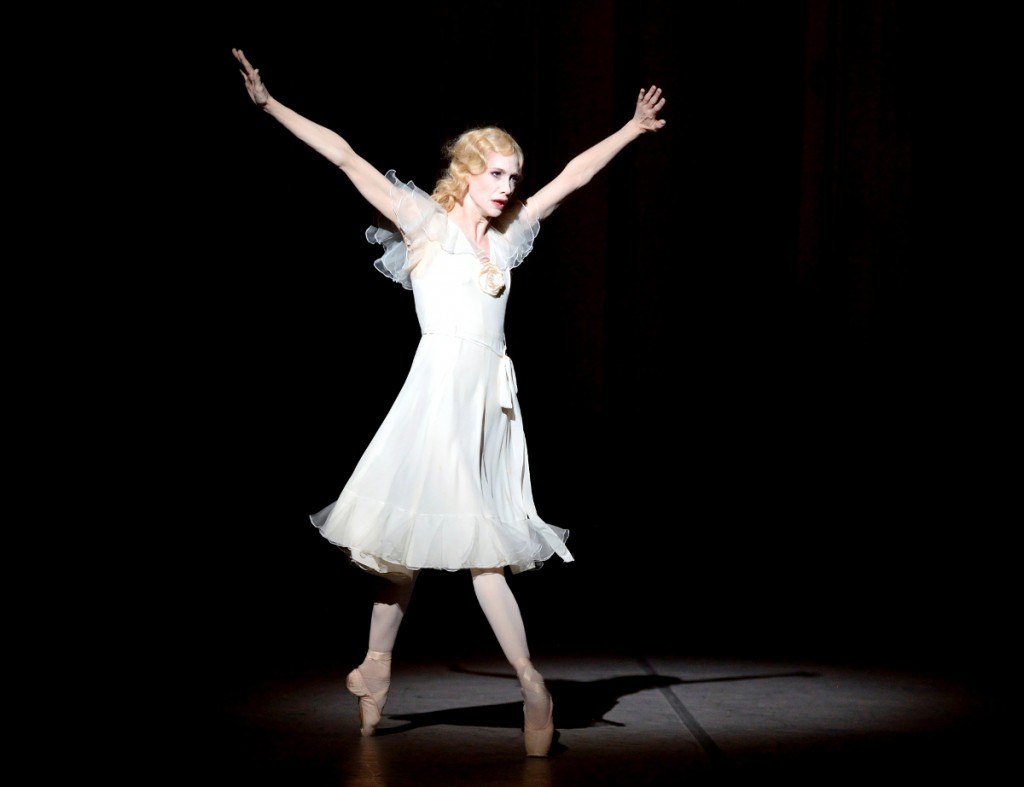 | | | |
| --- | --- | --- |
| | | |
| Links: | | Stuttgart Ballet's Homepage |
| Photos: | 1. | Alicia Amatriain (Blanche DuBois), "A Streetcar named Desire" by John Neumeier, Stuttgart Ballet 2015 |
| | 2. | Alicia Amatriain (Blanche DuBois) and Jason Reilly (Stanley Kowalski), "A Streetcar named Desire" by John Neumeier, Stuttgart Ballet 2015 |
| | 3. | Alicia Amatriain (Blanche DuBois), Jason Reilly (Stanley Kowalski) and Elisa Badenes (Stella Kowalski), "A Streetcar named Desire" by John Neumeier, Stuttgart Ballet 2015 |
| | 4. | Alicia Amatriain (Blanche DuBois) and Jason Reilly (Stanley Kowalski), "A Streetcar named Desire" by John Neumeier, Stuttgart Ballet 2015 |
| | 5. | Jason Reilly (Stanley Kowalski) and Alicia Amatriain (Blanche DuBois), "A Streetcar named Desire" by John Neumeier, Stuttgart Ballet 2015 |
| | 6. | Alicia Amatriain (Blanche DuBois), "A Streetcar named Desire" by John Neumeier, Stuttgart Ballet 2015 |
| | | all photos © Stuttgart Ballet 2015 |
| Editing: | | Laurence Smelser |