"b.22" ("verwundert seyn – zu sehn", "Moves", "ein Wald, ein See")
Ballett am Rhein
Opera House Düsseldorf
Düsseldorf, Germany
June 06, 2015
by Ilona Landgraf
Copyright © 2015 by Ilona Landgraf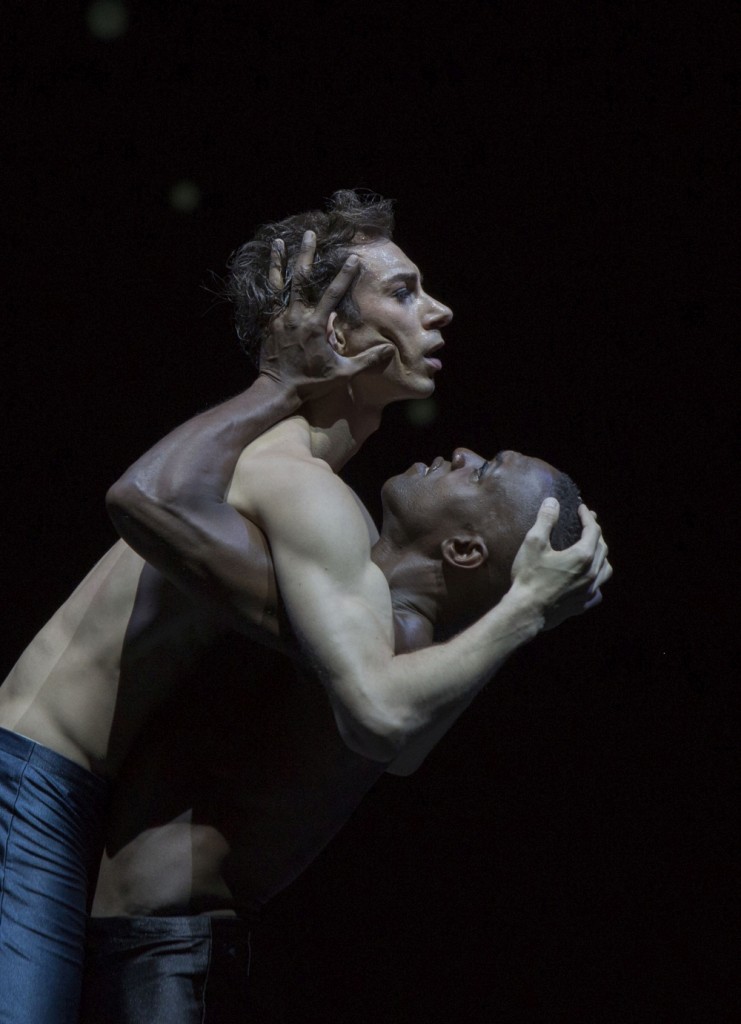 Martin Schläpfer, artistic director of the Ballett am Rhein, makes no effort racking his brain to find appealing titles for ballet evenings. He simply numbers them, this season arriving at "b.24". I saw an earlier work, "b.22", a triple bill made up of Jerome Robbins's "Moves" as the centerpiece, framed by two works by Schläpfer himself: "verwundert seyn – zu sehn" and "a forest, a lake" ("ein Wald, ein See").
"Verwundert seyn – zu sehn" premiered in January this year at the Theater Duisburg, the company's second home stage. Its title is a citation picked out of "Parerga and Paralipomena" ("Appendices and Omissions"), a collection of reflections by the German philosopher Arthur Schopenhauer. The two volumes gather, among others, Schopenhauer's thoughts on philosophy, science, nature, color theory, suicide or metaphysic. "Verwundert seyn – zu sehn" is taken from a chapter dealing with the vanity of life. A serious, rather gloomy subject. To get the right perspective, one has to know that Schläpfer dedicated the piece to Bogdan Nicula, a long-time dancer in his ensemble. Being in his mid- thirties, the Rumanian developed amyotrophic lateral sclerosis last year. Within short time he was bound to the wheelchair and depended on artificial respiration.
"Verwundert seyn – zu sehn" roughly meaning "being surprised – to notice" alludes to people's attitudes, ruefully yearning for the past yet steadily waiting for a better future while not appreciating the present time. According to Schopenhauer, most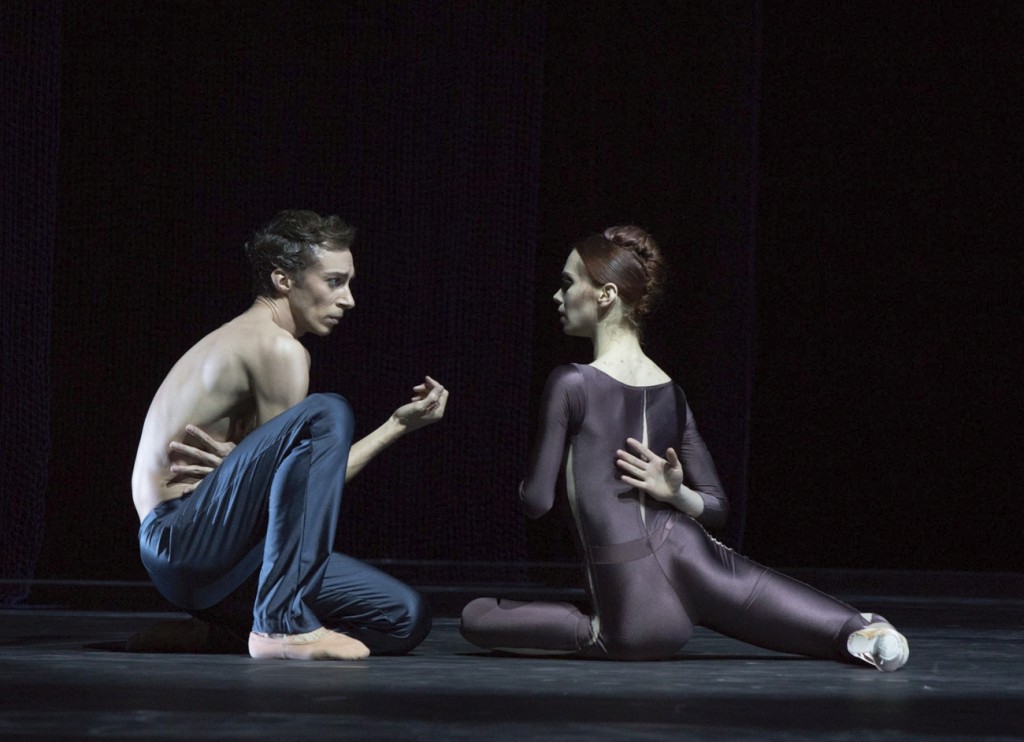 people will be surprised at the end that life actually was what they let pass by without enjoying it.
Schläpfer interprets Schopenhauer's thoughts in episodic scenes revolving around a male protagonist (Marcos Menha). Fourteen other dancers are involved helping to depict his inner monologue. Two piano sonatas from Alexander Scriabin's late work, the "Sonata No. 6" (1911/12) and "the "Sonata No. 10" (1912/13) accompany Schläpfer's exploration into the psyche's depth. Both are influenced by the composer's idea of a multimedia mystery which should address all senses. Scriabin's sonatas are used for the ballet's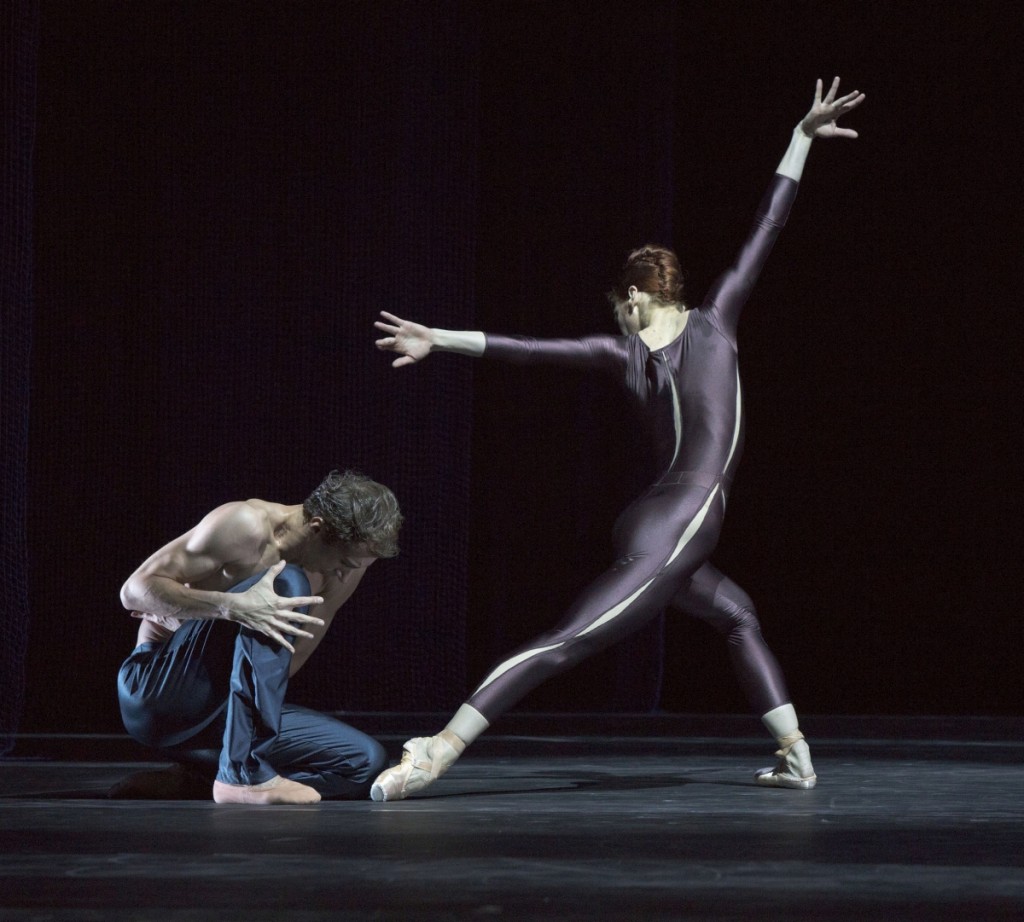 first and third parts dealing with the protagonist's inner life, perhaps his thinking about the past and the future. In the middle part, representing the here and now, Franz Liszt's first version of "Grand Valse di bravura, Le bal de Berne" radiates cheerfulness and vitality. Denys Proshayev at the piano gives a sensitive rendition of all three pieces.
The first part's dark, nighttime space, illuminated by a wandering full moon, becomes lighter in this second, middle part. Here, a projection of the earth as seen from the space rotates unperturbed in the background. In the final part it is again night. Dots of light remind one of shooting stars. Later they flash in lines of bright dots or arranged in a circle.
Keso Dekker costumed the men in shiny dark pants, the women in catsuits of the same fabric which, due to white, slit-shaped inserts at the sides, seem to burst at the seams.
In his journey through life Menha's character encounters several women, shoving away one – in which he takes mischievous pleasure – and having another hang around his neck. Suddenly plenty of females surround him. In the second part a real relationship with a jaunty black-haired woman (Louisa Rachedi) sprouts, but Menha loses courage and hides from her in the darkness. Of the other women, some are self-assured, others are inhibited shrinking violets. Menha comforts one who is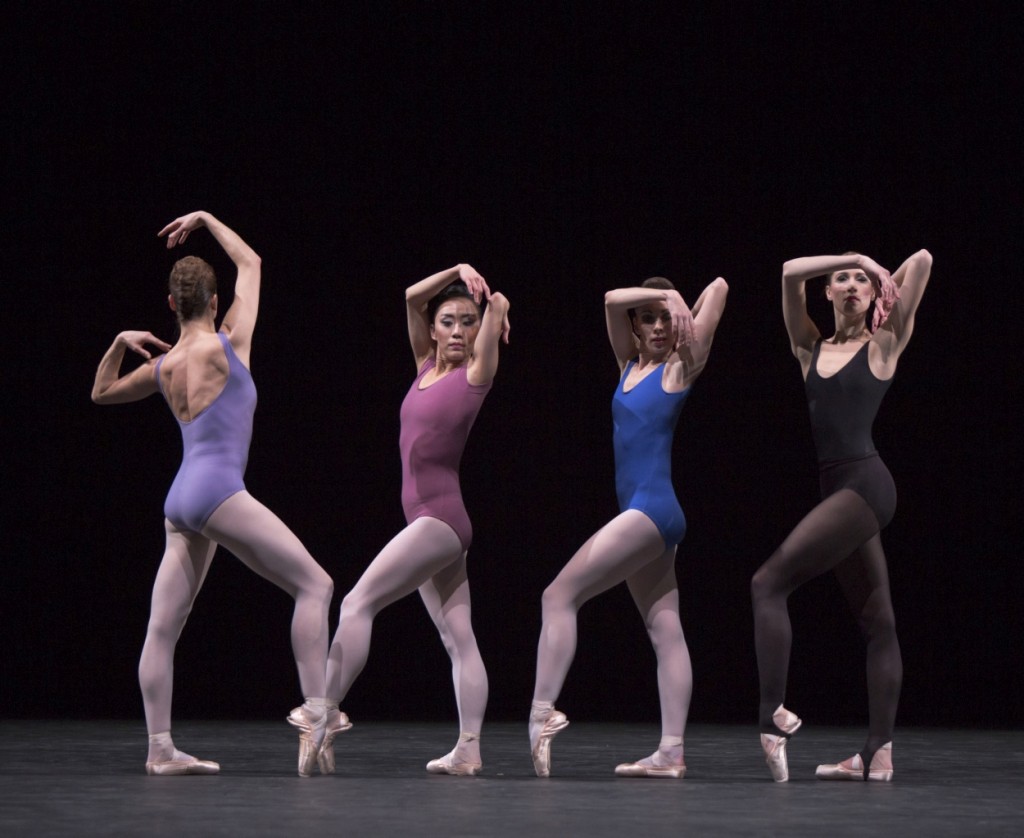 curly haired (Camille Andriot) but she finally bids him goodby. Yet she is the one who returns to Menha when he lies on the floor at the end, at what might be his life's end. Red-haired Ann-Kathrin Adam, turning up at decisive moments, acts as Menha's stable point of reference. Chidozie Nzerem is his dark alter ego, a rather commanding figure. Between the three musical parts there are long silences. The sound of a little bell – the only prop – indicates transitions between the imagined and the real world. A woman in the garb of a foreign, perhaps imaginary, culture (Yoku Kato) enters the stage at the beginning and the end of the work as if she were opening and finishing a ritual.
Schläpfer interweaves elements of the classical style with modern movements into an interesting wattling. His use of space varies. Situations and emotions are clearly expressed but remain remote.
By accident Robbin's "Moves" became a ballet performed in silence. In 1959, while working on it with his own troupe "Ballets: U.S.A.", the composer Aaron Copland let Robbins down. His delivery of the music was delayed, but Robbins who had already begun choreographing didn't want to throw the existing work overboard and start anew. Thus he made a virtue out of necessity. The sounds the dancers make – breathing, pointe shoes hitting the ground, handclasps and so on – become the score or the metronome.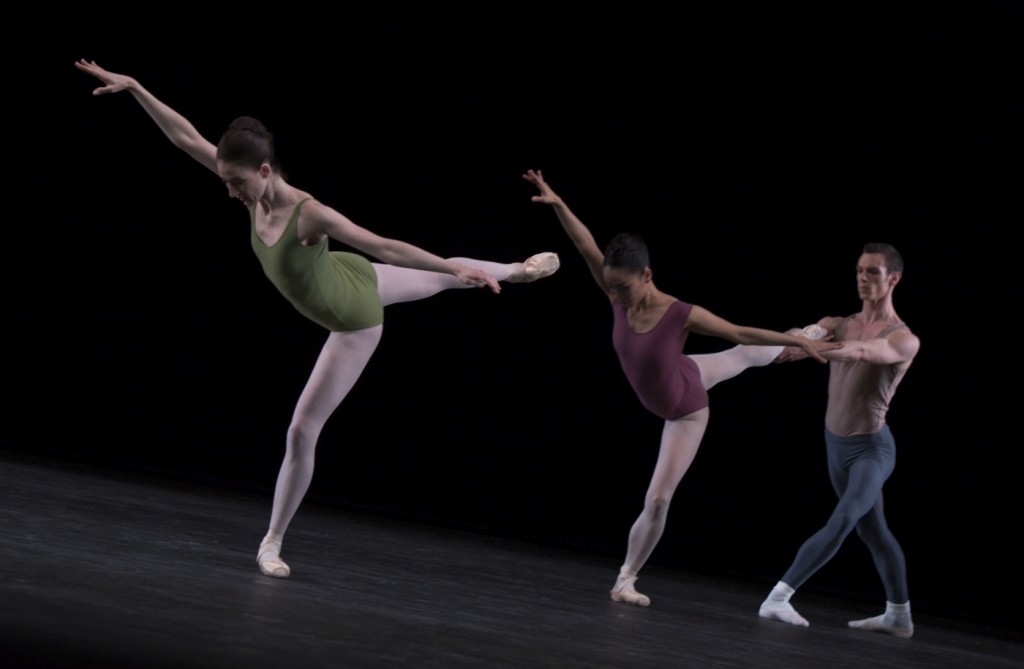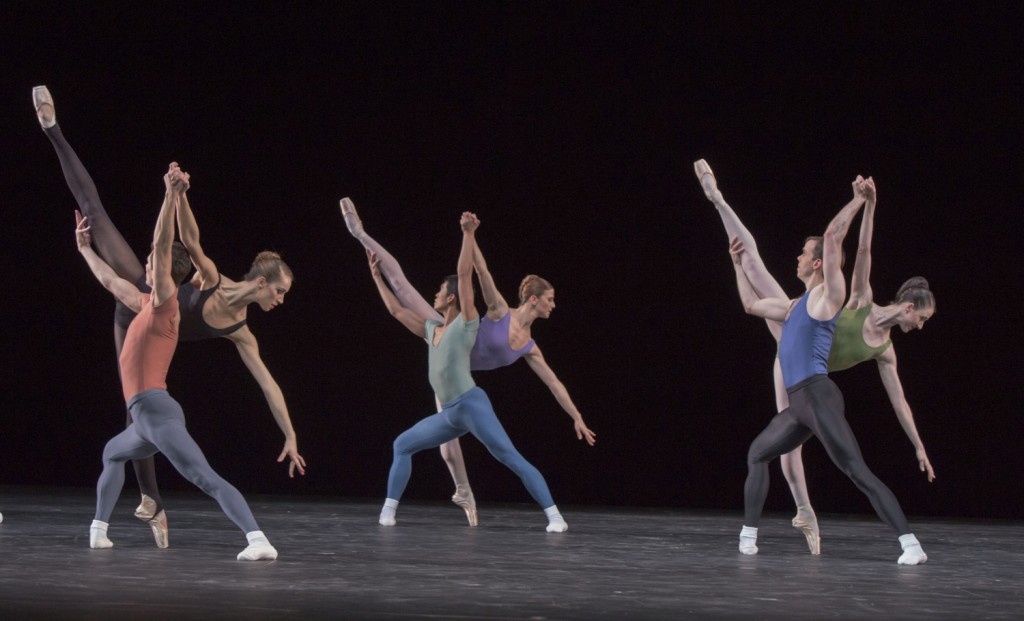 Both Robbins and Schläpfer amalgamate classical and modern dance in a comparable way. Like "verwundert seyn – zu sehn", "Moves" is made up of a succession of episodes. But Robbins, by comparison, comes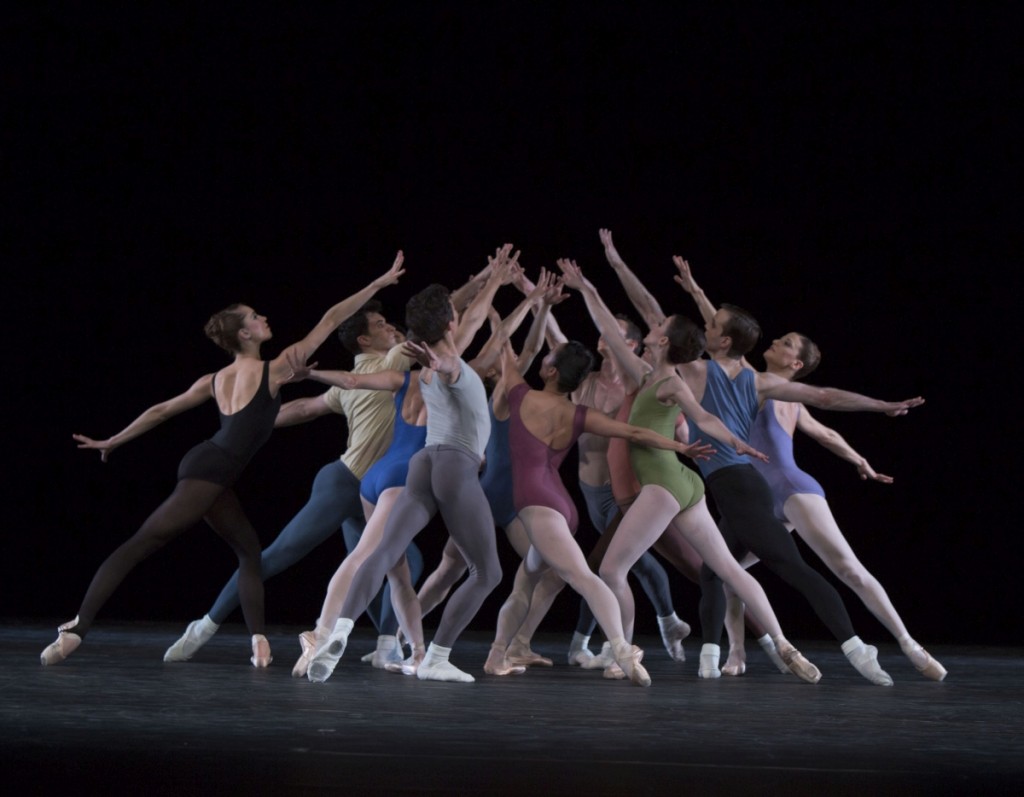 up with more surprises, twists and turns and a crisper style. This might be due to the fact that "Moves" aims to present and parade dancers. The piece's atmosphere is light, even sunny. The men, for example, deliver a snappy routine of jumps, while a group of ballerinas, having draped themselves diva-like on the floor, watch each other's solo with straight faces. Later one dancer plunks the sole of her pointe shoe imperiously down. A nod to Flamenco? Determined and proud she then walks off. A warm-up followed by a rehearsal turns comical in "Triplets" when suddenly a second man supports the ballerina in a pas de deux. The ballet's end is almost a mirror-image to how it began: The dancers stand in line, face the audience, then all at once turn round and walk towards the back of the stage. The choreography is clear and precise, dancers move with brio, yet they add some flavor of Schläpfer's style of moving. Thus differences between both choreographies are flattened out. I couldn't determine which dancer was driving the impulse for group movements or if there was a shared common impulse. It is fascinating how dancers move in unison though not even seeing each other.
For "ein Wald, ein See", choreography created in 2006 for the ballettmainz, Schläpfer drew his inspiration from the title, a forest and a lake. Born into a rural family in Appenzell/Swiss, Schläpfer originally wanted to become an organic farmer. Maybe this explains why lakes and forests are pristine worlds for him. For Schläpfer both terms, lakes and forests, evoke associations for dance.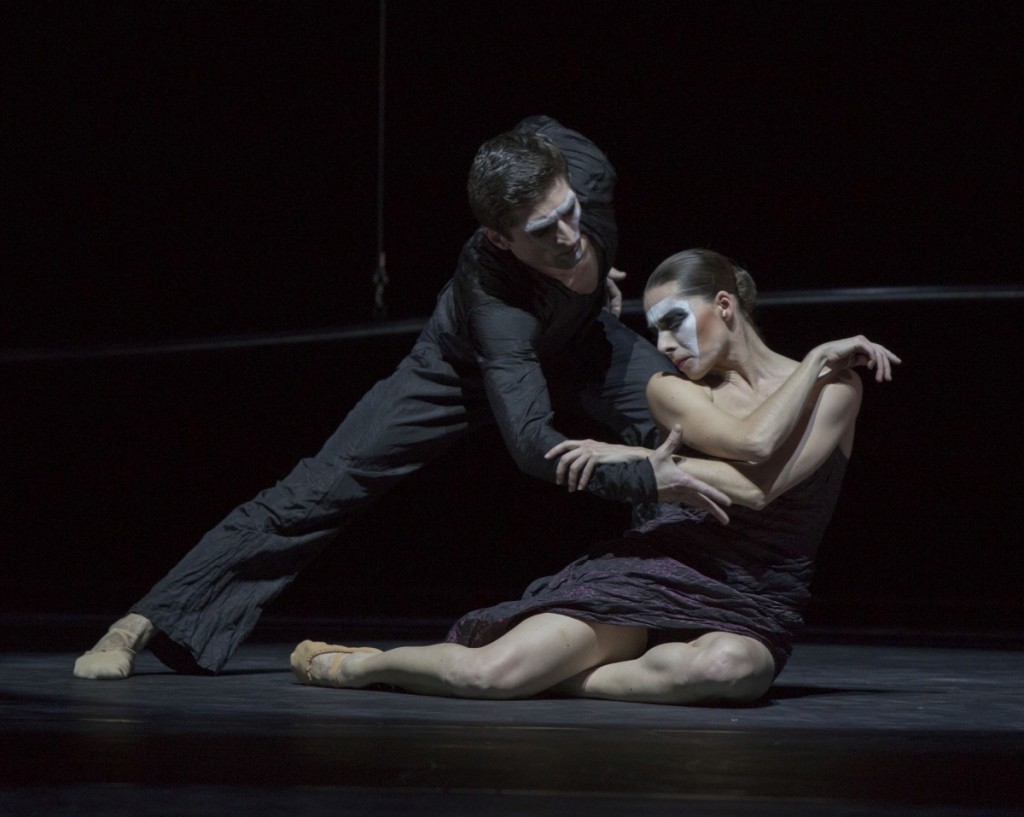 Gently curving metal rods, hanging horizontally on vertical bars, symbolize water waves and tree trunks. High above, an owl sits on the rod system. The dancers, nineteen in all, wear trousers and shirts for the men, or for the women asymmetrical cut dresses of a shiny, rumpled fabric (costumes by Catherine Voeffray). The upper halves of their faces are painted white, with their eyes being in dark shadows.
Schläpfer commissioned the British man Paul Pavey to compose the music. The array of instruments used ranges from a piano, trumpets, and electrical sounds to specialties like a flugelhorn or two different African drums. In addition Pavey, as part of performing live himself, sings overtones or murmurs sing-songs reminiscent of Far Eastern incantations.
The topic of the following three-quarters of an hour is again the inscrutable depths of the inner life. Anne de Paço writes in the program notes about mental states, metaphors, poetic darkness, disentangling from cloudy mental thickets, the foreboding of eternity and draws parallels between Schläpfer's piece and the works of Merce Cunningham. Only that Cunningham in terms of his ballets wouldn't have been interested in psychology. In a citation Schläpfer characterizes many of his own works as "tunnel ballets, having the atmosphere of being located in an underworld." For quite a while he would not create new work in the daylight, but rather in the dark depths of his mind. Only the steps would see the the light. The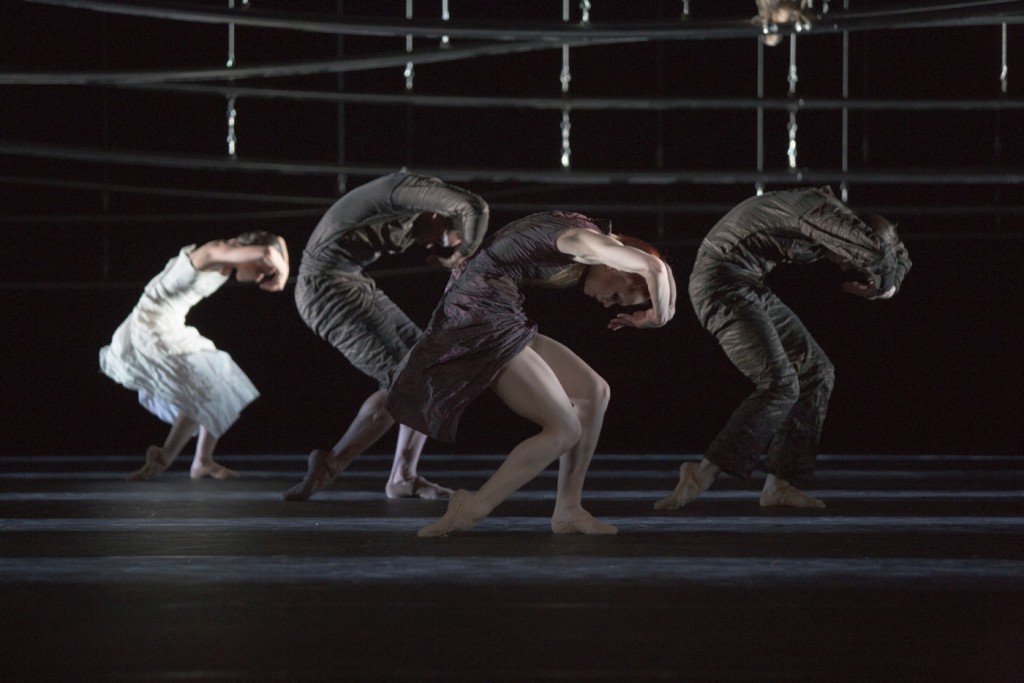 darkness would originate somewhere else, from the psyche, from asking who we would be. Weighty topics. But on stage nothing memorable happens. Instead, scene after scene tediously repeats the formula we are already familiar with. Movements become more hunched and dancers sometimes spread their hands like claws, but that is not enough to make any real difference with what the evening's first part offered. I had hoped that at least the owl would move a tiny little bit! But no. Only a few dancers, sitting on the rods, are raised up at one point.
Oddly, in the program notes de Paço focuses on such trivialities as the dancers' footwear. She describes how flexible slippers, easily gliding over the floor, offer protection for the foot, yet how pointe shoes become a woman's dangerous, highly erotic weapon – a signature feature of Schläpfer. How much would remain when stripping down her pompous discourse to its essence? How much would remain of "ein Wald, ein See"?
Several times, scenes from all the pieces are described as having energy, even high energy. I witnessed dancers moving vigorously but with little energy coming across. The chasm between purport and reality was obvious.
Quite a few of the seats in the auditorium were empty. The gaps grew wider after each of the breaks. Let's hope next season's program – including, amongst others, works by Balanchine, Bournonville, Taylor, Tudor, creations by Schläpfer and Kurt Jooss's "The Green Table" – brings back the fizz.
Bogdan Nicula died on June 21, 2015. The company will dedicate this season's remaining performances to him.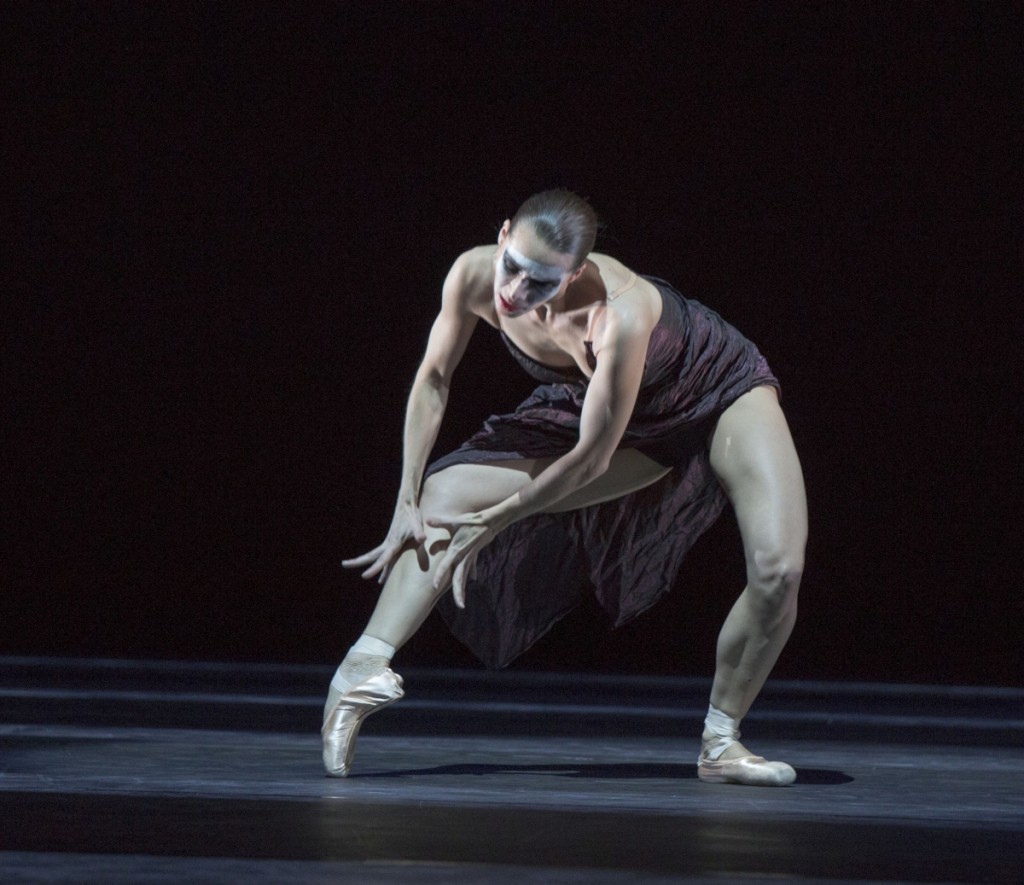 | | | |
| --- | --- | --- |
| | | |
| Links: | | Homepage of the Ballett am Rhein |
| Photos: | | "verwundert seyn – zu sehn" (Martin Schläpfer) |
| | 1. | Marcos Menha and Chidozie Nzerem, "verwundert seyn – zu sehn" by Martin Schläpfer, Ballett am Rhein 2015 |
| | 2. | Marcos Menha and Ann-Kathrin Adam, "verwundert seyn – zu sehn" by Martin Schläpfer, Ballett am Rhein 2015 |
| | 3. | Marcos Menha and Ann-Kathrin Adam, "verwundert seyn – zu sehn" by Martin Schläpfer, Ballett am Rhein 2015 |
| | | "Moves" (Jerome Robbins) |
| | 4. | Claudine Schoch, So-Yeon Kim, Julie Thirault and Alexandra Inculet, "Moves" by Jerome Robbins © The Jerome Robbins Rights Trust, Ballett am Rhein 2015 |
| | 5. | Bruno Narnhammer, Alexandra Inculet, Sonny Locsin, Claudine Schoch, Michael Foster and Nathalie Guth, "Moves" by Jerome Robbins © The Jerome Robbins Rights Trust, Ballett am Rhein 2015 |
| | 6. | Nathalie Guth, So-Yeon Kim and Paul Calderone, "Moves" by Jerome Robbins © The Jerome Robbins Rights Trust, Ballett am Rhein 2015 |
| | 7. | Ensemble, "Moves" by Jerome Robbins © The Jerome Robbins Rights Trust, Ballett am Rhein 2015 |
| | | "ein Wald – ein See" (Martin Schläpfer) |
| | 8. | Andriy Boyetskyy and Julie Thirault, "ein Wald – ein See" by Martin Schläpfer, Ballett am Rhein 2015 |
| | 9. | Sachika Abe, Rashaen Arts, Ann-Kathrin Adam and Michael Foster, "ein Wald – ein See" by Martin Schläpfer, Ballett am Rhein 2015 |
| | 10. | Julie Thirault, "ein Wald – ein See" by Martin Schläpfer, Ballett am Rhein 2015 |
| | | all photos © Gert Weigelt 2015 |
| Editing: | | Laurence Smelser |