"Jürgen Rose: Nothing is as life fulfilling as the theater"
Academy of the Fine Arts & Theater Museum Munich
Munich, Germany
June 2015
by Ilona Landgraf
Copyright © 2015 by Ilona Landgraf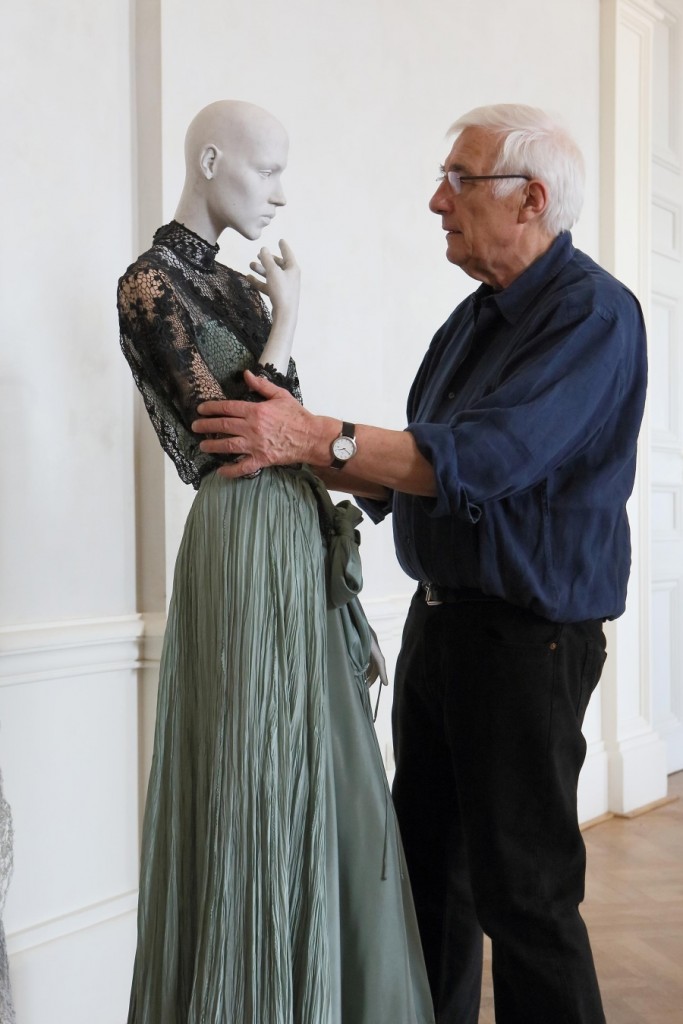 "Whenever the news broke that Rose would make the next piece, I was always happy." comments longtime actress of the Kammerspiele Munich, Sybille Canonica, about Jürgen Rose, Germany's most famous set and costume designer. The seventy-seven-year old's accolades pile up: actors, singers, dancers – all can feel they are at the bosom of Abraham, says theater critic Beate Kayser. Coloratura soprano Edita Gruberova who worked in several opera productions with Rose calls him a genius, full of enthusiasm. His work would be extremely thorough and precise. She entirely trusts his taste and guidance. But Rose is modest. One always has doubts, he says in the exhibition catalog. One never knows if one's work is sufficient.
Currently Munich's Theater Museum and the Bavarian Academy of the Fine Arts are showing a corporate exhibition of Rose's work. His oeuvre encompasses designs for almost three hundred productions, operas, ballets, as well as plays. He has always been in charge of the costumes and only two times not responsible for the sets. In addition, as stage director, he has created "La Traviata" (1994, Opera Bonn), "The Magic Flute" (1996, Opera Bonn), "Don Carlo" (2000, Bavarian State Opera), "The Cunning Little Vixen" (2002, Bavarian State Opera) and "Norma" (2006, Bavarian State Opera). Rose is a universal artist. "Norma" and "Don Carlo" will be staged at the Bavarian State Opera at the end of June and in July, "Werther" will be revived in October with Rolando Villazón singing the title role. As usual, "Don Carlo" was sold out as soon as it was announced.
Rose worked with the defining figures of Germany's post-war theater scene. He first gained attention working with Kurt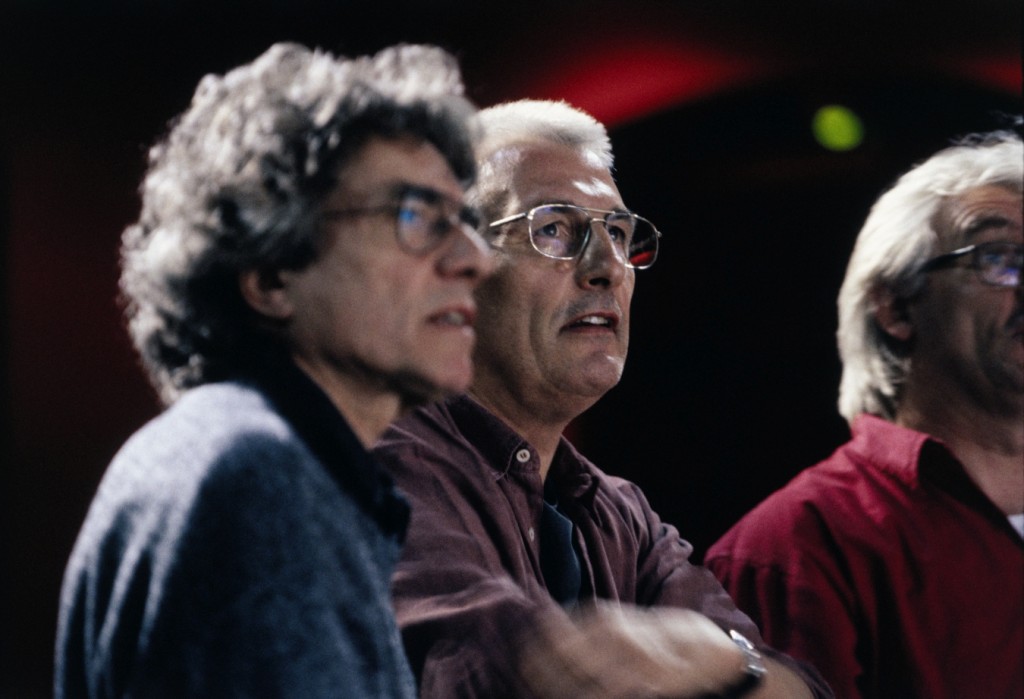 Hübner, stage director in Ulm and later in Bremen. The stage designer Jörg Zimmermann also opened doors for young Rose. Pieces by – amongst others – Otto Schenk, Peter Stein, Thomas Langhoff and Giancarlo del Monaco have set and costume designs by Rose. August Everding, artistic director of the Kammerspiele Munich, later of the State Operas in Hamburg and Munich, and Sir Peter Jonas, who from 1993 to 2006 was general director of the Bavarina State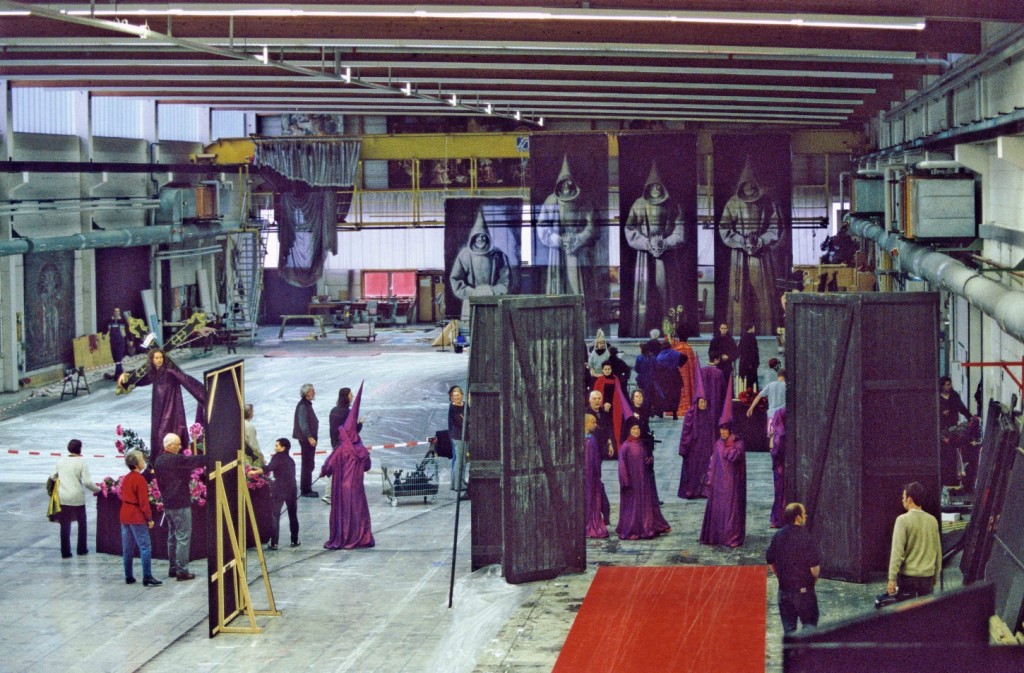 Opera, commissioned works from Rose. But the one director immediately mentioned in the same breath with him is Dieter Dorn. In 1976, Dorn became stage and artistic director of the Kammerspiele Munich. In 2001 he moved to Munich's Residenztheater where he held the same position until 2011.
Rose and Dorn collaborated from the beginning. In 1976 "Minna von Barnhelm", a comedy by G. E. Lessing, was the beginning of what grew into a legendary era. Rose's designs have no consistent style but an unique aesthetic. His command ranges from opulent extravaganzas, faithful to history in all details, to minimalistic tent-like rooms, evoking atmosphere with special lighting. According to Dorn, Rose doesn't construct stage sets but rather a terrain on which he could experiment with the figures to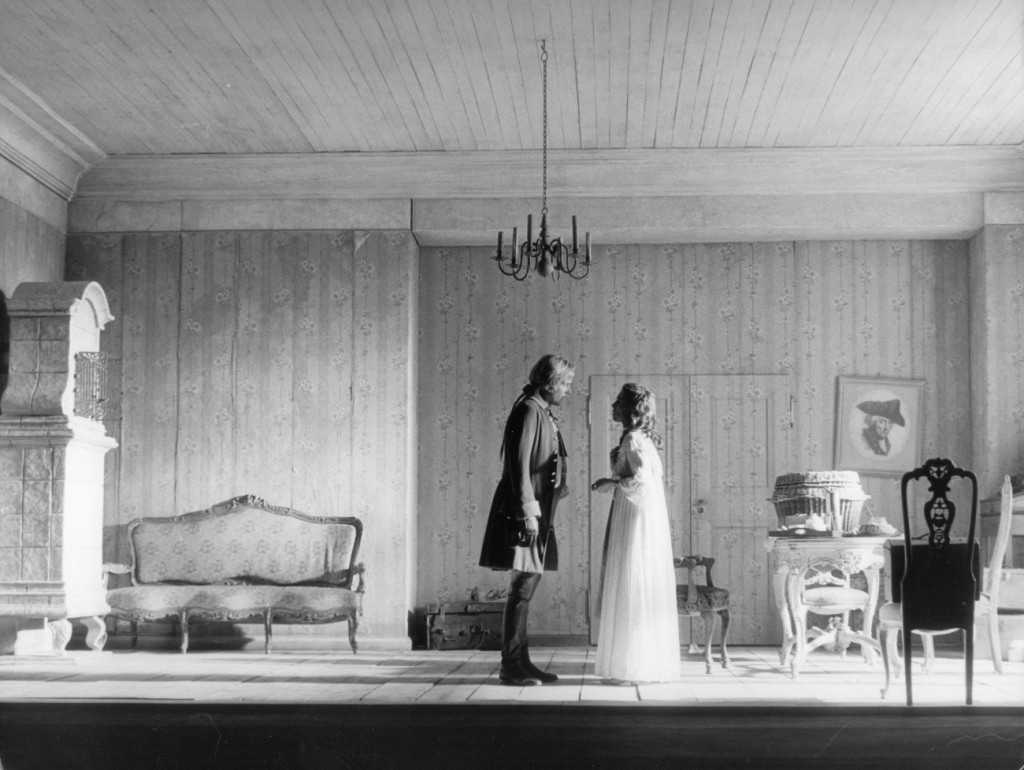 carve out the right psychologically rich characterizations. The earlier that sets and costumes were involved in the creative process of a new production the better, giving pieces greater depth and realism touching the audiences more deeply. Rose's costumes are seldom fixed, usually evolving during rehearsals to help actors find their roles and intensify a role's character. Exploring a new production, he experiments with draft designs and has no problem dropping an initial idea because of a better one. The goal is to attain the optimum result, never less. The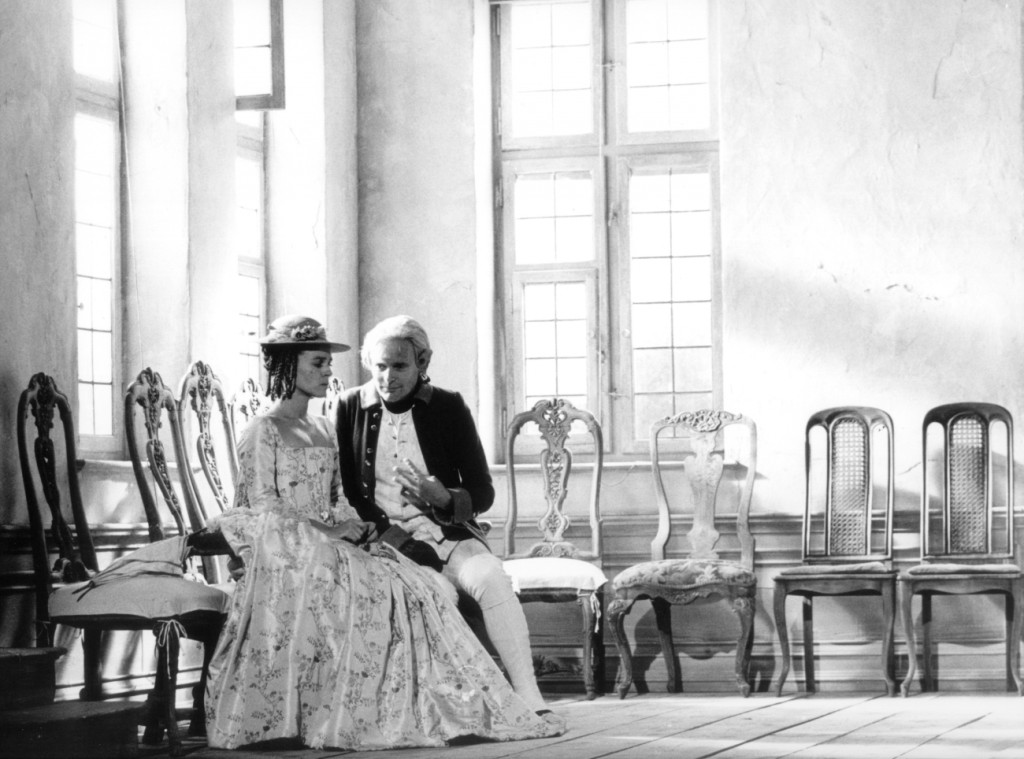 theater workshops and the technicians moan at first. Yes Rose is fastidious, not even the tiniest detail slips past his attention. But feeling that they are integral parts of the big picture, feeling their work is appreciated, crews are spurred to do their best, to achieve the extraordinary. Thus the exhibition is also an example of the workshops' expertise, the outstanding quality they are able to achieve. Sadly, these days for the new generation of theater producers, this kind of quality is less and less in demand. Or, given the limited budgets, unaffordable.
Rose, putting heart and soul into his work and having irresistible persuasive power, can electrify. His enthusiasm is infectious. Usually he is present in the house during the whole production process. He has to because, as he stated, the production is part of him. Having enough time is a luxury, he says, but is the sine qua non for Dorn. Yet it seems the golden days are gone. These days there is no longer a common creative process, no process of discovering a piece, of developing a character. Dorn's and Rose's last project was a large one, the tetralogy "The Ring of the Nibelung" at the Grand Théâtre de Gèneve in 2013/14.
Rudolf Noelte (1921 – 2002) and Hans Lietzau (1913 – 1991), theater directors, have a special status in Rose's career. Noelte was also an opera director. Both are regarded as Rose's artistic fathers. The third in this league is John Cranko (1927 – 1973). Collaborating with him in Stuttgart was crucial in Rose's artistic progress. "Onegin" (1965) and "Romeo and Juliet" (1968) brought Rose international fame. Cranko loved working with him and vice versa. They made "Poéme de l'Exstase"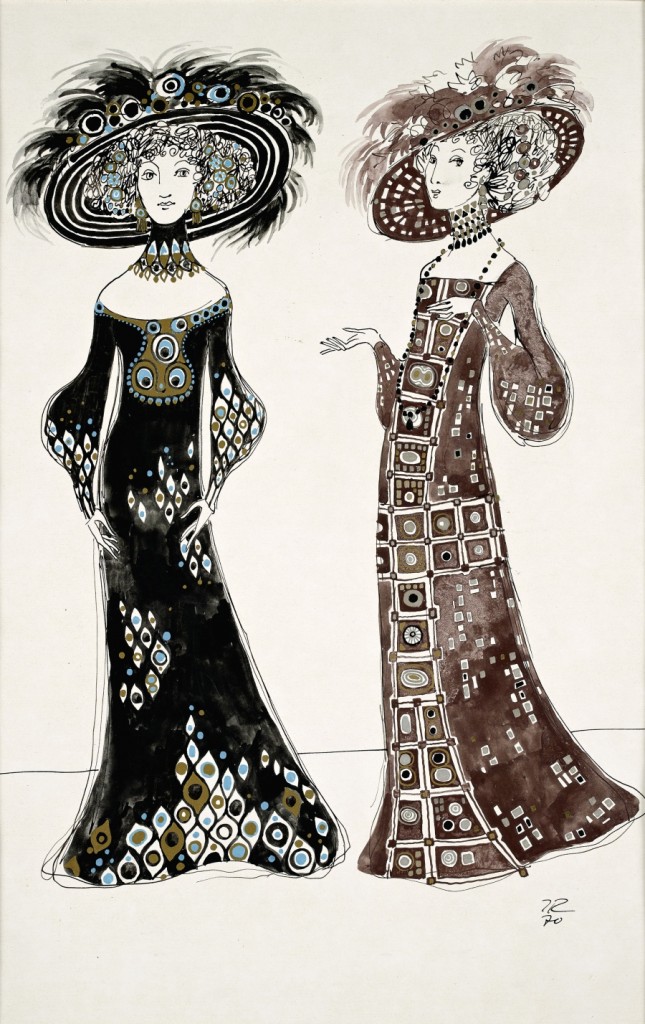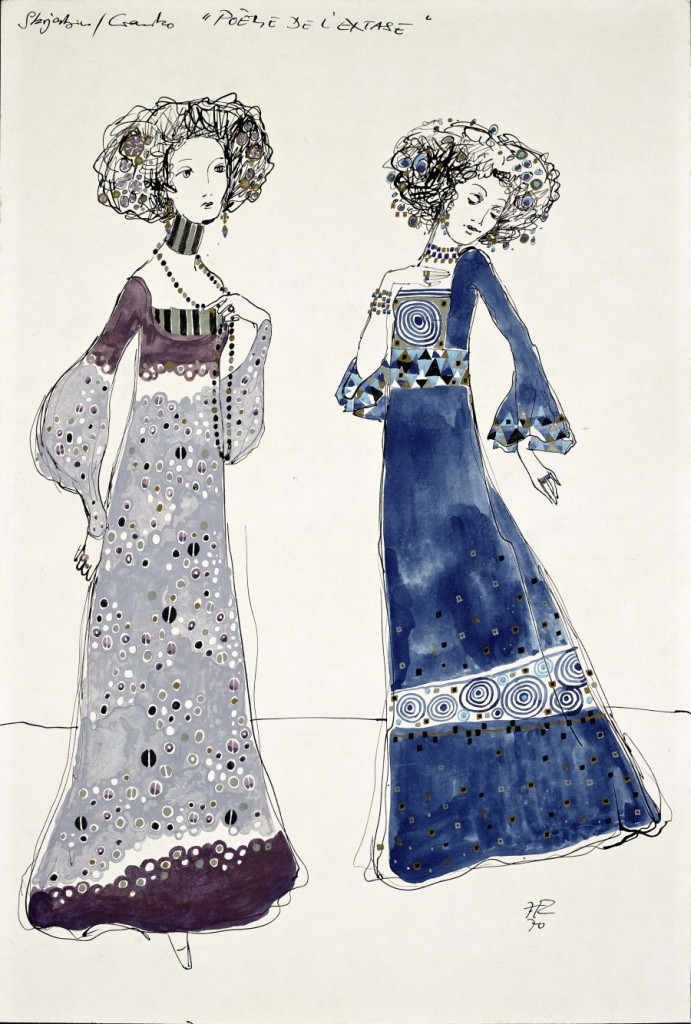 (1970) into an art nouveau revelry in the style of Gustav Klimt: lavish, elaborate and absolutely gorgeous. One year later in "The Merry Widow" Cranko and Rose plunged into the world of Art Deco. The backdrop for the second act, seventy meters wide, had to be painted twice because Rose wasn't satisfied with what the theater workshops delivered first. Even the costume department of the Bavarian State Opera sewed and stitched the Stuttgart costumes. Nevertheless the premiere had to be postponed for eight weeks and the budget for costumes and decor was overdrawn – a sacrilege! But the critics were enthusiastic: They attested to the distinguished taste, exceptional sense of style, an orgy of colors and shapes unparalleled in Europe's post-war-era. However "Traces" (1973), Cranko's last ballet before his untimely death, was another story. It dealt with the horror of the Gulag; its design was bleak. Up to then, dealing with harsh reality hadn't been common on ballet stages. "Traces" was Cranko's reaction to the suppression he witnessed when touring Moscow and Leningrad with the company. He had been shocked by the repression his friends, the Soviet-Jewish dancers Galina and Valery Panov, were subjected to. Rose felt Cranko struck out on a new path with "Traces". How might his style have evolved if it hadn't been his last piece?
When Marcia Haydée tackled "Sleeping Beauty", her first choreography for Stuttgart Ballet, having Rose on board was a prerequisite. "If I fail, at least the costumes will be beautiful" she said. Rose was known for superb quality but also for being expensive. The production absorbed nearly two million Deutsche Marks. An enormous sum, part of which included the wages of the theater workshops. Rose chose Indian silk – sari cloths – for the rococo costumes. Dressmakers in Munich and Florence received orders. Stuttgart Ballet will revive "Sleeping Beauty" again this July. Delighted oohs and aahs for the drop-dead gorgeous designs and costumes are certain. Haydée's choreography, by the way, didn't fail at all.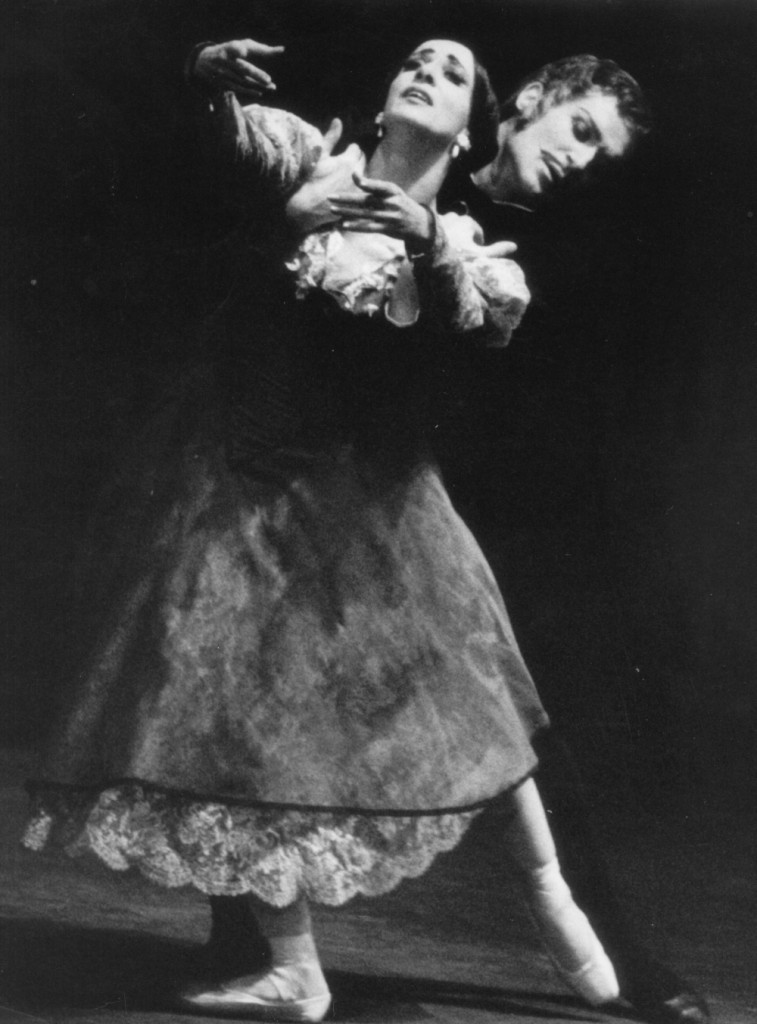 "Initials R.B.M.E." , similarly with designs by Rose, is part of this season's "All Cranko!"-evening, "Poéme de l'Exstase" will be revived next season with completely remade costumes.
In 1972 Rose began creating for John Neumeier, then artistic director of Frankfurt's ballet company. "Le Baiser de la Fée" and "Daphnis and Chloe", the first pieces, were followed by "The Nutcracker" for the Bavarian State Ballet (1973). Being busy with preparations for this Nutcracker, Rose refrained from accompanying Cranko and the Stuttgart Ballet on their tour to the USA. It was the tour which ended tragically with Cranko dying on the return flight. Rose reproached himself for years for not having been present.
In 1973 Neumeier's "Romeo and Juliet" premiered in Copenhagen. Rose's first design for Hamburg Ballet was "Illusions – like Swan Lake" (1976) – in which a stunning silk fabric sails down from the ceiling at the end, symbolizing a huge wave drowning the king. The list of the collaborations of Neumeier/Rose is respectable: "A Midsummer Night's Dream" (1977), "Sleeping Beauty" (1978) and the almost legendary "Lady of the Camellias" (1978). Neumeier describes the cooperation as a mutual artistic evolution. Realistic decors made way for abstract, minimalistic ones. Reduction crystallized a piece's essence. "A Cinderella Story" (1992) their latest production up to now, was staged in a black and white, tunnel-like room. A revision of "Peer Gynt", a 1989 production, will premiere in Hamburg at the end of June, "A Cinderella Story" will be revived next season.
A small section of Rose's oeuvre is now on show in Munich. The Academy of the Fine Arts presents only costumes, while the Theater Museum nearby exhibits costumes – more than 180 in total -, stage models, figurines, sketches, paintings and photos.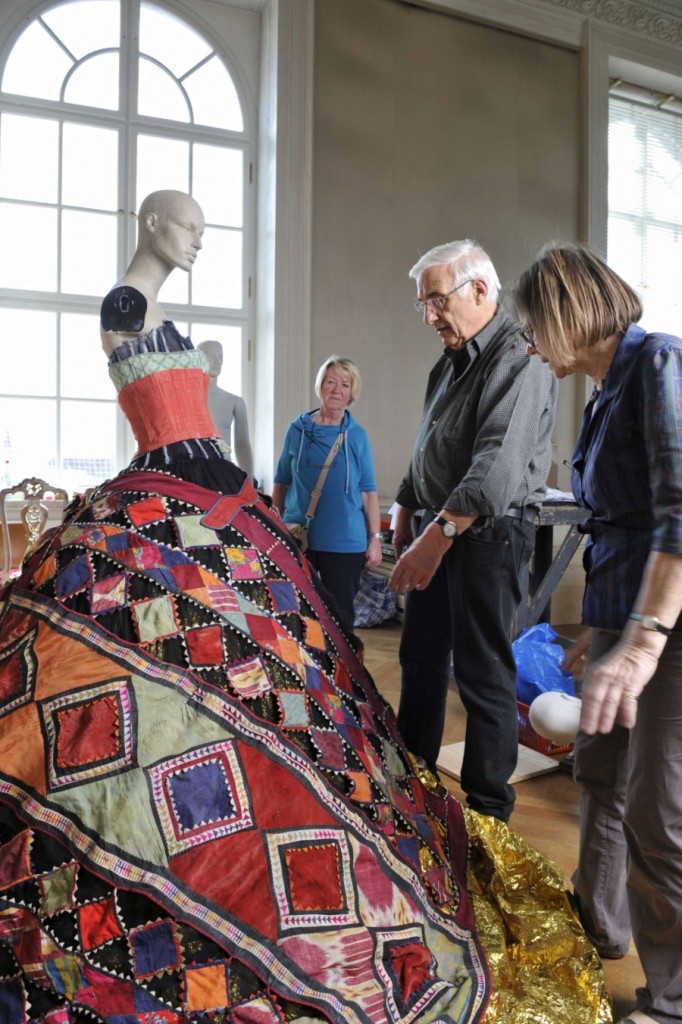 Climbing up the stone stairs in the Königsbau of the Munich Residence, where the Academy is located on the fifth floor – one is greeted by a colorful, lavish dress from Jean Genet's "Les Paravents" (2003, Residenztheater Munich; Dieter Dorn director) on the stair's half landing. Its huge crinoline is draped with wedding carpets from Tibet (or perhaps Kazakhstan) and gold/silver rescue-foil sheets, usually part of first aid equipment. Along the balustrade Rose arranged figures out of "Much Ado About Nothing" (1992, Kammerspiele Munich; Christian Stückl, director) next to Odette's petite, white tutu from Neumeier's "Illusions – like Swan Lake", worn by Megali Messac in 1976. A model of the stage shows the design for the first act which is a topping out ceremony. It has a royal blue canopy which is less apparent when one sits in the audience for the real thing.
For the exhibition Rose collected a number of display dummies from different periods and various theater museums. Delicate dummies were stuck with wrapping tissue, the more robust ones with crepe packing paper. In the first room costumes of Frank Wedekind's play "Lulu" (1977, Kammerspiele Munich, Dieter Dorn, direcor) and the Marschallin of "Der Rosenkavalier" (1972, Bavarian State Opera; Otto Schenk, director) pose in company with Countess Rosina Almaviva of "The Marriage of Figaro" (1997, Bavarian State Opera; Dieter Dorn, director). The stage for "The Marriage of Figaro" had white walls, the floor and the doors were blue. Blue chairs lined the walls. The Countess's strawberry red dress is a real eye catcher.
On the opposite side of the room is a model of "Ariadne on Naxos" (1979, Salzburg Festival; Dieter Dorn, director). Rose put a simple, wooden platform in the middle of a white, grand ballroom – as the stage for the play within the play -, and spread huge stones on it. Blue silk scarfs symbolized waves. Herbert von Karajan, formerly artistic director of the festival and still influential regarding its program, didn't like the modern design at all. He did his utmost to have Rose and Dorn removed, the latter being in charge of stage direction. But both won. Five years later Karajan's general secretary approached Rose as if nothing had happened, asserting "Ariadne on Naxos" had been the most beautiful production at the festival in years!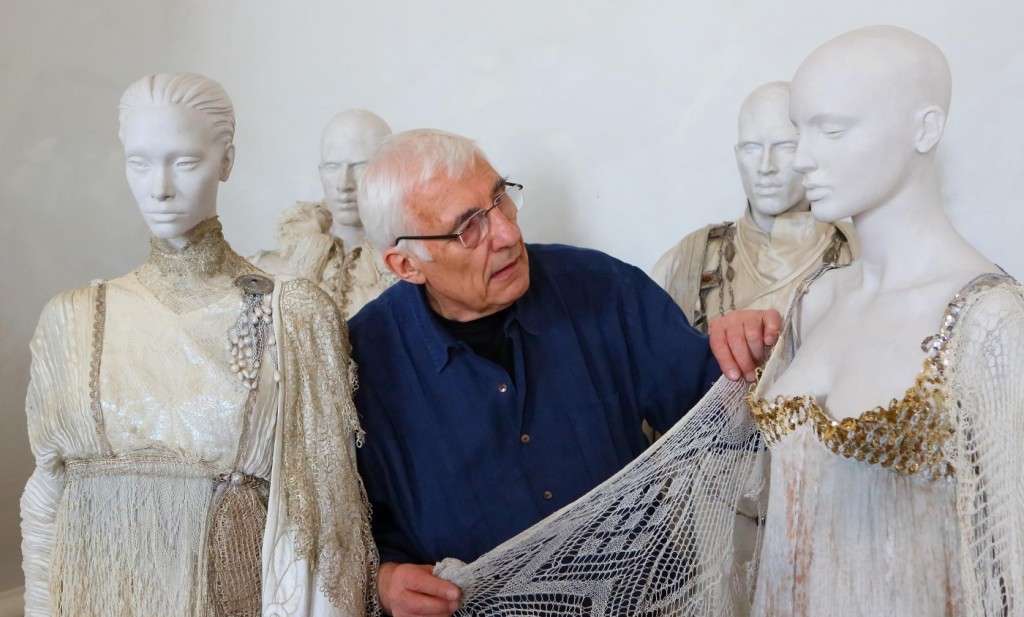 Male and female choristers from "Götterdämmerung" wear Indian silk dyed black (2014, Grand Théâtre de Geneve; Dieter Dorn, director) joined by Wotan, Fricka, Freya and Froh from "Das Rheingold" (1980, Hamburg State Opera; Götz Friedrich, director), all clad in ivory-colored costumes.
In the center group in the room sits Penelope of "Ithaca" (1996, Kammerspiele Munich; Dieter Dorn, director), fat and ugly, waiting for Odysseus. Back then Gisela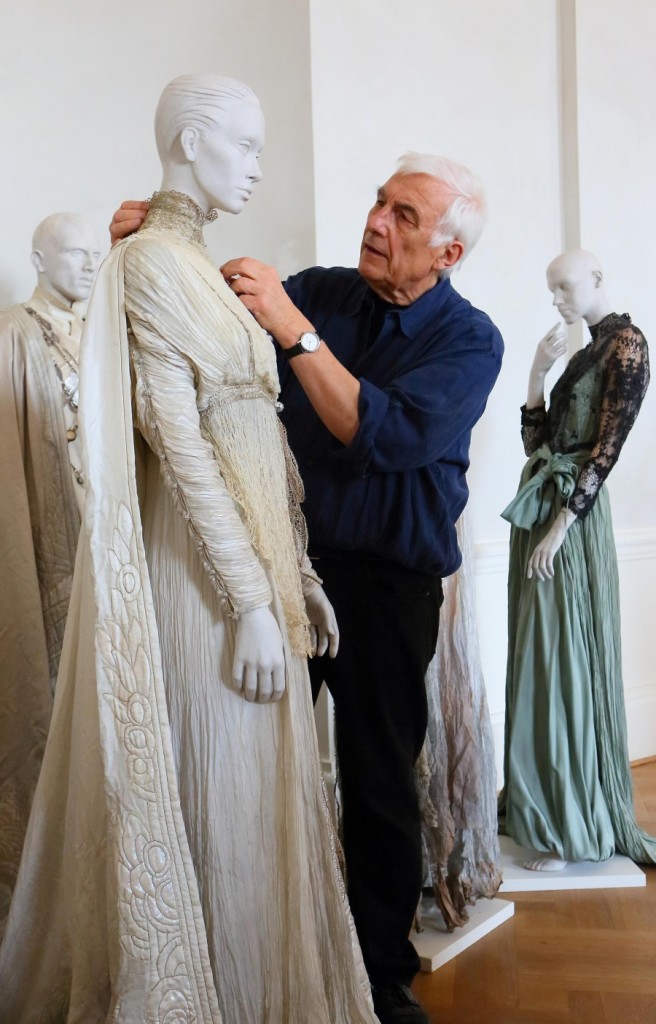 Stein played Penelope and I remember my surprise when, with Odysseus's arrival, the burgundy dress and all the padding suddenly vanished, revealing a rejuvenated, slender Penelope.
Birgit Keil's creme-white, embroidered tutu from the third act of Raymonda (1986, Stuttgart Ballet; Marius Petipa, choreographer), likewise made of former sari fabric, is towered over by a figure of "The Merry Widow" (1971, Stuttgart Ballet; John Cranko, choreographer) in a red robe and a headdress of feathers. Rose plays with delicate lace, velvet, silk, beads as well as with battered materials. For example, Siegfried in "Götterdämmerung (2014, Grand Théȃtre de Genève; Dieter Dorn, director) had on a threadbare cardigan while Gunther and Gutrune next to him were in silk and velvet. In the second room of the exhibition King Lear stands in one corner, a furniture blanket made from felt showing underneath his faded, gray, floor-length coat. Wotan ("Die Walküre" 2013/14, Grand Théâtre de Geneve; Dieter Dorn, director) looks huge in his gentian blue overcoat. He faces Trojan warriors from "Troilus and Cressida" (1986, Kammerspiele Munich; Dieter Dorn, director), who put wooden bead chains around their bodies and applied old leather protectors held by leather straps. For this Rose had chosen old horse tack from Bavarian stud farms which he softened with milk and various oils. He often reuses parts of costumes from other productions, thus building cross-references between works only insiders know. Also pieces of Rose's home furniture – the tea service, a set of chairs – or his wardrobe regularly find their way on stage.
The last room in the Academy is dedicated to ballet costumes. In the middle seven costumes for Marguerite of "Lady of the Camellias" (1978, Stuttgart Ballet; John Neumeier, choreographer), arranged on a platform, silently rotate. Dreams in taffeta plus the plain, white dress, Marguerite wears under the red ball gown at her last visit to the theater. At the back wall four costumes of Haydée's "Sleeping Beauty" (1987, Stuttgart Ballet) – starting in the rococo style of 1770 and gradually tracking the changes in fashion through the following one-hundred years until 1870 – are joined by a dark red dress with a train from Neumeier's version (1978, Hamburg Ballet). In Neumeier's "Sleeping Beauty" costumes from Petipa's and Tchaikovsky's time in 1878 meet the modern outfits of 1978. Kevin Haigen as the prince wore, for example a shirt of Neumeier's and jeans at the premiere.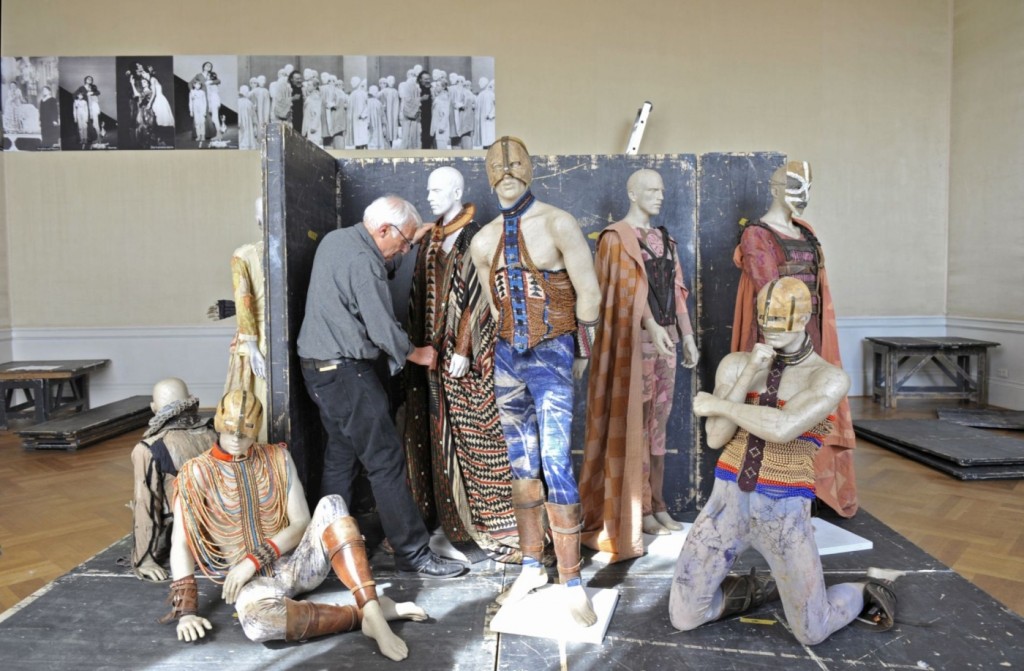 Some ladies from "Poéme de l'Exstase" (1970, Stuttgart Ballet; John Cranko, choreographer) are posed in art nouveau fashion on the left side, one of them wearing a large feather headdress making me wonder how a ballerina might dance with it. Two stage set models of "Poéme de l'Exstase" depict the ballet's sumptuous decor. Both were unearthed in the archive of the Theater Museum only half a year ago. Rose had built them subsequent to the piece's premiere – Cranko had already died – for an extensive exhibition tour presenting his stage designs in 1975. Afterwards they had sunk into oblivion. Rose still asks himself why he forgot them. Maybe the shock over Cranko's sudden death was so deep-seated that he had blocked them out?
Depending on his collaboration partner, Rose builds stage models in various scales. The ones in 1:50 are finished quicker than the ones in 1:25 or 1:20, the latter being the most detailed. Thousands of hours of work lie behind those models, creating magic boxes, completely painted, decorated, and often equipped with figurines in action. Rather like sophisticated dollhouses, only much more intriguing.
Five costumes for Tatiana represent Cranko's "Onegin" (1965, Stuttgart Ballet), among them the posh red ball dress and the dress she wears when meeting Onegin for the first time. Its plain organza ribbon around the chest seems to convey Tatiana's whole nature, her natural decorum, her mannerliness, the unpretentiousness. There is also the gorgeous brown costume for the final pas de deux. It has several organza underskirts. Rose refrained from putting the costumes in showcases. All can be examined closely. It makes one itch to touch them.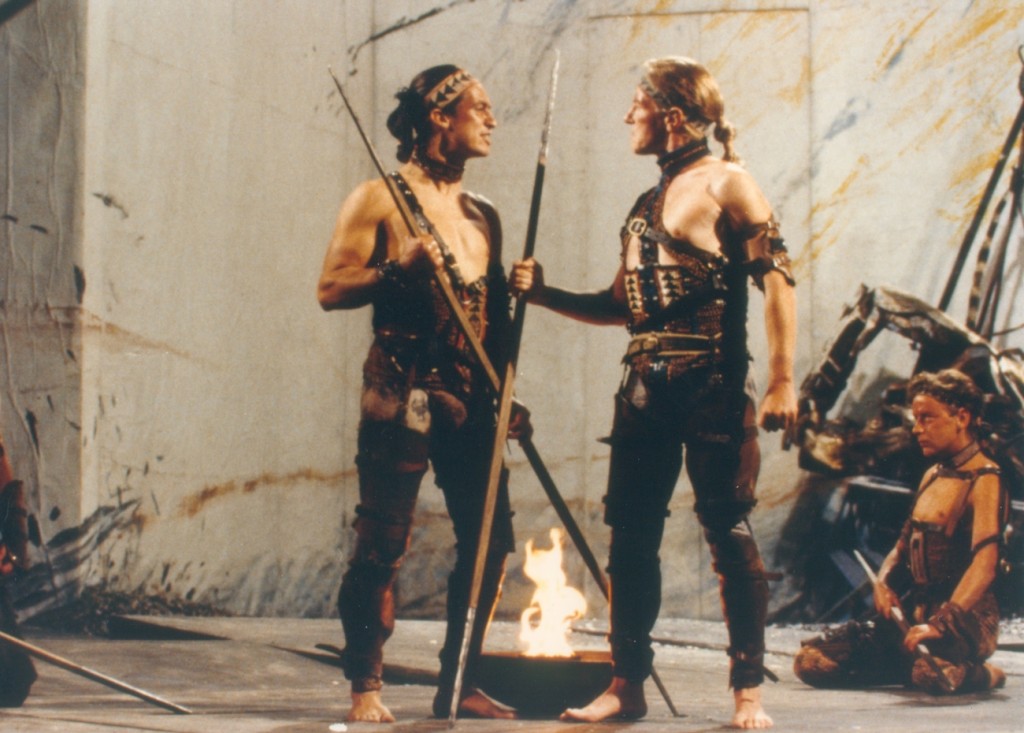 The rooms of the Theater Museum are in the Churfürstlichen Galerie in the front part of the Hofgarten. When entering one indeed feels the atmosphere to be that of a theater. The ground floor's wide corridor is dark except for some spot lights. On the left and the right side treasure chests from "Das Rheingold" (2013, Grand Théâtre de Geneve; Dieter Dorn, director) sparkle and glitter surrounded by protagonists from the piece. On the right side one passes maids from "Electra" (1992, Metropolitan Opera New York; Otto Schenk, director) and a woman from "The Flying Dutchman" (1990,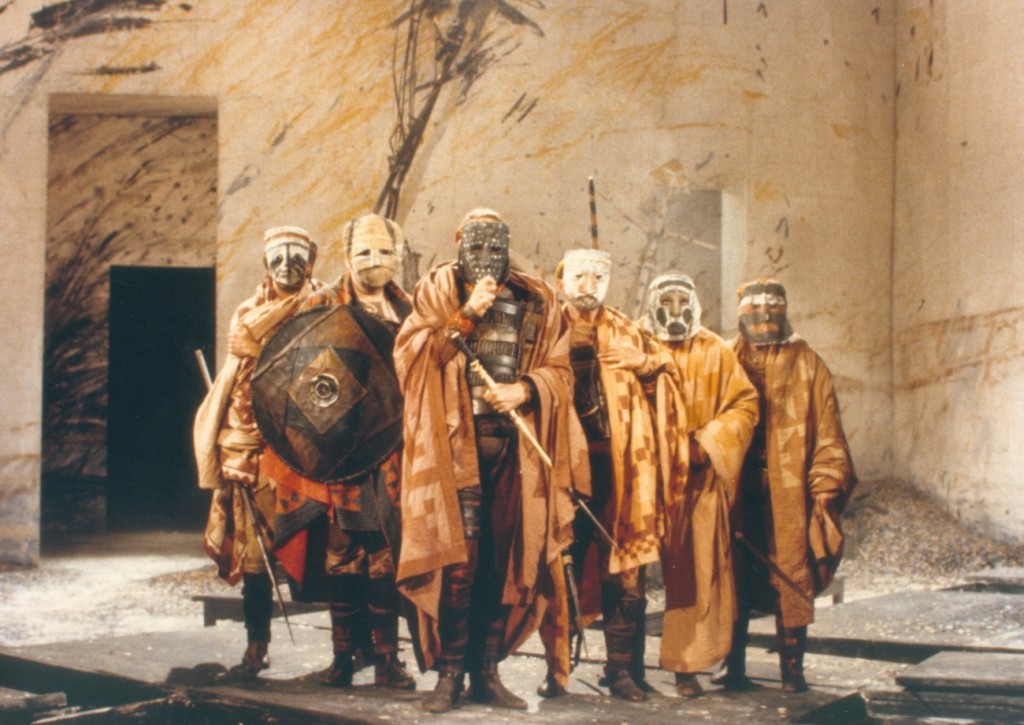 Bayreuth Festival; Dieter Dorn, director) sitting at a spinning wheel before coming to the domain of "Faust I" (1987, Kammerspiele Munich; Dieter Dorn, director). Plenty of sketches and photos of the dressing room show Rose's trenchant strokes and his chutzpah, such as revelers in the Walpurgis Night dressed up in saucy lingerie or, in another sketch, men's genitals hanging out of their flies. Illuminated display cases on the opposite wall present stage models such as the sulfur-yellow, box-like room in which the tragedy of Faust played.
Large-scale black and white photos on one side of the staircase to the mezzanine show Rose in theater workshops, explaining, draping, pinning. On the opposite side a cohort of mini figurines catch one's attention. These are representations from "L'Upupa" by Hans Werner Henze (2003, Salzburg Festival; Dieter Dorn, director) on the left side and from "The Cunning Little Vixen" (2002, Bavarian State Opera; Jürgen Rose, director) on the right. In the middle a group of black figures carry a huge cross. They are from "Freischütz" (1998, Bavarian State Opera; Thomas Langhoff, director).
A video also gives one an idea of "The Cunning Little Vixen". Rose transferred Janáček's opera into the world of the insects, on which the forest ranger casts long, dark shadows. An array of photos document the working process. Inspiration derived from his own observations in nature. Hats off! He is a well-versed biologist. Stilts were used for the long-legged insects, the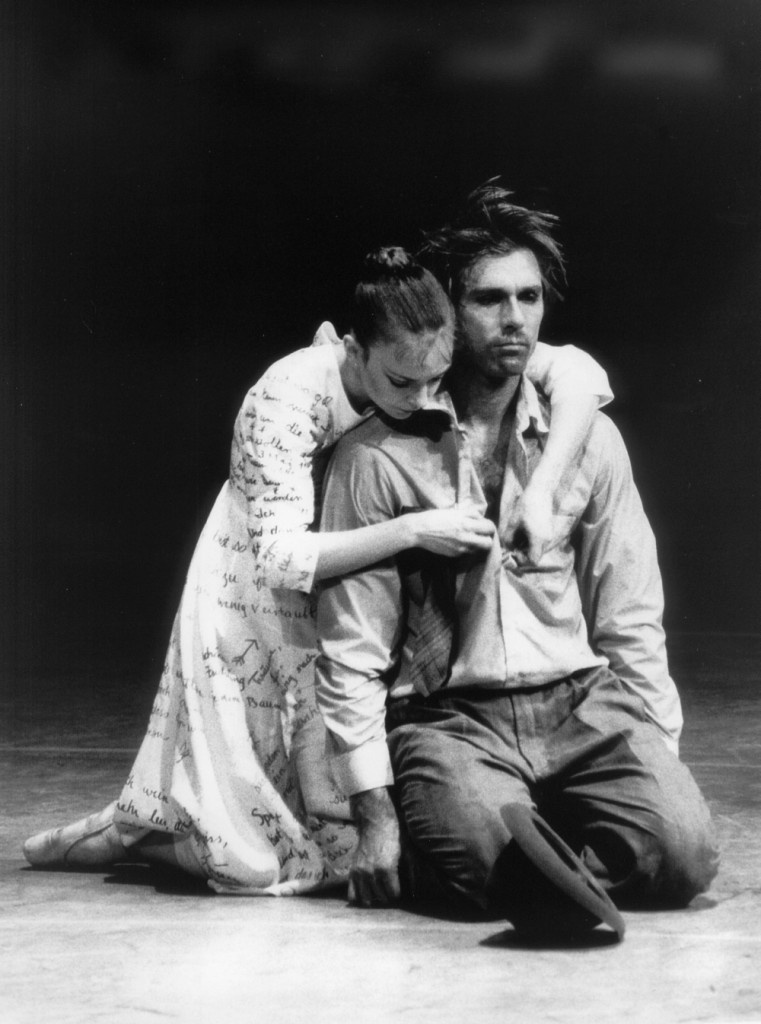 one whom he wanted to depict a snail had to crawl face downwards, gnats were made to carry plastic bags with red liquid at their upper torso level testifying to their haul. Rose learned the resting posture of a bug by watching Indian yoga exercises. To find the characteristic movements for each animal he conducted movement practices. How is it to walk on all fours, to do a handstand, to lie on one's back like a beetle struggling with the legs?
The second staircase is also lined with photos. An old video shows scenes of Hamburg Ballet in "Peer Gynt" (1989, John Neumeier) with Gigi Hyatt, Anna Grabka and Ivan Liška in the leading roles. Upstairs are some costumes, on loan from Hamburg Ballet and the Royal Swedish Opera: The costume for Peer as Emperor of the World, the costume for a troll girl and Solveig's plain white linen dress, embroidered with her love poems for Peer. Hyatt had written lines of the poem with a lead pencil on the cloth, later, seamstresses stitched them in the colors Rose had chosen for Peer.
Right at the entrance of the next light-flooded room, Rose arranged three dresses from Cranko's "Romeo and Juliet" (1968, Bavarian State Opera), all worn by Marcia Haydèe, and Richard Cragun's white/red, beaded top as Romeo. Juliet's red wedding dress is the second version Rose created in the course of the years having a warmer shade of red. It is the version Stuttgart Ballet brought during its legendary tour to the Metropolitan Opera House in 1969.
Between large screens which display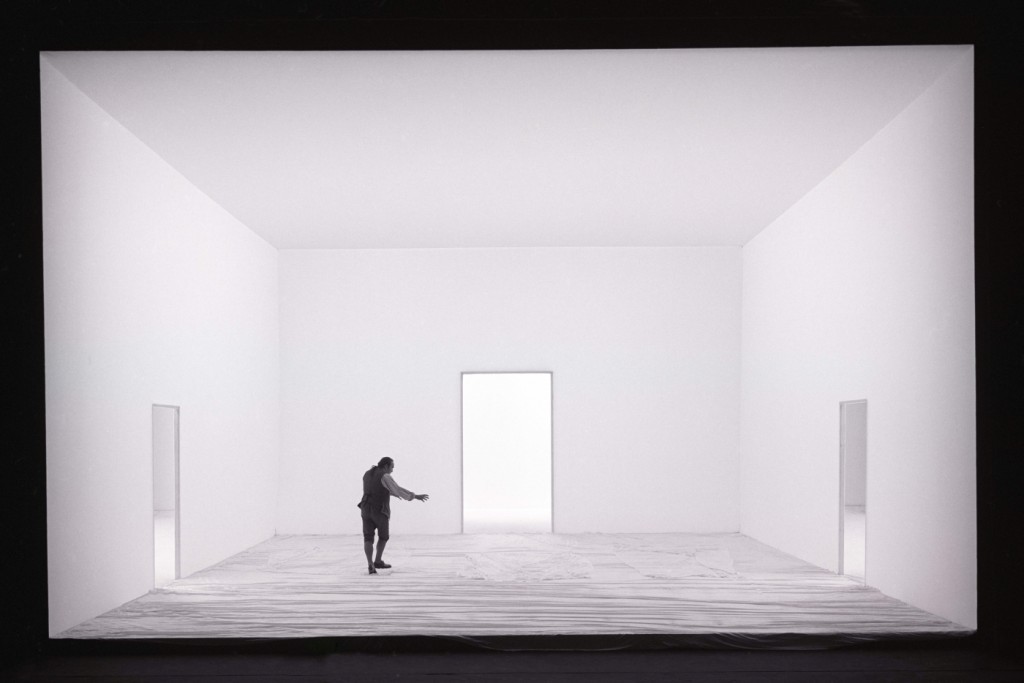 collections of photos of various works stands the dark red costume for Gisela Stein as Hecuba ("Hecuba", 1999, Kammerspiele Munich; Dieter Dorn, director), a favorite of Rose. There are three plain costumes from "Traces" (1973, Stuttgart Ballet; John Cranko, choreographer) hung on simple cross-shaped bars. Beatrice Cordua's outfit as Lycainion in "Daphnis and Chloe" (1972, Frankfurt Ballet; John Neumeier, choreographer) is next to the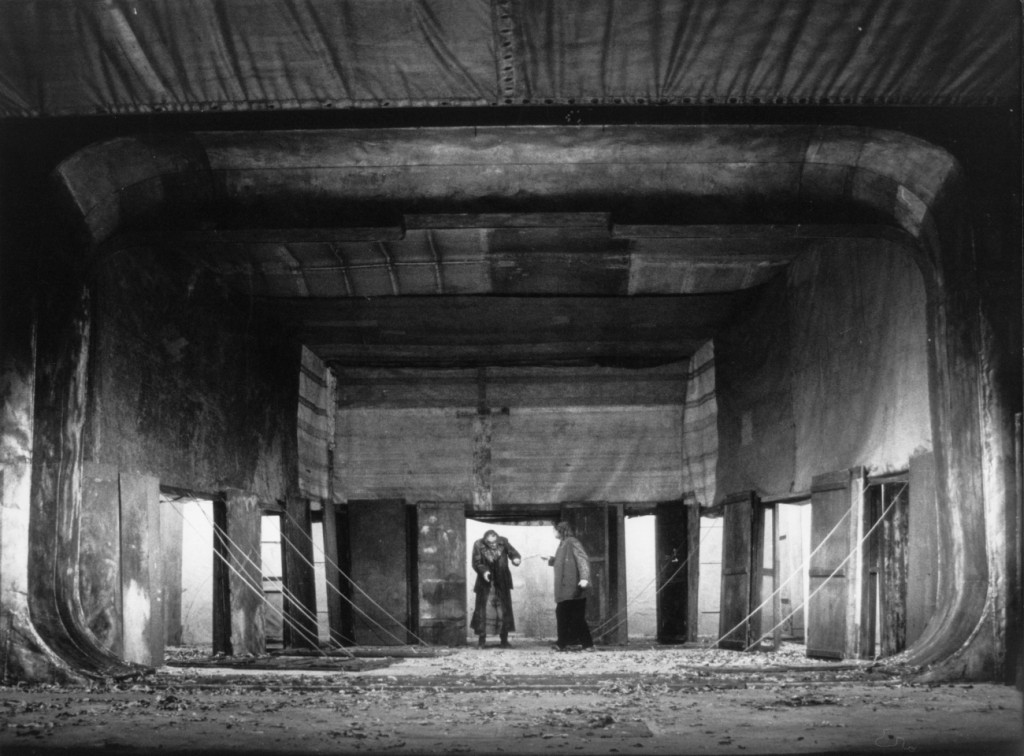 stepmother's all black dress of "A Cinderella Story" (1992, Hamburg Ballet; John Neumeier, choreographer). Rolf Boysen's imposing coat as King Lear (1992, Kammerspiele Munich; Dieter Dorn, director) is shown as well.
Large black and white photos depict Rose with Cranko, with Neumeier, with Haydée, with Dorn and others. One can compare the stage models for Schenk's "La Triviata" (1975, Bavarian State Opera) with the creations for Rose's own staging at the opera in Bonn in 1994. Luxurious opulence with chandelier and a hall of mirrors versus a deep room painted white and black with a single door in the back wall.
Sometimes Rose's stages are made of sets of rooms. One can look from the first room into the one behind which opens to a third one, perhaps a terrace. Or one gets a glimpse into adjacent rooms on the left or the right side. Again, Rose's passion for details is apparent. In a stage model for "Eugene Onegin" (1977, Bavarian State Opera; Rudolf Noelte, director) two head-high fuchsias trees stand on the right side of the Larina family's country home patio. Noelte insisted in having them on stage. Hence replicas were made. The moment Onegin, having Tatiana's letter in his hand, rejects her he tears off one fuchsia blossom after another. The blossoms were destroyed as was Tatiana's love. The original fuchsias still grow at Rose's isolated farm in Murnau.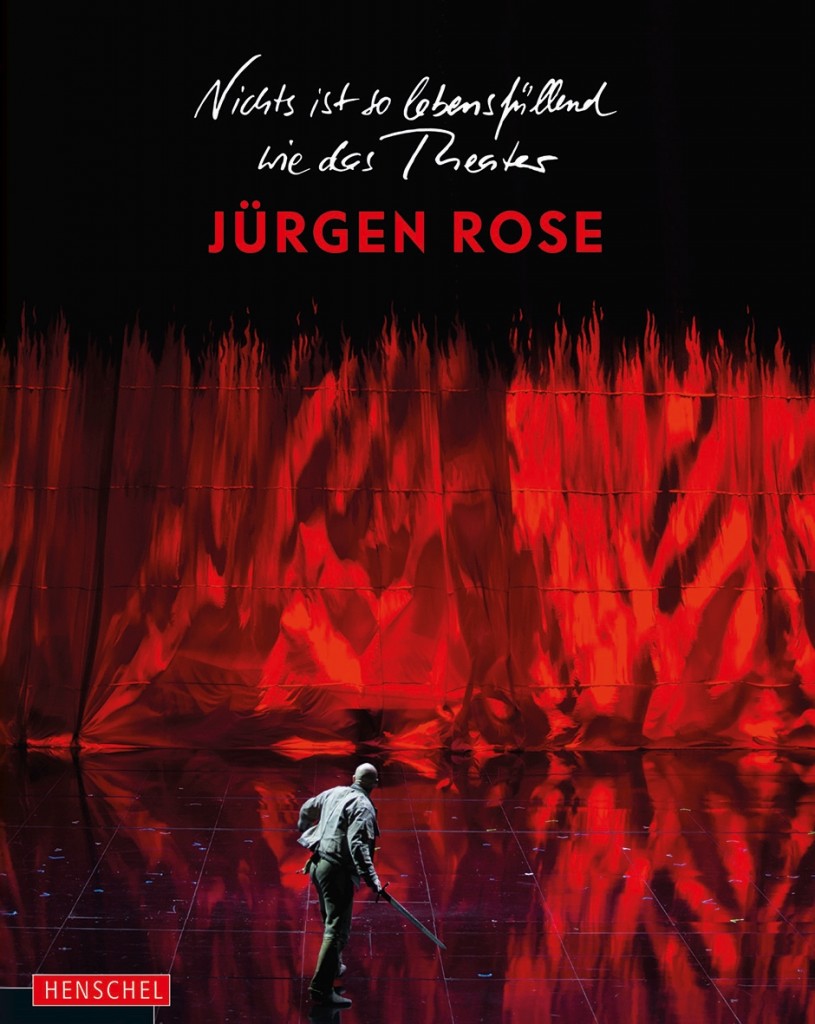 The last, smaller room displays a few costumes – robes for ladies of society in "The Merry Widow" (1971, Stuttgart Ballet; John Cranko, choreographer) and white dresses with frills, tassels and lace for the corps de ballet in Neumeier's "Sleeping Beauty". Rose assembled many sketches and paintings of costumes and backdrops originating from 1961 onwards in this room. Two glass showcases in the middle of the room give an idea of how his vast collection of fabrics, footwear and accessories of all kind looks like.
The exhibition catalog contains plenty of photos, a highly welcome register of works Rose designed for and an array of texts and interviews with several of his companions, amongst others, Neumeier, Haydée, Dorn, Gruberova and Jonas. Especially worth reading is the text by Michael Wachsmann, artistic director of the Kammerspiele Munich for twenty years. He closes with "Jürgen Rose, viewing of a dying species."
Unfortunately there is no synopsis in English. What is more the catalog's poor paper quality is a shame.
An extensive biography of Rose – actually a cornucopia of stories and anecdotes – was published in 2014. A fascinating read! The only snag is that it is written in German.
The exhibition runs until October 18, 2015. Rose himself offers guided tours through the exhibition on several appointed days.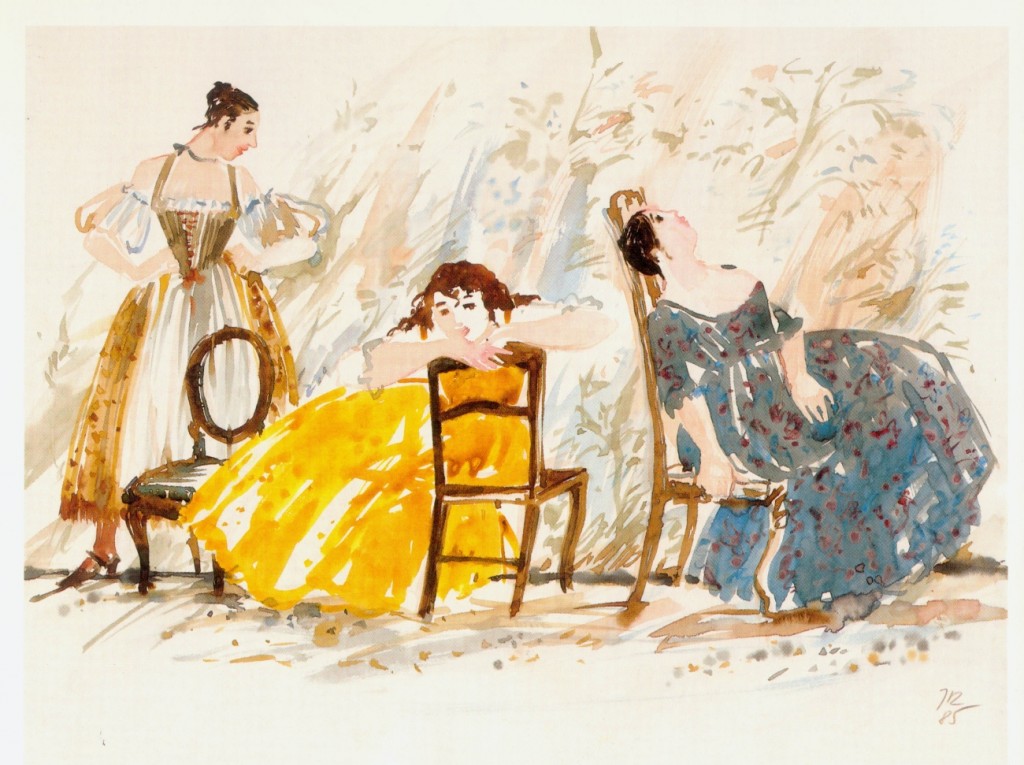 | | | |
| --- | --- | --- |
| | | |
|  Links: | | German Theater Museum Munich |
| | | Bavarian Academy of the Fine Arts, Munich |
|  Photos: | 1. |  Jürgen Rose with a costume of "Twelfth Night" (Kammerspiele Munich, 1980) © Wilfried Hösl 2015 |
| | 2. |  Dieter Dorn and Jürgen Rose © German Theater Museum, Munich, Oda Sternberg 2015 |
| | 3. |  Rehearsal of "Don Carlo", Bavarian State Opera 2000 © Wilfried Hösl 2015 |
| | 4. |  Helmut Griem and Cornelia Froboess, "Minna von Barnhelm" by G.E.Lessing; Dieter Dorn, director; Kammerspiele Munich 1976 © German Theater Museum, Munich; archive Hildegard Steinmetz 2015 |
| | 5. |  Cornelia Froboess and Helmut Griem, "Minna von Barnhelm" by G.E.Lessing; Dieter Dorn, director; Kammerspiele Munich 1976 © German Theater Museum, Munich; archive Hildegard Steinmetz 2015 |
| | 6. |  Gouache, costumes for "Poéme de l'Extase"; John Cranko, choreographer; Stuttgart Ballet 1970 © Jürgen Rose 2015 |
| | 7. |  Gouache, costumes for "Poéme de l'Extase"; John Cranko, choreographer; Stuttgart Ballet 1970 © Jürgen Rose 2015 |
| | 8. | Marcia Haydée (Tatiana) and Heinz Clauss (Onegin), "Onegin"; John Cranko, choreographer; Stuttgart Ballet © German Theater Museum, Munich; archive Winkler-Betzendahl 2015 |
| | 9. | Jürgen Rose preparing a costume of "Les Paravents"; Dieter Dorn, director; Residenztheater Munich 2003 © Lioba Schöneck 2015 |
| | 10. | Jürgen Rose with costumes of "Das Rheingold"; Götz Friedrich, director; Hamburg State Opera 1980 © Wilfried Hösl 2015 |
| | 11. | Jürgen Rose preparing a costume of "Das Rheingold"; Götz Friedrich, director; Hamburg State Opera 1980, in the background a costume of "Twelfth Night"; Dieter Dorn, director; Kammerspiele Munich 1980 © Wilfried Hösl 2015 |
| | 12. | Jürgen Rose preparing costumes of "Troilus and Cressida"; Dieter Dorn, director; Kammerspiele Munich 1986 © Lioba Schöneck 2015 |
| | 13. | Tobias Moretti, Manfred Zapatka and Michael Tregor, "Troilus and Cressida"; Dieter Dorn, director;  Kammerspiele Munich 1986 © German Theater Museum, Munich, Oda Sternberg 2015 |
| | 14. | Ensemble, "Troilus and Cressida"; Dieter Dorn, director; Kammerspiele Munich 1986 © German Theater Museum, Munich, Oda Sternberg 2015 |
| | 15. | Gigi Hyatt (Solveig) and Ivan Liška (Peer), "Peer Gynt"; John Neumeier, choreographer; Hamburg Ballet 1989 © Holger Badekow 2015 |
| | 16. | "The Marriage of Figaro"; Dieter Dorn, director; Bavarian State Opera 1997 © Wilfried Hösl 2015 |
| | 17. | "King Lear"; Dieter Dorn, director; Kammerspiele Munich 1992 © German Theater Museum, Munich, Oda Sternberg 2015 |
| | 18. | Cover of the exhibition catalog: Scene from "Siegfried" ("The Ring of the Nibelung"); Dieter Dorn, director; Grand Théâtre de Genéve 2014, Henschel Publishing House © Henschel 2015 |
| | 19. | Watercolor for "Cosi fan tutte"; Dieter Dorn, director; from left to right: Despina, Dorabella, Fiordiligi, Ludwigsburger Schlossfestspiele 1984 © Jürgen Rose 2015 |
| Editing: | | Laurence Smelser |