"Peer Gynt"
Hamburg Ballet – John Neumeier
Hamburg State Opera
Hamburg, Germany
June 30, 2015
by Ilona Landgraf
Copyright © 2015 by Ilona Landgraf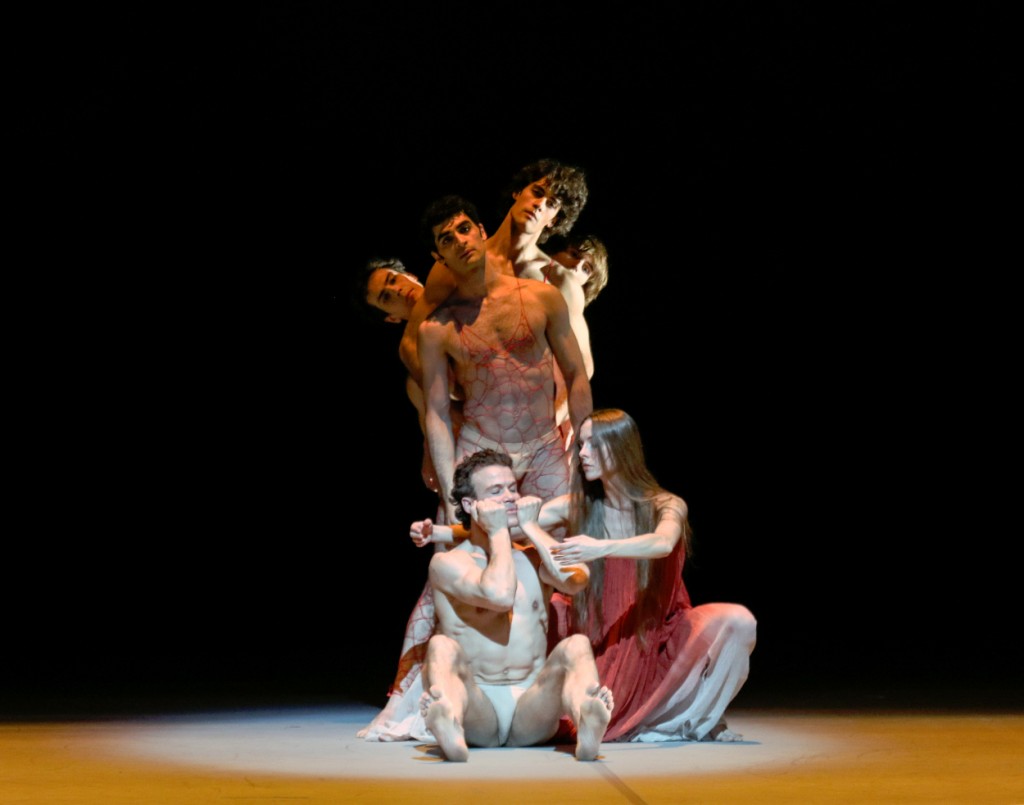 John Neumeier's "Peer Gynt" saw the light of day in 1989. Now, twenty-six years later, he has put it thoroughly to the test with a reworked version opening Hamburg Ballet's 41. Ballet Days, bringing back for two weeks a kaleidoscope of the season's repertory culminating in a gala this year on July 12th.
Boiling down Henrik Ibsen's five act play about Peer Gynt's life into a ballet evening of tolerable duration is a master stroke per se. Neumeier cut it down to three acts plus an epilogue and managed to tell the Norwegian's life's journey within three hours divided by a break. The first half comprised of two acts deals with Peer's birth and his relationship with his mother Aase, a peasant's widow. Peer is a blowhard, a prowler and scalawag, one hardly on good terms with the neighboring peasantry. Regularly he infuriates his mother, yet she loves him unwaveringly. As a young man, Peer abducts Ingrid, the woman he might have married, on the very day she is about to marry another peasant. But at the wedding feast he also meets Solveig, the shy, tender daughter of newcomers in the village. Both are attracted to each other but Peer, the hothead, runs off with Ingrid, but, after soon riding himself of her, lands in the realm of the trolls where he falls into the arms of a troll princess called the Green One. There is a distinct possibility of Peer mutating into a troll himself, given his nature. However he comes to his senses in time, manages to escape and builds a hovel in the mountains. There Solveig finds him. Against the will of her parents she has decided to be with him.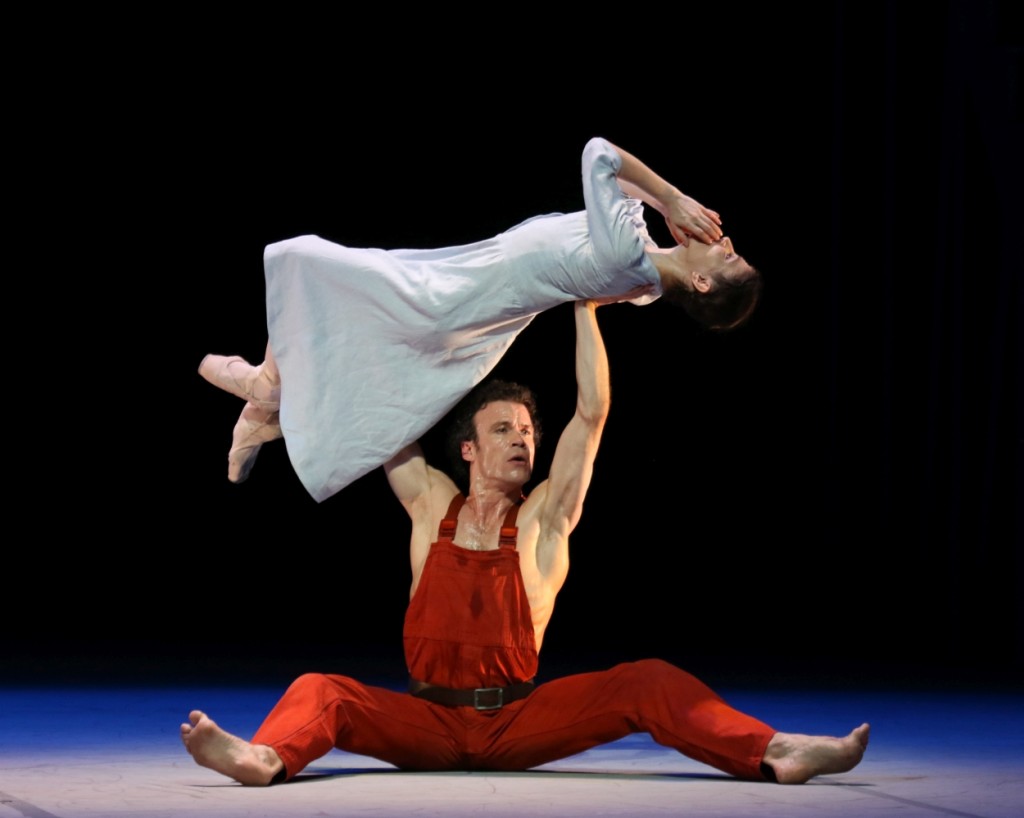 But Peer is caught up by his past, by his memories of Ingrid and the Green One. His idea of living with Solveig, an idea of purity and beauty, has been shattered. Gluing back together the broken shards would not bring him salvation. Though he is able to return to his dying mother in time to close her eyes, he can't cross the doorstep to Solveig waiting back in the hovel. From that moment on Peer decides to dodge his duties and responsibilities. He runs away from himself. Up and away into the wide world, or in what he fancies to be the wide world: hollow adventures, lands of make-believe where Peer can cultivate his conceit of being successful,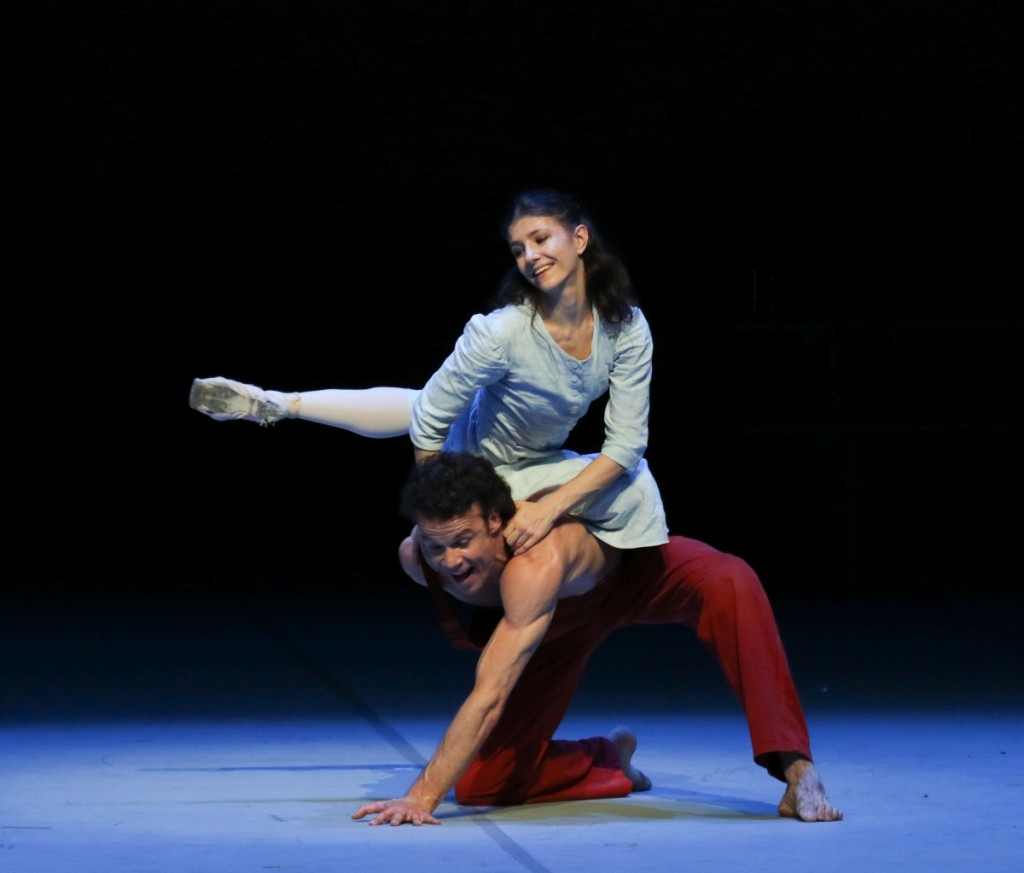 superior and significant. He transforms himself into a celebrated artist first in a revue theater, then in a music hall. Finally he becomes a famous film actor, playing the "Caesar of the World". He has always been full of himself. Now he is even more arrogant. A disgusting guy. Becoming a megalomaniac, he ultimately loses contact with reality, ending up in a mental asylum, after being tied up in a straight jacket. Solveig still waits for him.
In the ballet's shorter, second half consisting of act three and the epilogue Peer, now grown old, returns to Norway. On first sight things seem as before. Yet this time the village folk haven't gathered for a feast but for Ingrid's funeral. At the last minute Peer and Solveig find each other again. Solveig, now frail and stiff, has lost her eyesight, but instinctively recognizes Peer. He finally realizes who he is, where he has belonged all the time, what might have been if he only hadn't avoided facing what is essential in life. Both Peer and Solveig are in their last days of life, finding no sweet happy ending yet, after all, forgiveness and peace.
Neumeier at times tells the story swiftly but also makes ample room for pas de deux and solos to breathe. Some adventures and capers of Peer in Ibsen's original are dropped. Instead of journeying around the world, Peer's adventures take place on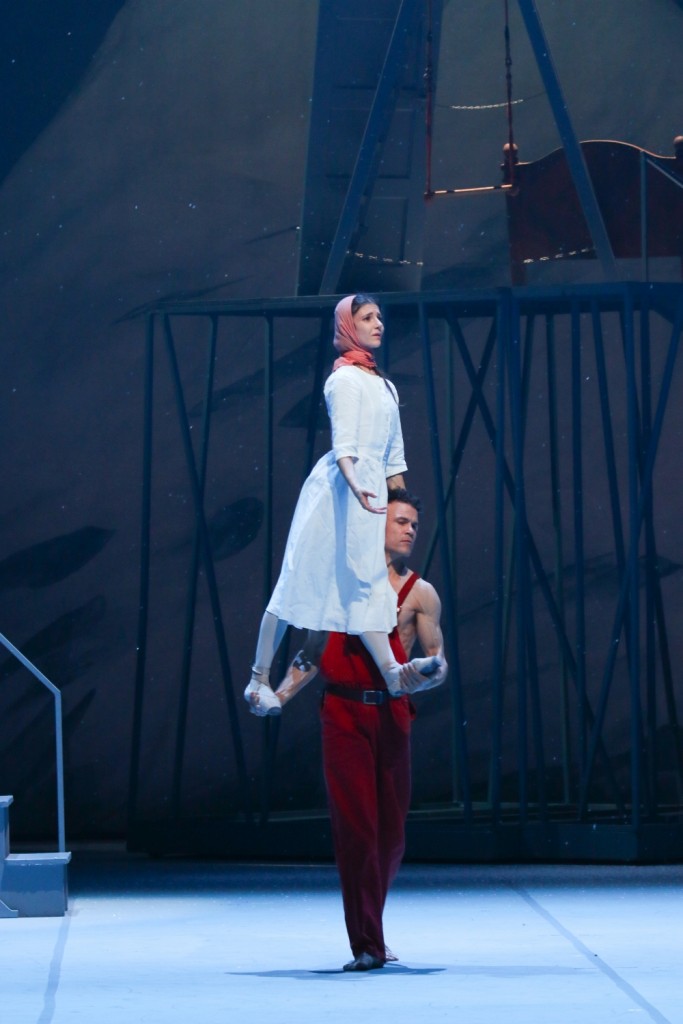 the stage of the boulevard theater and on the film set. This clever idea enhances the impression that Peer lives in an unreal, cardboard-like world. Minor characters were also omitted. Instead Neumeier created four roles depicting character traits of Peer: His innocence (Aleix Martínez), his vision (Alexandre Riabko), his aggression (Karen Azatyan) and his doubts (Marc Jubete). Smeared in blood, Peer (Carsten Jung) and these four aspects of his character were born from beneath the wide, flowing dress of Aase (Anna Laudere). An effective opening of the ballet. The various aspects – the 1998 version had had seven – keep Aase on her toes in Peer's teenage years. From time to time they appear to mirror Peer's inner life, while Jung in most cases represents the physical Peer. Except for Azatyan, who has a solo as a slave trader using a whip in a music hall show, no other aspect is clearly defined.
Hence it is up to Jung to present through himself the different facades of Peer and save him from being a cocky fool. But – alas – he's not really convincing. At the beginning, Peer is rough-hewn. When meeting Solveig (Alina Cojocaru), his awkwardness becomes childish fooling around. So far, so good. But why does Jung act as if he's regressing into a boyish village idiot? Not even the sensitive moments when he trustfully lays his face in Cojocaru's hands can fully erase this overall impression. Where is the hint of inner conflict when confronted with his past affairs – "Shall I go to Solveig and confess or, better yet, run away?" Or when deciding to leave Norway, Jung turns his back all too readily on Solveig and excitedly rushes out into the big world. Hasn't he left his mother's deathbed only seconds before? These are lightning and slightly implausible mood swings. Jung does a good job in conveying the cliche of a star artist, but when it comes to his re-encounter with Solveig he fails to express inner depth. Stripped down to its essentials one should see a soul not tangled in further self-delusion but fully aware of self. But Jung restrains himself, merely displaying his physicality. His emotions remain hidden beneath the muscle surface; his inner transformation does not resonate.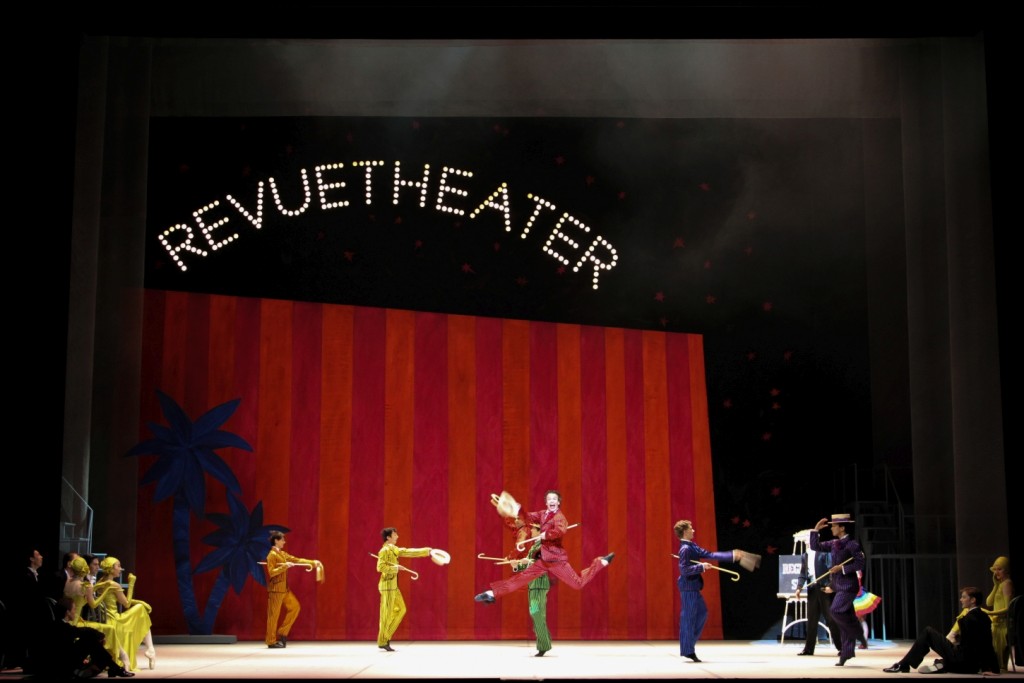 Alina Cojocaru as Solveig hasn't much to dance but much to act. She hops around at Ingrid's wedding party with the same rustic steps that are traditional among the villagers. Shy and clumsy, handing over her present to the bride – an apple wrapped in a handkerchief – is a bold act for her. Solveig seems surrounded by an aura, by chastity, sobriety and the glow of a loving heart. Already in Neumeier's "Liliom" Cojocaru had portrayed a woman who loves unwaveringly, who accepts her fate though she suffers quietly. Solveig's character is similar and here again Cojocaru excels. Even if the whole population of trolls and Peer's various aspects populate the stage, it is Cojucaru, sitting high above in Peer's shack, waiting, whose presence radiates out into the audience, though one sees only her dark silhouette, sitting with her back to the audience.
It is touching how she cautiously feels her way around with a blind person's stick. She seems encapsulated in a world established to bear grief yet maintain hope. Now the waiting is over and her emotions overflow the brimming bowl in which she had stored them. Step by step, as they approach death, she undresses Peer and carefully arranges his clothes on the floor. A reminiscence to Peer's onion metaphor in the written text of Ibsen? There removing one onion skin after another,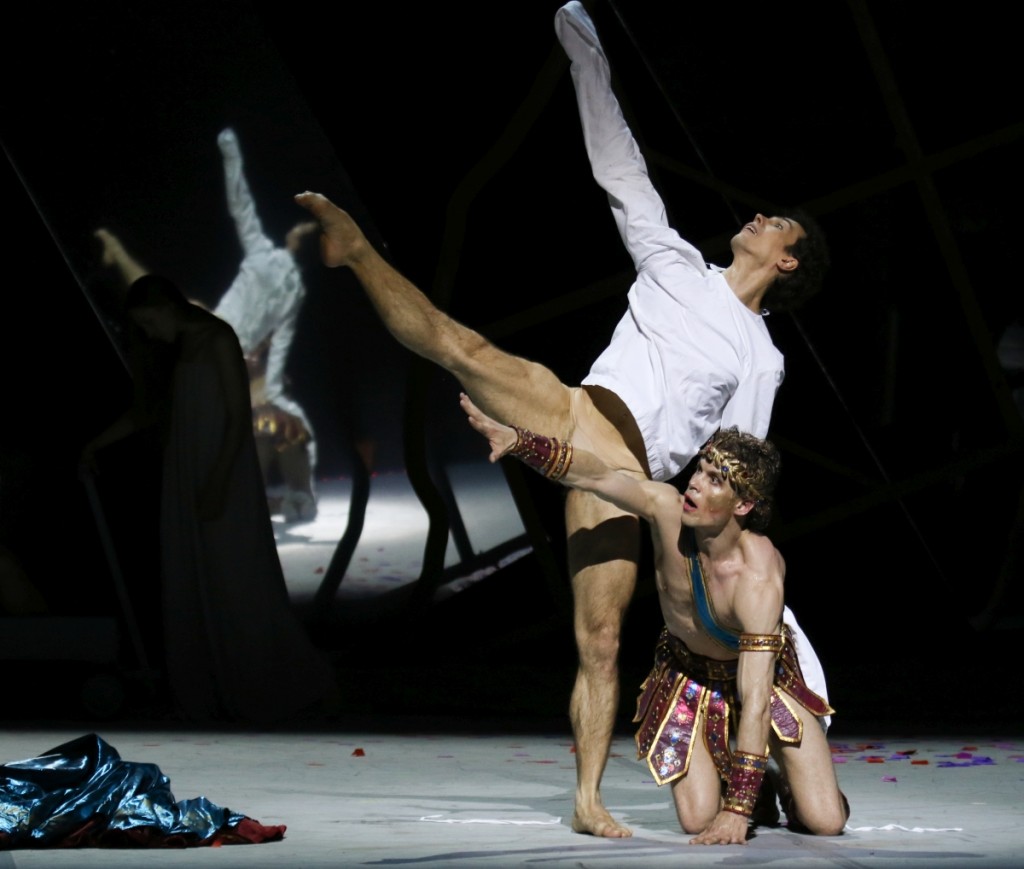 searching for the core of his self, Peer discovered that there is none. Finally, after Peer undressed Solveig, their clothes lie side by side like wrappers, visible to the audience through a tilted mirror hanging from the ceiling. Their souls are gone.
Anna Laudere as Peer's mother conveys a whiff of the eternal suffering endured by the female sex in the birth scene. She has a thin face, austere facial features and overly long, thin hair which she repeatedly brushes back. Later, wearing sturdy shoes under a long skirt and a man's vest, she becomes furious with her unruly son. But to no avail; there is no cure for young Peer. Thus when feeling unobserved by him, Laudere's Aase reveals that she is helpless, clueless, stressed and exhausted.
Peer's affairs – Ingrid, the Green One, later Anitra, a glamorous film star – are all danced by the same woman, Carolina Agüero. Is this to show he always falls for the same type? Agüero is at her best. As Ingrid, already wearing the wedding dress and a veil, she stubbornly rejects getting married to her husband-to-be (Konstantin Tselikov). She nearly tramples his metal-rimmed glasses to pieces out of anger. Though she struggles with the infamous Peer while being abducted, she clings to him like leech. Further, though troll women are no beauties, Agüero has that "certain something" to allure Peer as the Green One. Anitra, by contrast, is an elegant, sexy woman but gets nastily humiliated by the great Peer.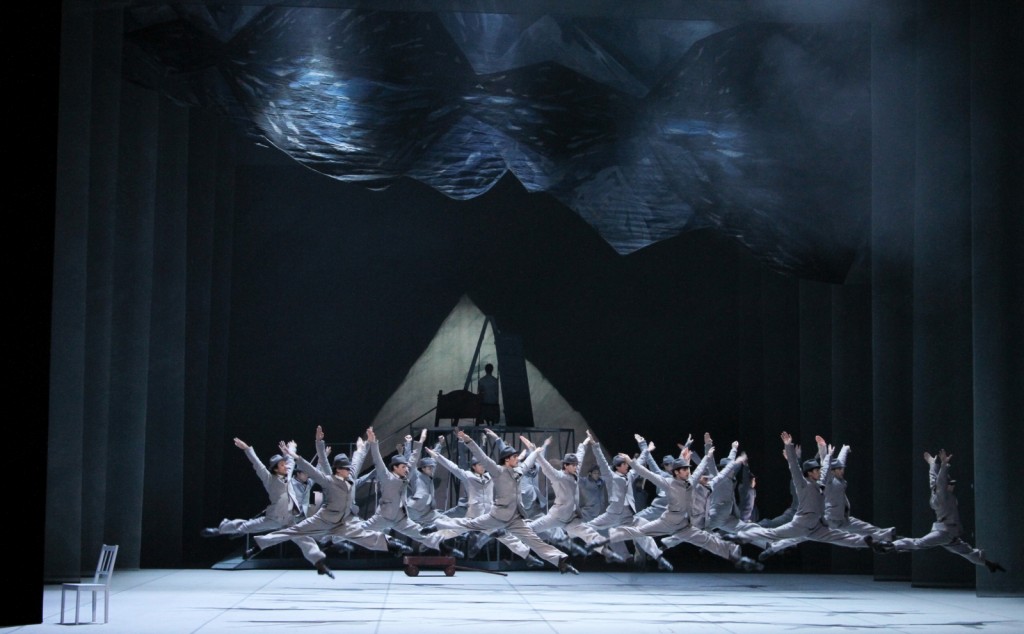 Laura Cazzaniga and Ivan Urban dance Solveig's parents, withdrawn people grown stiff from a life under religious rules and social norms. Llyod Riggins is the choreographer of the boulevard shows pretending to be the commanding pro of show business. In fact when in the wings he is quite nervous and insecure.
As peasant folk, the corps dances with rural stomping steps and flexed feet. They reminded me a bit of simple minded people whom incest causes to occasionally occur in secluded countrysides. As it is written in Ibsen's poem, trolls and humans are not fundamentally different, the trolls dance like the villagers, only more pruriently.
Jürgen Rose, in charge of the set design and the costumes, drew on his unlimited artistic resources. Two staircases supported by many vertical and skewed rods symbolize Norway's wooded highlands. A snow-covered mountain top is suggested by lighting. On top of one staircase Peer builds his hovel consisting of a folding ladder, in which he hangs a seesaw, a wooden door and the headboard of a bed. Movable elements of the backdrop create different atmospheres. For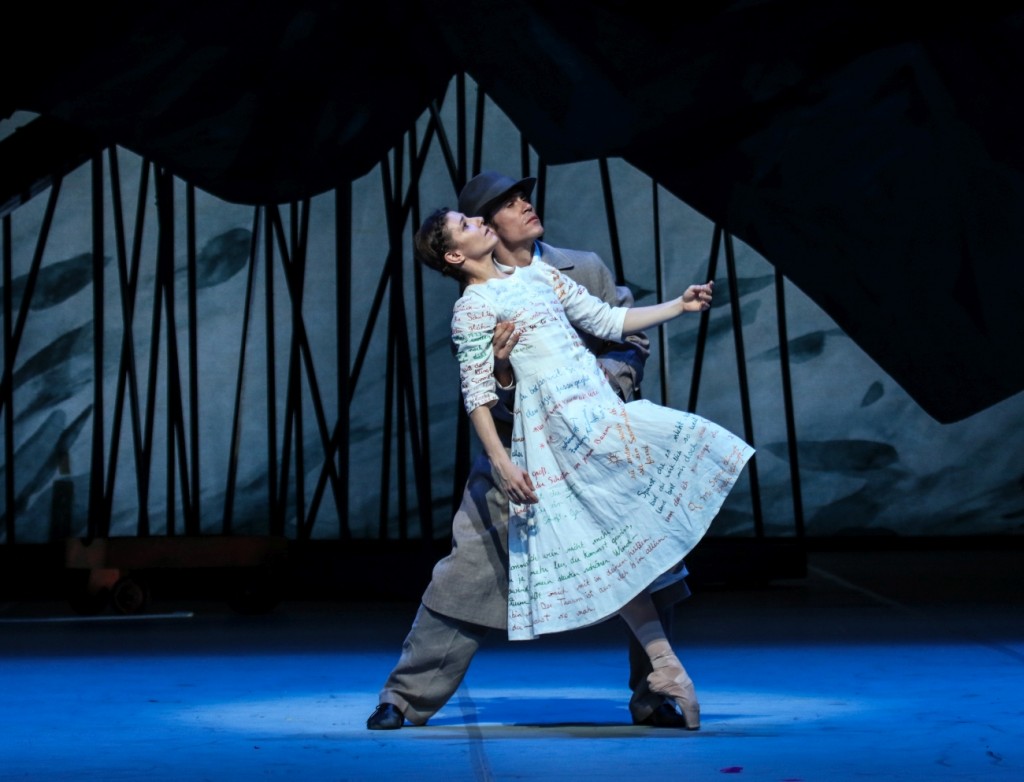 example, dark blue ones become threatening. Others, having a sulfur yellow touch, hang like foul clouds over the evil trolls. Later black ones trap Peer when he is committed to the asylum. Here and there Rose weaves cross connections. The seesaw, for example, was central in Peer's childhood. And Aase dies in the wooden handcart that Peer had as a child's toy. It was modeled after the one Neumeier and his brother Albert had as boys. In Ibsen's dialogue Peer says to his mother: "Can you stretch [out] in that little bed? Let me look why. This is surely the bed I had as a boy!"
Peer and his various aspects wear bright red overalls and visored caps. At one point when Peer is alone with Solveig the orange shines like a torch as if Peer is burning for Solveig. Her white linen dress is especially meaningful as over the course of the years waiting for Peer she has embroidered it with lines of yearningly amorous poetry. Neumeier chose verses by the Jewish Selma Meerbaum-Eisinger (1924 – 1942) and verses of "Peer Gynt". Eighteen-year-old, Meerbaum-Eisinger wrote the poems for her love and best friend Lejser Fichman before being deported by the Nazis. She died in an Ukrainian labor camp from typhus.
For the boulevard theaters and the film set Rose displays a fireworks of sets and costumes: A dance studio, the "Rainbow Sextet" (a show number for Peer and his aspects), a slave trader and his female slaves. A model of the Egyptian sphinx flanks gladiators, fan carriers, virgins carrying flowers and slaves. In between scurry a make-up artist, a dresser and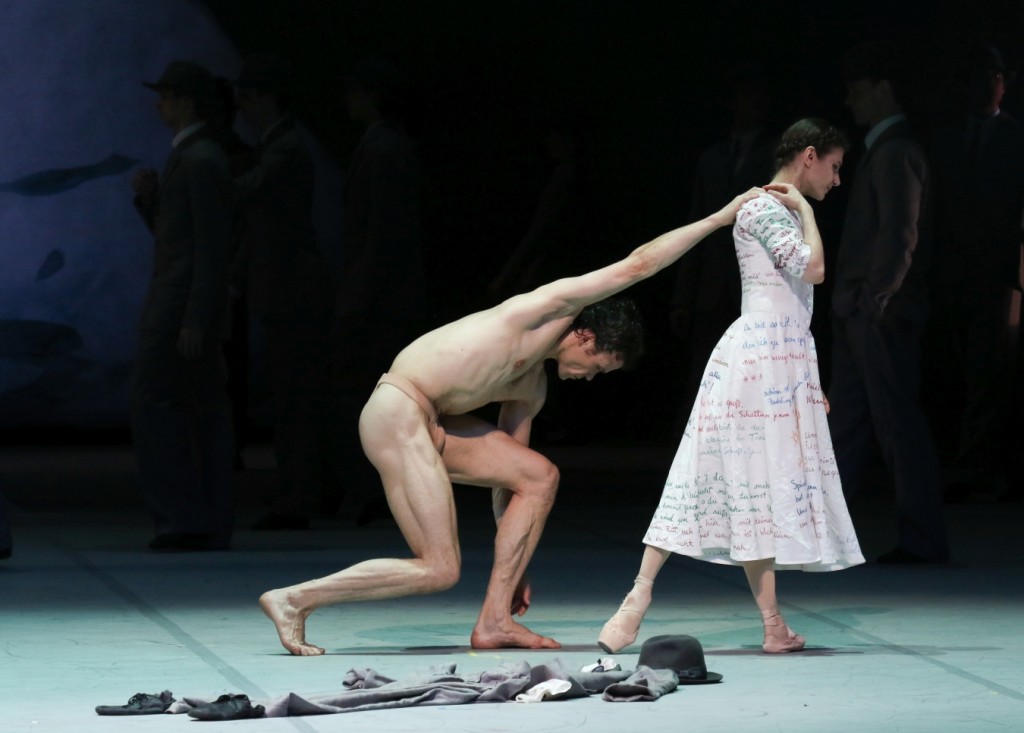 cameramen. One of them, professionally cold as ice, even films the dead Aase. A photographer, danced by the aspect of Peer symbolizing his doubts (Marc Jubete), comes so close to his objects as though he'd like to lick their skin with the camera lens. Media representatives can get intrusive.
A decisive factor in the the ballet's creation was the music, commissioned by Alfred Schnittke. Originally the premiere of "Peer Gynt" was scheduled for 1987, but Schnittke suffered from a stroke in 1985 and needed a period of recovery. Furthermore Neumeier's parents died in 1986 shortly after each other. Thus the premiere was postponed for two years.
Catchy melodiousness is exactly what Schnittke's score is not. It is rather edgy, splintered, at times condensed, but also resonates infinite vastness. Markus Lehtinen and the Philharmonic Orchestra Hamburg gave a sensitive rendition of the composition. Especially important is the epilogue, added at the request of Neumeier, to give more time for depicting the re-encounter of Peer and Solveig. It is influenced by the near-death experiences Schnittke underwent during his illness. At no point did he object to shortening the music except for the epilogue, which is an "endless adagio". Neumeier aimed to evoke a transcendent, trance-like atmosphere. But the perspective should be widened from the protagonists to everyman. Clad in plain, dove-blue tricots the ensemble gradually joins Peer and Solveig at the end until they fill the stage. To recorded choral singing from afar they walk and move harmoniously in slow-motion, partly in sync. Then the curtain slowly comes down. But the concept doesn't work. No spiritual atmosphere arises, the minutes drag on and what should feel infinite is lengthy and insignificant.
Unfortunately the original notes to "Peer Gynt" were stolen out of the car of the dance notator shortly before the premiere. If they are not found, the ballet is currently not properly documented for the future.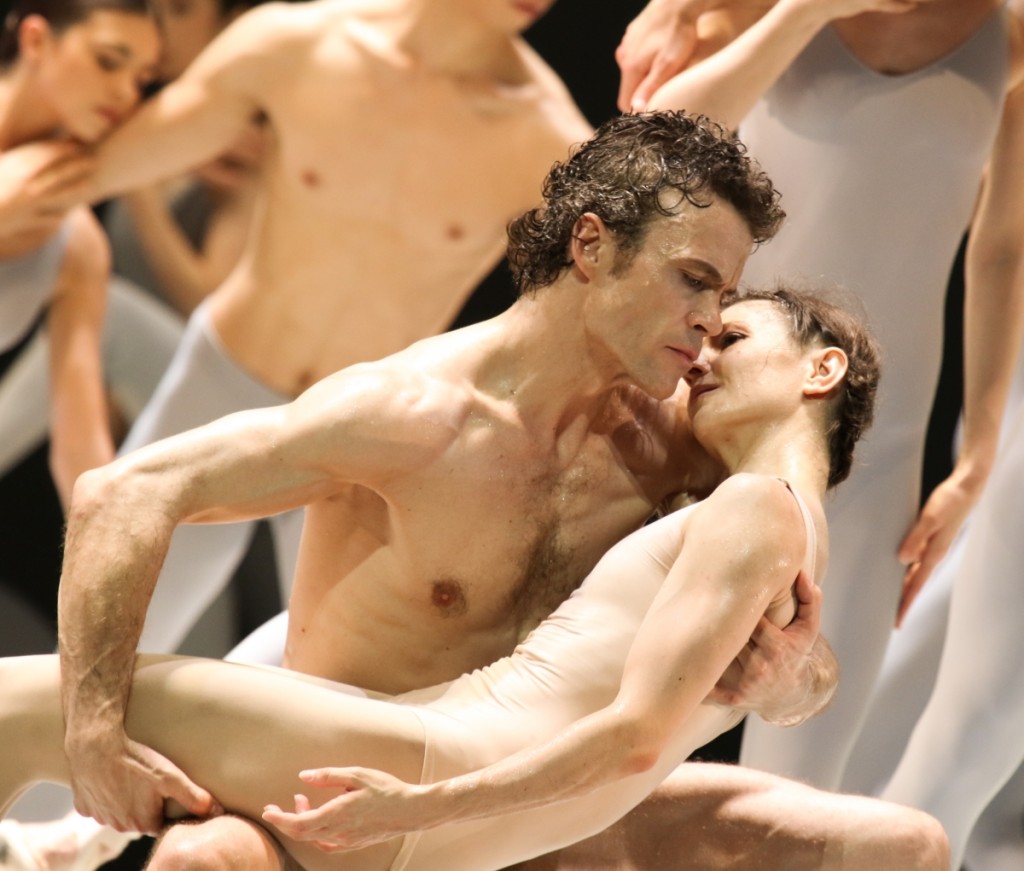 | | | |
| --- | --- | --- |
| | | |
| Links: | | Hamburg Ballet's Homepage |
| Photos: | 1. | Carsten Jung (Peer Gynt), Anna Laudere (Aase, Peer's mother), Alexandre Riabko (Peer's aspect: Vision), Karen Azatyan (Peer's aspect: Aggression), Marc Jubete (Peer's aspect: Doubts) and Aleix Martínez (Peer's aspect: Innocence), "Peer Gynt" by John Neumeier, Hamburg Ballet 2015 |
| | 2. | Alina Cojocaru (Solveig) and Carsten Jung (Peer Gynt), "Peer Gynt" by John Neumeier, Hamburg Ballet 2015 |
| | 3. | Alina Cojocaru (Solveig) and Carsten Jung (Peer Gynt), "Peer Gynt" by John Neumeier, Hamburg Ballet 2015 |
| | 4. | Alina Cojocaru (Solveig) and Carsten Jung (Peer Gynt), "Peer Gynt" by John Neumeier, Hamburg Ballet 2015 |
| | 5. | Ensemble, "Peer Gynt" by John Neumeier, Hamburg Ballet 2015 |
| | 6. | Alexandre Riabko (Peer's aspect: Vision) and Carsten Jung (Peer Gynt), "Peer Gynt" by John Neumeier, Hamburg Ballet 2015 |
| | 7. | Ensemble, in the background Alina Cojocaru (Solveig), "Peer Gynt" by John Neumeier, Hamburg Ballet 2015 |
| | 8. | Carsten Jung (Peer Gynt) and Alina Cojocaru (Solveig), "Peer Gynt" by John Neumeier, Hamburg Ballet 2015 |
| | 9. | Carsten Jung (Peer Gynt) and Alina Cojocaru (Solveig), "Peer Gynt" by John Neumeier, Hamburg Ballet 2015 |
| | 10. | Carsten Jung (Peer Gynt), Alina Cojocaru (Solveig) and ensemble, "Peer Gynt" by John Neumeier, Hamburg Ballet 2015 |
| | | all photos © Holger Badekow 2015 |
| Editing: | | Laurence Smelser |