David Dawson
Berlin, Germany
June 2015
by Ilona Landgraf
Copyright © 2015 by Ilona Landgraf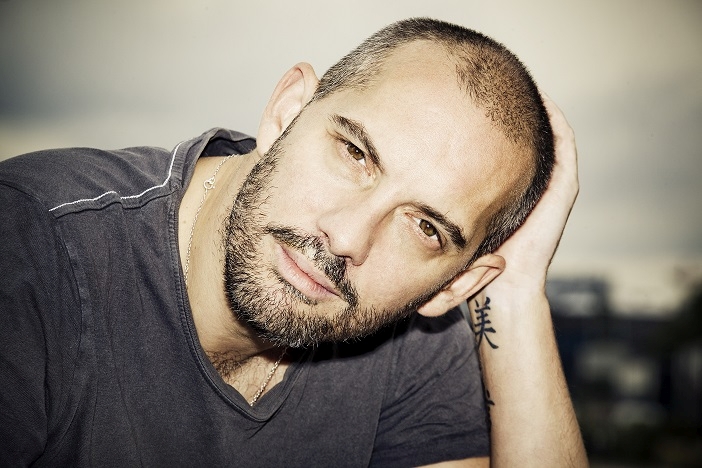 David Dawson seems not at all complicated, when I met with him at his home base in Berlin during his summer break, rather straightforward, open and kind. In conversation, one soon notices that he is driven by a clear vision of the art he aims to create and that he channels all energy towards this goal.
London-born Dawson is a sought after choreographer, mainly working in Europe, but also abroad. He regularly creates for Semperoper Ballet Dresden and Dutch National Ballet. His choreographic language is grounded on the classical style which he explores to and beyond its limits. Both narrative and abstract ballets are his metier. We talked about his beginnings as a dancer, his career on stage and, most of all, about his choreographic work.
When Dawson prepared his first show he was a seven-year-old. The performance was to take place on the occasion of a school event. No one knew about it other than his head mistress. He had no training except dancing for an elderly neighbor lady – from the age of around three. "She would sit on her chair and I would dance in front of her" he remembers. The teacher called his mother, telling her "David is doing a performance tomorrow. Would you like to come and see him?" She did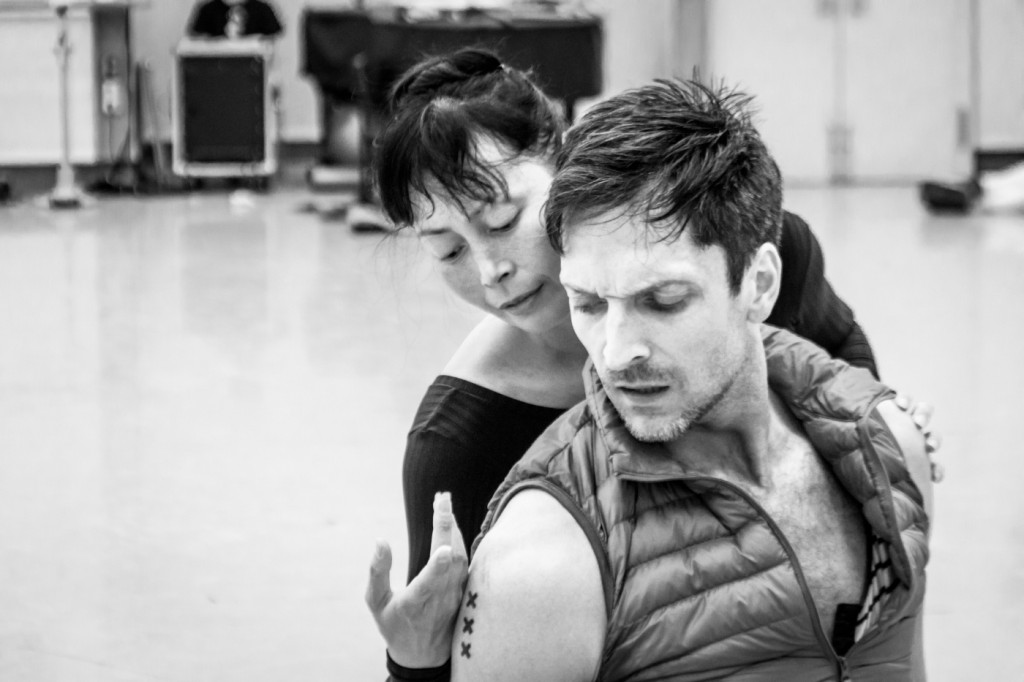 come and had a meeting with the school management who suggested he take dance lessons. Jokingly Dawson calls himself an alien within the family. No other family member related to dance. But his mother, being totally supportive, never questioned his decision. "Even from a very young age on she would always say to me: What do you want?" Hence he started to take ballet classes twice a week at London's Rona Hart School of Dance. But at his regular school he was horribly teased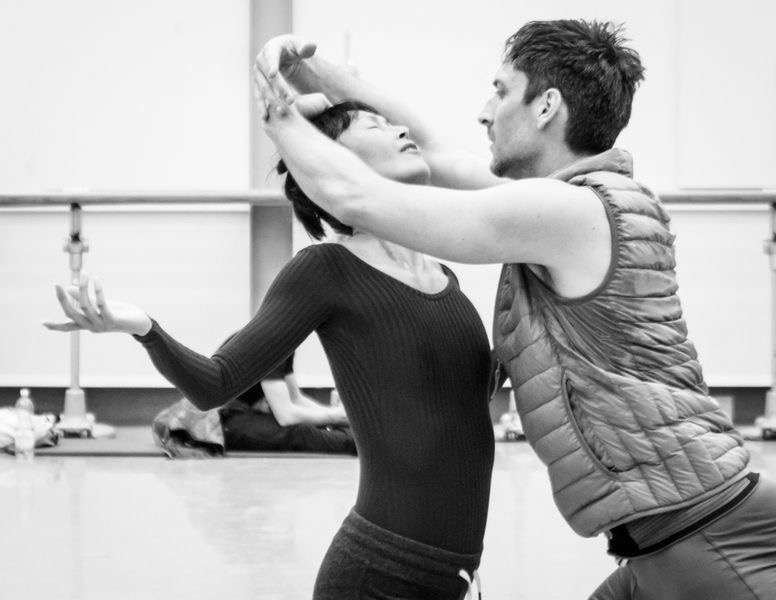 when classmates found out. "I would have to run home from school every day, because they threatened me with: 'I'm gonna get you after school!' That made me run very fast. But then I would directly go to my ballet classes."
At age eleven he attended the Arts Educational School in London. Five years later he was admitted to the Royal Ballet's Upper School. In 1991 he won the Professional Prize at the Prix de Lausanne – "a prize that means you're ready to join a company" Dawson notes modestly. That same year he received the Alicia Markova Award. He doesn't exactly remember but thinks he did a variation from "Le Corsaire". Alicia Markova had known him for many years, because she was at London Festival Ballet, where he had performed as a child. His first professional job at the company was a role in "La Sylphide" with Rudolf Nureyev when he was an eleven-year old. Dawson has vivid memories of this: "Rudolf had his clogs on and his holy woolen tights and I remember him looking at me and I looked right back at him. I was also in "Nutcracker" and a page in "Romeo and Juliet" – Rudolf's production. Hence Alicia Markova knew me from there, she was quite a lovely lady to me. That's maybe why I got the prize, because I was one of her favorites. But I'm not sure."
____________________________________________________________
| | | |
| --- | --- | --- |
| | "David has a special ability to push dancers to their limits and beyond what they know as comfortable and even possible for themselves. Physically and emotionally one reaches places never explored before. You have to constantly challenge yourself, which is inevitably to make real growth happen. It is very difficult at times, but David is continually giving of himself and his energy to feed that push he requires of his dancers." | |
| | (Courtney Richardson, Principal Dancer, Semperoper Ballet Dresden) | |
____________________________________________________________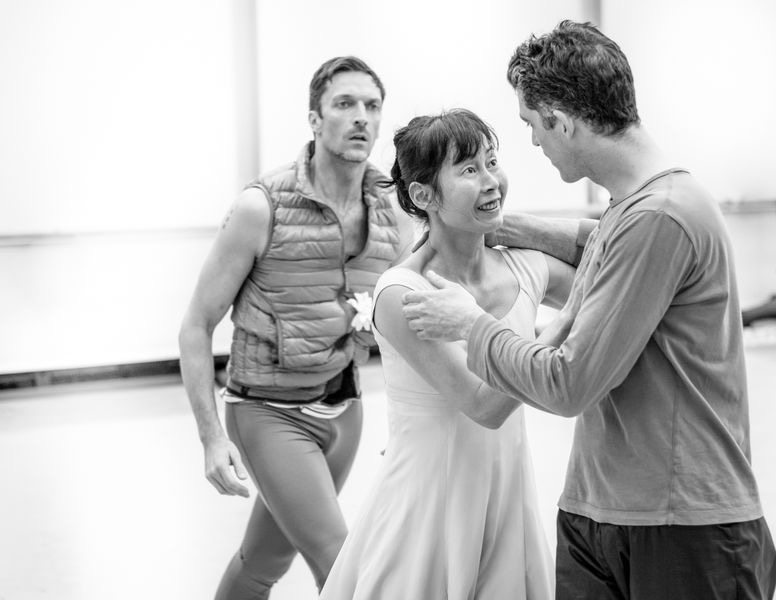 Also in 1991 Peter Wright, back then artistic director of Birmingham Royal Ballet, recognized Dawson's potential and offered him a contract. In 1994 Dawson joined English National Ballet and only one year later moved to Amsterdam to dance with Dutch National Ballet. Three positions in quite a short time. Asked for the reasons for changing, Dawson explains "Aged eighteen I had already been asked to go to Dutch National Ballet with Wayne Eagling, but I was persuaded to stay in England. At that time Birmingham Royal Ballet's repertory was very English, but not extensive. It's where I learned the classics, "Sleeping Beauty", "Swan Lake", "Giselle", alongside the works by MacMillan and Bintley. All of these things were great. But I wanted to move, I wanted to fly and I was really eager to work on Balanchine's ballets at that time. I saw a kind of simplicity in his ballets. I was interested in exploring choreography itself. I wanted to do things with my body that were unusual. I had a flexible body, I was loose, had good feet, a good jump and a good turn. So I felt I needed to be challenged. When living in Birmingham one doesn't see so much. Touring a lot we were busy, but things felt very controlled for me. I needed to find myself and one can't find oneself when being controlled so much." At that point he actually had decided to go to Dutch National Ballet but again, he was advised to stay in England. Hence he changed to English National Ballet where he danced as soloist. But he quickly found out that the situation was similar to Birmingham except being home in London. One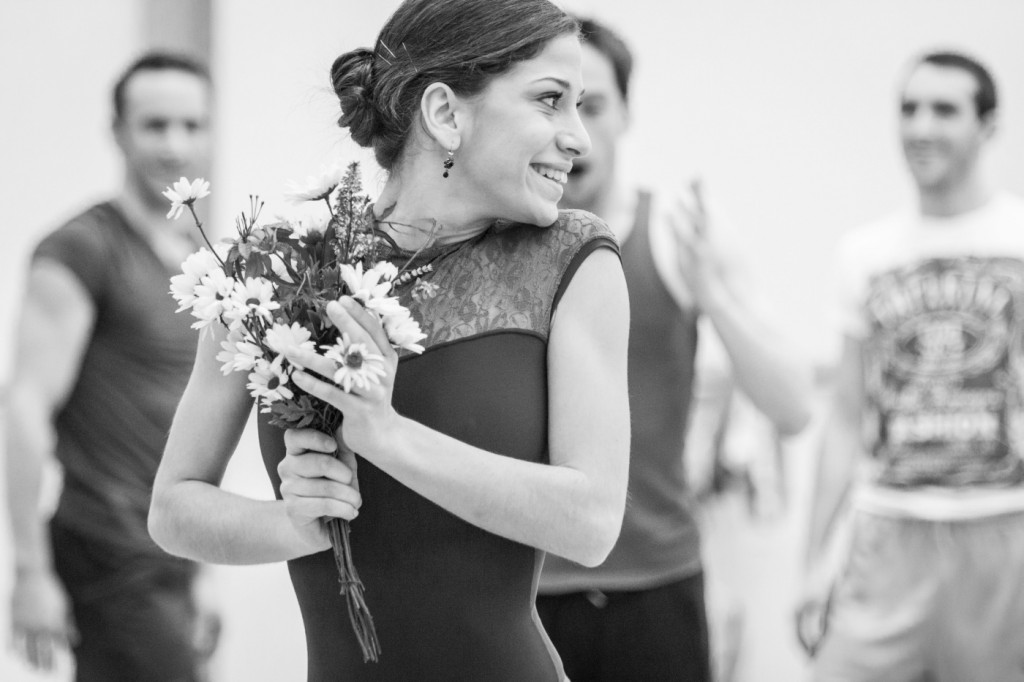 year later, in 1995, he finally set off to perform with Wayne Eagling's troupe in Amsterdam. The vast stage of the opera there must have impressed him immensely, it is the first thing he mentions: "I got there and the stage was twenty-two meters wide, I had to run from one wing to be in time for an entrance from the other side. One has to dance really big on that stage." In Amsterdam he danced everything he had wished to, ballets by Balanchine, Glen Tetley, Twyla Tharp, Christopher Bruce, plus many pieces by the Dutch choreographers Hans van Manen, Rudi van Dantzig and Ted Brandsen.
After five years in Amsterdam Dawson went to Frankfurt Ballet to work with William Forsythe. "An amazing experience, as if rediscovering myself", he says. Two years later in 2002, at only thirty years of age, he ended his career as a dancer, because, as he plainly puts it, he wanted to do what he wanted to do. "As a dancer you're always looking at the notice board to see what your schedule is or what you've been cast in. You're always going to classes and rehearsals and are being told what to do. That's not for me. I grew out of that really quickly. It's not that I don't want to be told what to do but I have ideas of my own and I wanted to pursue them."
____________________________________________________________
| | | |
| --- | --- | --- |
| | "Working with David was always more than a dance experience. From the very first work we did together, commissioned for Dutch National Ballet in 1999, until today's "Tristan + Isolde", it was clear and very important to reach deep into ourselves as dancers, to have a life experience and to explore and develop our own abilities. David never allowed this to change. Working with him still is a wonderful and challenging process. For sure no easy one, but afterwards you know more about who you are or who you want to be." | |
(Raphaël Coumes-Marquet, Principal Dancer and Ballet Master, Semperoper Ballet Dresden)
____________________________________________________________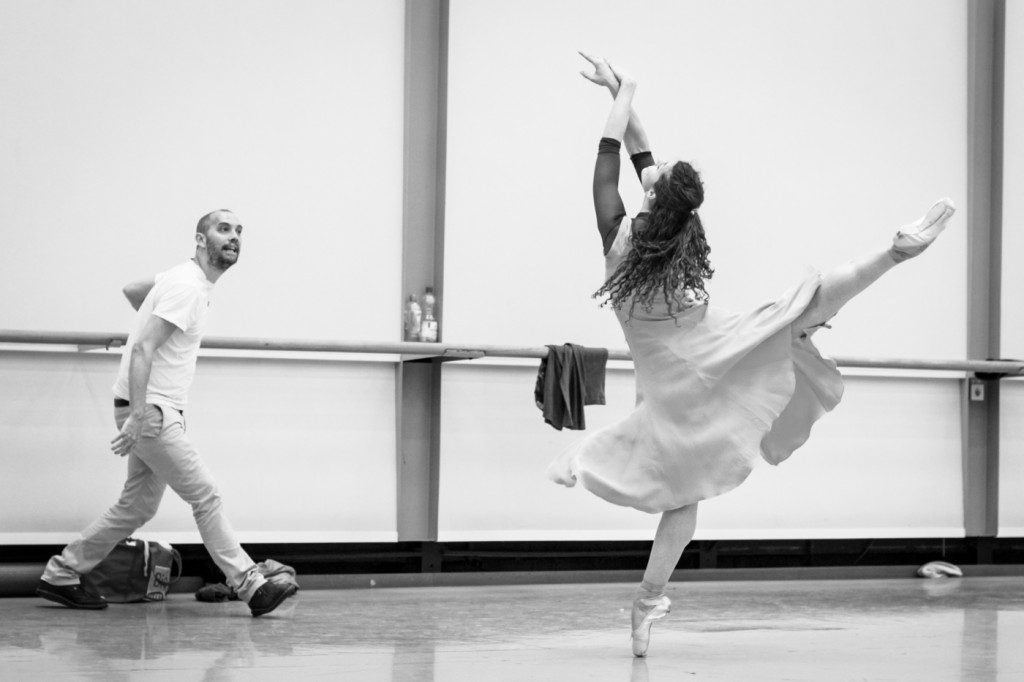 Being only in his mid-twenties he had presented his first choreography in Amsterdam at Dutch National Ballet's annual choreographic workshop. He simply wanted to make something he wanted to watch himself. Again he was driven by an impetus to find himself and he wanted to gain some control over his life. "A Million Kisses to my Skin", created in 2000, was his first piece for the main stage. The one act ballet was part of a Bach program. "It was easier to chose the music" laughs Dawson, "because I could only chose from Bach, although that made it hard too, as there is so much. I was listening and listening and listening until I decided on the Piano Concerto No.1 in D minor." Immediately after his farewell from the stage Dutch National Ballet commissioned him with new choreography, resulting in "The Grey Area" (2002), which was awarded with the Prix Benois in 2003. It is courageous to step out of the security of an engagement in a company to set off on one's own. Asked where his confidence derives from, Dawson denies that he is confident at all. Not even now. But his strong will and realistic approach to life motivate him to make decisions. "I'm a very impatient person. I just like to go one way, in one direction. I don't want to come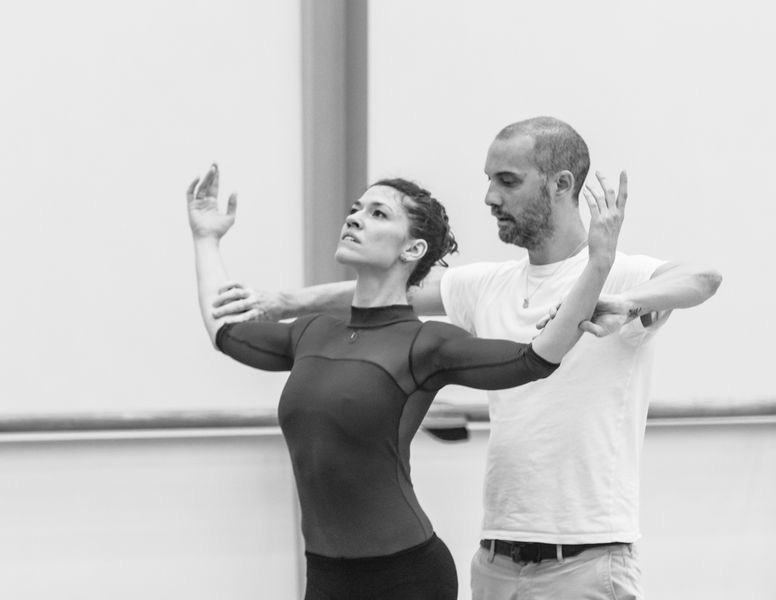 the same way back. I always trusted dance, my knowledge, my opinion of dance. It is like a relationship for me." It is not that he thinks his time is limited and he can't waste it, but instead he has the need to live a life permeated by art. "I want to see art – now!" seems to be his key sentence. He doesn't want to wait. Maybe that is why he recharges his battery by going to exhibitions to view art.
Dawson describes himself as a quite solitary person. He socialized more when younger but over the years quiet has become more and more important to gather the energy and to clear his mind for approaching new pieces. Naturally music is crucial for him but going out and just having fun distracts him. Yet he doesn't live in an ivory tower. News of the world interests him and it takes him a long time to digest it. Because he has concentrated on following his own path, he has lost contact with lots of people from his past. Close friends have remained over the years but others have gone in different directions.
____________________________________________________________
| | | |
| --- | --- | --- |
| | "Each new piece is approached slightly different, but in general David will start with generating steps and phrases, the dancers have either to learn or to remember. That is the base material which he forms, rearranges, cuts, pastes, reverses, stretches etc. according to what he wants. He also gives the dancer the responsibility to remember the initial steps and to be able to 'play' with the material. One really feels like being part of the creative process and not just a puppet." | |
| | (Courtney Richardson, Principal Dancer, Semperoper Ballet Dresden) | |
____________________________________________________________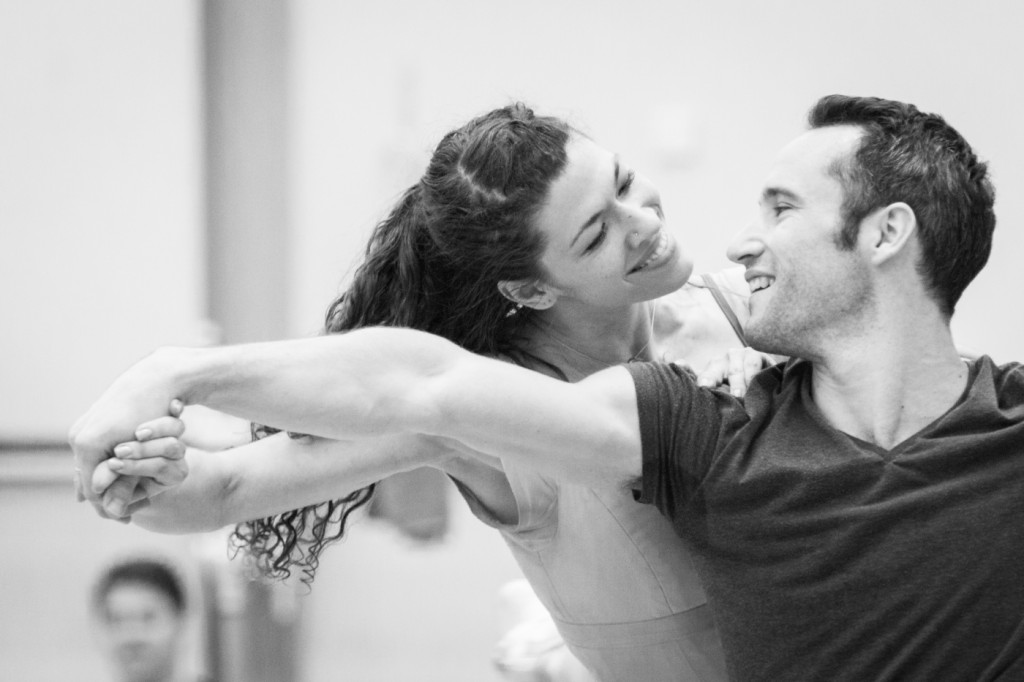 Between 2004 and 2012 Dawson was resident choreographer of Dutch National Ballet, Royal Ballet of Flanders and Semperoper Ballet Dresden. As of this year he is associate choreographer of Dutch National Ballet but, as before, regularly works with other companies. Currently he is creating a new "Swan Lake" for Scottish Ballet which will premiere in April 2016. Some weeks ago "Empire Noir", a one-act abstract work, premiered in Amsterdam: "With "Empire Noir" I went back to explore virtuosity. Although that's something I always did, but virtuosity in a rather poetic sense. There was a period when I wanted to be more lyrical, heartfelt, more emotionally driven. For some years that became a focus. I wanted to give the dancers the chance to be artists, full artists. To feel emotionally what they were doing. It couldn't be a half-emotional performance." Some people can hardly cope with the intensity he works with. Rehearsals have the same intensity as performances, every single movement has to be imbibed with meaning to make sure the dancer becomes one with the role. "I asked them to prepare themselves emotionally before dancing that ballet, as much as they have to prepare physically for my work. It's the same kind of focus I had when dancing myself."
"The Grey Area", his third big ballet, was influenced by several incidents: by September 9/11, the death of his grandmother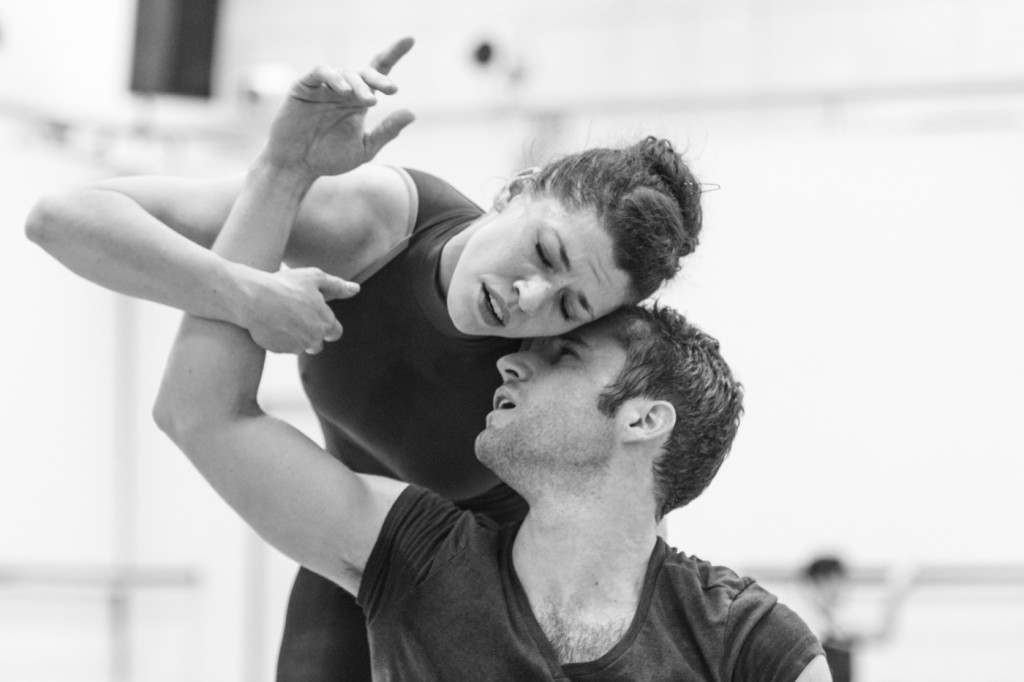 and by having just retired from stage. Everyday life tottered. All those topics influenced its creation, which is about letting go of responsibilities. As for the artists Dawson was working with, he wanted to give them a platform to express themselves.
Talking about the significance of reviews, Dawson says every opinion counts to him and he takes criticism very constructively. "When putting yourself out there you have to accept to be criticized. But it doesn't come like a snap of the fingers for me – to create a ballet. I'm not that kind of person. It is my 'life-time'. Thus personally it might be hard when a critic comes along and dismisses a piece after one viewing. For "Tristan + Isolde" I worked in the studio for ten weeks. Everything had to be prepared and thoroughly considered in advance. The score was already written and I couldn't go back and change it. So you have to make the right decisions all the time. But I'm human – unfortunately. Of course, I won't make the right decisions every single step of the way. And when making a wrong decision you're in a state of wild panic and anxiety, because somehow you have to fix that. I love what I made for "Tristan + Isolde" in Dresden and for "Empire Noir" in Amsterdam this year and I'll take that experience with me into the next season. That gives me some sort of confidence." He also believes that a ballet isn't finished at the premiere. Afterwards there are years to further explore and rework a piece, given if one is lucky enough that it is good enough to be performed again.
____________________________________________________________
| | | |
| --- | --- | --- |
| | "Working with David is a very special experience. From the beginning you know it's going to be a marathon both physically and emotionally. David draws on every art form which might be useful as reference and source of inspiration. He explores this together with the dancers. The performance is the goal but the journey to reach it enriches the development of an artist very much." | |
| | (Fabien Voranger, Principal Dancer, Semperoper Ballet Dresden) | |
____________________________________________________________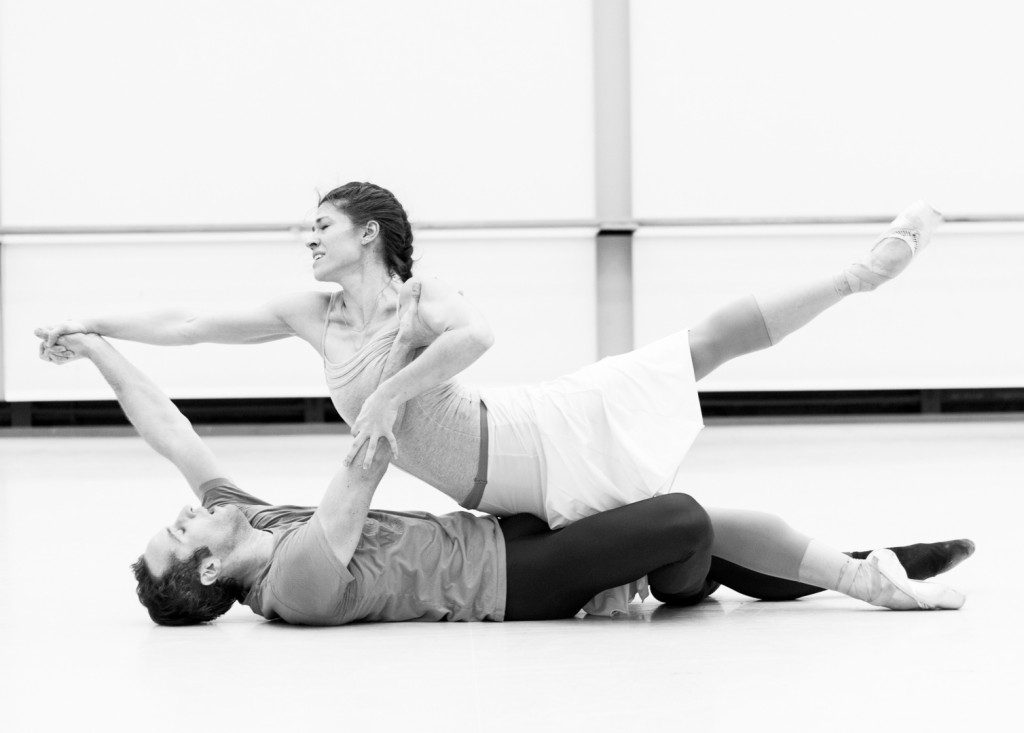 Often Dawson is occupied by topics which, after several years, manifest themselves in a new piece. "Giselle", for example, had been in his mind for seven years before it came to light with Semperoper Ballet in 2008. His version gives an alternative perspective to the story: "Social class is a big subject for me, especially in ballet, because it used to be an elitist art form." Dropping the class context was one of the first decisions he made. Having danced the traditional version many times he knew from his own experience that he didn't fully believe in it. The hunting scene, for example, seemed implausible to him, as did the way Giselle acts towards Bathilde. But Dawson wanted the audience to relate to the ballet, to identify with the characters. For him, dressed-up princes and princesses distance the story from the viewers' emotions. Instead he focused on the basic human aspects of the tragic love story. Likewise removing the aristocratic airs is also what he does while creating "Swan Lake".
____________________________________________________________
| | | |
| --- | --- | --- |
| | "Dancing his style is incredibly challenging but also very engaging and liberating for me. He is very classical in the steps but the movement is stretched to all the extremes, and sometimes contorted to different more unique and interesting angles and shapes. One always explores physical possibilities and limits, the colors of musicality and rhythms and the way physical movement can express different emotions. The process continues even when being on stage and performing. It is never 'done'. In the end you feel like you have accomplished or achieved something." | |
| | (Courtney Richardson, Principal Dancer, Semperoper Ballet Dresden) | |
____________________________________________________________
"Tristan + Isolde" is Dawson's latest choreography for Semperoper Ballet. When he was eighteen, an older friend, a great Wagnerian, introduced him to Richard Wagner's works. Having been to the Bayreuth Festival, Dawson is familiar with Wagner's oeuvre. Rather than to the pink and pastel versions of romance, he has always been drawn to a rather dark reality of romantic love. Wagner's "Tristan and Isolde" felt almost real to him and it took him years to come to terms with the meaning of the story. When tackling his version of Tristan and Isolde, the music was a big issue. Dawson didn't want to destroy anything of Wagner. "I don't like to use other people's work and cut it up for my own purposes. That would be really rude. It might work under other circumstances and for other people, but for me Tristan in particular was sacrosanct. What is more I didn't want to make a ballet lasting five hours. Then, when closely examining the opera I realized that it has beautiful moments like the overtures and the love-death. But otherwise it is a music drama. Without the vocals, there wasn't much left for me to create dance to. Thus the problem solved itself and my gut feeling to use other music was underpinned by factual reasons." Dawson commissioned Szymon Brzóska with composing the music. Both worked on the score for eighteen months, carving out a musical landscape in which the love story later thrived.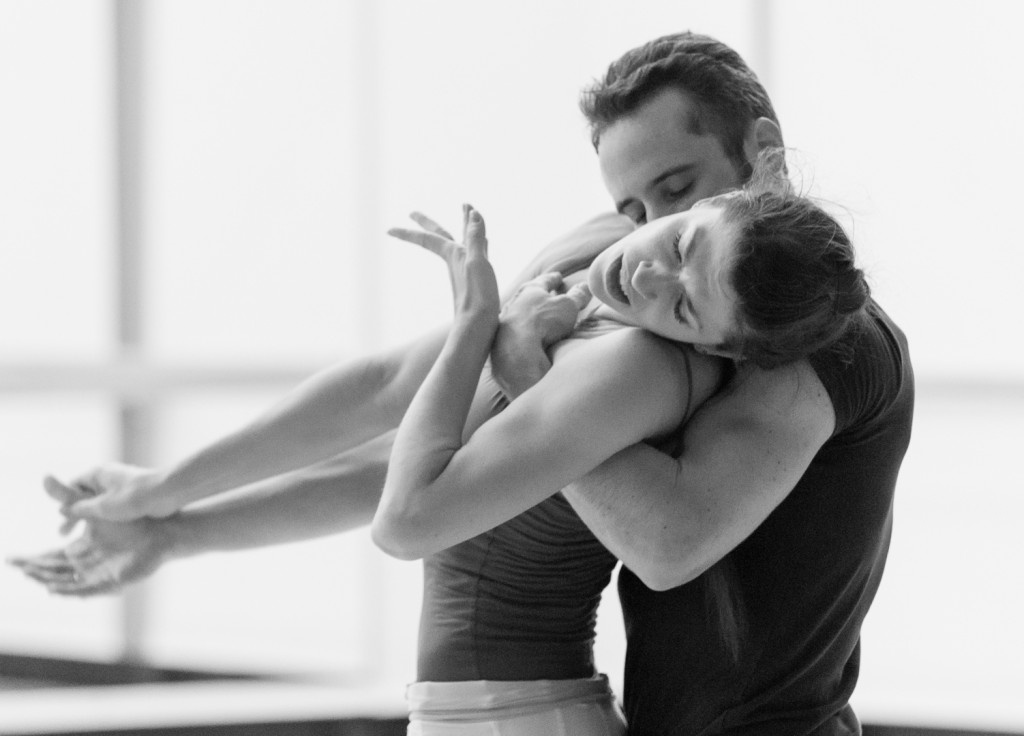 Two exceptional talents danced the leading roles, Courtney Richardson was Isolde, Fabien Voranger her Tristan. Dawson got to know Richardson while staging "The Grey Area" for Royal Ballet of Flanders in 2005. Richardson attended a rehearsal and both seemed to have clicked with each other immediately. "Every thing I said she did and everything she did I loved. It was just a very good way to work because everything was positive and easy. Courtney is very clear in what she wants, she's a very determined person. Because she wanted to continue working with me she changed to Dresden in 2013. Creating Isolde for her was somehow natural for me."
"Fabien joined the company when I went to Dresden as resident choreographer. Our relationship is very close too. We share a certain dream, a quite passionate belief, of what art can be and what ballet can be. He was always my Tristan. He is Tristan to me. Both are Tristan and Isolde to me and I see them as Tristan and Isolde now. Their performance was extraordinary, in fact the whole company was. I love the company! We accomplished that process not only to mount some shows, but I rather hope the experience enriched their lives."
____________________________________________________________
| | | |
| --- | --- | --- |
| | "Depending on the ballet, the process of creation may differ. For "Tristan + Isolde", we began with phrases of choreography that turned into material for variations and pas de deux. We also used acting improvisation of scenes and worked out spoken dialogue to be clear of what we wanted to say before transferring it to dance. David has a clear vision of the course but he gave me a lot of freedom to bring to the process what I could do both technically and artistically. After working almost ten years together we know each other well, thus the process goes swiftly. We understand each other and our roles as dancer and choreographer mesh well together to bring the result we are looking for." | |
| | (Fabien Voranger, Principal Dancer, Semperoper Ballet Dresden) | |
____________________________________________________________
Listening to Dawson vividly describe certain scenes of the piece is most enlightening. What a pity that there are no talks or – like what Neumeier offers in Hamburg – workshops accompanying new pieces. The existing program notes are even less revealing! Dawson talks, for example, about the traditional mad scene in "Giselle" which he altered in his version. Dawson's Giselle doesn't go mad. Being publicly humiliated after having revealed for the first time earlier that day that "This is the man, I'm in love with." she is ashamed and angry. She undergoes many different emotions. But she decides to fight to get Albrecht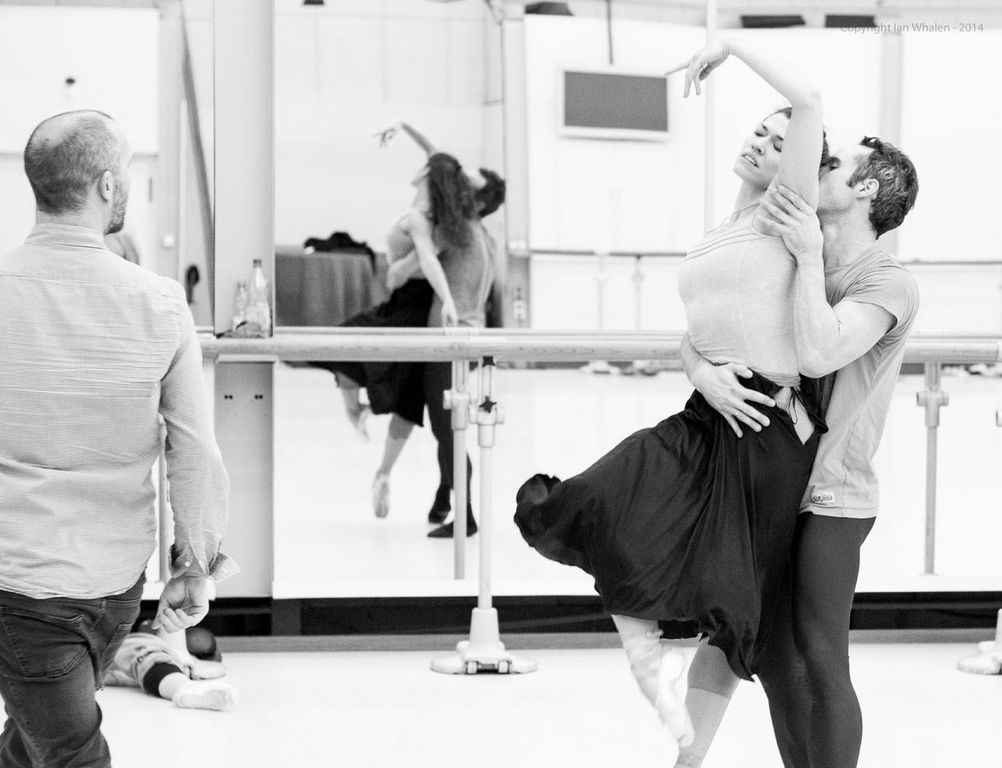 back. In doing so she kills herself by accident. Dawson's Giselle has a strong personality, standing firmly on her own feet. He thus promotes another model of femininity.
"Tristan + Isolde" has many decisive moments. In one of them Isolde faces Melot who is about to bring her home to King Marke as a trophy. It is a scene which takes only seconds but within it Richardson suddenly radiates such authority that one instinctively bows to her. She takes control of the situation, becomes Queen, ready to take responsibility. For Dawson the potion Brangäne hands over to Isolde is not a potion like those in medieval times, but simply a drug which would release her inhibitions and help her feel more relaxed in King Marke's company. Is it a drug which would make her believe in love or a drug which would set free an already underlying love? Dawson thinks, in terms of Tristan and Isolde, that love is there from the very first moment. At one point in the ballet Tristan stops her and she looks at him. "It is the first time they see deep into each other's souls. For me that is the undeniable moment of 'It is over.' I always said to Courtney and Fabien, when that moment hits you in the performance you are going to die. Not physically, but from that moment on you are doomed. Every time Tristan and Isolde meet, death is close by. Tristan is always ready to die for his love. And in the end when he refuses to become healed again it becomes final."
____________________________________________________________
"Dancing David's ballets has made me feel like the artist I always wanted to be.
His technique matches my abilities and I feel encouraged by him to bring out my own vision of our art form. In many ways I owe the artist I am to him."
(Fabien Voranger, Principal Dancer, Semperoper Ballet Dresden)
____________________________________________________________
Loving to prepare his work perfectly and to have things under control, Dawson is well organized. But with ballet and dance in general one must rely on other people to create one's vision and the creative processes have their own dynamics. "Even recently in Amsterdam there was a moment before the premiere in which I felt absolutely irrelevant. There seemed nothing to do for me except for taking the dancers through the show, supporting them, coloring their minds to inspire them for the performance." To me that sounds quite something. But Dawson's opinion differs: "The hardest thing in this job is, especially for a control freak, that you have to relinquish it." Asked about the contrariness of aiming to control and arousing intense emotions, Dawson protests: "I know where the emotions are. I depend on the dancers to assimilate that. Of course, a lot of things are going on in their minds. After all, they have a life themselves outside the stage. Like I do. But if I have a bad day and I go to the studio it will be hard for me to create. Because emotionally I might be paralyzed."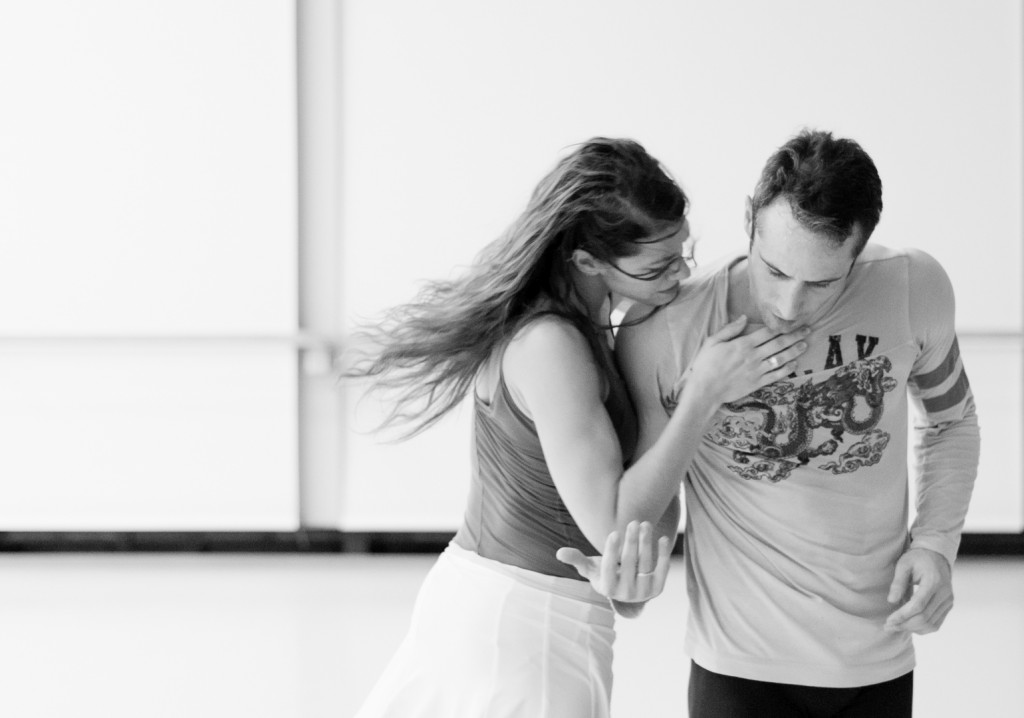 He has worked with many different companies, the Royal Ballet, Maryinsky Ballet, Vienna State Ballet, Pacific Northwest Ballet or the Royal Swedish Ballet, to name only a few. He often feels as if he is moving from one 'bubble' to another. Each company is made up of a different group of people, has another atmosphere and a specific culture. "But all are producing many different programs per year which determines their daily routine. This is the hard thing for companies today. When I was a dancer we maybe had the same amount of performances but we did less programs." Though the lack of a varied schedule was exactly what he had missed in his early beginnings on stage he deems it difficult when dancers have to rehearse a handful or more different ballets on one day. That things have to be done, though the time is short, is a thread running through in all companies.
Given Dawson's experience and success, directing a company of his own is a goal which immediately suggests itself. It has to be a place he falls in love with, a company and a working structure he feels comfortable with. As choreographer in his early forties, he is at the height of his creative power. He awaits the right timing to bring his artistic vision to life, to establish a distinctive, unique company identity. There have already been several offers but the right place wasn't among them. In any case Dawson is ready to sacrifice his life for his company. It depends on what destiny will bring him.
(The interview and the dancers' comments have been edited for clarity.)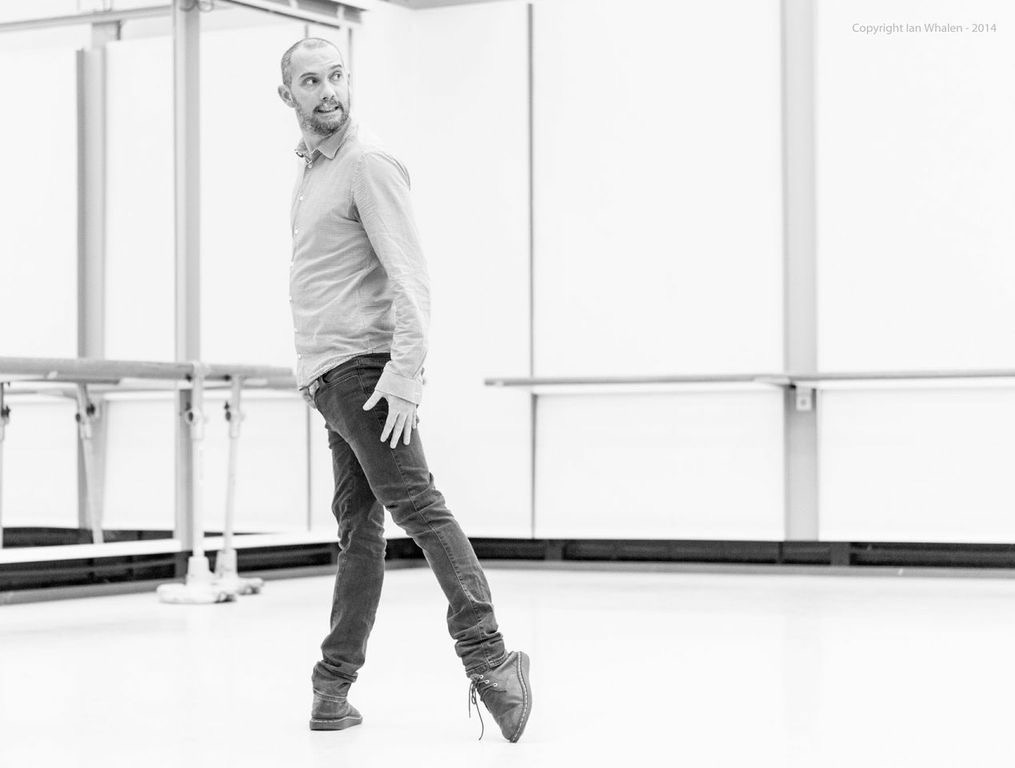 | | | |
| --- | --- | --- |
| | | |
| Links: | | David Dawson's Homepage |
| | | Homepage of Semperoper Ballet Dresden |
| | | Homepage of Dutch National Ballet |
| | | Homepage of Scottish Ballet |
|  Photos: | 1. | David Dawson © Patrick Wamsganz 2015 |
| | 2. | Yumiko Takeshima and Raphaël Coumes-Marquet rehearsing "Giselle" by David Dawson, Semperoper Ballet © Ian Whalen 2015 |
| | 3. | Yumiko Takeshima and Raphaël Coumes-Marquet rehearsing "Giselle" by David Dawson, Semperoper Ballet © Ian Whalen 2015 |
| | 4. | Raphaël Coumes-Marquet, Yumiko Takeshima and Laurent Guilbaud rehearsing "Giselle" by David Dawson, Semperoper Ballet © Ian Whalen 2015 |
| | 5. | Alice Mariani rehearsing "Giselle" by David Dawson, Semperoper Ballet © Ian Whalen 2015 |
| | 6. | David Dawson and Courtney Richardson rehearsing "Giselle" by David Dawson, Semperoper Ballet © Ian Whalen 2015 |
| | 7. | Courtney Richardson and David Dawson rehearsing "Giselle" by David Dawson, Semperoper Ballet © Ian Whalen 2015 |
| | 8. | Courtney Richardson and Fabien Voranger rehearsing "Giselle" by David Dawson, Semperoper Ballet © Ian Whalen 2015 |
| | 9. | Courtney Richardson and Fabien Voranger rehearsing "Giselle" by David Dawson, Semperoper Ballet © Ian Whalen 2015 |
| | 10. | Courtney Richardson and Fabien Voranger rehearsing "Tristan + Isolde" by David Dawson, Semperoper Ballet © Ian Whalen 2015 |
| | 11. | Courtney Richardson and Fabien Voranger rehearsing "Tristan + Isolde" by David Dawson, Semperoper Ballet © Ian Whalen 2015 |
| | 12. | Courtney Richardson and Fabien Voranger rehearsing "Tristan + Isolde" by David Dawson, Semperoper Ballet © Ian Whalen 2015 |
| | 13. | David Dawson, Courtney Richardson and Fabien Voranger rehearsing "Tristan + Isolde" by David Dawson, Semperoper Ballet © Ian Whalen 2015 |
| | 14. | Courtney Richardson and Fabien Voranger rehearsing "Tristan + Isolde" by David Dawson, Semperoper Ballet © Ian Whalen 2015 |
| | 15. | David Dawson rehearsing his "Tristan + Isolde", Semperoper Ballet © Ian Whalen 2015 |
| Editing: | | Laurence Smelser |