"Ballet Matinee"
John Cranko School
Stuttgart State Opera
Stuttgart, Germany
July 26, 2015
by Ilona Landgraf
Copyright © 2015 by Ilona Landgraf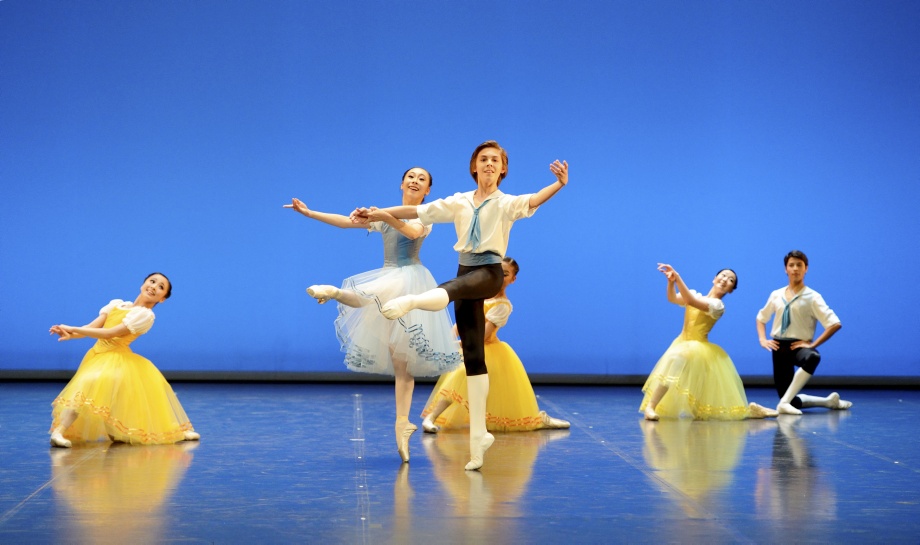 On two Sundays in July students from Stuttgart's John Cranko School took possession of the huge stage of the opera house to demonstrate their abilities in a matinee. This year's, described as a "journey through epochs and dance styles" by the school's director Tadeusz Matacz, offered a mix of classical and modern pieces, group dances and solos and familiar pieces as well as fresh ones. Not merely a succession of highlights but a sound program that offered the students a chance to show off their talents. On July 26 the matinee was broadcast live on a video screen in the park in front of the opera house attracting a large number of outdoor viewers.
The younger students appeared twice. Six boys from class 2 had much fun in "Moon Marchin", with its humorous, modern choreography. Clad in blue-white unitards with hair cheekily gelled into standing spikes they reminded one of cheerful little aliens on proud parade. "Spirits of Nature", new choreography by the Italian Marco Laudani, involved students from class 1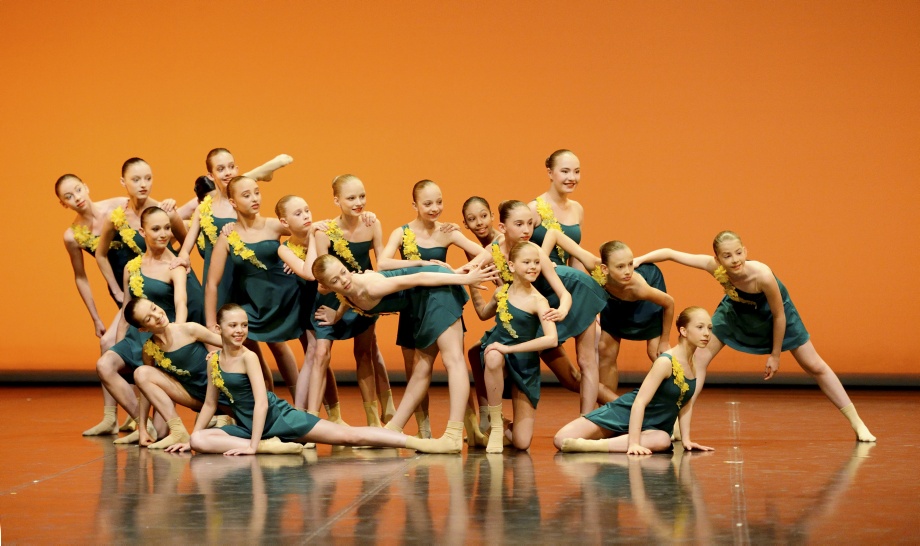 to 4. It is a lively, entertaining piece, combining pas de deux and group scenes.
Five girls and three boys from classes 3, 4 and 5 took the challenge to tackle an excerpt of Jules Perrot's romantic ballet "The Naiad and the Fisherman". Mastering the intricacies of its variations with elegant precision, playful lightness and a smile requires assured classical technique. Kudos to them and their teacher Natalia Gasmaeva!
An excerpt of Leonid Lavrovsky's "Classical Symphony" to Prokofiev's Symphony No. 1, which opened the matinee, was danced by students from classes 5 and 6 and the Academy class B. While the girls seemed confident from the beginning, some boys at first looked tense in their upper bodies with arms locked into position. Yet as the initial tightness disappeared they seemed more and more at home in the piece building a homogeneous and elegant ensemble at the end. "Italiana", choreographed and rehearsed by Nicola Biasutti, had already been part of last year's school program. While here and there some ports de bras lacked a natural flow – they need to breathe more from within – the performance as a whole radiated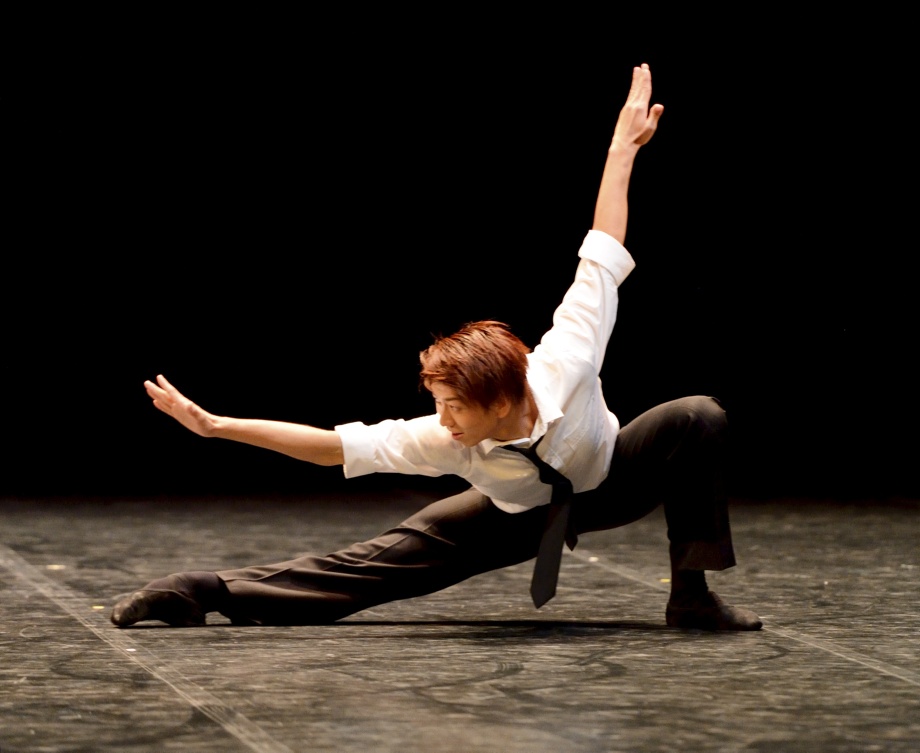 liveliness and panache. Leaps were impressive, lifts commendable and especially the three girls radiated self-assurance.
Just as last year the Academy classes A and B interpreted Toru Shimazaki's "The Absence of a Story", a contemporary work set to restrained music by Brahms. Here numerous pas de deux demonstrated the boys' fine partnering skills. the fluent dance was beautifully modulated, showing the mature students to advantage.
"Simple Symphony", also a piece for the group, closed the program. It is by Alastair Marriott and set to music by Benjamin Britten. Three couples from the Academy classes danced pas de deux framed by a larger corps. All pupils looked at ease in the lively flowing choreography, their timing precisely matched the score, and the final tableau came off perfectly. "Simple Symphony" has visually captivating orange, red, lilac red and apple-green costumes which add to its sunny, easy-going appearance. Yet I was slightly disappointed to see the same final piece as last year whose pas de deux was partially danced by the same students. Three of them had exactly the same part, among them Adhonay Soares da Silva, whose talent stood out.
Five solos – four in the matinee's first half, one in the second – were reserved for individual talents, unfortunately none for any of the girls. Still the Cranko School makes its mark first and foremost training excellent male juniors. Shogo Hayami is one of them. The short Japanese was invited to Stuttgart in 2012, when Matacz spotted him at the Youth American Grand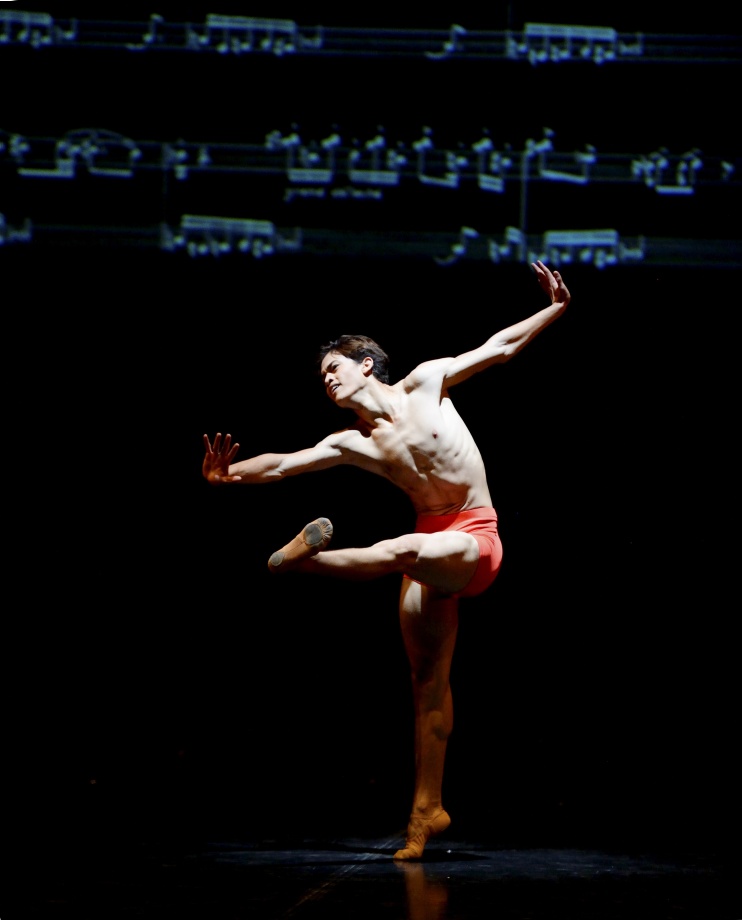 Prix. This year he came full circle again winning the YAGP. Self-assured, Hayami delivered an expressive, clear-cut variation of "Don Quixote". Dance seamlessly poured out of him like water bubbling from a well. The determination and meaning he brought to "Solo for Diego" conveyed the feeling that this young man was born to express himself through movement. He seems fueled by a bright inner spark.
Long limbed Vinicius Silva demonstrated his lyrical abilities in "Destitute". His solo from it was complete in itself. Brazilian born Adhonay Soares da Silva was entrusted with "Notations I – IV", a physically demanding solo by Uwe Scholz to music by Pierre Boulez originally created for Vladimir Malakhov in 1996. Soares da Silva has sharpened his artistic profile in the last year ripening into a grown young dancer. He shifts gears fluently between soft and powerful phases. He can be highly energetic – a rebellious, angry young man – and seconds later smooth and supple. Ably playing with the tempo he kept the audience in suspense. The long solo seemed not to exhaust him in the least.
Again, like last year, Riccardo Ferlito caught one's attention. He currently attends the fourth class. The young Italian-Japanese also danced in Perrot's "The Naiad and the Fisherman" yet seemed to feel most happy and contented when alone on stage. "Into your Arms", his solo, was much less spectacular than others on the program, but Ferlito seems not in need of show-off vehicles, instead commanding the stage with his natural presence. Though young, his aura radiated into the audience. Is a future outstanding artist growing up here?
Almost all male graduates will be taken into the Stuttgart Ballet company this year. What would be better proof of the Cranko School's high quality training?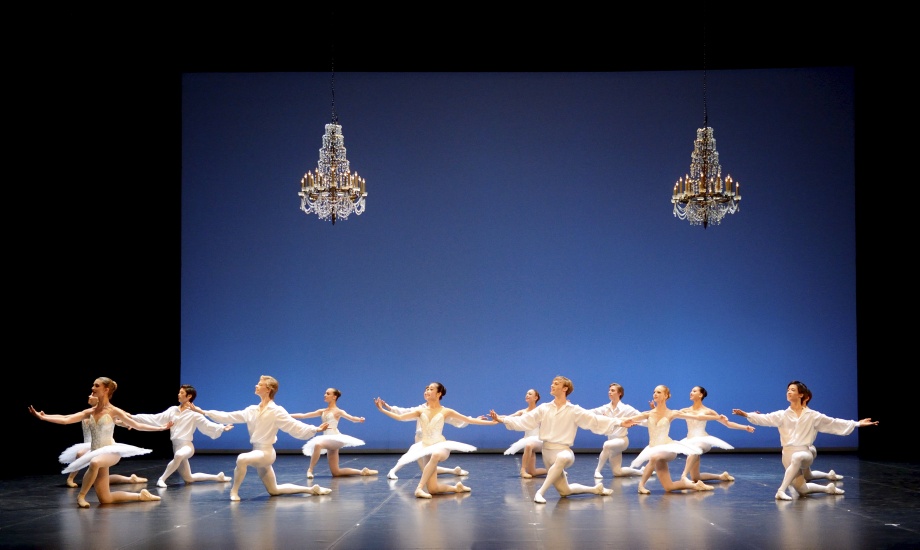 | | | |
| --- | --- | --- |
| | | |
| | | |
| Links: | | Homepage of the John Cranko School |
| Photos: | 1. | Aina Oki (class 5), Gabriel Figueredo (class 4) and students of the classes 3, 4 and 5, "The Naiad and the Fisherman" by Jules Perrot, John Cranko School 2015 |
| | 2. | Students of the classes 1 – 4, "Spirits of Nature" by Marco Laudani, John Cranko School 2015 |
| | 3. | Shogo Hayami (Academy class A), "Solo for Diego" by Richard Wherlock, John Cranko School 2015 |
| | 4. | Adhonay Soares da Silva (Academy class A), "Notations I – IV" by Uwe Scholz, John Cranko School 2015 |
| | 5. | Students of the classes 5 and 6 and the Academy class B, "Classical Symphony" by Leonid Lavrovsky, John Cranko School 2015 |
| | | all photos © Stuttgart Ballet 2015 |
| Editing: | | Laurence Smelser |