"Sleeping Beauty"
Stuttgart Ballet
Stuttgart State Opera
Stuttgart, Germany
July 25, 2015
by Ilona Landgraf
Copyright © 2015 by Ilona Landgraf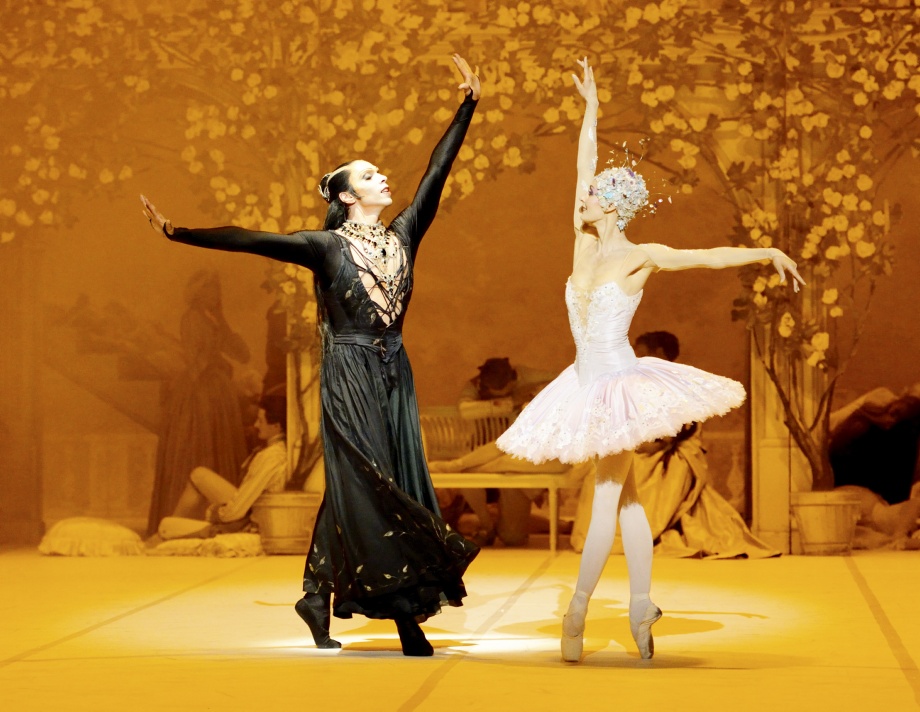 Stuttgart closes this season in high spirits with several performances of Maria Haydée's "Sleeping Beauty". The company has every reason to be in good mood. Recently, quite some intricate issues were resolved: after years of debate about financing, the first sod for the new Cranko School building was cut a few days ago. It is scheduled to be ready for the 2018/19 season. Renovation of the Stuttgart Opera House is also pending and, though it is not yet clear where the interim stage will be located during the projected five years of construction, the management, backed by the company's team spirit, radiates confidence. Also a tricky personnel matter – who should succeed artistic director Reid Anderson? – was solved shortly before the end of the season. Tamas Detrich, Anderson's associate artistic director, will take over the reigns in autumn 2018. As Detrich is totally familiar with the company and its repertory after several decades with it, the continuity of the troupe's artistic identity is assured. What is more, this season's statistics verify that ballet unvaryingly is the opera house's best crowd attraction. On average ninety-eight per cent of the seats were sold. Thus conditions were perfect for staging a grand princely romance such as "Sleeping Beauty".
Simply called Marcia's "Sleeping Beauty" by the Stuttgarters – the piece marked her choreographic debut in 1987 – Haydée follows Petipa's 1890 choreography closely but reduces the amount of mime in favor of dance. Hence she reduced or even avoided stilted mannerisms, considered old-fashioned today. Instead Aurora's four suitors now show themselves off by competing with entrechats and tours en l'air. In the hunting scene Prince Desiré uses a minimum of mime when withdrawing from his entourage. His showdown with Carabosse is mostly danced as well. Haydée also notably strengthened Carabosse's role. The wicked fairy isn't old and ugly but is rather an androgynous character, driven by wounded pride, jealousy and rage. Breathing vengeance, her leaps and jumps are like thunderbolts. Being the incarnation of the evil, Carabosse never vanishes. Waiting for the right time to come, she closely observes Aurora growing up. Even at the finale's happy wedding she is present, reminding us that life isn't just sunshine and roses. The good might prevail at the end but it is only called the good because it is juxtaposed in opposition with the bad.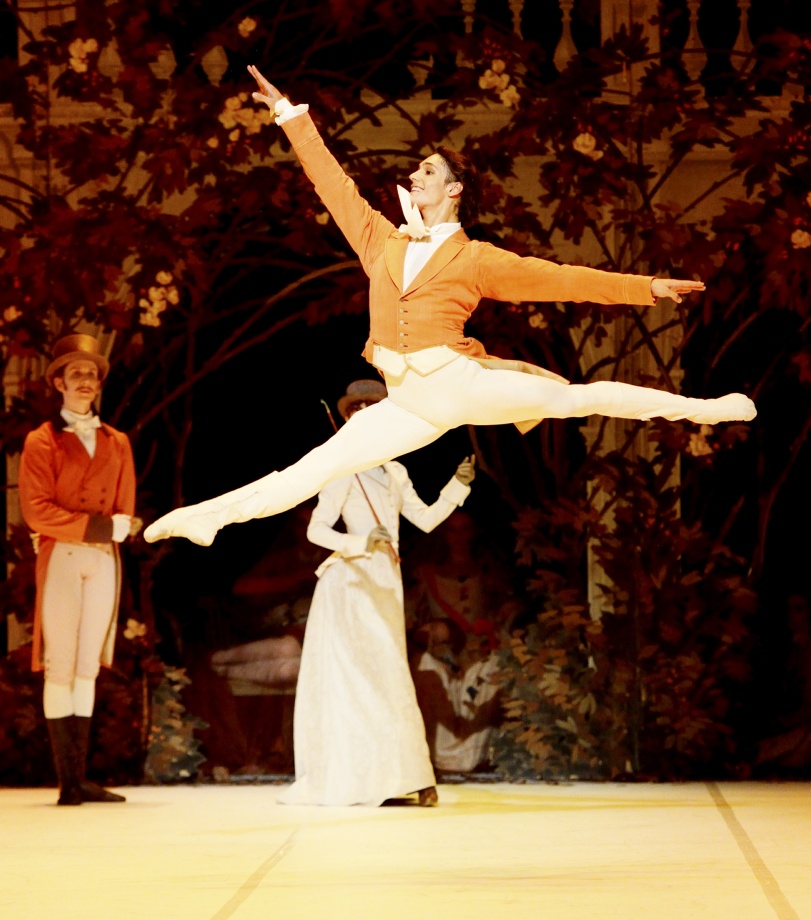 The ballet has a huge asset in its set and costumes by Jürgen Rose. As usual with Rose they are absolutely correct in style, tasteful, lavish, elegant – in short: gorgeous. The impact on the audience, the enthusiasm it evokes, justify by far for all the money spent.
All three acts take place under open sky in the castle's courtyard surrounded by arcades. The little rose bushes, Princess Aurora was presented with at her birth, have climbed up the arcades by her sixteenth birthday. One-hundred years later, an untouched forest reminiscent of a landscape by Caspar David Friedrich has overgrown the castle complex. In the final wedding festivities the forest has disappeared and royal splendor has been restored. Grand candle holders decorate the balustrade, the rose ranks are neatly trimmed and a red baldachin spans the thrones of the much aged royal parents.
At Aurora's christening feast the court society is clad in 1770 rococo style. Costumes are colored in various shades of bright blue and blue-green, with white wigs on the heads. Sixteen years later at Aurora's birthday party, brown wigs are in fashion, with attires in warm colors predominating. Here Rose plays with creme-white, bright red, light yellow, rose, green and gray green. Some corps dancers wear white blouses. One-hundred years later in the haunted forest where Prince Desirè has a vision of Aurora, the female sylvan spirits have beige calf-length dresses embroidered with dainty tendrils. Though they are the plainest costumes of the ballet, they are much more elegant and chic than any dress on sale in any of Stuttgart's prime fashion shops.
For the wedding's costume ball Rose draws on abundant resources: Jewelry glitters opulently on low-cut necklines and on the bare chest of one of the wedding guests disguised as Ali Baba, a character from "One Thousand and One Nights". There is scarcely one hem of a skirt without brocade. Beautiful patterns of cloth are draped one above the other, here decorated with a ribbon, there with a trim or an appliqué. Nothing is simple, everything is drop-dead gorgeous. Every single detail fits. If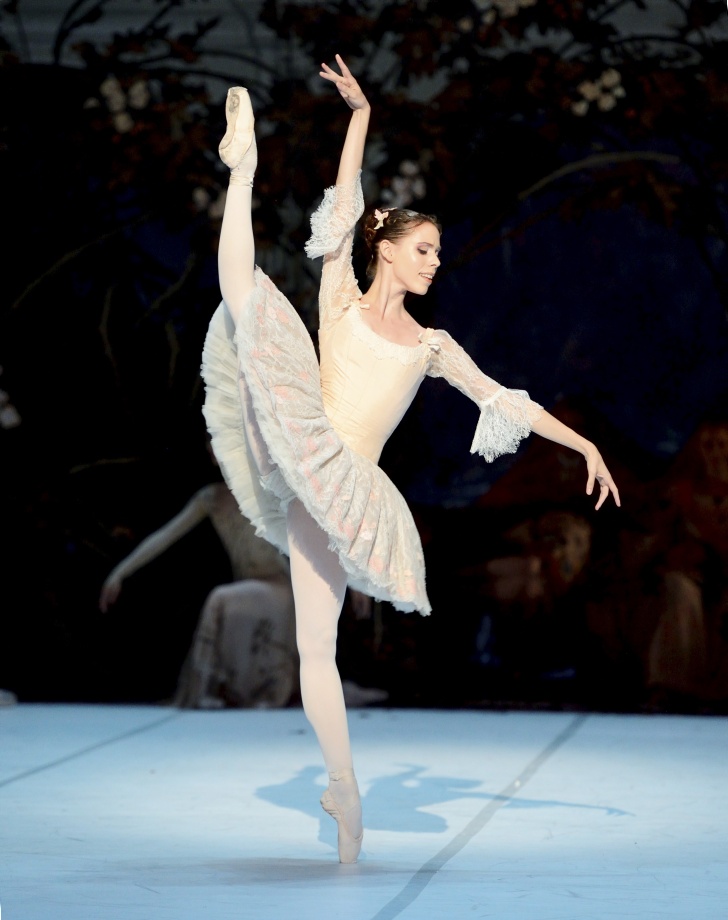 I made it out correctly the king strode around in emerald green pumps. Likewise all children involved had shoes in the fashion of the period.
Several couples were cast for the leading roles. Reportedly Alicia Amatriain and Friedemann Vogel were brilliant on opening night. They appear in three out of the eight total performances. Anna Osadcenko and Constantine Allen dance twice, Hyo-Jung Kang and David Moore will share the stage in the second to the last show at the end of July. I saw the second performance of Elisa Badenes and Daniel Camargo. Again they proved to be a dream team.
Badenes's Aurora combined youthful freshness and a lovely smile with the good manners of a girl from a noble house. Her technique was flawless, her dance expressive from within, with convincing naturalness. When faced with the news that the time has come to marry, she spontaneously turned towards her mother with a mix of shyness and excitement. Seconds later she regained her composure – a young princess who whole-heartedly lived up to what is expected from her. The Rose Adagio went without the slightest tremor. In the vision scene Badenes's limbs seemed leaden, weighted by sleep but at the same time she was ethereal.
What I like most with Camargo is his technical prowess and virtuosity which he presents without pretension. He might just have finished a stunning combination of formidable leaps and turns but when bowing he doesn't smile with triumph in his eyes, instead his arms open modestly as if he wants to downplay his achievement. Stuttgart critic Angela Reinhardt,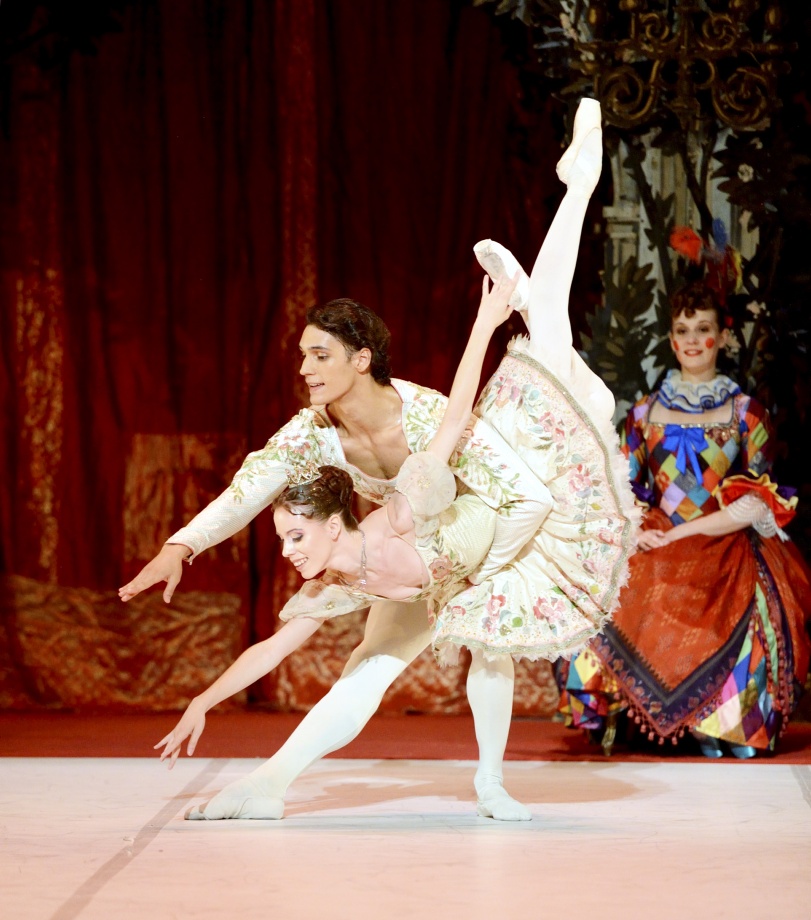 reviewing another ballet recently, wrote that Camargo, a superb technician, would sometimes keep his audience on the verge of heart attacks because he often took too many risks. But instead I sat back, relaxed and was ready to enjoy his interpretation when he entered the stage accompanied by his hunting party. His radiant self-assurance and calmness hinted at perfection. So it was.
Camargo made one truly believe that the prince had a vision of a girl, the future love of his life, waiting for him. Though the Lilac Fairy guided him, the scene wasn't merely magical and unreal like fairies often are but spiritually credible. This prince knew in his heart about a higher truth, a destiny he immediately followed. His being a prince seemed inborn, regardless whether sitting on the throne watching the divertissements, or partnering his princess or excelling in a solo.
Myriam Simon was an affectionate and graceful Lilac Fairy, radiating the serenity and dauntlessness of one who is certain that what is good will never perish. Her headdress – an elegant cap with glittery, little pieces sticking out like antennas – was an unmistakable symbol that she was on good terms with celestial entities. Simon was accompanied by Elena Bushueva (Fairy of the Crystal Fountain), Angelina Zuccarini (Fairy of the Golden Wine), Daniela Lanzetti (Fairy of Woodland Glade), Katarzyna Kozielska (Fairy of the Song Bird) and Rachele Buriassi (Fairy of the Enchanted Garden). Each of them made her solo's characteristics sparkle.
Haydée originally enlarged the role of Carabosse for Richard Cragun, her longstanding life and stage partner. It is imbued with memories and being cast for it actually is an honor. In the performance I saw, Jason Reilly was the wicked fairy. Robert Robinson and Damiano Pettenella will take over in subsequent shows. Rose dressed Carabosse in a black Kabuki-like costume with a vast, fluttering cape. At one point the cape hung down from the ceiling like a curtain, occasionally lifted by Carabosse to allow a glimpse of Aurora growing up. Later, in the enchanted forest, the cape served as a broad barrier preventing Prince Desiré from entering the chamber of the sleeping Aurora. Reilly, wrapped in the black cloth, sat in its midst, confident and slick like a malicious spider waiting for prey. Reilly's Carabosse was feminine and ambiguously erotic who also leaped and jumped about fiercely when ventilating her fury. Reilly used his arms and hands eloquently, drumming his fingers ominously on the shoulder or, in a cold and calculating manner, throwing back his long black hair. His performance was exceptional. Hopefully he will be cast as Prince Desiré next season as well. After having danced the bad guy, Stanley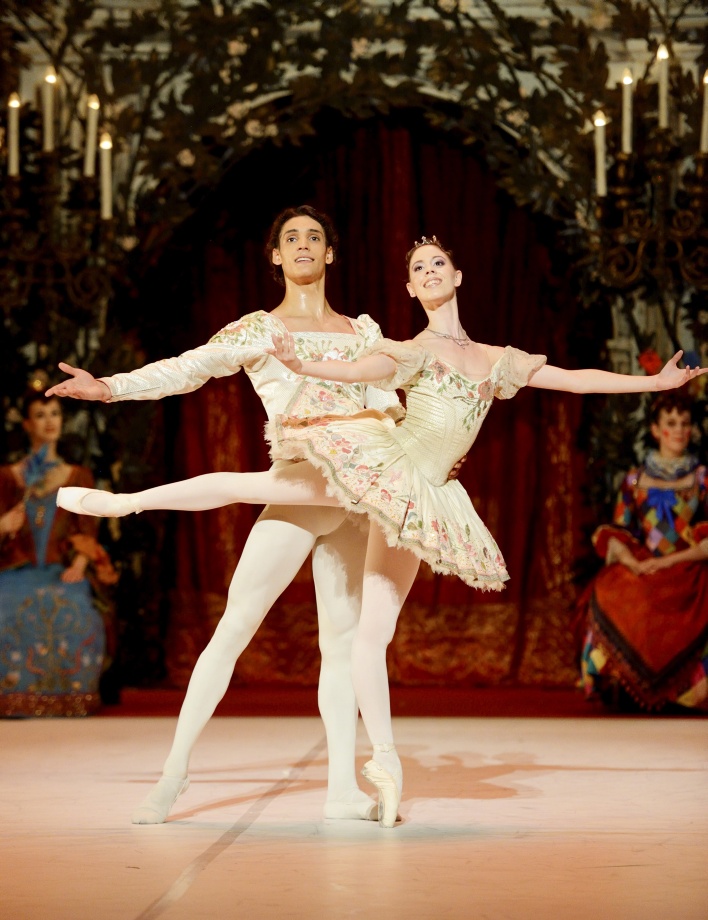 Kowalski, in "Streetcar named Desire", an opportunity to show his true nature again, which is kind and likeable, would be good.
here were four princes from the four points of the compass who tried to win Aurora's favor. The Prince of the East (Roland Havlica) was a showoff. The Prince of the South (Damiano Pettenella) was slightly reminiscent of a dervish. The competitor from the North (James Fisher) was stolid, promising matrimony bare of excitement. Finally, the Prince from the West (Alexander Jones) was elegant, yet conventional. An average man but presumably he would have been Aurora's most reliable partner.
Melinda Witham and Helmar Paulokat were the benevolent royal parents. Waking up after a century of sleep the king had become slightly disheveled. His hairdo urgently needed a comb. A little detail, one of many, adding to the credibility of Haydée's storytelling. In other productions the royals wake up spic and span which is a bit odd.
In the final costume ball Pablo von Sternenfels injected Ali Baba with just the right dose of macho boastfulness. When overdone one easily looks ridiculous in this role. Yet von Sternenfels didn't. Constantine Allen and Ami Morita delivered a flawless Blue Bird Pas de Deux. They will certainly gain even more aplomb during the ensuing performances. Further highlights were Puss-in-Boots and his coquettish White Cat (Louis Stiens and Elizabeth Wisenberg) – I still don't know if the former really was simple minded or only pretended to be to ensnare his prickly lady kitten – and a frightened Red Riding Hood (Julie Marquet) tracked and beaten by Özkan Ayik's fierce Wolf. The bearded Seven Dwarfs, pupils of the Cranko School, looked quite cute next to their Snow White (Joana Romaneiro).
James Tuggle and the State Orchestra Stuttgart, from the first bars on, gave a superb rendition of Tchaikovsky's score. This time not only the in-house audience had the pleasure of watching but also a few thousand people more outside, who had gathered for the annual "Ballet in the Park" in front of the opera house. There the performance was broadcast live on a huge video screen. Haydée followed the show from a side balcony. Enthusiastic clapping at the curtain call strongly demonstrated the heartfelt bonding between her, the company and the Stuttgart audience.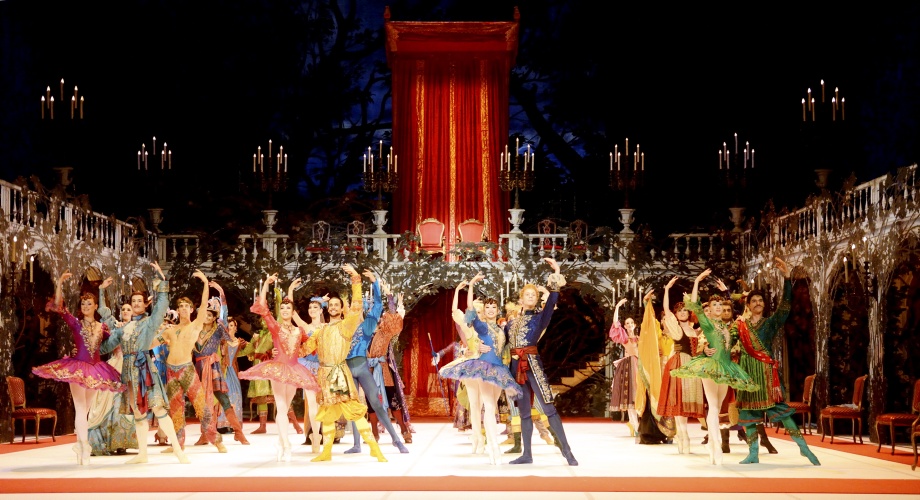 | | | |
| --- | --- | --- |
| | | |
| Links: | | Stuttgart Ballet's Homepage |
| Photos: | 1. | Jason Reilly (Carabosse) and Myriam Simon (Lilac Fairy), "Sleeping Beauty" by Marcia Haydée after Marius Petipa, Stuttgart Ballet 2015 |
| | 2. | Daniel Camargo (Prince Desiré) and ensemble, "Sleeping Beauty" by Marcia Haydée after Marius Petipa, Stuttgart Ballet 2015 |
| | 3. | Elisa Badenes (Princess Aurora), "Sleeping Beauty" by Marcia Haydée after Marius Petipa, Stuttgart Ballet 2015 |
| | 4. | Elisa Badenes (Princess Aurora) and Daniel Camargo (Prince Desiré), "Sleeping Beauty" by Marcia Haydée after Marius Petipa, Stuttgart Ballet 2015 |
| | 5. | Elisa Badenes (Princess Aurora) and Daniel Camargo (Prince Desiré), "Sleeping Beauty" by Marcia Haydée after Marius Petipa, Stuttgart Ballet 2015 |
| | 6. | Ensemble, "Sleeping Beauty" by Marcia Haydée after Marius Petipa, Stuttgart Ballet 2015 |
| | | all photos © Stuttgart Ballet 2015 |
| Editing: | | Laurence Smelser |