"Cinderella"
Ballet Company of Teatro alla Scala
Teatro alla Scala
Milan, Italy
January 15, 2016
by Ilona Landgraf
Copyright © 2016 by Ilona Landgraf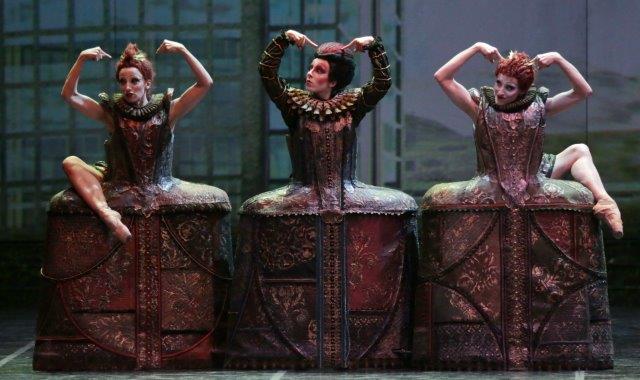 Last Friday a huge crowd queued up in front of La Scala, eagerly waiting to gain entry for Mauro Bigonzetti's new "Cinderella". Just ten minutes before the performance was to begin did things finally get going. Passing policemen, who lined the entrance area, people hurried to their seats. Only a few minutes late the curtain went up.
What had happened? The police had decided to do bag checks but, having started much too late, necessarily had to stop to not overly delay the performance. Later, the young Italian woman sitting next to me told me that "Italians already feel safe when police are within sight." That indeed was pretty evident. People seemed in good mood, happy to attend the last performance of their favorite ballerino, Roberto Bolle, in the role of the Prince. As his Cinderella, Polina Semionova guested with the Milan troupe.
For years Rudolf Nureyev's version of the fairy tale had been in the repertory. Now, Mauro Bigonzetti had the commission for new choreography. It premiered a few weeks ago in December.
Bigonzetti's work is based on Charles Perrault's version of the fairy tale which, unlike the Brothers Grimm's, doesn't involve the illness and death of Cinderella's mother. Presumably the aim was to present a fresh and modern version but either Bigonzetti lacked the courage to create something really new or the ability to do so.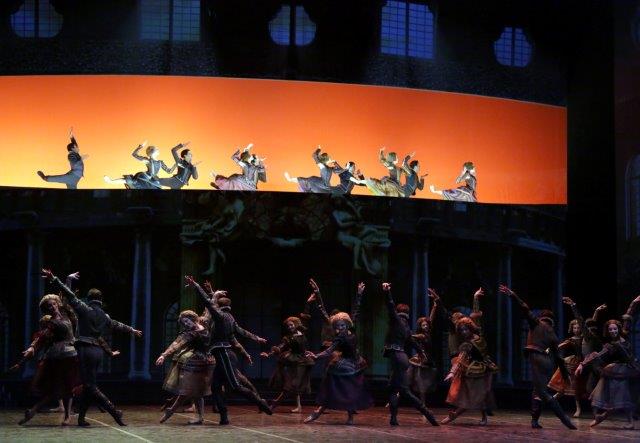 Within three acts we saw a lot of dance – solos, long and partly repetitive pas de deux and group dances – but too much of it wasn't telling the story or failed to further or deepen it. The movement language, a blend of classical phrases, contemporary moves and puppet-like angularity, has awkward inconsistencies. The Prince's four friends, for example, having just shown off with elegant jumps, suddenly fall into a demonstratively casual gait of real men. The Fairies of the Four Seasons appeared together with Cinderella's fairylike godmother to enable her to attend the Prince's ball. Their calf-length dresses with side hoops, recalling the fashions of the 18th century, indicated well-bred beings. But, surprisingly, they mixed flexed feet, angular moves, pert hip swings and arm swings into their mostly classical solos. What were they? Good fairies or best friends showing how to snare a lover? Much flexing of feet also in the group dances. At one point the corps froze into an ungainly still picture reminiscent of the figures of a musical clock that has run out of power. Later the women lay on their stomachs on the floor like sexy showgirls in a variety show.
Costumes are by Maurizio Millenotti, a two-time nominee for the Academy Award for Costume Design. His monochrome color palette for the corps made the ball guests look uniform. Alas, Bigonzetti was spare with flattering dance steps. Only Bolle's part was generally coherent, manly and princely. Bolle, leaping and turning in sunniest form, smiled in a self-assured way as if he wanted to say "Look at me! Am I not handsome?" Enthusiastic applause greeted him when he entered the stage in the second act. Wisely Bigonzetti had included several small pauses for all the dancers anticipating the audience's spontaneous applause.
The stepmother (Denise Gazzo) and her two ugly daughters (Antonella Albano, Virna Toppi) had to stand behind a standing facade of three stiff gowns with crinolines in the style of robes seen in Velázquez's paintings. Only able to make heads and arms be seen, the three grimaced and gesticulated extensively, sometimes naughtily sticking forth a bare leg. When stepping forward out of the facades they were seen to wear short dresses in a modernized 17th century style. The threesome's flat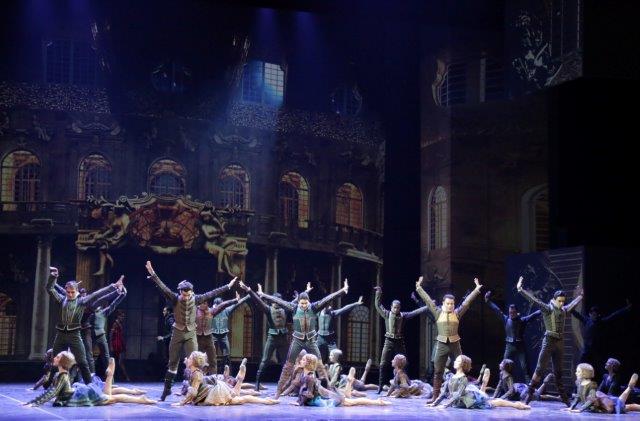 stupidity and overall vulgarity hit the lowest level and deprived their characters any credibility. Regarding the stepmother, heaven knows why Cinderella's father was attracted to this awful woman. With garish make-up, orange-red strands of hair, a sharp nose and occasional pecking head moves, she reminded one of a malevolent Harpy. Christian Fagetti was an ordinary and kind looking father. Basically a tender soul, his attempts to conciliate Cinderella were powerless.
Cinderella's misery was only ended through the help of her godmother (Martina Arduino). She first turned up disguised as a shabby, stooped beggar. Later a light blue dress embellished with feathers revealed her fairy nature. Yet the garish pink dress she and the other fairies presented to Cinderella for the ball was a lapse of taste. Not only was its color inappropriate but it was also too short for a soon-to-be princess. Amazingly, unlike the traditional story, Cinderella didn't loose her shoe when dancing with the Prince but just this dress! Has anyone ever seen a woman losing her dress on the dance floor? Here it was accidentally torn off by the Prince as he attempted to hold her back. Of all things, this didn't go smoothly and the hasty struggle to get out of it aroused weird associations. Semionova rushed off stage in pink lace lingerie.
When the Prince searched for her, using the dress as the decisive criterion, the two stepsisters inevitably came into play again. They posed like would-be pin-up girls in rose underwear before unsuccessfully trying to fit into the dress. It couldn't be more lowbrow. Then, out of decency, Cinderella was led offstage to put on the dress. Semionova's and Bolle's pas de deux that followed made one also wonder about Bigonzetti's conception of royal good manners. Was it really necessary that Cinderella wrap her leg around the Prince's neck? That she put her foot on his chest? That he grasp her below her upper thigh to partner her in an ungainly – unfortunately repeated several times – and clinically immodest way? Yet both had dignified walks and rather traditional poses. Again, Bigonzetti seemed indecisive as to which style he wanted to pursue.
Video projections by Carlo Cerri turned Cinderella's home – whose big fire in the back was exaggerated – variously into a square surrounded by historic facades, the hall of a palace, swirling waves of black fog or varied views of fantasy trees, some of which recalled Disney World. From the press box on the fourth level these videos made a rather slight impression. When I changed to a seat in the orchestra for the third act, I found their visual impact was much stronger. In fact the whole ballet is shown to advantage when seen from the front.
Sadly Bigonzetti not only deprived a famous fairy tale of its beauty and magic, he moreover portrayed models of femininity in a flat and crass manner.
Michael Jurowski and the Orchestra of the Teatro alla Scala reveled delightfully in playing Prokofiev's colorful score, making its facets vividly heard.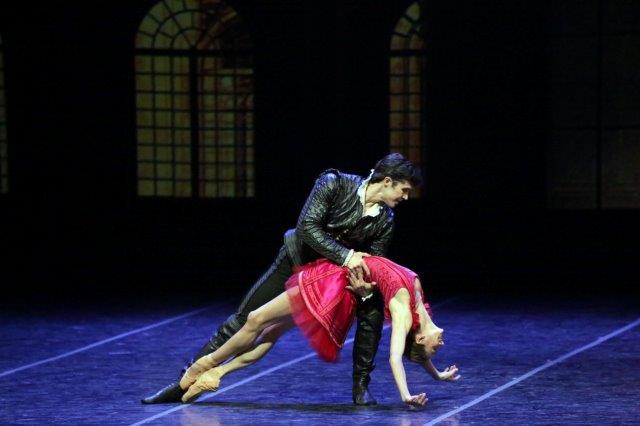 | | | |
| --- | --- | --- |
| | | |
| Links: | | Homepage of Teatro alla Scala |
| Photos: | 1. | Antonella Albano (The Stepsister), Denise Gazzo (The Stepmother) and Virna Toppi (The Stepsister), "Cinderella" by Mauro Bigonzetti, Ballet Company of Teatro alla Scala 2016 |
| | 2. | Ensemble, "Cinderella" by Mauro Bigonzetti, Ballet Company of Teatro alla Scala 2016 |
| | 3. | Ensemble, "Cinderella" by Mauro Bigonzetti, Ballet Company of Teatro alla Scala 2016 |
| | 4. | Polina Semionova (Cinderella) and Roberto Bolle (The Prince), "Cinderella" by Mauro Bigonzetti, Ballet Company of Teatro alla Scala 2016 |
| | | all photos © Marco Brescia and Rudy Amisano 2016 |
| Editing: | | Laurence Smelser |
| | | |
| | | |