"Kammerballette" ("Kammerballett", "Arena", "Neurons")
Stuttgart Ballet
Schauspielhaus Stuttgart
Stuttgart, Germany
March 04, 2016
by Ilona Landgraf
Copyright © 2016 by Ilona Landgraf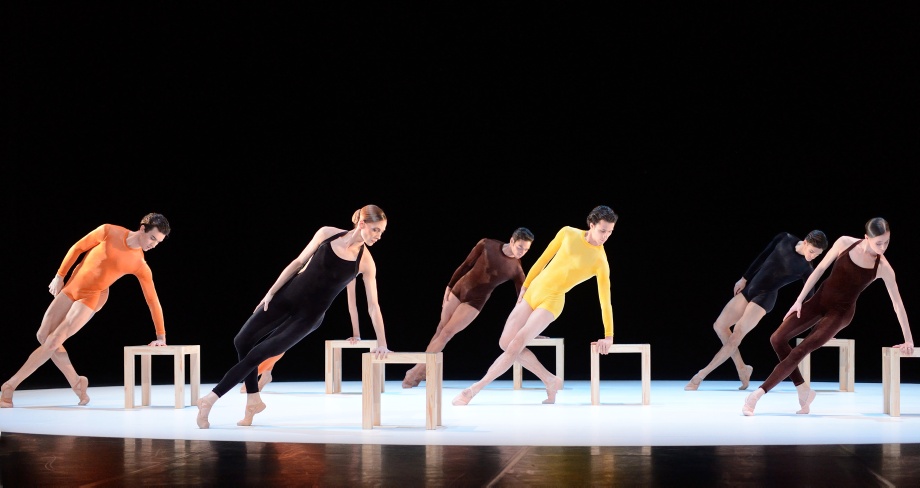 Reid Anderson's third new ballet evening sticks to the format of the previous ones. Again, three short ballets are assembled on a mixed bill, this time shown on the stage of the Stuttgart Schauspielhaus. Hans van Manen's "Kammerballett", choreography from 1995 for the Nederlands Dans Theater, opened the program. It is new for the company enlarging Stuttgart Ballet's already vast van Manen repertory. "Arena", the middle piece, is by Glen Tetley, the company's director in the period 1974 – 1976. Anderson had danced under Tetley's reign. Their longstanding collaboration originated then. The new piece was saved for the finale: "Neurons", a world premiere by the Polish choreographer Katarzyna Kozielska.
Van Manen is high up in Stuttgart's roster of choreographers. The company has adopted his style thoroughly and usually it is a pleasure to watch them perform. Yet this time they excelled themselves. "Kammerballett" is about the relationships of eight persons, four males and four females. A circle of light marks their sphere of action. Right at the outset, when one after the other searches for their place, the tension within the social fabric becomes obvious. A raised eyebrow here, an appraising look there. Lustful glances wander around but some also look ostentatiously away. Finally all sit simultaneously down on wooden stools they've brought along. A uniform group? Equally spread over the stage they start with what looks like a refined level of gymnastics (Gyrokinesis?) before the focus shifts to one couple's relationship.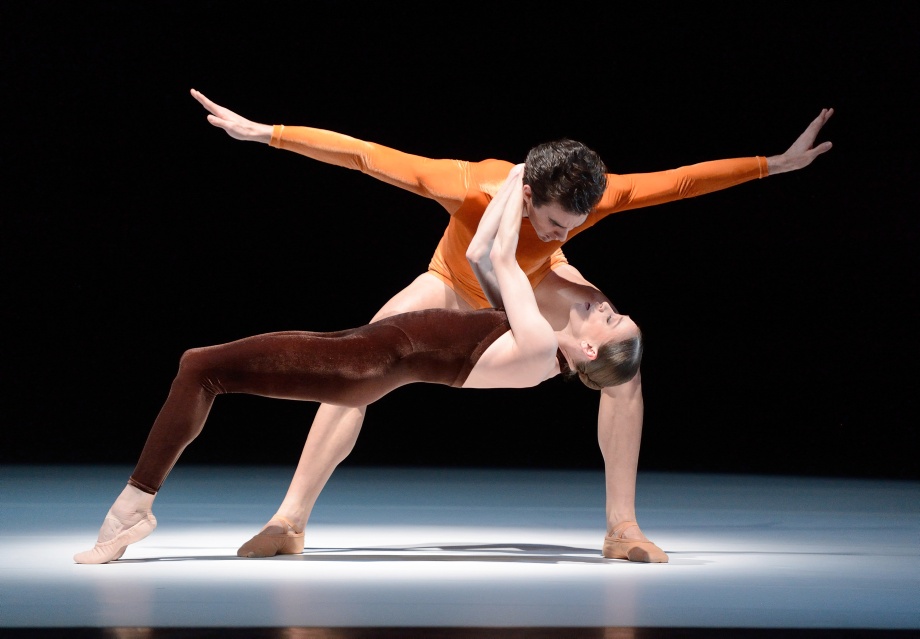 A bit meanly Agnes Su and Pablo von Sternenfels push each other off their stools, but also support each other to stand alone. Other couples have a pas de deux, too, but there is also a trio and solos. Transitions are smooth and elegant. As always, van Manen's piece has no explicit story. Instead the steps, the choreography tell the story. No need for embellishments, let alone psychological motives. Van Manen has a clear, trenchant eye. He serves short suggestive studies, essences of affairs, under a magnifier.
Keso Dekker's simple, velvety shimmering leotards in yellow, orange, black and red brown – match the minimalistic setting. Piano music by Kara Karayev and John Cage plus a sonata by Domenico Scarlatti, intensify the concentrated atmosphere. One felt almost hypnotized by the crackling intensity Anna Osadcenko and Marti Fernandez Paixa brought to their pas de deux. Especially one scene in which Osadcenko bent deeply backwards while holding onto Paixa's neck was memorable. Once Paixa rocked her back and forth like a child in a bathtub.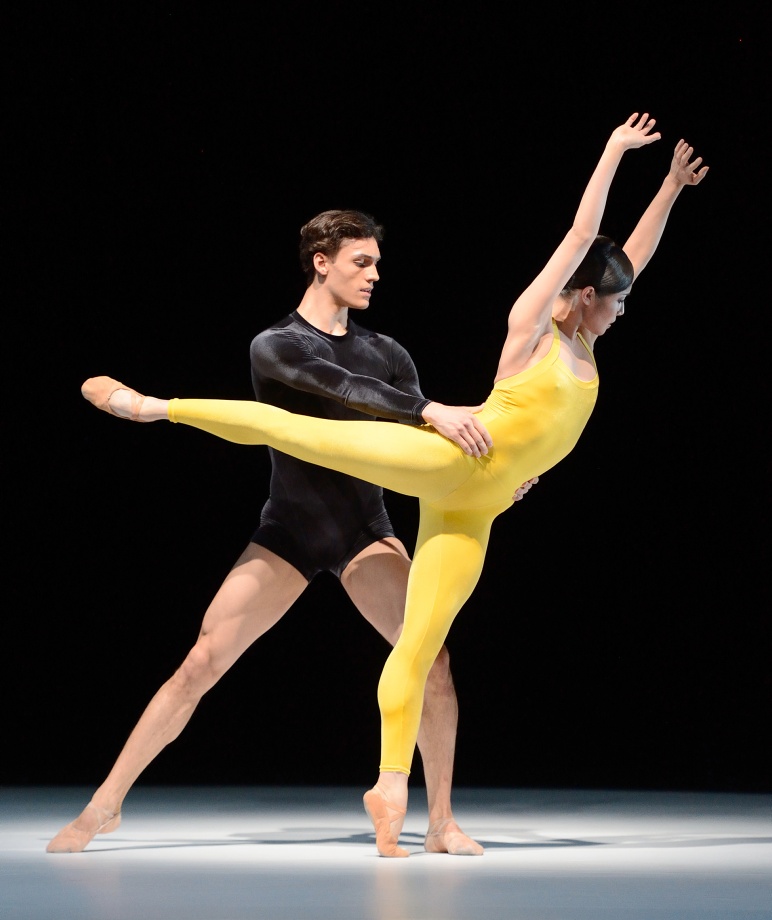 Hyo-Jung Kang and Daniel Camargo's dance seemed less emotional. What was beneath Camargo's outward countenance? When Kang temporarily distanced herself, Camargo's eye expression changed. Both seemed similarly strong, supple and self-assured personalities. But their costumes' color – canary yellow for Kang and black for Camargo – hinted at clashing antipodes.
The fourth couple was the most divergent. Jason Reilly partnered Alicia Amatriain, but did the woman she depicted really need (or want) a partner? Having stayed in the background she now stood up from her stool and claimed her leading role. As she was breathing heavily, her upper body tilted forward like a fighter, a panther rippling her muscles. Each of her finger movements had enough power to make a crowd obey. Like a dominating tango dancer Amatriain clarified her leading position towards the other dancers. But at the end, suddenly all were gone. Only the empty stools were left. For a millisecond Amatriain's power faded; she covered her face with her hands, struggling to face the situation. Then she paraded out, holding her head high. A big cat, albeit with crooked legs.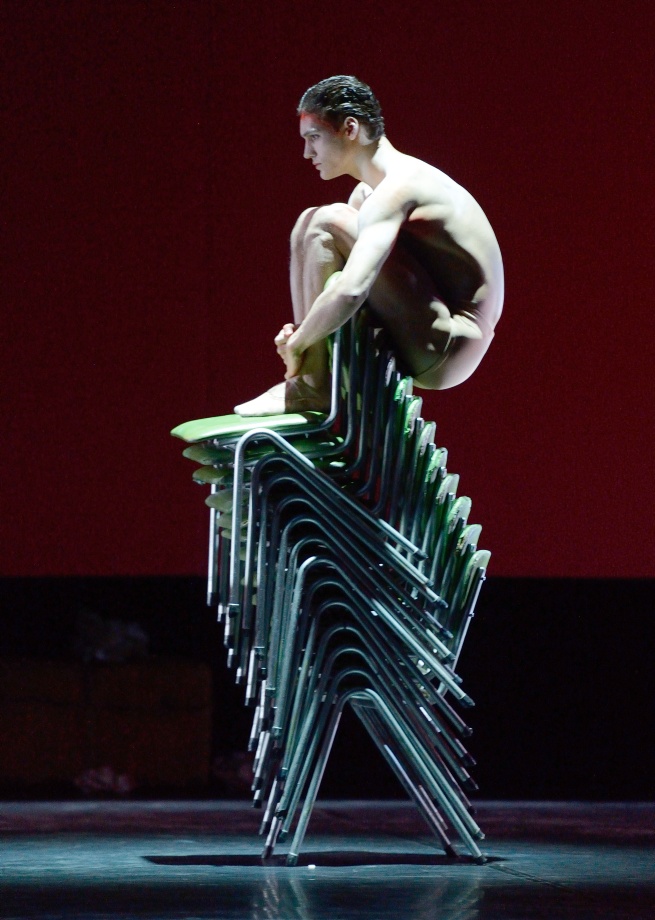 The applause for the dancers and above all for van Manen was intense and heartfelt. The audience, somewhat in a trance, got slowly up from their seats to take a break. Clearly "Kammerballett" was the highlight of the evening. Both remaining pieces were by far not in the same league. Whether giving away the treat at first was a good idea is open to debate
After the break the scene for Tetley's all-male "Arena" was all set. Red panels of fabric at each side and a red backcloth confined the space. They ended around three feet above the floor, allowing glimpses of suitcases and other bits and pieces in the semi-darkness behind.
Within the arena a floor ventilator blew on the left front corner; on the right side was a fountain with a faucet whose water rushed perpetually. Further back chairs with metallic legs were piled. On their top a man (Daniel Camargo) crouched motionlessly. He and his five comrades were, except for skin-colored underpants, naked. Their skin was partially smeared with white paint; hairlines, lips, arm pits and nipples were made up red. A red line went from the waistband to the navel. Some also had red palms. Were they vampires? Once, a dancer was held headlong, revealing his ugly red arm-pits. One might have thought of a slaughterhouse. Later green floodlight tinged the bodies unsavorily green. Was decay progressing?
Morton Subotnick's electronic music "The Wild Bull", generated by two synthesizers, helped to enhance the unpleasant atmosphere. It could be the accompaniment of a crime story; the moment things get climacteric. Or it could be the sound clutter of slot machines run out of control.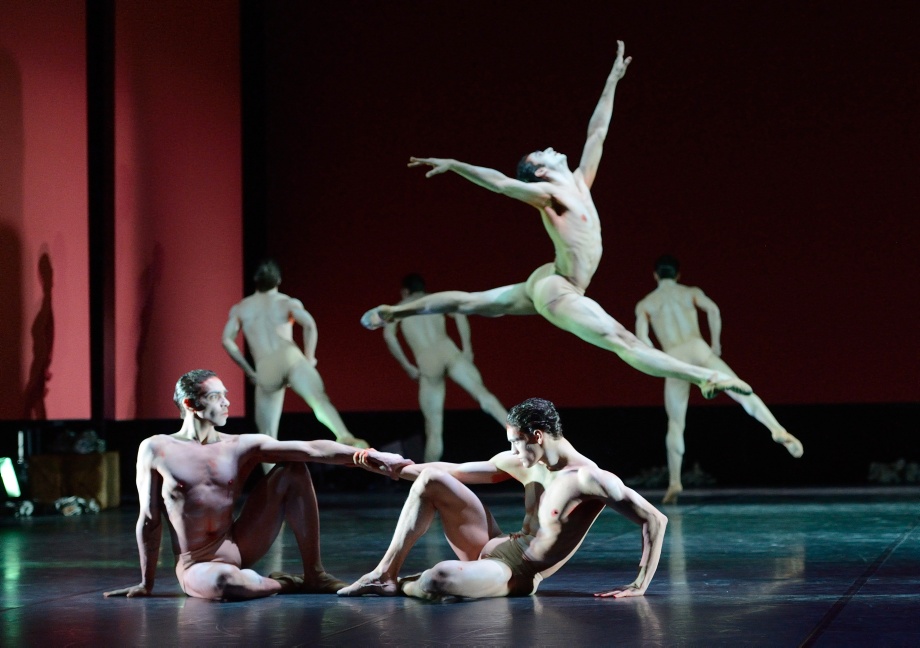 At the center of the happening were two men (Jason Reilly and Daniel Camargo) drawn to each other. At first they peered hard at each other; later the metal chairs were in the way thwarting their longing. The other men (Constantine Allen, Fabio Adorisio, Robert Robinson and Matteo Crockard-Villa) slouched straddle-legged on chairs or crossed the arena in small groups deploying a Modern Dance manner that had repetitive leaps and jumps. Occasionally they hit the floor. Towards the end Camargo threw the chairs around (out of frustration or out of anger?) and one man stomped in a circle.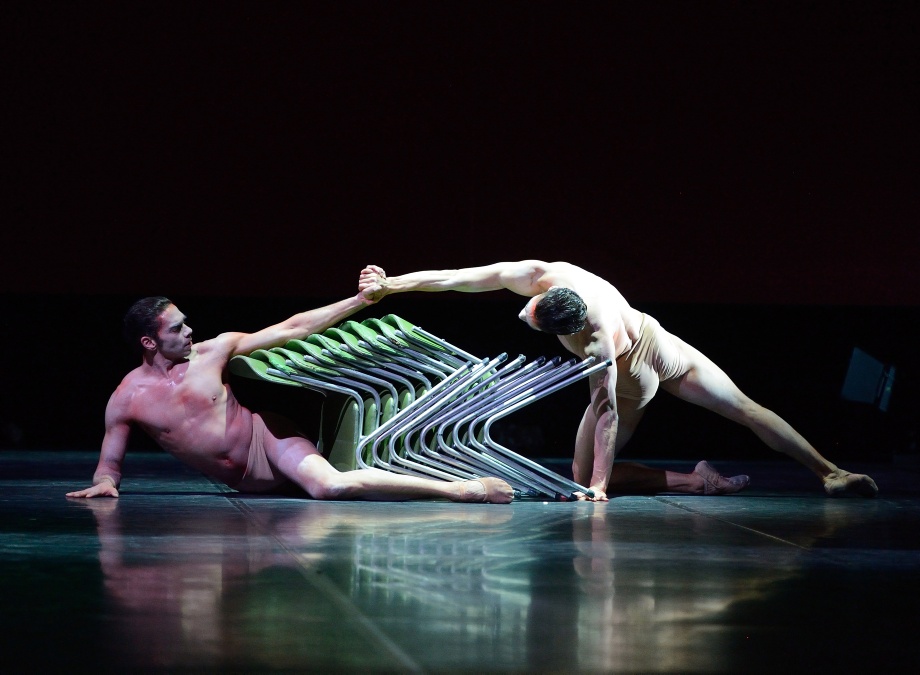 "Arena" was created in 1969. Reportedly it came as a bombshell. Yet more than forty years later it depicts an anachronistic role model of men. Will anyone wish to watch six sweaty muscle-bound hunks again whose animalistic power games and sexual cravings run free in a sleazy, filthy space filled with quirky, unnerving sounds hinting at a wild bull?
In an interview in the program booklet Anderson said that, when dancing "Arena" in Stuttgart in the '70s himself, he had to run to the toilet and threw up after having completed the first run-through. The piece would demand enormous physical strains. I wouldn't have been surprised if he had thrown up because of sheer disgust. Besides, given his own experience, I am wondering why of all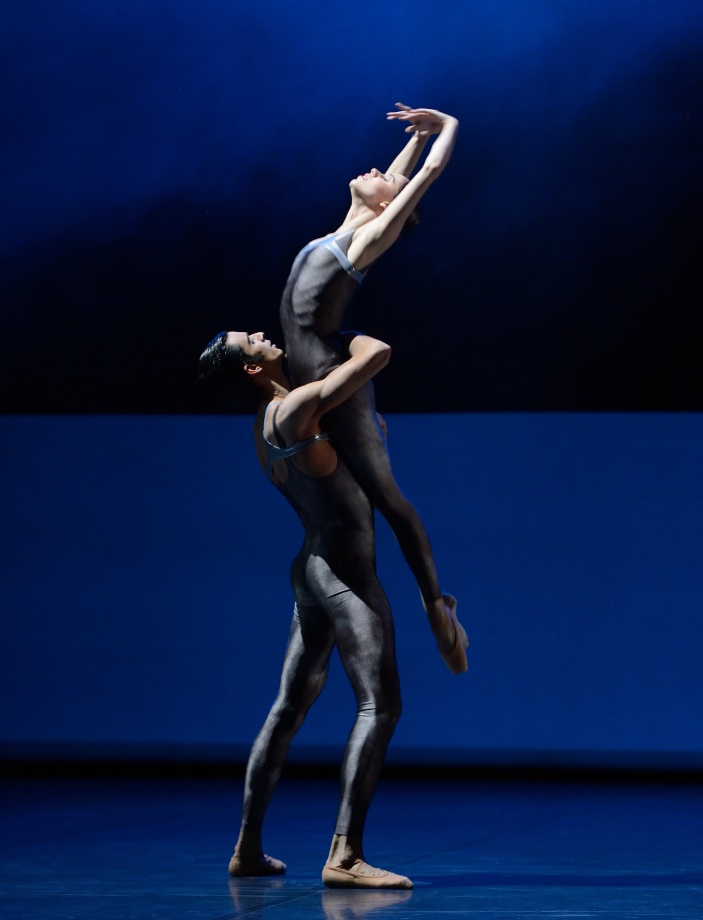 things Anderson revived "Arena". If it should be a Tetley, there would have been other options. Is it necessary to bring oneself to do what actually is sickening to be accepted as a real man/dancer?
"Neurons", Kozielska's second piece for Stuttgart Ballet, was a thematic U-turn towards states of sleep, meditation and universal love. Her starting point was the office of a neurologist where her brainwaves were measured while she was listening to two different pieces of music. Let's assume it was the music she afterwards choreographed to: "The chairman dances" by John Adams and "dream 3" by Max Richter. Ten dancers – six women, four men – then translated the potential curves of Kozielska's neurons into dance. Neuroscience is a familiar topic in the media and, since Wayne McGregor, has already entered ballet. What new insights did Kozielska provide?
For a fairly long time the stage was dark or gloomy, sometimes also shrouded by fog – a brain in a subdued mood so to say. In the background a ballerina (Myriam Simon) moved dreamlike in a soft spot of light. Her silvery costume, a double cone,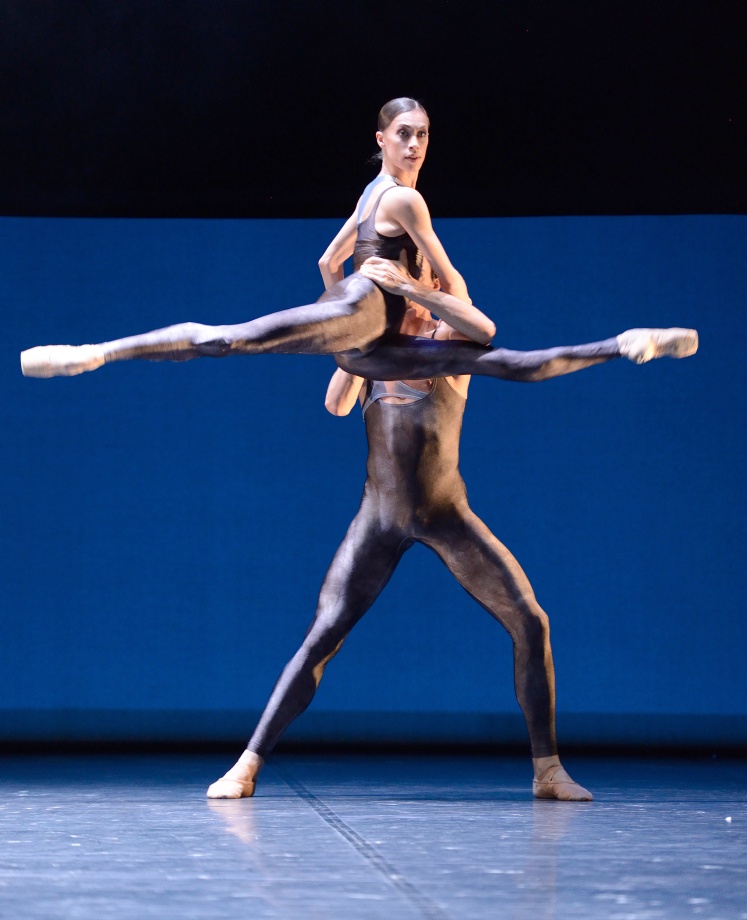 sometimes reflected a beam of light. Then a huge cartwheel of spotlights was raised perhaps signaling that a big idea must have occurred. It was later replaced by mild light from above – eternal enlightenment maybe? The lighter the stage the more active the neurons became. Dressed in silver-gray full-body leotards with a silver belt as shiny decoration around neck and shoulders the dancers swirled through pirouettes, slowed and accelerated their moves, wriggled or swung their hips. Sometimes they stood holding each other by the hand, lined up or, for short moments, stepped out of order.
Kozielska's language is neo-classical putting the women on pointe. Mostly she adds a twist, an odd detail to the moves which catches one's attention. One neuron, Elisa Badenes, was especially active, firing off a spirited, quite weird solo. Though Kozielska alternated the formations and the pace, some vacuum was left to be filled with substance. Imagine the piece without the elaborate lighting and the silver decoration – what is left? Compared to van Manen's artistic strength, Kozielska had little chance to shine.
Yet the dancers shone. In all three pieces they were excellent.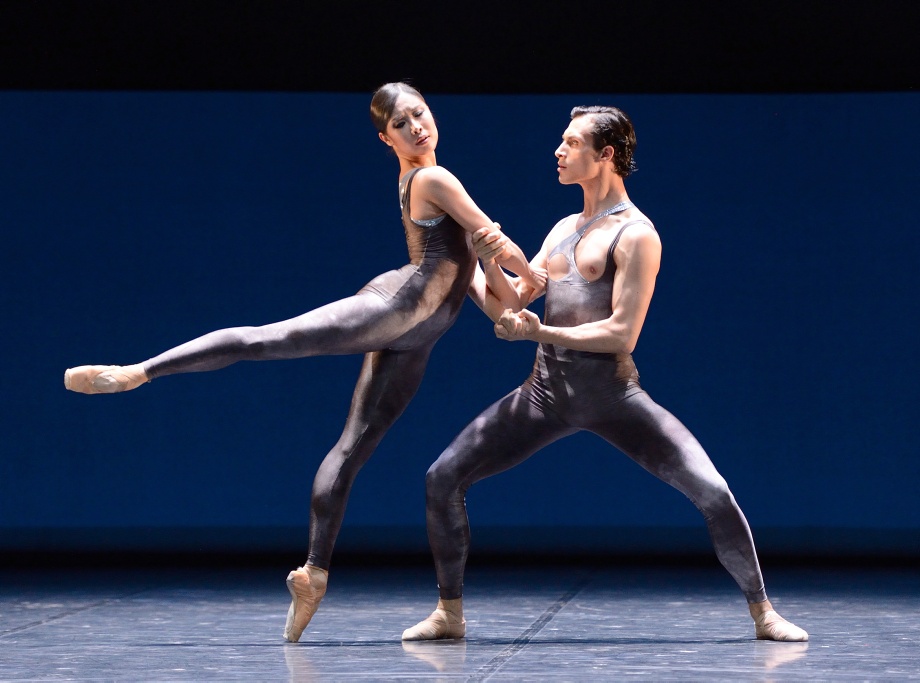 | | | |
| --- | --- | --- |
| | | |
| Links: | | Stuttgart Ballet's Homepage |
| Photos: | 1. | Marti Fernandez Paixa, Alicia Amatriain, Jason Reilly, Pablo von Sternenfels, Daniel Camargo and Anna Osadcenko, "Kammerballett" by Hans van Manen, Stuttgart Ballet 2016 |
| | 2. | Marti Fernandez Paixa and Anna Osadcenko, "Kammerballett" by Hans van Manen, Stuttgart Ballet 2016 |
| | 3. | Daniel Camargo and Hyo-Jung Kang, "Kammerballett" by Hans van Manen, Stuttgart Ballet 2016 |
| | 4. | Daniel Camargo, "Arena" by Glen Tetley, Stuttgart Ballet 2016 |
| | 5. | Jason Reilly, Daniel Camargo, Constantine Allen and ensemble, "Arena" by Glen Tetley, Stuttgart Ballet 2016 |
| | 6. | Jason Reilly and Daniel Camargo, "Arena" by Glen Tetley, Stuttgart Ballet 2016 |
| | 7. | Elisa Badenes and Constantine Allen, "Neurons" by Katarzyna Kozielska, Stuttgart Ballet 2016 |
| | 8 | Anna Osadcenko and Marti Fernandez Paixa, "Neurons" by Katarzyna Kozielska, Stuttgart Ballet 2016 |
| | 9. | Hyo-Jung Kang and Pablo von Sternenfels, "Neurons" by Katarzyna Kozielska, Stuttgart Ballet 2016 |
| | | all photos © Stuttgart Ballet 2016 |
| Editing: | | Agnes Farkas |