"Balanchine / Liang / Proietto"
Vienna State Ballet
Vienna State Opera
Vienna, Austria
November 01, 2016
by Ilona Landgraf
Copyright © 2016 by Ilona Landgraf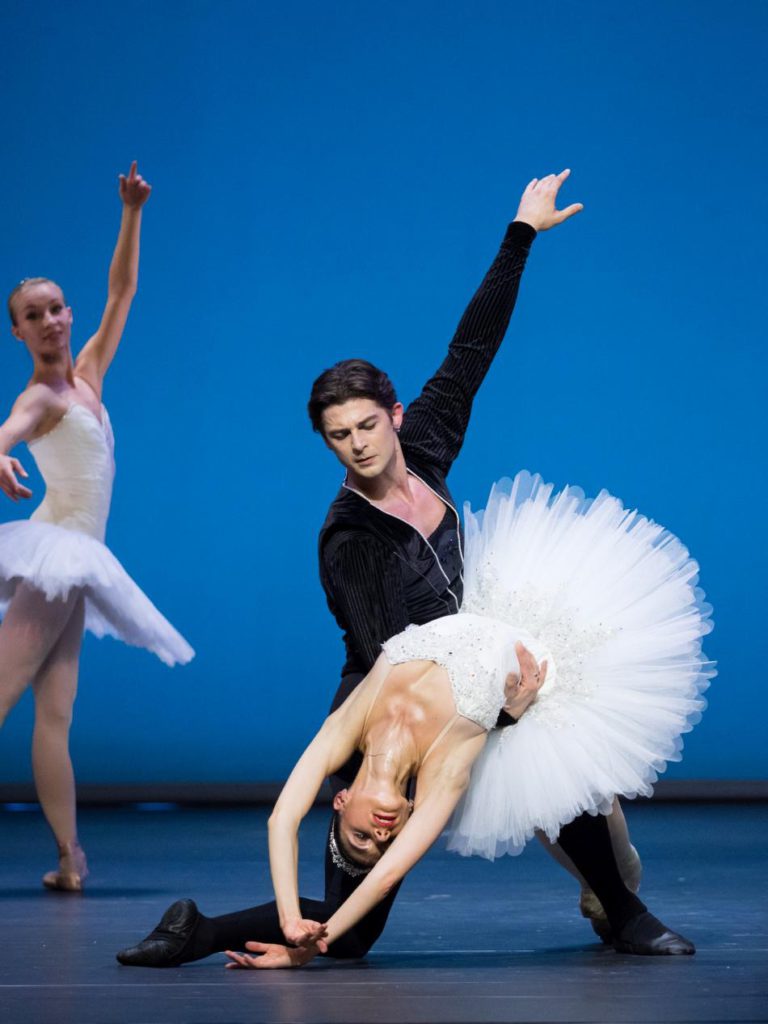 Vienna State Ballet's new mixed bill traces an arc from a piece capturing Balanchine's pure classicism to a new, multi-art form work honoring the tradition of romantic ballets. The fascination of flying and the idea of weightlessness unites the three pieces. Edwaard Liang's "Murmuration", 2013 choreography for Houston Ballet, deals with the flight formation of flocks of birds. For "Blanc", the evening's world premiere, Argentinian choreographer Daniel Proietto took inspiration from Michael Fokine's flying sylphs. The opener, George Balanchine's "Symphony in C", doesn't involve aviation but leaves one in the most elevated of moods when it is danced well. And so it was. The company was in sunniest form on opening night.
Natascha Mair and Jakob Feyferlik led the first movement of "Symphony in C." Both were precise, swift and conveyed an infectious good mood. Í liked Liudmila Konovalova and Vladimir Shishov, the second movement's main couple. Konovalova, blessed with a refined technique, subtly nuanced between composed grief and almost playful cheerfulness. Her tender fragility was met by Shishov's caring look and fine partnering. The effervescent Nina Tonoli was the ideal cast for the third, fast paced movement. She was brisk and ebullient, marveling at the sheer pleasure every step gave her. Her teasing looks must have reached even the last rows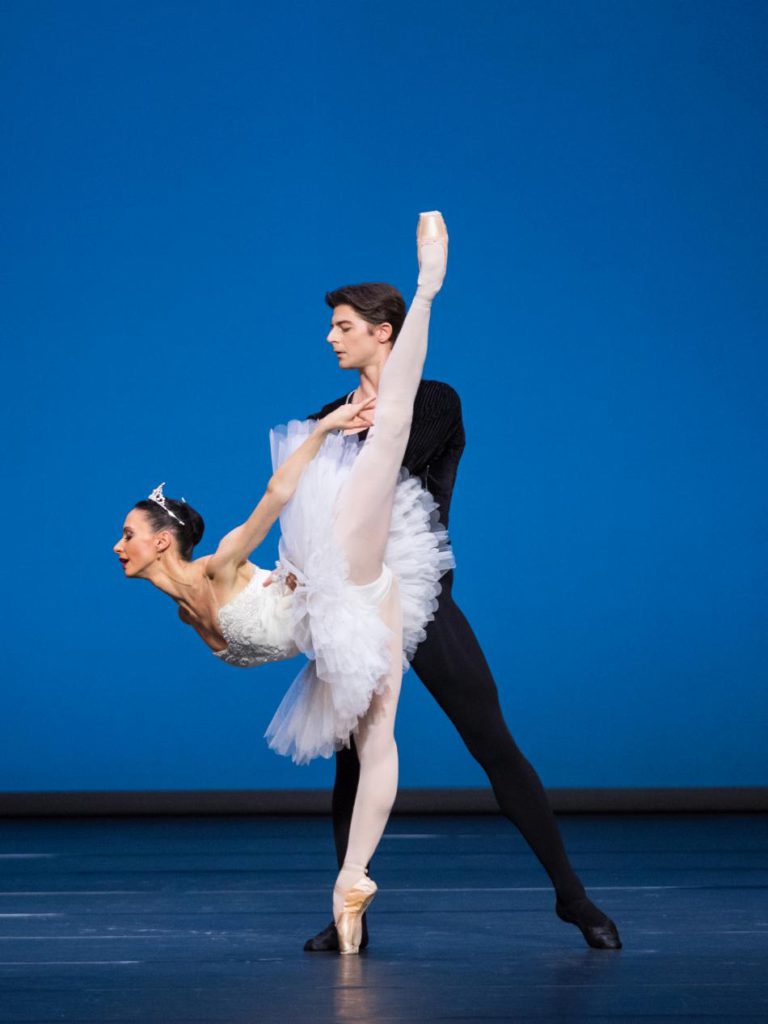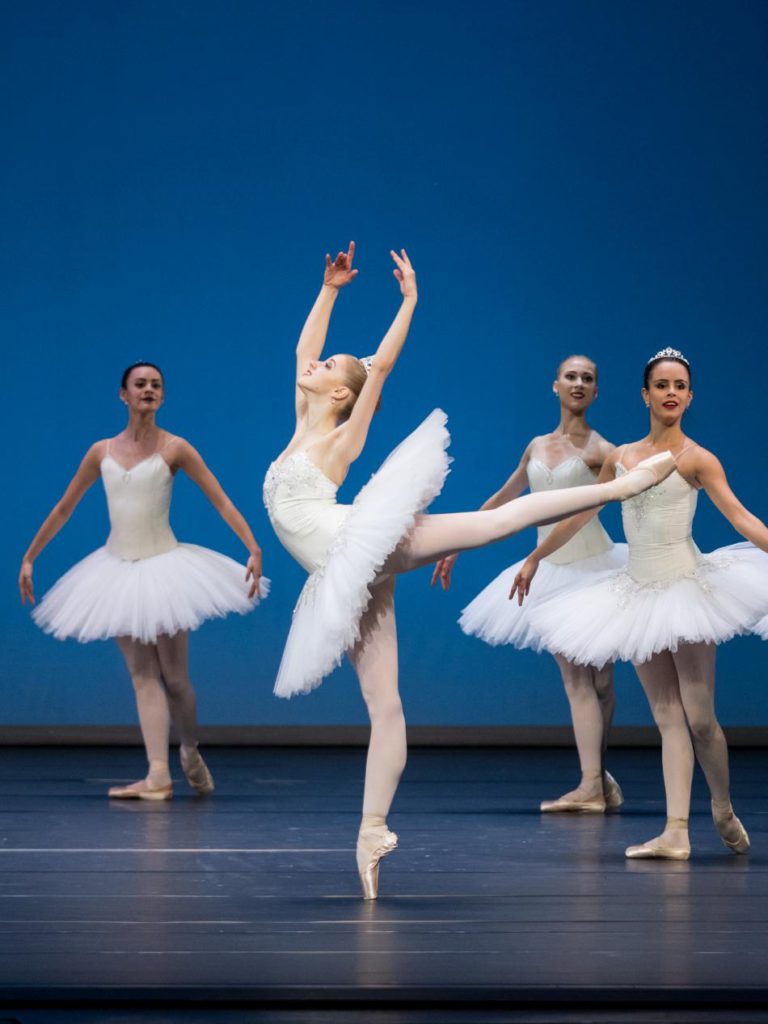 of the auditorium. Denys Cherevychko matched her well. In the fourth movement, Alice Firenze radiated royal generosity alongside Robert Gabdullin. The corps danced with striking accuracy, speed and pizzazz. Its too bad that we couldn't really admire the spectacular finale. Next time I suggest they keep the curtain open for just a couple more seconds. It is such a great sight!
Edwaard Liang began his dancing career with New York City Ballet in 1993 and, after gaining experience on Broadway and with the Nederlands Dans Theater, ended it there in 2007. Since then he has been working as a choreographer. In 2013 he took over the reins of BalletMet/Ohio. In an introductory talk before the performance Liang paid tribute to Balanchine, saying "What is incredible about Symphony in C is that it is one of those ballets, which is beyond what I consider a masterpiece. (…) When you premiere ballets with a genius like George Balanchine, it really humbles you. And it's a little alarming that he is gonna open and we follow his" Liang laughed.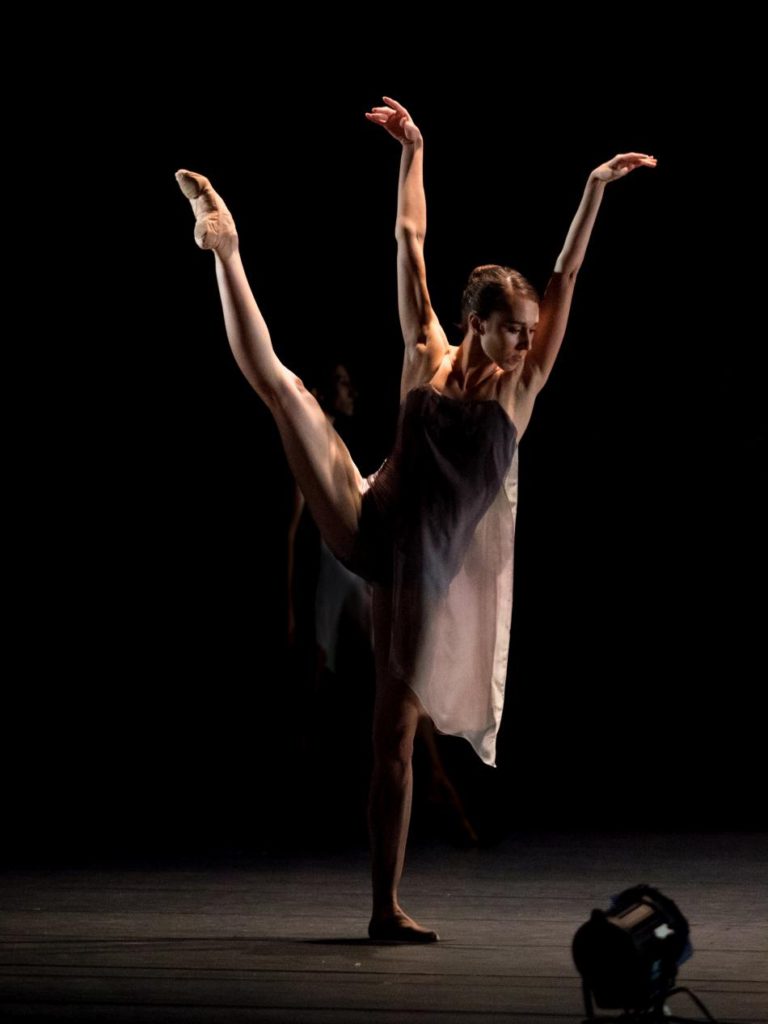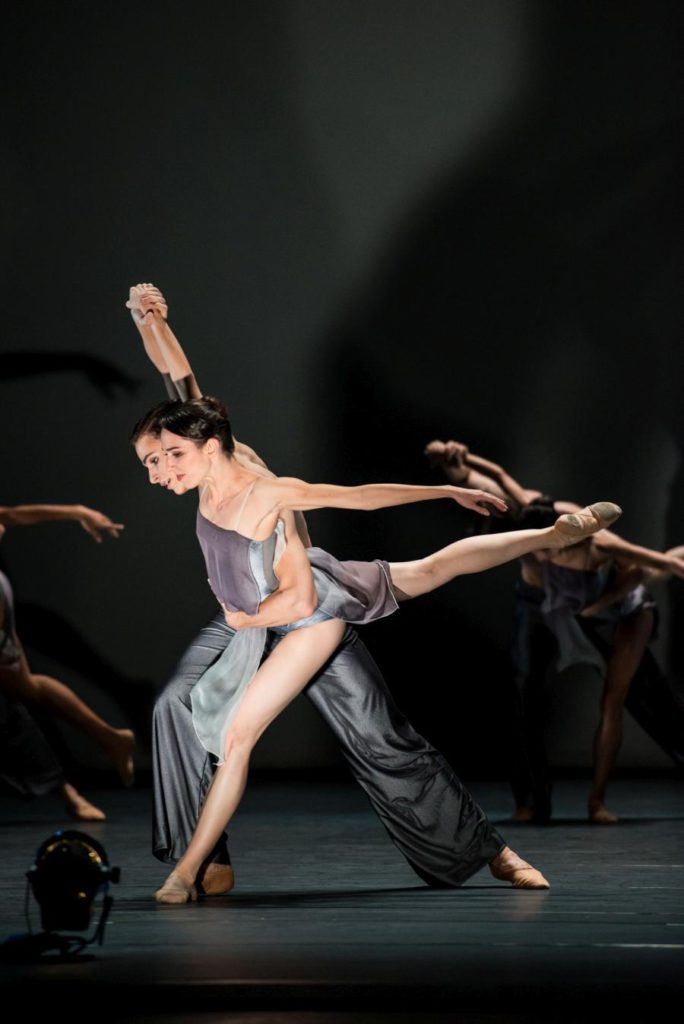 There was no need to be concerned though, his "Murmuration", the second work of the evening, was profound. Its title describes the natural phenomenon of hundreds or even thousands of starlings flying in whirling, ever-changing patterns usually at dusk. Liang was fascinated by this. He made the stage the meeting ground for this "ethereal creatures", explaining "I don't even know if they are birds. It is the place where they choose their partner (…) but what they come to when they congregate is to be connected to the universe, to see God or whatever it is they believe in.">
"Murmuration" is set to a violin concert by Ezio Bosso, which Liang had put aside for many years waiting for the right topic to use it.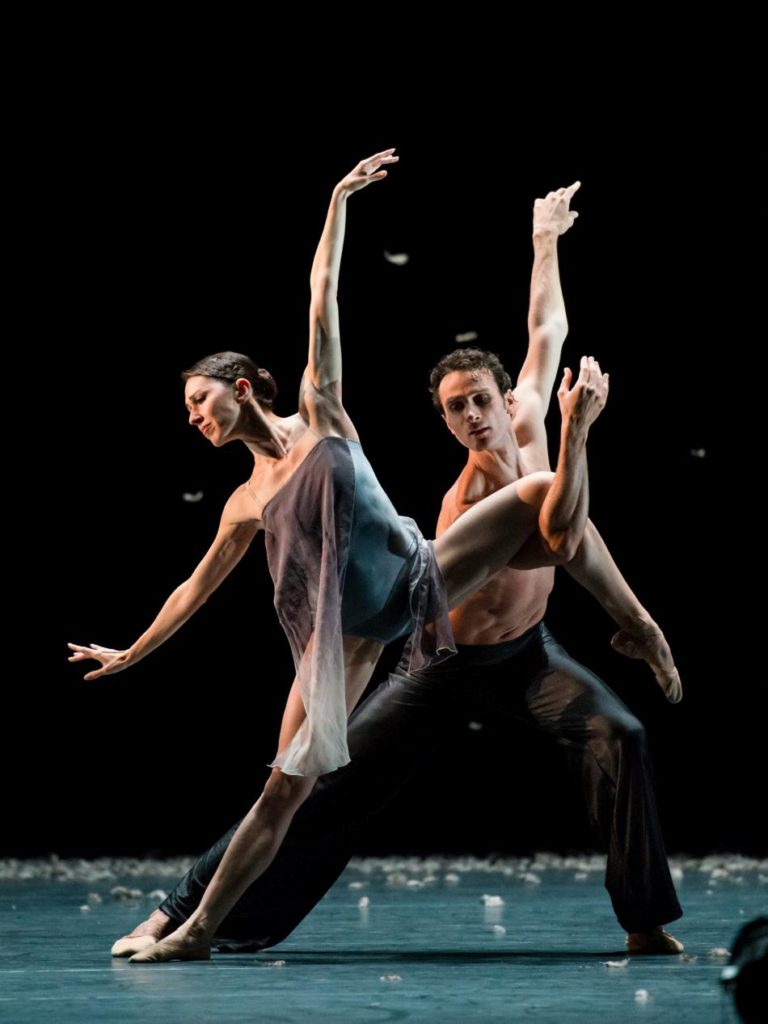 I couldn't witness the experience of God or other deeply spiritual sensation, but saw interesting, telling, neo-classical choreography. Liang and Laura Lynch designed straight-cut, black pants for the men. The women wore gray-blue tricots with flowing chiffon attached to the front and back.
The piece opened with three floodlights on the front stage, creating huge, flying shadows of moving dancers on the backcloth, making it impossible to choose where to look. At the moving bodies or their magnified shades? At both, being astonished by the different visual impact of movement, by the eye-catching slow-motion lifts of the shadow images? Like a flock of birds the dancers ran in swirling patterns and soared out of the wings as if flying high. They were scattered across the sage in little groups or stood alone, here and there dancing individual solos.
Later the backcloth was lifted revealing a velvety dark night with gentle snowfall. I thought of the stage as of a rock plateau surrounded by unfathomable darkness: foreign creatures in their own, closed world. Pas de deux portrayed different male – female encounters, love relationships and a touching scene in which a male outsider won the heart of another man's woman. Shortly afterwards, the men gathered together, showcasing their strength as if they had to reassure themselves and the women clustered together in the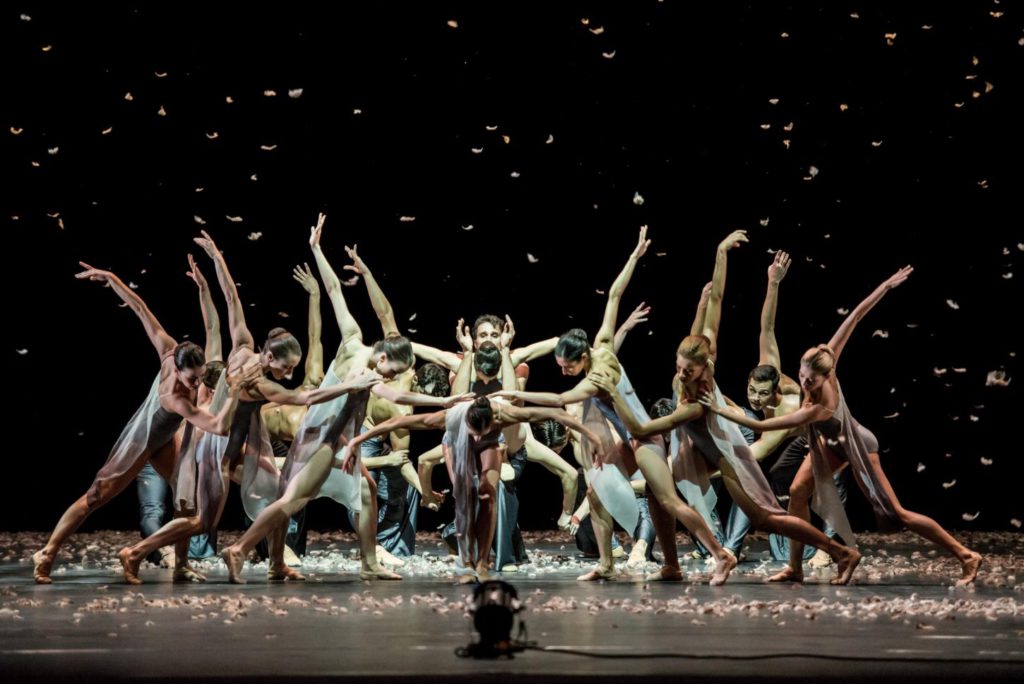 background of their fighting spirit. But no attacker was in sight. Or was there? Why did suddenly all gaze towards the left and back away? We can't know. The curtain went down the moment, the group had built a protective cluster against an approaching threat.
"Murmuration" earned much applause. Liang's pieces are rarely performed in Europe. It would be interesting to see more by him.
"Blanc", Proietto's new choreography, is an homage to "Les Sylphides", Fokine's ballet blanc. The poet of "Les Sylphides" was the first solo Proietto learned as a young dancer. A poet is also at the heart of "Blanc". Proietto doubled his role to a speaking part, played by the Viennese actor Laurence Rupp, and his dancing counterpart (Eno Peci). Alan Lucien Øyen, artist in residence of the Norwegian National Opera, wrote the text for the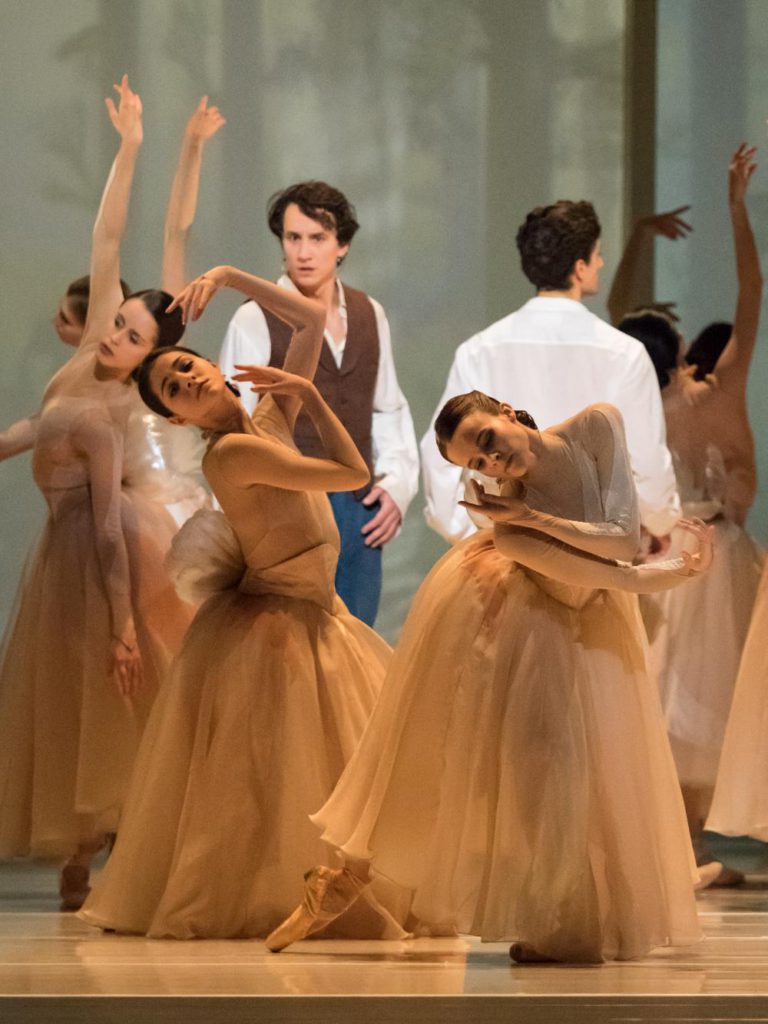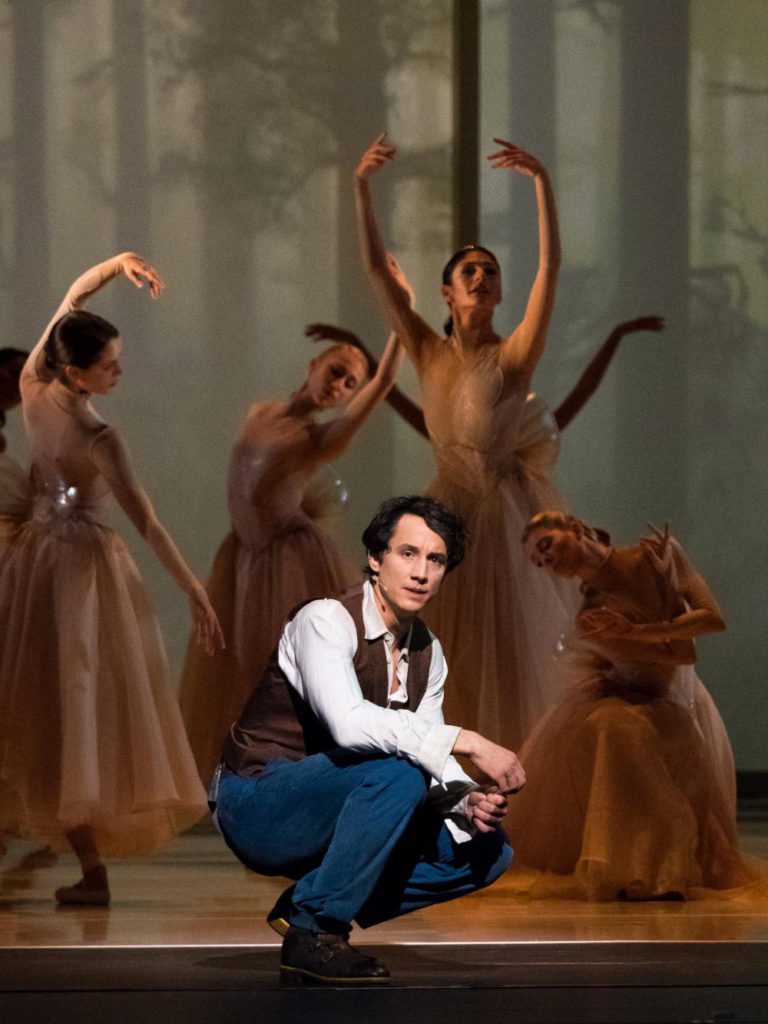 actor-poet, which Rupp spoke in German. It is a monologue revealing the poet's thoughts and self-doubts, his struggling from dawn to dust. He is an artists shaken by constant crisis. The sheets of paper in front of him remained empty – "blanc". Scarcely, rays of confidence and a faint whiff of inspiration lightened his overall gloom. Depressed, driven by self-doubt, struggling with angst, he resorted to a romantic dream world of dancing sylphs on a forest glade, but soon ran about desperately between them. The muse (Ketevan Papava) he imagined to dance with didn't sparkle long-lasting inspiration in him either. In the end, the actor-poet meets her in real life and continues to blather, unable to establish any communication. No wonder that she leaves without saying a single word.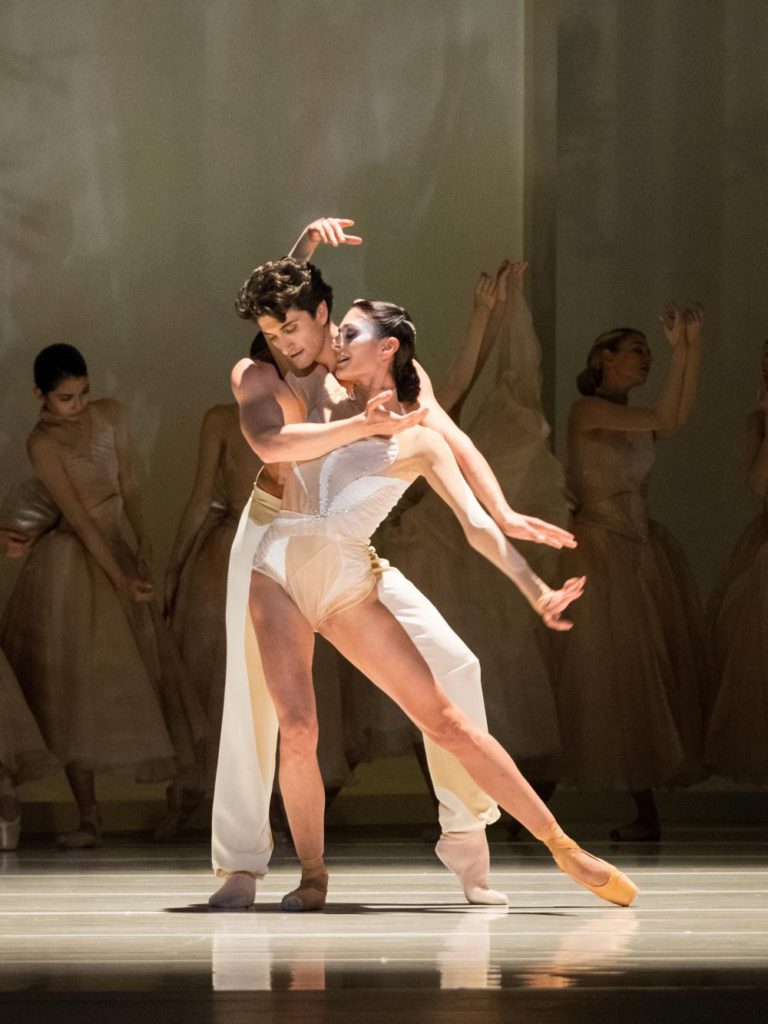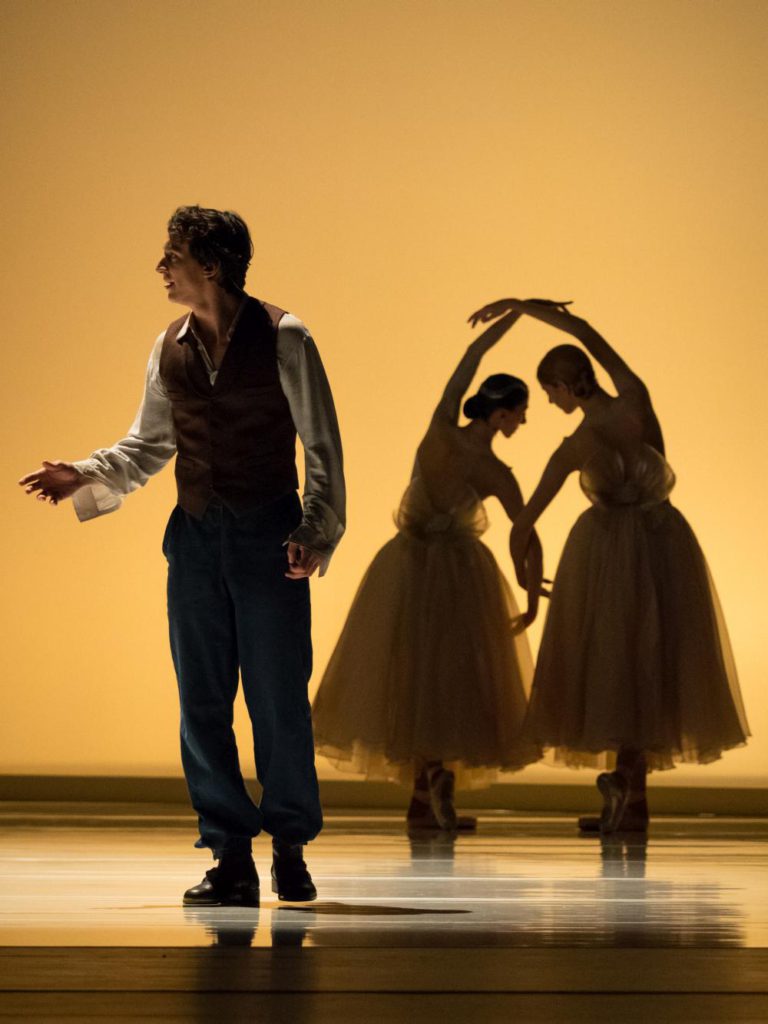 Music by Frédéric Chopin was meant to give "Blanc" a romantic atmosphere, but I cannot help, when hearing the Prelude op. 28 and the piano concert No. 1, opus 11, but think of John Neumeier's "Lady of the Camellias". Some melodies are branded. Mikael Karlsson, commissioned with additional composition, contributed darker music with a real edge. Videos by Martin Flack of, for example, sunlight reflected by tree trunks and sylphs playing with the tulle of their skirts, enabled the audience to visualize the poet's thoughts. Flack was also responsible for effective lightening. Two large projection screens marked the line between the actor-poet's world of thought and the intensely colorful, real world, where he ran into his muse at the end.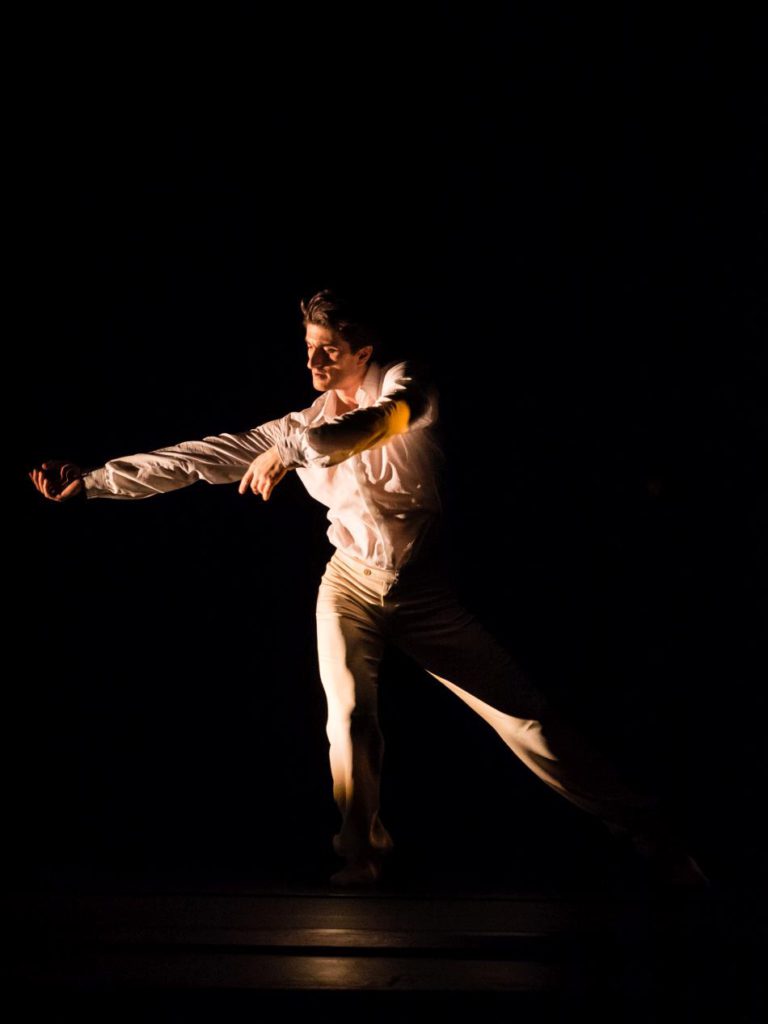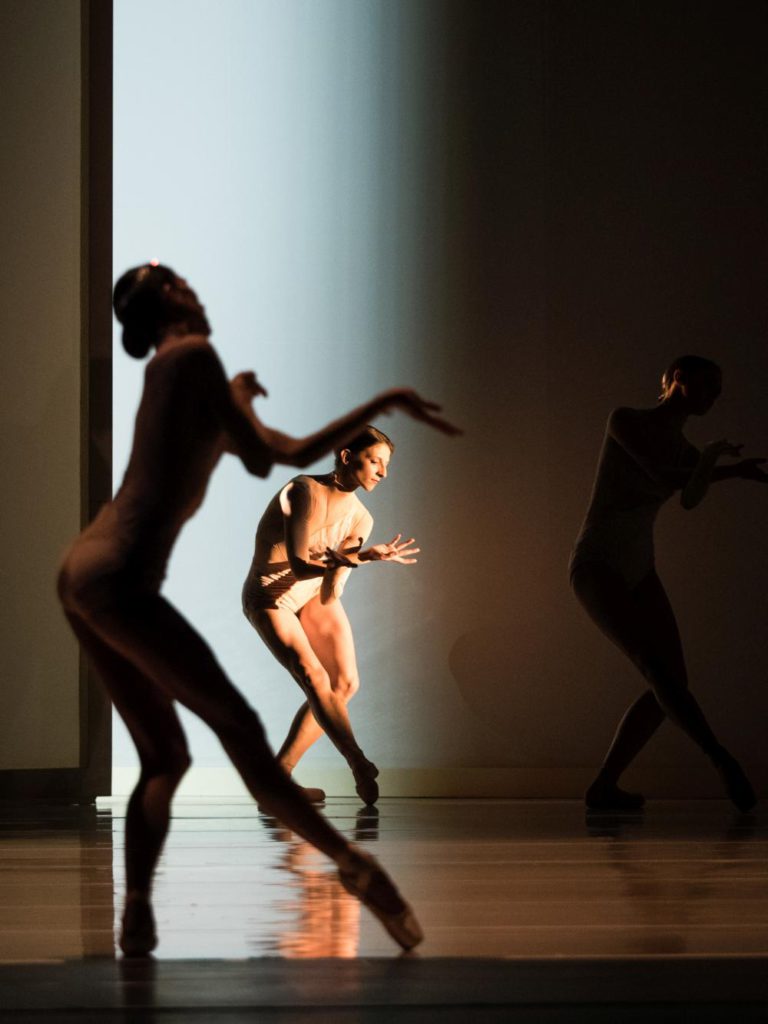 The story Prioetto took as his basis is in itself resourceful. But neither the involvement of several art forms nor the team of collaborators helped to hide some basic flaws of the result: The poet's endless monologues distracted from the simultaneously happening dance. Additionally, when silent and mingling with the dancers, his presence was disturbing. The dance, regardless if reduced to decoration or central, was only conventional fare. No choreographic surprises. And, at long last, what kind of image did Øyen give the poet? If being an artist is such a torture, wouldn't it be better to quit?
In the program book, Proietto spoke of the cathartic energy created by a great show. This goal he still has to reach.
On the conductor's podium of the Orchestra of the Vienna State Opera was Fayçal Karoui. As usual, what rose from the pit aroused true pleasure.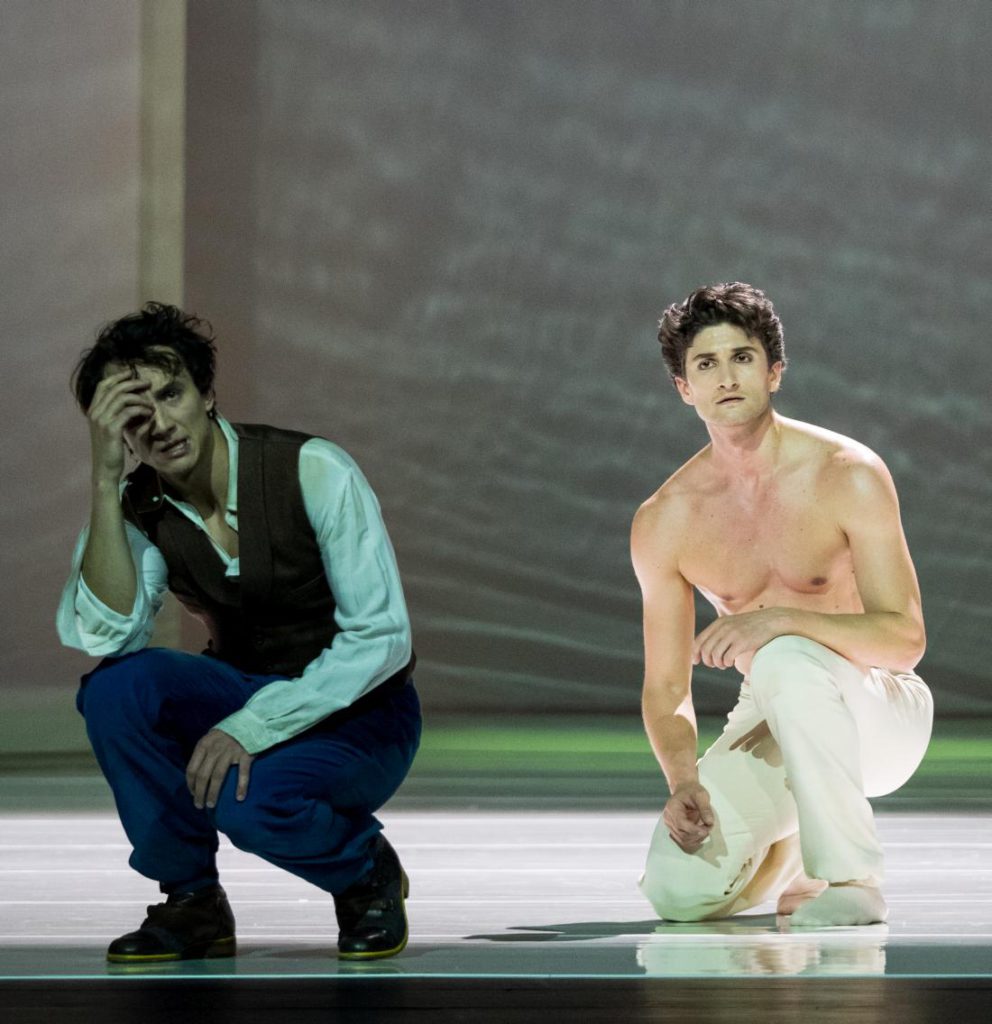 | | | |
| --- | --- | --- |
|  Links: | | Homepage of the Vienna State Ballet |
|  Photos: | |  "Symphony in C" (George Balanchine) |
| |  1. | Liudmila Konovalova, Vladimir Shishov and ensemble, "Symphony in C" by George Balanchine, Vienna State Ballet |
| |  2. | Natascha Mair and ensemble, "Symphony in C" by George Balanchine, Vienna State Ballet |
| |  3. | Liudmila Konovalova and Vladimir Shishov, "Symphony in C" by George Balanchine, Vienna State Ballet |
| | | "Murmuration" (Edwaard Liang) |
| |  4. | Nina Poláková, "Murmuration" by Edwaard Liang, Vienna State Ballet |
| |  5. | Nina Poláková and Jakob Feyferlik, "Murmuration" by Edwaard Liang, Vienna State Ballet |
| |  6. | Nina Poláková and Roman Lazik, "Murmuration" by Edwaard Liang, Vienna State Ballet |
| |  7. | Ensemble, "Murmuration" by Edwaard Liang, Vienna State Ballet |
| | | "Blanc" (Daniel Proietto) |
| | 8. | Laurence Rupp (The Poet), Ketevan Papava (Sylph) and ensemble, "Blanc" by Daniel Proietto, Vienna State Ballet |
| | 9. | Laurence Rupp (The Poet), Eno Peci (The Poet's Shadow), Julia Tcacius, Nina Tonoli (Sylphs) and ensemble, "Blanc" by Daniel Proietto, Vienna State Ballet |
| | 10. | Eno Peci (The Poet's Shadow), Ketevan Papava (Sylph) and ensemble, "Blanc" by Daniel Proietto, Vienna State Ballet |
| | 11. | Laurence Rupp (The Poet) and ensemble, "Blanc" by Daniel Proietto, Vienna State Ballet |
| | 12. | Ensemble, "Blanc" by Daniel Proietto, Vienna State Ballet |
| | 13. | Eno Peci (The Poet's Shadow), "Blanc" by Daniel Proietto, Vienna State Ballet |
| | 14. | Laurence Rupp (The Poet) and Eno Peci (The Poet's Shadow), "Blanc" by Daniel Proietto, Vienna State Ballet |
| | | all photos © Vienna State Ballet / Ashley Taylor 2016 |
| Editing: | | Anna Antongiorgi |