Bavarian State Ballet
Munich, Germany
October, 2016
by Ilona Landgraf
Copyright © 2016 by Ilona Landgraf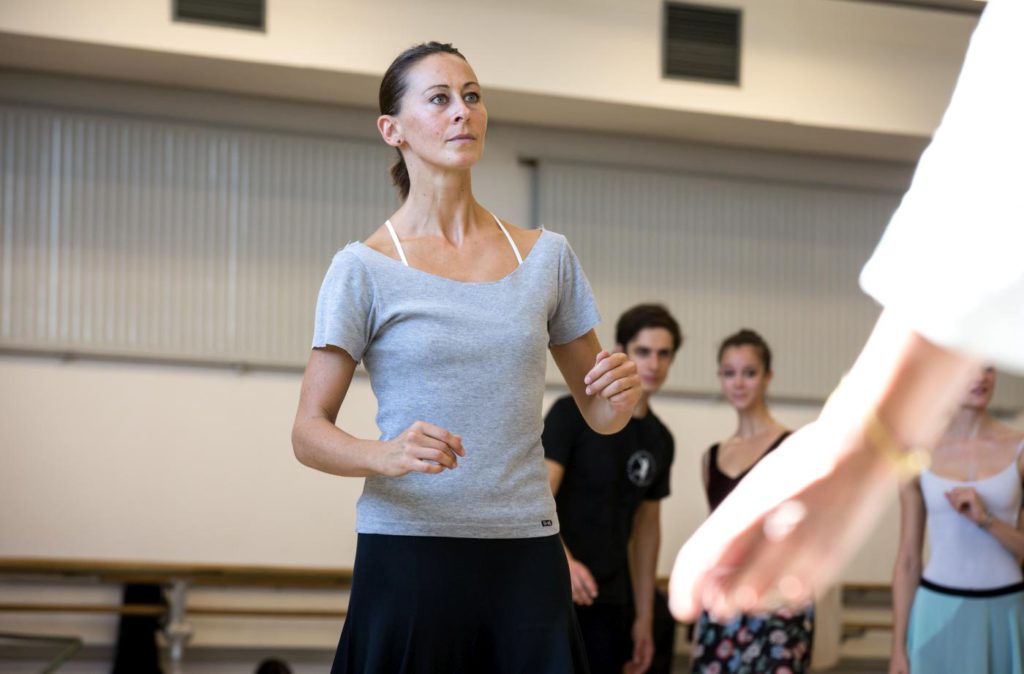 "I was a little catastrophe", said Séverine Ferrolier, soloist of the Bavarian State Ballet. "I had so much energy as a child, I was always joking, horsing around and teasing my older brother. Like a little actress. I wasn't shy." Her self-description surprised me. The women, I was sitting opposite to in the rehearsal premises of the Bavarian State Ballet in Munich, was mindfully serene, warm-hearted and centered in herself. We met in mid-October to talk about her career and her plans for the future.
"I had never seen ballet as a child and except for my mother who danced for a hobby, no one in my family has a relation to dance. But my mother told me that I clung to her skirt, impatiently begging to dance. When will I be five years old? I nagged her. I want to dance! It was clear for me that I wanted to become a ballerina." Acting was another pastime. "I mimicked our neighbor, an old woman with a headscarf and a cane. And, aged seven or eight, I loved to place myself in front of the mirror singing and playing the Queen of the Night of The Magic Flute, unaware that my mother observed me and had a whale of a time."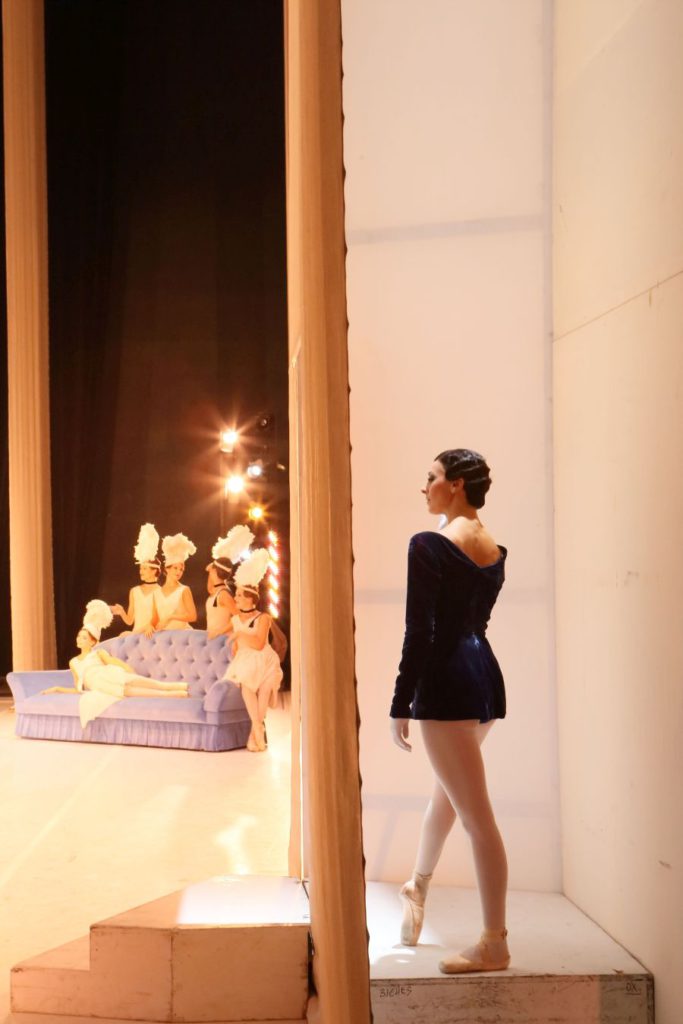 After her fifth birthday, Ferrolier indeed started with dance. Her ballet school, the Centre de Danse Christiane Espitalier, was in La Valette-du-Var at the Côte d'Azur, less than five miles away from Toulon, her place of birth. "My ballet teacher had a very good eye for one's potential and trained quite some dancers who made a career in prestigious companies. She asked a lot of us. I learned that to achieve something I had to work hard. But for me hard work never meant fulfilling a duty. I was and still am passionate about dance. That has been my driving force. I want do things as good as I'm able to." The focus at school was on classical ballet, but jazz, modern dance, flamenco and improvisation were part of the schedule too. "It's important to have a strong classical foundation, though, with the years, I started to prefer modern to classical pieces. Modern and also neo-classical style allows me to be more creative, it gives me more freedom."
Ferrolier attended regular school alongside her ballet training. "Also at school I was a whirlwind" she remembered. "I always had to sit alone, otherwise I started to play around. Ballet gave me a tight frame. It was the only activity, I was fully concentrated on. Maybe I knew subconsciously that I needed a strict regime and that's why I chose ballet."
At the age of sixteen she left the ballet school. At appearances in Nutcracker and Swan Lake with the ballet of the Opera Toulon she had gained her first stage experience. Her first audition at the Ballet National de Nancy, back then under the direction of Pierre Lacotte, was immediately successful. Via correspondence courses she additionally worked for her regular school diploma.
Two years later, in 1995, Ferrolier joined English National Ballet but injury forced her to quit after one year. "Even if it was a short time, I learned a lot with ENB" she summarized. In 1997, having fully recovered, Ferrolier auditioned for Leipzig Ballet, where Uwe Scholz held the reins. Again she promptly got a contract. From day one the chemistry between her and the highly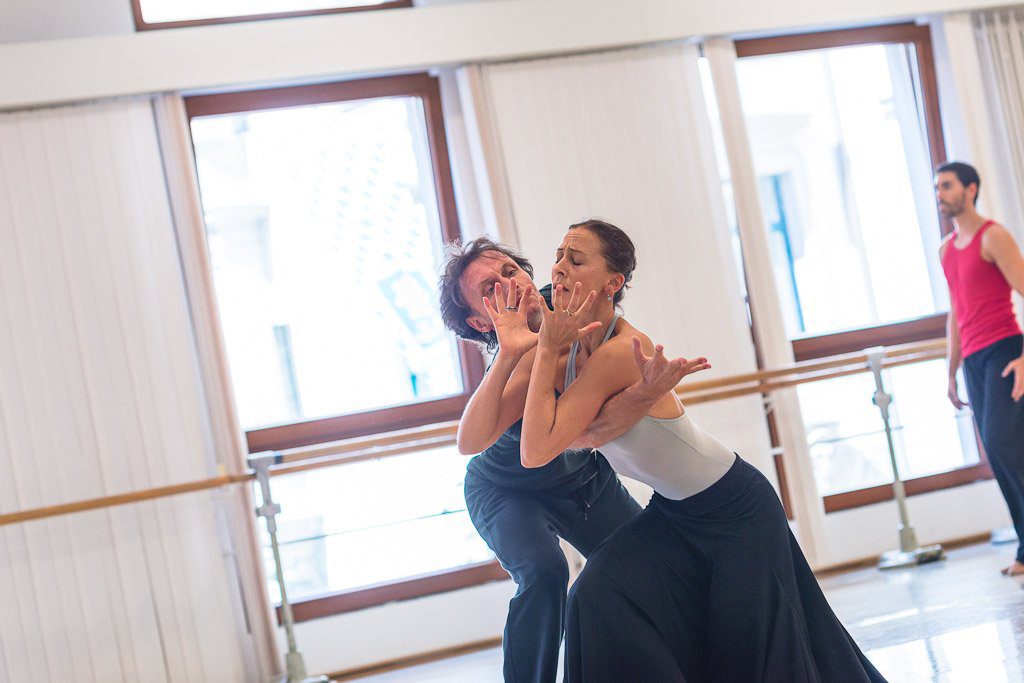 sensitive Scholz worked well. "I understood what he wanted without words. We had a good spiritual rapport. He fed on the trust of his dancers and I was able to give myself entirely into the work. Uwe Scholz challenged me and that brought me closer to my core. I've never been able to pretend something in the studio or on stage nor did I want to, but with Scholz one couldn't anyway. He knew his dancers, he knew what he wanted and from whom." Scholz created several roles on Ferrolier, amongst others in Bruckner 8, in the collage Non, je ne regrette rien… and in Mass in h-minor. Seven years later the hunger for new experiences had already led Ferrolier to the Bavarian State Ballet. There she received the news of Scholz's premature death. "I learned it during a rehearsal of Sleeping Beauty and though I had been aware of his fragile health I couldn't believe it true at first. It came like a shock. Coping with this was very difficult for me."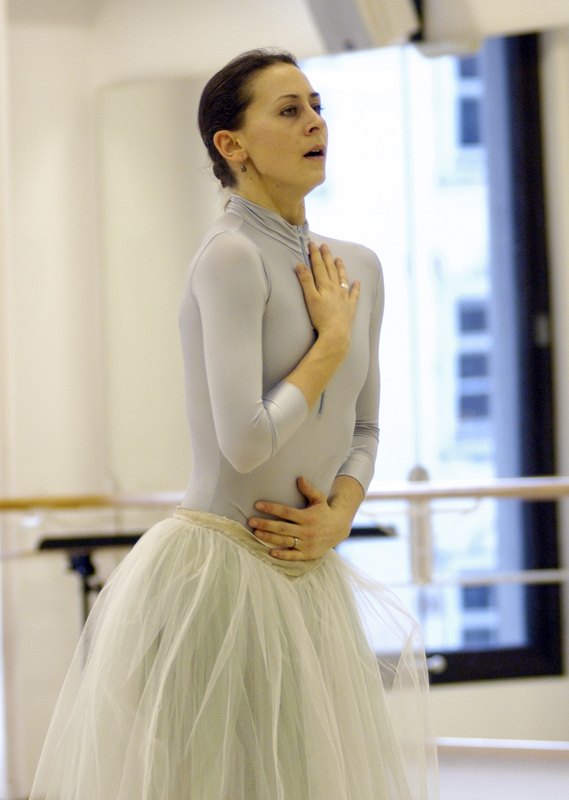 Ferrolier's change to the Bavarian State Ballet went smoothly. It was her company of choice and she was offered a chance to join. "Some things in life are written down before" Ferrolier believes. "It's not that I think fate will do it anyway. Nothing comes from nothing or happens as a matter of course. One has to make the effort. And one has to use the opportunity. Being at the right moment at the right place is important too. But I trust that certain developments are predetermined. Of course I've sometimes quarreled with, for example, a role I didn't get. But in hindsight I've understood why it had been better that way."
In Munich Ferrolier's repertory widened. Everything fit perfectly together: the broader repertory was tempting, she got along well with Ivan Liška, the artistic director, and the Bavarian capital was and unvaryingly is a lovely place to live.
When asked which roles have been especially dear to her, Ferrolier didn't need to think about it for long. It was Marguerite Gautier in John Neumeier's Lady of the Camellias. The dancer meant to be her Armand got injured and so Lukáš Slavichý jumped in only few days prior to the performance. Liška and his wife, Colleen Scott, both from their own dancing experience thoroughly familiar with the piece, coached them." Lukáš and I established a fine stage partnership. The emotions one has to get across in this piece already lay dormant in both of us. We just had to track them, feel them out and give them to the audience." Around fifty percent of working on a role goes into technique, the rest into plumbing the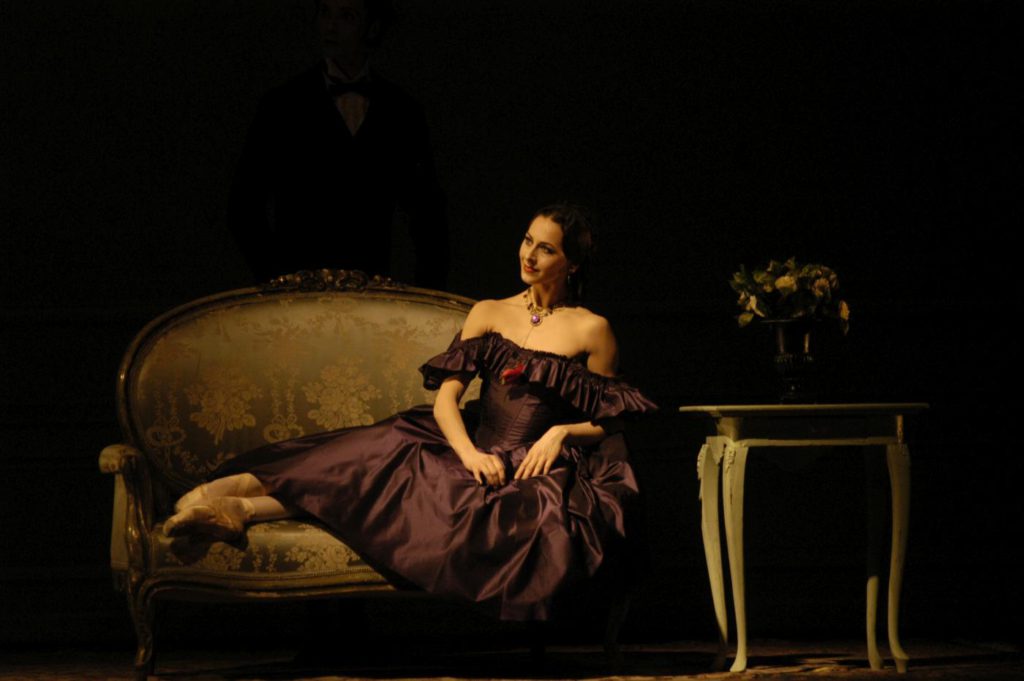 depth of the character, explained Ferrolier. "For Lady of the Camellias I read Dumas's book, I observed colleagues in the role and I watched videos. Judith Turos's interpretation was, for example, very special for me because of her integrity. Everything she did was real. I felt as if looking inside her soul. Strangely, I developed a lung disease during rehearsals. I was fit again at the day of the performance but coughing and gasping for breath came naturally to me onstage. I think I got ill because I had immersed myself so deeply into the role of Marguerite. But one cannot do this job half-heartedly. One has to take the risk and forget about preconceived limits."
I saw Ferrolier last season in Pina Bausch's For the Children of Yesterday, Today and Tomorrow. She depicted facets of several types of women. In one scene she was carefree and playful like a child, imagining getting countless hugs and kisses, then, in the following scene, she was a magnetic vamp in a sexy black dress. "In Pina Bausch's piece I tapped own experiences, even when it came to the speaking parts. Everything was already inside me, I just had to pick it up." And the stupendous femininity she radiated? "Well, maybe that's because I was the oldest on stage. And the dress helped too. But, yes, I have that feminine side."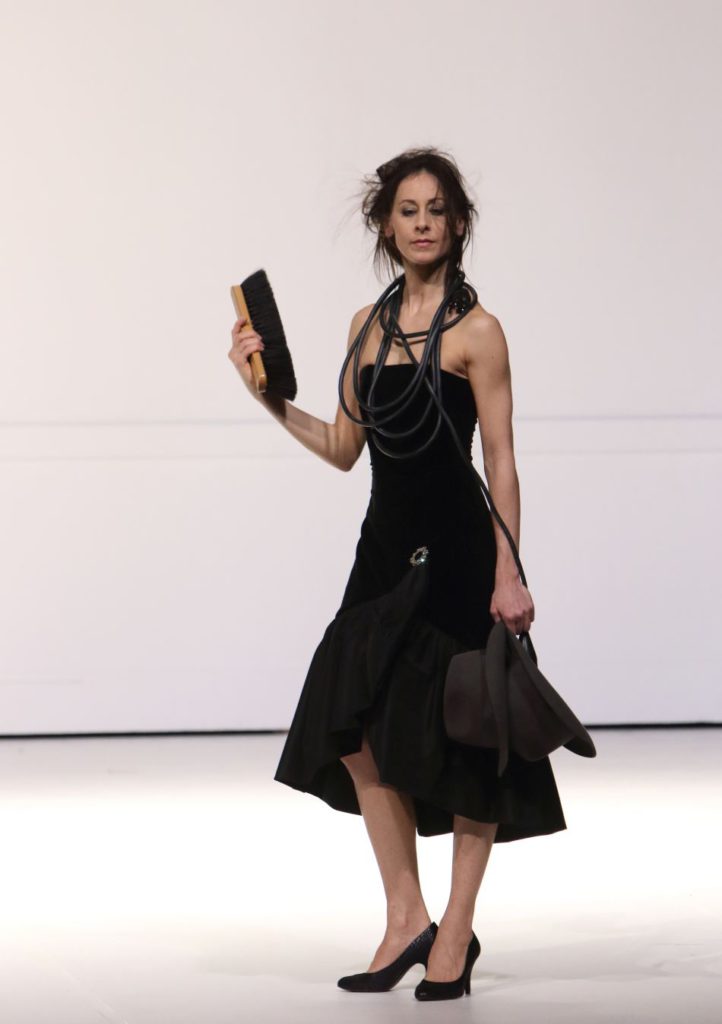 Compared to the boisterous, bubbly girl she had been, Ferrolier seems to have become a quite calm person. "I have become calmer as I got older", she said. "But I still have that trait. I have a favor for funny roles." In spring Christopher Wheeldon's Alice in Wonderland will receive its premiere in Munich. "I'd love to do the Queen of Hearts. It has so much witty acting. And I'm tall, what I think fits to the role."
Now in her late thirties, Ferrolier will bid her farewell to the stage in a few years. Her plans for the time thereafter are already set. She will become an osteopath. "I got the idea when I suffered from a calf injury. I needed physiotherapy and, moreover, I was quite down. The physiotherapist did me so much good. Most of all, she psyched me up. That triggered my decision for a career as an osteopath. Injuries or pain often have a psychosomatic background, like emotional trouble, a crisis – nothing happens for no reason. Except for a flower pot falling on one's head or one slips on a banana skin." Ferrolier laughed. That knowledge about her body helped her to avoid further injuries. "I feel it when the situation gets tricky and I should be more attentive. I also notice potential physical problems when observing others. Body language is revealing." Ferrolier's antennas are generally sensitive. "In the studio, for example, I only need one look to know what is going on over there in the corner. I can sense the atmosphere in a room and also peoples' personalities. I recognize what is behind the facade, why one reacts just like this in a certain situation. I can read the little everyday games people play." Not everyone might like to feel his character being read. But Ferrolier's look, though analytical, is warm. She doesn't want to show someone up but to help one along.
That approach is rooted in her family. All close family members have or had professions dedicated to the well-being of others. "My grandfather worked as a pharmacist, my father was a male nurse, my mother an anesthetist and my brother is a full-time firefighter. So maybe helping others and being empathetic is in my genes." Becoming an osteopath requires a five- year training. In her free time Ferrolier works her way into the subject matter. Currently she is reading about the healing power of herbs.
But ballet will still be part of her offstage life. Ferrolier has a diploma as ballet teacher and has already worked with teenage dancers in a private ballet school in Munich. It is obvious that she has a way with children. When I arrived at the rehearsal premises she was just flirting with a cute baby, that was on a visit with its mother at the concierge. Founding her own family is on Ferrolier's wish list. But, as before, she seems relaxed about what the future will bring. "Things happen when they have to."
(The interviews have been edited for clarity.)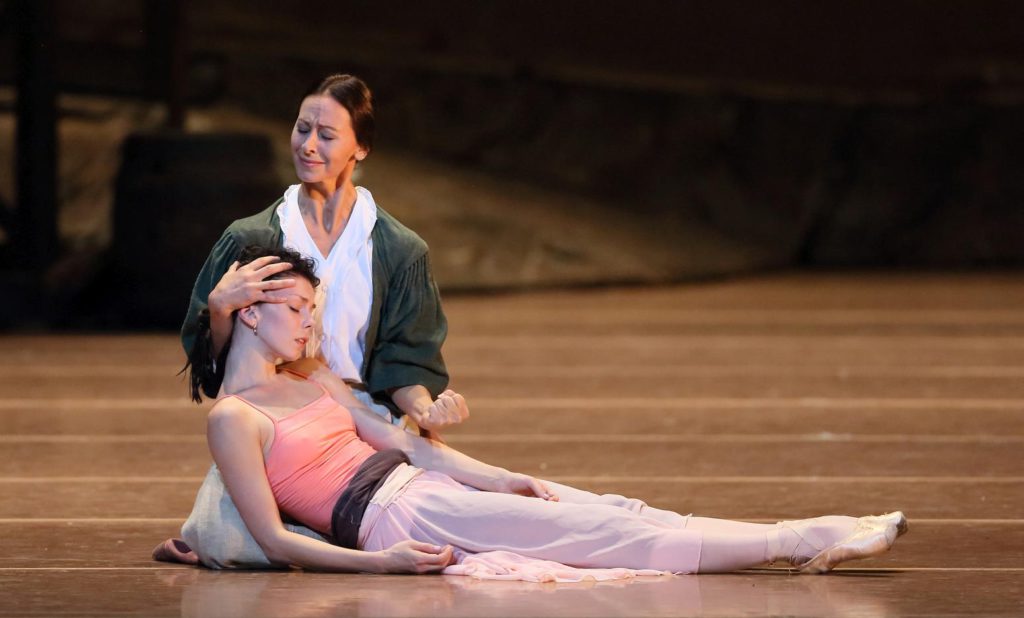 | | | |
| --- | --- | --- |
|  Links: | | Homepage of the Bavarian State Ballet |
|  Photos: |  1. | Séverine Ferrolier rehearsing "Giselle", chor.: Peter Wright after Marius Petipa, Jean Coralli and Jules Perrot, Bavarian State Ballet 2016 © Silvano Ballone |
| |  2. | Séverine Ferrolier and ensemble, "Les Biches" by Bronislava Nijinska, Bavarian State Ballet 2014 © Wilfried Hösl |
| |  3. | Séverine Ferrolier rehearsing "The Moor's Pavane" with Sarah Stackhouse, chor.: José Limón, Bavarian State Ballet © Day Kol |
| |  4. | Séverine Ferrolier rehearsing "Lady of the Camellias", chor.: John Neumeier, Bavarian State Ballet © Charles Tandy |
| |  5. | Séverine Ferrolier (Marguerite Gautier), "Lady of the Camellias" by John Neumeier, Bavarian State Ballet © Charles Tandy |
| |  6. | Séverine Ferrolier, "For the Children of Yesterday, Today and Tomorrow" by Pina Bausch, Bavarian State Ballet © Wilfried Hösl |
| |  7. | Séverine Ferrolier and Natalia Osipova rehearsing "Giselle", chor.: Peter Wright after Marius Petipa, Jean Coralli and Jules Perrot, Bavarian State Ballet © Wilfried Hösl |
|  Editing: | |  Agnes Farkas |
| | | |