"Oracle"
Semperoper Ballet
Semperoper
Dresden, Germany
November 25, 2016
by Ilona Landgraf
Copyright © 2016 by Ilona Landgraf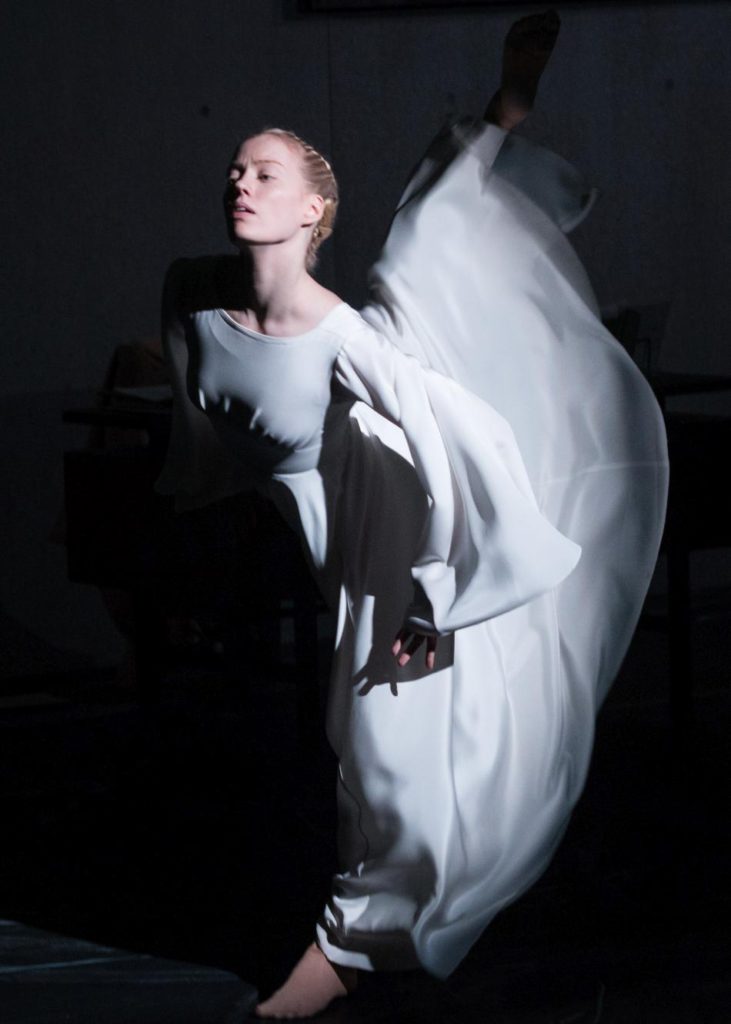 With the new year quickly approaching, the art of prophecy is in great demand in Dresden. One clairvoyant resides in a cozy, tiny hut on a beautiful, rustic Christmas market in the old stable yard next to the Dresden Castle. An expert in palm reading, cartomancy and runes magic, the white-haired lady offers glances into what next year will bring.
Not far from her stall, in the former opera restaurant just recently altered into the studio stage "Semper Two," another soothsayer, a quite prominent lady, is at work. Or, to be precise, is fed up with work. Alas, there is currently no chance to receive advice from her. Joseph Hernandez, coryphée of Semperoper Ballet and a fledgling choreographer, attended to the matter in the dance theater "Oracle", his first piece for Semperoper Ballet. Accompanied by a musical mix consisting of vintage jazz as well as cello and violin sounds of various atmospheres, it unveils the Oracle of Delphi's problem. Exhausted from putting herself into a trance to answer the never-ending questions, the woman priest, simply called Oracle (Aidan Gibson) by Hernandez, wants to get off the hot seat. But how?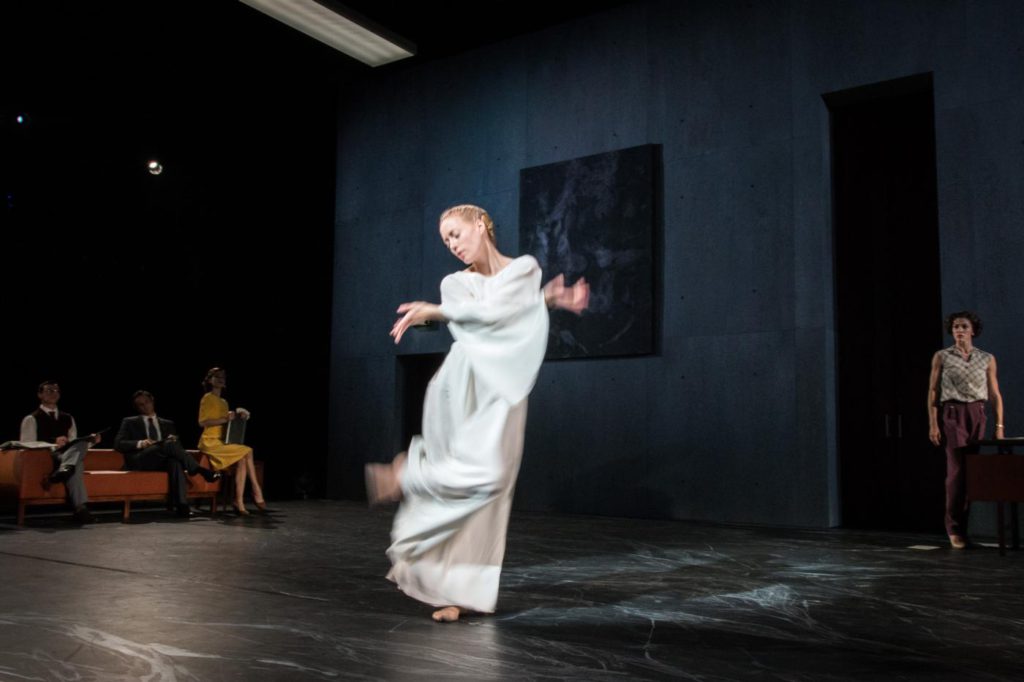 The ancient Oracle of Delphi could only be approached on a very few, pre-defined days per year. But Hernandez's "Oracle" is set in the 1960s and things have changed. Her office is bustling. Closing the business for a time-out is unthinkable. But the Oracle wouldn't be the Oracle if she didn't know how to solve the problem elegantly. With the sudden appearance of Vera (Caroline Beach) in the bureaucratic temple, strange events take their course. Johannes Schmidt, the omniscient narrator, guides us through the unfolding story.
Vera wears jeans and looks as ordinary as the girl next door. An invitation letter has prompted her to show up at the Oracle's office, but once there, no one is willing to take notice of her: neither the Oracle's manager (Courtney Richardson), a neat,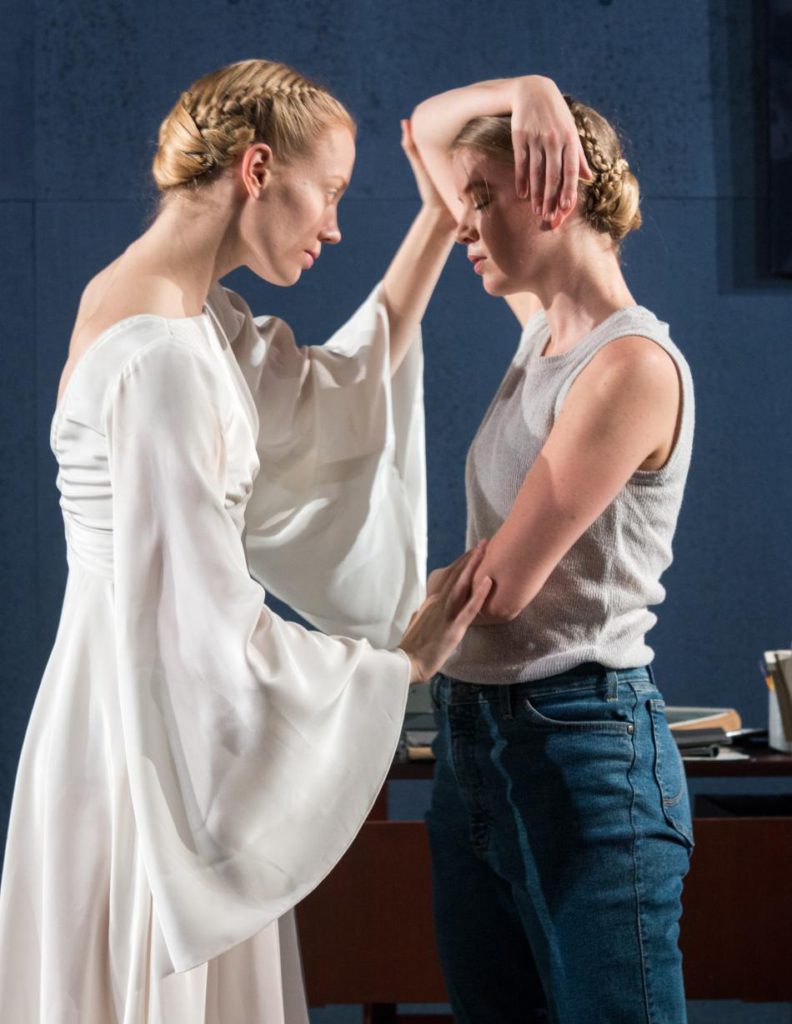 well-coiffed and stuck-up business lady, nor her accountant (Francesco Pio Ricci). Meticulous, bespectacled, wearing a white shirt and a sleeveless pullover, he seems a true bore, but – as it later turns out – is a weird guy. Still waters run deep.
Presumably only heaven knows what the salesman (Fabien Voranger) is actually selling, but he seems an important figure, an indispensable decision-maker. Slick, jovial and markedly charming, he is either immersed in business documents or flirts with the intern (Chiara Scarrone), a sweetie in a sun yellow dress, who is well aware of how to use her appeal to her advantage. The young assistant (Skyler Maxey-Wert) fawns on the manager and the secretary (Raquél Martínez) … Well, her office desk is right next to the narrow gate leading to the sacred site of the oracle, perhaps wafts of the intoxicating vapors affect her clear mind. In any case, she hacks at her typewriter with hypnotic vehemence.
Things take an unexpected turn with the arrival of a pink parcel delivered by the special deliveryman (Casey Ouzounis). More won't be revealed at this point.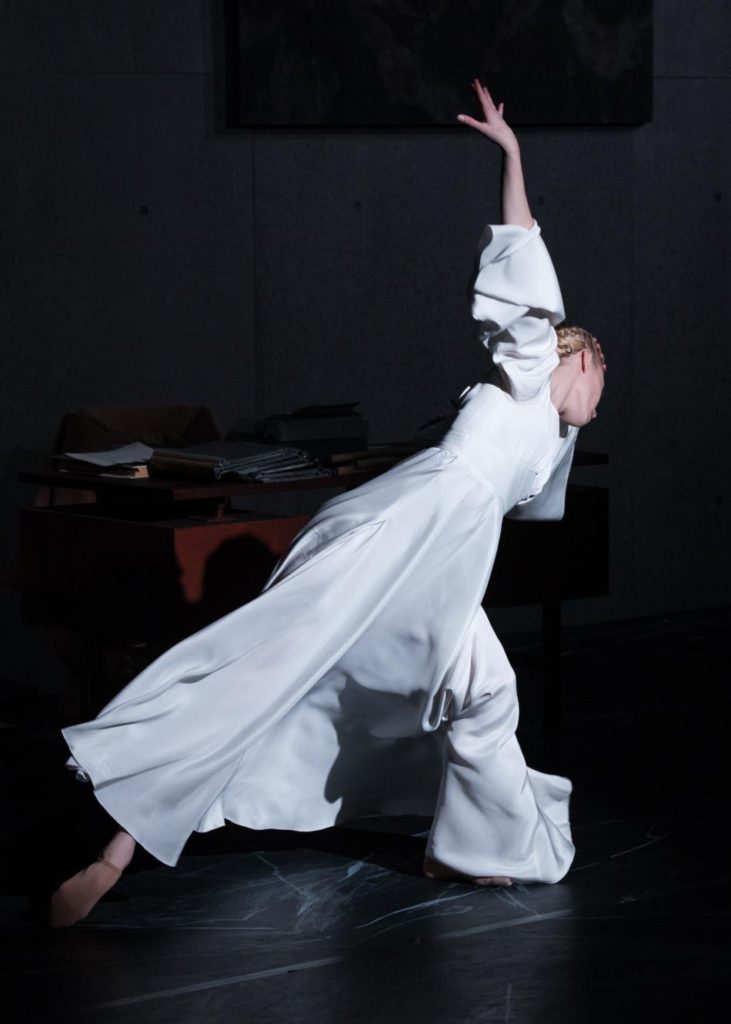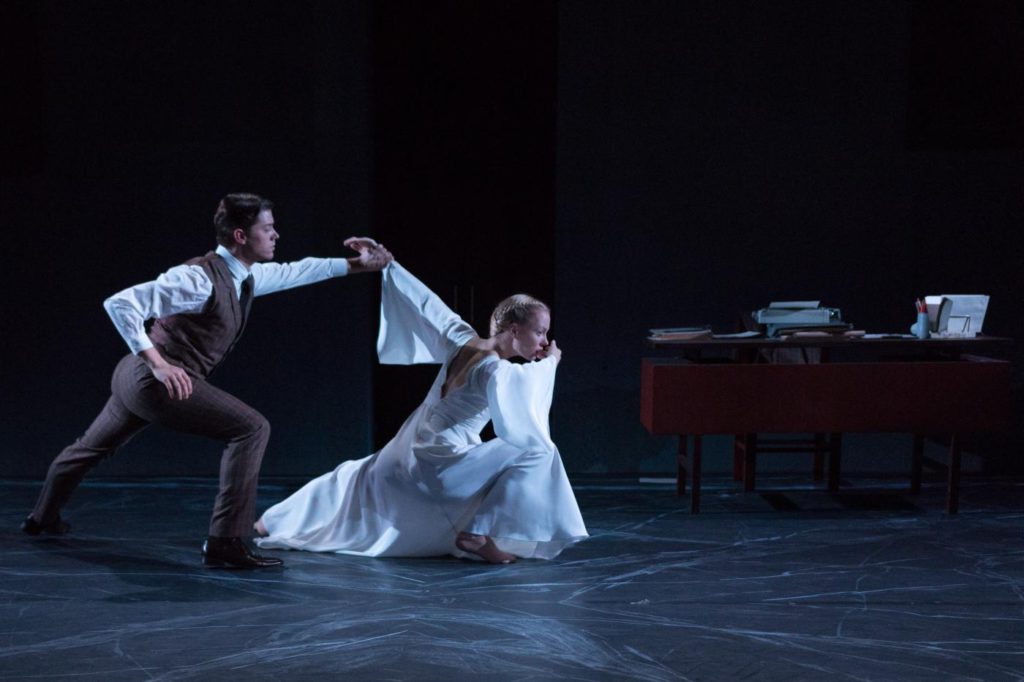 Hernandez's oracle priest doesn't speak, but expresses herself in dance. Maybe that is why enigmatic and sometimes lengthy choreography has been given to her. Has it ever been easy to grasp a prophecy? Group dances are brisk both danced in unison and as assembly of solos. Though "Oracle" aims at an audience aged eight years and older, the characters could have been more complex. Children are sensitive towards flat stereotypes. They may also be puzzled over the lecturing nonsense of the narrator's closing words.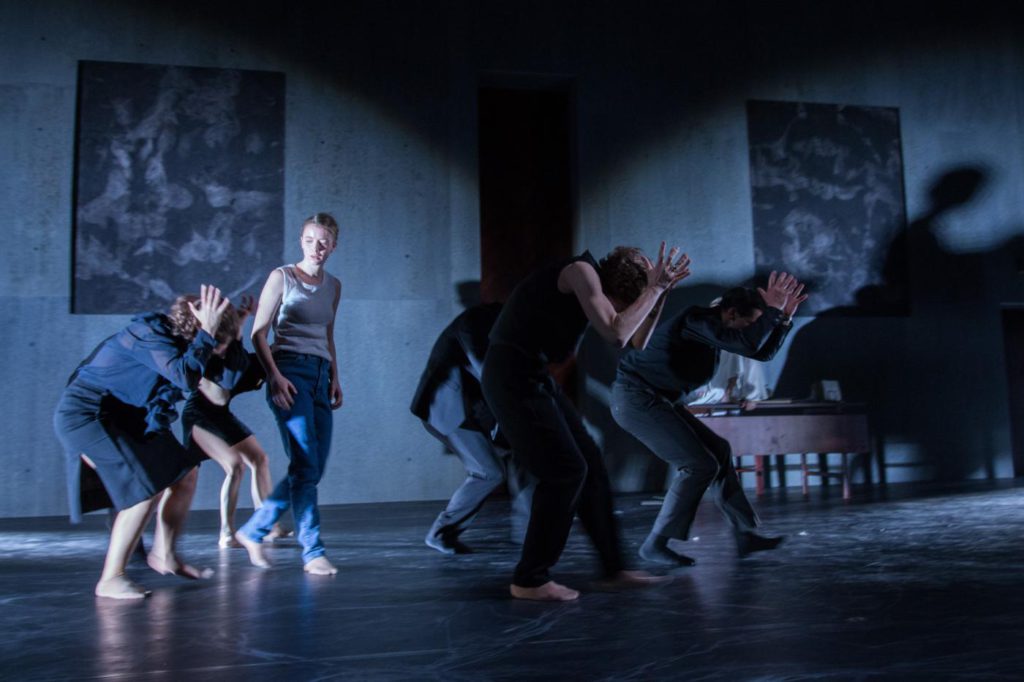 At the premiere only a handful of children were in the audience. But most of the subsequent performances are morning matinées, some of which are reserved for school classes. I hope the children won't browse the piece description on the company website. It says "Oracle" is about "finding your home in the midst of adversity" and "the idea of home implying an inner journey, a coming of age." It seems theater for children has to be framed by didactic justification. Imposing aid to interpretation of the piece on the young audience is common practice, too. Why not allow the children space to come up with their own thoughts? Isn't regurgitating what others have chewed for already sufficiently practiced in school lessons?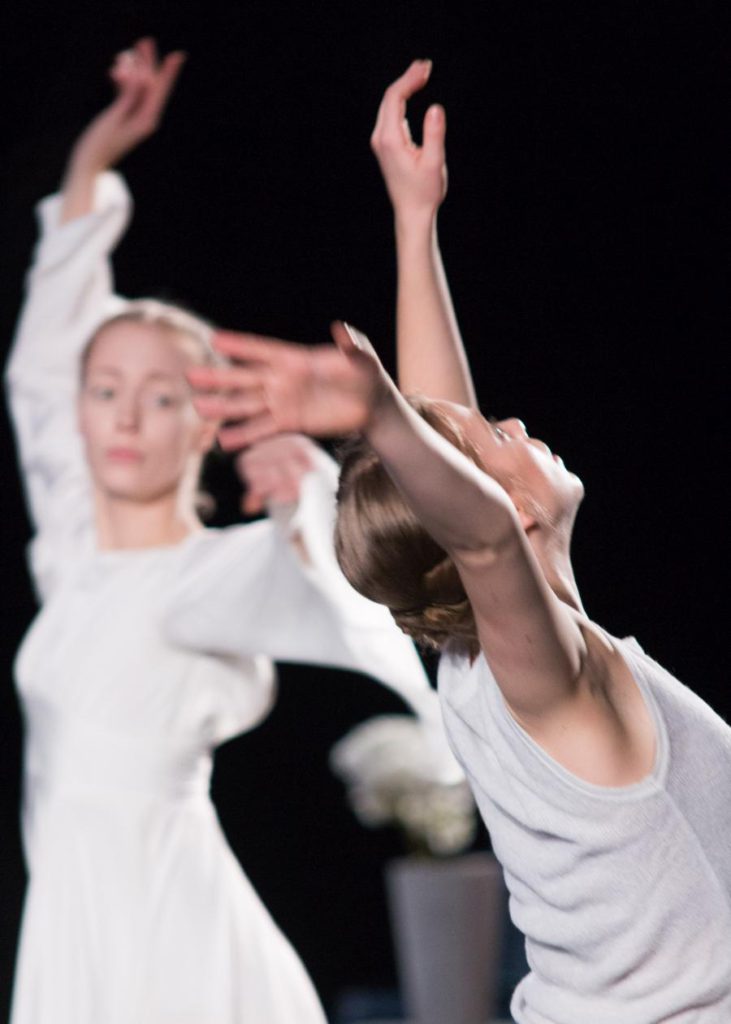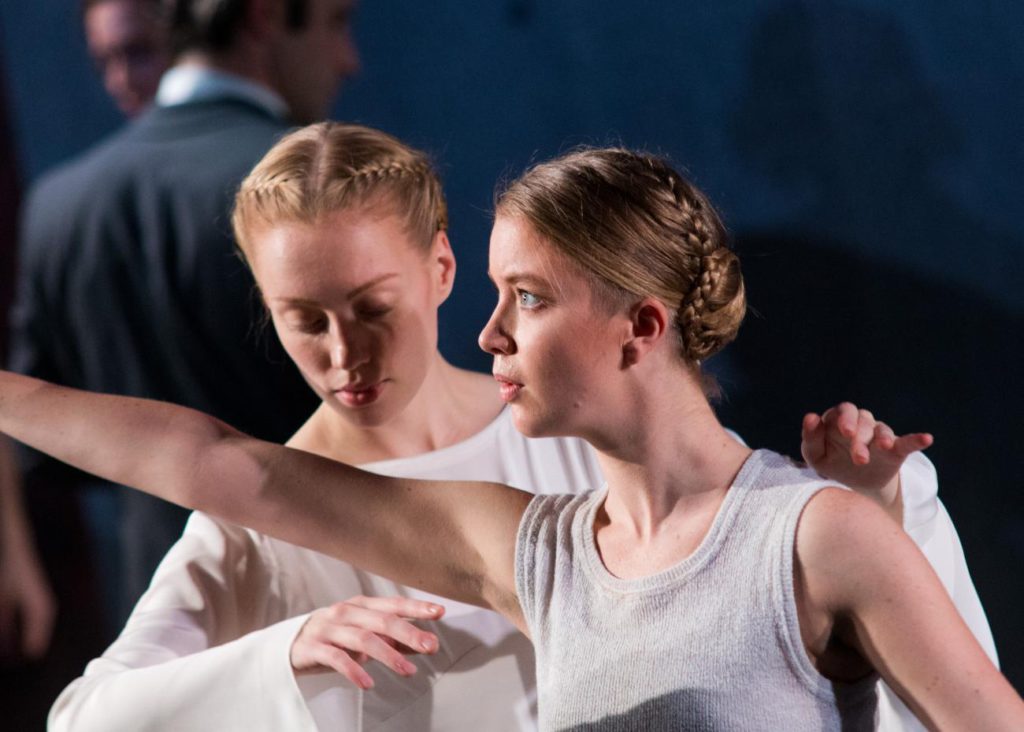 Regardless of its weak points "Oracle" breaks welcome new ground for the company. Opportunities to show works originating from within the company's own ranks have been rare up to now. Performing in the intimacy of a studio stage is new to the dancers as is dedicating a piece mainly to the young audience. One of the youngest, far below the minimum age limit, was Fabien Voranger's little son, who dashed on stage at the curtain call to present his father with flowers. Witnessing the little boy's unperturbed naturalness was refreshing.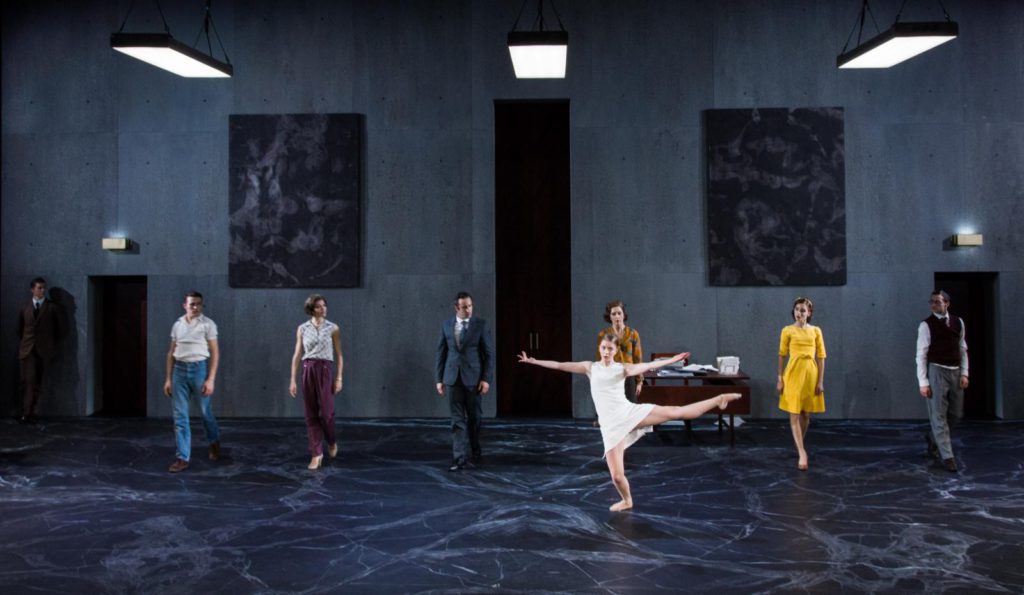 | | | |
| --- | --- | --- |
| Links: | | Website of Semperoper Ballet |
| Photos: |  1. | Aidan Gibson (The Oracle), "Oracle" by Joseph Hernandez, Semperoper Ballet |
| |  2. | Aidan Gibson (The Oracle), Francesco Pio Ricci (The Accountant), Fabien Voranger (The Salesman), Chiara Scarrone (The Intern) and Courtney Richardson (The Manager), "Oracle" by Joseph Hernandez, Semperoper Ballet |
| |  3. | Aidan Gibson (The Oracle) and Caroline Beach (Vera), "Oracle" by Joseph Hernandez, Semperoper Ballet |
| |  4. | Aidan Gibson (The Oracle), "Oracle" by Joseph Hernandez, Semperoper Ballet |
| |  5. | Johannes Schmidt (The Narrator) and Aidan Gibson (The Oracle), "Oracle" by Joseph Hernandez, Semperoper Ballet |
| |  6. | Caroline Beach (Vera) and ensemble, "Oracle" by Joseph Hernandez, Semperoper Ballet |
| |  7. | Aidan Gibson (The Oracle) and Caroline Beach (Vera), "Oracle" by Joseph Hernandez, Semperoper Ballet |
| |  8. | Aidan Gibson (The Oracle), Caroline Beach (Vera) and Fabien Voranger (The Salesman), "Oracle" by Joseph Hernandez, Semperoper Ballet |
| |  9. | Caroline Beach (Vera), Johannes Schmidt (The Narrator), Skyler Maxey-Wert (The Assistant), Courtney Richardson (The Manager), Fabien Voranger (The Salesman), Raquél Martínez (The Secretary), Chiara Scarrone (The Intern) and Francesco Pio Ricci (The Accountant), "Oracle" by Joseph Hernandez, Semperoper Ballet |
| | | all photos © Ian Whalen 2016 |
| Editing: | | Anna Antongiorgi |