"Ballet Extra: Open Rehearsal for Spartacus"
Bavarian State Ballet
Ballet Rehearsal Premises, Platzl 7
Munich, Germany
December 16, 2016
by Ilona Landgraf
Copyright © 2016 by Ilona Landgraf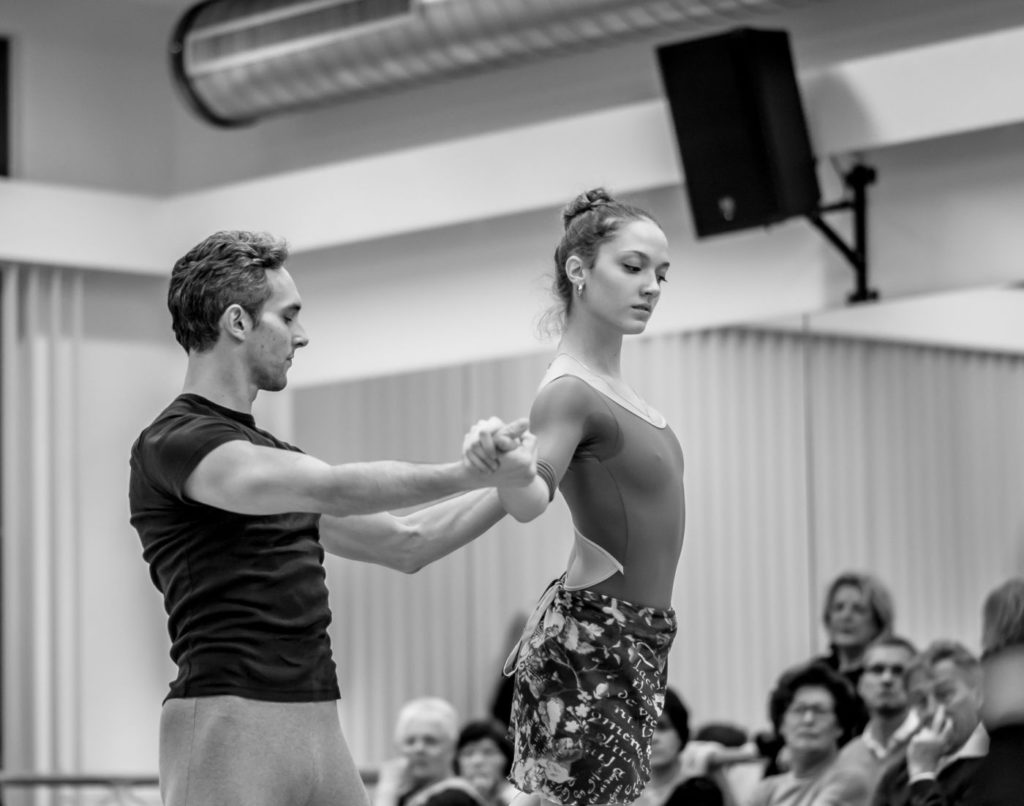 Yuri Grigorovich's "Spartacus" premieres the day before Christmas Eve in Munich. Since September the Bolshoi's Oksana Tsvetnitskaya and Ruslan Pronin have been rehearsing the troupe. Grigorovich also arrived from Moscow to supervise the production. He didn't attend Friday evening's open rehearsal, but Tsvetnitskaya and Pronin were present.
Compared to the last "Ballet Extra," the queue in front of the company's rehearsal premises in Munich's city center was shorter, certainly not because of a lack of interest or Christmas shopping, but due to the limited space in the Bosl-Studio where the event took place. The lucky ones who had snatched a ticket presumably hoped to see Sergei Polunin and Natalia Osipova, who will be dancing Crassus and Aegina in the premiere and the third performance. Neither they nor one of the new Russian dancers were involved though. Instead, artistic director Igor Zelensky sent Ivy Amista and Matěj Urban, both long-serving dancers of the Bavarian State Ballet, into the arena. They were joined by Prisca Zeisel, guest dancer Erik Murzagaliyev and members of the corps de ballet.
After a short welcome by Zelensky, Thomas Mayr, head ballet master, guided the evening. Mayr must have misunderstood the event's intention though, because he turned what was announced as rehearsal into an elaborate, well-contrived lecture with dance interludes. Actually the background information, Mayr broached, would have been interesting, if his talk hadn't been learned by heart, wasn't stiffly presented and hadn't outweighed the dance sequences. He asked Pronin, for example, whether a common thread runs through all Grigorovich ballets. All are narrative ballets, Pronin concisely declared. He has been familiar with Grigorovich's work for decades, however for Mayr it is new ground. Nevertheless, Mayr pontificated at length about the characteristics of Grogorovich's ballets, concluding with "And that is what Ruslan basically said".
Both repetiteurs had a careful eye on the dancers. Tsvetnitskaya worked on the arms of the corps women, depicting courtesans, but was overall restrained. Pronin, no man of big words, but a man of action, gave corrections at the edge,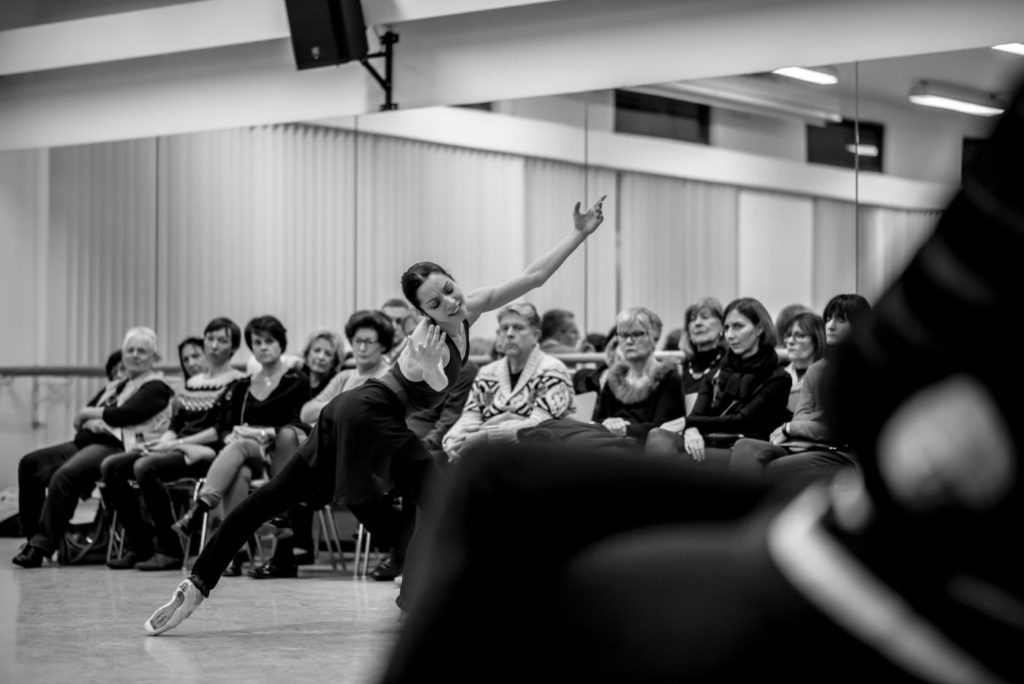 hinted at a detail, showed Murzagaliyev how to collapse convincingly and slapped Urban appreciatively on the back. As both dancers for the role of Spartacus were ill, he asked Mayr to step in for the battle with the gladiator (Erik Murzagaliyev). Mayr, in a white shirt, knitted vest and cloth pants, tried to make excuses. Without training for thirty years one could easily get injured, he said, but, after all, he bravely improvised the part. Given that he and Murzagaliyev ran past each other, poking around with their short swords in the air rather than fighting face to face, I assume they portrayed the fight between blindfolded gladiators. Here, context would have been welcome, but was missing. Why, moreover, did no one ask the dancers for a statement? There was enough time left; the whole rehearsal lasted for less than an hour. Amista, for example, danced an expressive solo of Phrygia from the third act (the parting scene?), on which unfortunately no one commented.
The biggest surprise was Urban, whom I hadn't expected to be such a stunningly strong Crassus. He seemed to punch his silhouette in the air when jumping. Both pas de deux he danced together with the no-less impressing Zeisel as Aegina were superb, the atmosphere in the studio charged with energy. Zelensky spontaneously shouted "Bravo!" In this case, further comments were indeed unnecessary.
Zeisel and Urban aren't scheduled for the first performances but let's hope they are on the cast list after Christmas and in January.
"Spartacus" runs until January 11th and again in March, April and July 2017.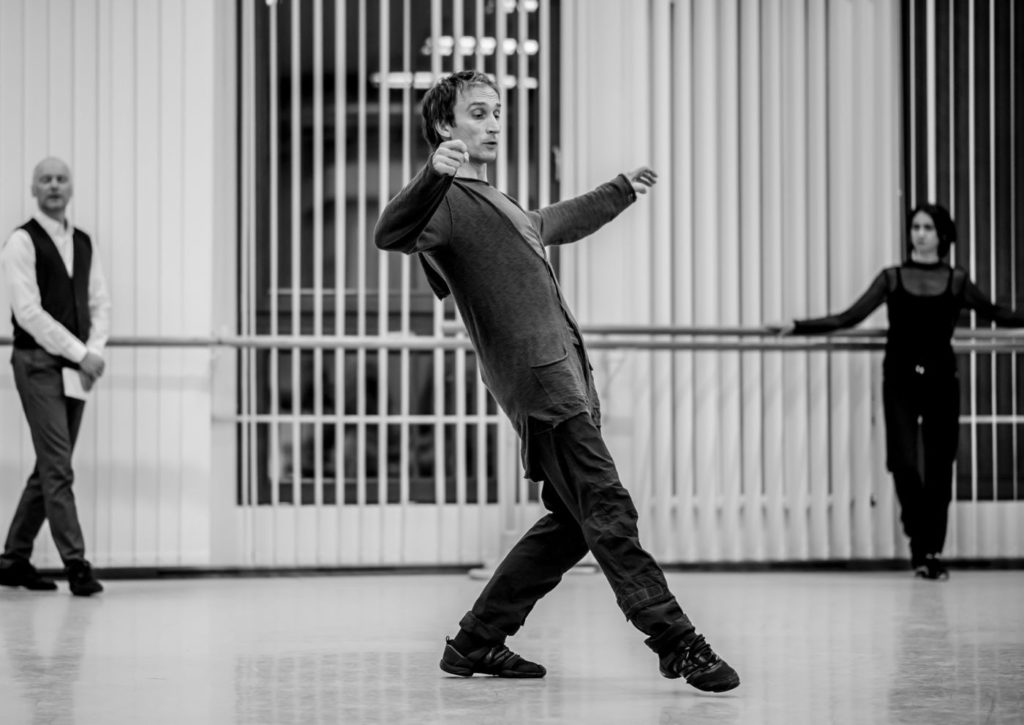 | | | |
| --- | --- | --- |
| Links: | | Website of the Bavarian State Ballet |
| Photos: | 1. | Matěj Urban (Crassus) and Prisca Zeisel (Aegina), "Ballet Extra: Open Rehearsal for Spartacus", chor.: Yuri Grigorovich, Bavarian State Ballet 2016 |
| | 2. | Ivy Amista (Phrygia), "Ballet Extra: Open Rehearsal for Spartacus", chor.: Yuri Grigorovich, Bavarian State Ballet 2016 |
| | 3. | Thomas Mayr, Ruslan Pronin and Oksana Tsvetnitskaya, "Ballet Extra: Open Rehearsal for Spartacus", chor.: Yuri Grigorovich, Bavarian State Ballet 2016 |
| | | all photos © Nicha Rodboon 2016 |
| Editing: | | Anna Antongiorgi |