"Messa da Requiem"
Ballet Zurich
Opernhaus Zurich
Zurich, Switzerland
January 08, 2017
by Ilona Landgraf
Copyright © 2017 by Ilona Landgraf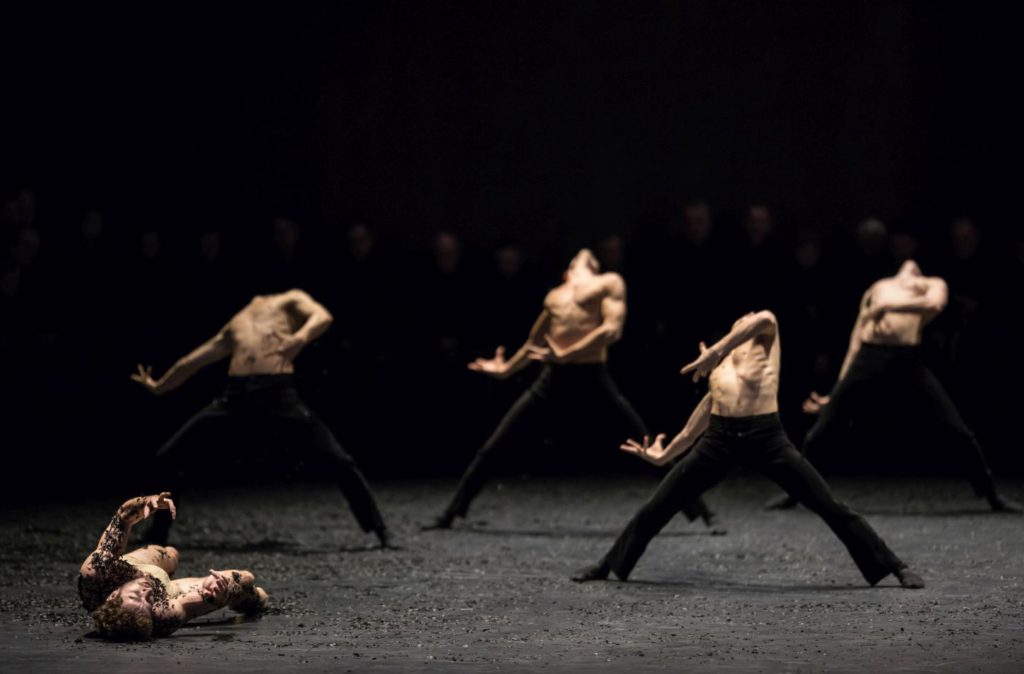 In mounting Giuseppe Verdi's "Messa da Requiem", the Zurich Opera House is bold but has set its sights quite high. Bold, because Christian Spuck, the ballet company's artistic director, in charge of choreography and staging, involved the whole house, the entire ballet company, singers and the orchestra. Yet that the project would have weak points was predictable. Spuck himself declared in the program book, that this music needed no visualization. "Merging dance with singing is always prone to failure", he moreover stated. So why did he try?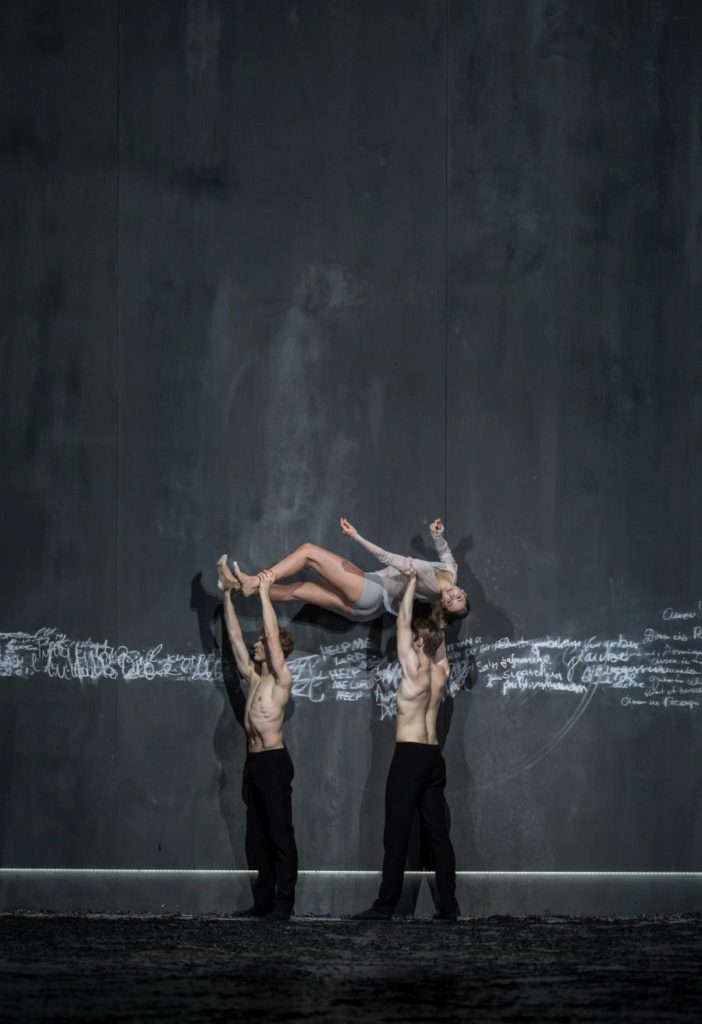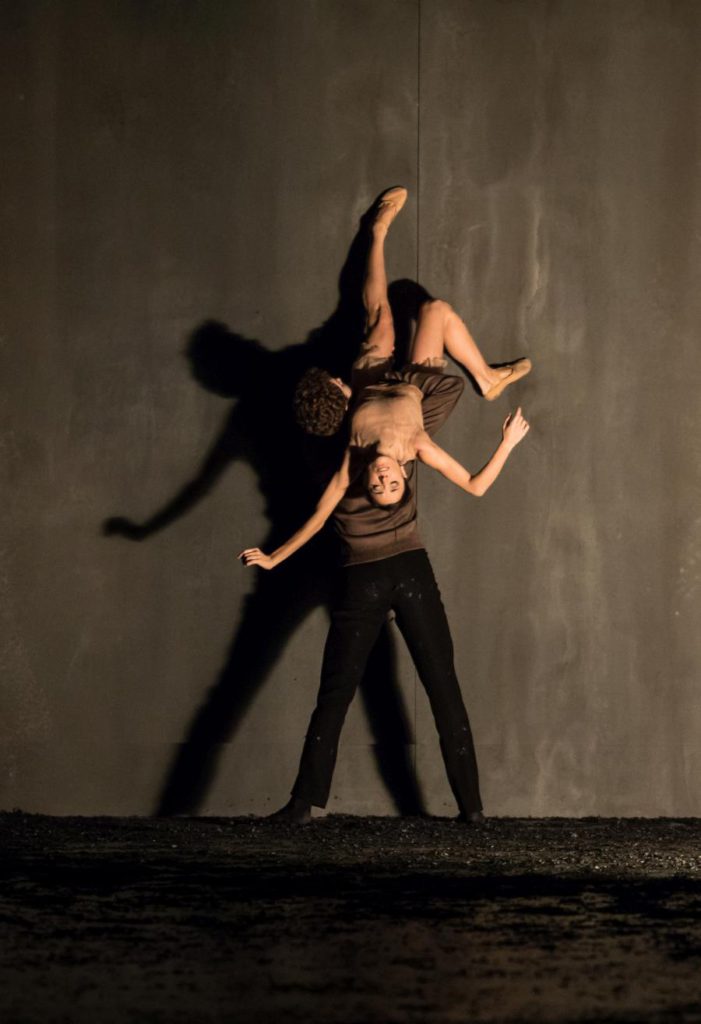 Verdi composed "Messa da Requiem" in memory of Alessandro Manzoni (1785 – 1873), an Italian national poet he deeply admired. The requiem premiered in 1874 at the San Marco church in Milan on the first anniversary of Manzoni's death and was enthusiastically received at the performance at the Teatro alla Scala a few days later. Soon thereafter it was played throughout Europe to great success. Its musical setting requires four soloists, a double choir and an orchestra. The composition grew from an earlier attempt at a requiem, a commemoration of the death of Gioachino Rossini in 1868, which Verdi envisioned as a collaborative composition by himself and twelve Italian colleagues. But the project failed. Verdi's own contribution, the "Libera me", sung prayers for the dead in the Roman Catholic service, became the basis for "Messa da Requiem". The requiem's text depicts a frightening scenario of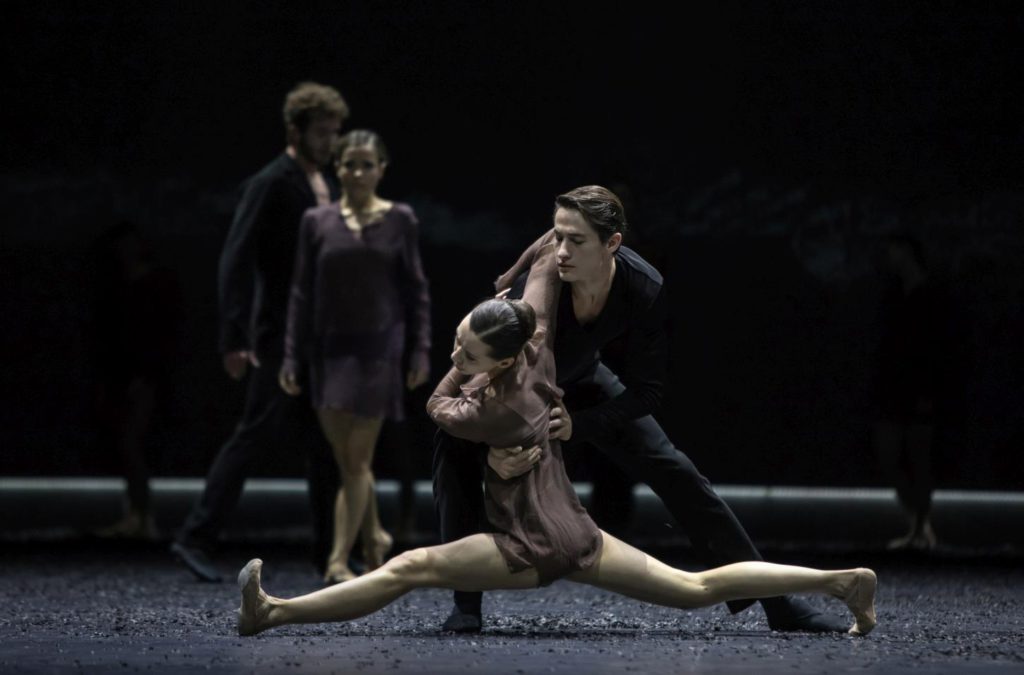 God's Day of Wrath at the Last Judgment with angst-ridden mortals pleading for mercy. Good that it is sung in Latin, which hardly anyone understands these days, because the music is much less threatening. It has haunting, sensitive and mourning passages, is equally wistful and forceful.
Coughs and sneezes have a high time at this time of the year and affected also two singers, Krassimira Stoyanova and Francesco Meli. Soprano Serena Farnocchia and tenor Otar Jorjikia replaced them on short notice, both having arrived in Zurich just the evening before. Veronica Simeoni (mezzo-soprano) and Georg Zeppenfeld (bass) complemented the quartet. Except for the fact that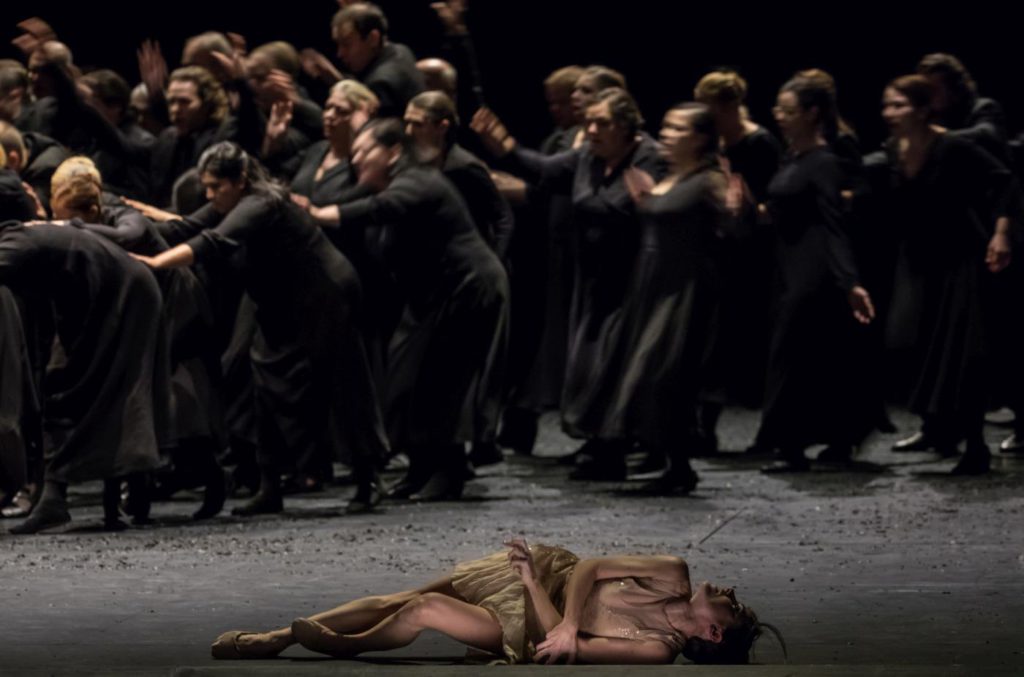 Farnocchia held the sheets of music in her hands (she never needed to refer to them) no one noticed that the four had had hardly any chance to rehearse. I especially admired how Jorjikia suffused his singing with deep yet subtle emotion.
The opera's choir was enlarged by an additional one and listed more than 110 names. The Philharmonic Orchestra Zurich played under the baton of Karina Canellakis not only from the pit but with the brass section also entering the gallery. The music boomed out so mightily over the audience's heads in this moment that one expected the roof to be blown off and the heavenly host to approach.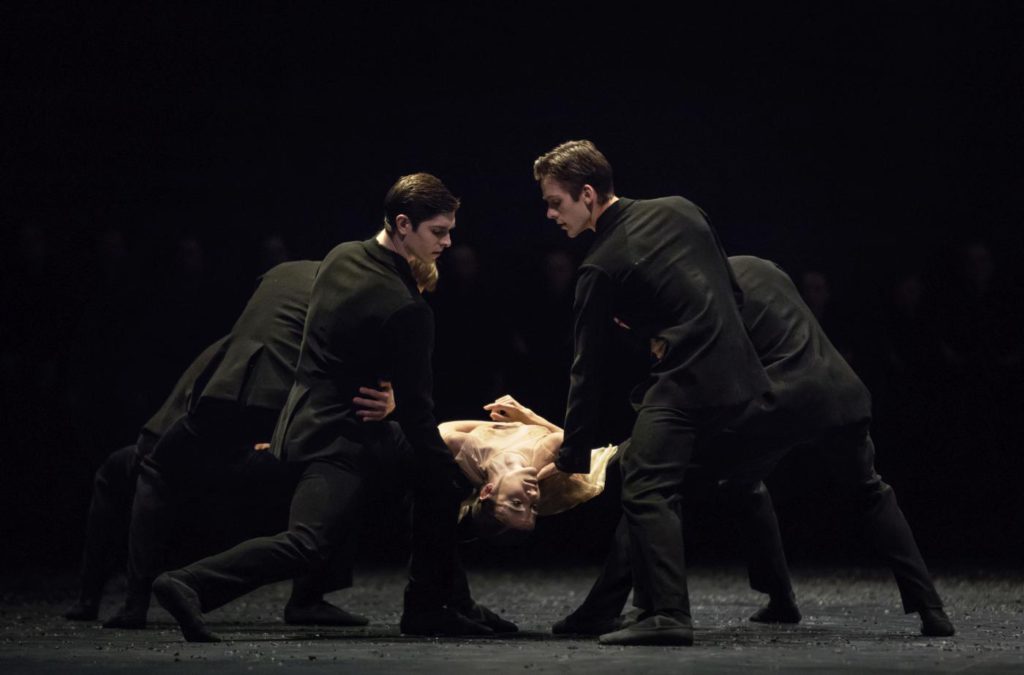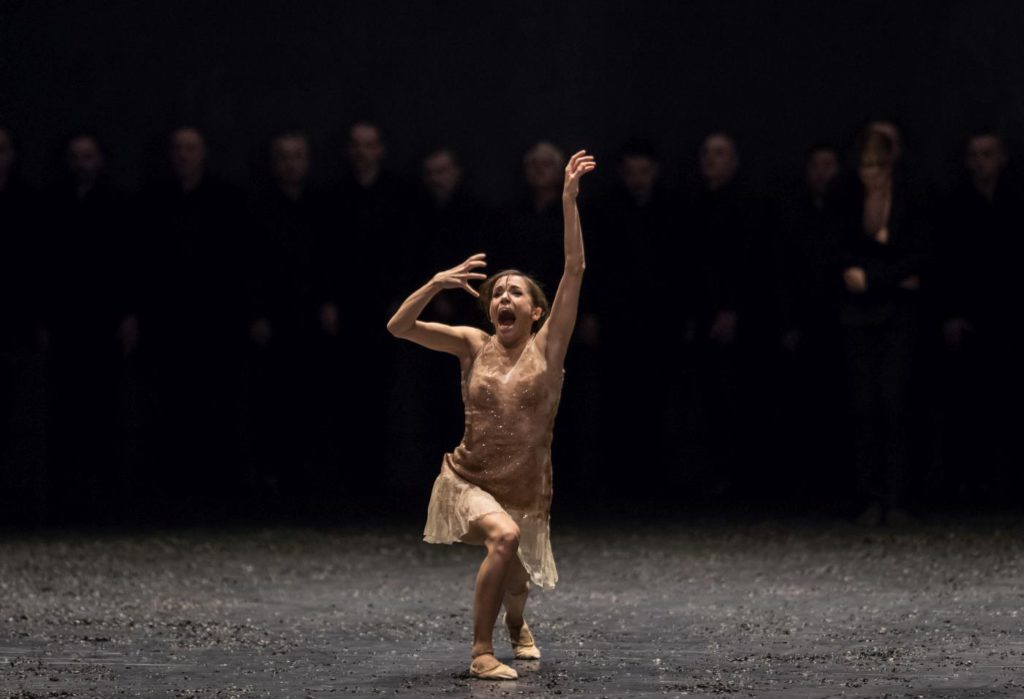 Set designer Christian Schmidt and Florian Schaaf constructed a bleak, spacy room surrounded by dirty gray walls of concrete. First, soil covered a small area of the floor in the back. It was later removed, but small lumps of earth scattered over the sides of the stage remained. A few simple, steel tube tables and chairs stood here and there. The black, rectangular hole center stage ( a grave?) was closed soon in the beginning. Lighting by Martin Gebhardt included a thin band of light at the base of the walls, a gleam of light at the edge between the walls and the ceiling (the shimmer of hope?) and a rollable footlight in a small, metal frame, creating huge shadows of moving dancers. William Forsythe uses a similar one in his "Enemy in the Figure".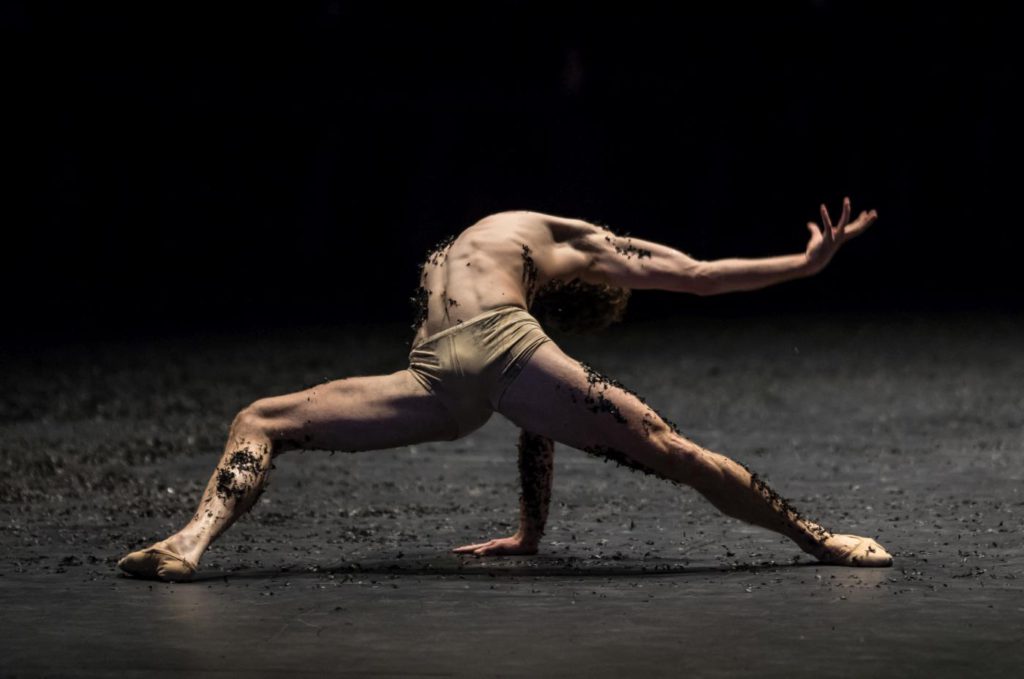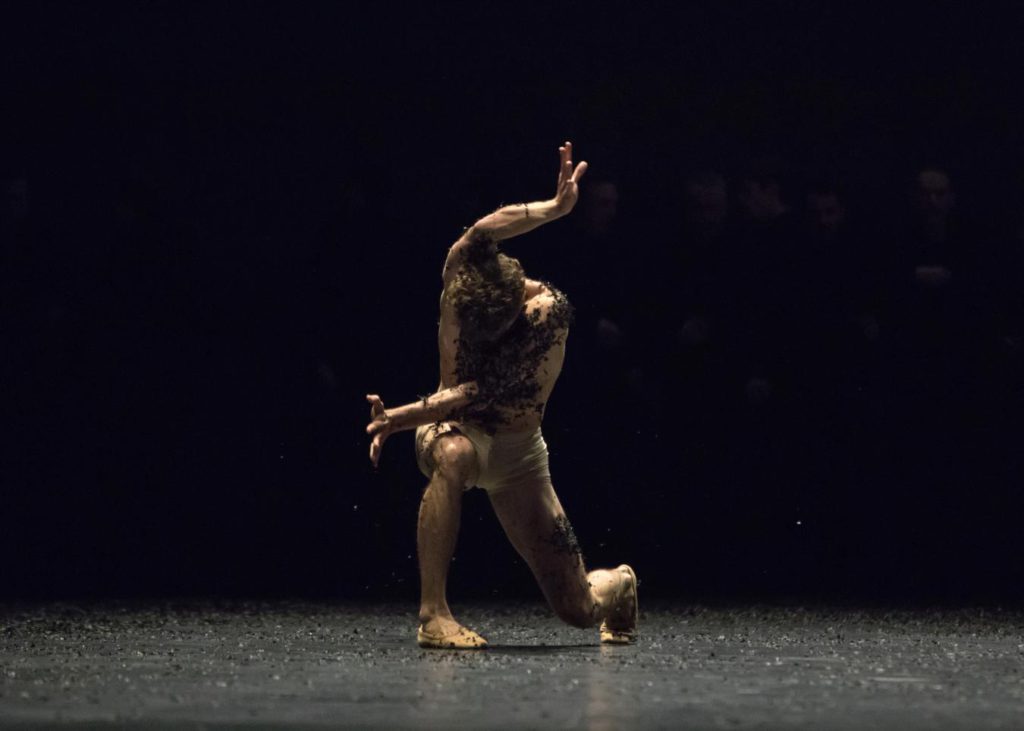 As always Spuck collaborated with costume designer Emma Ryott. She put all singers in black everyday dresses and suits, the dancers in simple clothing in mainly muted colors. A few men splattered with mud wore skin-colored shorts. The oversized, long black crinoline dresses for a group of ballerinas (I thought of mourning widows without veils.) and later also for Farnocchia are Ryott's trademark. I wished she would have come up with another idea at this point; one gets tired always seeing the same thing.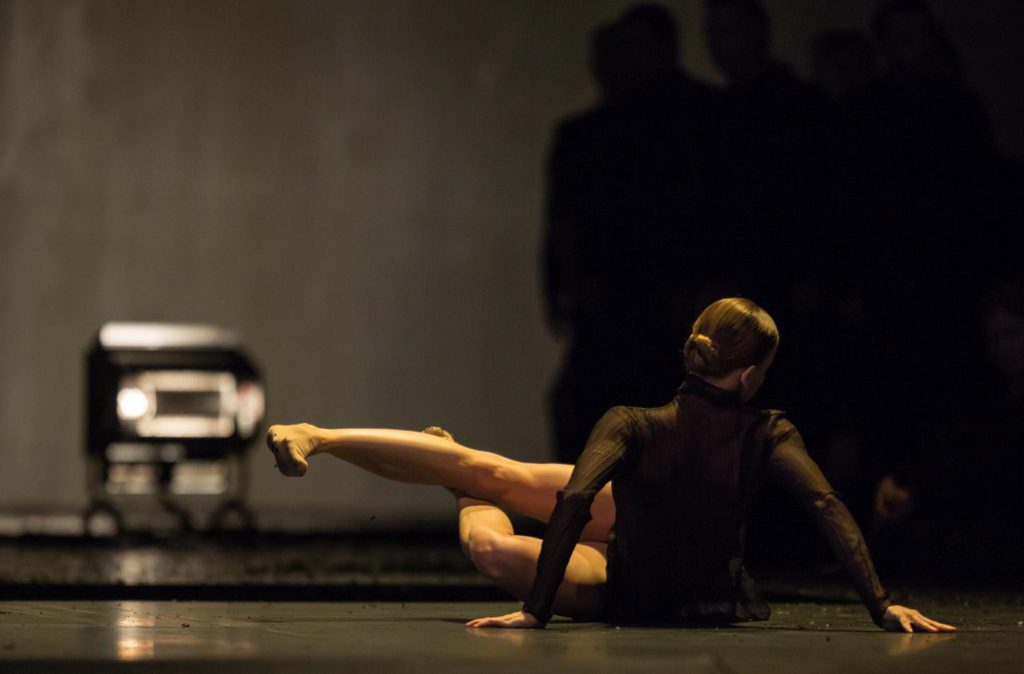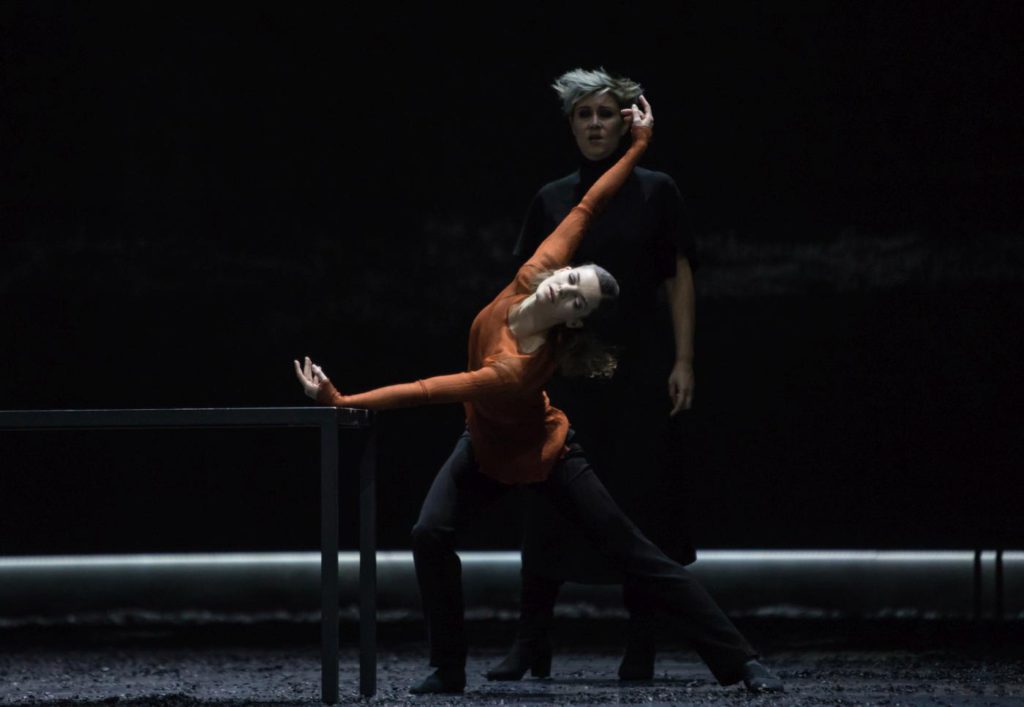 Spuck was successful in several aspects. First in uniting the artistic forces of the whole house. Bringing dancers and singers closer together can only be fruitful. One can be sure that each one has drawn their inspiration from the project to every extent. What effect does it have on dancers, for example, when standing dispersed amidst the choir singing at full voice? Or on a solo singer when joining a group of dancers and participating in a few simple moves? Singers and dancers were intermingled on such occasions; on others Spuck kept them visually apart but still related to each other.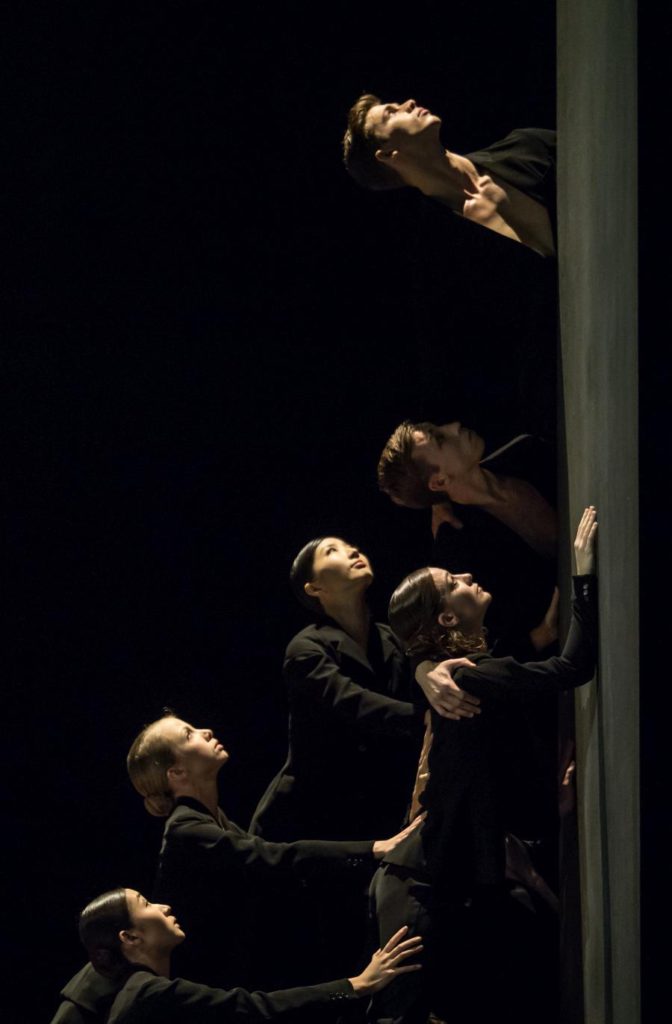 The second asset is the choreography Spuck invented for the choir. He made them undulate like dark seaweed in the water, write with chalk on the wall or form a layer of bent upper bodies, waving up and down as if imitating the surf. Like a pool of bodies they surged towards the wall in a vain attempt to climb beyond it, or, when parting into two groups at one point, they made way for the dancers like the water of the Read Sea parting for Moses and the Israelites. Hence the choir also had an acting function as familiar in opera. That puts "Messa da Requiem" close to an opera work; moreover as Verdi, critical towards the church, approved of performances in theaters and opera houses. Yet the piece is neither an opera nor pure liturgical music. It reaches beyond classification.
That leads to the production's third bonus, an indirect one. How many people queue up for tickets for a concertant performance, how many for a multi-genre one? In all probability they will favor the latter. Some of the people sitting in the audience might have never been interested in "Messa da Requiem" if they had not been attracted by seeing dance as well.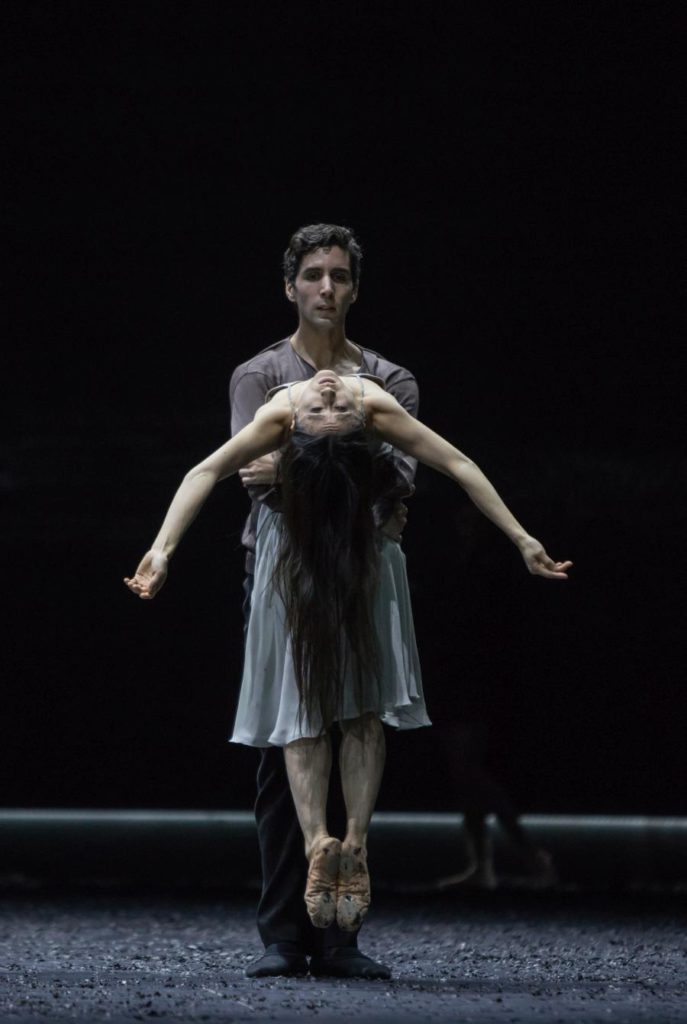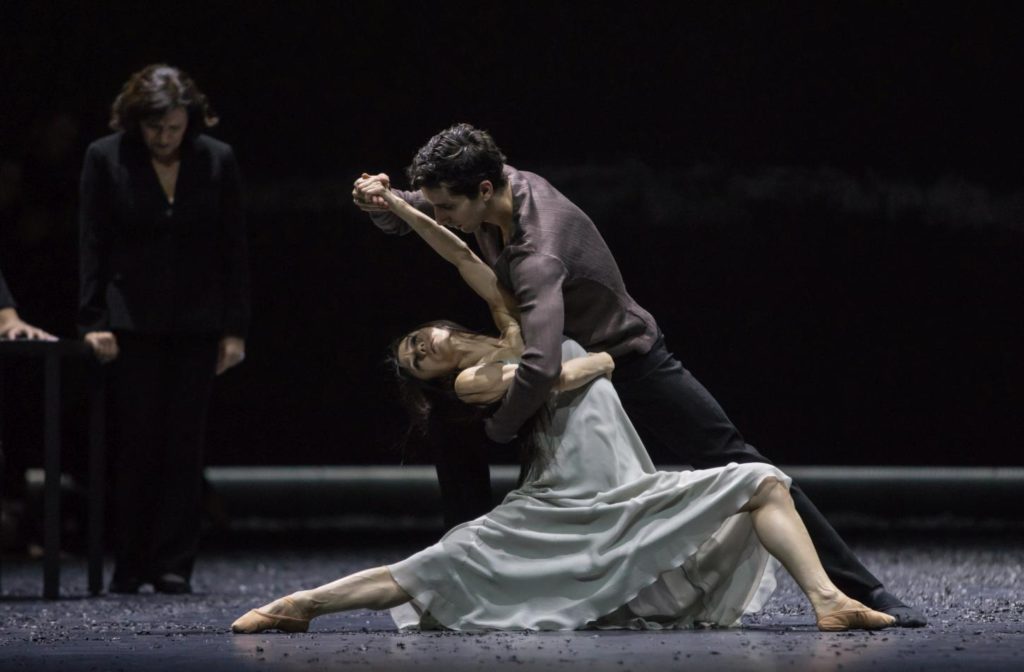 The production's weak points are in Spuck's choreography for his dancers. Indeed he created some haunting moments: William Moore, for example, seemed to fight with fate in two expressive solos; two dancers slid towards the wings on their bottoms like wounded men from the battle field; several times Giulia Tonelli or Katja Wünsche lay or sat on the ground contorting their extremities. But too often the pas de deux and pas de trois were stage fillers, mere decoration to the singers without adding anything to the music's impact. Spuck wasn't shy about borrowing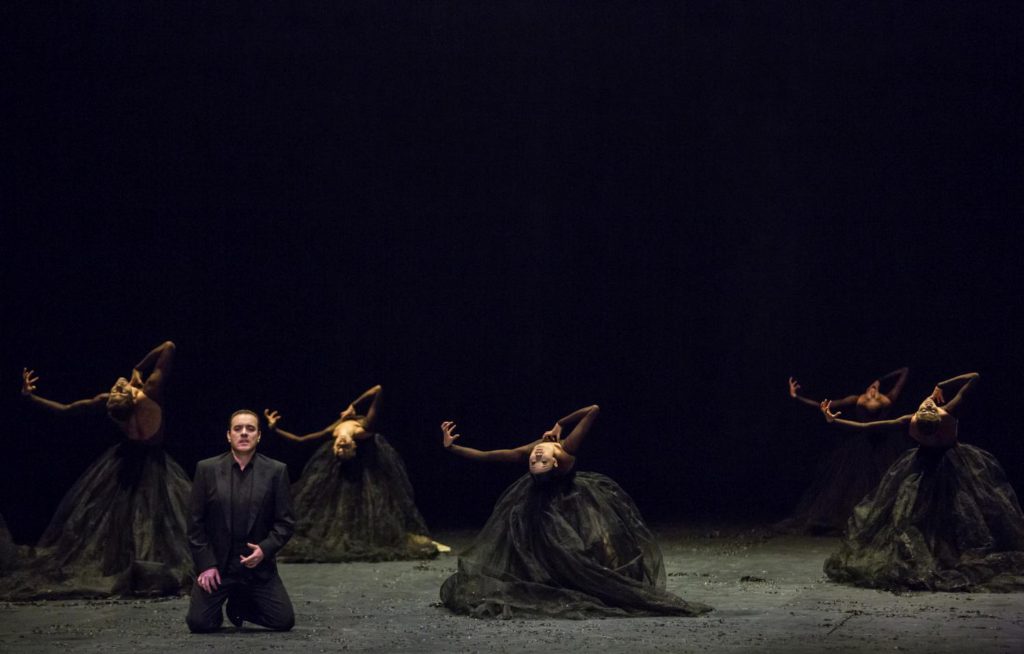 either. The scene with the group of women in crinolines reminded one of Jiří Kylián's "Bella Figura"; the moves of a group of men with bare chests evoked thoughts of Marco Goecke's language and Yen Han and Filipe Portugal could have been imported from a piece by Pina Bausch.
Spuck was right in his initial doubts. His choreography doesn't live up to the music. But would any choreography be able to? Tackling Verdi's requiem was a personal wish of Spuck's. Seen from what he accomplished for the entire house, he did a respectable job.


| | | |
| --- | --- | --- |
| Links: | | Website of Ballet Zurich |
| Photos: | |  (The photos no. 14 and 15 show different solo singers.) |
| |  1. | William Moore and ensemble, "Messa da Requiem" by Christian Spuck, Ballet Zurich 2017 |
| |  2. | Giulia Tonelli and William Moore, "Messa da Requiem" by Christian Spuck, Ballet Zurich 2017 |
| |  3. | Francesca Dell'Aria, Tars Vanderbeek and Jesse Fraser, "Messa da Requiem" by Christian Spuck, Ballet Zurich 2017 |
| |  4. | Anna Khamzina, Alexander Jones and ensemble, "Messa da Requiem" by Christian Spuck, Ballet Zurich 2017 |
| |  5. | Giulia Tonelli and choir, "Messa da Requiem" by Christian Spuck, Ballet Zurich 2017 |
| |  6. | Matthew Knight, Giulia Tonelli, Andrei Cozlac and ensemble, "Messa da Requiem" by Christian Spuck, Ballet Zurich 2017 |
| |  7. | Giulia Tonelli and choir, "Messa da Requiem" by Christian Spuck, Ballet Zurich 2017 |
| |  8. | William Moore, "Messa da Requiem" by Christian Spuck, Ballet Zurich 2017 |
| |  9. | William Moore, "Messa da Requiem" by Christian Spuck, Ballet Zurich 2017 |
| | 10. | Katja Wünsche, "Messa da Requiem" by Christian Spuck, Ballet Zurich 2017 |
| | 11. | Mélissa Ligurgo and Veronica Simeoni, "Messa da Requiem" by Christian Spuck, Ballet Zurich 2017 |
| | 12. | Meiri Maeda, Michelle Willems, Nozomi Iijima, Mélissa Ligurgo, Christopher Parker and Mark Geilings, "Messa da Requiem" by Christian Spuck, Ballet Zurich 2017 |
| | 13. | Filipe Portugal and Yen Han, "Messa da Requiem" by Christian Spuck, Ballet Zurich 2017 |
| | 14. | Yen Han, Filipe Portugal and Krassimira Stoyanova, "Messa da Requiem" by Christian Spuck, Ballet Zurich 2017 |
| | 15. | Francesco Meli and ensemble, "Messa da Requiem" by Christian Spuck, Ballet Zurich 2017 |
| | 16. | Giulia Tonelli, ballet ensemble and choir, "Messa da Requiem" by Christian Spuck, Ballet Zurich 2017 |
| | | all photos © Gregory Batardon 2017 |
|  Editing: | | Agnes Farkas |