"Spartacus"
Bavarian State Ballet
National Theater
Munich, Germany
January 03, 2017
by Ilona Landgraf
Copyright © 2017 by Ilona Landgraf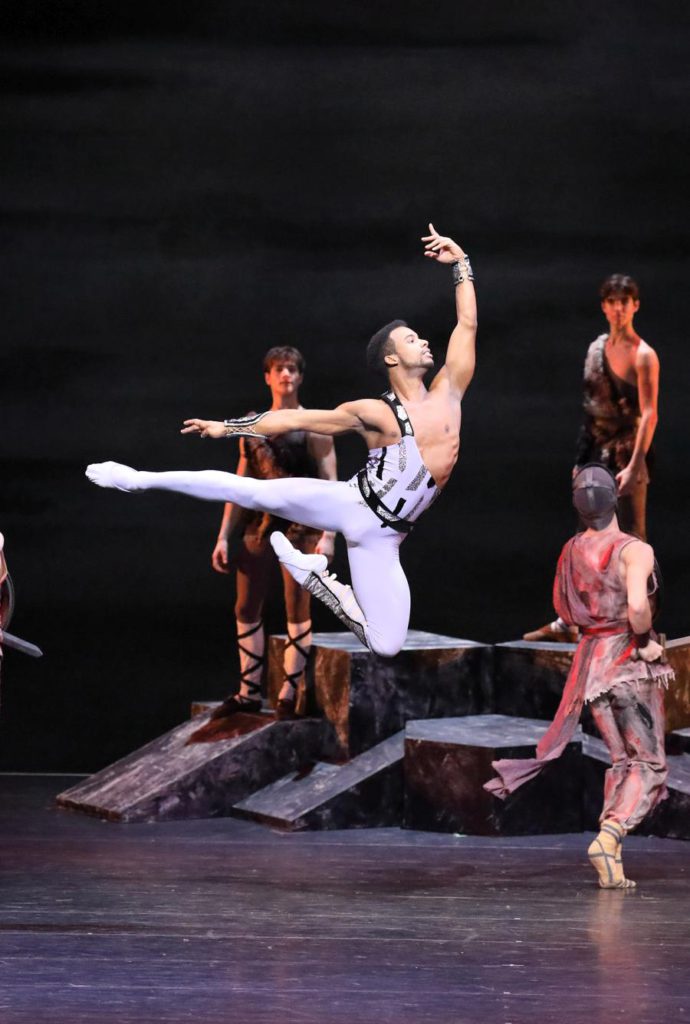 Yuri Grigorovich's "Spartacus" has four leading characters: Spartacus, the heroic fighter for freedom, his antipode, the Roman consul Crassus, and the two men's lovers, Phrygia and Aegina. The dynamics between the four characters varies depending on the dancers. Having already seen the ballet before Christmas, I was curious as to how the dynamics would be re-balanced by another cast. This time Cuban-born Osiel Gouneo danced Spartacus alongside Ivy Amista as Phrygia. Erik Murzagaliyev replaced the injured Matêj Urban in the role of Crassus. Prisca Zeisel was Crassus's concubine Aegina.
Gouneo's Spartacus melded feline suppleness with focused power. He is a fine jumper and turns with elegant ease. With confidence and natural pride, his chest cut through the air like a stately ship's figurehead. His Spartacus was driven by inner visions, by an intense desire which the flash of his eyes also strongly expressed. Gouneo's acting, be it when protecting Phrygia, uniting his fighters or struggling as a captive, was credible throughout. He made Spartacus a charismatic, likeable leader.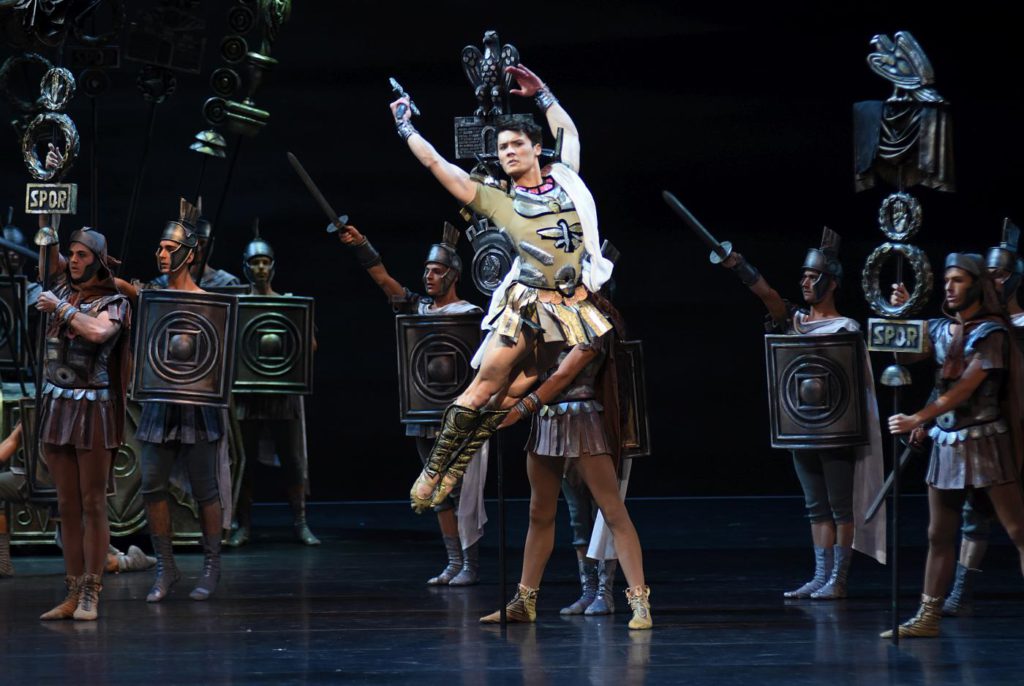 Murzagaliyev, a guest dancer of the company, had danced the role of the gladiator in the first performances, but hadn't been cast as Crassus. He replaced Urban on short notice and premiered in the role on this evening. It wouldn't be fair to judge his performance at this point. He needs time to work on the role's technical challenges as well as on his acting. For now Murzagaliyev portrayed Crassus as a self-aggrandizing man without limits. His authority resulted from rank but not from a strong character. I'm afraid if consistently done this way nothing would come of the story's Roman Empire.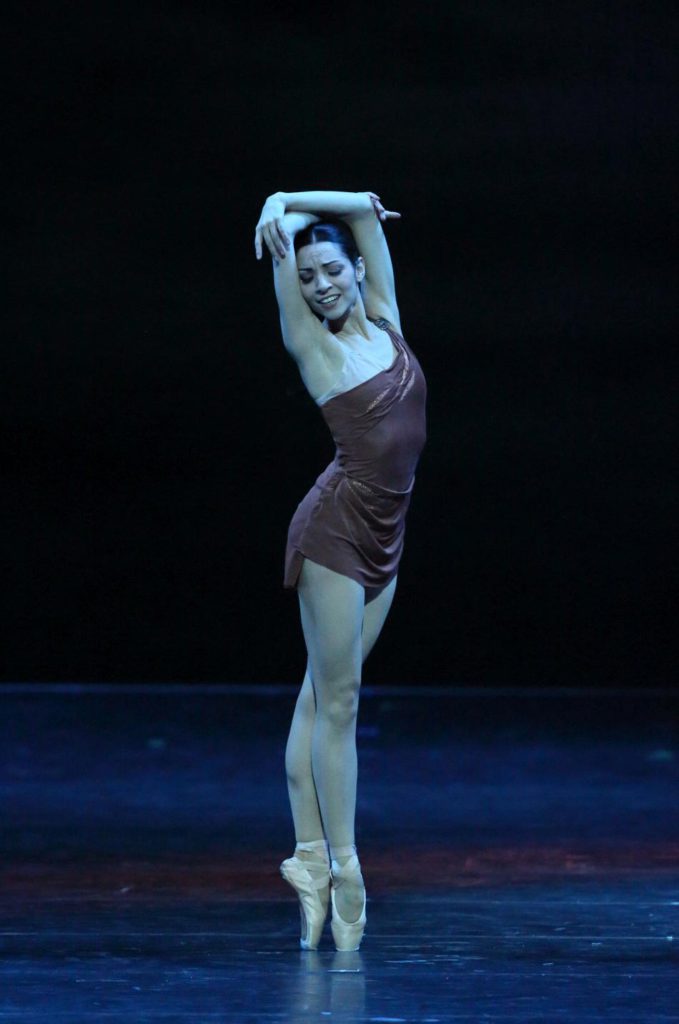 Poignant emotions suffused Amista's dancing. One felt her Phrygia, sensed her desperation, the intensity of her love, heard her silent scream in seeing the dead Spartacus. When Amista spread her arms towards the audience she was truly opening up her heart.
Zeisel is from Vienna. Her Aegina's red hair set in little ringlets draped around her cheeks, her bright confident smile, which she sported throughout, and her overt sexiness reminded me of an Austrian court lady who has abandoned all etiquette. Instead she used her sensuality and voluptuousness to bend men to her wishes. But, when seducing Spartacus's former followers, Zeisel was too openly determined to be really hot. It was interesting to witness how a sly smirk suddenly spoiled her smile in the third act. From then on Aegina had a disgusting Janus-like face.
Compared to the first "Spartacus", the corps was more focused this time when moving in file, though the women weren't always perfectly in sync. Spartacus had a good grip on his fighters, who swung their swords more resolutely than the Romans did. In the scene in which the Thraciens get enslaved, the burden of fate weighing them down should be more visible. As in the last performance, the shepherds and shepherdesses danced briskly with Gianmarco Romano dominating the group.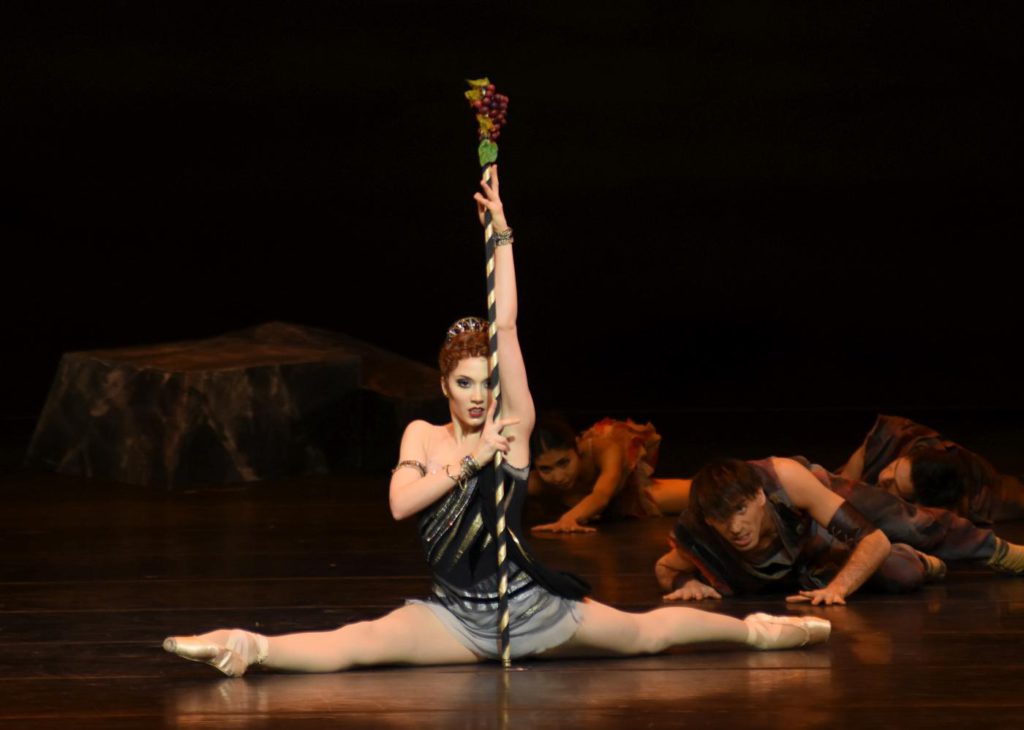 The day after the performance I met Gouneo in the company's rehearsal premises to discuss the role of Spartacus. Whereas Urban, who was cast as Crassus in four performances and also scheduled to guest in the "Spartacus" production in Antwerp, answered some questions about his role in an email. Injury had prevented him from performing at the very last moment. The photos of him were taken during the dress rehearsal.
Osiel Gouneo / Spartacus
How would you characterize Spartacus? What traits of his personality did you want to emphasize?
For me Spartacus is a man with a common sense and, above all, with a sense of freedom. He fights for justice and for his rights which any brave man believing in freedom would do. But it is a bit controversial because I believe that Crassus was no villain. Both Spartacus and Crassus believed in different things and were fighting for different matters. Crassus was fighting for Rome, for the greatness of Rome, for honor and glory. To gain glory he needed to defeat Spartacus, though in reality neither he nor his legions killed Spartacus in the end. It was Pompey.
Unlike Crassus, for Spartacus the most important goal was freedom. In addition he was familiar with the structure of the Roman forces and with their strategy of fighting, which made him a good leader.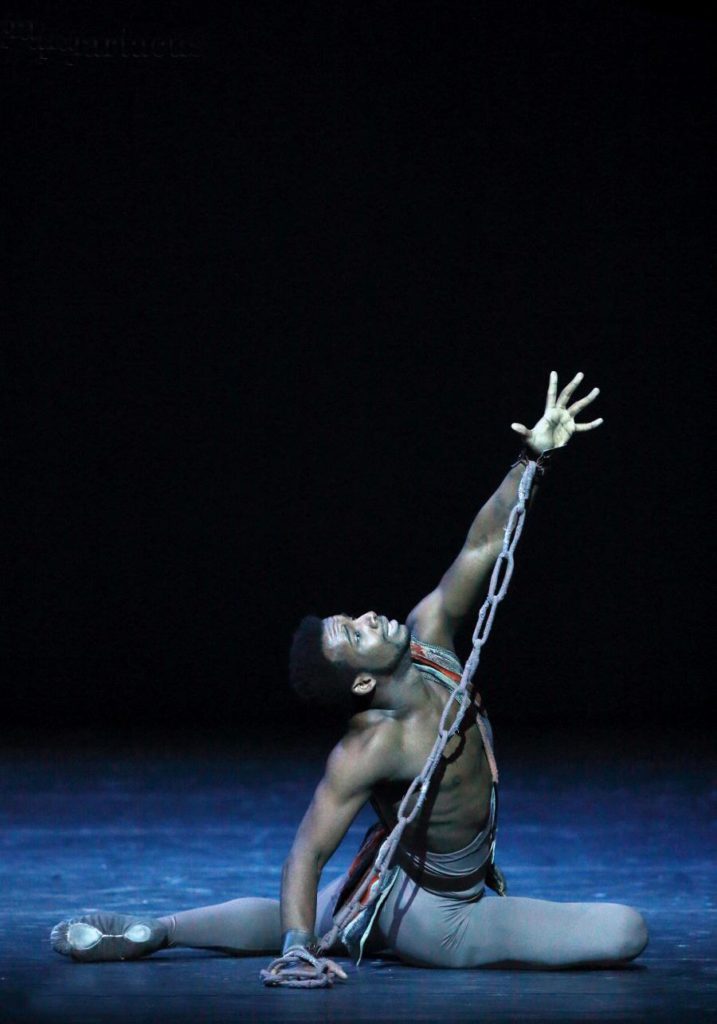 When starting to prepare "Spartacus", I only knew the pas de deux of the third act. But thank God, there is the Starz TV series of "Spartacus", which gave me a closer insight into the characters and their life. That helped me to carve out what I wanted to show onstage. Naturally one can't squeeze the whole life of Spartacus into the choreography, but what I would like to show a little bit more is his close relationship to his own men. The TV series has three men, close fellows of Spartacus, but they aren't represented in the ballet. Also the power structure Crassus was involved in, the web of allies and plotters, is missing. Hence I gathered my colleagues, my fighters, in the studio and talked with them about the choreography. A meeting similar to the ones Spartacus must have had with his fighters.
Regarding the last act, for example, I asked the dancers how they would feel personally and what they would do when being trapped in the corner, when being attacked while having their girlfriends at their side. First they joked but, getting serious, they said, they would fight like crazy. Rome would have put those men either in chains or would have killed them. Consequently, not only Spartacus has to fight, but his men too. The emotions driving them on, the mix of desperation and bravery, had to be mirrored by the dancers' faces. I needed their energetic support in the scene.
Do you think Spartacus is a hero of our time as well?
Wars in the 21st Century are different from the ones back then. Now people fight for one person's ambitions. More like Crassus. I truly believe that the ones like Spartacus are gone. Sadly, yeah.
Up to now you mainly depicted princes and Romeo or Basilio, never an heroic fighter. What challenged you when learning the role of Spartacus?
Right in the beginning of the ballet it is the fact of being a slave and the frustration caused by this. It took me back to my own roots and made me feel what my ancestors were going through when being enslaved. It hurt me but was helpful at the same time. In the first solo, for example, I'm in chains. It's as if being a bird in a cage and one starts to ponder: "Why am I here? I'm an upright man. I've done the right things. How can I get out? What can I do to break free?" But in Spartacus's case all those thoughts turn out pointless.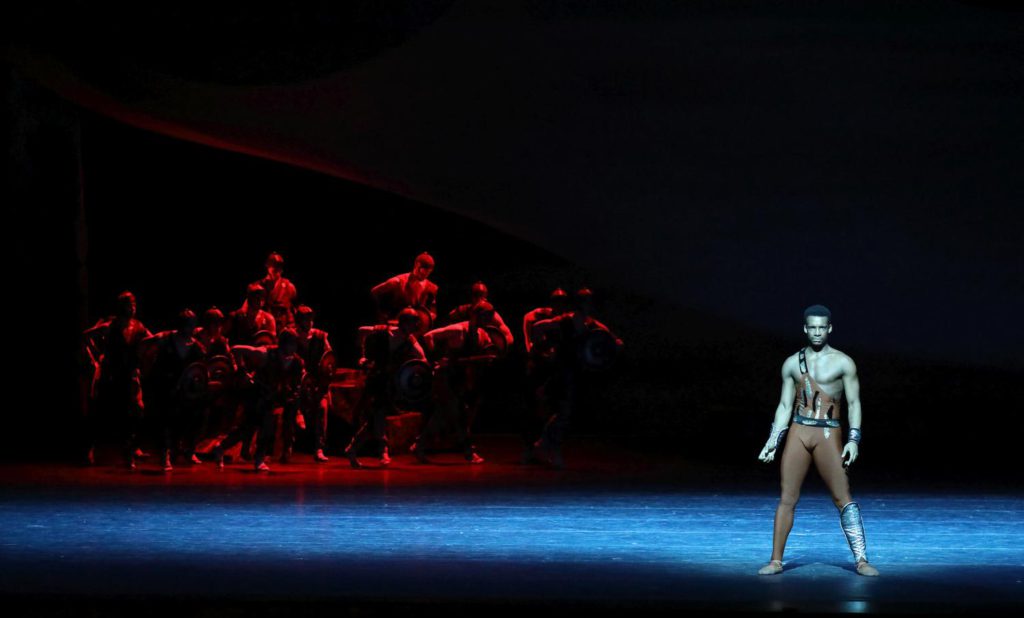 Technically, Spartacus is hard. Not the steps themselves or their complexity, it's rather a matter of stamina. One gets tired and then it's hard to jump as high as when being fresh.
As there is only one direct encounter between Spartacus and Crassus, how important is it who dances the role of Crassus?
It definitely matters. I sense his presence all the time even if he is not on stage. He becomes my enemy the moment I try to break free and he gets to know about it. From then on he is hunting me down and I try to do the same with him. I danced opposite three different casts of Crassus: Sergei Polunin, Jonah Cook and, yesterday, Erik. Each time we talked a lot about the duel scene – the enemies making agreements in advance. [He laughs.]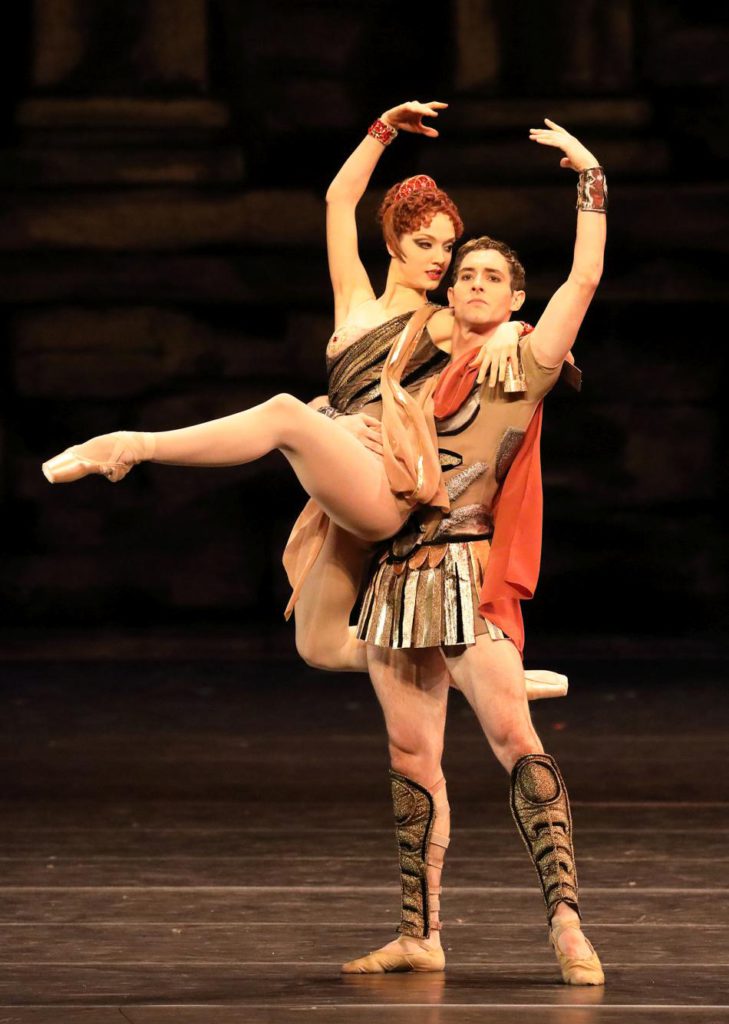 Matêj Urban / Crassus
How would you characterize Crassus and what of his traits do you want to stress?
Ballets don't always follow the history books. They show the story as seen through the lens of the choreographer, the composer, the costume designer, etc. For me Crassus is a crazy, strong willed and proud character, obsessed with himself, money and, ultimately, power. A man born into wealth and shaped by military who enjoys the perks that come with both. Losing to Spartacus one on one in the second act makes him break down, it's a very special, powerful and intimate moment. I've wanted to stress Crassus's humanness in this scene.
What challenged you psychologically, technically and in terms of stamina when getting into the role?
The role of Crassus demands a massive amount of stamina, he is active almost throughout the whole ballet. Grigorovich expresses Crassus's traits through many jumps and held positions. Not every ballet is so physically demanding and it was a challenge to build up the stamina over the rehearsal period. Many of those jumps aren't part of daily class and are also rare in our repertory. It was fun trying to master them … one day I just might.
Some traits within Crassus's character are not explicitly expressed through the steps, the music or his costume. For example in the beginning of the third act when Crassus's pride is broken and he is trying to recover. I had to find my way to imbue those moments with meaning, to make the psychology behind visible.
You got along very well with Ruslan Pronin, who came over from the Bolshoi to rehearse the piece. What was special in working with him?
I enjoyed working with Mr. Pronin. His profound knowledge of the piece, of its style, of its characters' particularities is extraordinary. He was able to guide us through the development of our characters, respecting the choreographer's wishes,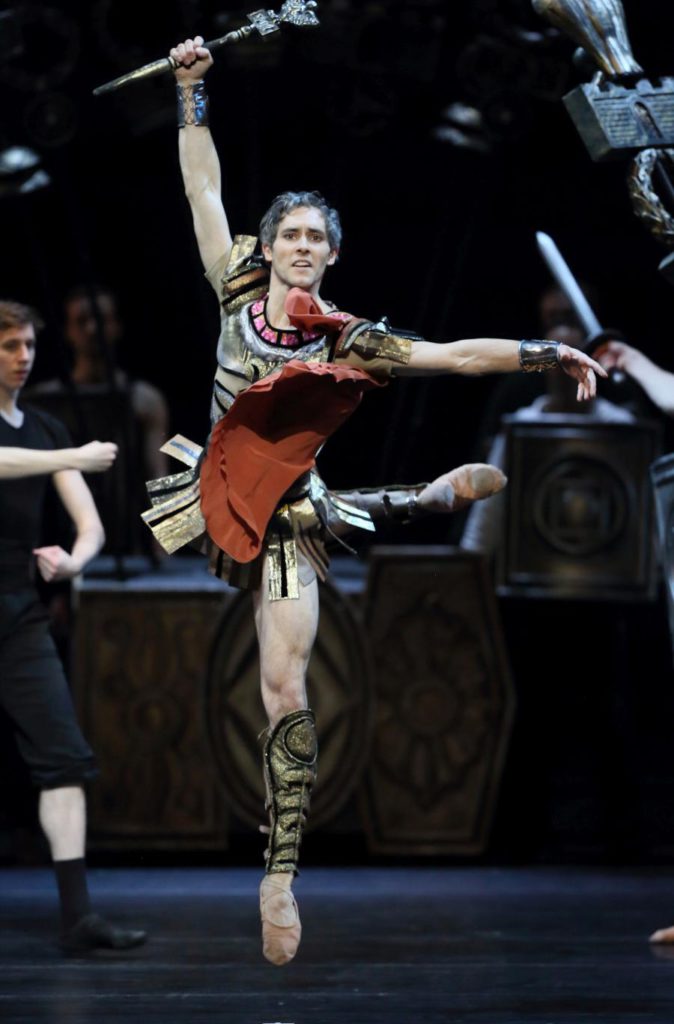 his own knowledge and experience while at the same time giving each of us space to make the role our own. Mr. Pronin is extremely energetic, a strong character, very demanding, yet open minded. We discussed the character, he has lots of information and ideas about Crassus, and he knows exactly how Grigorovich wants the role to be done.
The only direct encounter between Crassus and Spartacus happens at their duel. What thoughts flash through your mind the moment you face Spartacus? How is your feeling at the end when stepping on stage and seeing him already speared?
I think prior to the duel in the second act Crassus has been fighting an image of his opponent in his mind. The moment he comes face to face with the real person, Crassus gets intimidated but keeps his face by not showing fear. Crassus gets captured and it would be very easy for Spartacus to simply terminate him and make an end to being repressed. Yet Spartacus remains fair and tosses Crassus a weapon. A gesture I don't believe would be reciprocated had the roles been reversed. To me this makes Crassus deem Spartacus a worthy opponent. Crassus has a very high opinion of himself and having an opponent of equal strength is satisfying.
In the final scene Crassus feels he has accomplished what he was after, killing the leader of the revolt. Unlike what history says, the ballet suggests that Spartacus is killed by Crassus, not man to man but upon his order. When Crassus joins in with his sword it is a symbolic gesture. He can claim credit for Spartacus's execution.
(The interviews have been edited for clarity.)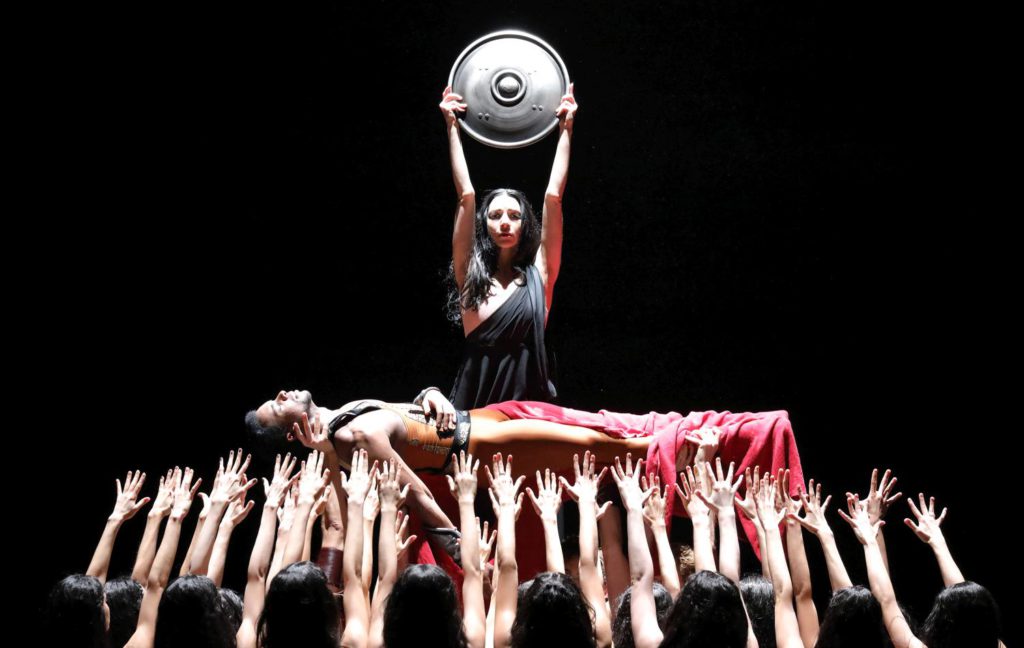 Links:
 

Website of the Bavarian State Ballet

 Photos:
 1.
Osiel Gouneo (Spartacus) and ensemble, "Spartacus" by Yuri Grigorovich, Bavarian State Ballet 2017
 2.
Erik Murzagaliyev (Crassus) and ensemble, "Spartacus" by Yuri Grigorovich, Bavarian State Ballet 2017
 3.
 Ivy Amista (Phrygia), "Spartacus" by Yuri Grigorovich, Bavarian State Ballet 2017
 4.
Prisca Zeisel (Aegina) and ensemble, "Spartacus" by Yuri Grigorovich, Bavarian State Ballet 2017
 5.
Osiel Gouneo (Spartacus), "Spartacus" by Yuri Grigorovich, Bavarian State Ballet 2017
 6.
Osiel Gouneo (Spartacus) and ensemble, "Spartacus" by Yuri Grigorovich, Bavarian State Ballet 2017
 7.
Prisca Zeisel (Aegina) and Matêj Urban (Crassus), "Spartacus" by Yuri Grigorovich, Bavarian State Ballet 2017
 8.
Matêj Urban (Crassus) and ensemble, "Spartacus" by Yuri Grigorovich, Bavarian State Ballet 2017
 9.
Osiel Gouneo (Spartacus), Ivy Amista (Phrygia) and ensemble, "Spartacus" by Yuri Grigorovich, Bavarian State Ballet 2017
all photos © Wilfried Hösl 2017
Editing:
Laurence Smelser