"Giselle"
Bolshoi Ballet
Bolshoi Theatre
Moscow, Russia
February 18 / 19, 2017
by Ilona Landgraf
Copyright © 2017 by Ilona Landgraf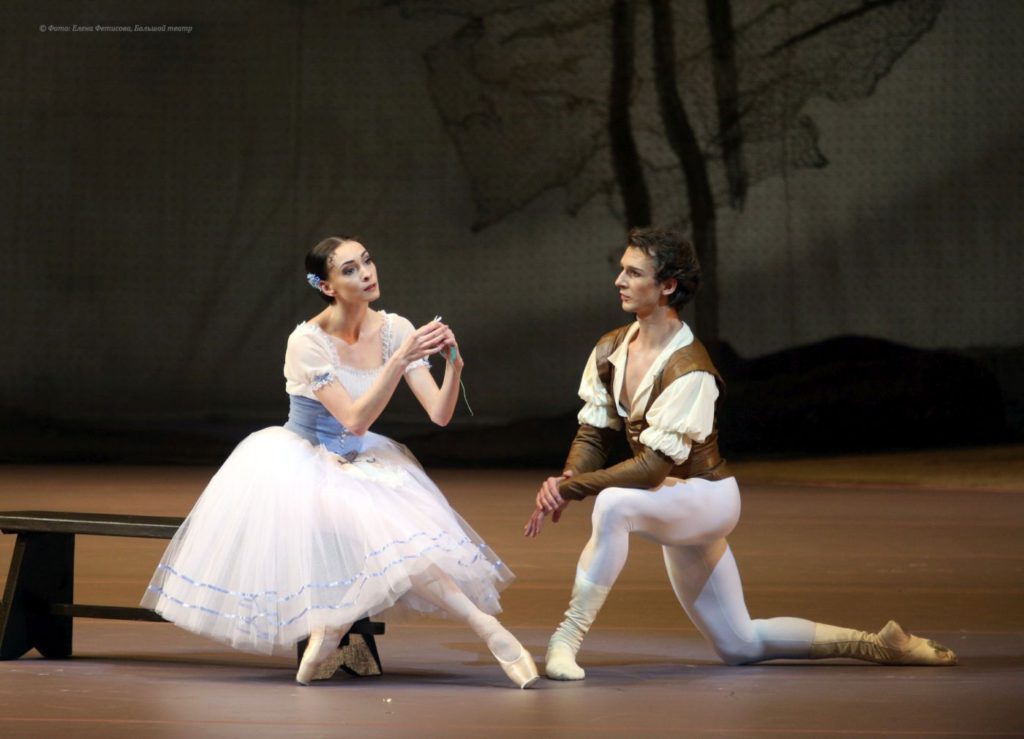 "Giselle" is in the core repertory of almost every ballet company, whether in a modern interpretation or a traditional one. The Bolshoi even holds two traditional versions, one by Yuri Grigorovich, the other by Vladimir Vasiliev. Vasiliev's 1997 "Giselle" follows the earlier versions of Leonid Lavrovsky and Alexander Gorsky. Earlier in 1987 Grigorovich had instead traced the choreographic lineage directly via Marius Petipa to Jules Perrot and Jean Coralli's 1841 original. In honor of the 90th anniversary of Grigorovich's birth, the Bolshoi presented three performances of his "Giselle" as part of the Grigorovich ballet festival, of which I saw two matinées with different casts.
The Bolshoi's historic stage is big, the scenery by Simon Virsaladze a marvel. Sun yellow crowns of trees vault the first act's rural idyll. It is autumn. Between a little crooked farmhouse on the left side and an even smaller cottage on the right spans a broad yard. The footbridge behind the farmhouse might lead to the open countryside. It later provided members of the hunting party an effective entrance. Some of them blew hunting horns, others carried falcons with red-yellow head caps or paraded with spears imposing enough to bring down a wild boar. Here the romance between the young village girl Giselle and Count Albrecht unfolds, and here, in the midst of hunters and peasants, love will suddenly turn into fatal disaster.
For the second act, the curtain opened to reveal the village's graveyard in a winter night. A stone cross with Giselle's name marks her grave in the left foreground. Between the mist-shrouded tree trunks of the surrounding forest stands the cross of another grave. Grigorovich's Giselle is a girl with a frail heart. When discovering Albrecht's fraud she dies of a of a broken heart, a heart failure, but doesn't commit suicide. Hence, being buried in consecrated ground wasn't denied her.
Costumes, also by Virsaladze, roughly recall the fashion of the last third of the 18th century. Warm, muted autumnal colors dominate in the first act; fabrics range from heavy velvet to delicate muslin, accessories attest to taste.
Little flickering blue and yellow lights in the shrubbery heralded the Wilis' arrival on the courtyard. Myrtha, their queen, had a white tiara, while white wreaths decorated the Wilis' hair. Unlike other productions, the maiden ghosts weren't veiled. Upon Myrtha's summons Giselle arose from her grave, but I wished she had parted through the wings at the story's end rather than sinking down in her grave again. She deserved to ascend to a higher realm. I would also have eschewed the scene in which Giselle stood in the branches of the skeleton of a tree, which suddenly tilted out of the left wing. From it, she threw flowers down to the grieving Albrecht. It is a nice idea, but, afraid that the prop might break, I was always scared.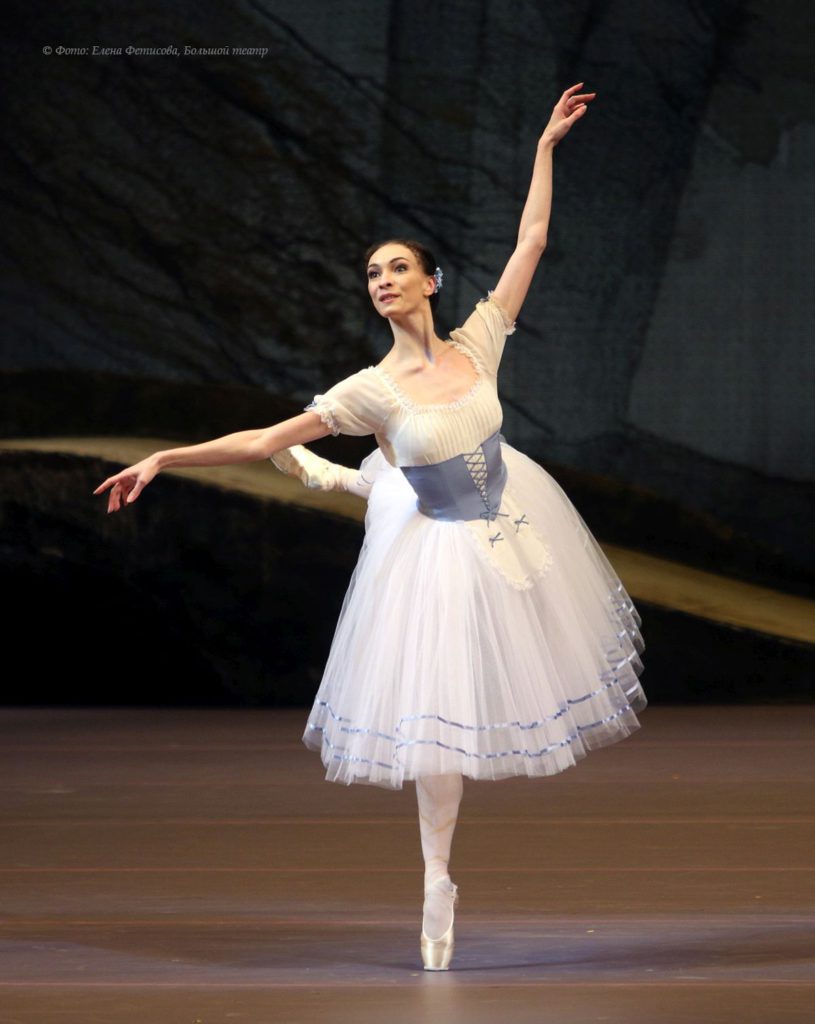 A huge stage requires one to dance full out and project a proper stage presence. Both seem to be second nature to the Bolshoi dancers. In the matinée on Saturday the 18th, Anna Nikulina danced the title role. Her Giselle cast her eyes shyly down. Growing up with the awareness of having a frail health had curbed her carefree enjoyment of life. Though fondly attached to the village folk, her mother Berthe (Anastasiya Vinokur) and the gamekeeper Hans (Andrei Merkuriev), for whom Albrecht's appearance ended her love, she was introverted. Her romance with Albrecht (Alexander Volchkov) made her come out of her shell, gave her flashes of exuberance. I liked the cheekily flirtatious gesture with which she pulled her skirt away from Albrecht's face as she sat on his shoulders so that he could see his way. Also the intimate moment when they were leaning shoulder to shoulder, so absorbed with each other that dance became secondary.
Nikulina's mad scene was poignant, intensified by the villagers' waves of compassion. Later transformed into a ghostly spirit, she hovered across the ground as if carried by the air. I have seen several Giselles but none of them so weightless, barely touching the ground, or so close to being in a trance. Nikulina took endless time to develop a phrase, a port de bras, an arabesque, and made every second of it eloquent.
The character of Volchkov's Albrecht was difficult to comprehend. Behind a kind, slightly blasé facade, he showed barely a hint of remorse when he was unmasked as betrothed to Bathilde (Vera Borisenkova). Whom did he actually love? Did he even know that himself? When forced to dance by the Wilis, the vigor of his daring large scale jumps clearly revealed him to be a young man pulsating with life, though exhausted, unlike the ethereal ghosts.
On Sunday, Olga Smirnova gave her debut as Giselle alongside Semyon Chudin as Count Albrecht. A very well attuned couple onstage, their romantic flirtation developed so infectiously that one watched them with a happy smile, suppressing any thought of looming disaster. Smirnova's Giselle was natural, cheerful and, maybe precisely because she was well-behaved, an attractive beauty for Albrecht. Her jumps had ease, the softness of her dancing competed with the delicacy of her skirt. Seeing her go through an exuberant manège of pique turns or a series of pirouettes and then, from full pace, suddenly sink down on one knee, graceful and calm like a snow flake, was stunning.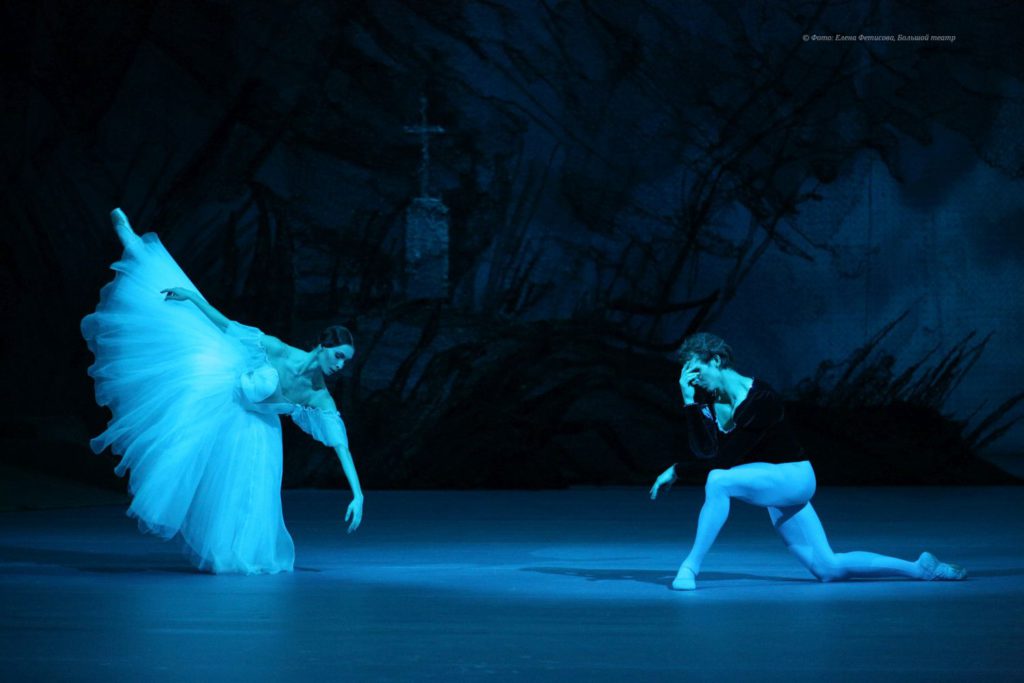 Distraught over Albrecht's deception, Giselle frantically tore off the necklace Bathilde had presented her, broke down and slid to the floor, struck by horror. One knew this was a shock too fundamental to go without consequences. To entirely plumb the existential breakdown of the ensuing mad scene I believe the dancer needs to get hold of the attitude, which will give her the right perspective to find the right door inside of herself, bravely hit its handle and pass the threshold. In Stuttgart, for example, Giselle stands with her back to the audience, hiding her face for a moment before getting into the mad scene. Grigorovich made it more difficult. His Giselle stands in half profile to the audience. She has no opportunity to withdraw and collect herself. To stick to the comparison with the door, Smirnova didn't pass it but reverted to skillful acting.
In the second act one felt Smirnova's Giselle's strong will to protect and save Albrecht. Her sadness was profound. Yet she had forgiven him the moment she had risen from her grave, whereas Nikulina's Giselle only found ultimate peace with Albrecht in the final moment, when he cradled her.
Chudin has the rare talent to make one forget that he is playing a role. He is genuine, full of refreshing, sometimes stormy spontaneity, intensely present and conclusive in every action. His Albrecht was led by emotions. He wanted Giselle, nothing could have held him back from getting her and that he dealt dishonestly with her never even entered his mind. Though he bent his head over Bathilde's hand, he didn't kiss it. His heart belonged to Giselle, which he made palpable throughout. Unlike Volchkov, who left the dead Giselle in the arms of her mother and ran offstage, Chudin held his Giselle, stricken by bitter anguish. In his performance nothing happened without reason. His entrechats, for example, were not merely a display of prowess but meant to lessen Myrtha's staunch determination to destroy him.
Saturday's Myrtha was Yulia Stepanova, whose commanding forefinger reigned like a scepter over the Wilis as well as men. She was merciless but not due to her own motivation. She rather brought a natural principle into effect: guilt gets punished. On Sunday, Angelina Karpova was a more imperious Myrtha. When ordering her Wilis to give the exhausted Hans (Denis Savin) the deathblow casting him down into the lake she seemed self-satisfied: "Yet another is done for!"
Anastasiya Shrayner and Kseniya Zhiganshina were Zulma and Moyna on Saturday, On Sunday Ana Turazashvili and Viktoriya Yakusheva danced the roles. All four gave fine, immaculate interpretations.
Both, Savin and Merkuriev portrayed Hans as a honest soul. One felt sorry for him when he walked right into the Wilis' trap. Each couple of the peasant pas de deux (Margarita Shrayner and Mikhail Kemenov on Saturday / Bruna Cantanhede Gaglianone and Artur Mkrtchyan on Sunday ) exuded joie de vivre and youthful ease.
The corps was marvelously in line, vivid in the village scene and an unapproachable and forceful union of Wilis at the churchyard. Watching their arms wave in sync like sea anemones gently moving in the water, watching the beautifully harmonious patterns they went through, I wondered what this does to the psyche of the spectator.
Recently, at the international Ballet Conference at Dutch National Ballet, one topic was the dance heritage. Should the classics be kept or replaced? Discussions were lively, but do we even comprehend what would be lost when abandoning them?
In both performances the Bolshoi Orchestra played under the baton of Alexei Bogorad, who made the finest nuances of Adolphe Adam's score resonate. Especially on Saturday music and dance miraculously merged to such a unity that I even forgot about the existence of the orchestra in the pit. Only one thing was left: Giselle's story.
On the occasion of the Grigorovich festival many photos and some costumes of his productions are currently on show in side rooms of the Bolshoi Theatre. They saw many visitors during the breaks.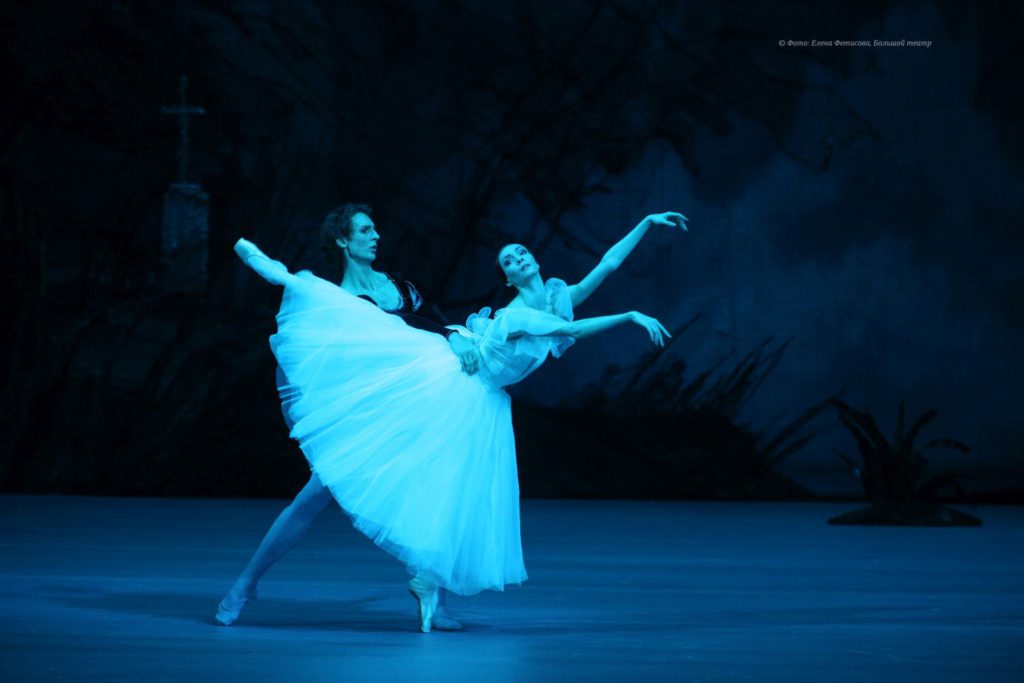 | | | |
| --- | --- | --- |
| Links: | | Website of the Bolshoi Theatre |
| Photos: |  1. | Olga Smirnova (Giselle) and Semyon Chudin (Count Albrecht), "Giselle" by Yuri Grigorovich after Jean Coralli, Jules Perrot and Marius Petipa, Bolshoi Ballet 2017 |
| |  2. | Olga Smirnova (Giselle), "Giselle" by Yuri Grigorovich after Jean Coralli, Jules Perrot and Marius Petipa, Bolshoi Ballet 2017 |
| |  3. | Olga Smirnova (Giselle) and Semyon Chudin (Count Albrecht), "Giselle" by Yuri Grigorovich after Jean Coralli, Jules Perrot and Marius Petipa, Bolshoi Ballet 2017 |
| |  4. | Semyon Chudin (Count Albrecht) and Olga Smirnova (Giselle), "Giselle" by Yuri Grigorovich after Jean Coralli, Jules Perrot and Marius Petipa, Bolshoi Ballet 2017 |
| | | all photos © Bolshoi Theatre / Elena Fetisova 2017 |
|  Editing: | | Laurence Smelser |