"Frank Bridge Variations / Short Time Together / Symphony of Psalms"
Bolshoi Ballet
Bolshoi Theatre
Moscow, Russia
March 02, 2017
by Ilona Landgraf
Copyright © 2017 by Ilona Landgraf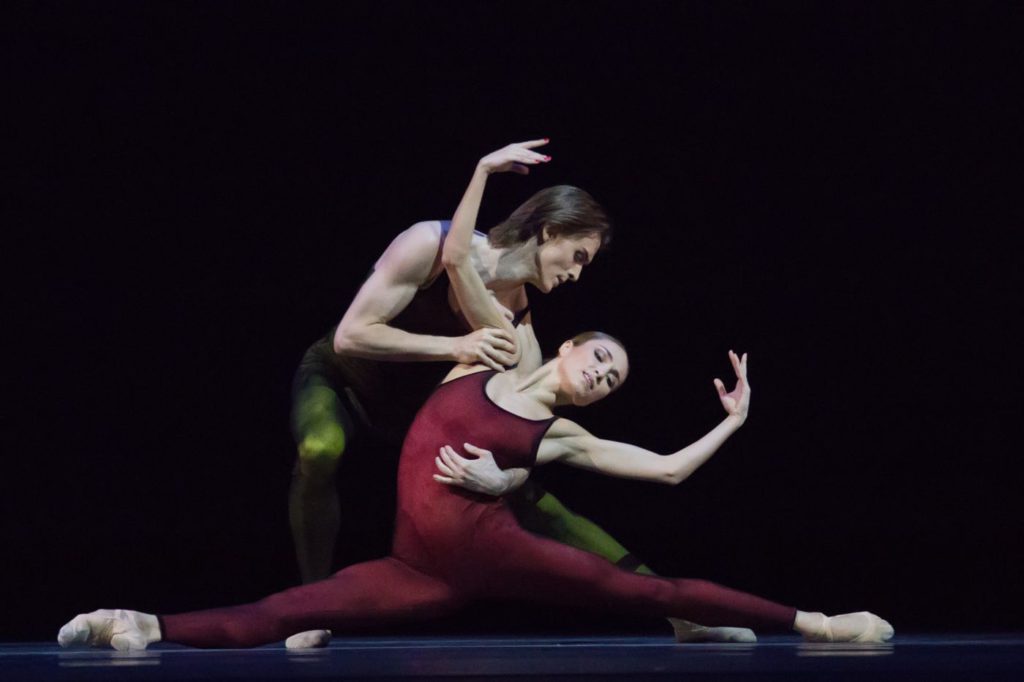 Reading the names of choreographers Hans van Manen, Paul Lightfoot and Jiří Kylián as part of the same program one immediately thinks of a performance in Amsterdam or Den Haag, or maybe also in Germany. Yet this triple bill was the Bolshoi's. It's a menu that's not quite so familiar for the Moscow audience. Applause was respectable, though not overwhelming. The dancers, however, were in great shape!
Three weeks ago I saw Dutch National Ballet perform "Frank Bridge Variations". What are the differences between their interpretation and the Bolshoi's? First, the Bolshoi's huge Historic Stage emphasized Van Manen's clarity and minimalism. It also enhanced the visual impact of Keso Dekker's simple, green, claret and dark leotards and of Bert Dalhuysen's clever lighting. Second, at the Bolshoi more emotions surfaced and were layered into the precise moves. Whereas the Amsterdam dancers controlled expressivity tightly, the Russians' movements were more telling. A certain smile, a glance, the way the head was turned – such hints showed the subtle texture of relationships and of the emotional life beneath the surface. Third, even when the Russians' attack was sharp, one sensed an underlying pliancy. It was like chocolate that you know has tender caramel within the crisp coating. The Dutch dancers won't permit you to look under their skin.
The leading couple, Ekaterina Shipulina and Denis Rodkin, made the forces of their relationship physically palpable. Traces of their moves remained in the air like jet trails. Melancholy, with a hint of earnestness, imbued their second pas de deux, in which I especially liked the intimate ending with Shipulina crouched safely in Rodkin's arms as he carried her offstage. In his solo, Rodkin was the charming swaggerer, finding the right balance between cockiness and curbed vigor.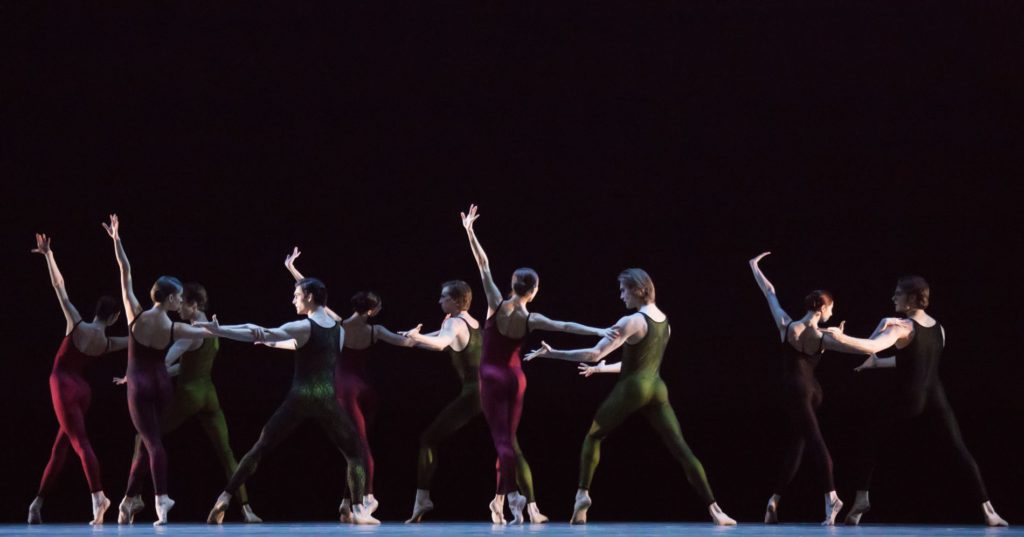 The flirtatiousness of the second couple, Anastasia Denisova and Artur Mkrtchyan, was heartwarming to watch. Arms open, hands and fingers stretched, they seemed to teasingly ask each other: "Hey, what do you actually want?!" In their second duet, Denisova seemed occupied by her inner world, by some process within herself. Yet, once or twice, she suddenly resurfaced, looked up and her eyes met Mkrtchyan's. He was a caring, tender partner, hardly taking his eyes off her. A few times he partnered by holding her at the neck. On the one hand, this grip unpleasantly turns a woman into a submissive doll, on the other it signals mutual trust. Moreover, Mkrtchyan was anything but the dominant macho. His solo, though, was unremarkable. It lacked sharpness and the imminence of a feeling ready to explode.
The rectangular patterns of the corps' funeral march (music by Benjamin Britten: "Variations on a Theme by Frank Bridge"), were built of simple yet effective sequences of walking. The walking became more stunning the more I watched it. Also the women's short, sudden splits when lifted stick in my mind. They were little firecrackers going off.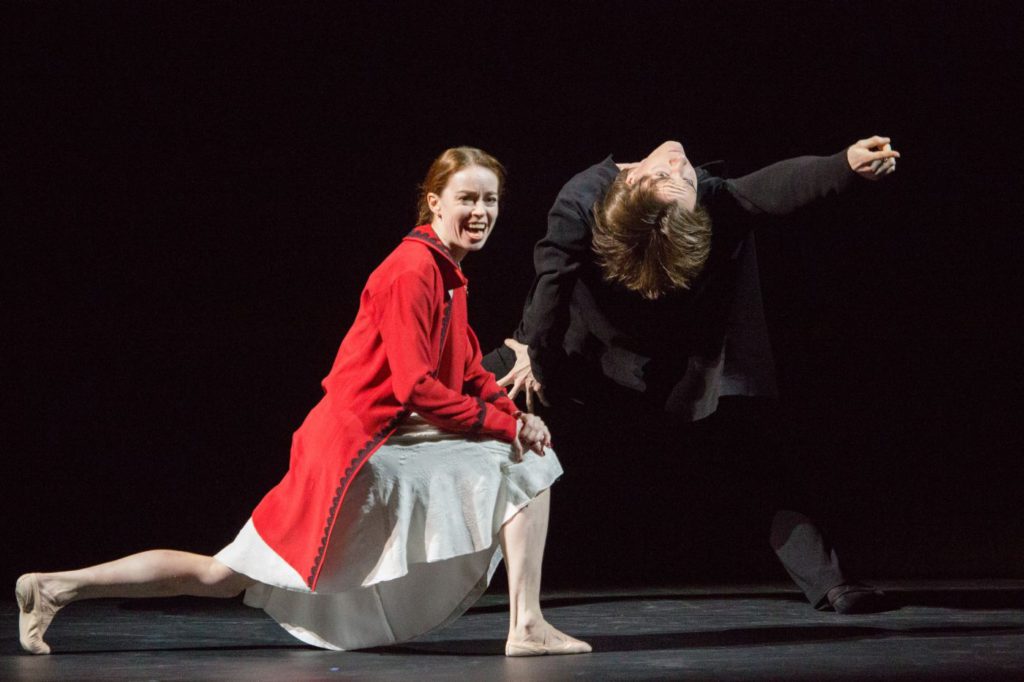 Seeing two men with slightly hunched shoulders, one (Vladislav Lantratov) in a dark suit and the other (Denis Savin) in a light suit, one recognizes the posture as having the imprint of Nederlands Dans Theatre. NDT's choreographic duo, Sol León and Paul Lightfoot, created "Short Time Together" for Dutch National Ballet in 2012. Last year, the Bolshoi took the piece into its repertory where, from my perspective, it sits like an alien element. Its mix of dance theater, vaudeville and the weirdness of the guys it depicts are refreshingly perplexing. Savin and Lantratov seemed to portray the same person, but Lantratov a younger man and Savin the same individual grown old. Ekaterina Krysanova, in a white dress and red coat, might have been this man's lover. Actually, with León and Lightfoot, one never really finds out precisely what their ideas mean.
Krysanova gesticulated like a deaf-mute, later laughed out loud and at one point shambled like an old crone. Is that what life makes out of people? "Short Time Together" is about getting older, about memories, about looking back and accepting one's life, about the preciousness of the moment – which is gone with the next breath. A surreal video by León and Rahi Rezvani was projected on the backdrop. It mirrored and intensified the melancholic atmosphere onstage and depicted encounters between a man and a woman at different times of their lives. It also showed encounters with oneself and memories of being young.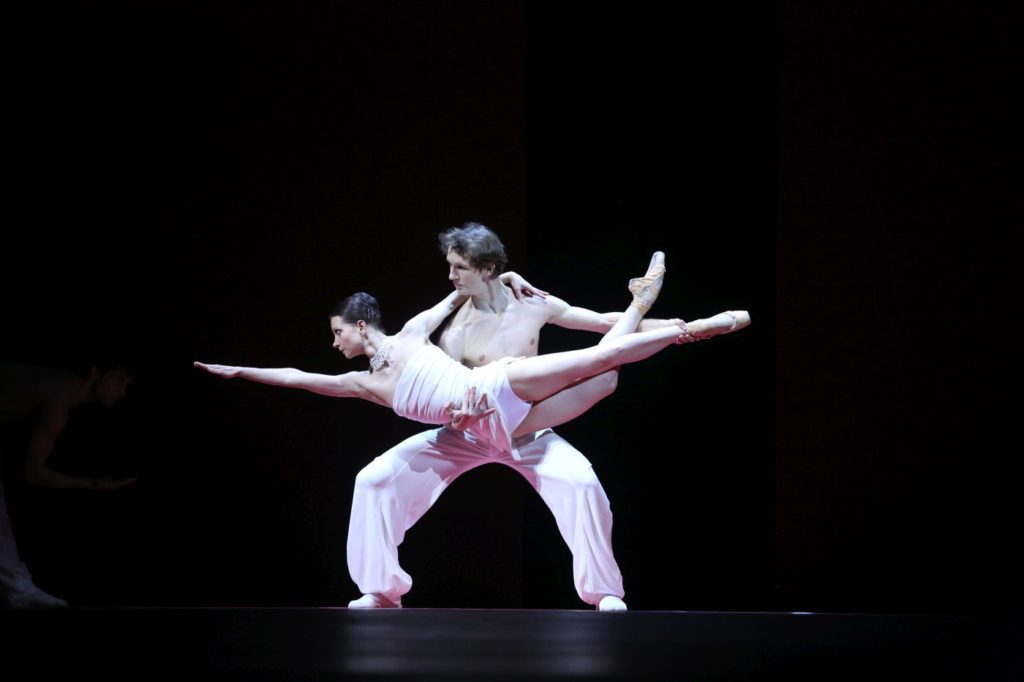 Krysanova, Lantratov and Savin were figures of, let's say, real life, bare and without gloss. Contrasting with their reality was a pink glitter world, populated by the wealthy and successful high flyers with polished facades. Nina Kaptsova was this world's smug, spoiled diva; Igor Tsvirko and Dimity Dorokhov her youthful swanky admirers and Semyon Chudin her smart, swift and sleek companion. Quirkiness was their collective trait. While Chudin soared high like an elegant seagull, and found endless ways to lift Kaptsova, she held her arabesque like an officer at attention but otherwise became easily bored.
The music by Max Richter and Ludwig van Beethoven included the sound of a thunder shower and several sequences of silence, putting the audience's attention to the test. Especially during a longer pas de deux without music by Krysanova and Savin, the audience became restless. A smart phone went off, but Lantratov, who was standing in the corner watching the dance, had one hand in his pants pocket. So we assume it was his phone that rang.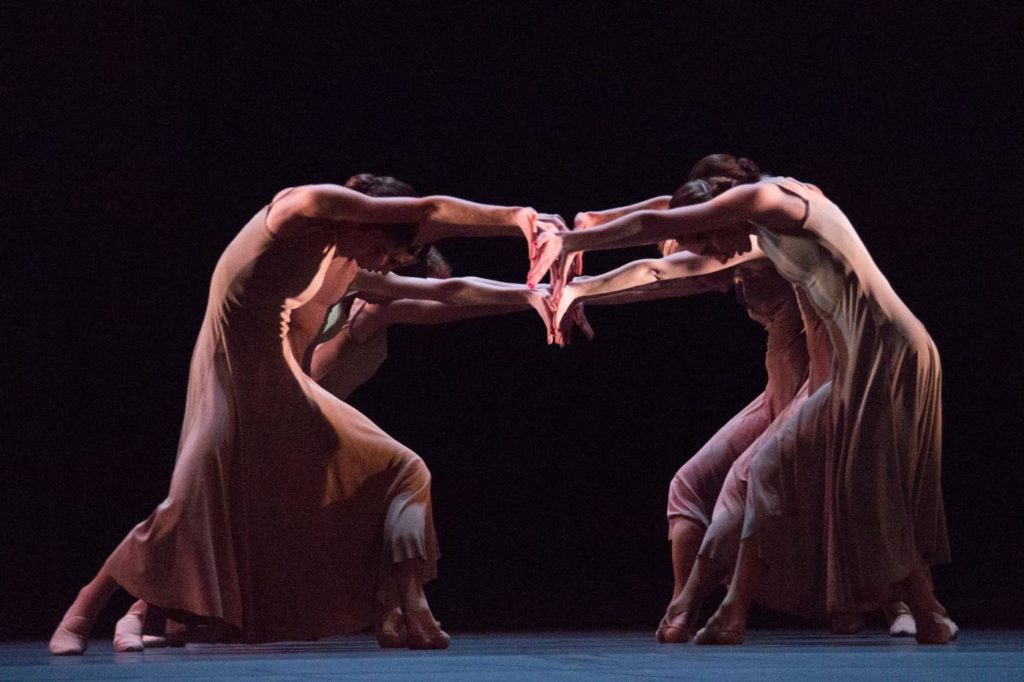 Kylián created "Symphony of Psalms" in 1978 for NDT, three years after he had become the troupe's artistic director. It is a group piece for sixteen dancers set to Igor Stravinsky's composition of the same title. The psalms, sung by the Moscow Conservatory Chamber Choir, deal with human frailty and with gratitude towards God, and praise for Him amongst others, praise "with the timbrel and dance". Overall, the music is gloomy. Kylián placed the dancers within a large rectangular space, which they outlined by either standing (on the floor or on chairs) or sitting. Often they faced away from the audience.
The group moved in linear architectural patterns or fanned out from the line. Also, the dancers formed aisles, their arms held in fragile forms reminiscent of ornate wrought-iron fences. They lay on their stomachs on the floor or stood in pairs, the arms of the men stretched to the sides like a field of crosses. Sometimes individuals dropped out from the unison but were attentively reintegrated. Repeatedly, various pairs danced a pas de deux framed by the others. One of them had a touch of Cossack dance, whereas the remaining ones were rather conventional. Among the ingredients often found in Kylián's pieces were the flexed foot, sliding across the floor and women throwing themselves into men's arms as if jumping from a cliff into the sea.
"Symphony of Psalms" ended with the dancers slowly walking backwards to where darkness swallowed them.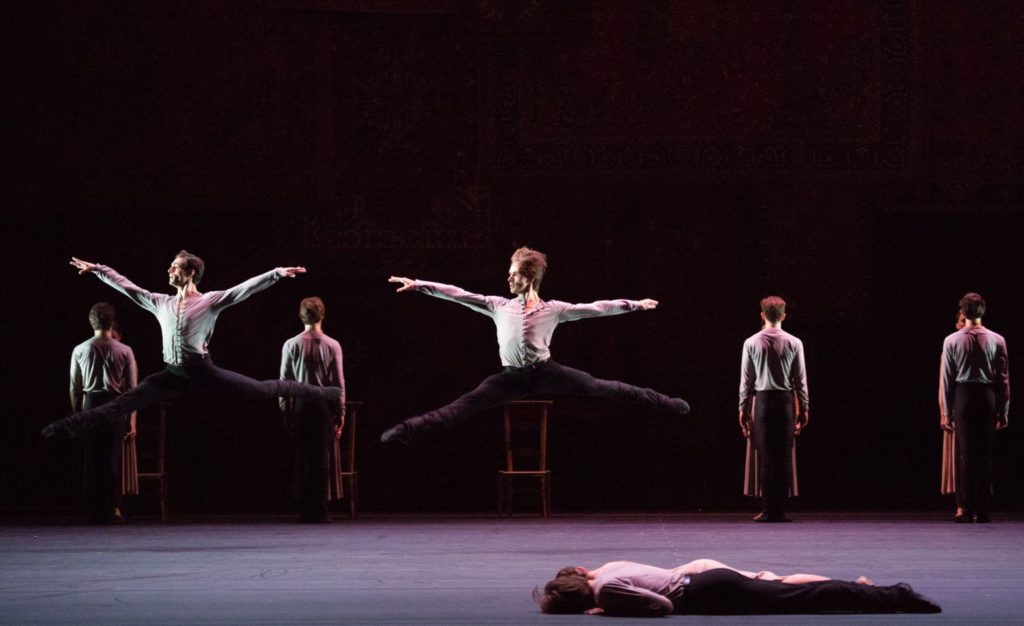 Set designer William Katz's backdrop at first looked like a cubistic painting by Paul Klee, but with better lighting, turned out to be an assemblage of patterned carpets, prayer mats maybe. Costumes by Joop Stokvis included simple bright brown dresses for the women and black pants plus white shirts for the men.
Why "Symphony of Psalms" didn't radiate much energy on this evening might have its reasons. Kylián, when he made the piece, had wanted to strengthen the team spirit of his own, small company. The Bolshoi is a large company with a different dynamic. Moreover, unlike Van Manen's works, Kylián's pieces seem to age. Forty years ago his style was fresh, now it is familiar, sometimes too familiar. I cannot judge about how the ballet would look when danced by another company, but I found no fault was with the dancers. They were committed as ever.
At the conductor's podium of the Bolshoi Orchestra stood Pavel Klinichev, who made me admire not only the excellent rendition of the music but also the fine acoustics of the theater.
Links: 

Website of the Bolshoi Theatre

Photos:

 1.

Denis Rodkin and Ekaterina Shipulina, "Frank Bridge Variations" by Hans van Manen, Bolshoi Ballet 2017

©

Mikhail Logvinov / Bolshoi Theatre

 2.

Ensemble, "Frank Bridge Variations" by Hans van Manen, Bolshoi Ballet 2017

©

Mikhail Logvinov / Bolshoi Theatre

 3.

Ekaterina Krysanova and Vladislav Lantratov, "Short Time Together" by Sol León and Paul Lightfoot, Bolshoi Ballet 2017

©

Mikhail Logvinov / Bolshoi Theatre

 4.

Nina Kaptsova and Semyon Chudin, "Short Time Together" by Sol León and Paul Lightfoot, Bolshoi Ballet 2017

©

Elena Fetisova / Bolshoi Theatre

 5.

Ensemble, "Symphony of Psalms" by Ji

ř

í Kylián, Bolshoi Ballet 2017

©

Mikhail Logvinov / Bolshoi Theatre

 6.

Ensemble, "Symphony of Psalms" by Ji

ř

í Kylián, Bolshoi Ballet 2017

©

Mikhail Logvinov / Bolshoi Theatre

Editing:

George Jackson, Laurence Smelser